21 Popular Benjamin Moore Off-White Colors
When you think of choosing paint colors for your home, an off-white color may not be at the top of your list, but they're an ideal choice for today's open plan homes. Most off-white interior paint colors are actually very pale shades of gray, cream, or greige. These light neutrals help to unify open floor plans and highlight architectural details by providing contrast between the walls and trim.
Whether you choose a warm or cool off-white paint color depends entirely on the architectural style of your home and your personal taste. Warm off-white colors are often used in traditional architecture to add a sense of history and highlight interesting details. Cool off-whites are popular in mid-century homes because they update tired interiors to look fresh, bright and modern. Modern farmhouse interiors might use cool grays to help create a minimalist look, or greige tones for cozy, warm interiors.
Neutral Benjamin Moore Off White Colors
Neutral off-whites are the most versatile because they have neither cool nor warm undertones. They're often used as trim colors because their neutral tones don't influence the appearance of nearby colors.
Benjamin Moore Chantilly Lace
Benjamin Moore describes Chantilly Lace as "close to a pure white" because of its neutral undertones. This makes it a very popular color for woodwork and trim, whether the same color as the walls or in bright contrast to bold colors: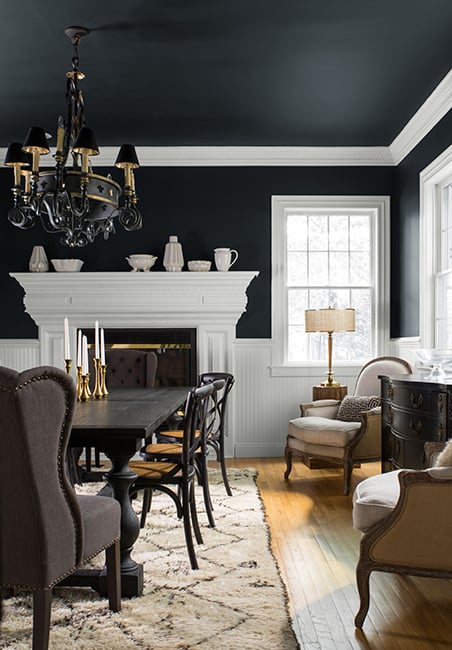 Chantilly Lace is also a popular wall color, especially for homeowners who want the impression of a "true white" without making the room feel sterile or cold. This bathroom has an underlying warmth and richness because the neutral white walls help to enhance the wood tones.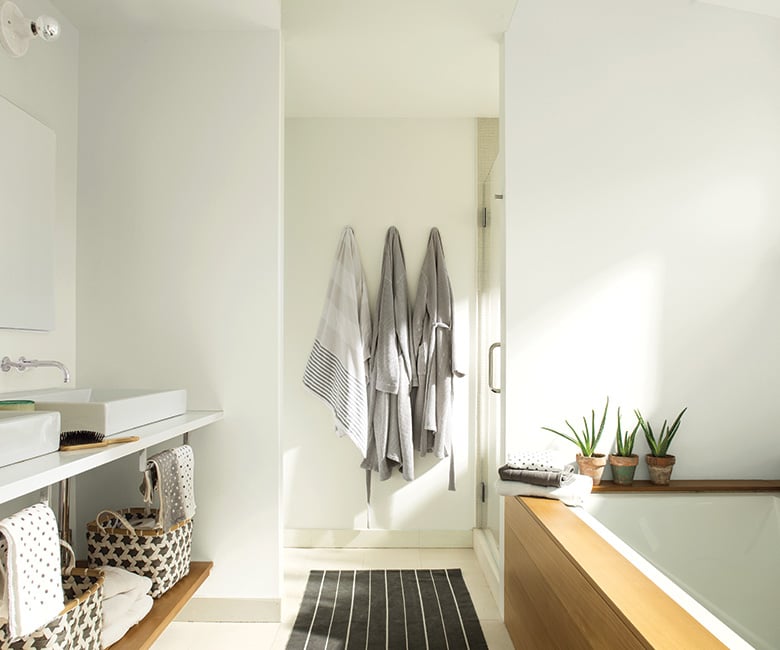 Benjamin Moore Simply White
Simply White is another neutral white that works beautifully for both walls and trim. Using a matte finish on the walls and a semi-gloss or glossy finish on the trim creates contrast in a white-on-white scheme.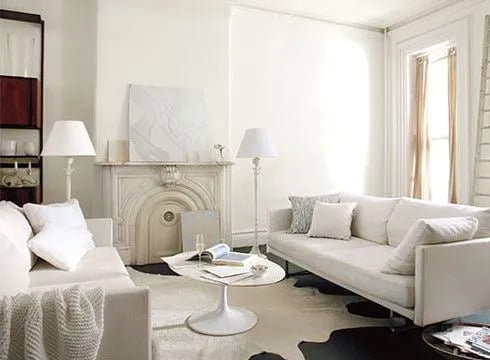 Benjamin Moore Classic Gray
Classic Gray is a darker off-white that's perfect for creating slight contrast between walls and trim. It has warm undertones but also contains some purple which helps it maintain a distinctly neutral cast in different types of lighting. Classic Gray is a favorite white paint color with interior designers for open plan homes and traditional interiors.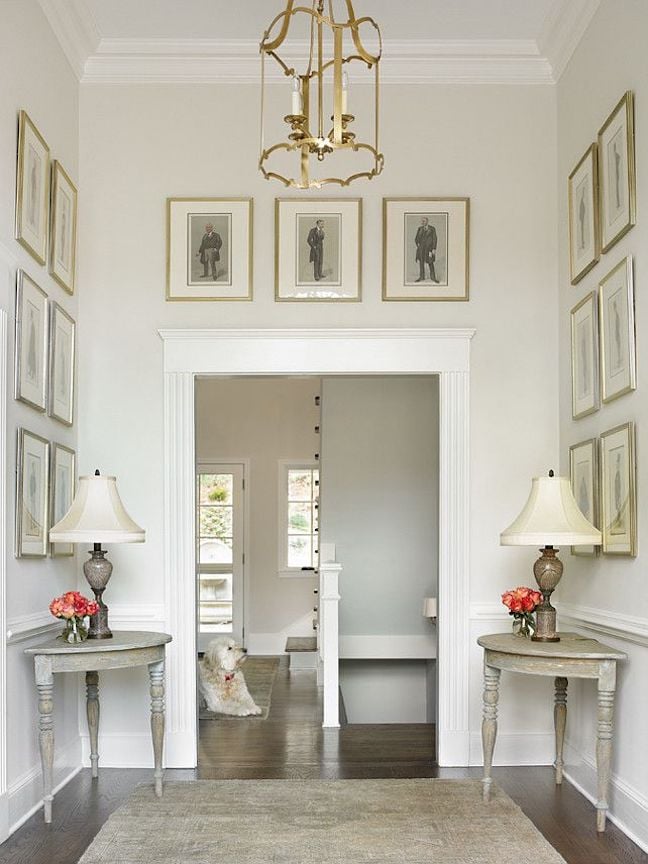 Since most white paint colors are actually shades of white with specific undertones, there aren't as many neutral whites as you'd expect. Most interior color schemes will use a white that has distinctly cool or warm undertones, depending on the other colors in the room.
Benjamin Moore's Best Warm Off-White Paint Colors
Warm off-white paint colors may have a yellow, green, red, or even orange undertone. These slight nuances of color help to warm up a space, and may even be used to counteract cool tones in furniture, fabrics and area rugs.
Benjamin Moore Silver Satin
One of the most neutral warm whites is Silver Satin, which has undertones often described as "pale greige". Greige has gray in it, which Silver Satin expresses through just a hint of violet undertones. A perfect companion to marble countertops, it's a changeable off-white that feels warm, but can quickly turn cool on a cloudy day.
Benjamin Moore Cloud White
A more reliably warm off-white is Benjamin Moore's Cloud White. This bright white has slightly yellow undertones that are more likely to appear in sunlit spaces. It offers a clean, white look that won't take on a cool cast on gray days.
Benjamin Moore Atrium White
If you're looking for a richer, more complex creamy white, try Atrium White. This soft white paint color has complex undertones of pink that give it an Old-World feel, without being overtly yellow. It's a wonderful choice for an all-over white, but keep in mind that it may take on a pink cast if it's located beside a bright green or yellow.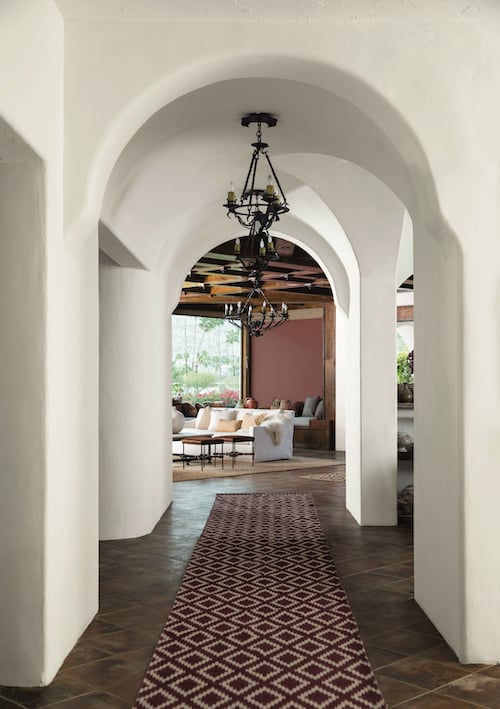 Benjamin Moore Linen White
Classic warm white paints have yellow undertones that are easy to see. Linen White has a creamy richness that adds vintage charm and warms up large spaces like this living room: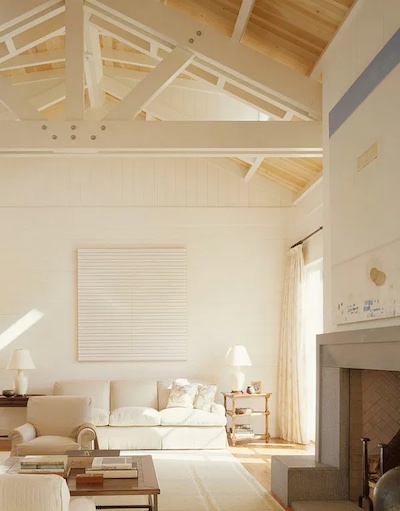 Benjamin Moore Mayonnaise
Yellow undertones can range from creamy beige to sunny yellow-green. When an off-white has more yellow and less beige in it, you get the crisp yellow-ness of Benjamin Moore's Mayonnaise: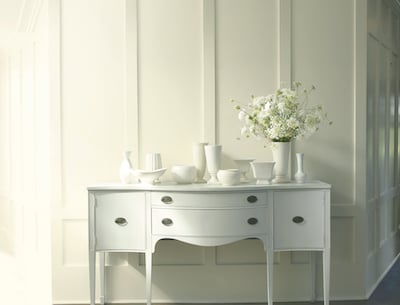 Benjamin Moore Swiss Coffee
By contrast, Swiss Coffee has fewer yellow-green undertones than Mayonnaise. It's a true warm white that works nicely for walls or trim; in warm sunlight it will appear more creamy than yellow. Swiss Coffee is a cozy, warm white that's nice for bedrooms and living rooms.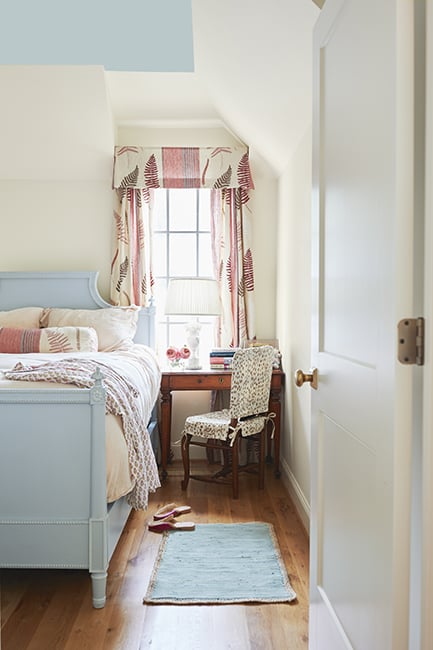 Benjamin Moore Maritime White
For an off-white with fewer yellow undertones that still has just enough warmth, check out Maritime White. It has mellow brown undertones so it's less bright than Swiss Coffee and has the depth and richness of an antique piece of ivory: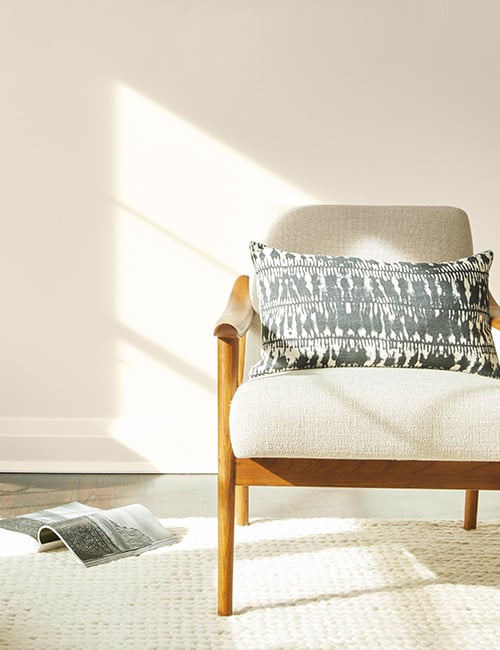 Benjamin Moore Ballet White
Ballet White is a deeper off-white that has a modern feel; it has yellow and also brown undertones that make it appear more greige than cream. This versatile color also changes with the daylight, appearing warm in sunny rooms and greige when the day is cloudy. It's a great neutral for open plan homes too.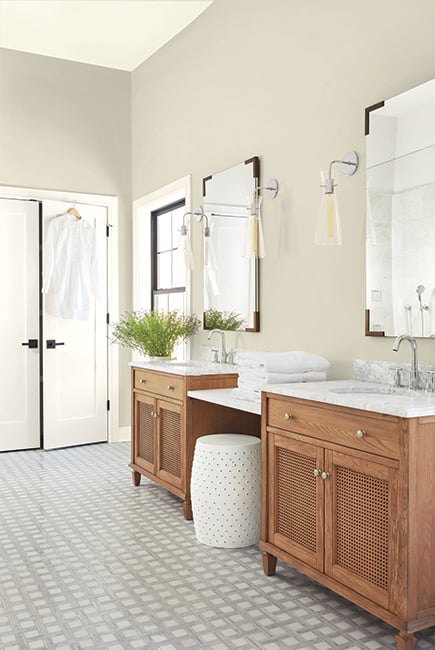 The Best Cool Off-Whites By Benjamin Moore
Ever since shades of gray became the most popular interior design colors, white paint selections have leaned towards cool tones as well. Cool whites won't look yellow when paired with a gray wall color.
Benjamin Moore Decorator's White
Decorator's White is just as the name suggests, a favorite of interior designers for both walls and trim. This slightly-cool off-white looks like a bright white when used as a trim for gray walls: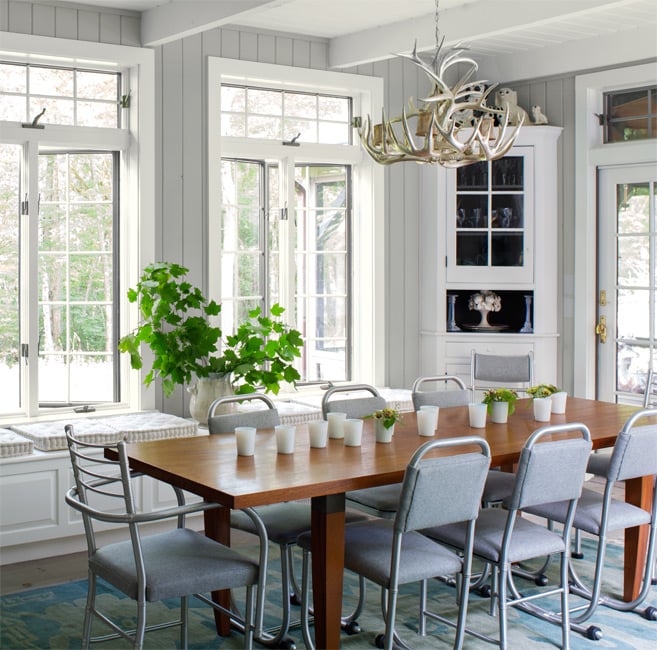 Benjamin Moore White Dove
Another designer go-to is Benjamin Moore's White Dove, which has barely-there gray undertones. It's a rich, complex white that will warm up a bit under certain lighting conditions, but its gray base helps it to stay cool. White Dove is an excellent choice for trim throughout the home, as well as bath and kitchen cabinets.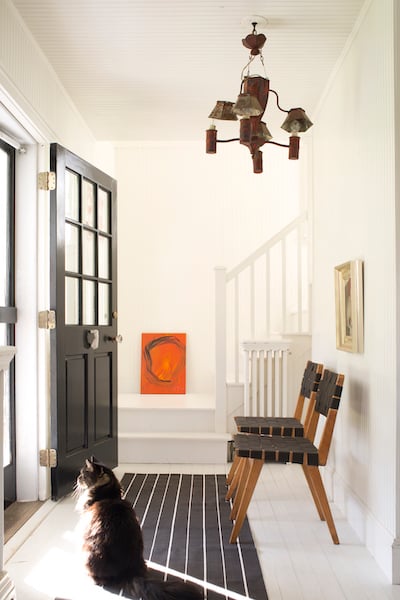 Benjamin Moore Frostine
Frostine is a frosty white that's a great color for architectural trim and paneling, especially in a home with a cool-toned palette. This Benjamin Moore color has blue-green undertones that help it maintain a cool demeanor in any situation.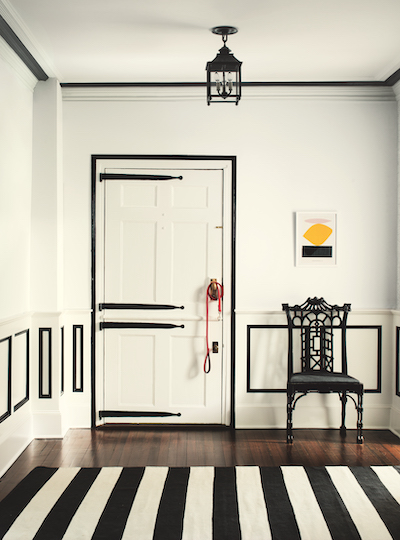 Benjamin Moore White Heron
White Heron is another bright off-white that has cool undertones. Even in a sunny room, it's reliably white, since its blue undertones help to counteract the yellow rays of late afternoon sun. It's a popular color for both walls and trim in kitchens, living rooms and bedrooms.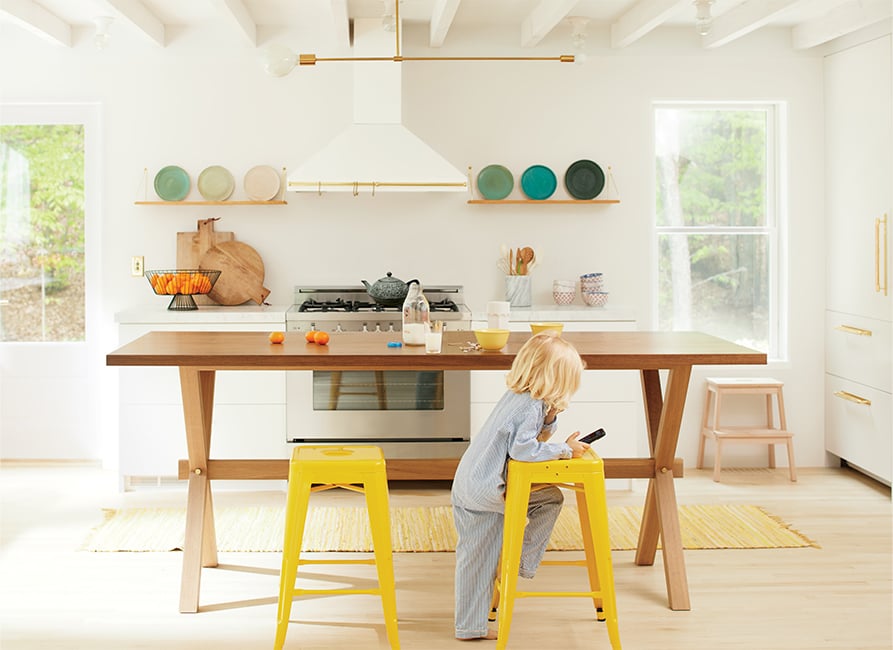 Benjamin Moore Paper White
If you're looking for a cool off-white to unify an open plan home, Paper White is a great option, especially for homes with dark floors. It has distinctly cool undertones, but a hint of green keeps it from turning cold in a dark room. Pair it with Benjamin Moore's Super White trim for a serene, modern interior.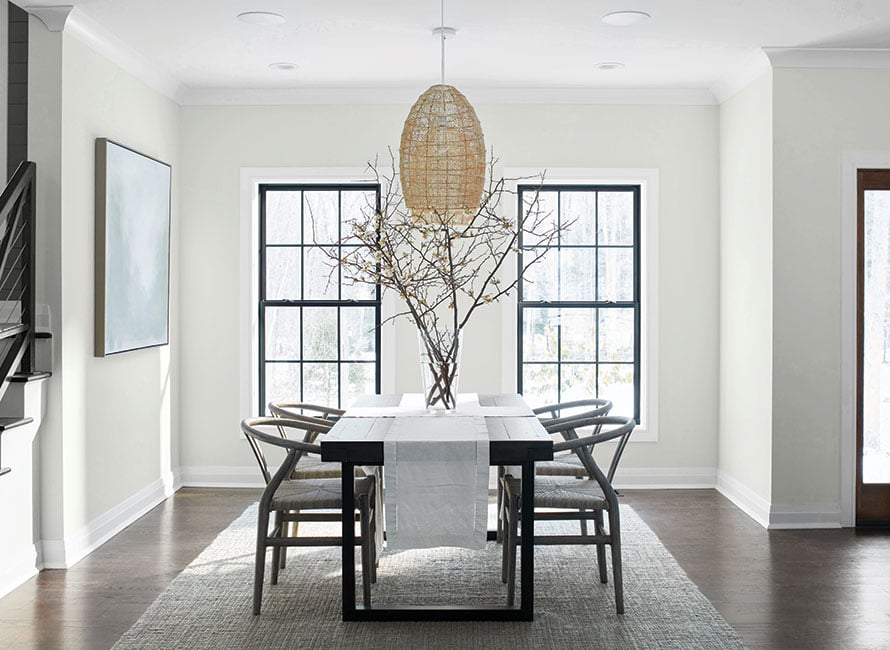 Benjamin Moore White Wisp
The distinctly gray undertones of White Wisp add a modern touch to open plan homes. This cool, refreshing gray contains some blue to help it maintain its cool even in warm, South-facing rooms. White Wisp has just enough tint to create contrast between the walls and ceiling in this bedroom: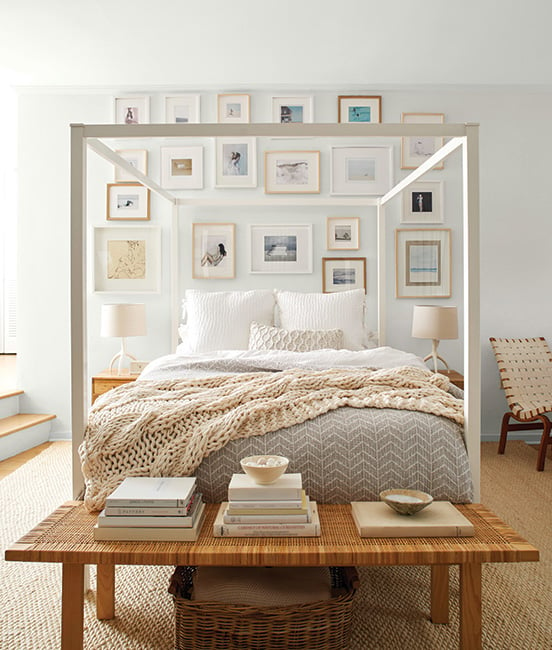 Benjamin Moore Moonshine
Benjamin Moore's Moonshine is another cool-hued off-white paint color. It's a versatile shade that usually has a gray appearance, which is enhanced on gray days and in North=facing rooms. It does contain a hint of green undertone, so in warm lighting it can appear neutral and less gray. However it's still a predominantly cool shade of white, so don't expect it to lean greige. Moonshine is a cool neutral that makes an ideal backdrop for furniture and art.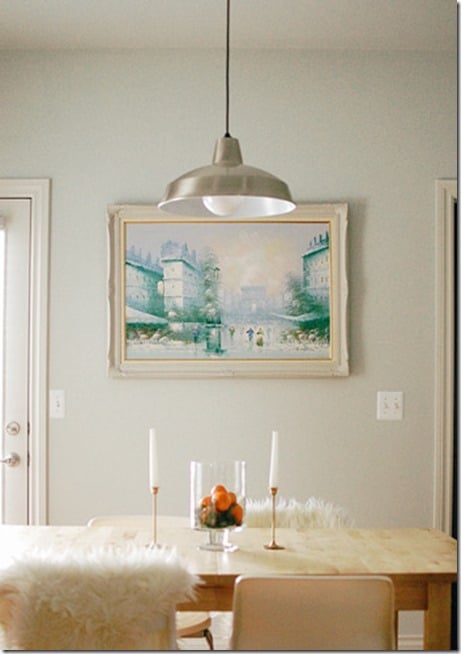 Benjamin Moore Gray Owl
If you're looking for an off-white color that has stronger gray tones, try a sample of Gray Owl by Benjamin Moore. This very light warm gray is not only popular as a wall color, it adds a stylish touch to kitchen and baths as a perfect cabinet paint. Gray Owl's cool undertone perfectly complements today's popular marble countertops. It's a deep enough color to create a nice contrast against whiter walls, but it's still solidly in the off-white family. This kitchen designer chose Gray Owl to set off the tall cabinet against Paper White paint on the walls: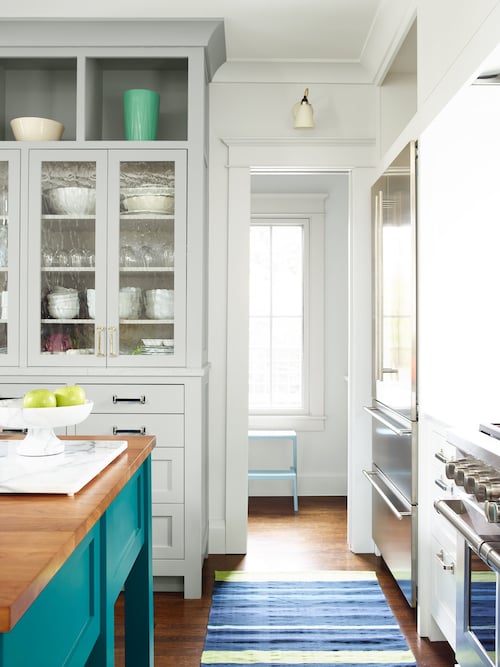 Want to see how Gray Owl compares to a cool gray? Click here to check out our top Benjamin Moore Gray Paint Colors.
Benjamin Moore Pink Damask
Cool off-white colors can have other undertones besides gray. Pink undertones add warmth to a cool white under certain lighting conditions, creating a color that changes over the course of the day. Pink Damask is an example of this versatile type of off-white; it's definitely white, but can appear pink or beige too.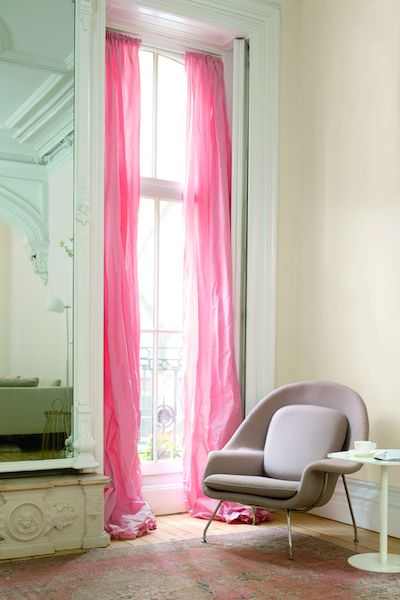 Test Off White Paint Color Samples Before You Commit
The most important step in choosing an off-white paint color is to order samples of several shades and try them in your home. Be sure to order paint samples of the paint colors you're considering, instead of relying on color swatches.
Peel & Stick Paint Samples are quick, easy, and can transfer between rooms. You can also make your own moveable paint swatch using a 16 oz. traditional paint pots. Paint a large poster board with each gray shade, and move it around the room to observe it on different walls – be sure to compare a well-lit wall and a darker wall. Then see how the paint colors look throughout the day, in natural lighting and by lamplight in the evening. Warm white paint colors and cool white paint colors will have different undertones based on the time of day, the type of natural light, and whether it's a north-facing or south-facing room.
It's well worth investing your time in the paint selection process, so you can find the perfect off-white color for your particular home.

Where to Buy Benjamin Moore White Paint
Here at Ring's End, we offer an unparalleled selection of Benjamin Moore interior and exterior paints in-store and online. You can choose from a variety of paint finishes, including a matte finish, semi-gloss finish, or glossy sheen finish depending on the needs of your room and aesthetic tastes.
All of our Paint & Design Showrooms have talented, full-time designers who offer complimentary in-store color consultations. Visit a paint store near you to get started today!
We also offer e-design assistance. Provide us with a glimpse of your home through the FaceTime app and discuss color recommendations virtually with one of our designers. Visit our Design Services page to schedule a complimentary appointment.