Benjamin Moore Stonington Gray Review & Inspiration
What We Love About Stonington Gray HC-170
Stonington Gray is a soft and stormy-looking gray, one of Benjamin Moore's best-selling neutral colors and a popular choice among interior designers. It's a versatile light gray with barely-there cool undertones; the coolness recedes under bright, sunny lighting conditions, leaving a pale gray that's quite neutral. Its traditional elegance has earned Stonington Gray a place in Benjamin Moore's Historical Color collection.
Stonington Gray Is A Classic With Cool Undertones
Stonington Gray is a cool, neutral gray with a slight blue undertone. It's light enough to use as an overall wall color, and offers good contrast against white trim or black accents. Stonington Gray's subtle blue undertones will disappear in bright daylit spaces, leaving a classic, neutral light gray. Darker rooms will make this versatile color seem cooler and deeper.
Pair Stonington Gray with a deep blue like Hale Navy to emphasize the blue undertones. Contrasting coral or green accents may tone down the blue and give it a more neutral appearance.
Stonington Gray Inspiration For Modern Interiors
A popular choice for modern family homes, Stonington Gray makes a statement in open floor plans. It's a cool neutral that's the perfect wall color for cozy spaces like a bedroom or den. A gray that's simultaneously on-trend and timeless, Stonington Gray is a modern color you can live with for years. It blends beautifully with marble and stone finishes, making it an elegant choice a kitchen or bath.
Stonington Gray is a firm favorite in a living room, paired with either a white or stained trim. In a space with big windows it has a lighter, airier look; a pink ceiling is the perfect cool-toned companion color: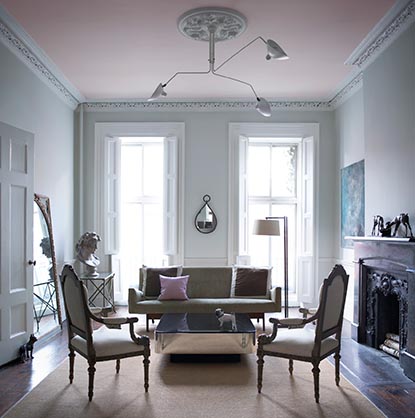 Paired with a deep warm gray on the wainscoting, Stonington Gray walls create an elegant, moody kitchen: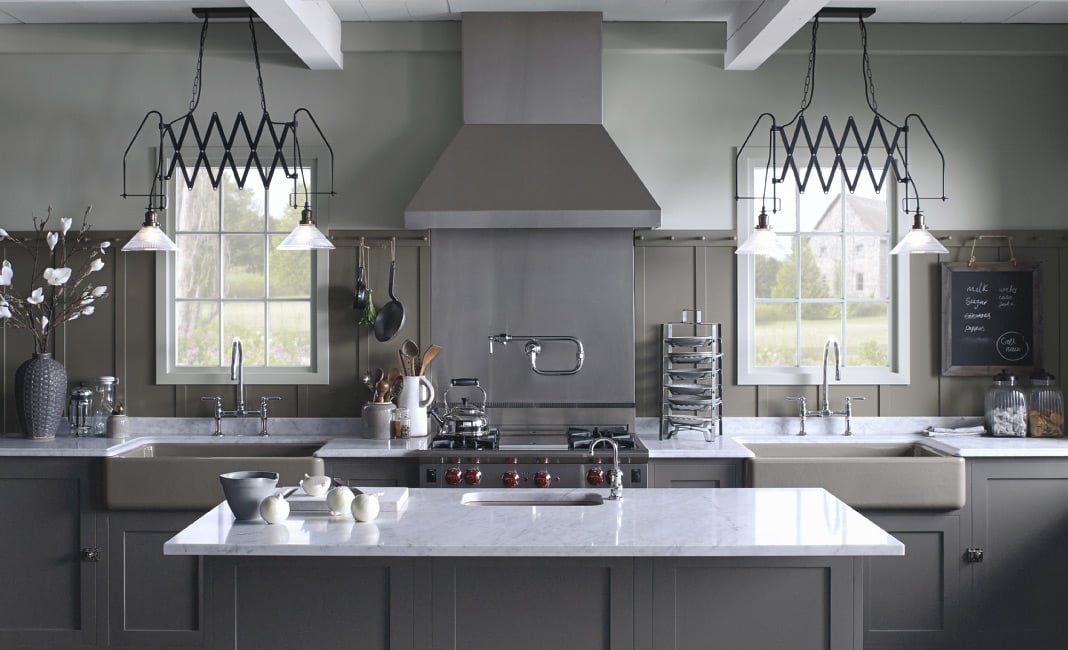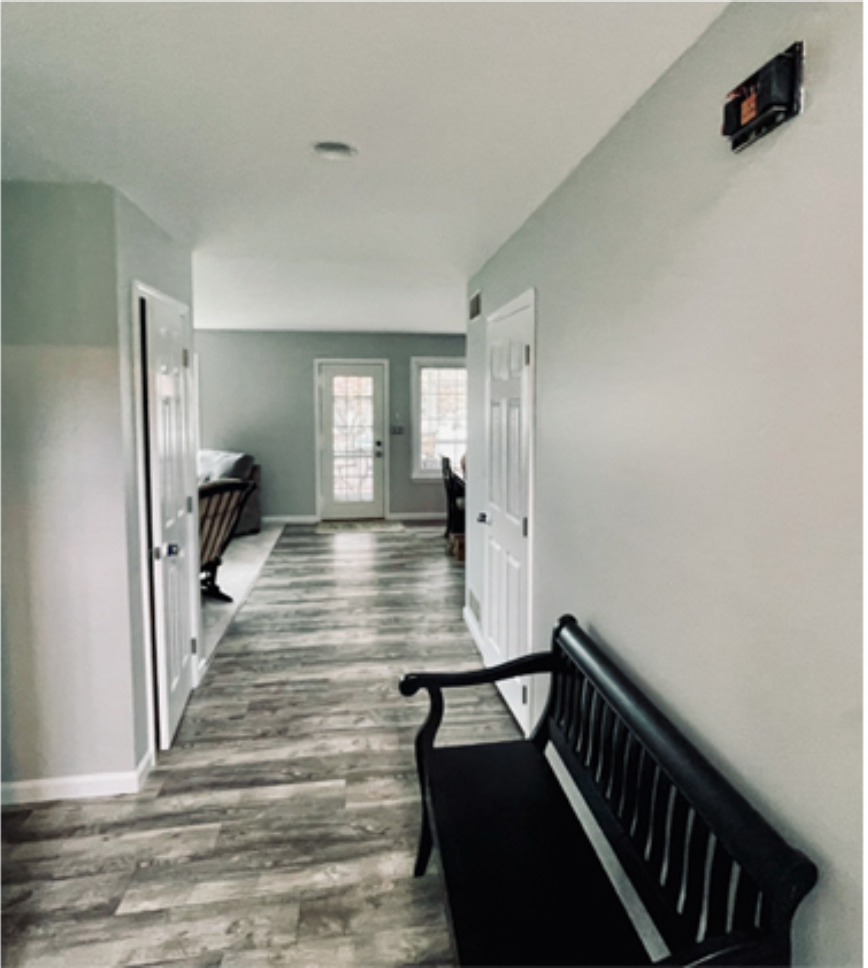 Daylight tends to wash the blue undertones out of Stonington Gray, leaving a more neutral shade that works nicely on a traditional exterior: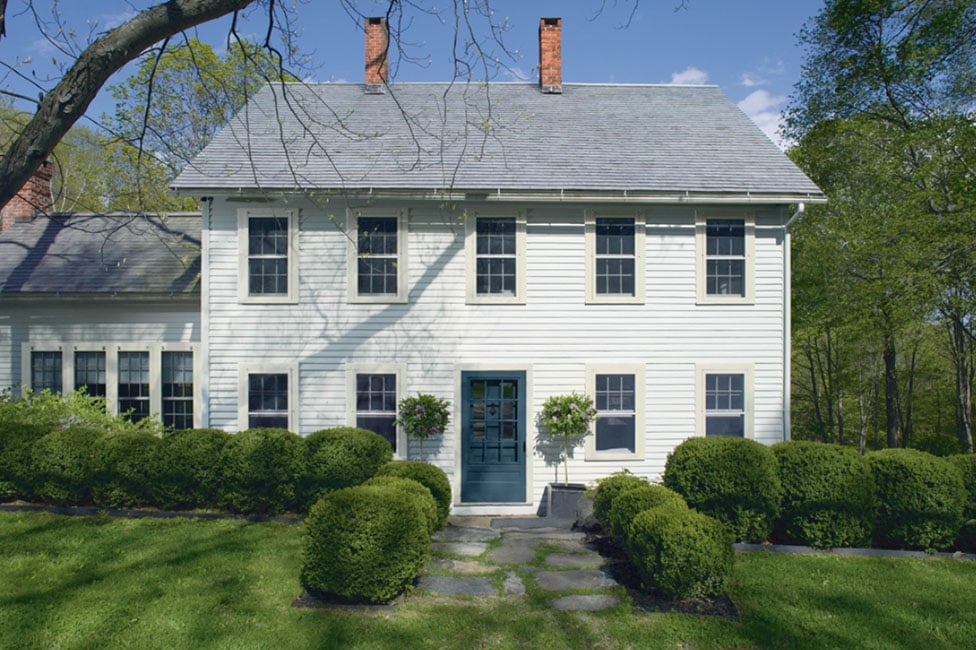 Buy Stonington Gray Paint & Samples
Stonington Gray is available at Ring's End in a variety of paint sheens and sizes. Buy it in our best-selling Benjamin Moore paint line today!
Want to see how Stonington Gray looks in your home before deciding if it's the right color?
Try our Paint Color Samples that are used by professional interior designers.
You may also like…
Want to explore more shades of gray by Benjamin Moore? You'll find an impressive selection ranging from palest silver to warmest greige, cool blue-gray, and deepest charcoal. For a classic light gray with muted blue-green undertones, check out Wickham Gray. Another Benjamin Moore favorite, Gray Owl, is a warmer gray that has green undertones. Whichever gray you decide to try, be sure to test swatches with your home's lighting conditions.
Complement your Stonington Gray walls or cabinetry with a crisp white for contrasting trim; we recommend Cloud White, Super White or Chantilly Lace.
For a warm soft gray you may consider Balboa Mist or Collingwood.