Benjamin Moore Simply White Review & Inspiration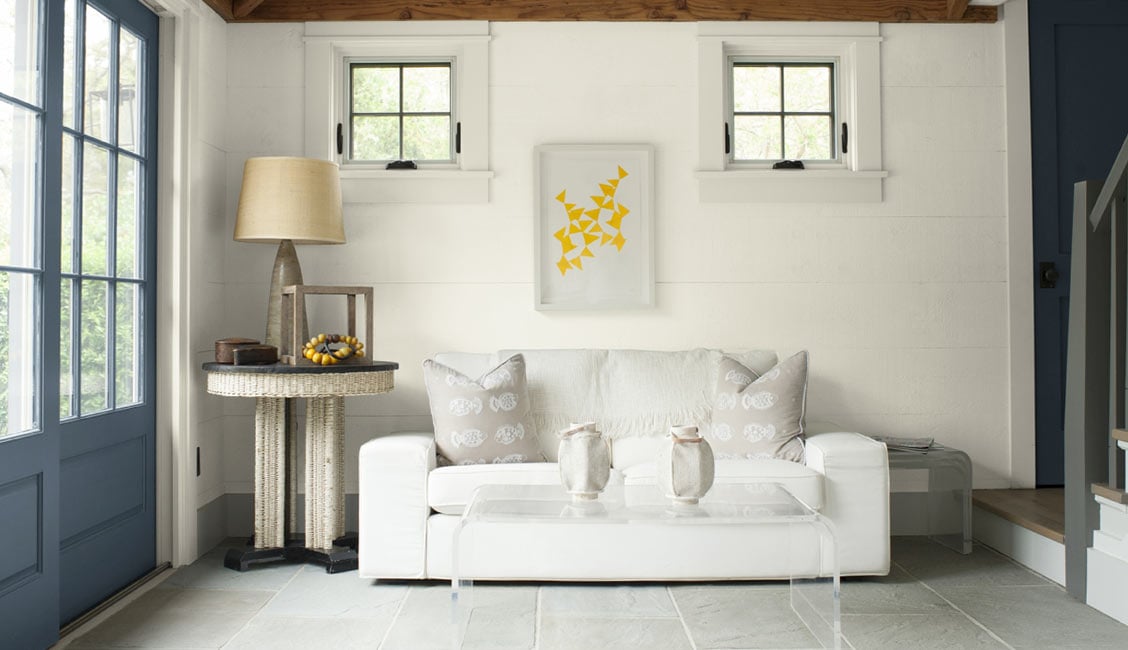 What We Love About Simply White OC-117
Simply White OC-117 is a bright white paint color with a slight yellow undertone that gives it warm elements in natural light. It's a crisp, warmer white that's a popular choice for interior walls, ceilings, cabinetry, and brilliant trim color. This modern shade of white has enough light reflectance for contemporary spaces, yet retains subtle nuances to meet all the details of a traditional home. Use Simply White paint on all the walls for a cohesive, open plan space; or use it on all the trim work and cabinetry to complement a deeper wall color. Simply White is part of the Benjamin Moore Modern Farmhouse color palette, and was chosen Benjamin Moore Color of the Year in 2016.
Benjamin Moore Simply White Undertones
Simply White OC-117 is a multi-purpose white paint that has just a hint of yellow undertone. Close to a pure white, it has a high light reflectance value of 91 that gives it a clean, crisp look in most spaces - especially in natural light. Its warm off white color makes it an ideal companion for wood floors, wood ceiling beams, and wood-finished kitchen cabinets. The yellow undertone is subtle, but it's just enough so that in bright rooms with lots of natural light, its light reflectance won't turn it stark white. Compared to a dark room or dark hallways, the warm white undertone won't be strong enough to offset cool gray or blue undertones, so in these types of spaces, you'll need artificial lighting to brighten the space.
True to its name, Simply White makes a perfect companion white to most paint colors. If you're considering Simply White for your home, be sure to test a large sample or consider an accent wall – light grey or light blue paint colours may bring out its yellow undertone.
How Simply White Compares to Other Benjamin Moore Whites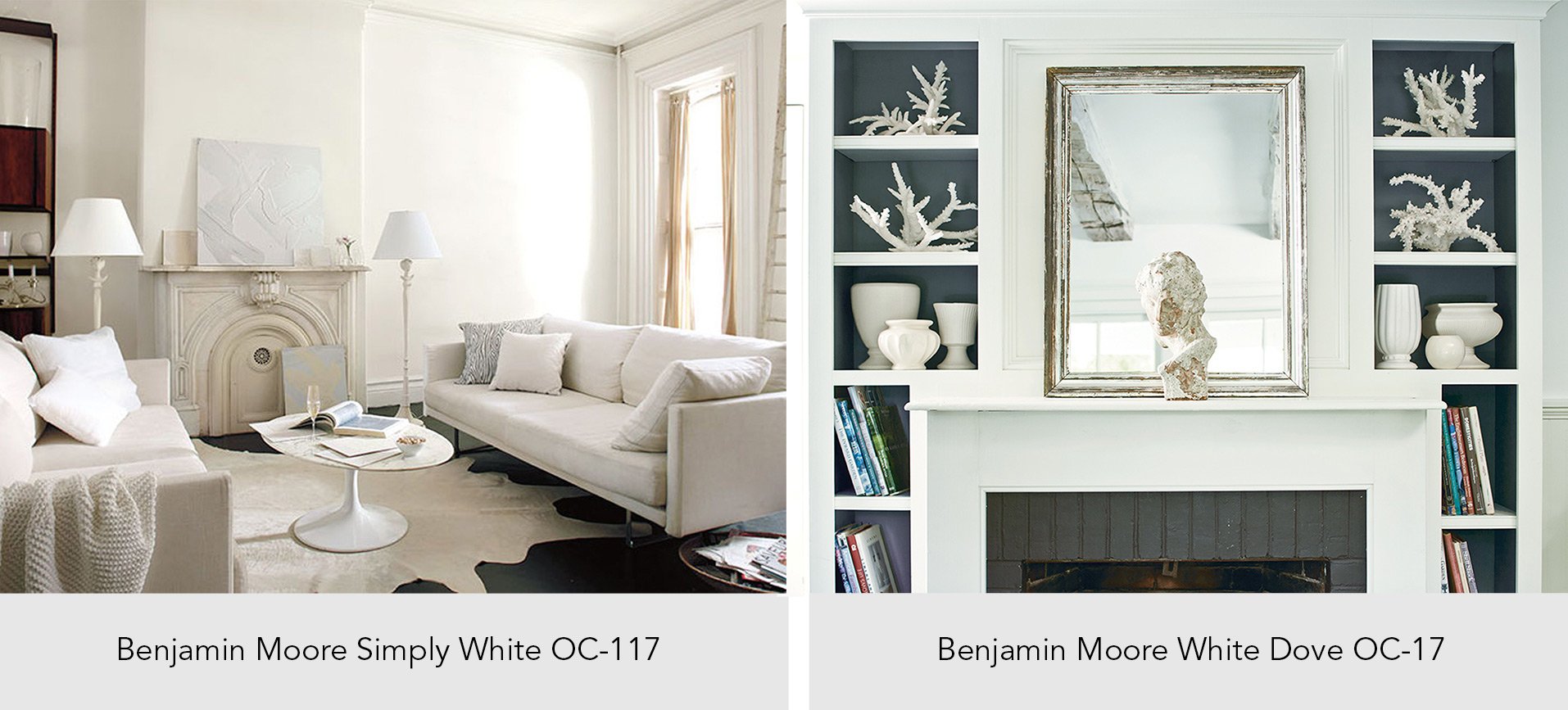 Amongst Benjamin Moore's range of white paint colors, Simply White falls somewhere between White Dove and Chantilly Lace, with the key difference being its warm undertones. While White Dove has muted, creamy undertones, Chantilly Lace sits closest to a pure white paint with almost no undertones at all. Benjamin Moore Simply White is a perfect medium of being a mildly warm white, but maintaining that bright white color throughout the day.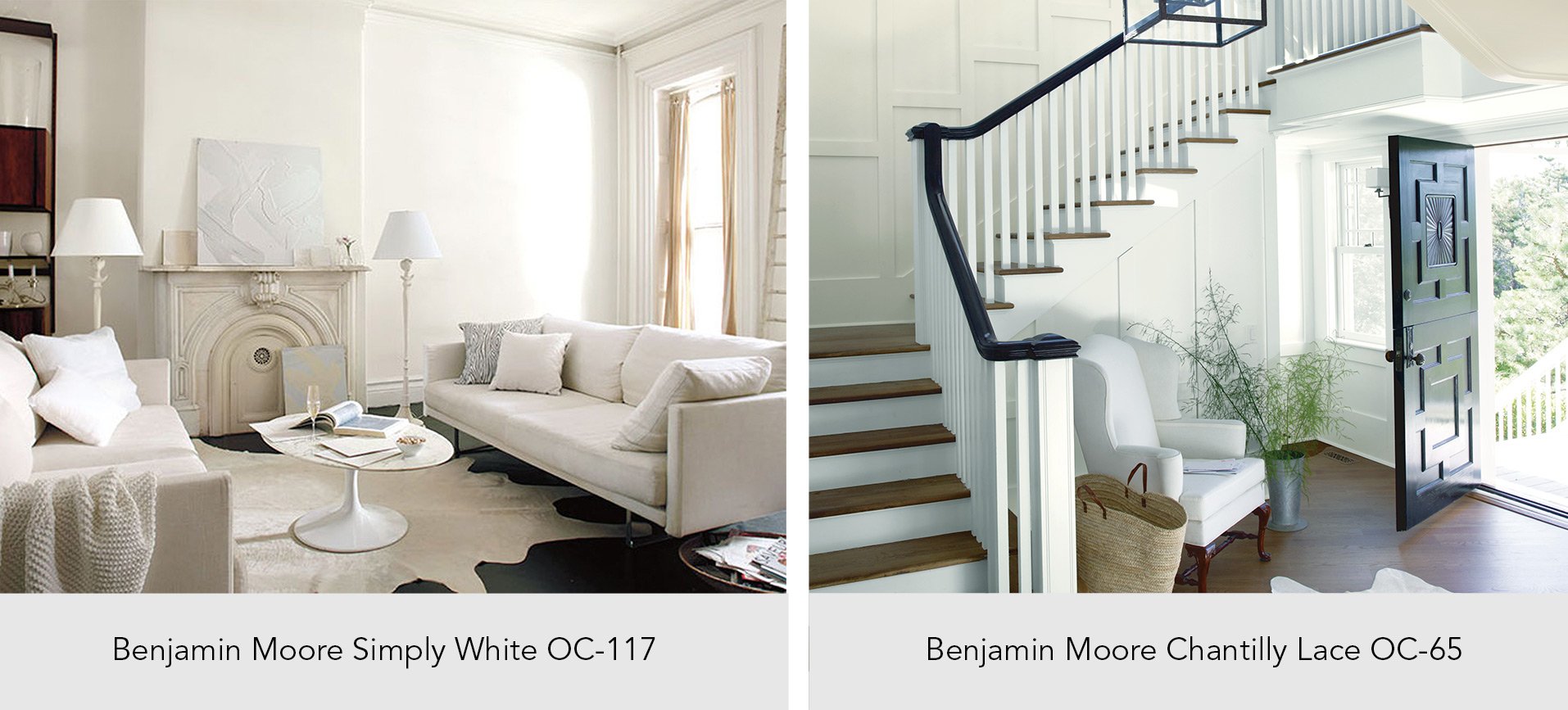 Simply White Ideas: A Warm White Paint Colour for Natural Light
Interior designers love Simply White for its clean, crisp look. Its high light reflectance value makes a home feel a bit warmer while giving the appearance of a pure white. This classic white is an excellent choice if you're planning to paint your walls, ceiling and trim all the same white paint color. Benjamin Moore Simply White provides a fresh and modern look that won't feel cold or give off cool undertones. It's rich enough to give depth to white kitchen cabinets, and bright enough for ceilings and trim around walls and windows in a family room. Spaces with high ceilings look airy and modern when painted Simply White; it's the perfect white for a large gallery or accent wall, great room, or to brighten hallways for art display.
This dining room features Simply White with a rustic wood table and ceiling beams: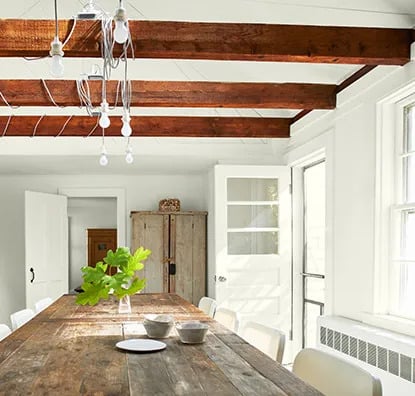 Trimmed in a warm gray-brown color like Indian River 985, Simply White displays yellow creamy undertones in this cozy bedroom:
This complex white color also adds depth to kitchen cabinets and the like: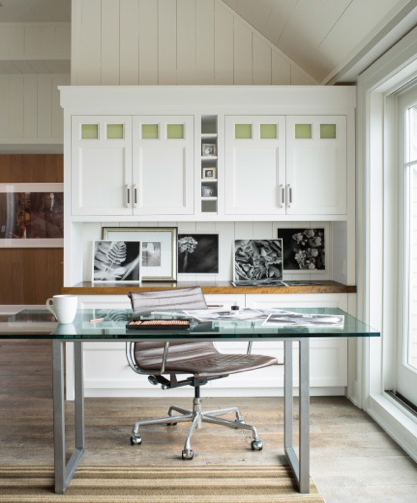 Looking for a classic bright white to trim bold colored walls? Simply White has a crisp look that makes woodwork pop: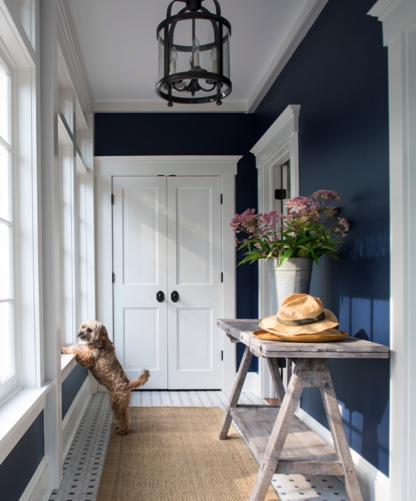 You can also use Simply White to unify woodwork and walls and create a clean, cohesive look. It makes a perfect "all-over" white color:
The subtle nuances and yellow undertones in warm lighting have kept Simply White one of Benjamin Moore's most popular paint color choices for all sorts of interiors. From walls to kitchen cabinets, to white trim, to ceiling paint —Simply White offers versatility, timelessness, and elegance.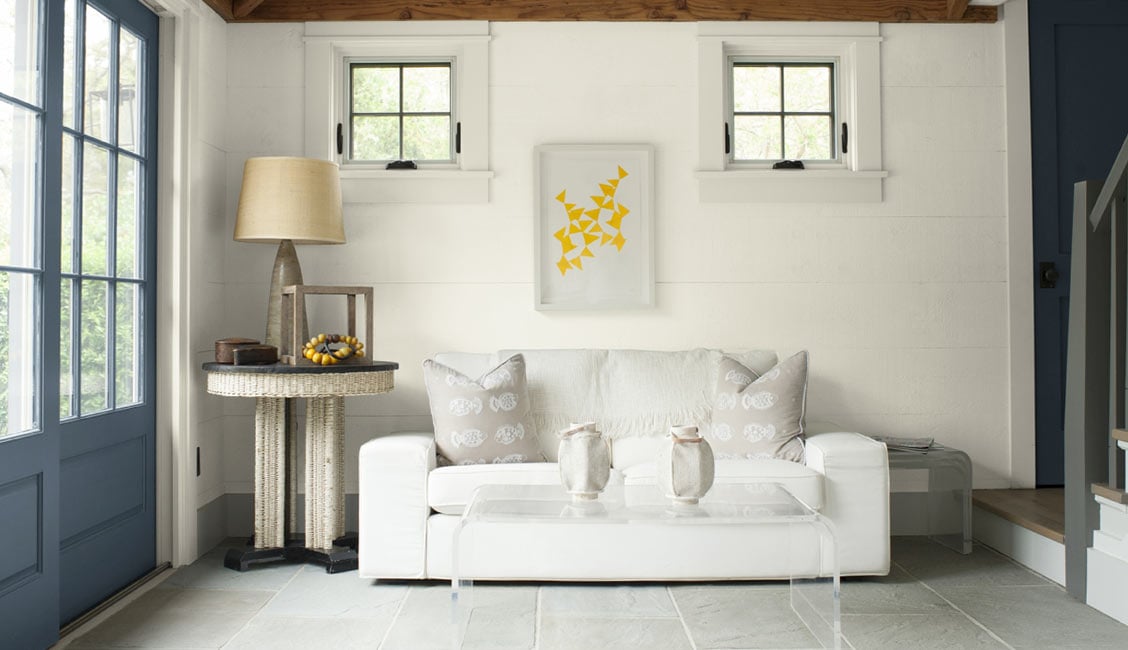 You may also like…
If you like the balance of crispness and warmth from Simply White, but are interested in something a bit softer, try White Dove OC 17 here, or Cloud White OC-130 here. To compare to a cooler white, check out our review on Decorator's White OC-149 here, or for a perfect neutral, Chantilly Lace offers a nearly pure paint white color.
If you find that your room needs a shade with deeper color, consider trying a Benjamin Moore gray color. Grays today are not just for the minimalist or modern home—Benjamin Moore offers a host of complex grays ranging from warm, sandy greiges to soft, cool shades that border on white. Check out some of our favorites here!
Buy Simply White Benjamin Moore Paint & Samples
White paint colors are particularly susceptible shifts in tone depending on the lighting conditions and time of day. We recommend testing a sample of Simply White before deciding on your final choice. For an easy way to test this paint color on multiple walls in your house, paint a large poster board using a Benjamin Moore Paint Color Sample and move it around the room to observe it on different walls. Check how the color looks on well-lit walls and darker walls throughout the day, in both natural lighting and by lamplight in the evening. If you're considering multiple white paints, get a sample of each so you can compare all paint color options at once.
Simply White's low pigmentation means that if you're painting over a dark color, you may need extra coats, so be sure to plan this into your paint job.
Once you've tested the color and are ready to order your paint, come back to check our Interior Paint Guide or Exterior Paint Guide to help you find the right sheen and product for your home or buy it in our best-selling Benjamin Moore paint line today.