Benjamin Moore Simply White Review & Inspiration
What We Love About Simply White OC-117
Simply White is a bright white paint color with a slightly warm tint. It's a crisp white that's a popular choice for walls, ceilings, trim and cabinetry. This modern shade of white is reflective enough for contemporary spaces, yet complex enough for a traditional home. Use Simply White all over for a cohesive, open plan space; or use it on trim work and cabinetry to complement a deeper wall color. Simply White is part of the Benjamin Moore Modern Farmhouse color palette, and was chosen Color of the Year in 2016.
Benjamin Moore Simply White Undertones
Simply White is a multi-purpose white that has just a hint of yellow in its undertones. It has a high level of reflectance that gives it a clean, crisp look in most spaces. Its slight warmth makes it an ideal companion for wood floors or wood ceiling beams. The yellow undertones are subtle, so in a well-lit room it appears to be a bright white. In low-light rooms the yellow tones won't be enough to offset cool, gray light, so you'll need artificial lighting to brighten the space.
True to its name, Simply White makes a perfect companion white to most wall colors. If you're considering Simply White for your home, be sure to test a large sample – nearby gray or blue colors may bring out its yellow undertones.
Simply White Is Among The Best White Paint Colors
Interior designers love Simply White for its clean, crisp look. It makes a home feel a bit warmer while giving the appearance of a pure white. This classic white is an excellent choice if you're planning to paint your walls, ceiling and trim the same bright white color. Simply White provides a fresh and modern look that won't feel cold. It's rich enough to give depth to white kitchen cabinets, and bright enough for ceilings and trim around walls and windows. High-ceilinged spaces look airy and modern when painted Simply White; it's the perfect white for a large gallery wall, or to brighten hallways for art display.
This dining room features Simply White with a rustic wood table and ceiling beams: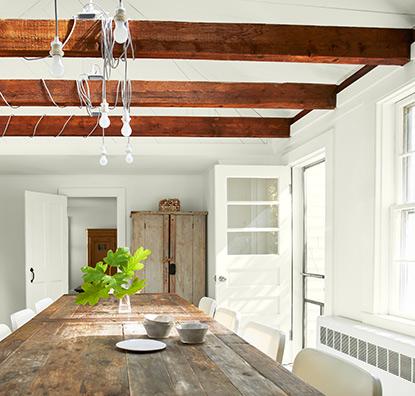 Trimmed in a warm gray-brown color like Indian River 985, Simply White displays creamy yellow undertones in this cozy bedroom: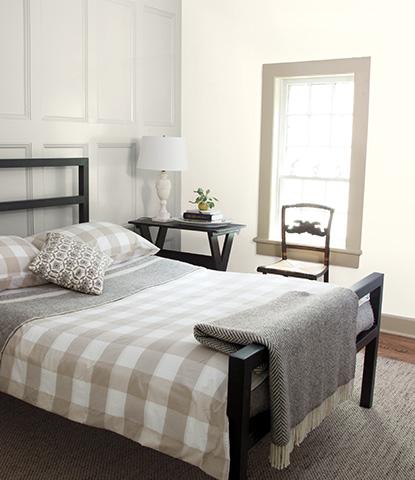 This complex white color also adds depth to white painted cabinetry: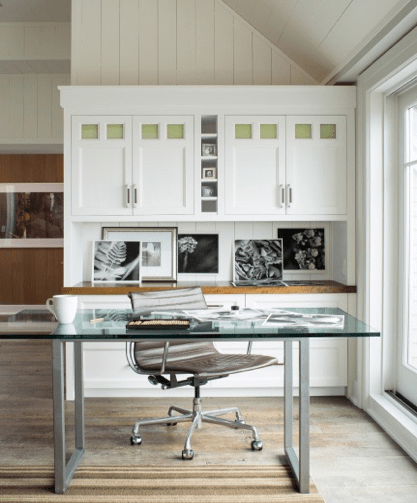 Looking for a classic bright white to trim bold colored walls? Simply White has a crisp look that makes woodwork pop: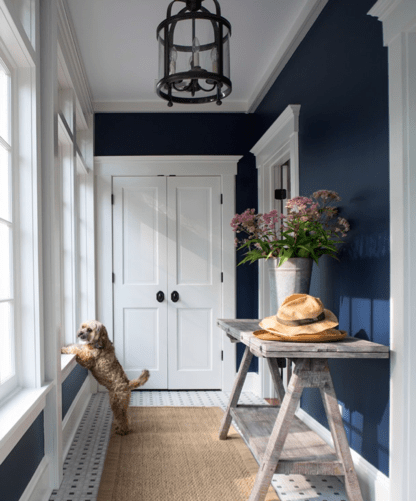 Use Simply White to unify woodwork and walls and create a clean, cohesive look: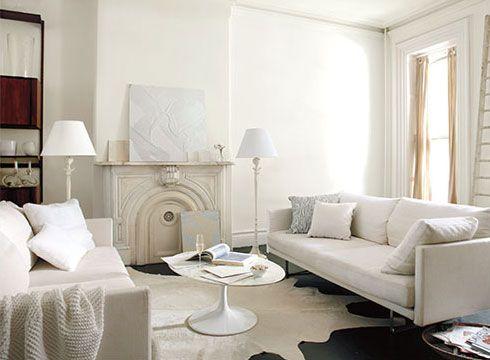 Buy Simply White Paint & Samples
Simply White OC-117 is available at Ring's End in a variety of paint sheens and sizes. Buy it in our best-selling Benjamin Moore paint line today!
Want to see how Simply White looks in your home before deciding if it's the right color?
Try our 16 Oz Paint Color Samples that are used by professional interior designers. Alternatively, our Peel & Stick Color Samples are quick, easy, and can transfer between rooms.
You may also like…
If you like the crispness and warmth of Simply White, check out White Dove OC 17, or Cloud White OC-130, from the Benjamin Moore White & Off-White Collection. For a cooler white be sure to try Decorator's White OC-149.