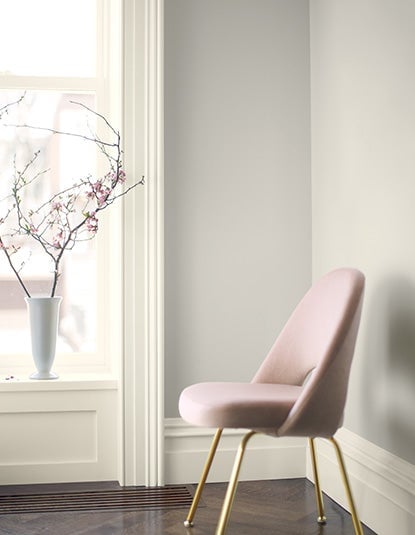 What We Love About Benjamin Moore Balboa Mist OC-27
Balboa Mist is one of Benjamin Moore's go-to neutrals. It's a warm paint color that sits between gray and beige - the perfect pale greige. It amplifies the light in large, open spaces for a light and airy effect. An understated hint of beige makes Balboa Mist ideal for use as a unifying wall color throughout the home. Clean, crisp, and modern, this Benjamin Moore color is a stylish companion to rustic wood tones and crisp white trim.
The Undertones of Benjamin Moore Balboa Mist
Although you'll find Balboa Mist in Benjamin Moore's Off-White Collection, interior designers go to it as a reliable neutral greige, meaning it's a light gray color with slightly warm undertones.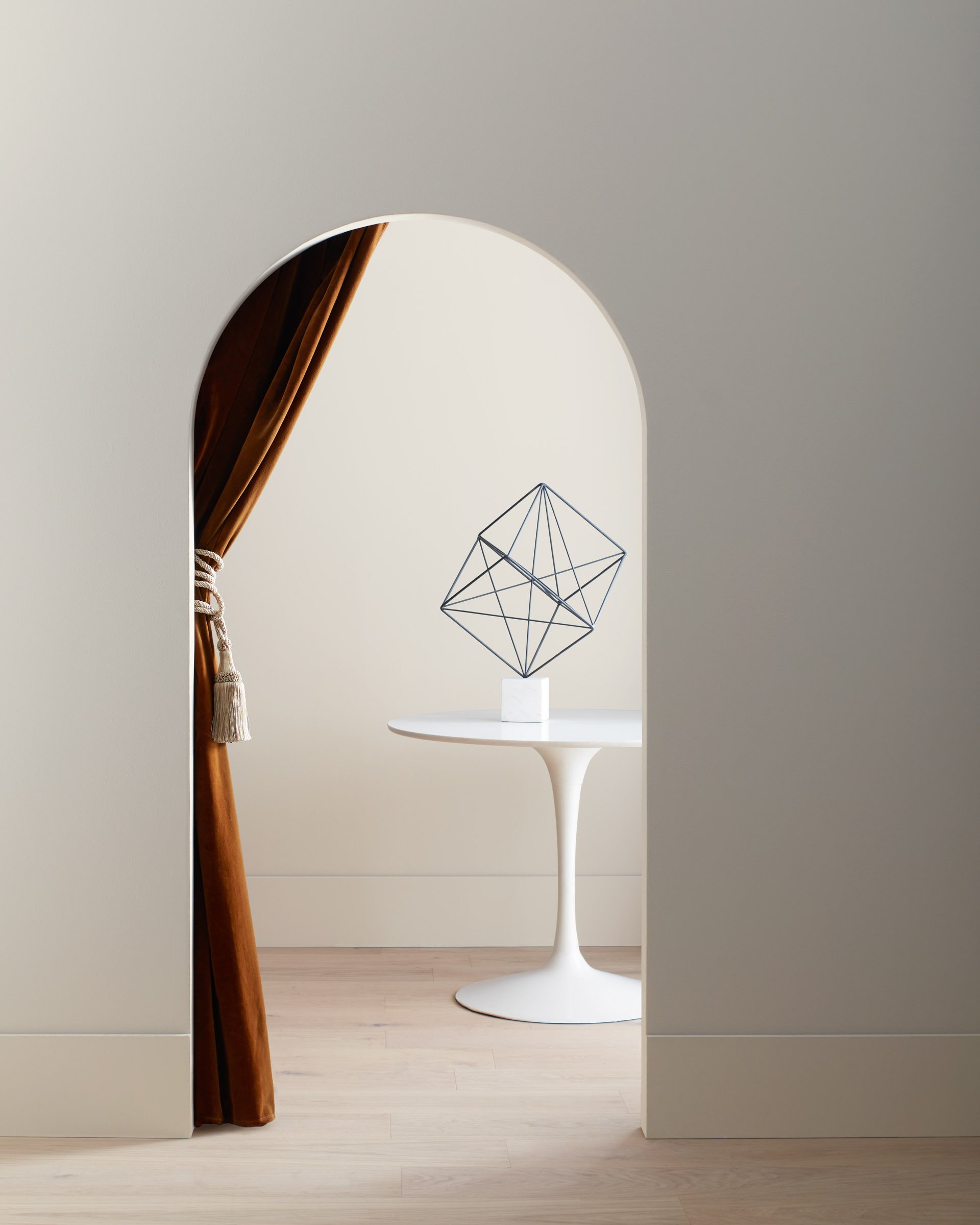 Depending on the lighting in a room, Balboa Mist will favor its warm tones more or less. Subtle purple undertones will come through more in a room with north-facing light, bringing out more of its gray base, while in a south-facing room or the warm afternoon sunshine, Balboa Mist looks more beige. The more natural light in a space, the brighter and closer to an off-white it will appear.
Balboa Mist Inspiration: A Greige For Open Floor Plans
Balboa Mist is a highly versatile color that works beautifully in open-plan homes and looks amazing throughout the day. It also suits many different design styles, from farmhouses to modern or coastal looks.
This warm neutral gray choice sets off rustic finishes like weathered wood and old paint. It pairs nicely with cooler grays as well.

Where many traditional off-whites or beiges might wash out in contrast to darker wood tones, Balboa Mist is deep enough to carry itself either as the primary wall color or as an accent wall in a room that features white paint colors:

As a classic gray-beige, this neutral Benjamin Moore color is clean, modern, and cozy—a perfect paint color for the family room, living room, or dining room.

Set it against pure white colors like Chantilly Lace, to provide a crisp contrast between walls and trim color and enhance its color depth. Pairing with a soft off-white trim color like White Dove or Atrium White will pull out its warm tones. :

Balboa Mist is ideal for open floor plans, and for use as an overall color to unite adjoining spaces.

You may also like…
Colors That Are Lighter Than Balboa Mist
Pale Oak is a very similar greige paint color, but is just a shade lighter and less concentrated with a light reflectance value of 69, compared to Balboa Mist's LRV of 67.

Colors That Are Darker Than Balboa Mist
Edgecomb Gray is a warm gray paint that is closer to a taupe with an LRV of 63 and Revere Pewter is a few steps deeper with a mid-tone LRV of 55. For a more traditional gray that still offers warm undertones, see Classic Gray.
Test Benjamin Moore Balboa Mist OC-27 With a Paint Sample
White and gray paint colors are notoriously susceptible to shifts in undertone depending on the lighting conditions and time of day. We recommend testing a sample of Benjamin Moore and any other options you're considering before deciding on your final choice.
One of our designers' favorite tips for an easy way to test paint color swatches on multiple walls in your house, is to paint a large poster board using a Benjamin Moore Paint Color Sample and move it around the room to observe the color on different walls and in different lighting conditions.
Once you've settled on Balboa Mist or your other color choice and are ready to order your paint, come back here to check our Interior Paint Guide or Exterior Paint Guide to help you find the right sheen and product for your home — and don't forget the paint brushes!