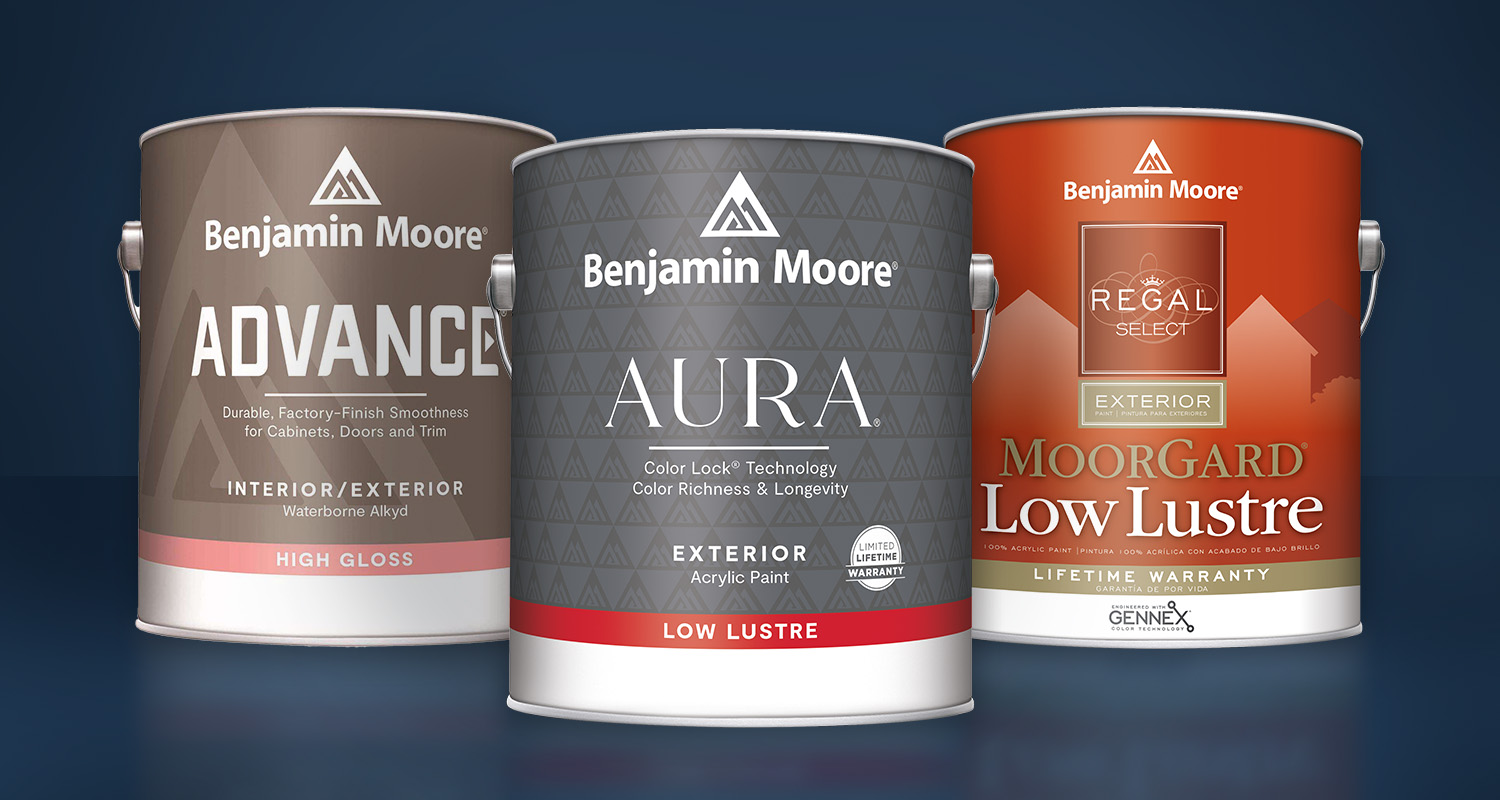 High quality exterior paint contains more solid particles and pigment per gallon, so it will build faster and cover the surface in fewer coats. Compared to other brands, Benjamin Moore exterior paint products are considered high grade paints. Their exclusive Color Lock technology binds the pigments within the paint film, protecting them from UV damage so the color stays true for years. Benjamin Moore paints are also self-priming on most surfaces and specially formulated to deter mildew growth and resist chalking and fading over time.
Depending on your needs and budget, you might pair multiple paint products on different areas of your home exterior to achieve the best results. Once you understand the differences between Benjamin Moore's exterior paints, it'll be easy to choose the best paint for your project.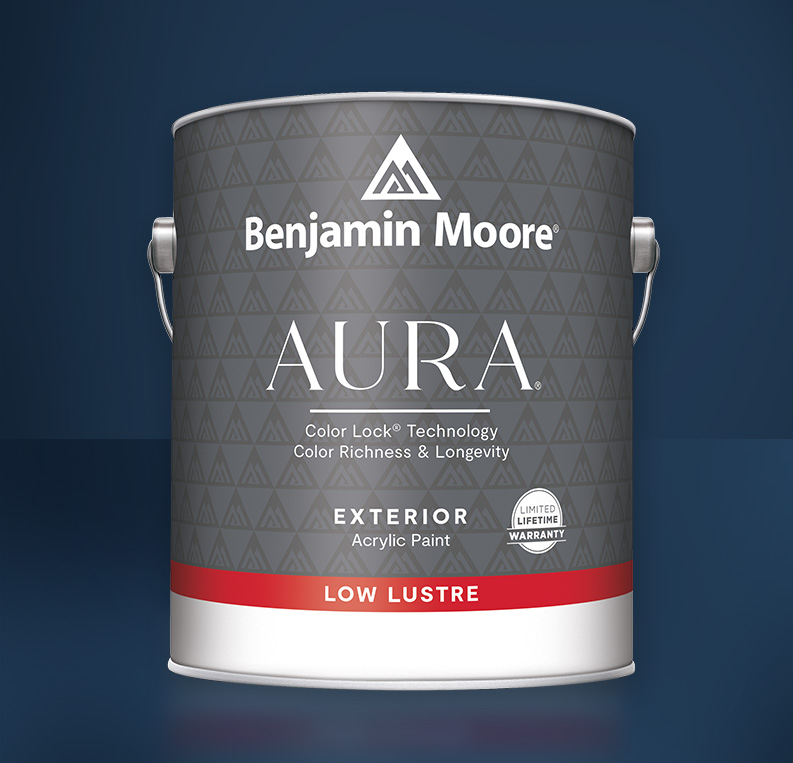 AURA  Exterior Paint
Grade: Ultra-Premium Paint
Finishes: Flat, Low Lustre, Satin, Soft Gloss
Formula Type: 100% Waterborne Acrylic Latex
AURA Exterior is the finest exterior paint available, providing exceptional fade-resistance, moisture protection and durability. Its Color Lock Technology offers superior fade resistance, and easy application for a rich, smooth finish  that has an outstanding lifespan. Benjamin Moore has developed high-performing additives that combat humid conditions making it a great choice for high-moisture environments. 
AURA is available in four sheens across more than 3,500 paint colors—the most variety of any paint brand on the market—including a selection of 75 vinyl-safe colors. Its thick formula hides color extremely well in fewer coats, and doesn't require a primer on most surfaces. We also love that the acrylic latex formula can be applied in temperatures as low as 35°F so that homeowners have more time in the year to get their fresh coat of paint!  

Regal Select Exterior
Grade: Premium Paint
Finishes: Flat, Low Lustre, Soft Gloss
Formula Type: Acrylic with Alykd Technology
Benjamin Moore's Regal Select Exterior is a 100% acrylic-fortified paint made with alkyd technology—an advanced type of resin that enhances adhesion and leveling for a smooth finish that hides brush strokes and roller marks. Regal Select performs well on nearly every surface, even hard-to-coat substrates like PVC siding, chalky materials, and pitted masonry. This makes it an excellent choice for a DIY project at a lower price point than the ultra-premium AURA.
Available in all of Benjamin Moore's 3,500 paint colors and three sheens, Regal Select Exterior is highly durable, resisting mildew, fading, cracking , and peeling. Like AURA Exterior, it can also be applied in temperatures down to 35°F, extending the painting season.  

ADVANCE Interior/Exterior Paint 
Grade: Premium Paint
Finishes: High Gloss 
Formula Type: Waterborne Alkyd
Benjamin Moore ADVANCE's waterborne alkyd formula delivers the superior flow and leveling characteristics of oil-based paint, yet it fully cures in just 5 days and cleans up with soap and water. Alkyd paints are incredibly durable and stand up to repeated washing due to the way they dry and cure. This formula, combined with the superior fade resistance of Benjamin Moore's Gennex® Color Lock technology, makes ADVANCE our top choice for a lasting high-gloss finish on exterior doors and trim. It is also mold and mildew resistant and comes with a limited lifetime warranty.
The sheen, or finish of a paint refers to how much light is reflected off its surface (or how shiny it looks). Exterior paint finishes range from flat (matte, non-reflective finishes generally used for siding) to high gloss (shiny, light-reflecting finishes typically used for doors). 

Flat paint finishes provide better coverage per gallon, hide imperfections well and are easier to apply. Glossy finishes are easy to clean which makes them ideal for doors and entry areas; the shine will highlight surface imperfections, so applying them takes skill. In between flat and glossy, the paint industry has created additional finishes with various levels of shine: flat or matte, low-lustre, satin and semi-gloss.  
A general rule for exterior surfaces is to use a Flat or Low Lustre sheen on siding. Trim details like window casings, porch railings, etc. are painted in a Satin or Semi-Gloss sheen for added dimension and easier maintenance. Semi-Gloss and High-Gloss finishes are typically used on the front door or architectural focal points for an elevated look that's easy to clean.

If you plan to use Semi-Gloss or High-Gloss paint, surface preparation is very important to avoid highlighting blemishes. Be sure to fill all dents, caulk all gaps, and sand the surface thoroughly to prepare for a glossy finish. For more helpful tips on selecting the best paint sheen for your project, check out our helpful guide, How To Choose A Paint Finish.
Order Your Benjamin Moore Exterior Paint Online
Avoid the hassle of waiting for a paint order to be mixed, and order your Benjamin Moore paint products online! Ordering paint ahead of time is a great time-saver. You can pick up your paint order at your convenience, or arrange for delivery from Ring's End to your home.
We carry a large selection of Benjamin Moore products including the popular Regal Select Exterior, AURA, and ADVANCE paints, and ship anywhere in the U.S. with free shipping on all orders over $150! Ordering paint online is fast, easy and so convenient. 
Benjamin Moore Exterior Paint FAQs