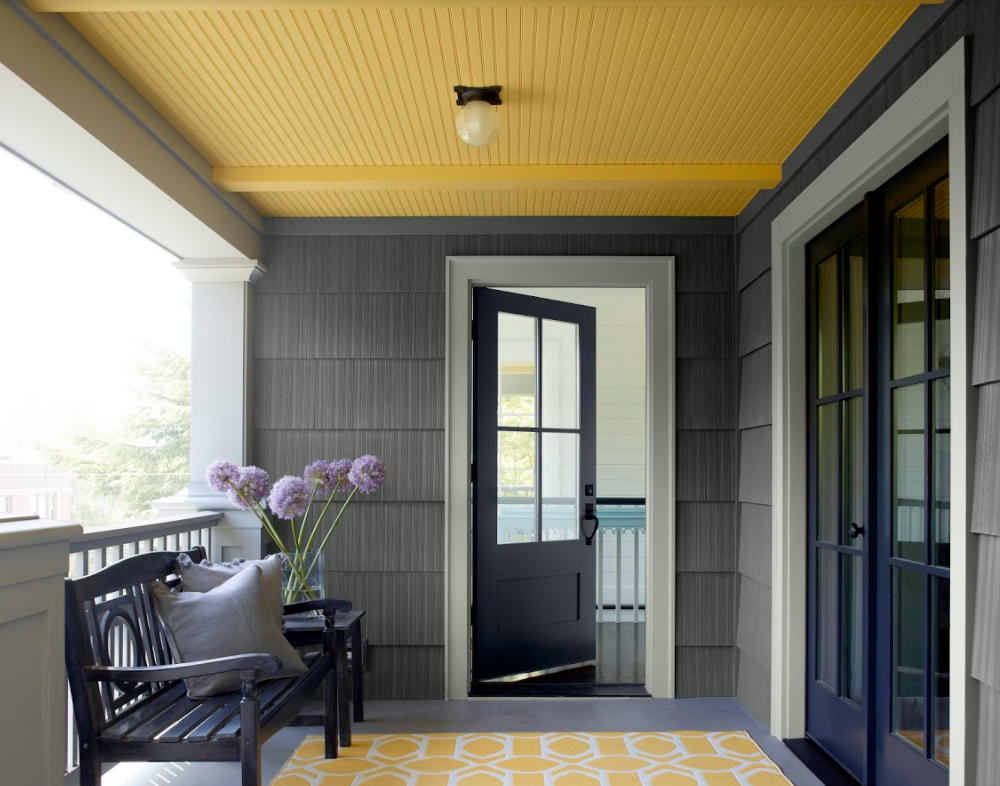 Gray paint colors have been extremely popular for the past several years, for good reason. Gray paint provides a neutral backdrop for furnishings, art, and accessories, but it's a more complex and interesting choice than plain white paint. A gray paint color may be warm or cool, and soft or bold. A favorite choice in open plan homes, this versatile neutral works beautifully with white trim to create a crisp, modern look. 
Gray colors contain a wide variety of undertones that appear in different types of lighting. A color that looks perfect in the paint store can appear completely different in your home. To help you choose the perfect gray paint colors for your space, we've reviewed the best Benjamin Moore gray colors here. Keep reading for all the details on the undertones and best palettes for each of these popular colors!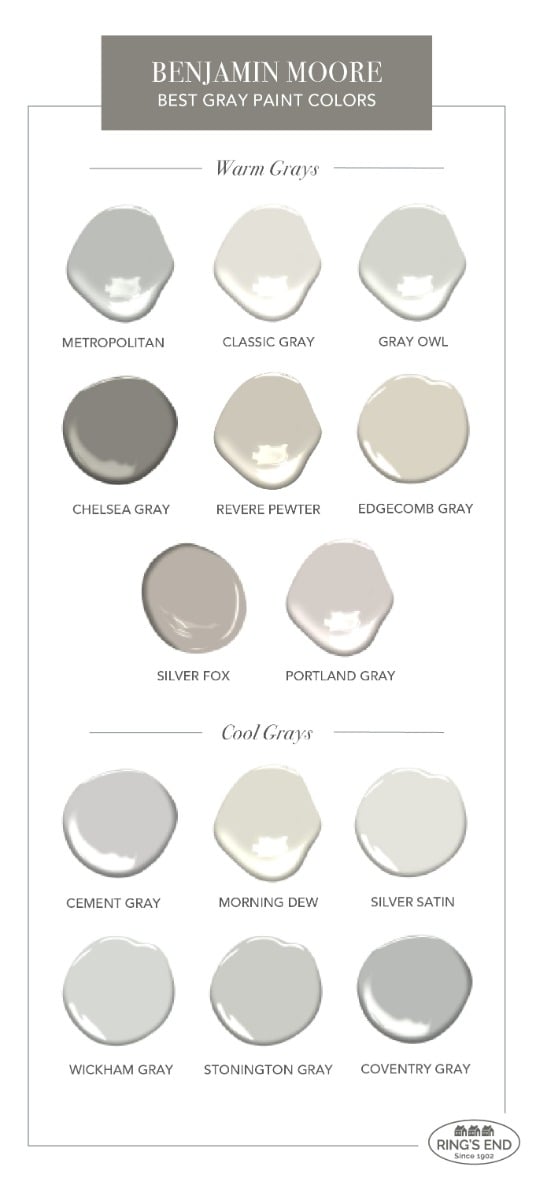 18 of the most popular Benjamin Moore gray paint colors
Undertones in Benjamin Moore Gray Paint Colors
Gray paint is sensitive to lighting; both natural and artificial light can influence gray paint colors and make them appear significantly warmer or cooler blue-gray. Undertones of green or blue may seem to appear out of nowhere.

Warm vs. Cool Undertones in Gray Paint Colors
Our Favorite Warm Gray Paint Colors
Benjamin Moore Gray Owl

Kitchen cabinets in BM Gray Owl OC-52
A popular gray paint with interior designers, Gray Owl is a Benjamin Moore best-selling neutral gray paint color. Gray Owl is a light gray with barely-there warm green undertones; in bright natural lighting, it may appear slightly cool. This is a versatile neutral that works beautifully as a unifying color throughout the home. In open-plan rooms, it may appear warmer on one wall and cooler on another, adding life to a neutral space. It's no wonder Gray Owl is one of Benjamin Moore's best light grays!
Benjamin Moore Metropolitan

Bedroom walls in Benjamin Moore Metropolitan Gray AF-690
Metropolitan is such a perfect neutral paint color, it was the Benjamin Moore Color Of The Year in 2019. This barely-warm gray has green undertones that keep it looking warm in most environments. In north-facing rooms, it may appear to have cool undertones but they are barely noticeable. Metropolitan is a light-to-medium gray that brightens up a well-lit space and won't make a space too dark. This modern color is an ideal neutral for walls and kitchen cabinets and has a classic look in either a matte or glossy finish. A reliable and versatile light gray, Metropolitan is an ideal gray wall color for open floor plans.
Benjamin Moore Chelsea Gray

Dining room wall in BM Chelsea Gray OC-168
Chelsea Gray is medium gray with rich warm undertones. In a brightly lit room, it may develop a deep taupe appearance; in a south-facing room or warm afternoon sunshine, it appears gray-brown. Darker spaces or rooms with north-facing light cause Chelsea Gray to appear less warm and more charcoal gray. Chelsea Gray is a versatile gray paint color that suits many different design styles, from historic homes to urban interiors. For rooms without much natural light, it's one of the best dark gray colors because of its warm, cozy look.
Benjamin Moore Revere Pewter

Revere Pewter is a light gray with strong warm undertones that change with the light. This earthy neutral is an incredibly versatile color that's popular for living rooms, kitchens, and bedrooms. It's the perfect backdrop for art and furnishings in almost any space and complements both warm and cool color countertops. Expect silver-gray undertones to appear in a north-facing room and brown undertones in a south-facing room. Revere Pewter is popular in traditional homes since it's a slightly muddy color that creates a cozy, neutral look.
Benjamin Moore Edgecomb Gray

Edgecomb Gray has a warm hint of beige that makes it a serene wall color for open floor plans. In cooler, north-facing light, expect to see more cool gray undertones. In a south-facing room or warm afternoon sunshine, it appears distinctly warm. Edgecomb Gray is a crisp and modern neutral that creates a stylish backdrop for your decor. Edgecomb Gray shifts from warm beige to gray tones throughout the day, making an interesting backdrop for bold colors.
Benjamin Moore Silver Fox

Warmer grays provide neutral walls, with warm tones that keep a space from feeling cold. One of the most popular warm gray paint colors is Benjamin Moore Silver Fox. This medium gray shade has a hint of brown that makes us think of warm cocoa. A saturated shade, Silver Fox won't wash out in a large or brightly-lit space. It looks fresh and crisp with white trim, but a softer white like White Dove gives it a cozy, vintage character.
Benjamin Moore Portland Gray

A hint of purple undertone gives Portland-Gray a warmth and richness that balances out cool-toned lighting. It's an ideal choice of gray paint color for north-facing or east-facing rooms because it retains its warmth without direct sunshine. Use Portland-Gray all over in a modern setting, or combine it with a soft white trim color for a traditional look.
Benjamin Moore Classic Gray

Classic Gray is a pale gray that is just a hint more saturated than off-white. This greige-leaning gray has neither blue nor green undertones, so it will remain firmly neutral in all types of lighting. Classic Gray makes its strongest showing in a room that isn't flooded with bright daylight that can wash it out. Pair warm grays with white trim or wainscoting for a soft contrast. One of our favorite Benjamin Moore grays, Classic Gray will change throughout the day as the natural light changes, so be sure to test a sample in your space.
Our Favorite Cool Gray Paint Colors
Benjamin Moore Cement Gray

A cool, modern gray, Cement Gray is a classic neutral with both a red and blue undertone. It has a reliably gray appearance that doesn't appear cold or muddy, although it may occasionally take on a slight purple tone. Cement Gray sets off warm brown and red tones perfectly and has a soft look against crisp white trim. This chic color is a designer favorite.
Benjamin Moore Morning Dew

Morning Dew is part of Benjamin Moore's 2022 Color Palette. It's a soft, serene gray with visible green undertones, but very few blue tones. It's a soothing shade that's versatile enough to coordinate with both pastel and bold colors. Play up its complex undertones with warm wood furnishings and silver accents. While it may appear to be the palest green, this is a soft gray that changes with the light and looks beautiful in large, airy spaces. Pair Morning Dew with a creamy white for timeless cottage style.
Benjamin Moore Silver Satin

Cool and soft, Silver Satin is a silvery gray paint that always looks fresh and clean. Nuanced undertones make this paint color incredibly versatile; in certain lighting, it may appear warm, but cool silvery undertones keep it from feeling overly warm or beige. Silver Satin is an understated neutral that's perfect for walls and cabinetry in the living room, kitchen, or bath. It has a cool nature that makes it ideal for pairing with marble surfaces.
Benjamin Moore Wickham Gray

Wickham Gray is a soft, calming gray that keeps its cool nature in different lighting conditions, without turning purple. It has blue-green-gray undertones that may be more apparent in the cool light of North and East-facing rooms. In bright, natural lighting it looks like a classic light gray. Wickham Gray pairs best with neutral white trim colors like Benjamin Moore's Chantilly Lace.
Benjamin Moore Stonington Gray

Stonington Gray is another cool gray that has slight blue undertones. This timeless shade of light gray paint is a popular choice for modern family homes, and it makes a statement in open floor plans. Stonington Gray blends beautifully with marble and stone finishes, making it an elegant choice for the living room, kitchen, or master bath. This cool neutral gray is light enough to use as an overall wall color but strong enough to create contrast against white trim or black accents. Stonington Gray's icy blue undertone washes out in bright daylight to create a classic neutral with just enough gray.
Benjamin Moore Coventry Gray

Coventry Gray is one of Benjamin Moore's most neutral gray paint colors. This chameleon shade may shift tones slightly during the day. In most lighting, it appears to be a classic gray, but in certain lighting conditions, it may appear to have a slight blue undertone that gives it a "cool gray" appearance. It's one of our favorite and most popular shades of gray. To learn more about the nuances of this stylish color and where to use it, check out Coventry Gray Review & Inspiration.
Bold & Charcoal Gray Paint Colors

Benjamin Moore Ashland Slate

Ashland Slate is a dark color gray that's reminiscent of the gray-black tones of natural slate. This solidly cool gray has purple undertones that give it depth and strength. It's not easily influenced by other colors or lighting conditions, so interior designers like to use Ashland Slate to make a bold statement. Cool northern light will bring out a slight purple undertone and keep Ashland Slate from feeling cozy. In a modern interior, it makes a stylish backdrop for bold colors like acid yellow and orange. Since this cool gray complements red beautifully, it's the ideal gray paint to use with brick accents.
Benjamin Moore Arctic Seal

"In his chilly underwater playground, a graceful shadow darts and twirls among the polar ice flows." Benjamin Moore's own description of their Arctic Seal paint color is perfect. This reliably cools deep gray paint color is almost dark enough to be considered charcoal gray. This darker gray works best in modern settings, as a living room accent wall, dining room, or on kitchen cabinets. Pair cool grays with a crisp, cool white like Frostline for maximum contrast in natural light.
Benjamin Moore Sparrow

Sparrow is an elegant, warm dark gray that provides a neutral backdrop for accent colors; it also pairs beautifully with other gray paint colors. This warmer gray shade adds coziness to a naturally dark room or crisp contrast to a bathroom with white marble tile. Use this dark gray on bookshelves, woodwork, or cabinetry; or paint the entire dining room for a sophisticated look. Natural light brings out the complexity of this darker gray paint color.
Benjamin Moore Kendall Charcoal

A bit darker gray, Kendall Charcoal imbues interiors with moody, luxurious air. A slightly warm hue makes this dark gray paint color an elegant and versatile neutral with a hint of green undertone. It's an excellent choice for rooms with cool lighting since warm green undertones keep it from appearing cold. Kendall Charcoal is a modern dark gray that adds drama as an accent wall, bookshelves, hallway, or kitchen cabinets.
Sampling Benjamin Moore Grays to Find the Perfect Paint Color
Choosing your gray paint color from Benjamin Moore colors is easier when you consider each color's undertones; then test the shade in your home before making a final decision. While they might be hard to spot on a paint chip, undertones will appear when you paint the wall. The best way to avoid surprises is to take your time during the selection process and test before you commit.
Instead of using gray color chips, it's better to order a paint sample pot for each paint color you're considering. Then you can paint a poster board with each gray shade, and move it around the room to observe it on different walls. Our Color Tester Sample Kits contain everything you need to create your own large, movable samples.
This process gives you a true sense of how a gray color works with your existing decor, and how it will appear in your particular lighting conditions. Testing the undertones of interior paint colors is an important step when choosing the best gray paint color for your space. Sampling the paint at home is well worth the time and effort, because subtle differences in paint shade and undertone can dramatically affect your final choice of paint color.
Large paint samples let you see how the gray looks throughout the day, both in natural lighting and by lamplight in the evening. Try the paint samples in each room you plan to paint. Move them around to compare a well-lit wall and a darker wall. Put the boards right up next to your trim to see the two colors together.

Testing paint color samples throughout the house using poster boards painted with Benjamin Moore sample paint
Focus on how the undertones work with the lighting and furniture in your space, and you're sure to choose the perfect shade — a gray paint color you'll want to live with for years.
For helpful tips on selecting the right paint product and finish for your project, read our Interior Paint Guide.
Where to Buy Benjamin Moore Paint
Ring's End offers an unparalleled selection of Benjamin Moore interior and exterior paints in-store and online, shipping anywhere in the U.S. Choose from a variety of paint finishes, including a matte finish, semi-gloss finish, or glossy sheen finish depending on your needs and aesthetic tastes. Order samples to start your project today!