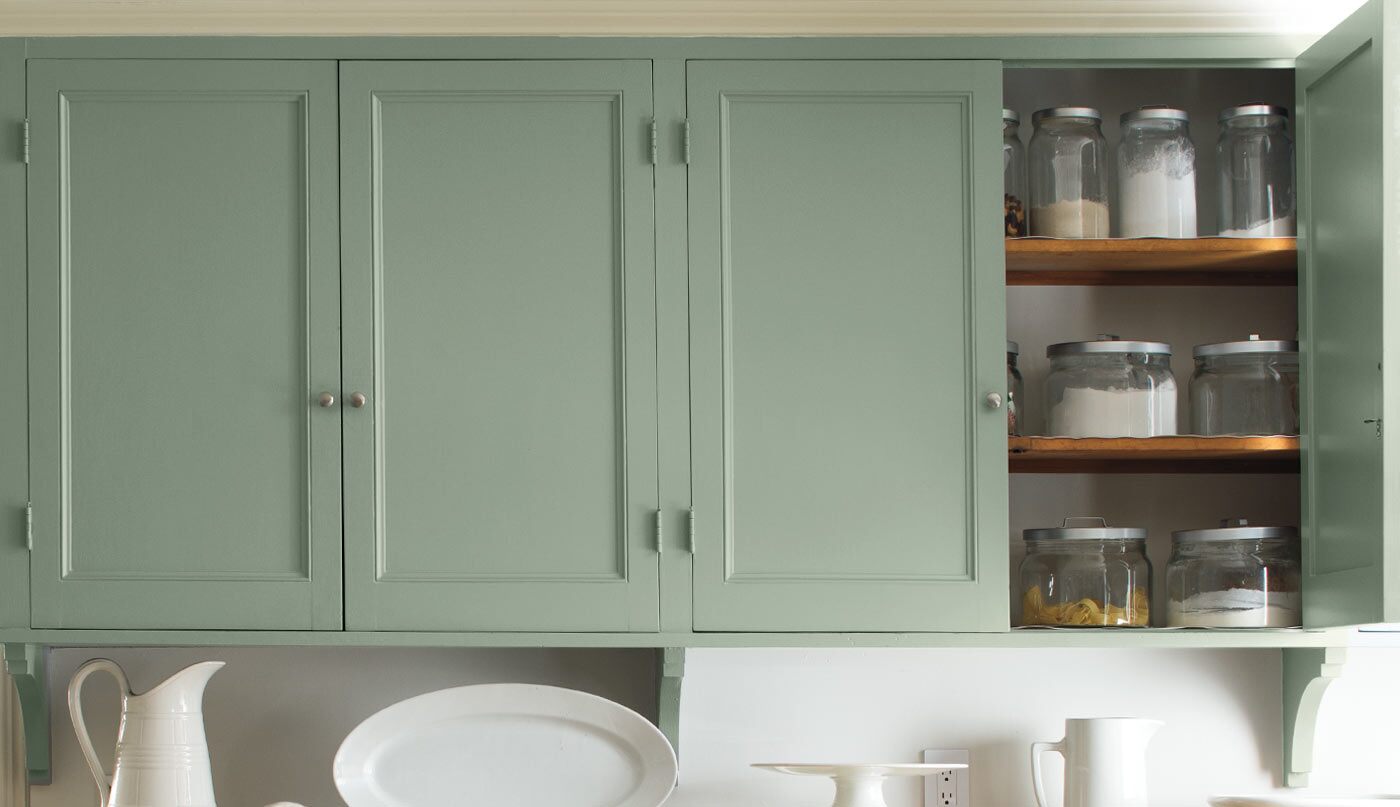 A kitchen remodel is one of the most popular home improvements today. An updated kitchen not only adds value to your home, it improves your daily routine and lets you enjoy colors and finishes you love. The decision to remodel is a big one – it's expensive, it's messy, and it can take months. Many homeowners opt for a kitchen makeover instead by replacing countertops and backsplash, improving storage, upgrading appliances, and painting the cabinets for a whole new look.
Painting kitchen cabinets is a big task, but it saves thousands over buying new cabinets. It's tempting to hire professional painters to handle the project; they'll do a beautiful job, but it can be costly. With the right advice and preparation, painting kitchen cabinets is a project that you can DIY – and achieve a durable finish without chipping.
We've put together this kitchen paint guide to help you answer all the big questions about painting your kitchen cabinets, and step by step tips for your project.
You'll want to save this handy chart for later—with recommendations for the right primer, the best paint, and the amount of work involved in painting each cabinet material: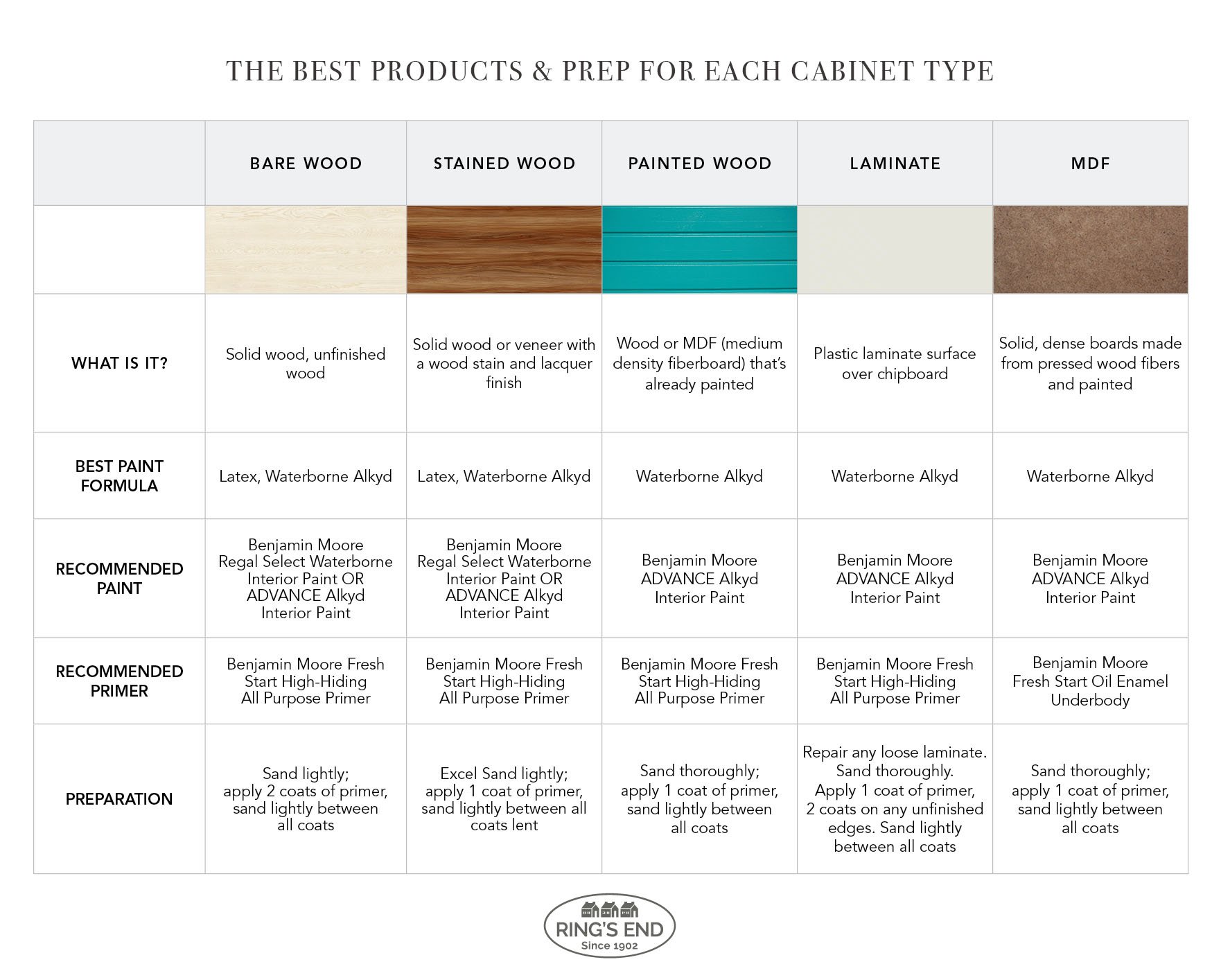 Keep reading for more!
Should I Paint My Cabinets?
Are my cabinets in good enough condition to paint?
Before you even consider painting cabinets, make sure that they're in good condition. Look inside for signs of water damage, bowed wood or disintegrating fiberboard. If you're planning to upgrade the countertops from laminate or tile to a heavier material like stone, confirm that the cabinet frames can support the extra weight. Your countertop supplier or a Ring's End associate can advise you on whether the cabinet boxes need extra framing.
Once you've determined the cabinets are worth keeping, consider the type of material they're made from. Almost any material can be painted with good surface preparation and the right products. Do you have solid wood cabinets or wood veneer over particle board? Does your kitchen have MDF or laminate cabinets? Have they been painted before? Different types of cabinets require slightly different methods of painting, and some are more labor intensive. You'll need this information for the paint store.

Can I paint my kitchen cabinets myself?
Painting kitchen cabinets is a big project; doing a quality job is time consuming and requires a lot of prep work like patching, sanding and cleaning. However, it's also one of the most popular DIY home renovation projects because it saves money and adds value to your home. If you've never done an interior paint project, it's a good idea to start with painting walls and trim for practice. But if you know your way around a brush and roller, you can do this! You'll need at least five days to achieve a professional-looking and durable paint job.
Keep reading to learn about the different types of cabinet paint; then check out our Products & Prep chart for the correct primer, paint products, and surface prep for your particular cabinets.
What type of paint do I need for cabinets?
For centuries oil paint was thought to be the best paint choice due to its durable finish, but now that we know it emits toxic indoor air pollutants, it has been banned from sale in many places. Today most homeowners paint kitchen cabinets with either latex or alkyd paint. Advancements in paint technology from companies like Benjamin Moore have given us water-soluble, Low VOC paints that are equally durable, safer, and healthier to live with.
Latex vs. Alkyd Paint
Latex paint has been the go-to choice for the past few decades. It's an affordable kitchen cabinet paint that offers a fast drying time and easy cleanup. If you used latex paint on cabinets in the past and had rub-off or chipping, the surface underneath may not have been properly prepared.
Latex paint formulas have been improved in the past several years, so they offer much better adhesion and durability. If you like using latex paint for other projects, you should certainly consider using it on kitchen cabinets. One of the benefits of latex is that it can be applied over existing paint. Unlike oil or some alkyd paints, it doesn't have solvents that might soften the old paint and create a mess.

Alkyd paints are a modern product designed to replace oil paints. Most consist of an alkyd resin dissolved in a solvent, instead of a pigment suspended in oil. Alkyd resin paint was designed to replace oil and latex paints with a cleaner, safer formula. Benjamin Moore has created a water soluble alkyd paint with their ADVANCE paint products. Preferred by professional painters, water-based alkyd paint feels like an oil-based paint during application, and it levels to a smooth, furniture-like finish. Plus, it is available in more than 3,500 Benjamin Moore colors and three paint sheens.
Here is a comparison of each type of paint, so you can choose the best kitchen cabinet paint for your makeover:

Paint Sheens or Finishes
The next decision to make about kitchen cabinets paint is its sheen or finish. The sheen is the amount of light that reflects off the painted surface to create a shine. For painting cabinets, most homeowners choose some level of shine because glossy finishes are easy to wipe down. Unlike flat paint (which requires a topcoat to be scrubbable), glossy paints form a durable, smooth surface that stands up to frequent cleaning. Always choose Satin, Semi-Gloss or High-Gloss instead of Flat or Eggshell paint sheens for cabinetry and woodwork. These three sheen options are available in Benjamin Moore ADVANCE Interior Paint; this high quality paint is our top choice for its furniture-like, smooth finish. 
Which paint sheen is best for your kitchen? It depends on your skill level, whether it's a DIY project, the condition of your cabinets, and the look you're trying to achieve.

The Best Products & Prep for Each Cabinet Type
While any cabinet material can be painted, some types require specialized paint products or extra steps in the process. It's important to know what your cabinets are made of before you hit the paint store. This handy chart has it covered, with recommendations for the right primer, the best paint, and the amount of work involved in painting each cabinet material:

How to Prep and Paint Kitchen Cabinets
Choose The Best Brushes & Rollers for Cabinets
For the best results when painting cabinets be sure to use the right brushes and rollers for the job. The best paintbrush for cabinets is narrow enough to reach into tight spots and has medium or soft bristles that help to prevent brush marks. Choose synthetic bristles of nylon, polyester, or a combination of both; they are designed for latex and alkyd paints. (Natural bristles are not suitable because they absorb water.) An angled brush creates a sharper paint line, so it's ideal for cutting in clean edges. A nylon 2.5" angled brush is the professional choice for a smooth, even finish.

The best roller for cabinets is a foam roller because it has no nap, or surface texture. Thick-napped rollers are designed to hold more paint for better coverage on large walls. A flat-surfaced foam roller applies a thinner coat of paint, making it much easier to avoid lap marks and create a smooth finish. A small cabinet roller (4"-8" wide) is also much easier to maneuver inside cabinets and around the edges.

Prepping & Priming Cabinets
The most important step before picking up a paint brush is preparing all cabinet surfaces. If your cabinets are already painted, you should test the old paint to see if it's oil or latex. This will help you choose the right primer so the new paint adheres without chipping. To test paint, just dip a rag in acetone and rub it on the paint. If it softens or comes off, it's latex paint. If nothing happens, it's oil paint.
Take the information about your cabinet materials and old paint to the paint store to help you buy the correct primer. A multi-purpose primer like Benjamin Moore's Fresh Start High-Hiding All Purpose Primer is ideal for most cabinet projects. It offers superior bonding over both oil and latex paint.
Painting kitchen cabinets takes several days, so you'll need to set up a dedicated workspace. In addition to a primer, cabinets require 2-3 coats of paint on both the fronts and backs of cabinet doors, with time to dry in between. Clear out a garage or adjoining room and set up a few tables draped in plastic for the cabinet doors to safely dry. You'll also want to empty the cabinets completely and slide appliances out to reach any hidden areas. Then gather your painting tools and supplies.
Cabinet Painting Supply List
Primer
Paint
Clean rags
Screwdriver or drill
120-grit sandpaper or sanding block
300-400 grit sandpaper
Chemical deglosser (optional)
Wood filler
Putty knife
Degreaser such as TSP
Sponge and bucket
Painter's pyramid supports (optional)
Much of the painting process is actually preparation work. For a successful cabinet paint job, it's critical that all surfaces of the cabinet are smooth, clean and dust-free. Professional painters often use a paint sprayer for a furniture-grade finish without brush marks; they may even take the doors to a shop to spray paint them. That's a topic in itself, so for our DIY homeowners we'll focus on working with a brush and roller instead.
Step 1: Remove cabinet doors and hardware
Flat surfaces are critical to a great paint job. Use a screwdriver or power drill to remove all the cabinet doors and lay them flat on your work tables. Remove the hinges and knobs and set them aside. If you're replacing the hardware and won't reuse the existing holes, fill them with wood filler. Use plastic drop cloths and painter's tape to protect the countertops, backsplash and floors.

Step 2: Clean and prep all cabinet surfaces
Even a clean-looking kitchen can have cooking residue on cabinet surfaces. Use a sponge and bucket to wash cabinets with a degreaser like TSP. This removes any grease and helps de-gloss the surface. If the cabinets have a shiny finish, a chemical deglosser is a good next step. Let them dry thoroughly.
Step 3: Prep with sandpaper and tack cloth
Sand all surfaces with the 120-grit sandpaper, making sure to get into any crevices. A sanding sponge is helpful for moldings. There's no need to remove the existing paint or finish; just be sure to rough up the entire surface. Sand any filled holes thoroughly for a nice flat surface. After sanding, wipe down with a damp rag to remove dust; then wipe again with the tack cloth.

Step 4: Apply a coat of primer
Make sure your paint brush is clean and the bristles are smooth. Apply a thin primer coat to all surfaces using the foam roller; use the angled brush to paint corners and moldings and catch drips. Start with the cabinet doors – they take longer because you need to paint both sides, with drying time in between. Starting with the backs of cabinet doors is a great way to practice your painting skills! Always work from the center outwards; roll the middle of door panels and finish off edges with the brush. When repainting inside cabinets, working back to front helps minimize the mess.
While the doors dry, move on to the cabinet boxes, and then come back and paint the cabinet door fronts. This step will probably take up the rest of your workday, so let everything dry overnight.

Step 5: Sand cabinets after priming
Once the primer has dried for 16-24 hours, sand the cabinets again to achieve a smooth surface. This time, use a medium 300-400 grit sandpaper or sanding block. Pay special attention to grooves or corners where flat areas meet to remove drips or pooled paint. This is also your opportunity to fix any dings or gaps you see with wood filler or caulk. Any imperfections on the surface will be highlighted by the paint sheen, so take the time to prep carefully. Wipe away the dust with a rag, and go over everything again with the tack cloth.

Step 6: Paint!
Finally, it's time for the first coat of paint. Use both the foam roller and the angled brush. Starting again with the backs of cabinet doors, roll the surface and use the brush to catch drips and paint any details. Let the doors dry completely while you paint the cabinet boxes. If you're using latex paint, you can probably return later the same day to paint the door fronts if they've had time to dry. Alkyd paint takes longer to dry before re-coating. Let everything dry overnight before moving the doors to paint the other side.

Step 7: Sanding after the first coat
Sanding after each coat of paint provides a smooth surface for the next coat. Use your medium 300-400 grit sandpaper to erase brush strokes or roller marks. If any filled-in holes are visible, patch and sand them again to make sure they blend in. Wipe all cabinet surfaces with a damp rag to remove dust, and again with the tack cloth so everything is super clean for the final coat.

Step 8: Paint the final coat
By now, your painting skills will be top notch – it's time to tackle the final coat of paint! Your cabinets may look great after the first coat, but a second coat provides complete coverage and builds paint thickness for a protective coating. Check the instructions on your cans of paint to make sure the paint has dried the required number of hours for re-coating. Then use the brush and roller to apply the last coat. Be sure to allow sufficient drying time before moving the doors to paint the reverse side.

Step 9: Let cabinets dry thoroughly
We know you're excited to put the kitchen back together! But this isn't the time to rush. Paint may feel dry to the touch, but it needs the full drying time to develop a durable finish (and not stick during installation). Let everything dry in your work area for at least 24 hours. While you wait, clean up the drop cloths and supplies and remove the masking tape. Remember, most paint takes a few weeks to fully cure. Handle all doors and drawer fronts carefully and avoid scrubbing until the paint has cured.
Step 10: Reassemble and install hardware
It's time to enjoy your new kitchen! If you need to drill new holes for new hardware, make a cardboard pattern to help align them correctly. Install the hinges, then hang the doors and replace the drawers. This kitchen island looks fresh and modern with a satin paint finish in Benjamin Moore's Caribbean Blue Water.

Kitchen Cabinet Painting FAQs
What kind of paint do you use on kitchen cabinets?
Latex or alkyd-based paints with a glossy sheen provide a durable, washable paint finish.
Do you have to sand kitchen cabinets before painting?
Yes! Cleaning and sanding before and between coats of paint is very important for a smooth finish.
Can you just paint over cabinets or should you strip them?
Most cabinet finishes don't need to be stripped; just prep all cabinet surfaces thoroughly and use the correct primer for your finish or material.
Is it better to roll on or brush on paint kitchen cabinets?
A small foam roller that's designed for cabinets gives a smooth surface. You'll still need a brush for corners and detail work.
How long does it take to paint kitchen cabinets?
When you add up prep time, painting time and the drying time between coats, most kitchens take 4-6 days start to finish. If you're working alone in a large kitchen it may take longer.