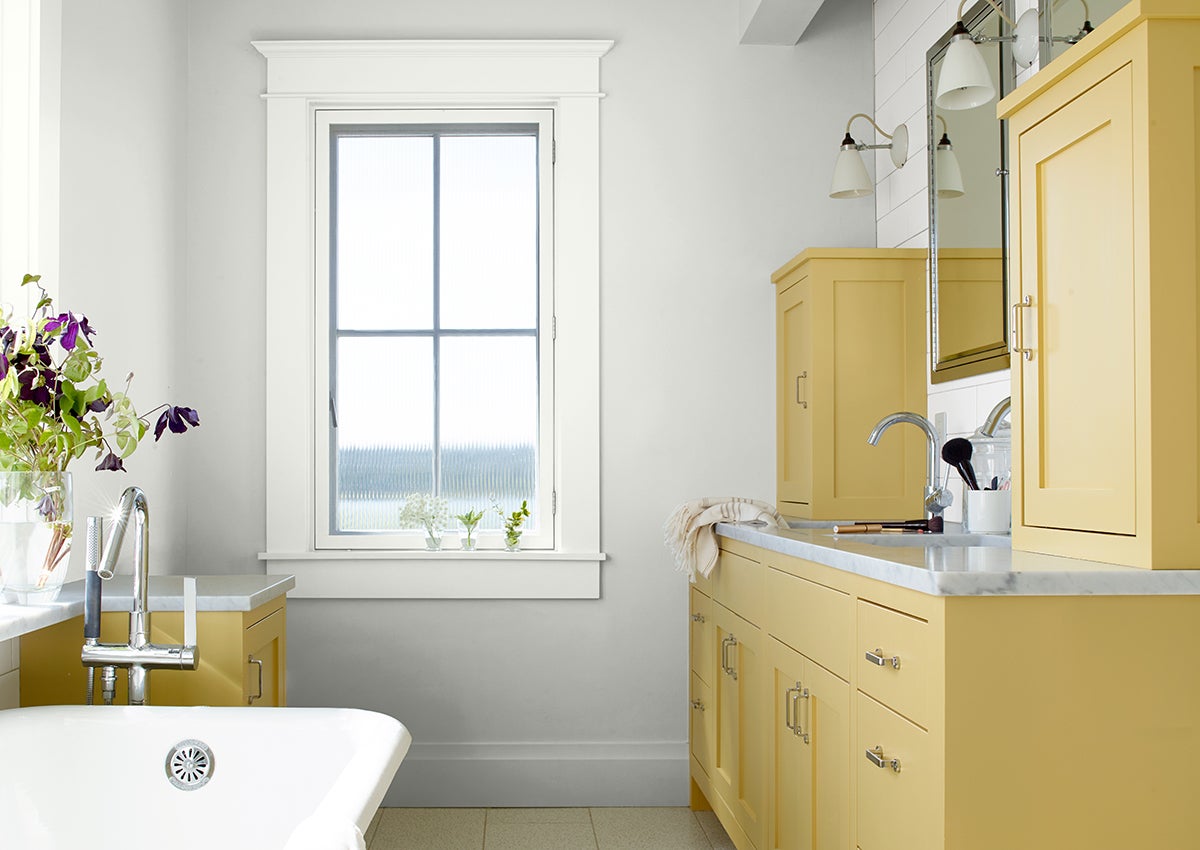 When you're updating or building a home, the type of paint you choose makes a big difference. From walls and ceilings to trim and small architectural details, there are different paint formulations that are best for each application.
Benjamin Moore ADVANCE Interior paint offers over 3,500 colors in self-leveling high gloss, semi-gloss and satin finishes that make doors, window frames, cabinets, and trim look their best. Bringing together the benefits of oil and water-based paints, this premium waterborne interior alkyd paint offers easy cleanup, yet is durable enough for painting kitchen cabinets. In this review, we provide all the details about this innovative paint, including where to use it and how to select the best finish for your paint project.
How does Benjamin Moore ADVANCE paint compare to other Benjamin Moore paints?
One of the first questions people have about ADVANCE paint is how it compares with other Benjamin Moore interior paints. This durable alkyd paint features Benjamin Moore's proprietary waterborne colorants, for lasting color that makes it popular with homeowners and professional painters. Available in three glossy sheens, it is eco-friendly and more affordable than premium latex paint brands. Among Benjamin Moore products, it is more expensive than their popular Regal Select formula, but not as pricey as their ultra-premium AURA interior paint. Let's consider in detail how ADVANCE interior paint compares to Benjamin Moore's other premium paint lines: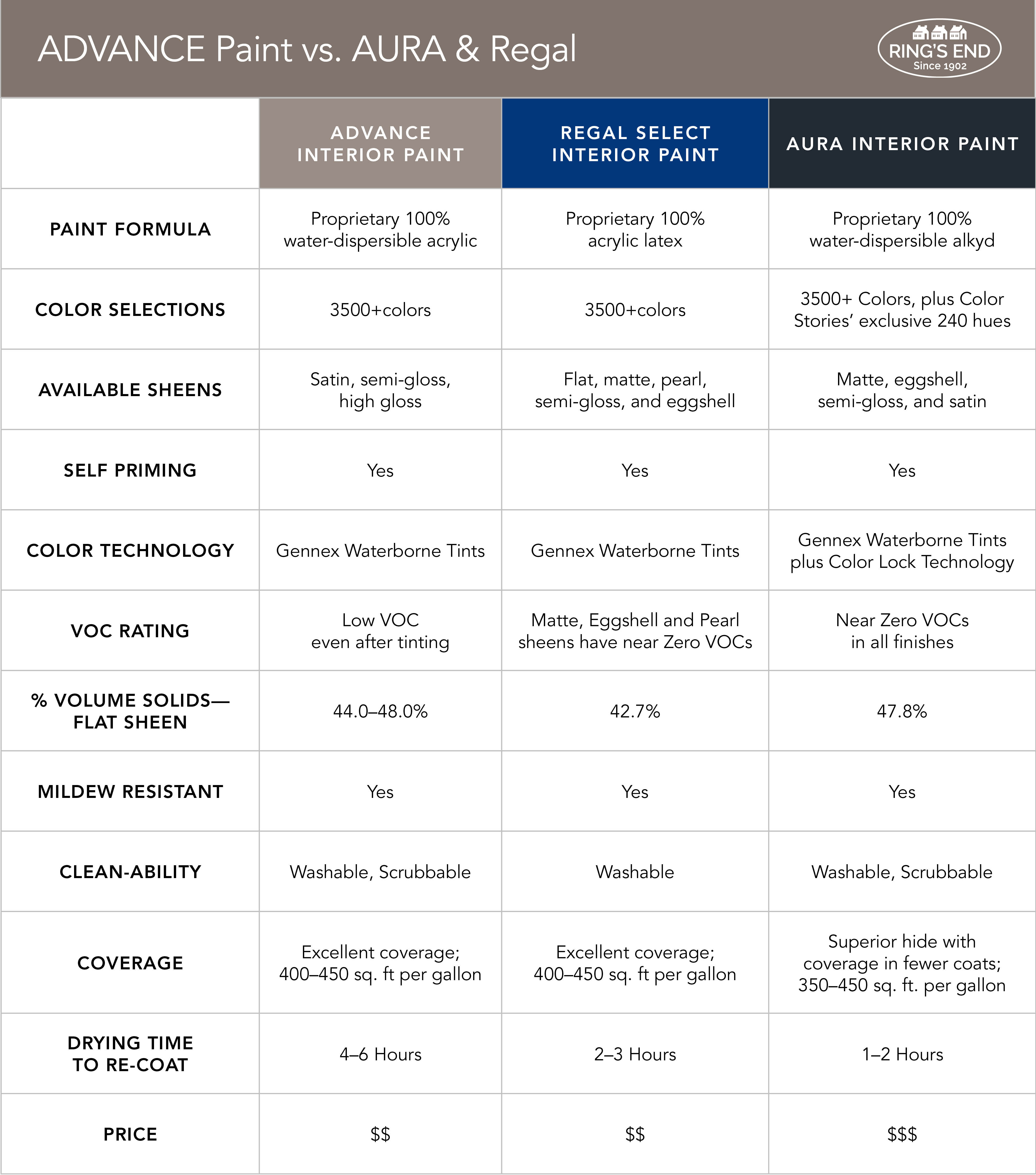 For cabinets and trim that tend to take a beating, ADVANCE will be the most durable option in the long term. The alkyd formula creates a harder, more water-resistant surface that stands up to washing. While Regal Select is a high quality paint, the latex formula won't quite match the performance of the ADVANCE alkyd resins, which is why ADVANCE interior paint is worth the higher price for paint projects like cabinets, doors and trim.
ADVANCE High-End Finishes
One of the most important decisions for any paint project is which finish or paint sheen is best for the situation. The more glossy the sheen, the more durable the paint will be. Less-shiny finishes are also better at hiding surface imperfections, while glossier sheens use the play of light to make decorative details stand out. Benjamin Moore ADVANCE paint comes in three furniture-quality finishes: Satin, Semi-Gloss and High-Gloss. Each one has a distinct level of shine to help add dimension and warmth to your interiors. Because ADVANCE was created for use as a trim,cabinet, and door paint, there is no flat finish available.

Satin:
ADVANCE Satin finish is a low gloss that hides flaws well and is easy to apply, making it one of the best paint finishes for DIY projects. It has a low level of reflectance that is perfectly suited to cabinets, interior doors and trim. The Satin finish is also very durable, making it a perfect choice for furniture, and a great option for walls in high traffic areas like hallways or mud rooms.

Semi-Gloss:
This mid-level gloss finish offers visible shine that gleams even in low light. It is a popular choice for interior doors and trim, and it's well suited to ornate architectural details in the home like decorative carvings, mantels and cabinet doors. A Semi-Gloss paint sheen takes some practice to apply with a brush, so professionals often use a paint sprayer for doors and cabinetry.

High-Gloss:
A High-Gloss finish gives a mirror-like effect to doors, trim, and cabinets that makes a dramatic statement. It is a traditional choice for architectural trim and wainscoting in high traffic areas since it's very hard-wearing and easy to clean. However, this paint finish is challenging to apply without showing brush marks, so we recommend hiring a professional with a paint sprayer.

Paint with a glossy sheen should be applied to a perfectly smooth surface because any flaws will be highlighted by the paint's shine. Any imperfections need to be filled then sanded, cleaned, and primed with ADVANCE Interior Primer, sanding again after priming. Avoid lacquer primers as they can affect the adhesion of ADVANCE paint. Check with a local Ring's End representative if you have any questions about priming.
The Best Places To Use ADVANCE Paint
Benjamin Moore ADVANCE is specially formulated for trim, doors, and cabinetry so it's a great choice for high-traffic areas like kitchens and bathrooms.

Advanced technology helps it last longer than other paints while staying true to its original color and smooth appearance. It's durable enough to withstand daily wear and tear, making it ideal for surfaces like cabinets that are frequently touched. It's also mildew-resistant, so it's a popular choice for high-humidity spaces like bathrooms.

The satin and semi-gloss finishes in ADVANCE interior paint gives a furniture-quality finish to ordinary cabinets and highlights beautiful architectural details; the durable surface keeps woodwork from showing damage over the years. These two finishes are popular with homeowners for baseboards, crown molding, door and window casings, and interior doors.

The satin sheen is actually ideal for DIY projects because it's better at hiding brush marks. It's also a great option in areas where scrubbable walls are important, like a kitchen or mud room.

Choose ADVANCE in a high gloss finish anywhere you want to make a statement, but especially for decorative woodwork and cabinetry.

While ADVANCE is primarily an interior paint, the high-gloss sheen is also formulated for use on exterior doors. It's the perfect front door paint, combining an elegant shine with a very durable, water-resistant finish that stands up to the weather and to regular scrubbing.
ADVANCE Interior Paint Technology
Benjamin Moore ADVANCE paint is a water-based alkyd enamel paint that offers premium quality and lasting performance in three durable sheens. It is made with alkyd resins, which replicate the flow and feel of oil paint. Alkyd enamel paints are as durable as oil paints, but will not yellow over time the way that oil does. As a result, painters like using alkyd paints like ADVANCE, finding it to be the best cabinet paint on the market.

ADVANCE paint is known for easy application that only requires one or two coats and a smooth finish that doesn't require a topcoat. It is also the best trim paint because you can do light touch ups when needed with a smooth, unblemished result. A simple soap and water clean up is all you need if you happen to spill this paint.
ADVANCE Interior Paint Performance
This waterborne formula is designed to perform like an oil-based paint while providing all the benefits of water-based formulas. It offers superior coverage in fewer coats, with almost no odor and low VOCs. ADVANCE covers up to 400 – 450 sq. ft per gallon and has an extended open time, which is the period in which imperfections on a fresh coat of paint can be fixed. It provides excellent hide and requires only one to two coats of paint. Once it is dry, the paint functions like an oil based paint that results in a hard finish that's durable enough for high traffic rooms.
Keep in mind that while ADVANCE paint is dry and ready to recoat after 16 hours, it can take 14 days to fully cure.

Stand-Out Features Of ADVANCE Interior Paint
There are many benefits to using Benjamin Moore ADVANCE Paint, from the extensive color options to the quick-dry formula that looks fresh for years to come. In addition to getting a smooth, even finish from your paint, here are some of the most sought-after qualities that make Advance Paint a top choice.
Excellent Flow & Leveling
ADVANCE paint creates a smooth finish with no brushstrokes left behind. As most traditional alkyd paints, it has a high level of flow and is self-leveling, which means that it flows into small crevices to create a smooth surface. It hides flaws well and can be applied by either brush or sprayer without a noticeable difference in the outcome.
ADVANCE paint is also spatter-resistant, making painting easy and clean up quick. This paint can be touched up where needed with a flawless finish after 24 hours.
High Volume Solids
Designed with the most up-to-date technology, ADVANCE paint contains a higher quantity of volume solids than many competitor brands -- between 37% and 40%. This means that it has more binders, additives, and pigments that stay behind once the liquid part of the paint has evaporated. Containing more volume solids provides better coverage, hiding imperfections. It also results in richer, more vibrant colors.

Stain-Blocking
With excellent hiding capability, ADVANCE paint contains stain-blocking technology that easily covers blemishes on furniture, trim, and cabinets. 
Fast Drying
ADVANCE paint is designed to be touch dry within 4-8 hours. This is significantly quicker than oil-based paints, which typically take over 24 hours to dry. If you need to recoat, allow for 16-24 hours before you paint. Like most alkyd paints, ADVANCE paint takes at least 14 days to fully cure.

Low VOC & Low Odor Paint Formula
As interior paint dries, it releases chemical solvents known as VOCS (Volatile Organic Compounds). They are designed to aid the paint's flow and make it more user-friendly as it is transferred from the paint can to the wall. However, VOCs can be harmful to your health when inhaled. While oil paints can have VOC levels up to 500, ADVANCE paint is designed to be eco-friendly with a VOC level of 47. Unlike oil-based paints that give off strong odors, this paint is formulated to be odor-free and safe, even after tinting. It does not contribute to allergies or breathing issues.
Gennex® Color Technology
To eliminate the number of chemicals in their paints while increasing durability and vibrancy, Benjamin Moore developed their own proprietary system of colorants known as Gennex. Gennex is a water-based colorant formula with low VOCs. It produces beautiful, rich colors while also being environmentally friendly.
3,500 Colors To Choose From
Engineered with Benjamin Moore's proprietary Gennex® Color Technology, ADVANCE paint is available in over 3,500 vibrant colors to match your interior design palette. Benjamin Moore colors are formulated to be long-lasting and fade-resistant, staying true to the original shade for years. Find the best color for your furniture, window frames, and trim by checking out our Painting Ideas, Order today!
Benjamin Moore ADVANCE Is The Best Paint For Doors, Trim & Cabinetry
Benjamin Moore ADVANCE is a very popular choice for bathroom and kitchen cabinets, doors, windows, and trim for good reason. It comes in an array of vibrant color options with three gloss finishes that offer different levels of sheen. With lasting durability and a no-chip finish, this is the best cabinet paint on the market. As it is made from a water-based alkyd, it is easy to clean up and has low VOCs, making it safe and user-friendly.
When it's time to select your paint colors, try our favorite designer tip for testing paint swatches in the home; paint a large poster board using a Benjamin Moore half-pint paint color sample; then move it around the room to observe the color and sheen on different walls and in different lighting conditions. Ring's End offers all Benjamin Moore paints for online ordering, shipping anywhere in the U.S.! For more helpful tips on selecting paint products, check out our Interior Paint Guide.
Benjamin Moore ADVANCE Paint Quick Facts
What is Benjamin Moore ADVANCE paint used for?
ADVANCE paint is primarily used for trim, cabinetry, and doors, all of those spots that require durable finishes that won't show wear and tear easily.
What's the coverage of Benjamin Moore ADVANCE paint?
Benjamin Moore ADVANCE paint has excellent coverage that is between 400 – 500 square feet per gallon at the recommended film thickness level. It resists spattering and fills in cracks and flaws to create a smooth surface.
Do I need to prime before using Benjamin Moore ADVANCE?
Yes, Benjamin Moore ADVANCE paint requires a primed surface. For the best results, use Benjamin Moore ADVANCE Interior Primer. This acrylic primer is designed with maximum adhesion and sealing properties for use on cabinets, trim, and doors.
Can you spray Benjamin Moore ADVANCE Paint?
Yes, it is formulated to be applied with an airless or HVLP sprayer, a brush, or a roller. However you choose to apply ADVANCE paint, it will result in the same smooth, long-lasting finish.