 Whether you're choosing replacement windows for an older home, or making selections for new construction, one of the most important things to consider is window energy efficiency. In fact, 25%–30% of the energy use from heating and cooling is caused by heat loss or gain through closed windows. Because of this, it's important to choose the most energy-efficient windows your budget can afford. Features like thermal-efficient fiberglass window frames and low-E coatings reduce temperature transfer between indoors and out. Both window replacement and new construction upgrades will provide immediate energy savings, while you enjoy more comfortable interiors and lower energy bills.
What's the best window type for your project? Read on to learn about window frame materials, glazing, and other features of energy-star certified windows so you can make a well-informed decision.
Are energy efficient windows worth it?
Replacement windows are far more energy efficient than older windows because of advances in materials and technology. Modern double or triple-pane windows provide increased insulation compared to old, single-pane windows.
This is the main reason that replacement windows are worth the expense – they can dramatically reduce utility bills. Additional features like Low-E insulating glass and Argon gas filler increase their energy performance even more.
Energy-Saving Window Terms
To help both homeowners and businesses choose the most energy-efficient windows, the Department of Energy created the ENERGY STAR rating system; ENERGY STAR certified windows meet strict energy efficiency standards. In addition to this rating, the National Fenestration Rating Council (NFRC) has created specific terms that indicate how well a window design will perform:
1. U-Factor: U-factor measures the window's ability to retain non-solar heat. A low U-factor indicates better insulation and minimal heat loss.
2. Solar Heat Gain Coefficient (SHGC): SHGC measures how well a window insulates against incoming heat from the sun. A lower SHGC indicates better insulation and less heat gain.
3. Low-E glass: Low-E (low emissivity) glass has a microscopic coating that can reflect heat back into the room in winter, and block heat from the sun in summer.
With these terms in mind, you'll be prepared to choose specific features that will reduce energy costs at your home or business.
Window Design Options
The most energy-efficient windows have a low SHGC and a low U-Factor to prevent overheating in summer and retain heat in winter. Manufacturers like Marvin achieve this by combining features like double or triple panes, Low-E glass and gas filling between the panes. Design features like the type of frame and the material it's made from also contribute to creating energy saving windows. When you shop for new or replacement windows, there are many features to consider:
Energy Efficient Window Frame Materials: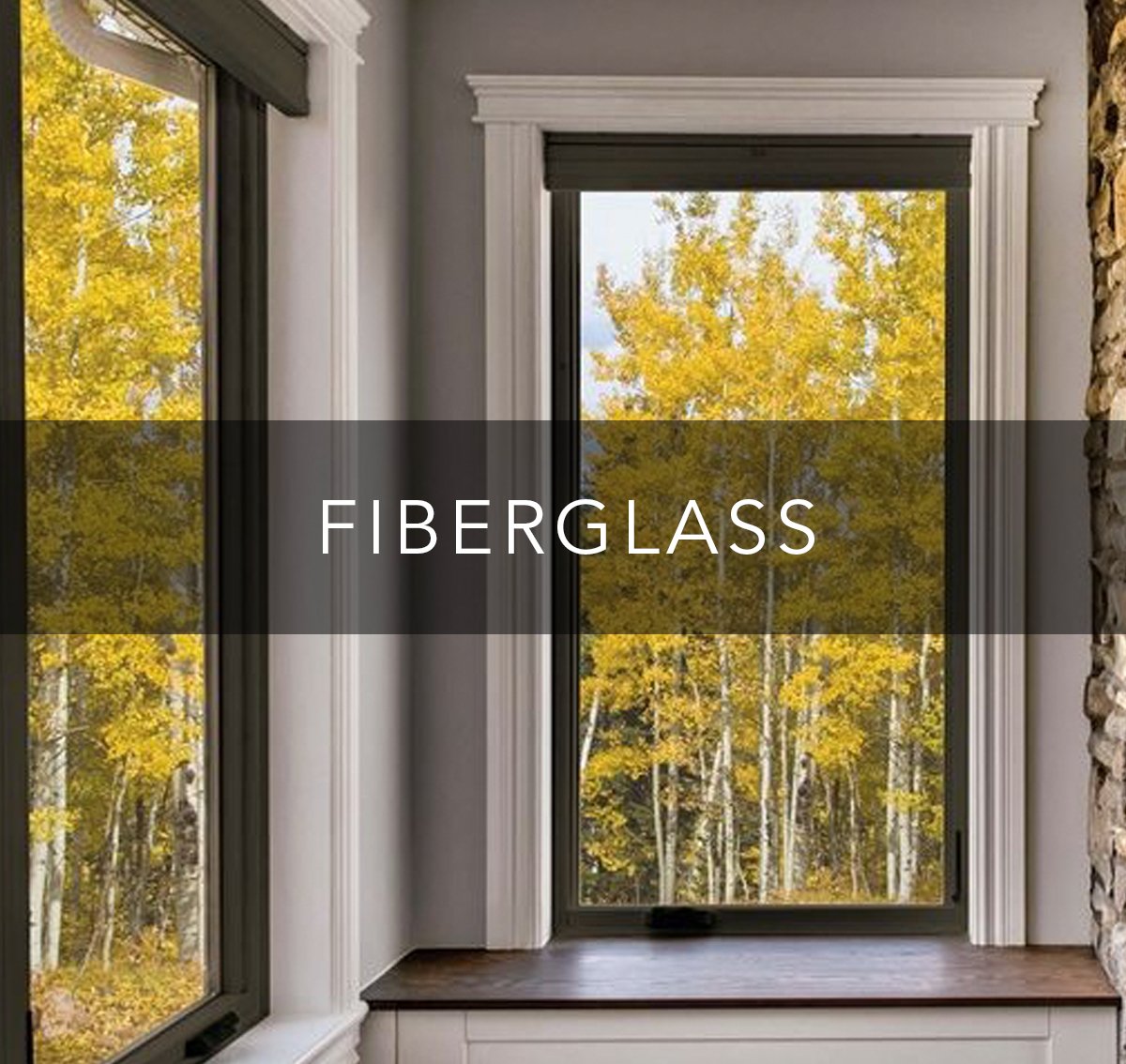 For energy saving windows the best frame material is a composite fiberglass like Ultrex® from Marvin. Unlike vinyl windows, fiberglass windows are resistant to extreme temperature variation, provide superior insulation and maintain their appearance for many years. Engineered for high performance, Ultrex fiberglass expands and contracts at virtually the same rate as window glass for superior stability. Fiberglass window frames are available in a range of colors to coordinate with your home's exterior color scheme.
Marvin offers Ultrex® fiberglass exterior finishes in their Essential and Elevate collections, and fully fiberglass window frames in their Modern collection. For detailed information about fiberglass windows, check out The Top Benefits Of Fiberglass Windows.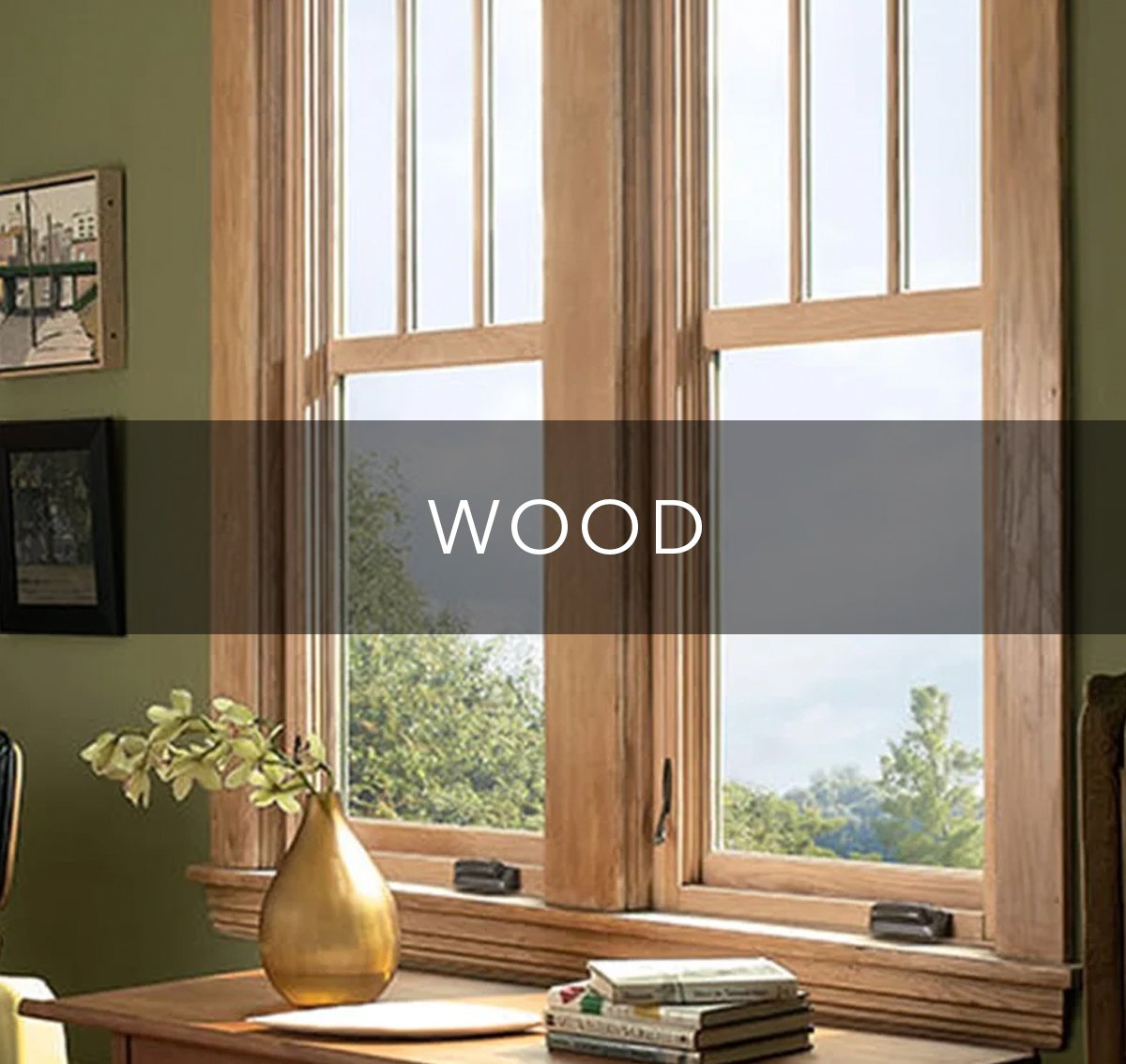 Wood window frames are another excellent option for energy savings; wood is a renewable material that naturally insulates against temperature transfer. In fact, double-pane windows with wood frames can achieve high NFRC ratings and offer excellent thermal performance. The wood windows in Marvin's Ultimate and Elevate collections are the best energy saving replacement window for historic homes. Aluminum exterior cladding adds extra durability, and triple-pane glass is an option for very cold climates. In addition to a wide range of available colors, wood frames can be custom painted.
Glazing:
Glazing refers to the panes of glass in a window frame. Energy efficient windows usually have double-pane construction, where two panes of glass are spaced apart and hermetically sealed to create insulating air space. This insulating gap dramatically reduces heat gain and loss; it is often filled with Argon or Krypton gas for added protection.
Low-E Coatings:
Low-E, or low-emissivity coatings are added to window glass to reduce the amount of heat transferring through the glass without significantly reducing visible light. A virtually invisible metallic oxide coating is applied directly on the surface of the glass. Low-E coatings help protect furnishings from ultraviolet or UV damage and reduce energy loss by 30% to 50%. Marvin offers four different types of low-e coatings to choose from, depending on your local climate.
Spacers:
Spacers separate the layers of glazing and create an insulating gap. This small space can be filled with gas to reduce temperature transfer and allow for expansion and contraction during extreme temperature changes. Sealants are used to prevent moisture infiltration and gas leaks.
Gas Filling:
Non-toxic and odorless Argon and Krypton gas filling helps to increase energy efficiency even further. Sealed between the panes of glass, they slow down the transfer of heat and cold between indoors and out.
Modern, energy efficient windows can achieve a high NFRC rating by combining some or all of these options: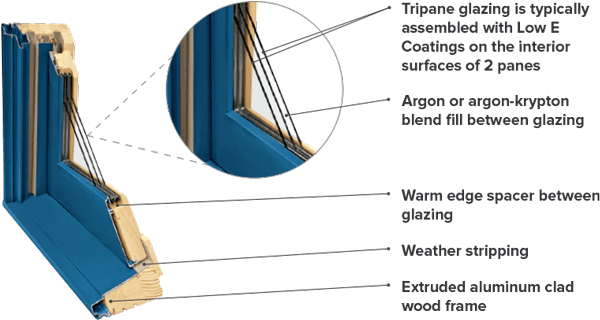 What type of window is most energy efficient?
The most energy-efficient windows for your particular home will depend on your home's location and its orientation to the sun. In cold climates, windows that prevent heat loss and allow some heat gain in winter will provide cozy warmth. In hot climates or in South-facing rooms, it's important to prevent heat gain and minimize cooling costs. In addition, proper window installation that prevents air leakage is critical for energy-efficient windows to perform at their best.
It may seem surprising that a window's style can affect its efficiency, but some types are better than others. For example, a double hung window has two sashes that slide past each other that must seal where they overlap. As buildings shift, even a carefully engineered window may eventually leak air where the sashes meet.
With the right components double hung windows can of course be very energy efficient. However, the most energy efficient window style is actually a casement or awning window. Because they have a single sash and a crank that latches them closed, they form a tight seal that virtually eliminates air leaks.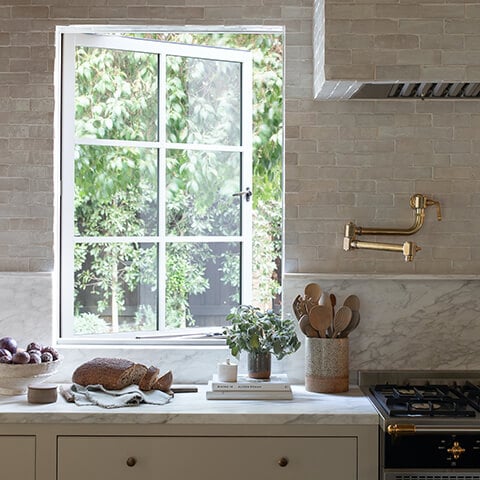 Awning windows also help with air circulation because you can leave them open without worrying about rain coming in.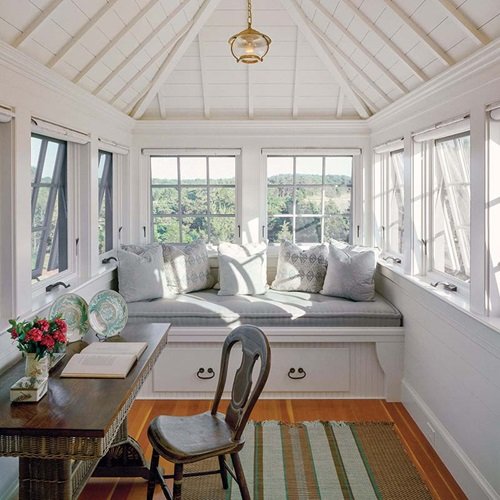 Of course, modern engineering makes it possible for most window styles to be extremely energy efficient, so there's no reason to limit your home's design to awning or casement windows. There are many options to choose from; check out the different features of Marvin's window collections below, and visit our Gallery Of Marvin Windows to see the latest in window design ideas.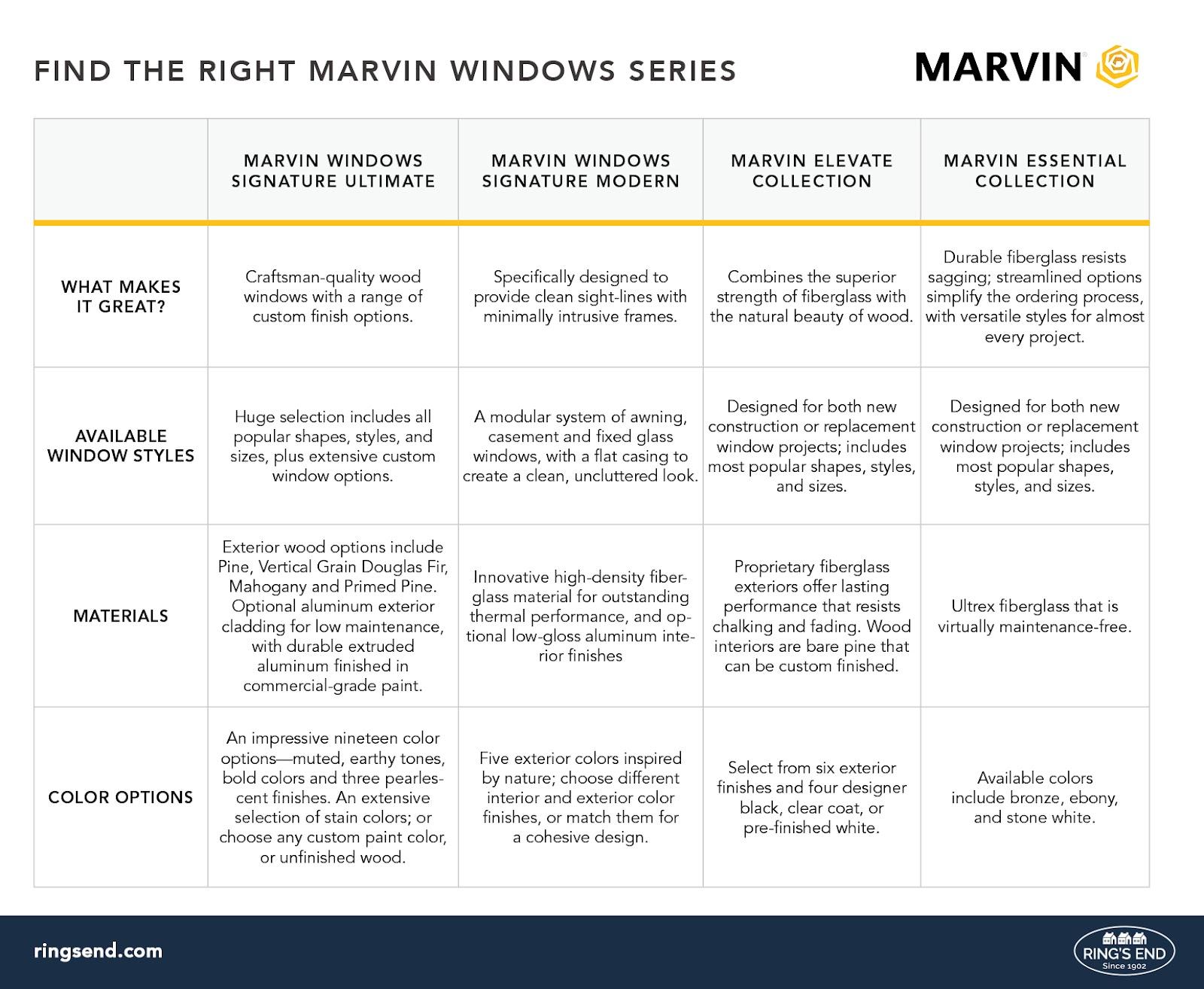 Energy Efficient Marvin Windows At Ring's End
Are you building or renovating a home? You'll love Marvin's extensive selection of designer window options - and their uncompromising quality. Our window experts make it easy! They're ready to help you navigate through the choices, set up an installation plan, and deliver your windows safely and efficiently. Visit a Ring's End showroom, or schedule an in-home appointment with one of our Marvin experts. Get started today!
Marvin Windows Frequently Asked Questions
Why do I need an appointment to shop for windows?
Because there are so many options to consider, selecting windows for your home takes time and it's important that a member of our team is available to work with you.
Where do I find a certified Marvin Windows & Doors installer?
Ring's End offers direct installation of all your Marvin window and door products. Our installers are licensed and fully insured. They follow the manufacturer's recommended installation methods, to ensure each window we install meets the manufacturer's warranty criteria. Our installers are certified as EPA Lead Safety Renovators. Registered in Connecticut, New York (Westchester County), and Rhode Island, our installers deliver the highest quality services throughout the region. Click here for more information.
What is the Marvin Windows warranty?
Marvin® brand windows, doors, Marvin Awaken™ Skylight and Marvin Skycove® are covered by an industry-leading Limited Warranty that proves they stand solidly behind their products. For detailed warranty information, visit the Marvin website.
What is Marvin Windows' Energy Efficiency Rating?
All Marvin windows are assessed and rated by the National Fenestration Rating Council (NFRC) and are Energy Star certified. The NFRC provides a uniform national rating system for the energy performance of doors and windows. To compare Marvin's collections and find the best energy efficient windows for your project, Marvin provides an Energy Data calculator on their site.
Where are Marvin Windows made?
Marvin Products are manufactured in the USA.