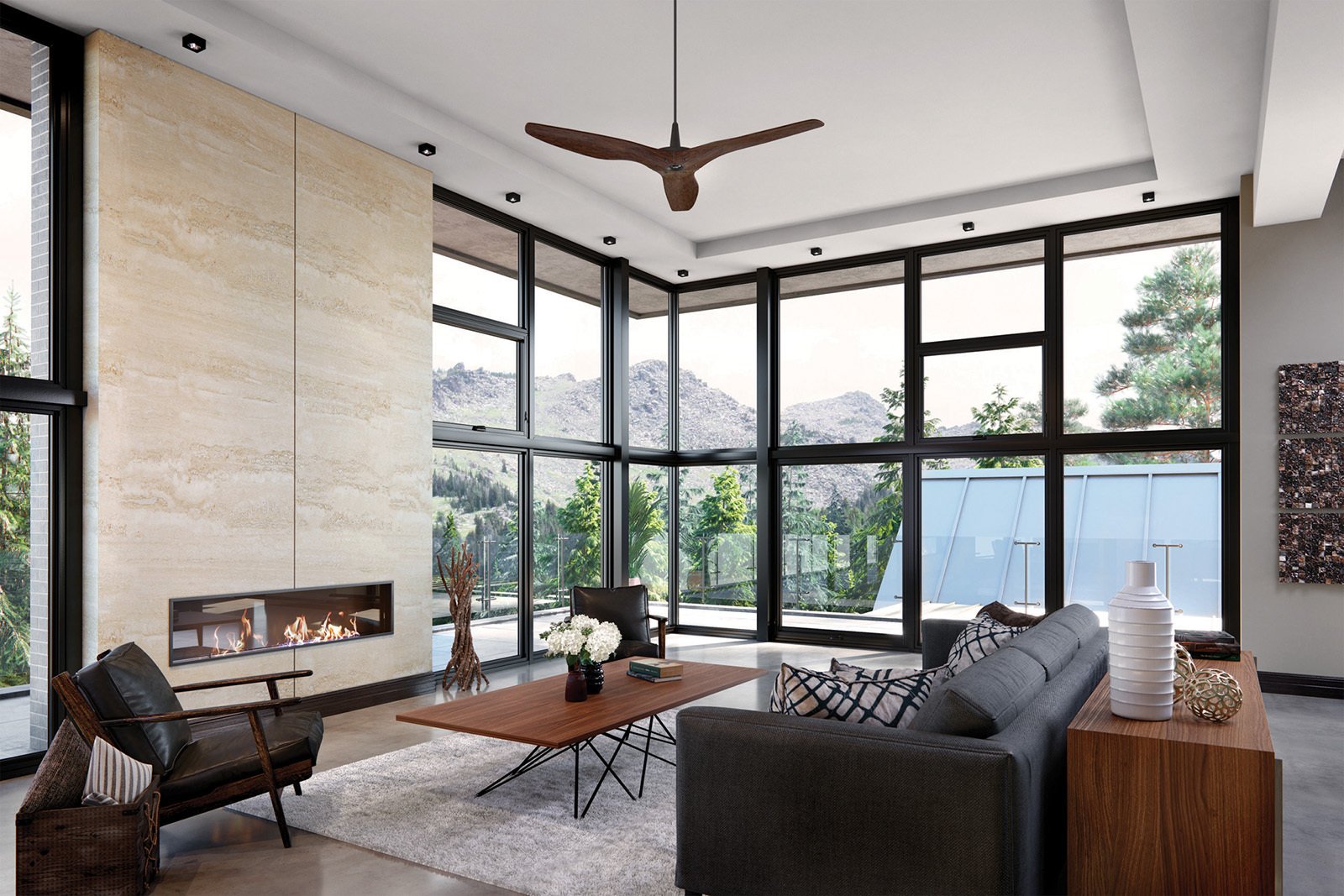 Whether you're building a new home or renovating an existing one, shopping for windows can be a daunting task, but Ring's End can help you simplify that process. Your home's architectural style and exterior color scheme are only the beginning. In today's climate, energy saving windows are a must. Marvin has three different product collections containing an extensive range of design options that can help you find the right windows to fit your project.
To make your design process easier, we've put together this Marvin windows guide. Here you'll learn about different window styles and available materials, plus options for energy efficiency and color choices. We'll begin by defining the different types of windows and series that Marvin offers —understanding the correct names for different styles will make it much easier to work with your architect or your Ring's End sales representative. 
Step 1: Select Which Type Of Window Is Best For Your Home
Marvin windows are available in an extensive selection of window styles (known to architects, designers, and builders as Operating Types). As you select windows, first consider whether they should be fixed (non-opening) or operating (able to open). Most homes have a combination of fixed and operating windows. For example, a fixed picture window that frames a view is often flanked with operable side windows for ventilation. Some window styles are more energy-efficient because they reduce or eliminate the possibility of air leakage. Others are slightly less energy-efficient, but their style supports a specific architectural design. 
Double Hung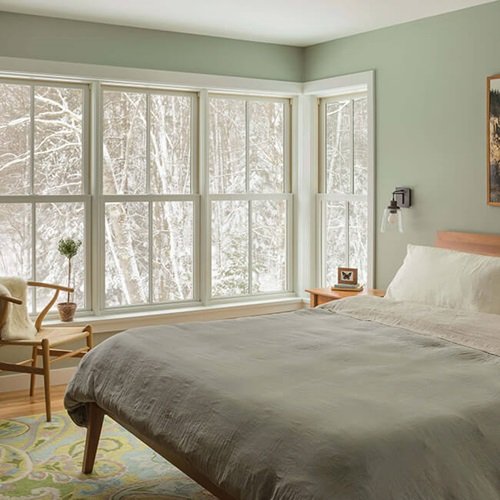 Marvin Double Hung Window
Traditional double hung windows have operational upper and lower sashes, so you can open them from the top or bottom. They often have divided lites or window grids to replicate historic paned windows. Their tilt operation makes them easy to clean. For more detail about double hung windows, be sure to read our helpful article, What Is A Double Hung Window? Marvin also carries single hung windows, where the top sash is fixed.
Awning Window

Marvin Ultimate Awning Window
An awning window hinges at the top and swings outward like an awning. Awning windows are ideal for ventilation, letting hot air out and breezes in. They can even stay open in light rain, allowing for fresh air access during wet weather, and they seal tightly for the best energy efficiency. Awning windows are also good for hard to reach areas and places where you don't want pets or kids escaping! To learn more about how to use awning windows in your home, check out our blog post What Is An Awning Window?
Casement Windows

Marvin Elevate Casement
Casement windows have hinges on one side, and operate via hand crank. A tight seal makes them more energy-efficient than sliding windows. Casements are ideal for flanking a picture window, or for hard to reach places like kitchens and bathrooms, but are increasingly being used all over homes. Learn more about casement windows and how to use them in our blog post, What Is A Casement Window?
Gliding or Sliding Windows

Marvin Ultimate Glider Windows
Sliding windows, also called gliders, operate like double hung windows except the sashes slide horizontally instead of up and down. Gliding windows can be single, where one side moves, or double, where both sides slide. 
Picture Window

Marvin Ultimate Picture Window
Picture windows are large fixed windows designed to frame and feature the outdoor scenery. Because picture windows do not operate, they're often flanked by windows or doors that open. 
If you're considering picture windows for your home, you'll find plenty of helpful ideas in this article:  Picture Window Ideas For Clear, Stunning Views
Picture Window Specialty Shapes

Marvin Elevate Specialty Shapes
Fixed windows that are not rectangular or square are called "picture specialty shape" windows. They are available in hundreds of geometric shapes, from polygon to triangle to round top.
Corner Window

Marvin Ultimate Corner Window
A corner window is a single unit made from two fixed windows that meet at a corner, replacing a wall. It is non-operable like a picture window, but offers sweeping expanded views and a clean, modern aesthetic.
Bay Window & Bow Window

Marvin Elevate Ultimate Bay Window 
Bay windows project outwards from the home's facade to create a spacious feeling. They have a large, fixed center window with angled windows on either side that typically are operating units.
A bow window also projects past the exterior wall, but usually combines four or more tall, narrow windows to create a gently curved shape. They often include operational casement windows.

Marvin Signature Bow Window
To learn more about different types of Bay and Bow windows, be sure to read our Buyer's Guide.
Skylight Windows

Marvin Awaken Skylight Windows
Marvin's Awaken Skylight Windows allow natural light to come flooding into a home. Awaken skylights open on all four sides for more efficient air circulation and are currently the largest operating skylights on the market. Most impressively, these smart skylight windows have built-in, tunable lighting that closely imitates the ideal temperature of natural light to create the most organic lighting any time of day.
Skycove

Marvin Skycove
Skycove is a glass structure projected into open air, creating an extension of your home and truly bringing the outside in. It creates up to 20 square feet of usable space without having to increase the footprint of your home, and is large enough to seat several people but cozy enough for you to curl up with a good book.
Step 2: Select Your Window Material
After deciding which window style and configuration is right for your home, the next step is to select the window frame material. Your choice of window material will depend on your home's architectural style, your budget, and your personal preferences. Marvin window frames are available in fiberglass and wood. Advanced engineering helps maximize Marvin windows' energy efficiency by controlling the heat loss rate, or U-factor. Each Marvin window collection has a different set of materials to choose from. Once you have a material in mind, you can shop the Marvin collection at Rings End.
Marvin Fiberglass Window Frames

Marvin Fiberglass Sliding Window 
Marvin fiberglass window frames are made from its premium composite window material, Ultrex® fiberglass. Highly impact resistant and more rigid than vinyl, fiberglass expands and contracts at virtually the same rate as glass for lasting stability. Unlike vinyl, fiberglass is resistant to extreme temperature variation and resists chipping, chalking, or fading, even in dark colors. Engineered for superior thermal performance, Marvin fiberglass windows maintain their appearance for many years. You can find Marvin Ultrex® fiberglass exterior finishes in their Essential and Elevate collections, and Marvin high-density fiberglass both indoors and out in their Modern collection. 
For detailed information about fiberglass windows, check out The Top Benefits Of Fiberglass Windows.
Marvin Wood Window Frames

Marvin Wooden Double Hung Window
Wood is a traditional window frame material that dates back centuries. It's a renewable resource that provides excellent insulation and the option of choosing a custom stain or paint color. Wood's exceptional versatility makes it possible to create unique window designs in almost any size or shape. Wood window frames do require regular maintenance. However, modern paint coatings and exterior cladding like aluminum have made wood a much more durable choice for a home's exterior. 
Marvin wood windows are available in a wide range of factory-applied paint and stain finishes. Their proprietary multi-step conditioning and staining process is applied to the wood and baked in before window assembly for superior, lasting performance. With factory-applied finishes, windows arrive ready to install, saving time and providing a more durable finish than an on-site painting crew. 
You can choose a factory-painted or stained interior finish on any Marvin pine windows; exterior options include stained or painted wood. With so many options, Marvin windows are an excellent choice for renovating historic homes. Marvin wood window frames are available in their Ultimate and Elevate collections.

Triple-Paned Windows
Step 3: Choose A Window Color
Marvin offers an impressive selection of window color options across their product lines, from beautiful wood finishes, to sleek black and whites, to an array of nature-inspired hues or rich, bold colors. Every finish is made from the highest quality materials to help protect your windows from moisture and the elements throughout. 
Once you've chosen your window type and material, your Ring's End representative can help you find the perfect window frame color to complement your home's exterior, and help match your design vision to the right Marvin Windows collection.








Step 4: Customize Your Marvin Window Energy-Efficiency Features
Modern-day, energy-efficient window products use double or triple glazing (two or three layers of glass) as well as specialized coatings and gas filling to maximize insulation. Your builder, architect or window sales representative can direct you to the appropriate types of glazing for your home. Marvin windows use a combination of materials and techniques to create energy-efficient windows.

Step 5: Find the Right Marvin Windows Collection
The high end Marvin Signature® window series offers the company's broadest range of window sizes, configurations, and design options with the Ultimate and Modern collections available at Ring's End. The Marvin Elevate collection combines a selection of fiberglass finishes with customizable wood; and the Marvin Essentials collection offers durable, maintenance-free fiberglass windows in a streamlined collection of popular styles.

Shop For Marvin Windows At a Ring's End Showroom
Are you building or renovating a home? You'll love Marvin's extensive selection of designer door and window options - and their uncompromising quality. Our window and door experts make it easy! They're ready to help you navigate through the choices, set up an installation plan, and deliver your doors safely and efficiently. Visit a Ring's End showroom, or schedule an in-home appointment with one of our Marvin experts. Get started today!
Marvin Windows Frequently Asked Questions