 Lime wash has become a popular way to brighten and update brick exterior finishes in the last several years. Many American neighborhoods have row after row of brick homes, all looking nearly the same. A busy real estate market means millions of homes are changing hands, and buyers are eager to put their own stamp on their new purchase. A whitewashed look or German Schmear effect goes hand in hand with today's popular farmhouse and vintage decor styles; however, a painted brick finish will never achieve the elegantly weathered look of real lime wash.
Search online for "how to whitewash brick exterior" and you'll find Romabio's one-coat Classico Limewash recommended over and over by professional painters and DIY enthusiasts alike. This high-end whitewash brick finish actually preserves and protects the brick, unlike paint. Easy to apply, Romabio Classico Limewash is an authentic slaked lime finish. It's a natural product made with Dolomite lime from northern Italy. It contains no chemicals, is non-toxic, highly breathable, and permeable. The dissolved limestone actually calcifies onto brick surfaces to create a durable finish that lasts for many years. You can order it pre-tinted in seven colors, or choose a custom tint.
Just a single coat of Classico Limewash is enough to completely transform any brick or stone surface: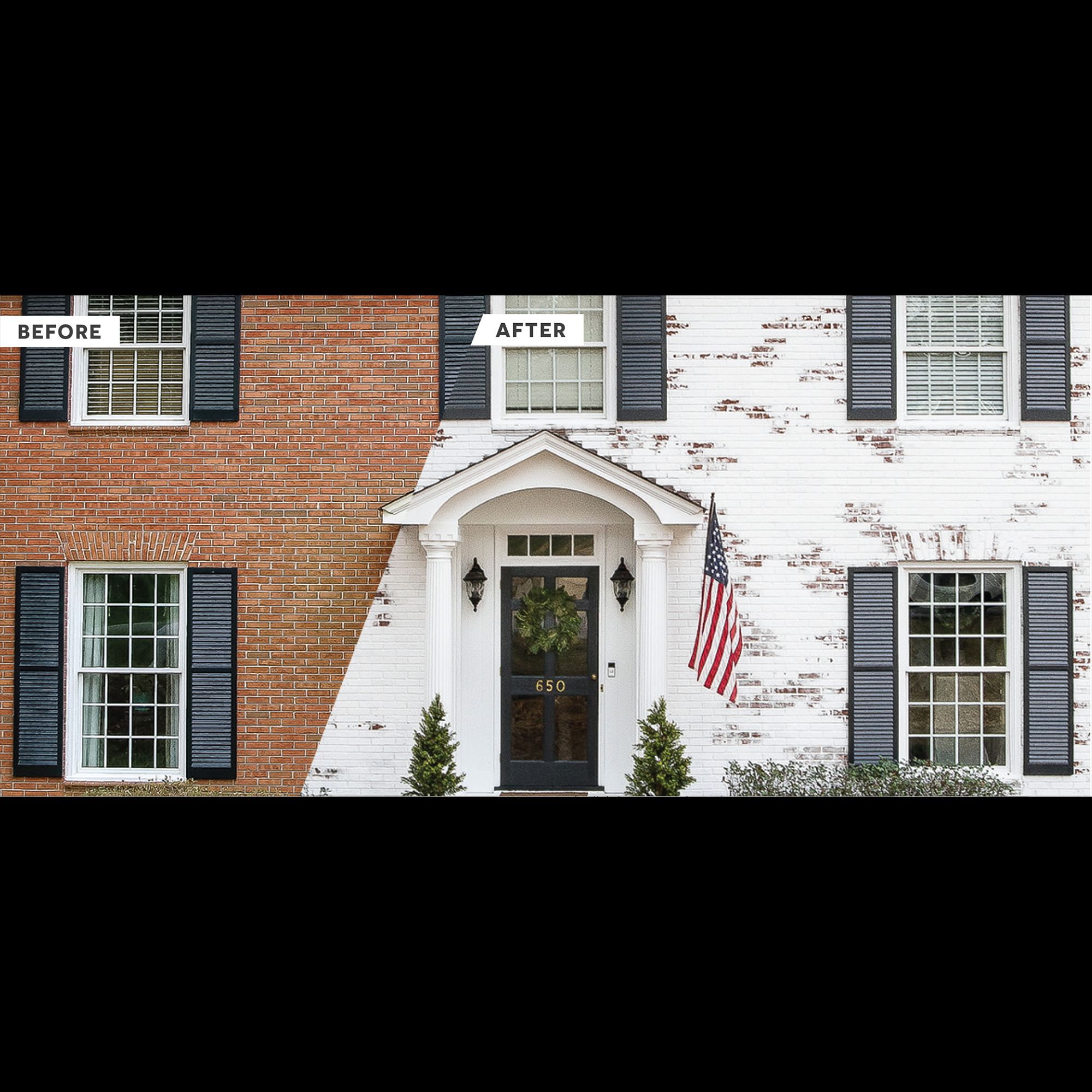 The Best Update For Red Brick Homes
Red brick is a classic exterior finish, but the dark color can make an older home look dated and an entry porch feel uninviting. This classic foursquare home looks bright, modern and welcoming after a makeover in Bianco White limewash: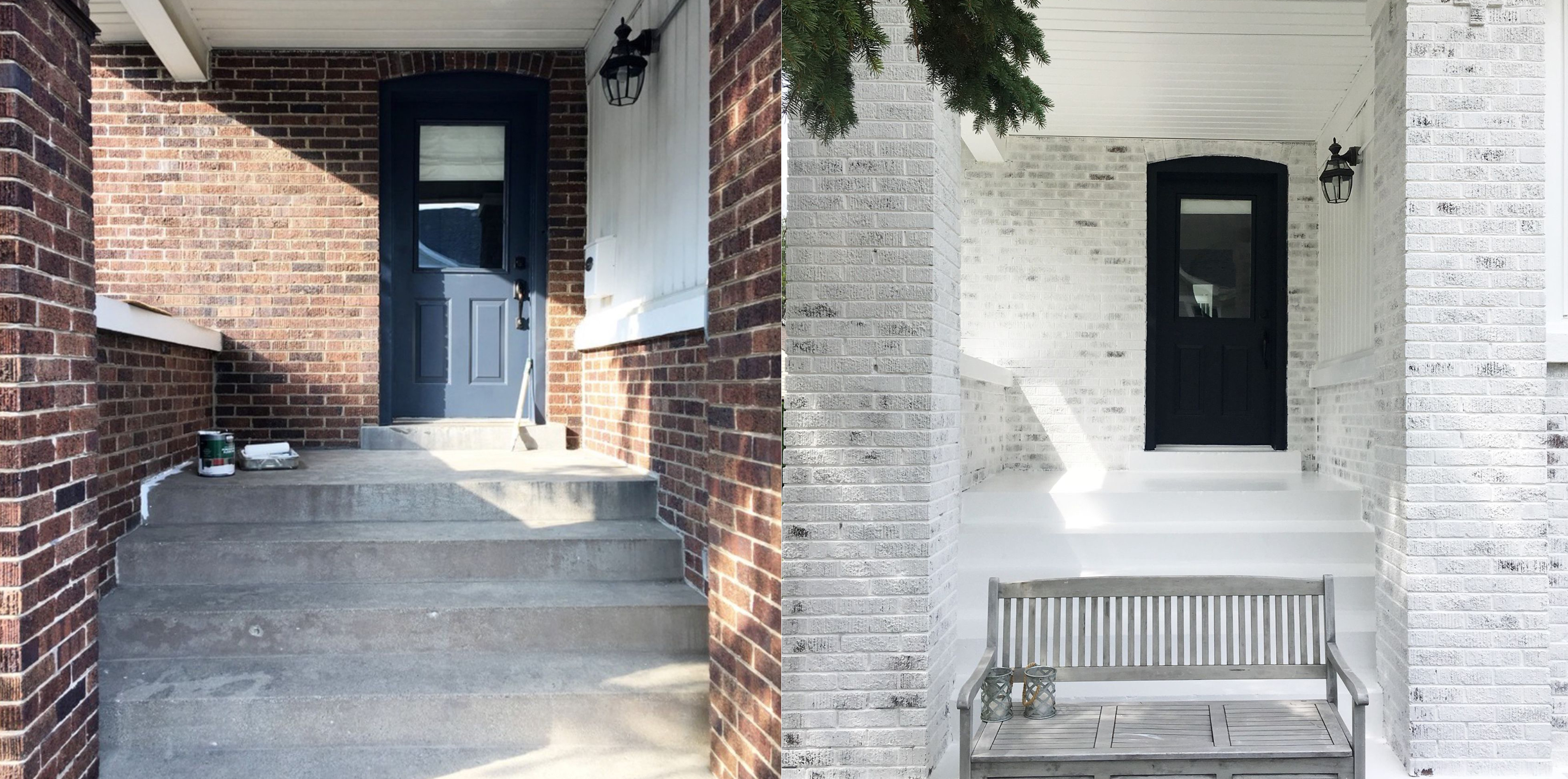 A traditional colonial home gains stately character after Romabio Limewash gives the brick more dimension and a sense of age:
Limewash Creates Cohesive Architecture
Homebuilders often design facades with mixed materials and finishes in an effort to add interest. The result may be an architectural mishmash that lacks a definitive style. Limewash is the perfect solution to creating a coherent facade, as part of an overall color scheme that ties the elements together. On this home, Classico Limewash was used to eliminate the contrast between brick and white elements, and focus attention on the front door: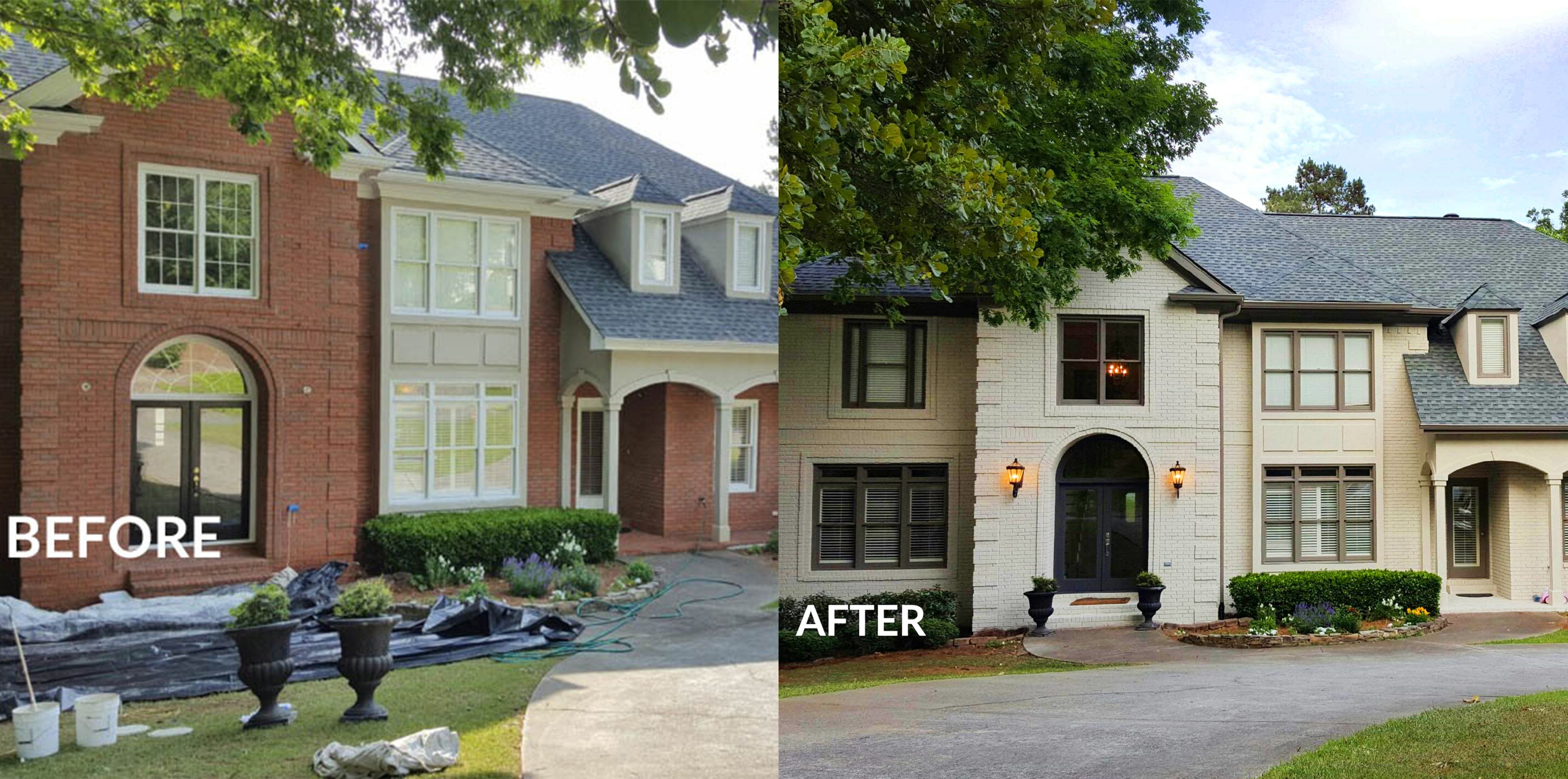 On this home, a white window bay and a strip of white siding on the garage stands out sharply against the brick. A softly distressed limewash and brown trim paint help to blend those details in for a more upscale look:
Highlight The Charm Of An Older Home
A large garage can overwhelm the proportions of a home and take attention away from the entrance. On this home, Classico Limewash in Avorio White highlights the brick details around the arched windows and door, bringing the focus back to the front porch and entry.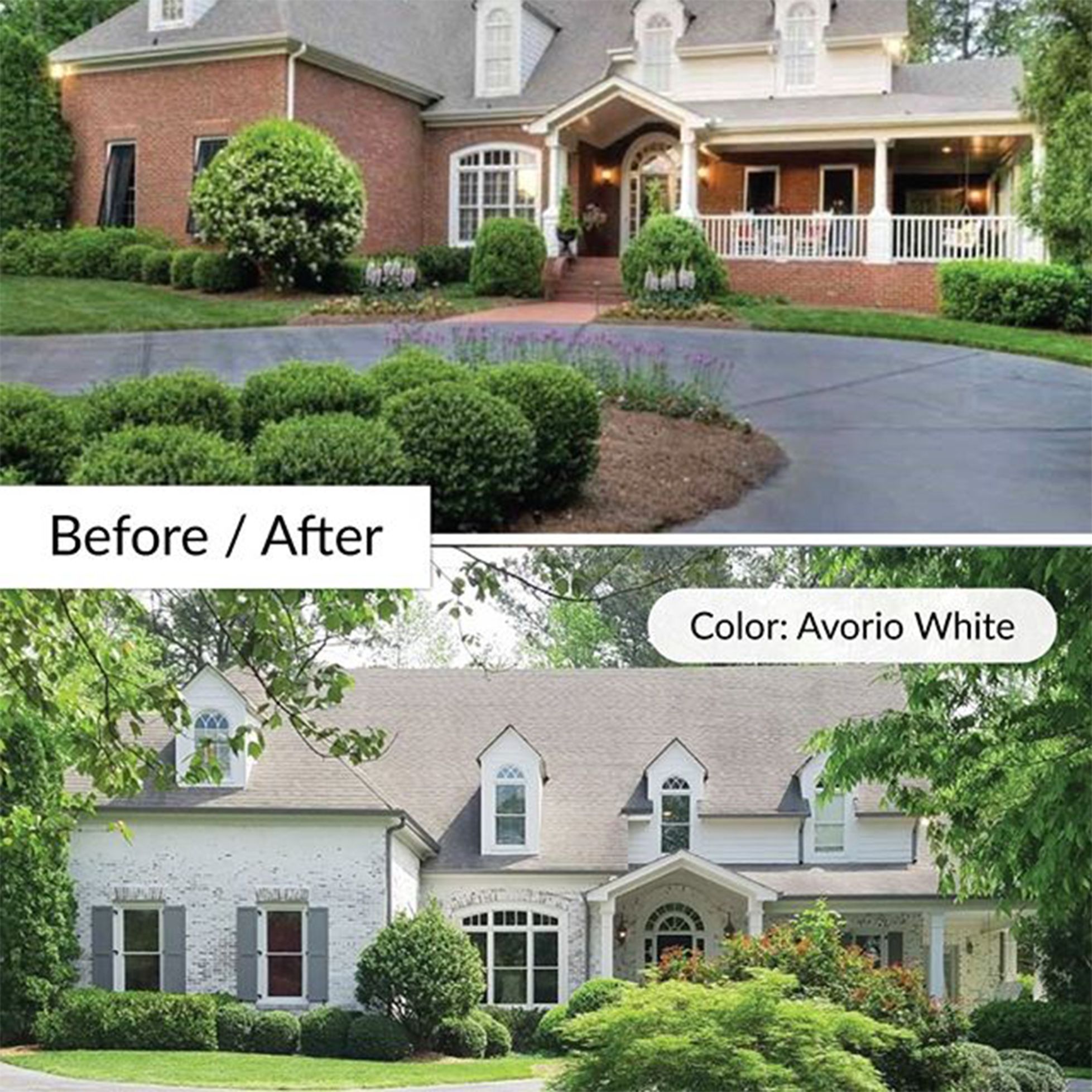 For a home that lacks a distinct architectural style, limewashing the brick can add character and interest. This home's sharply angled roof and curved portico become standout features when the brick is limewashed, bringing out hidden Tudor charm: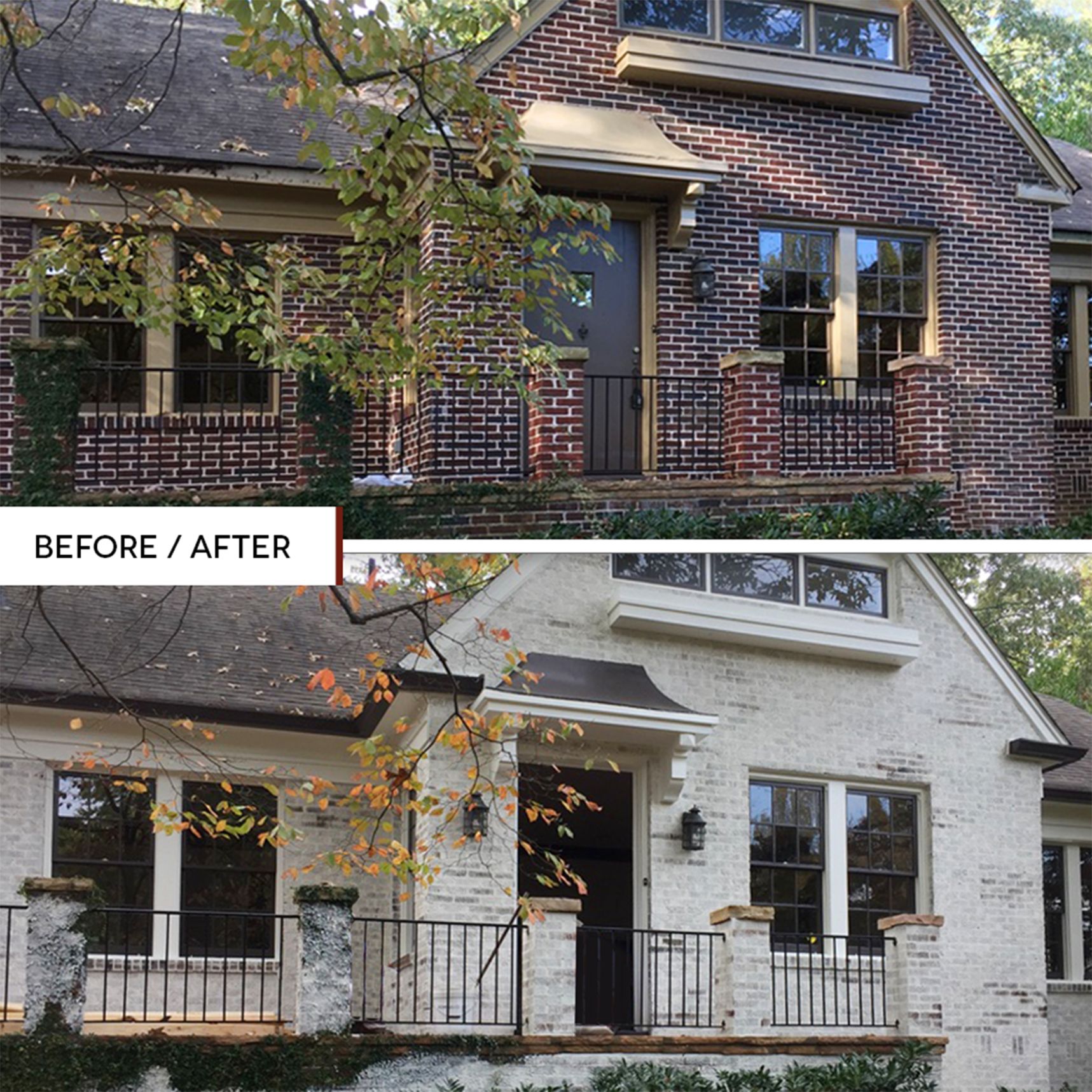 Custom Color For Natural Stone
Classico Limewash is the perfect solution for stone surfaces as well. Use it to lighten a stone that is too dark, or even out the color tones for a more muted look.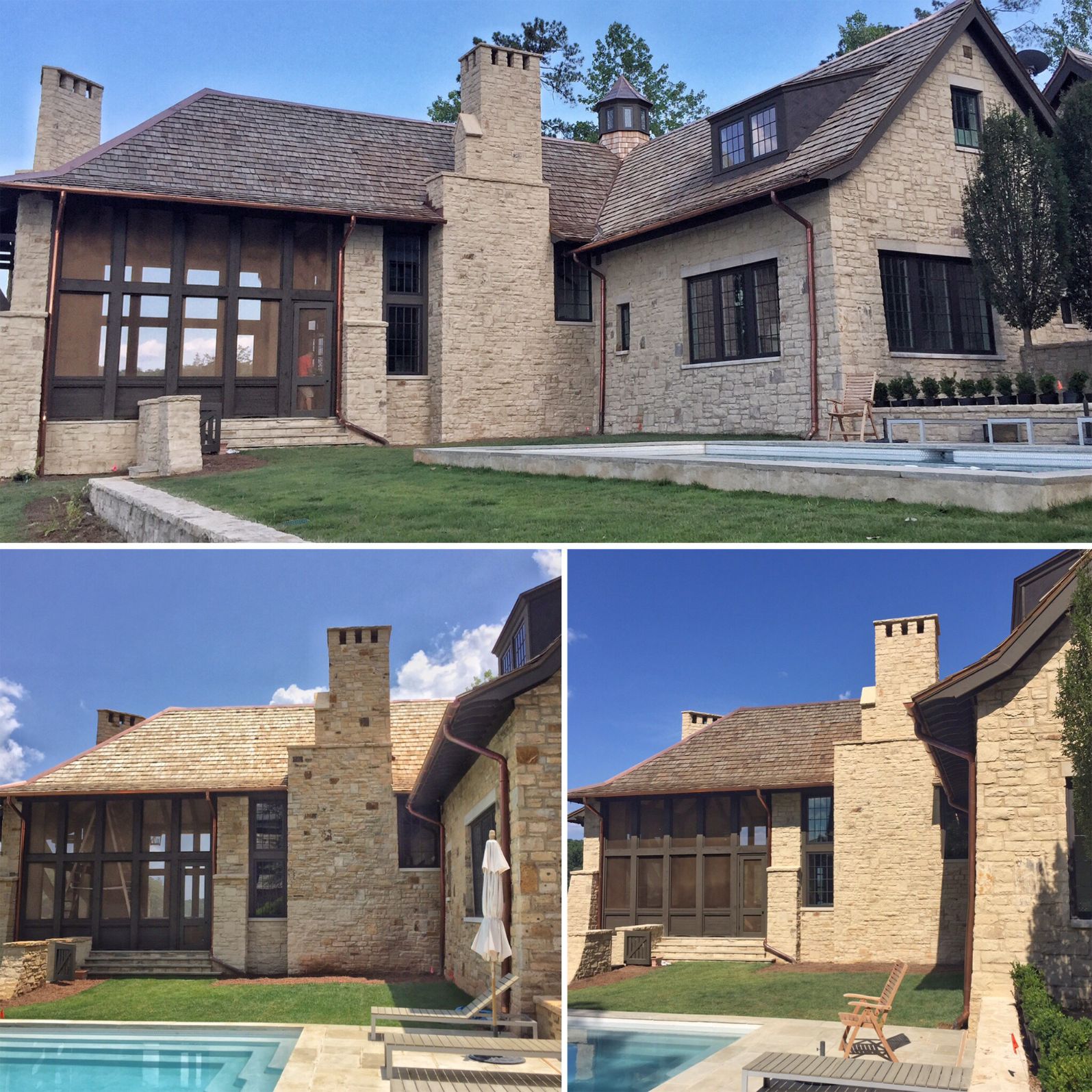 Whitewash A Brick Fireplace
If your home isn't brick, but you have a brick fireplace or other accents, give them a quick weekend makeover with Classico Limewash. It's an easy DIY project! For complete instructions, click here. You can choose as much distressing as you like: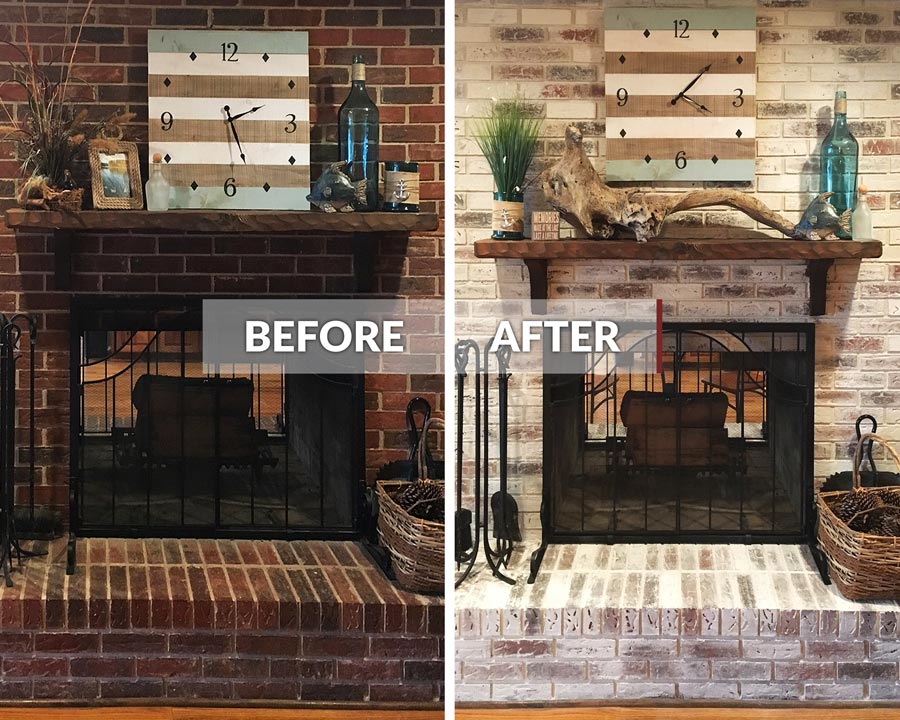 Are you ready to whitewash your brick house for a beautiful old world look? You can use a lime whitewash solution on porous surfaces like brick, stone and concrete, indoors or out. If you want a solid painted look for your brick home, use a breathable paint that's especially for brick, like Romabio's mineral-based Masonry Paint. Limewashing your home is an easy DIY project if you live in a one-story home. If you have two or more floors, we recommend using a Romabio PRO.
Buy Classico Limewash in 7 pre-tinted colors right here at Rings End. And don't forget to share your Limewash projects with us – we can't wait to see what you do!