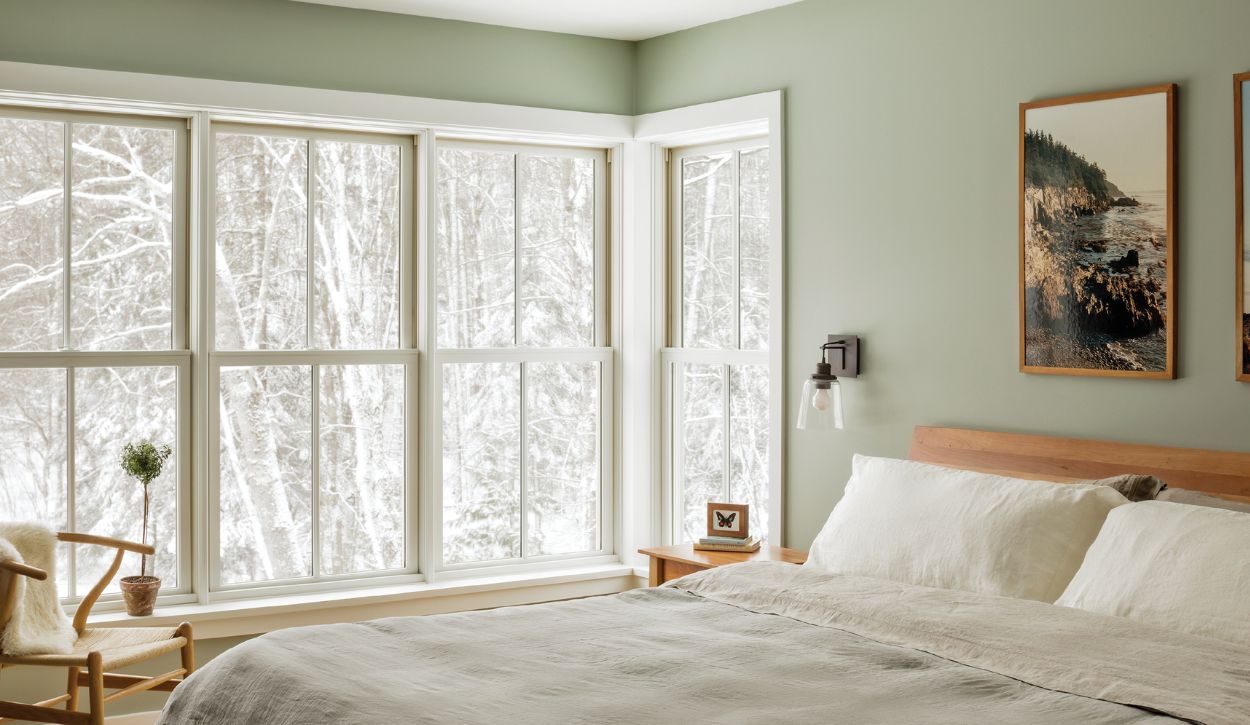 Energy efficiency is a top-of-the-list feature for many homeowners shopping for new windows or replacement windows. Windows are a key aesthetic component of every house, but they inevitably result in some level of energy loss. In fact, an estimated 25-30% of energy use from heating and cooling is caused by heat loss or gain through closed windows. Most modern windows are engineered to minimize this issue, with varying degrees of success depending on the type of window you choose. Read on for details about the best window materials, styles, and design features for maximizing your home's energy efficiency!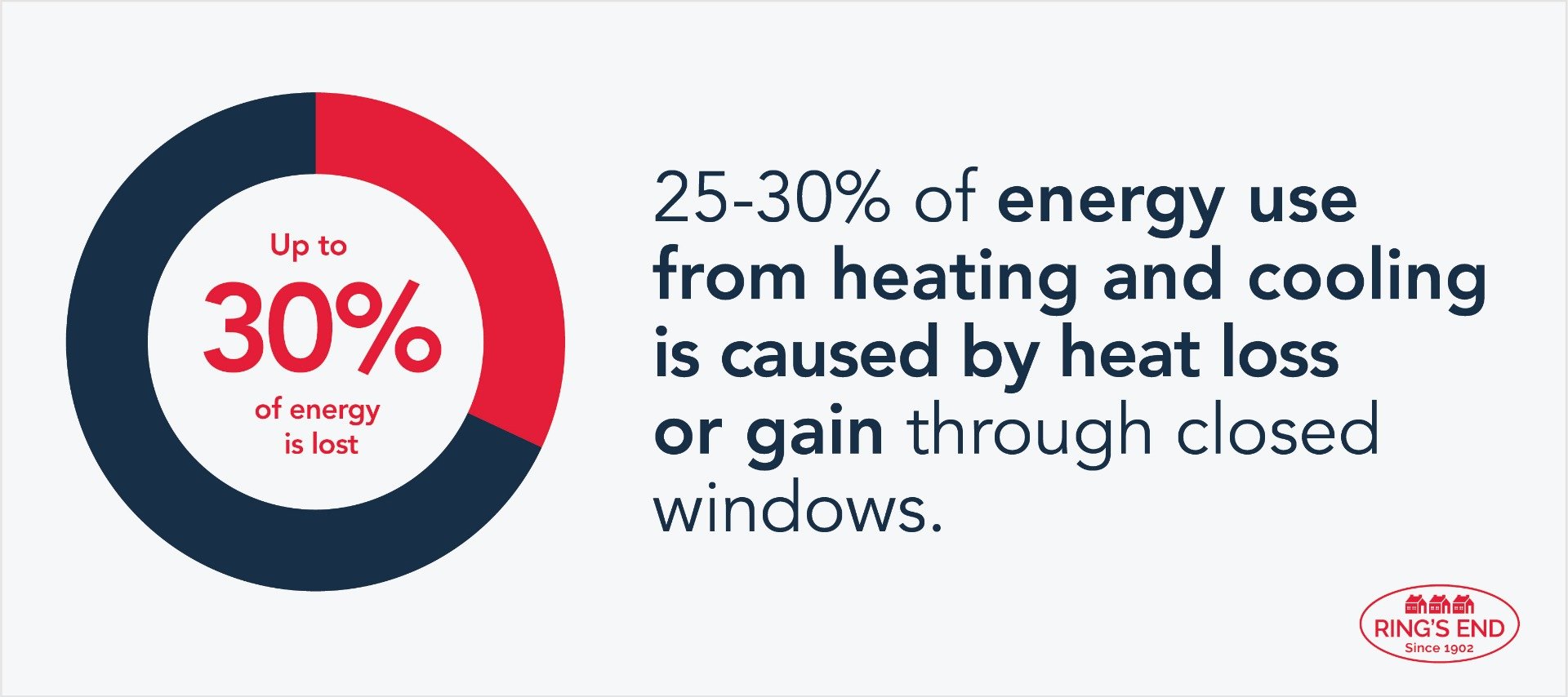 What Makes a Window Energy Efficient?
A variety of components contribute to a window's energy efficiency, including the design of the glass, the frame materials, the window style, and whether it has been properly installed.
Window Performance Terms to Know
In addition to the ENERGY STAR rating system implemented by the Department of Energy (DOE), there are a few factors developed by the National Fenestration Rating Council (NFRC) that are important for homeowners evaluating the energy efficiency of a particular window. Every NFRC label will feature the following terms:
U-Factor: U-factor measures the window's ability to retain non-solar heat. A low U-factor indicates better insulation and minimal heat loss. Range = 0.20–1.20
Solar Heat Gain Coefficient: SHGC measures how well a window insulates against incoming heat from the sun. A lower SHGC indicates better insulation and less heat gain. Range = 0–1
Visible Transmittance: This factor measures how much natural light a window will let into your home. Unlike the other terms on this list, a higher number indicates better performance. Range = 0–1
Air Leakage: Air leakage measures how much air will enter your home through the window, causing drafts. Range ≤ 0.3
High-Quality Glass
The most energy-efficient windows feature glass designs with a low SHGC and U-Factor to prevent overheating in summer while retaining heat in winter. Premier window manufacturer Marvin achieves this by combining features like double or triple-paned glass, Low-E glass, and gas filling between the panes.
Insulated Glazing: Combines two or more panes of glass which are spaced apart and hermetically sealed to create insulating air space and reduce heat transfer
Low-E Coating: Nearly invisible metallic oxide coating applied to the glass surface to reduce heat transfer without significantly reducing light; protects furnishings from ultraviolet (UV) rays and reduces energy loss by 30%-50%
Spacers: Separates layers of glass to create an insulating gap with sealants that prevent moisture, water infiltration, and gas leaks; accommodates expansion and contraction during extreme temperatures
Gas Fill: Non-toxic, odorless Argon and Krypton gas sealed between glass layers to improve thermal performance by slowing heat transfer

Frame Materials
The frame material is a significant factor determining a window's overall efficiency. The most common materials used to construct window frames are fiberglass, wood, vinyl, and aluminum. Fiberglass is by far the most energy-efficient choice, followed by wood, which is a naturally energy-efficient choice but requires significant upkeep.

Window Style
The style of a window is a significant efficiency factor, with fixed windows forming the strongest barrier to the elements. Ventilating windows are unavoidably less energy efficient, requiring a strong seal when angled closed. However, some styles of ventilating windows perform with better energy efficiency than others – keep reading for more details!
Proper Installation
Even the most energy-efficient window won't perform well if poorly installed. An uneven frame, gaps in caulking, and other installation issues are likely to result in strong drafts that drive up energy costs – among other performance problems like difficulty latching. To ensure your windows perform up to their potential, hire a highly-rated window installer to do the job, or consult with window experts before starting a DIY window replacement project.
The Most Energy-Efficient Window Frame

Dining room featuring Marvin Elevate Double Hung windows with wood interior and Ultrex fiberglass exterior
The best energy-saving frame material is a composite fiberglass such as Ultrex® featured in Marvin windows. Ultrex fiberglass expands and contracts at virtually the same rate as window glass for maximum stability. Unlike vinyl windows, fiberglass windows are resistant to extreme temperature variation, provide superior insulation, and maintain their appearance for many years. Wood windows are the best energy-efficient option for historic homes, but wood frames require far more maintenance than fiberglass.
The Most Energy-Efficient Window Styles
With high-quality materials and hardware, any window design can achieve a high level of energy efficiency. However, some window styles inevitably contribute to energy loss in some capacity. For example, a double-hung window has two sashes that slide past each other and must seal where they overlap. As buildings shift, even a carefully engineered window may eventually leak air where the sashes meet. The most efficient window styles are fixed windows, awning windows, and casement windows.
Fixed Windows

Living room featuring Marvin Essential Picture windows
A window that doesn't open, such as a picture window, is the most energy-efficient window style possible. Without any moving parts, there are no opportunities for air to leak in or out. However, homeowners who opt for fixed windows still benefit greatly from a best-in-class window manufacturer and installer. The efficiency of the window comes down to the quality of the materials and the installation project.
Casement Windows

Series of Marvin Elevate Casement windows
Because they have a single sash and a crank or push handle that latches them closed, casement windows form a tight seal that virtually eliminates air leaks. Casement windows are also extremely versatile in terms of both size and style options. For example, casements can be customized with grid lines that mimic a traditional hung window or left as a single glass pane to provide an unobstructed view not unlike a picture window. If you are looking for a large, ventilating window that saves as much energy as possible, a casement might be the perfect choice.
Awning Windows

Kitchen featuring Marvin Signature Ultimate Awning Narrow Frame window
Awning windows are highly energy efficient for many of the same reasons as casement windows. With a single pane that swings upward to open and seals tightly closed against the frame, awning windows have minimal moving parts and create an effective barrier against the elements. While awning windows can't catch cross-breezes as effectively as casement windows, they can be left open in more types of weather conditions. If you love to open windows for cool, fresh air instead of turning on the air conditioning, an awning window can be a great choice to help you save on energy bills and minimize your carbon footprint.
Shop Energy-Efficient Windows at Ring's End
Every window crafted by Marvin is engineered for both beauty and efficiency. Browse the Ring's End guide to Marvin's extensive window selections for more details on available styles and materials. Or, talk to our window experts for personalized assistance with your home improvement project! You can contact our team of window pros through our online chat or by texting (203) PRO-HELP.
Buyer's Guide to Marvin Windows
Energy-Efficient Window FAQs