Benjamin Moore Chantilly Lace Review & Inspiration
What We Love About Chantilly Lace OC-65
Chantilly Lace, true to its name, is as delicate as lace and part of the Off White Color Collection. It's a favorite among interior designers and renowned for being one of the brightest, cleanest whites in the Benjamin Moore collection. Chantilly Lace is a very neutral white, with a crisp look that lacks any real undertones. It's sure to brighten any room in the home.
Chantilly Lace: Neutral White Has Almost No Undertones
Chantilly Lace is one of the closest options you'll find to a true, pure white. In the Benjamin Moore collection Chantilly Lace OC-65 is rivaled only by Super White OC-152. Since it has almost no undertones, Chantilly Lace is extremely versatile and neutral. In open plan homes and contemporary spaces, it's a reliable bright white that ties everything together. Use it on traditional architecture for a crisp, up-to-date look; it's a great choice for trim and ceilings too. Even though Chantilly Lace has hardly any warm or cool undertones, late afternoon sunlight that has a yellow cast can make it look slightly warm. This subtle undertone is what makes it an excellent choice for the home, since it's unlikely to turn gray on a dark, cloudy day.
Chantilly Lace shines in rooms with plenty of natural light; use it in rooms with window walls take advantage of its inherent brightness and reliable neutral tone. Thanks to its ability to maintain a warm undertone, Chantilly Lace still appears white in the gray light of cool climates. This is why it's so popular with interior designers; it's a true white that isn't easily influenced by lighting conditions or adjoining colors. For walls, ceilings, or trim, Chantilly Lace is a safe choice to pair with almost any color.
Best Rooms to Use Chantilly Lace White Paint
Chantilly Lace by Benjamin Moore is ideal for almost any space, but particularly rooms that feature a lot of natural light.
It gleams in a bathroom; if you have large windows try pairing Chantilly White walls with glossy Chantilly Lace trim. It's the perfect neutral white to accompany warm wood tones: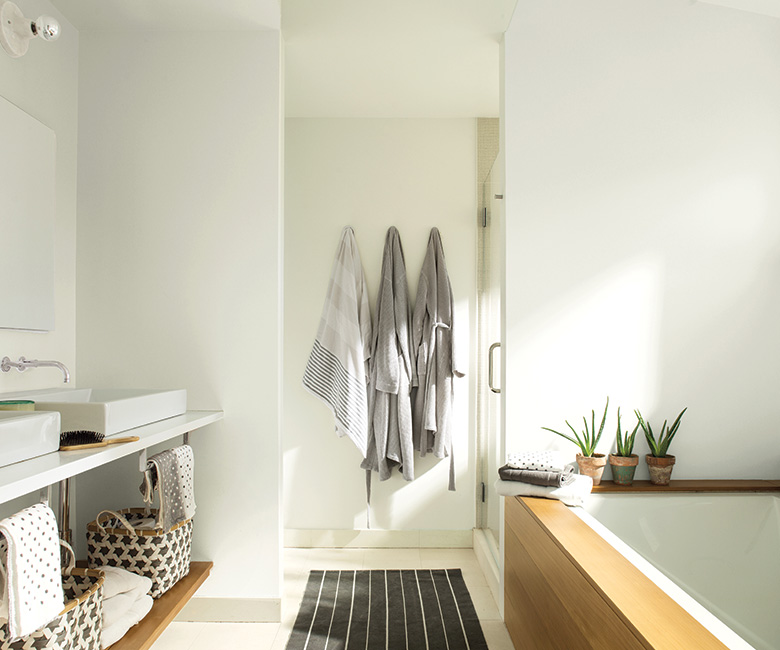 A neutral white is ideal for window casings and wall paneling; in this classic entry, Chantilly Lace brightens the woodwork of a traditional staircase:
It can be used to help other colors in the room pop, so feel free to experiment and pair this versatile color with almost anything! We love it against a deep saturated color like Hale Navy or Wrought Iron. This traditional dining room looks perfectly modern with Black Ink on the walls and ceiling, and Chantilly Lace on the trim and wainscoting: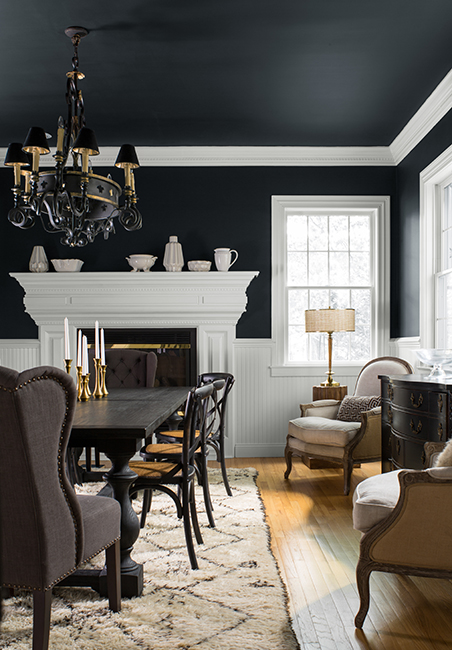 Chantilly Lace used as a wall color in a bright, open kitchen creates a fresh, modern feeling. It allows the darker paint color of the center table to pop, drawing the eye to the center of the kitchen.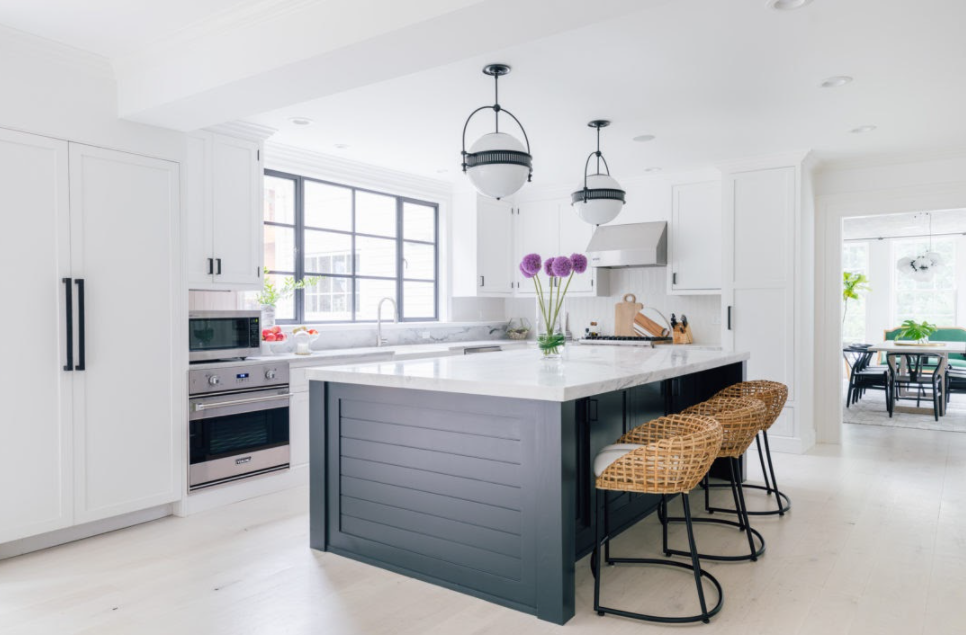 In this historic home, Chantilly Lace trim pairs with Silver Fox on the walls for a fresh, updated look:
Chantilly Lace makes a great choice for bright white exterior trim as well; here it frames a front door painted in Benjamin Moore's Coral Spice:
Buy Benjamin Moore's Chantilly Lace Paint & Samples
Chantilly Lace is available at Ring's End in a variety of paint sheens and sizes. Buy it in our best-selling Benjamin Moore paint line today!
Want to see how Chantilly Lace looks in your home before deciding if it's the right color? Try our 16 Oz Paint Color Samples that are used by professional interior designers.
Alternatively, our Peel & Stick Color Samples are quick, easy, and can transfer between rooms.
You may also like…
If you're looking for a different Benjamin Moore white, you're spoiled for choice. For a white with more visible undertones, try White Heron for blue undertones and Paper White (also part of the off white collection) for gray. Alternatively, for a soft warm white there's Simply White or Super White. For a creamier finish try Swiss Coffee or Dover White.
To pair with Benjamin Moore's Chantilly Lace we love Hale Navy, Wrought Iron or even White Dove for trim.