Benjamin Moore Chantilly Lace Review & Inspiration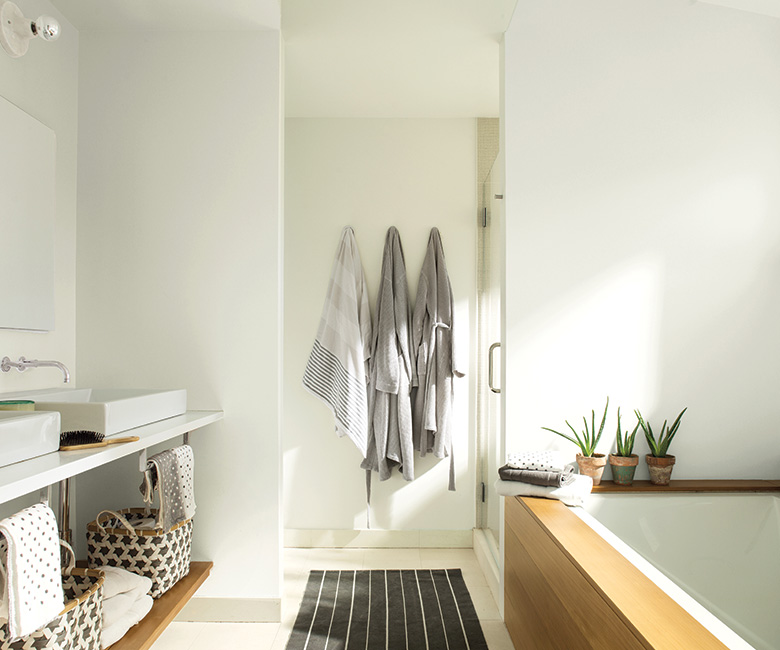 What We Love About Benjamin Moore Chantilly Lace OC-65
Part of the Off White Color Collection, Chantilly Lace, true to its name, is as delicate as lace and soft linen. You'll swear it's pure silk on your walls rather than white paint. Benjamin Moore's Chantilly Lace is one of our most popular white paint colors and a favorite among interior designers - renowned for being one of the brightest, cleanest whites in the Benjamin Moore collection. Chantilly Lace paint is a very neutral white, with a crisp look that lacks any real undertones. Its beautiful, clean white evokes images of pure silk and is sure to brighten any room in the home.
Have you been looking for a crisp white paint color with very little undertones? Whether you already chose Chantilly Lace, or you are building your own color preview collection, choose your paint finish and order a sample here!
Chantilly Lace: A Neutral White With Almost No Undertones
With a light reflectance value of 92, Chantilly Lace by Benjamin Moore is one of the closest paint colors you'll find to a true, pure white. In the Benjamin Moore collection, Chantilly Lace OC-65 is rivaled only by Super White OC-152.
While most whites and off-whites that have subtle undertones of yellow, pink, or blue, Chantilly Lace is a bright white paint with almost no undertones, which make it an extremely versatile and neutral paint color. In open plan homes and contemporary spaces, it's a reliable bright white that ties everything together. Use it on traditional architecture for a crisp, up-to-date look; it's a great choice for trim and ceilings too.
Compared to Benjamin Moore Simply White, which carries yellow undertones, or Paper White that has just a hint of blue undertones, Chantilly Lace sits right in the middle, nearly a pure white.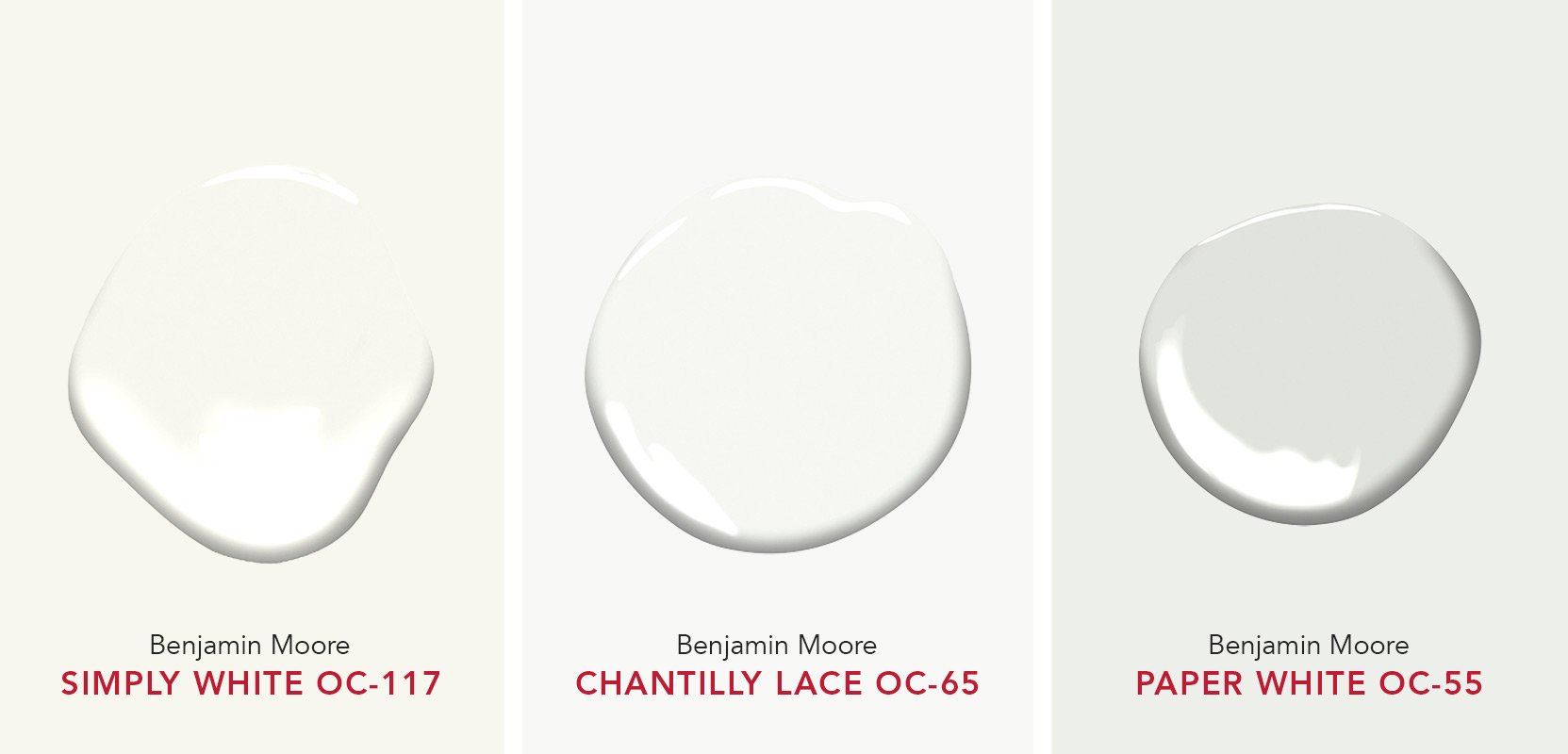 Even though Chantilly Lace has hardly any warm or cool undertones, late afternoon sunlight that gives off a yellow cast can make it look the slightest bit warm. This subtle hint is what makes it an excellent choice for the home, since it's unlikely to turn gray on a dark, cloudy day.
Chantilly Lace shines in rooms with plenty of natural light; use it in rooms with window walls to take advantage of its inherent brightness and reliable neutral tone. Thanks to its ability to maintain a warm undertone, Chantilly Lace still appears white in the gray light of cool climates. This is why it's one of the most popular white paint colors with interior designers; it's a true white that isn't easily influenced by lighting conditions or adjoining colors. For walls, ceilings, or trim, Chantilly Lace is a safe choice to pair with almost any color.
The Best Rooms to Use Chantilly Lace
Chantilly Lace by Benjamin Moore is a beautiful white for almost any space, but really shines in rooms with more light.
It gleams in a bathroom; if you have large windows, try pairing white walls painted with Chantilly Lace with glossy trim in the same color. It's the perfect neutral white to accompany warm wood tones of bathroom cabinets and natural home decor: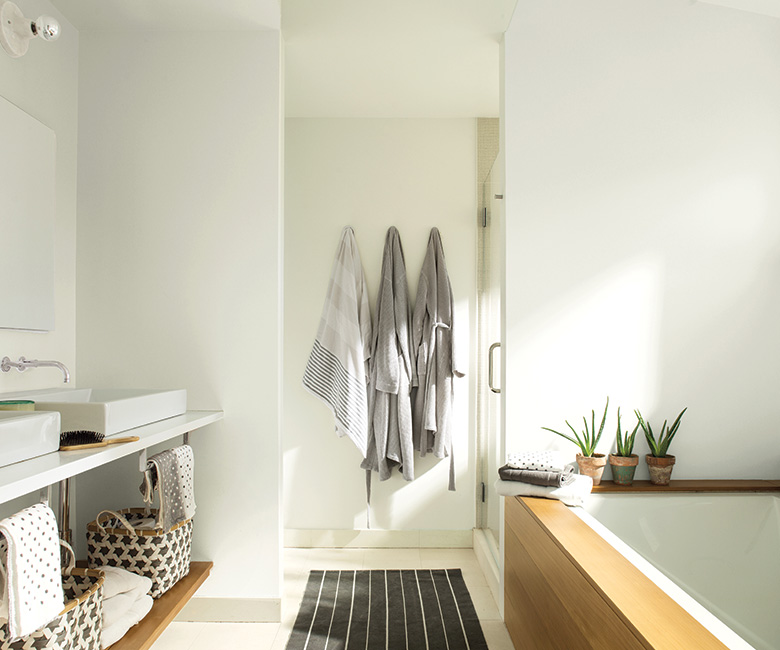 Chantilly Lace painted white walls in a bright, open kitchen create a fresh, modern feeling. In harmony with the kitchen cabinets, it allows the darker paint color of the center island to pop, drawing the eye to the center of the kitchen.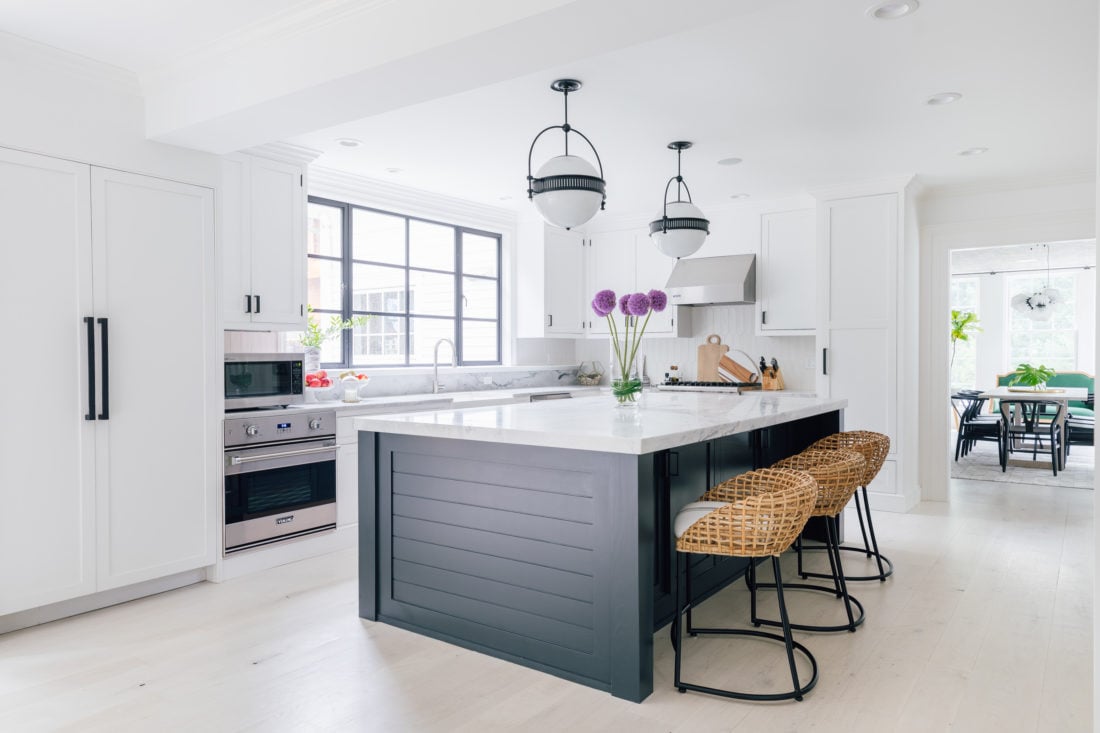 It can be used to help other colors in the room pop, so feel free to experiment and pair this versatile color with almost anything! We love it against a deep saturated color like Hale Navy or Wrought Iron. This traditional dining room looks perfectly modern with Black Ink on the walls and ceiling, and the trim and wainscoting painted Chantilly Lace: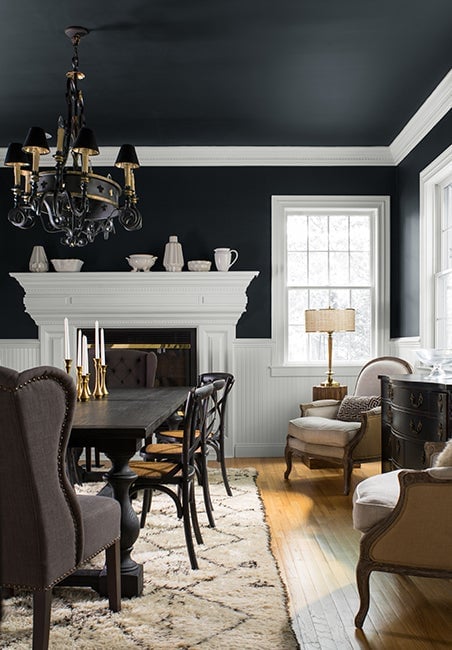 Chantilly Lace makes a great choice for a brighter white exterior trim as well; here it frames a front door painted in Benjamin Moore's Coral Spice: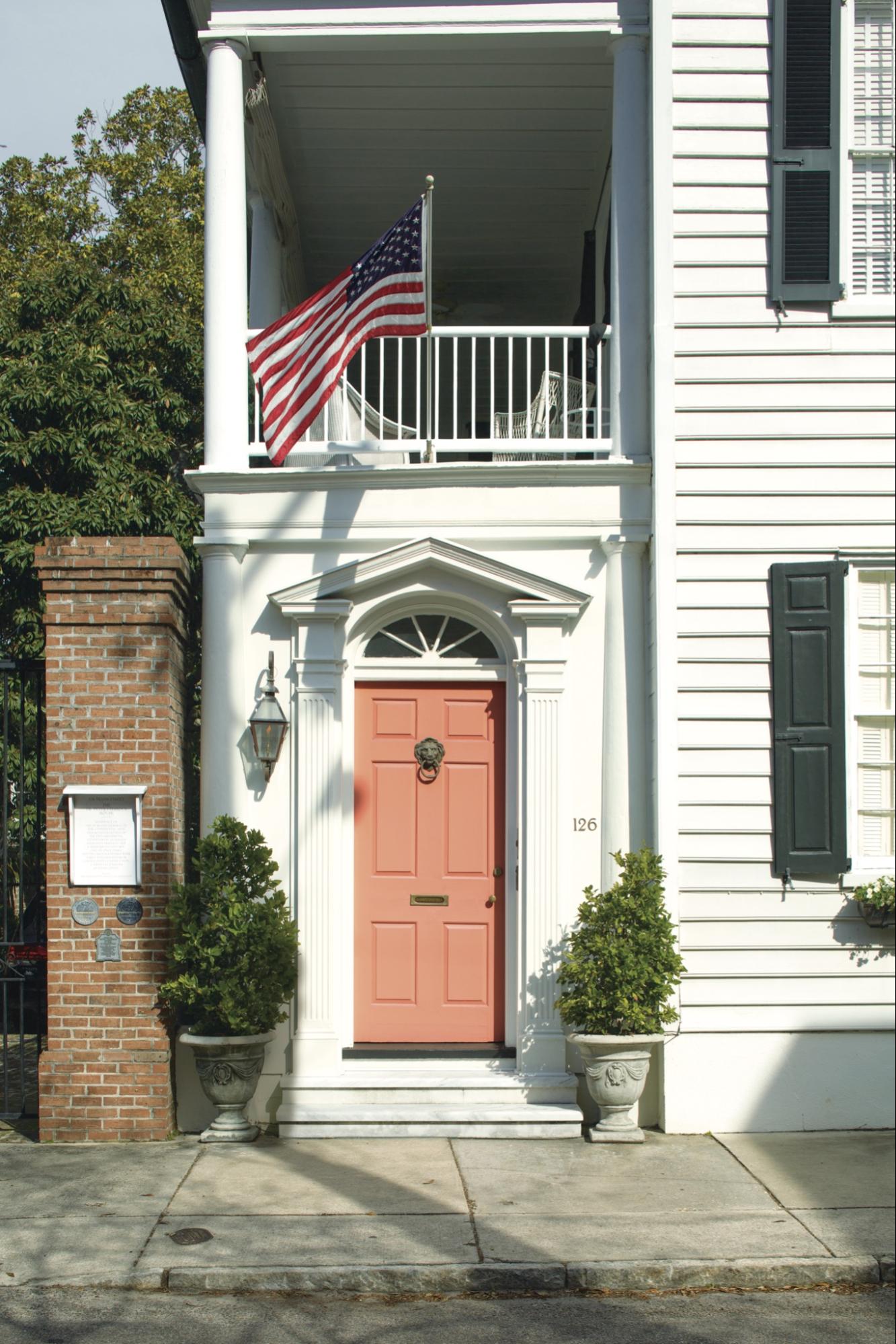 Exterior in BM Chantilly Lace with Coral Spice front door
Chantilly Lace Makes Highlights Architectural Detail and Trim
A neutral white is ideal for window casings and wall paneling, whether paired with low-contrast whites or bold purples and deep reds.
In these classic entries, Chantilly Lace brightens the woodwork of traditional staircases and architectural doorways: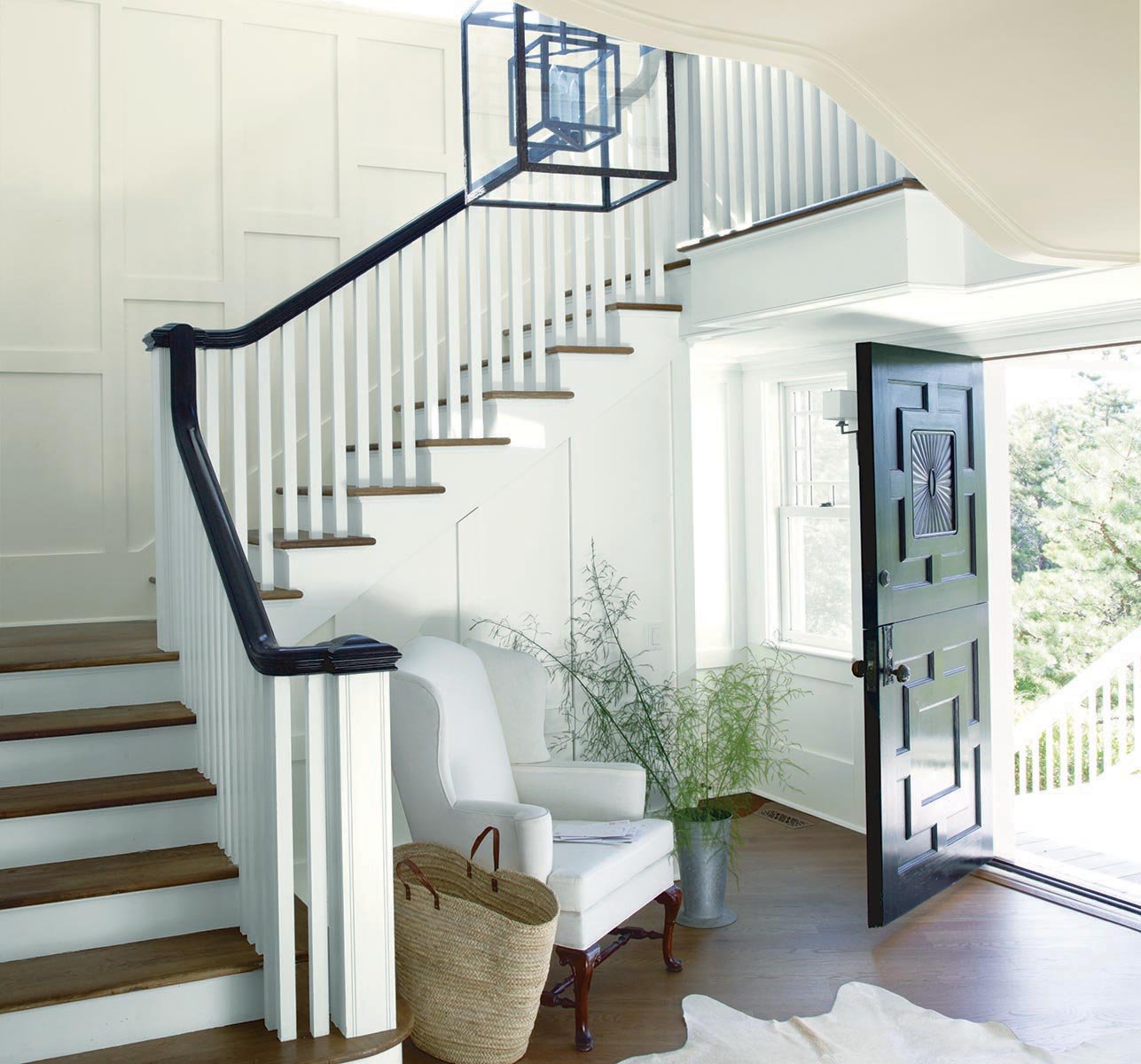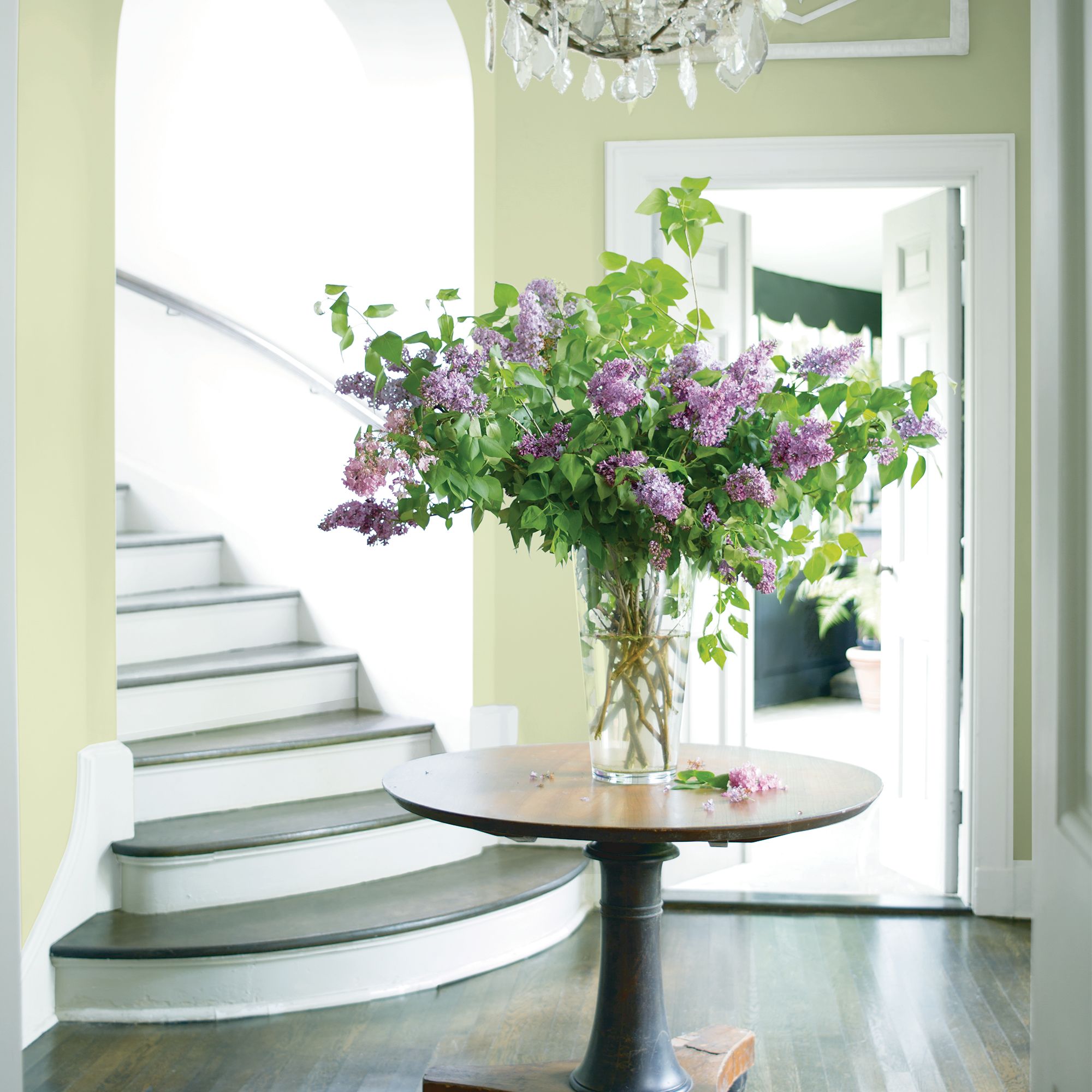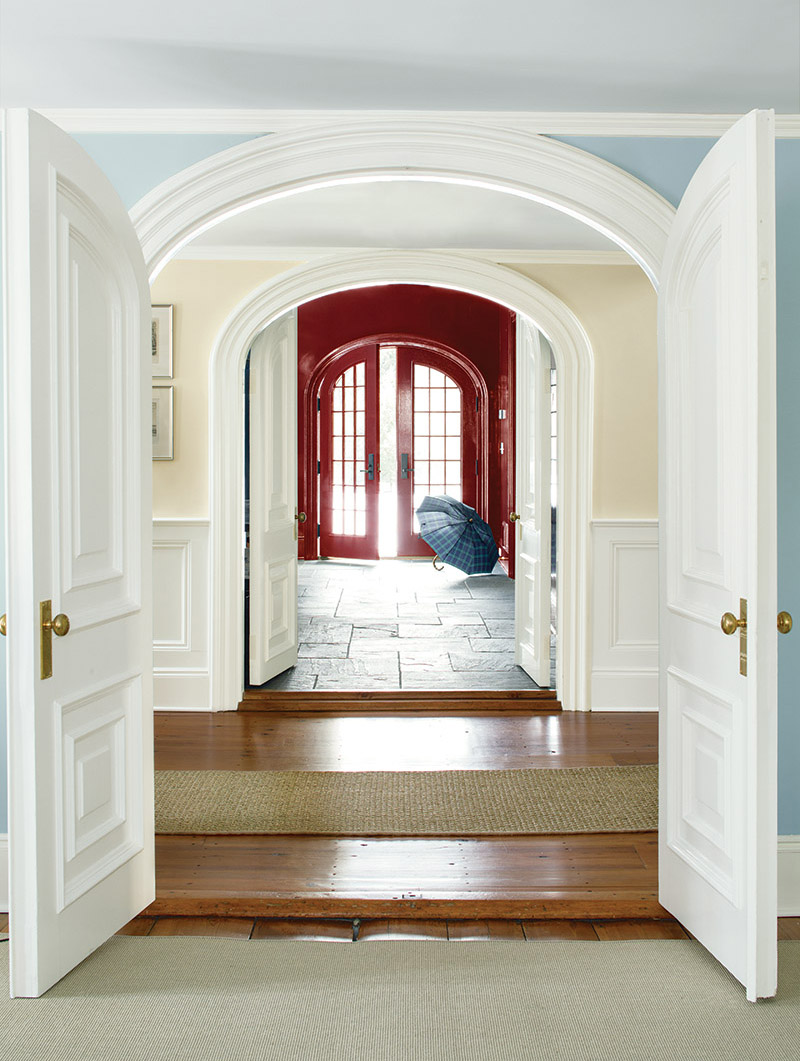 In this historic home, the Chantilly Lace trim color pairs with Silver Fox on the walls for a fresh, updated look: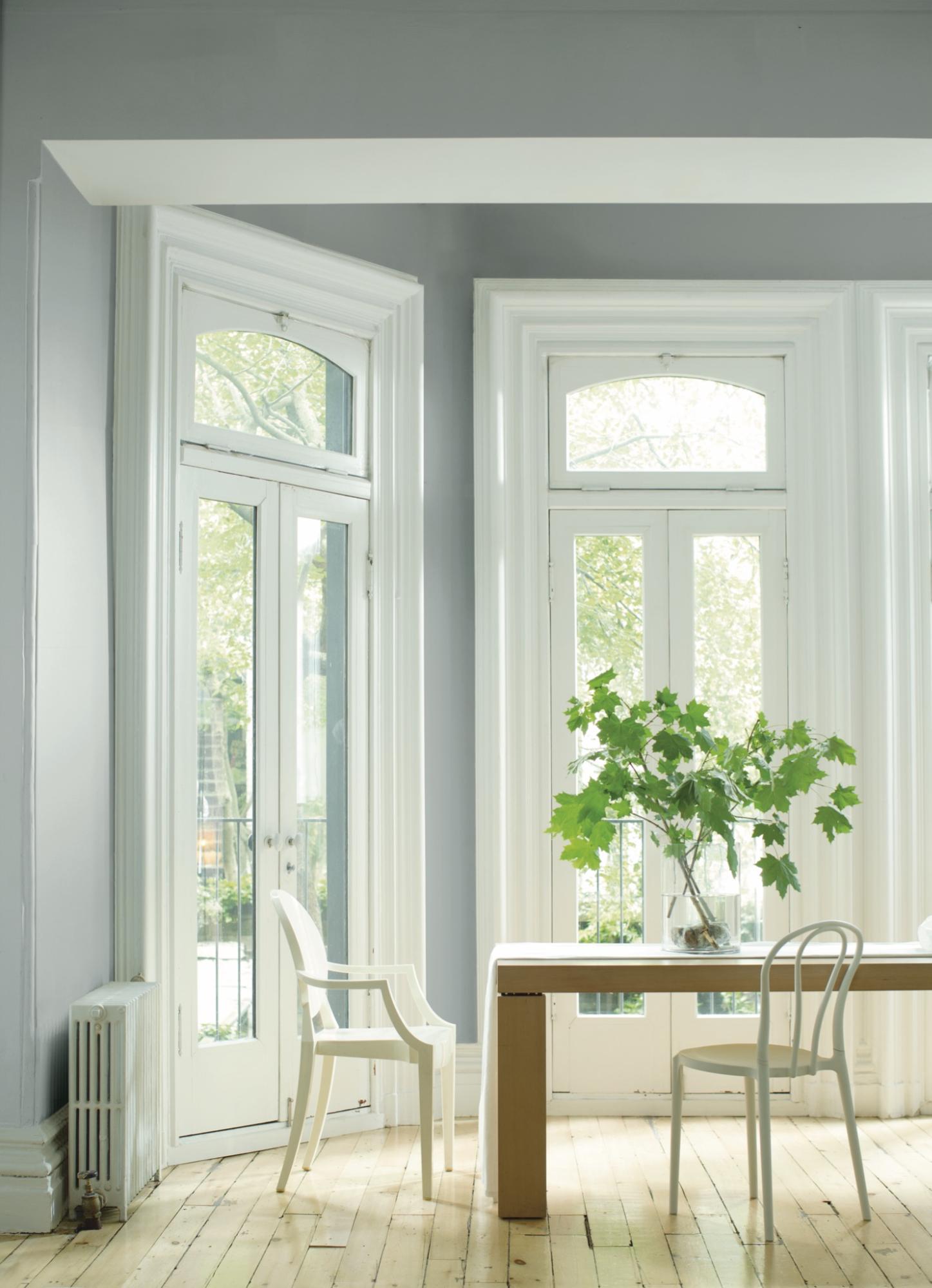 Even in a more modern home with simpler lines, this semi-gloss trim color can offsets the warm white walls and natural wood textures to give the walls a bright appearance.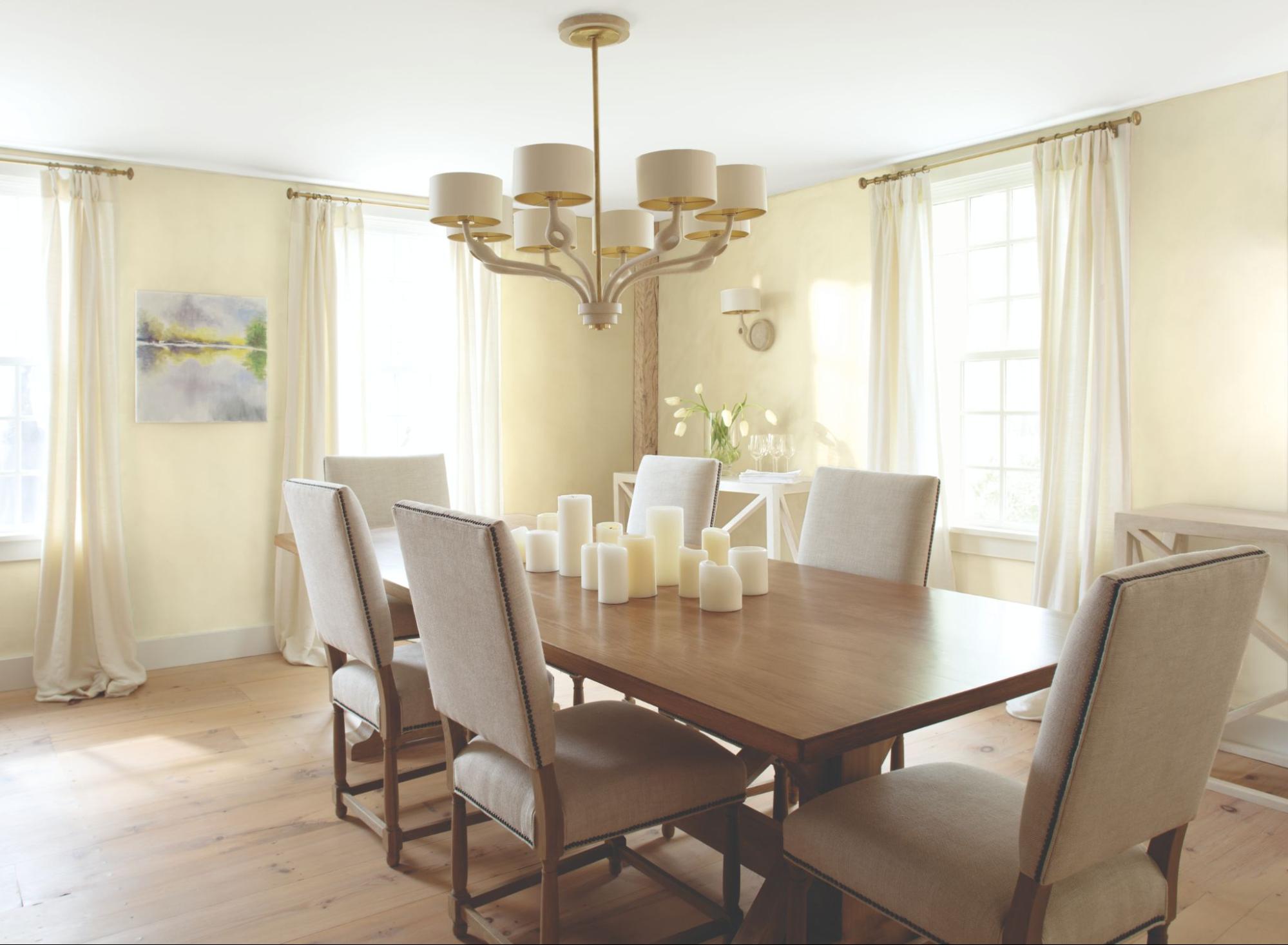 Other Benjamin Moore Colors You May Like
If you're looking for a different Benjamin Moore white, you're spoiled for choice. Sorting through white paints to find the color with just the right tone can be intimidating, but our Benjamin Moore Color Guides can help make the process a little simpler.
For a white with more visible blue or green undertones, try Benjamin Moore's Decorator's White for a cool white undertone and Paper White (also part of the Off White Collection) for gray. Alternatively, for a bit warmer yellow undertone white, there's Simply White or Super White. Check them out and more from the Benjamin Moore White & Off-White Collection.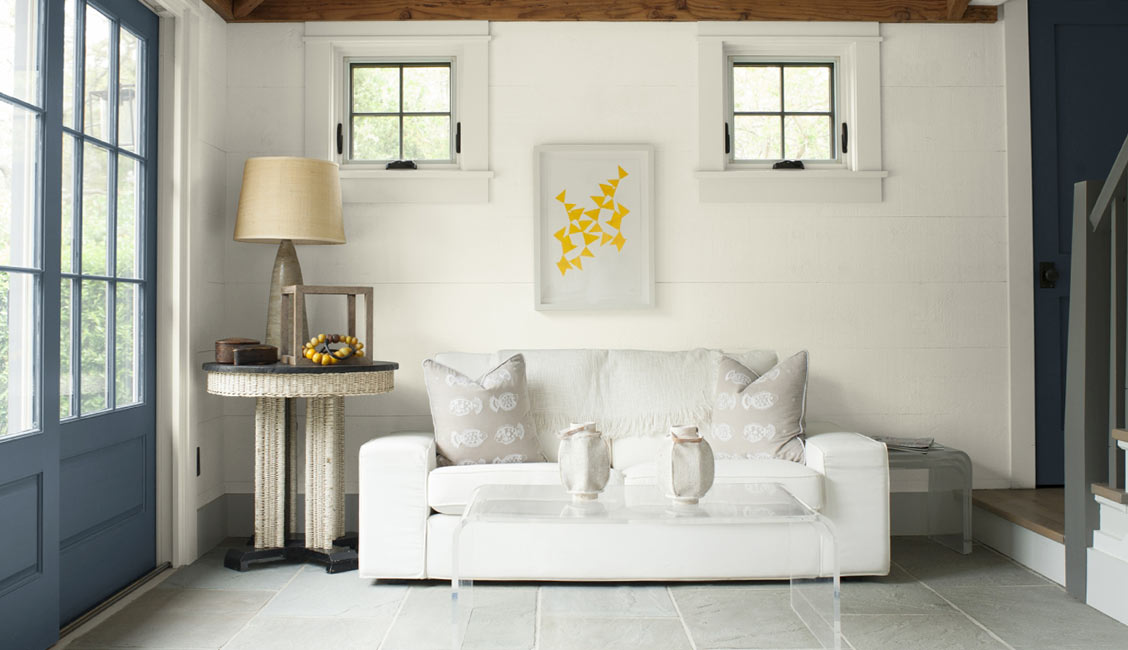 To pair with Benjamin Moore's Chantilly Lace we love Hale Navy, Wrought Iron, or even the creamy white of White Dove for trim.
Open to other color collections but not sure which? You might be surprised at how a Benjamin Moore Gray can bring nuance and complexity to your wall color, trim colors, even with white paint. Check out our Benjamin Moore Color Collection for Gray here!
Buy Chantilly Lace Benjamin Moore Paint & Samples
Want to see how Chantilly Lace looks in your home before deciding if it's the right white paint color? For an easy way to test Chantilly Lace on multiple walls, paint a large poster board with our Benjamin Moore Paint Color Samples and move it around the room to observe it on different walls. Check how the color looks on well-lit walls and darker walls throughout the day, in both natural lighting and by lamplight in the evening. Our interior designers recommend to test multiple paint samples so you can compare all paint color options you may be considering at once.
Once you've tested the color and are ready to order your paint, come back to check our Interior Paint Guide or Exterior Paint Guide to help you find the right sheen and product for your home or buy it in our best-selling Benjamin Moore paint line today.
As one of the nation's largest Benjamin Moore retailers, Ring's End offers Chantilly Lace both in-store and online in a wide variety of paint sheens and sizes to meet your needs - and don't forget the rollers!