Choosing a living room color scheme might be the most challenging part of your home's interior design. Just a quick search for "living room colors" yields a confusing mix of off-white and gray paint colors, and they all seem to look alike. On top of that, you'll need to consider whether you want an accent wall, and figure out what color combinations are best for an open plan living room. You'll want to choose a color that's not too trendy, and not too bland, so it stands the test of time.
So, how does a savvy DIY painter even begin to choose a color? Start here with our roundup of the best living room paint colors for 2021 and beyond.
Popular Living Room Colors For 2021
The most popular living room paint colors this year have definitely been shades of off-white and gray, with greige beginning to take over as people move towards warmer color palettes. Navy has also been surprisingly popular, both as an accent wall for the dining room area and as a wall color for an entire room. Dark colors add drama and elegance to the small, closed off living rooms of traditional homes and urban apartments. In modern homes, open floor plans and farmhouse-style details have increased the popularity of off-white colors and pale grays. White paint amplifies the natural light coming in through windows, and creates a neutral background so interior design selections like art, lighting, and wood floors can shine.
One of the most popular white paint colors is Simply White; it's part of the Benjamin Moore Modern Farmhouse color palette, and was chosen Color of the Year in 2016. With its slightly warm tint, this bright white can illuminate a large space without making it feel cold:
Classic Gray is another popular living room color. This pale gray is a nearly off-white shade that's soft and warm. It's one of Benjamin Moore's best-selling neutral colors and a popular choice among interior designers. This versatile light gray has barely-there warm undertones that appear greige in the evening. It's an elegant backdrop for furnishings and art: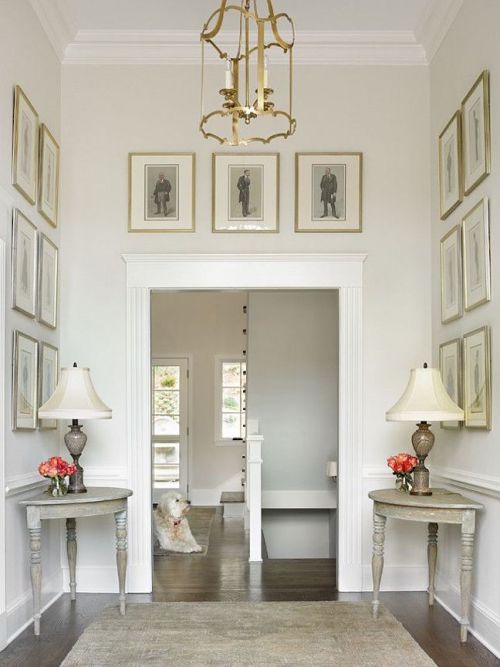 Named Benjamin Moore's Color of the Year in 2021, Aegean Teal is far from a neutral paint color. However, this dusty blue paint has distinct green undertones that give it a certain sophistication. Use it in a traditional living room for a cottage touch, or paint an accent wall for a pop of coastal-inspired color: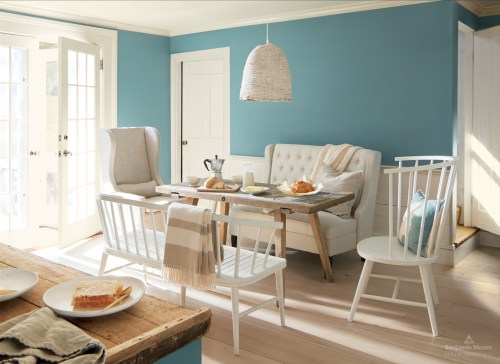 Navy blue is a classic color that never seems to go out of style. Darker shades of navy blue continue to gain popularity, since they work so well with the strong textures of wood and brick. Navy blue also makes white trim colors stand out, so it's perfect for homes with decorative molding. A current favorite is Benjamin Moore's Hale Navy, which has slight charcoal undertones that give it a modern edge: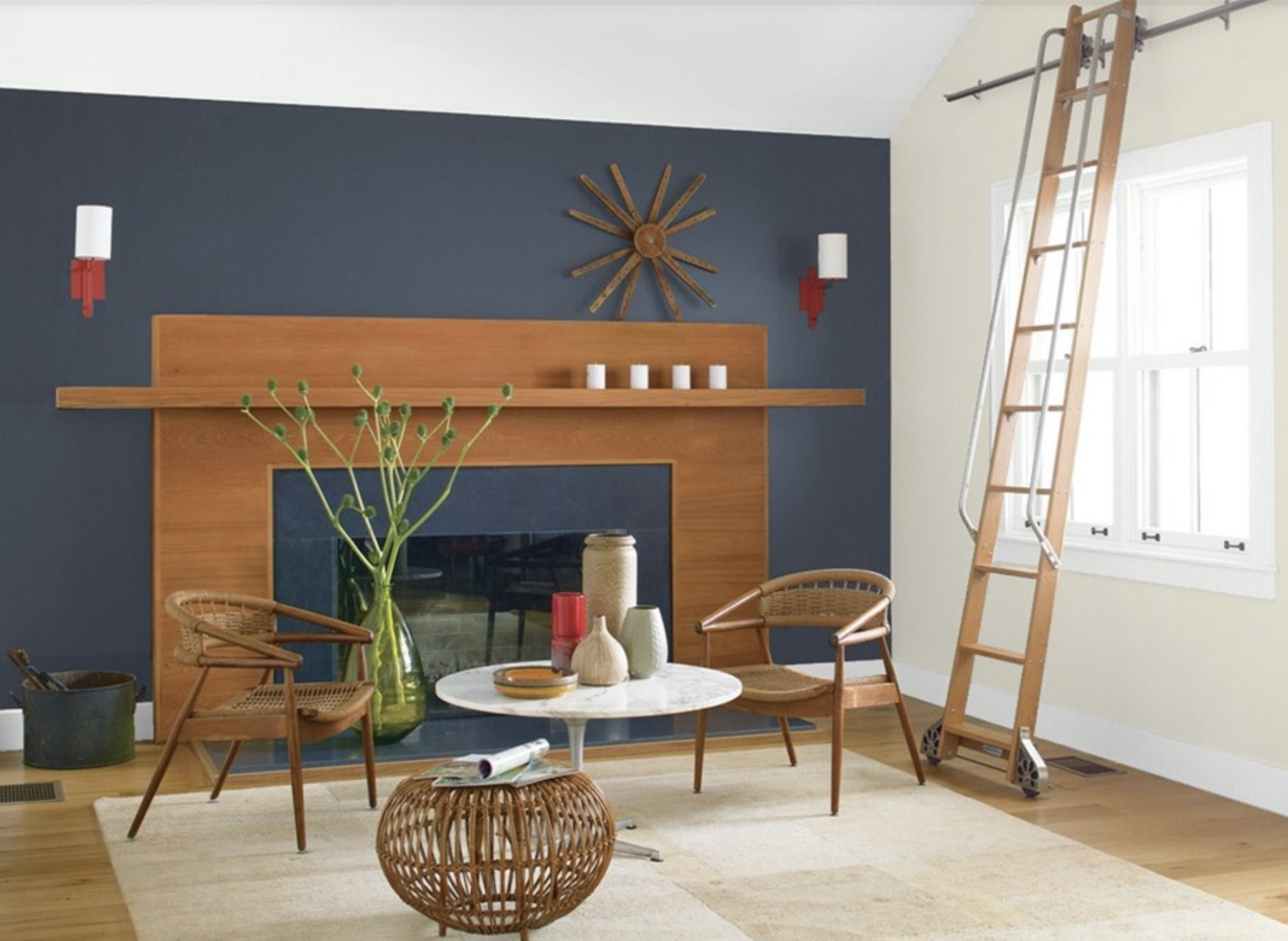 Neutrals will always be popular for living room walls because they're so easy to work with. Light, warm greige colors have enough tint to set off white woodwork without making the room feel dark. Since they complement so many other colors, they're the perfect neutral for the main rooms of your home. One of the most beloved paint colors of 2021, Revere Pewter is the perfect balance of gray and beige: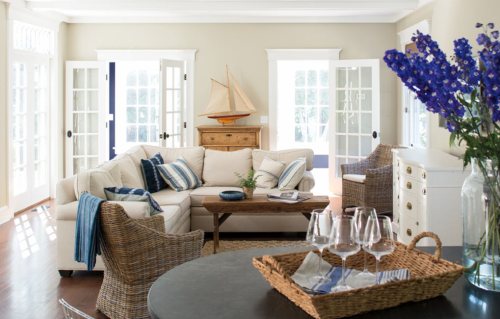 In this image, Benjamin Moore's Swiss Coffee on the wall is framed by trim in Simply White. In the hallway, you can see how Light Pewter adds some gray to the mix:
Changing the wall color to Revere Pewter and the trim to a brighter white like Decorator's White or Chantilly Lace creates more contrast between walls and trim. Warm-toned Chelsea Gray on the stair wall adds richness and depth: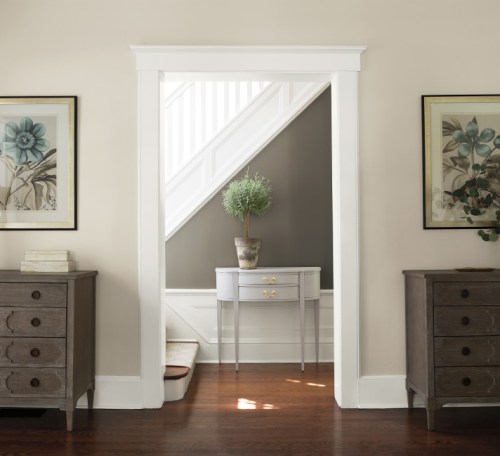 The popularity of cool gray undertones is starting to decline as the latest trends feature warm and cozy spaces. All-white, monochromatic living rooms can feel warm and sunny with the right color choice; in this living room, Linen White paint swathes the walls and woodwork in a creamy shade that matches the furnishings perfectly: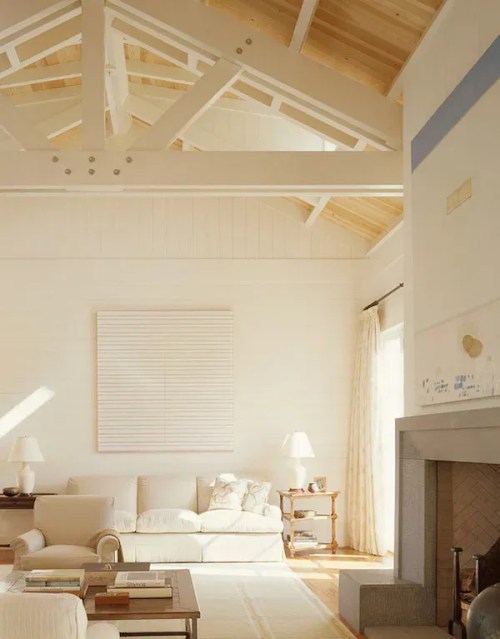 The interior design trend towards darker colors can incorporate neutral wall colors too. In this open plan home, an accent wall in Benjamin Moore Northampton Putty creates a rich taupe backdrop for linen curtains: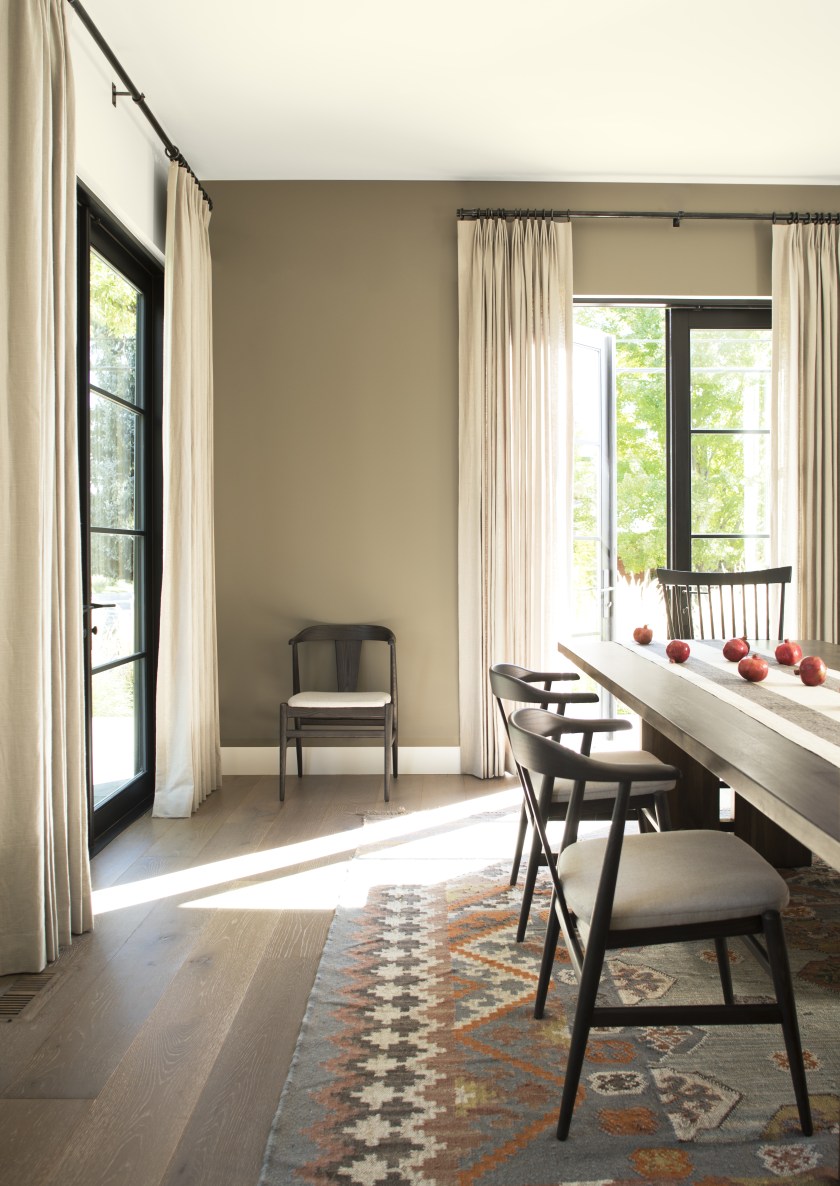 Not all "neutral" wall colors are shades of gray or beige. Nature-inspired pastel shades of blue, green and aqua are so complementary to furnishings and art that they can function as neutral colors. In this room by Ballard Designs, walls painted in Beach Glass recede into the background, acting as a neutral and allowing the art to stand out: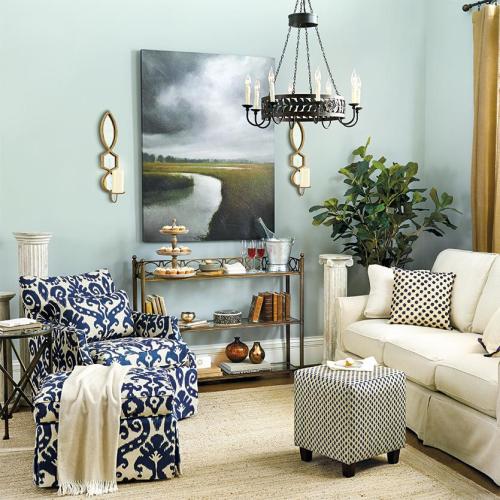 Gray Living Room Colors To Love
Homeowners have had a love affair with gray for over a decade now, and this versatile color continues to have staying power. One of the best paint colors for rooms with leather furniture, Benjamin Moore Moonshine is a crisp, modern pale gray that creates a stylish backdrop for mid-century furnishings:
If you'd like a neutral pale gray for your living room, Stonington Gray has green-blue undertones that cool it down slightly so it's a great wall paint for sunny spaces. It has just enough color to make white moldings pop: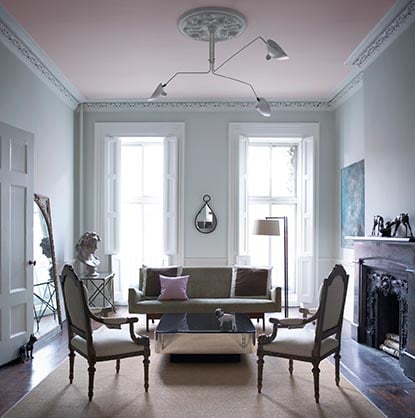 Warm shades of gray and greige are the latest color trend. Chelsea Gray is a deep gray with distinctly warm undertones that adds richness to both traditional and modern spaces. The perfect paint color for a cozy living room or urban loft, Chelsea Gray makes an elegant finish for millwork and cabinetry, as seen here: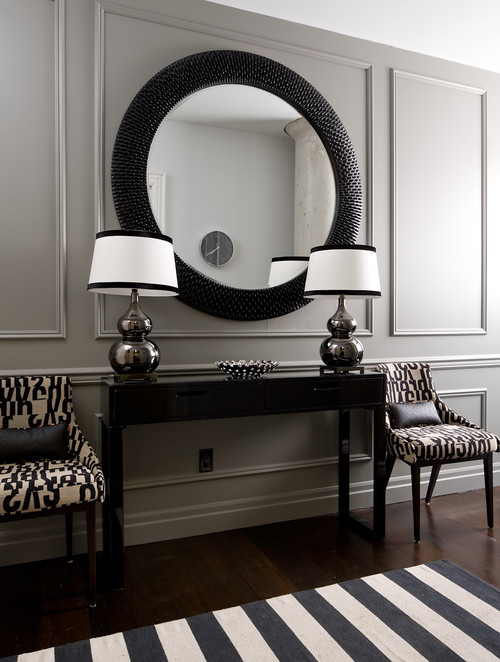 The warmest gray shades have green undertones that make them appear beige in sunlight. Known as "greige", these warm neutrals conjure the elegance of antique linen fabric. Use a greige like Edgecomb Gray from Benjamin Moore on both walls and woodwork for a classic look: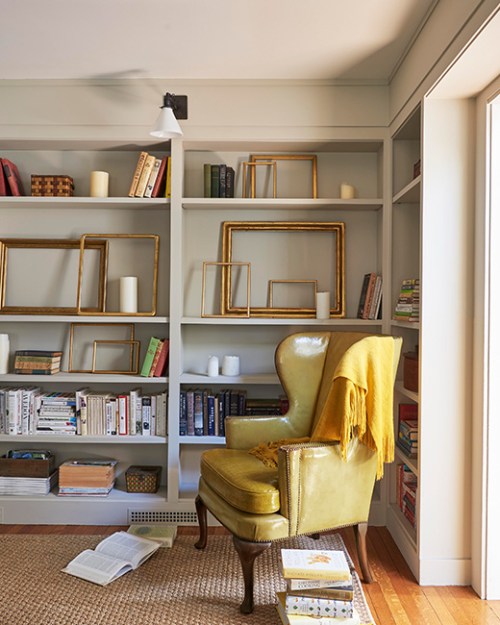 The Best Living Room Accent Wall Colors
An accent wall is the perfect way to add color and drama when you have an open plan family room. Dark accent walls make the perfect background for displays of art and antiques, like this wall painted in Hale Navy:
Charcoal gray is a favorite of interior designers, who love its modern drama on an accent wall. Gray is the perfect complement to wood tones, and it's the ideal neutral color for displaying art. In this home office corner, Ashland Slate helps bring out the yellows of the painting and chair: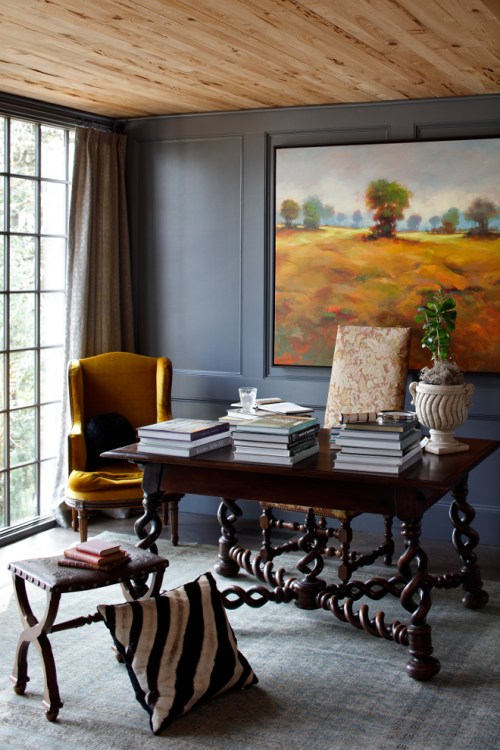 Nature-inspired colors like dark blue and green add character to a large space and bring the outside in. In this open plan home, a deep green called Salamander helps to ground the crisp white dining area: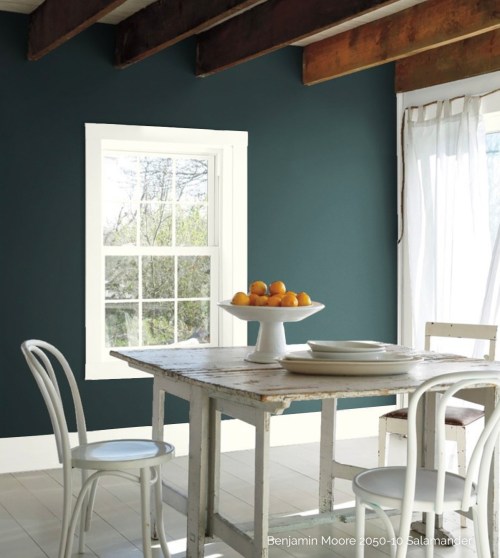 Of course, accent walls are intended to create drama, so a lot of designers take the opportunity to choose an unusual color. We love how the art stands out against this accent wall painted in Benjamin Moore's stunning Carter Plum:
How To Choose A Living Room Color Scheme
Now that you've looked at the popular options, how do you go about choosing a color scheme for your living room? First, think about the mood you want to create – light and airy, or eye-catching drama? Next, consider how much natural light is coming in, and whether it's warm or cool light. Knowing whether your living room faces North or South can help you choose between warm and cool shades of interior paint. Before starting your makeover, test paint color samples in your room at all times of day. Finally, don't be afraid to think outside the box! Interior designers do it every day to create surprising and inspiring color schemes.
Sunny spaces can look chic painted in a deep color like Benjamin Moore Dark Olive: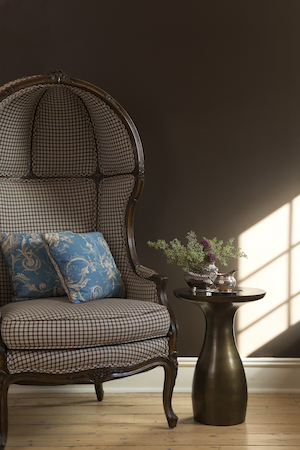 White furnishings stand out against the deep burgundy walls in this white living room design, painted in Caponata: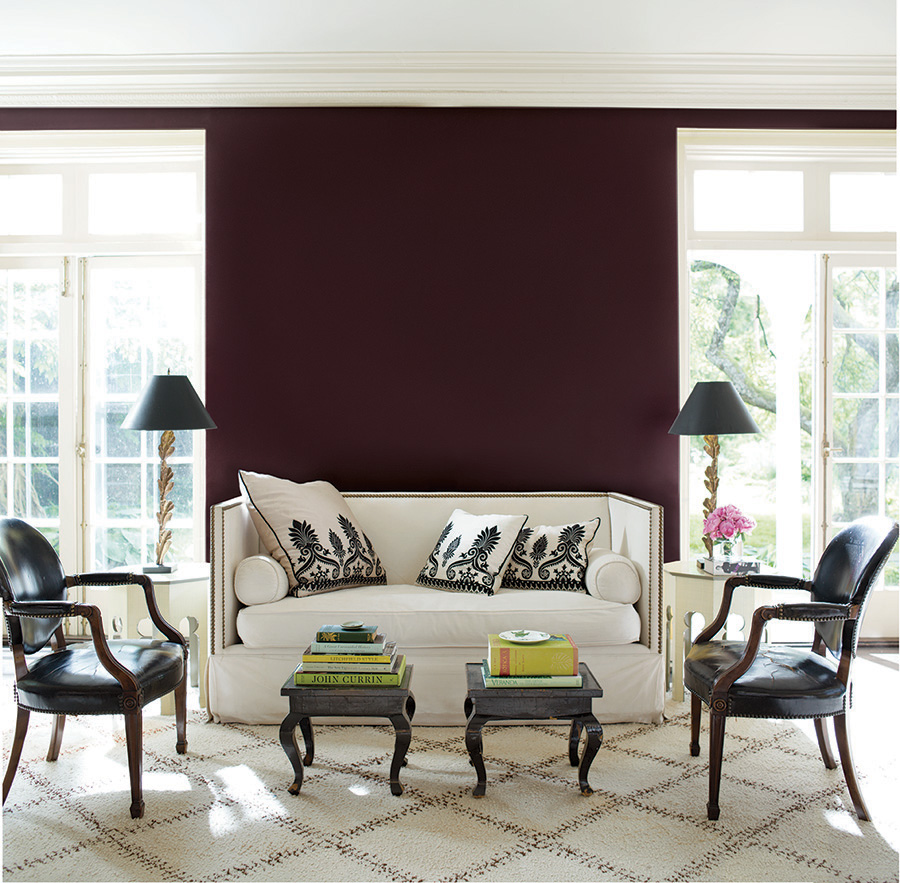 Complementary medium shades work nicely together to highlight architectural features. Here the light blue fireplace and pale green walls give off a stylish mid-century vibe: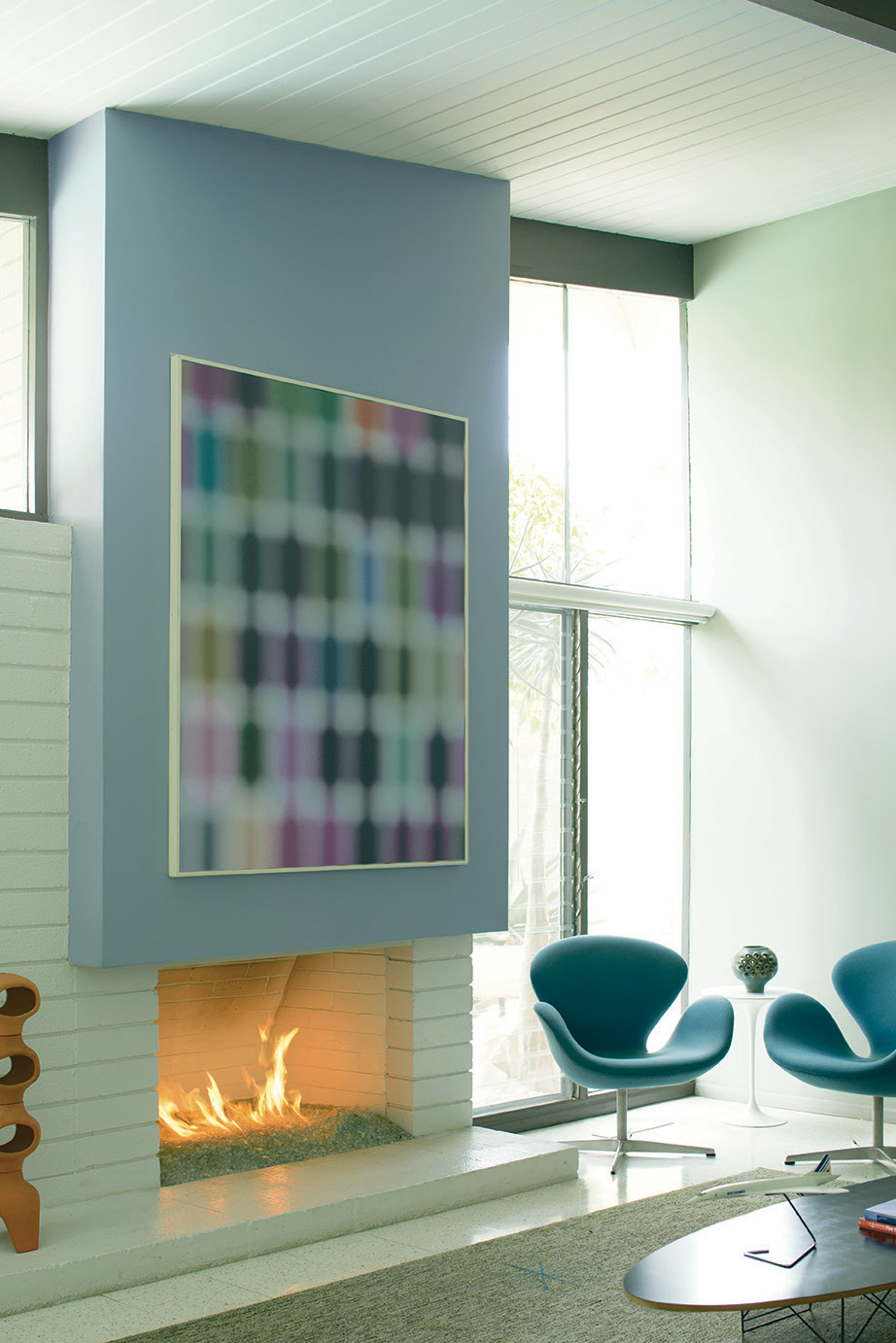 For the perfect English Country room look, consider pink. Combined with classic furniture and an exotic rug, matte finish Wispy Pink walls evoke high-end style: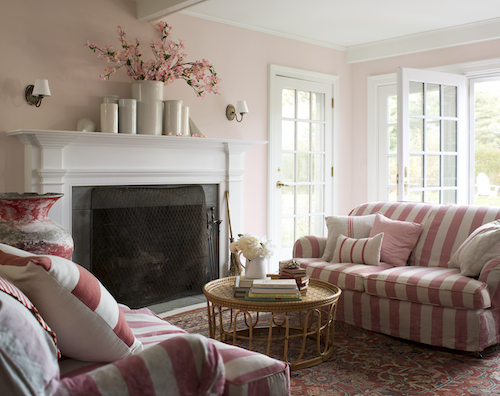 Highlight architectural details with historic colors on the wall, like Palladian Blue: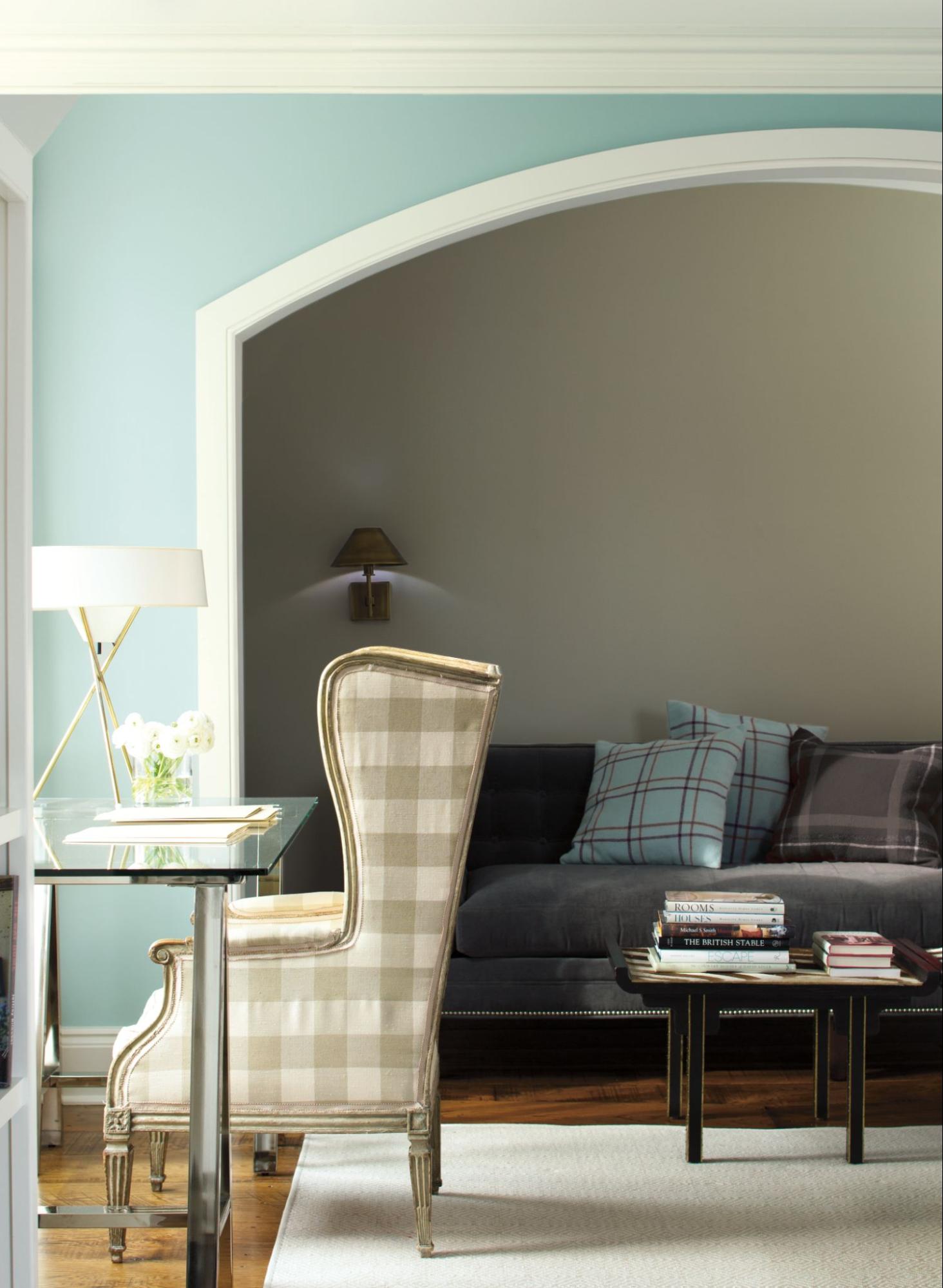 Of course, white walls can help feature architectural details like a wonderful fireplace; in this historic living room, Simply White creates a minimalist modern look: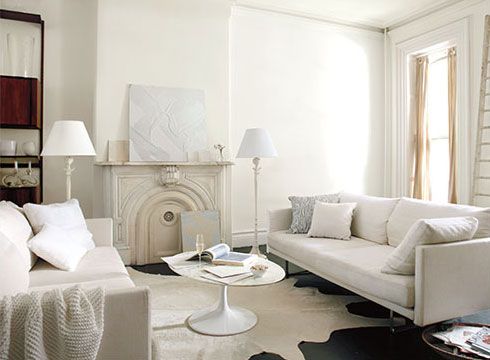 Whether you live in a modern farmhouse, urban loft or classic cottage, your living room paint color says a lot about who you are. We hope you've been inspired to express your unique style with these creative paint color ideas for your living room.