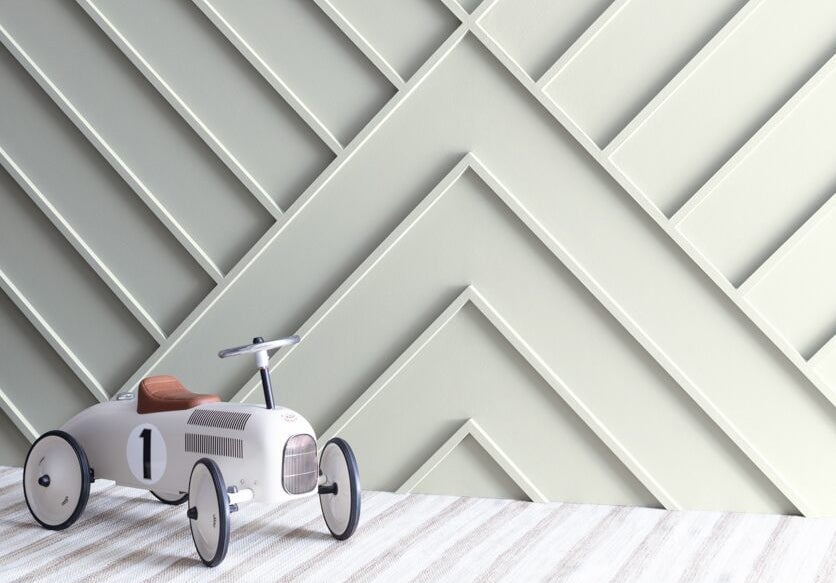 What We Love About Moonshine 2140-60
Benjamin Moore Moonshine is a sophisticated, modern pale gray with subtle blue undertones. Part of Benjamin Moore's Off-White Collection, it amplifies the light in large, open spaces for a light and airy effect. Moonshine's understated hint of blue-gray makes it a great choice for a unifying wall color throughout the home.
It's the ideal neutral paint color to make traditional white trim stand out. Clean, crisp, and modern, this pale gray creates a stylish backdrop for a mid-century color palette. A cool demeanor helps Moonshine to retain its gray undertones in sunlit spaces, where a warmer gray might appear greige. While it's available in both interior and exterior paint formulations, pale neutral paint colors like Moonshine can wash out in the bright sun, so we recommend it as an interior paint color. The next time you're ready to DIY a gray paint color, be sure to consider this popular Benjamin Moore color.
Read the rest of this color review for an in-depth look at Moonshine, its undertones, and the best places to use it.
Benjamin Moore Moonshine Undertones
Blue undertones help Moonshine to retain its cool gray cast in sunny, South-facing rooms where a warm gray might appear greige. If you have West-facing windows, yellow sunshine can bring out slight green undertones in Moonshine as well. In North-facing rooms or cold climates, the blue undertones become more pronounced, and Moonshine appears even grayer. Your interior design scheme and companion paint colors may also highlight one undertone more than the other.
With its light reflectance value or LRV of 68.28, Moonshine isn't pure white. It definitely belongs in the off-white collection; however, its blue undertones provide a reliably gray tint most of the time. It's a stylish choice for the living room, family room, or master bedroom even in spaces with low levels of natural light. Plus, it has just enough color that it won't wash out in brightly lit rooms. Pair it with a bright, cool white like Benjamin Moore's Super White for a crisp, modern look. Trim it with a neutral white like Chantilly Lace or the slightly warmer White Dove for softness.
Inspiration for Using Moonshine 2140-60
Moonshine is a popular off-white for both traditional and modern interiors. In most rooms, it will appear to be a very light gray. The cool undertones in Moonshine make it the ideal pale gray to pair with Carrara marble:

Moonshine has just enough tint to contrast with bright white woodwork, making it a perfect neutral choice for large rooms:

In this mudroom with soft natural light, Moonshine shows off its cool undertones; a slate floor and crisp white woodwork enhance the effect:

Moonshine's barely-there gray color is an elegant backdrop for art and furnishings; it recedes into the background for a clean, modern look:

As part of the 2018 Color Trends Palette, Moonshine is the perfect light gray to complement Caliente, the 2018 Color of the Year. You can see it through the doorway here, picking up the gray tones from the stone fireplace:

Other Benjamin Moore Paint Colors You May Like
What colors go best with Moonshine?
Moonshine is the perfect cool neutral to use as a quiet backdrop for furniture and art. Create a blue-gray color collection for the bedroom with an accent wall in Hale Navy, and trim in a cool white like Paper White. Trim it with the neutral undertones of White Dove for a crisp look in an open floor plan home. Accent walls, cabinets, or vanities in a teal like Wythe Blue or a yellow like Pale Moon add energetic pops of color.

Other Similar Colors
If Moonshine has too much tint for your space, you can always go lighter by choosing Benjamin Moore's Paper White. If you like the cool gray that Moonshine offers, but want a darker gray paint color, be sure to sample Gray Owl (part of Color Preview by Benjamin Moore). For a shade of gray that's slightly warmer, check out Silver Satin OC-26 or the slightly deeper Stonington Gray HC-170. Keep in mind that if you prefer greige colors like Revere Pewter, the cool gray of Moonshine probably isn't for you.
Buy a Moonshine Benjamin Moore Paint Sample
Off-white paint colors are susceptible to shifts in an undertone that could make them appear cooler or warmer depending on the lighting conditions and time of day. We recommend testing a sample of Moonshine and any other options you're considering before deciding on your final choice.
One of our designers' favorite tips for an easy way to test paint swatches on multiple walls in your house, is to paint a large poster board using a Benjamin Moore Half Pint Paint Sample and move it around the room to observe the color on different walls and in different lighting conditions.
Once you've settled on your color choice and are ready to order your paint, come back here to check our Interior Paint Guide to help you find the right sheen and product for your home!