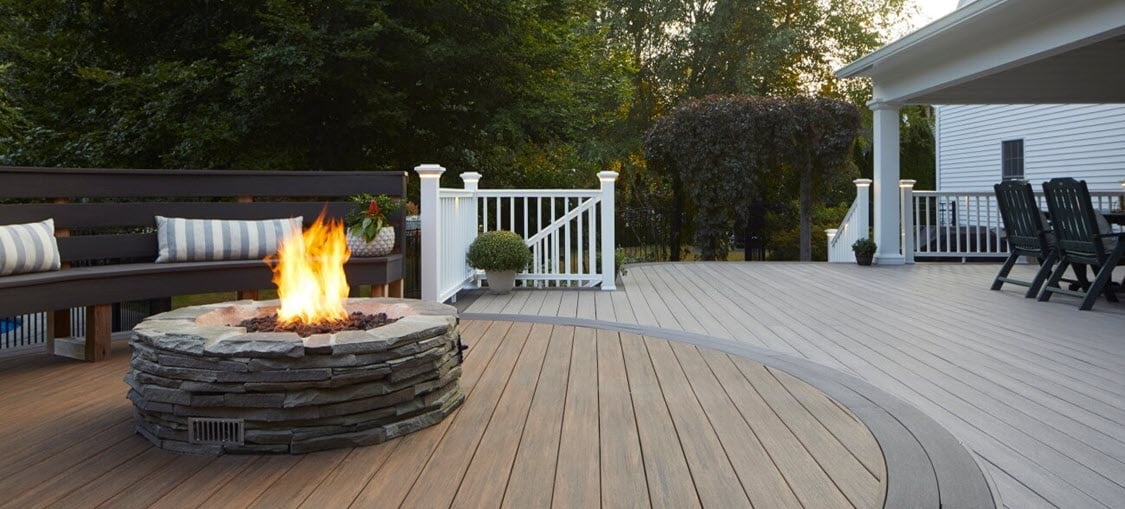 Ring's End's line of TimberTech decking offers the natural beauty of wood without the extensive maintenance such as sealing, staining, or the constant upkeep of real wood. TimberTech's composite and advanced PVC decking technology resists moisture damage, mildew, mold, scratches, stains, and fading, ensuring that your low-maintenance deck will look like traditional wood but with the durability and resistance to harsh weather that Azek decking provides.
With extensive color options to suit any home design and budget, your dream deck is right around the corner!
The TimberTech Decking Color Chart
Before you begin to look at TimberTech decking colors, it helps to understand their two product collections: TimberTech Advanced PVC decking, and TimberTech Composite decking.
TimberTech Advanced PVC colors are found in the Vintage, Landmark, and Harvest collections. TimberTech Composite Decking offers the color palettes of the Premier, Legacy, Reserve, and Prime + collections.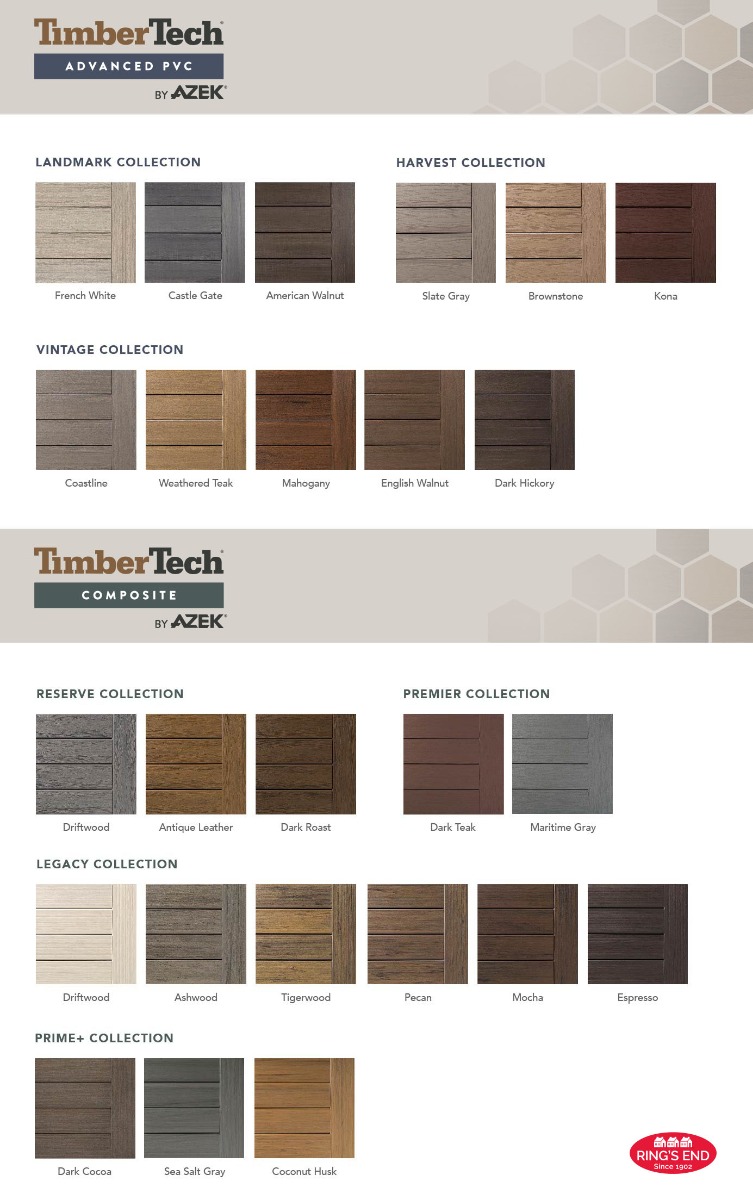 Your choice of collection will depend on your budget and proposed deck design. Your local Ring's End representative, along with your architect, designer or contractor can recommend materials in your price range for materials as you review the TimberTech color chart. Each TimberTech collection has a distinctive style and a unique range of surface textures, grooved profiles and colors. Plus, this low-maintenance product is backed by a minimum 25-year fade and stain warranty!
TimberTech Advanced PVC Decking:
TimberTech Advanced PVC Decking is available in eleven colors across three collections:
The Landmark Collection features a cathedral wood grain pattern is complemented by a rustic crosscut grain and matte finish; the color varies from end-to-end and board-to-board to make each deck unique.

The Harvest Collection includes traditional cathedral wood grain and a natural, solid color palette to complement many home styles.

The Vintage Collection series features TimberTech's most sophisticated, natural-looking colors, widest pattern variation, and a wire-brushed surface for an authentic wood look.

TimberTech Composite Board Decking:
TimberTech Composite Decking is available in fourteen colors across four collections:
The Reserve Collection showcases complex coloring that's inspired by reclaimed wood. A heavy wire-brush finish highlights the classic cathedral wood grain.

In the Legacy Collection,each board is unique with a complex color-blended look and natural board-to-board color variation; the hand-scraped texture adds Old World charm.

TimberTech's Premier Collection colors deliver an opaque stained look that features rich, modern colors and a straight grain that delivers real wood aesthetics.

The Prime+ Collection offers a simple, traditional wood look that features subtle color blending and a rift-and-quarter-sawn straight grain pattern. 

See the entire TimberTech Decking Series in our Product Guide
How To Choose Deck Colors That Match Your Home
Now that you're familiar with TimberTech's collections, you're ready to decide which color is best for your particular home. TimberTech decking is designed to replace real wood, so the palette includes four nature-inspired color families:
Grays

: Warm greige, cool gray and deep graphite shades

Golden browns

: Golden beige, khaki and cocoa brown

Classic browns:

Mid-tone and dark mocha brown shades

Reddish browns

: Complex shades that blend brown and red-brown tones 
Depending on your home's style and location, one or two of these color families will work better than the others. If you've ever chosen paint colors you're probably familiar with undertones, and how colors blend well if they have similar undertones. Just like paint colors, TimberTech's color chart features both warm and cool shades in each collection. For most decking projects it's best to use one or the other instead of combining warm and cool shades. 
If you choose decking colors according to their undertones, they will blend beautifully with your home's exterior colors and the surrounding landscape. As you narrow down your color choices there are three things to consider:
The landscape around your home

Your local climate

Your home's exterior paint colors and their undertones
Take Color Inspiration From The Landscape
The colors around your home are a great place to look for inspiration; plants and trees, garden structures and fences surround your deck with color and may change with the season. Working with shades from the nearby landscape reduces the contrast between the deck and its surroundings for seamless natural views. 
Coastal Decks:For beachside homes, look for bleached wood or weathered, driftwood grays.

TimberTech Advanced PVC by AZEK in French White
Lush green plants look beautiful against rich wood tones.

TimberTech Composite in Antique Leather
Wooded Decks: A natural wood look blends with nearby trees for a deck that's surrounded by forest.

TimberTech Advanced PVC by AZEK in English Walnut
A lighter, weathered wood color paired with black cable railings is perfect for a modern cabin in the woods.

TimberTech Advanced PVC by AZEK in Weathered Teak
Desert Decks: Desert areas have a stunning range of colors in the landscape; sandy beige, sunset pinks, and gray-green shrubs. Reddish-brown decking complements the stone wall and terracotta tile roof at this home:

TimberTech Composite Legacy Collection, Pecan
Lighter deck colors blend perfectly with the light paint colors that are typically found on desert homes. Use a light color to deflect heat for a cooler, more comfortable deck.

TimberTech Advanced PVC by AZEK in Coastline, Dark Hickory inlay
City Decks: Urban landscapes may have city views or a small garden. Use rich wood tones to add warmth to steel and concrete buildings.

TimberTech Advanced PVC by AZEK in English Walnut
For a townhome that opens to a garden, a deck becomes additional living space. The deep gray color on this contemporary deck is easy to coordinate with the home's interior, and suits the urban landscape.

TimberTech Advanced PVC by AZEK in Castle Gate
Consider Your Local Climate
Deck colors respond to sunshine and heat like any other color; dark colors will absorb and retain heat, and lighter colors will deflect it, retaining less. Consider the climate where you live and your deck's design when selecting a color. If your deck is exposed to full sun all day, it would be smart to opt for light-colored deck boards. In hot desert climates, even a deck with partial sun will get very hot. Choose a light deck color like Whitewash Cedar from the TimberTech Composite Legacy Collection for a cooler, more comfortable surface. Adding a pergola or retractable awning will also keep deck boards cool. If you live in a cooler climate or the deck will be shaded, you can choose a medium or dark shade without worrying too much about heat buildup. 
Match Decking Undertones To Your Exterior Paint Colors
The exterior color of your home should have a major influence on your decking color choice. From a design standpoint, your home is a large block of color near the deck, so you want a deck color that complements it. For seamless flow, choose a decking shade that's just slightly lighter or darker than the exterior paint color. Or create dramatic contrast with a deck color that's significantly darker or lighter. Some homeowners like to match deck rails to the home, using white railings if the home has white trim for example. Others prefer to let the rails blend into the landscape by choosing black or a dark wood tone.
If you know the names of your home's paint colors, you can do a quick online search to find out their undertones. Even white paint has visible undertones, so it's worth taking the time to order TimberTech decking board samples and test them against your paint color. If a white has a cream-yellow cast it has warm undertones, and if it has a grayish-blue cast it has cool undertones. 

TimberTech Advanced PVC deck in Slate Gray
For example, if your home is painted a warm shade like Simply White by Benjamin Moore, the best color choice is either a warm brown deck that will blend, or a warm gray like the TimberTech Harvest Collection's Slate Gray to complement the warm undertones. 
A neutral white like Benjamin Moore's White Dove would work beautifully with almost any deck color on the chart. The warm wood tones in the Vintage Collection's Weathered Teak create a traditional vibe:

TimberTech Advanced PVC deck in Weathered Teak
A cool shade like Castle Gate, or a brown-gray wood tone like American Walnut (both from the Landmark Collection) also work nicely with a neutral white paint.

TimberTech Advanced PVC by AZEK in American Walnut
Gray is one of the most popular exterior paint colors at the moment. If your home is gray, check the paint color's undertones to get a good match. For example, a cool gray decking color like Maritime Gray will clash with a warm gray paint like Benjamin Moore's Chelsea Gray. A warm-toned gray deck like Slate Gray would be a better color choice. 
For a home painted in a neutral gray (like Stonington Gray), a soft greige or medium brown deck color would be ideal. Check out these TimberTech AZEK colors from the Vintage Collection, all working together; Coastline, Mahogany, and Dark Hickory:

TimberTech Advanced PVC by AZEK in Weathered Teak, Dark Hickory and Coastline from the Vintage Collection
Warm tan, beige and golden brown exterior colors are the perfect backdrop for medium brown and reddish-brown deck colors. This home's earthy palette features a deck in the Reserve Collection's Dark Roast, with brown railings and crisp white posts to match the home's trim.

TimberTech Composite by AZEK, Reserve Collection in Dark Roast
The latest exterior paint color trends feature dark colors like navy blue or charcoal on the entire home. Popular shades like Benjamin Moore's Hale Navy and Kendall Charcoal give these homes a strong presence and make white trim colors pop. Medium and light deck colors create a stylish contrast against a dramatically dark exterior. This modern bungalow used TimberTech Advanced PVC in Weathered Teak to brighten the deck:

TimberTech Advanced PVC by AZEK in Weathered Teak
Many traditional homes have red brick exteriors, or historic paint colors like Benjamin Moore's Wythe Blue or Old Navy. For a classic look, choose a medium or dark wood-toned deck to avoid creating sharp contrast. On this deck, black railings blend with the landscape and are trimmed to match the TimberTech Advanced PVC deck in Mahogany.

TimberTech Advanced PVC by AZEK in Mahogany
Test your decking color samples against the floors inside your home too. Make sure the interior floor color and deck color work well together for a seamless transition from indoors to outside. Choose hidden fasteners for a sleek look that resembles interior wood floors.
Combine TimberTech Colors For A Unique Design
A standout deck design usually has custom details like lighting, custom railings, and deck boards laid in distinctive patterns. Many custom deck designs combine two or more board colors for a big visual impact. For example, a contrasting color might be used as a border along the edges, or to delineate seating and dining areas. 

TimberTech Advanced PVC by AZEK in Coastline and Castle Gate
Diagonal or herringbone patterns add interest without being too busy.

TimberTech Advanced PVC in Coastline, herringbone pattern
Plan Your Dream Deck with TimberTech's Extensive Composite & PVC Decking Collections
Here at Ring's End, we offer an unparalleled selection of building materials both in-store and online. We're proud to offer TimberTech products, because we know that homeowners have confidence in their 25-50 year product warranty. 
In addition to the expertise provided by our Ring's End sales representatives, an architect or designer is a great help when planning a custom deck. They can supply creative design ideas, produce a deck design that meets local building codes, and provide plans for the contractor. With thoughtful attention to color and some expert help, your new deck will be a stunning addition for all to enjoy.
See the entire TimberTech Decking Series in our Product Guide