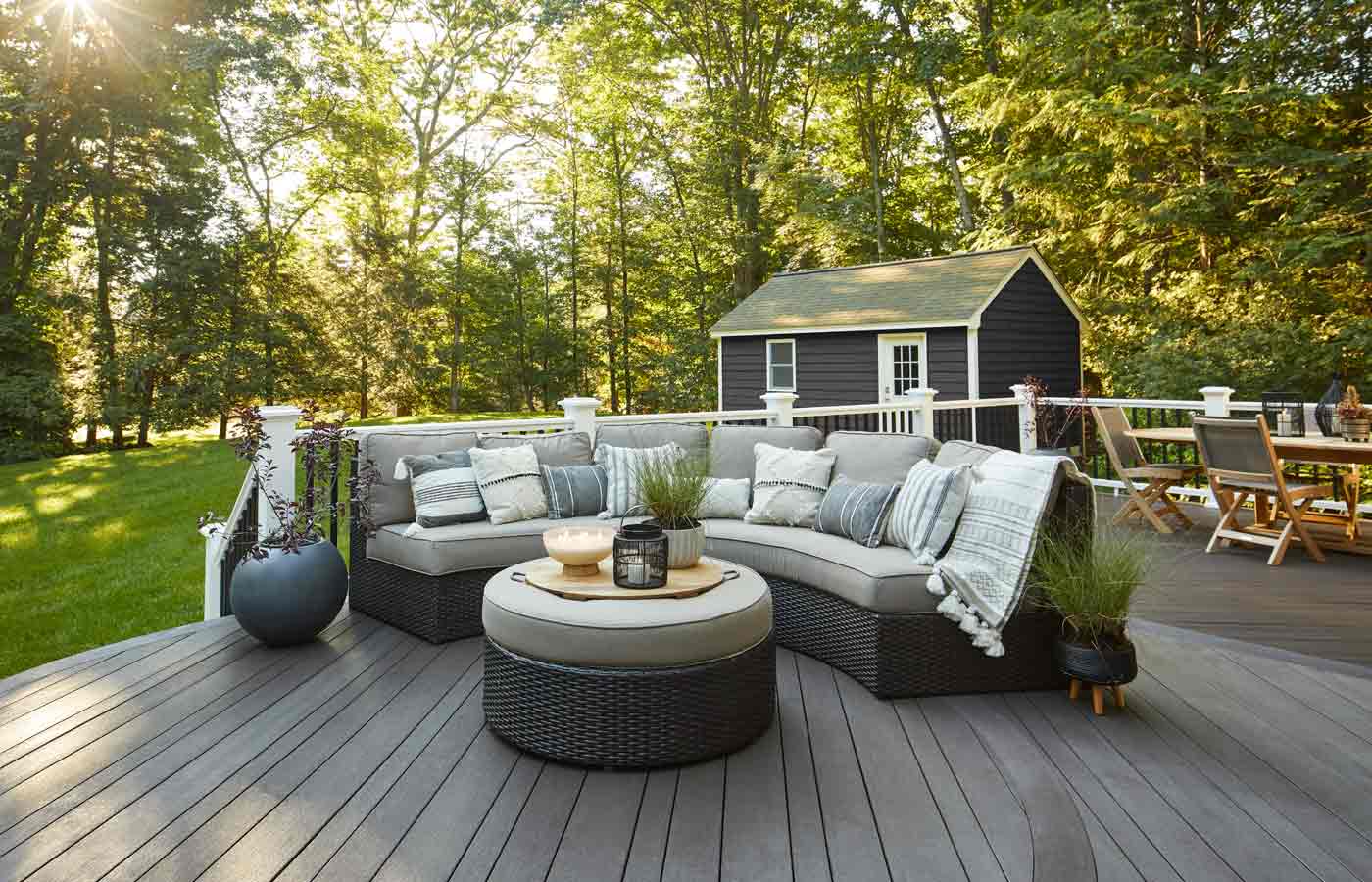 A beautiful deck is a focal point in your outdoor living space, but achieving your ideal aesthetic is only part of the equation. When selecting a new or replacement deck for your home, you will need to decide how much maintenance you are willing and able to put into your deck to preserve its look over the years. There are a range of deck options to choose from, with some decking materials intentionally designed for minimal upkeep.
Deck Maintenance Factors to Evaluate
Every deck needs maintenance to preserve its appearance and extend its life, but the frequency and labor required to keep up your deck will depend heavily on the decking material you choose. These are some of the most common deck maintenance factors to evaluate as you choose the right option for your outdoor living space.
Cleaning
Decks are high-traffic surfaces, prone to dirt build-up from everyday use. Decks are also exposed to inclement weather conditions and high moisture levels, depending on their surrounding environment. These factors mean you will need to regularly clean your deck to avoid permanent damage from mold or mildew. Cleaning your deck could be as simple as washing the deck surface with a cleaning solution, or it could involve a multi-step process of sanding and applying various specialized cleaning products to remove hardened grime and deep stains.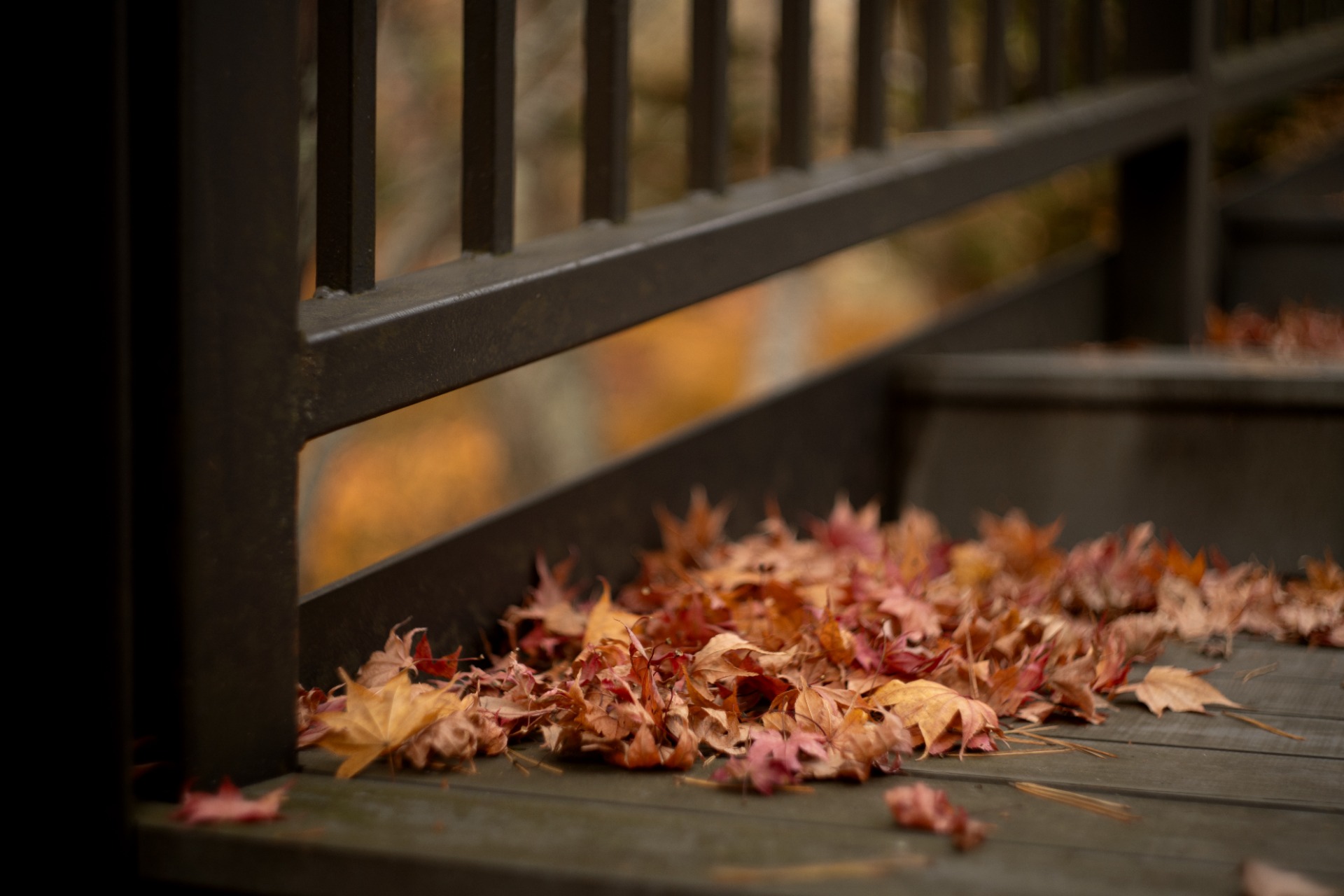 Color Preservation
UV damage from sun exposure fades any deck over time – even engineered decking – especially if it is made from low-quality materials. However, fading due to sun exposure primarily affects decking made from natural materials. Homeowners will need to regularly re-apply coats of stain or paint for their wood deck to maintain its color and seal.
Damage Repair
It doesn't take a catastrophic event to damage your deck. Regular exposure to sun and moisture causes deck boards to expand and contract, resulting in cracked boards or chipped paint – particularly with wood decks. When you go to choose a new deck, consider how the materials will respond to moisture and weather fluctuation and what it will take to repair them.
Common Types of Decks
Wood and engineered decks are the two main categories of decking materials to choose from. Wood is a popular deck material because of its beautiful, natural look – while engineered decking is a modern solution to many of the problems that arise with wood decks.
Wood Decking

Wood deck and railings stained in Benjamin Moore Arborcoat Translucent Classic Oil Stain Silver Gray
Popular wood deck materials include hardwoods such as ipe or mahogany, as well as softwoods like cedar, pine, or pressure-treated wood. These natural materials bring a beautiful and traditional aesthetic to your outdoor living space.
However, wood decks require significant maintenance. They need to be coated and sealed to prevent moisture damage, and regularly re-stained or re-painted to maintain their color. If wood decks become too damaged or soiled, the restoration process is labor intensive – requiring deep cleaning, sanding, and re-application of their coatings that can take multiple days.
Engineered Decking

TimberTech Composite Decking in Whitewash Cedar from the Legacy Collection
Engineered decking – either composite or PVC – is intentionally designed to be low-maintenance. These synthetic materials resemble the look of a wood grain, but last significantly longer and do not warp or crack easily under changing weather conditions. Engineered decks are insect-proof, and come with a variety of moisture, mold, and mildew-resistant qualities. Unlike wood decks, engineered decking does not require sanding, re-staining, or re-painting.
Low Maintenance Decking Options
Engineered decking is made of either composite materials or polyvinyl chloride (PVC). Composite decking combines wood fibers and recycled plastic, while PVC decking is a fully synthetic product. PVC is fully recyclable, and brands such as TimberTech build both types of decks out of mostly recycled materials for an eco-friendly product either way.
Composite decking is available fully or partially capped. A capped deck board has a hard plastic outer shell bonded to the core material to provide extra protection against wet weather, stains, scratching, and fading. Deck boards that are capped on three sides will protect the upper surface and edges; boards that are capped on all four sides offer superior protection.
Since PVC and composite decking materials are manufactured using different materials, they are slightly different in their performance and available finishes. Here is a quick comparison between the composite and PVC collections offered by premier decking brand TimberTech:

PVC Decking

TimberTech's Advanced PVC Decking from the Vintage Collection, in Weathered Teak
Polyvinyl chloride or PVC decking is the lowest maintenance option available to homeowners. A fully synthetic product, PVC decking is the most resistant to moisture damage and stains, and lasts even longer than composite decks with an impressive lifespan of up to 50 years. The only required maintenance is cleaning.
Homeowners are able to achieve the most realistic wood look using PVC materials, and the polymers in PVC deck boards are available in a wide range of colors allowing for extensive customization.
Composite Decking

TimberTech decking in Dark Roast from the Composite™ Reserve Collection
Composite decking combines wood fibers and recycled plastic to create long-lasting, low-maintenance deck boards. The best composite decking is encased in a synthetic polymer cap for extra protection from moisture. Composite decking is a popular option for homeowners who want to avoid the maintenance requirements of traditional wood decks while being cost sensitive.
Note that composite decking is insect-proof, but it is not completely mold-proof – making regular cleaning particularly important for this type of deck material. However, TimberTech has developed advanced MoldGuard technology that impedes mold and mildew growth.
Get the Longest Life Out of Your Low Maintenance Deck
PVC and composite decks never need to be sanded or stained, making them less expensive to maintain than wood decks. Periodic cleaning to prevent damage is the only requirement, as leaving mold and dirt on the surface for long periods of time can cause stains. We recommend cleaning your deck at least twice a year—once in the spring to start the season, and once in the fall to remove pollen and dirt before winter. Check out our instructions on how to clean composite decking for more details.
The quality of your deck materials also significantly affects how long you can enjoy your low-maintenance deck. Choose a high-quality manufacturer to get deck materials that last.
Explore Low Maintenance Decking Options at Ring's End
Here at Ring's End we believe you'll find the perfect low maintenance option for your outdoor living space in TimberTech's extensive collection of high-quality engineered decking.
Read for detailed product information
If you'd like assistance with deck customization, the experts at Ring's End will be more than happy to guide you through the process of choosing and installing a new deck for your home. Contact us by text at (203) PRO-HELP or through our online chat!
Low Maintenance Engineered Decking FAQs