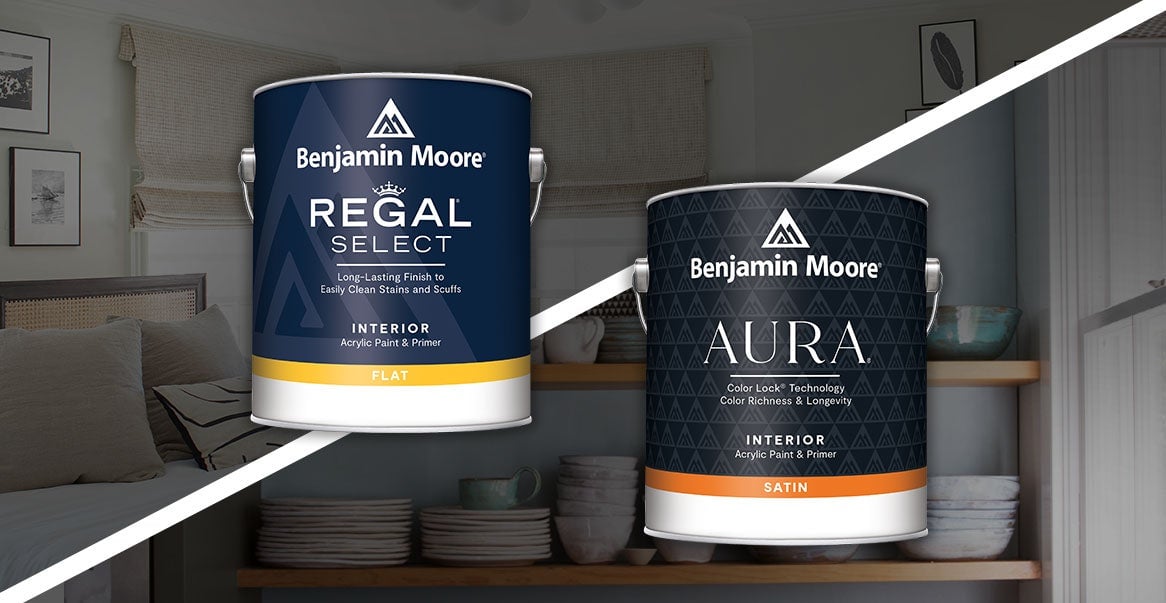 Benjamin Moore offers two premium paint lines, Regal Select and AURA paint. Both products are formulated for high performance; Regal Select is a Premium paint formula, and AURA is an Ultra-Premium paint product. Professional painters often use more than one paint in a home because individual spaces have different needs. Depending on your needs and budget, you might decide to use both Regal Select and AURA paints throughout different parts of your home. Once you understand the differences between AURA and Regal Select paints it'll be easier to determine the best paint for your project.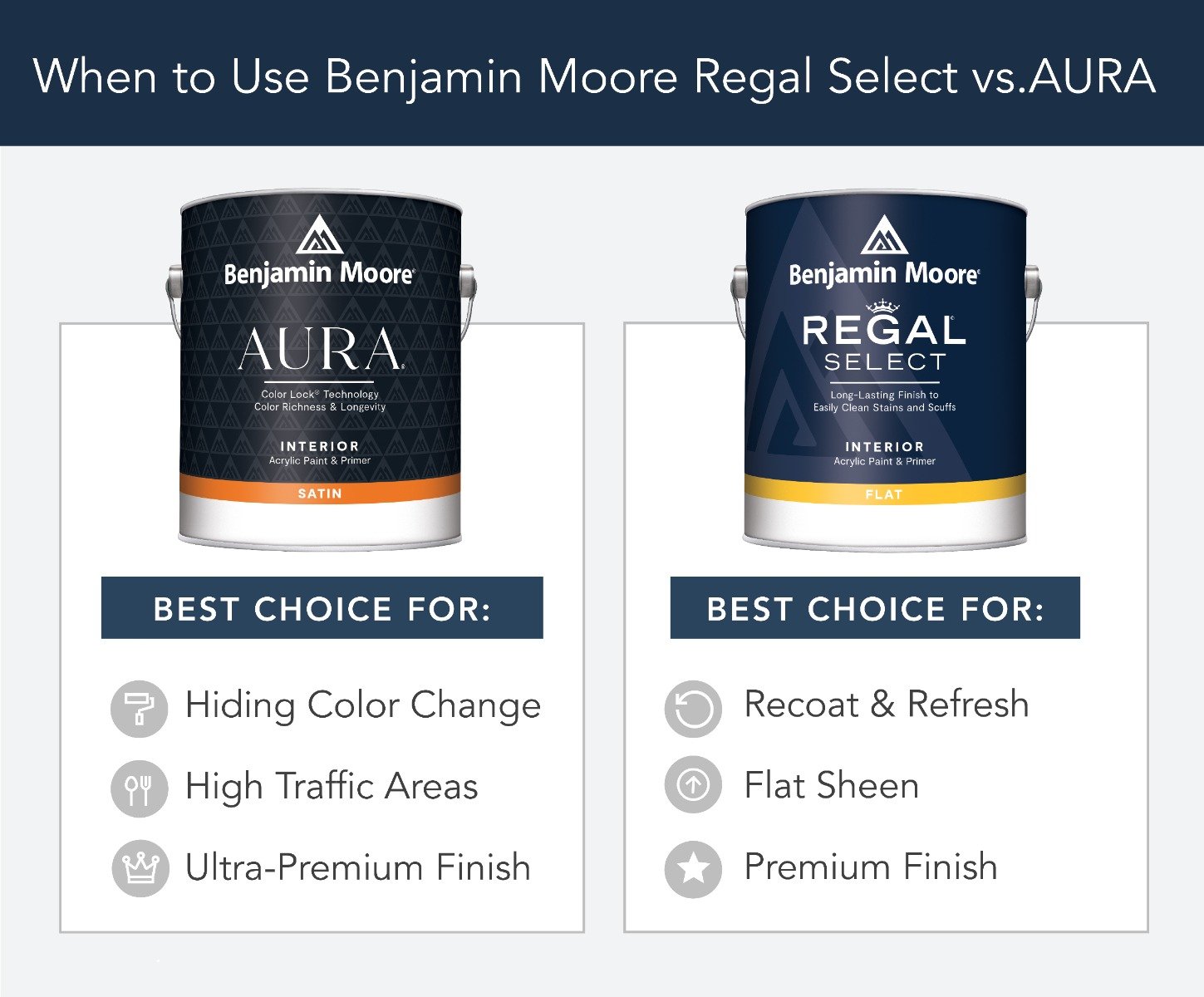 Benjamin Moore AURA Paint

AURA is Benjamin Moore's ultra-premium paint line, available in both interior and exterior formulations. AURA is made from acrylic resin and is self-priming for durable coverage with fewer coats. AURA is Benjamin Moore's thickest paint, which provides extreme color-hide. It requires just two coats for complete coverage, even with dramatic changes in color value (a color's lightness or darkness). It is fast-drying with superior leveling, leaving an ultra-smooth finish. Benjamin Moore AURA paint colors are also made with more pigments than any other paint to create unique, elevated shades that last, even against heavy wear and tear. AURA paints are available in all of Benjamin Moore's 3500+ colors, plus AURA Color Stories—an exclusive collection of 240 hues that are specially formulated with extra pigments for an accentuated response to changes in light.
You can buy AURA interior paints in four finishes: Matte, Eggshell, Satin, and Semi-Gloss. AURA Exterior is available in Flat, Low Lustre, Satin, and Semi-Gloss.
Benjamin Moore AURA paint is the best choice for: Hiding big color changes; durability and scuff-resistance in high traffic areas that need heavy scrubbing like kitchens, entry rooms, or kids' rooms; an ultra premium, smooth finish that holds fast for years.

Regal Select is Benjamin Moore's premium paint line, which is also available in both interior and exterior paint formulations. The acrylic resin formula is designed to cover in fewer coats than standard paint, with a faster drying time and reduced splattering. Regal Select is a popular choice for DIY projects because it speeds up painting projects and produces a durable surface at a competitive price point. Like AURA, it provides a smooth, premium finish that is washable and long-lasting. However, it can take more coats to build the same level of thickness compared to AURA, so Regal Select performs best when covering colors with a similar value, such as a light gray over beige.
Regal Select interior paint comes in over 3,500 Benjamin Moore colors and five different sheens: Flat, Matte, Eggshell, Pearl, and Semi-Gloss finishes. Regal Select exterior paint is available in Flat, Low Lustre, and Soft Gloss.
Benjamin Moore Regal Select paint is the best choice when: You are looking for a durable, and washable paint that offers a flat finish and easy touch-ups; you are refreshing wall paint with a color that is close in brightness to the original color; you want a smooth, beautiful finish at a lower price point than ultra-premium AURA.
Ring's End carries Benjamin Moore Regal Select and AURA paint, plus a wide selection of other Benjamin Moore products, both in-store and online; we ship anywhere in the U.S. Our color samples and Paint Sampling Kit make it easy to choose the perfect paint colors for your project. 
FAQ About Regal Select & AURA