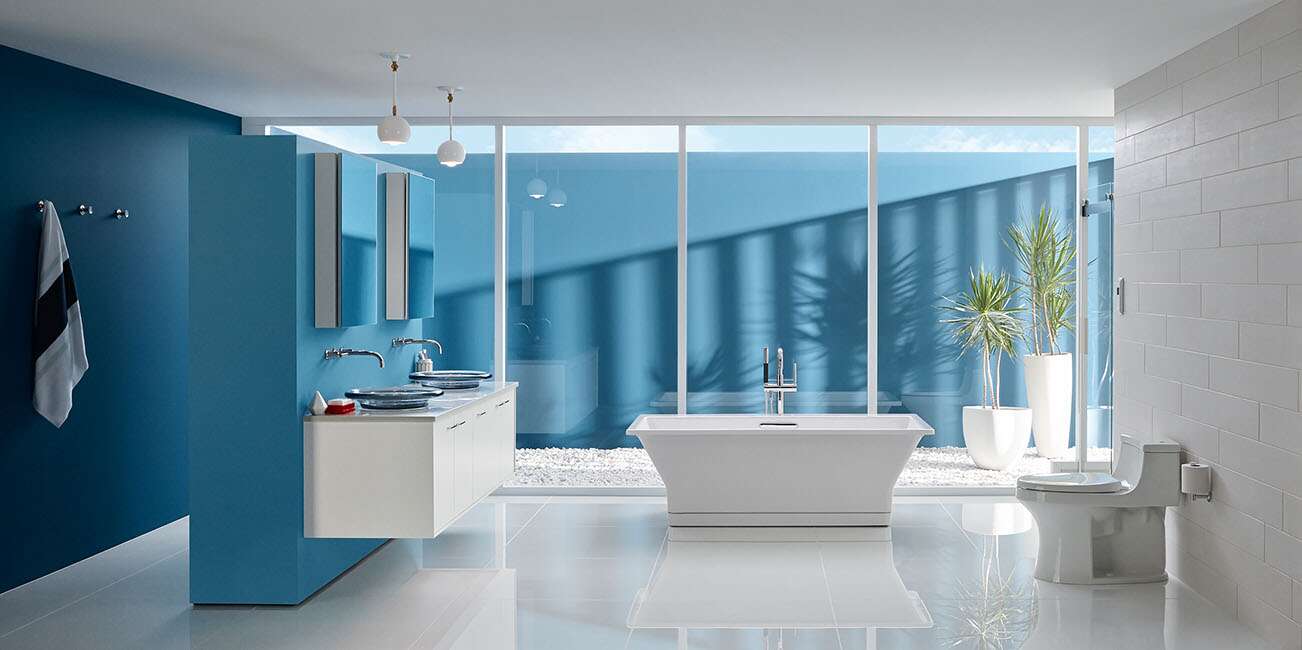 Whether you're renovating your bathroom or designing it from scratch, one of the easiest and most noticeable ways to make it feel finished is by painting the walls a beautiful color. There are endless interior and exterior paint choices on the market, but it's important to select one that can withstand moisture, resist mildew and keep its vibrancy when you are painting a room with high humidity like a bathroom.
As a matte finish paint designed specifically for bathrooms, Benjamin Moore Aura Bath & Spa Waterborne Interior Paint is one of the best high-quality paint products on the market.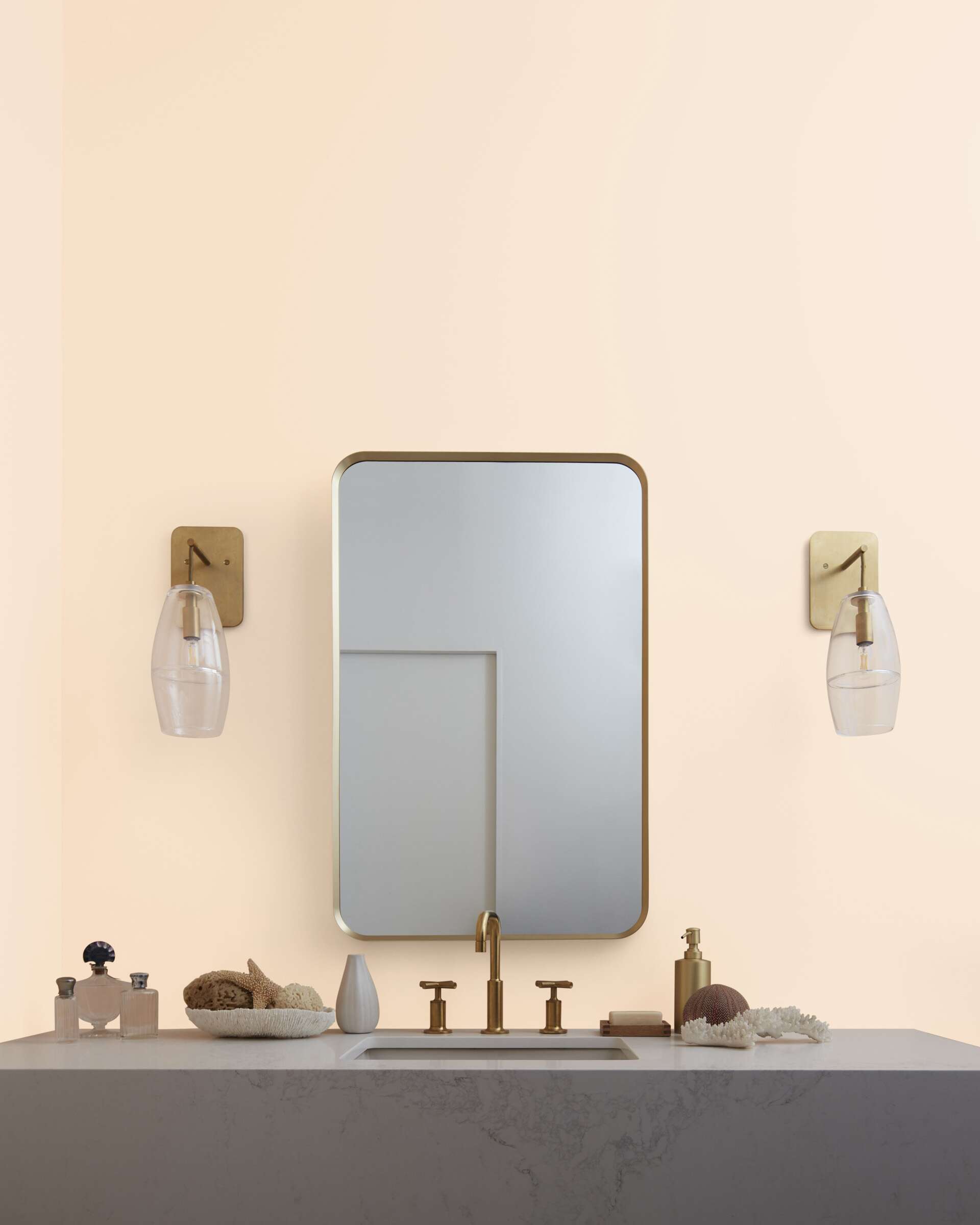 Top Benefits of Benjamin Moore Aura Bath & Spa
Aura Bath & Spa paint is formulated specifically for bathrooms and saunas with numerous stand-out features. You can use it on new or previously painted surfaces including drywall and masonry and primed or previously painted wood and metal. With a 3-4.5% sheen level, it has a silky smooth matte finish.
Let's explore some of the top reasons this paint stands out for your next bathroom revamp.
It's an All-in-One Paint & Primer
Depending on what surface you're painting, there may be no need to buy a primer. This paint is self-priming on most wall surfaces, which saves you the time and money that you would put into priming your wall first. If you're unsure about your surface, consult your local Ring's End or chat with us online about whether or not you will need to prime before painting with Aura Bath & Spa.
It Offers Extreme Hide
Aura Bath & Spa is highly efficient and, in most colors, requires only two coats to get the job done. The thick coverage completely hides previous paint colors.
It's Mold & Mildew Resistant
One of the most important features of bathroom paint is its ability to withstand moisture and prevent mold or mildew from forming. This paint keeps your walls fresh and free from unwanted growth, even in high-humidity environments.
It's Highly Durable
Far more durable than latex paint, this 100% acrylic paint is impervious to staining and scuffing. It avoids wear and tear more than most other matte finish paints on the market.
Color Lock Technology Makes it Fade Resistant
Using Benjamin Moore's patented Color Lock® Technology, the Aura Bath & Spa matte paint line contains rich colors that won't fade over time. There's no streaking and no color rub-off – only the truest color that stays put!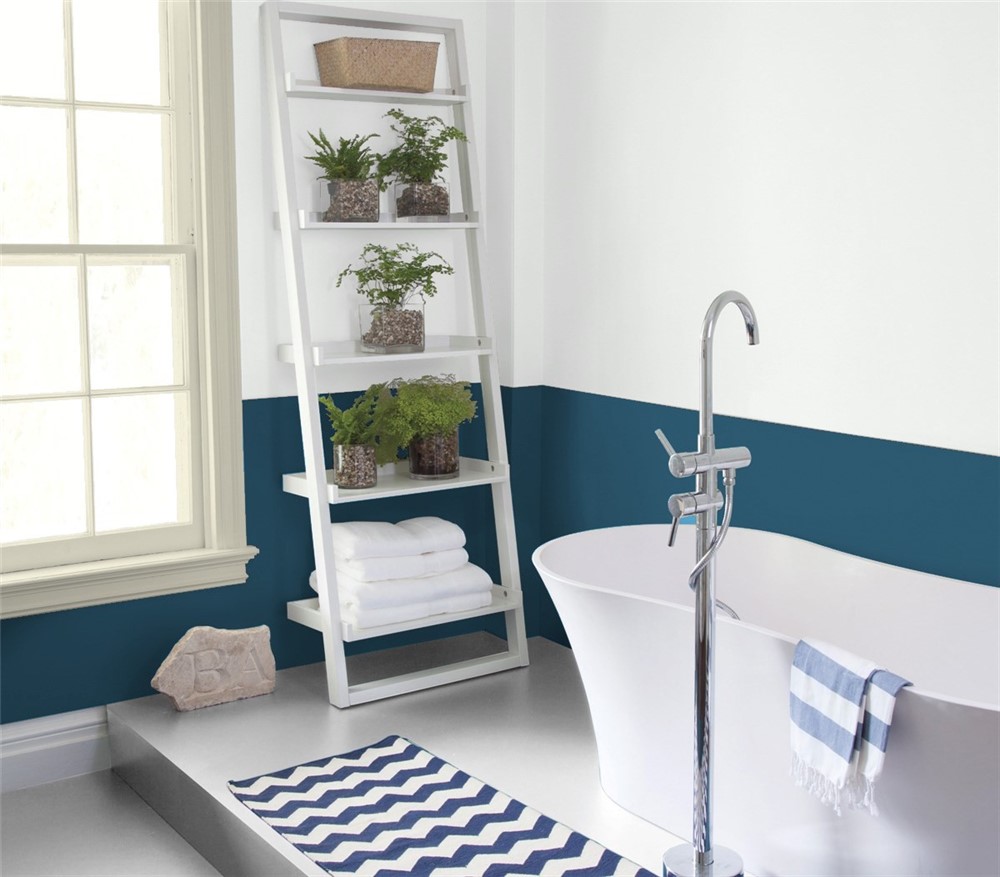 It's Super User-Friendly
Never painted a bathroom before? No problem. You don't need to be a pro to do a great job with this paint. It's easy to apply and quick to clean up, which makes it a popular choice for new homeowners. Don't worry if you make a mistake — any marks or stains wash off easily without a loss of color. It also provides thorough coverage for touch-ups and will blend seamlessly with the existing paint.
It Has Zero VOC
There are no volatile organic compounds in this paint that would make it harmful to children and pets. It has minimal odor and has the Benjamin Moore Green Promise logo. This certification provides assurance that the paint meets US industry standards as an eco-conscious product.
There Are Thousands of Colors to Choose From
Aura Bath & Spa paint is available in any of Benjamin Moore's collection of 3,500 colors. Forget boring walls — you can choose from top-selling Benjamin Moore paints like First Light and Chantilly Lace to create a truly luxurious bathroom space.
Why Choose a Matte Finish Bathroom Paint?
While many kitchen and bath paints feature a gloss finish, Aura Bath & Spa paints only come in a smooth, matte finish, with a slight texture that presents darker colors as extra-rich in depth and vibrancy.
In the past, matte paints were typically used more in out-of-the-way rooms because they were thought to be less durable than glossy paints. However, the new technology of Aura Bath and Spa offers an advanced formulation that allows you to enjoy the benefits of a matte interior finish in a paint that is also long-lasting.
The beauty of matte paint is that it absorbs light, rather than reflecting it the way a satin or glossy paint would. This hides surface imperfections in the wall and gives off a clean, contemporary look.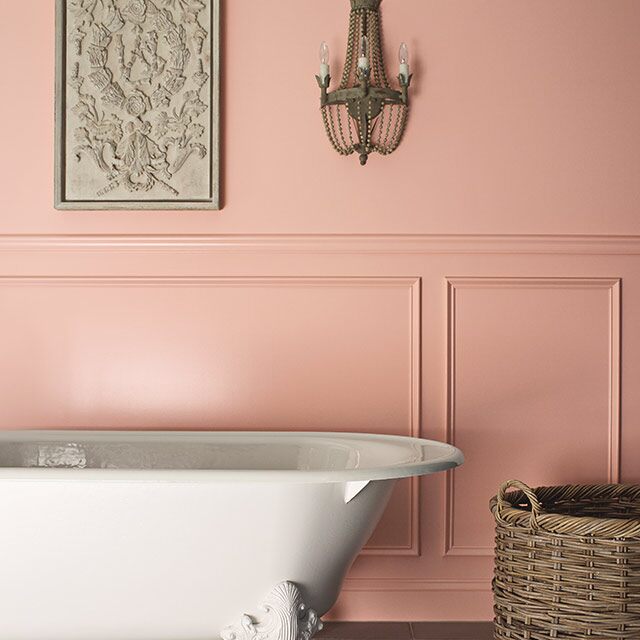 Step-by-Step DIY Instructions of How to Paint Your Bathroom
Ready to paint your bathroom? Follow these straightforward steps to get the best results.
1. Prep Your Surface
Before you start painting, make sure your bathroom walls are clean and free of dust, dirt, mold and any other debris. The surface should be smooth with no peeling paint. Fix any inconsistencies by using sandpaper to even out the surface of your walls. Wash the walls and allow them to fully dry before moving on to the next step. This is particularly important in bathrooms, where grime, mildew and moisture build up easily.
2. Gather Your Supplies
You'll need enough paint for two coats across every wall surface, an extra firm nylon polyester brush, a 3/8" nap roller with cover, damp rags, plastic sheeting, drop cloths, and painter's tape. You can also spray your paint if that is your preference.
3. Stir the Paint Well
Aura Bath & Spa is a thick paint. To maintain color consistency, we recommend stirring it both before and during the application process.
4. Apply the Paint in Two Coats
Start by rolling out the paint in vertical sections that are 3 to 4 feet wide. Keep in mind that Aura Bath & Spa paint dries quickly, so if you see an edge forming just let it dry and then touch it up later. Brushing this paint also works really well – better than most bathroom paints. As it has thick coverage, you will need fewer coats. Start with one layer, let it dry completely, and then apply your second coat. The dry time is typically around one hour, whereas other paint alternatives can take up to four hours to dry.
5. Let it Cure
While the paint will be touch dry in one hour, there is a recommended cure time of 14 days at least. In some conditions, the paint may need to cure for up to one month to prevent streaks. It's very important during this curing period to have ventilation in the room, either by leaving a window open or using a fan. Do not use the shower or bath until the paint is completely cured as the humidity can cause issues such as surfactant leaching, which is when moisture from humidity becomes trapped within the paint while it is being applied and later appears on the surface of the walls as brown marks.
Once the paint is cured, you should be able to wash the walls with no issues.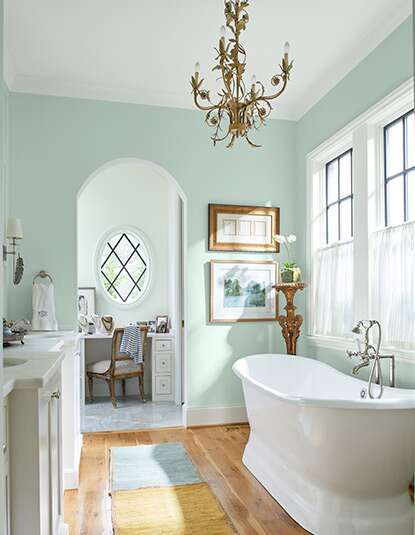 Is Aura Bath & Spa the Right Choice for Your Bathroom Project?
There's a lot going for this unique paint product, enough to say that it should be a top choice for anyone looking to give their bathroom a refresh. It's easy-to-apply and highly efficient with thick coverage that won't come off over time. The advanced formulation prevents problems you might experience with other paints responding poorly to the humidity in a bathroom. You'll find that the Color Lock Technology that is exclusive to this line makes for truly exceptional color results – giving you that 'wow-factor' in one of the most underrated rooms in the house.
Your bathroom should be an oasis of calm, a place where you can get ready in peace rather than worry about mold and inconsistencies in your paint. Getting that perfect, smooth look requires just two coats of Aura Bath & Spa. While it is on the more expensive side, the results of this luxe matte paint speak for themselves.
Order online from Ring's End today and experience the difference great paint can make with Benjamin Moore!

Aura Bath & Spa FAQ
How long does Aura Bath and Spa take to dry?
It takes an hour on average for one coat of Aura Bath and Spa paint to dry.
Can you use Aura Bath and Spa on ceiling?
Yes, you can. You can use it anywhere in the home as it has been designed to withstand high-humidity areas like a bathroom or sauna.
Is Aura Bath and Spa mold resistant?
Yes. It is mold and mildew resistant and prevents surfactant leaching.
Is Benjamin Moore Aura Bath and Spa latex?
No, it is a 100% acrylic paint.
Does Aura Bath and Spa have a strong smell?
Aura Bath & Spa has a very low odor and zero VOC, which means that it is safe to breathe and be around.
Where can I buy Benjamin Moore Aura Bath and Spa?
Aura Bath & Spa is available for purchase on Ring's End website: https://www.ringsend.com/benjamin-moore-aura-bath-and-spa-interior-paint
How do I Use Benjamin Moore Aura Bath and Spa?
1.)Prep your surface
2.)Gather your supplies
3.)Stir the paint well
4.)Apply the paint in two coats
5.)Let the paint cure