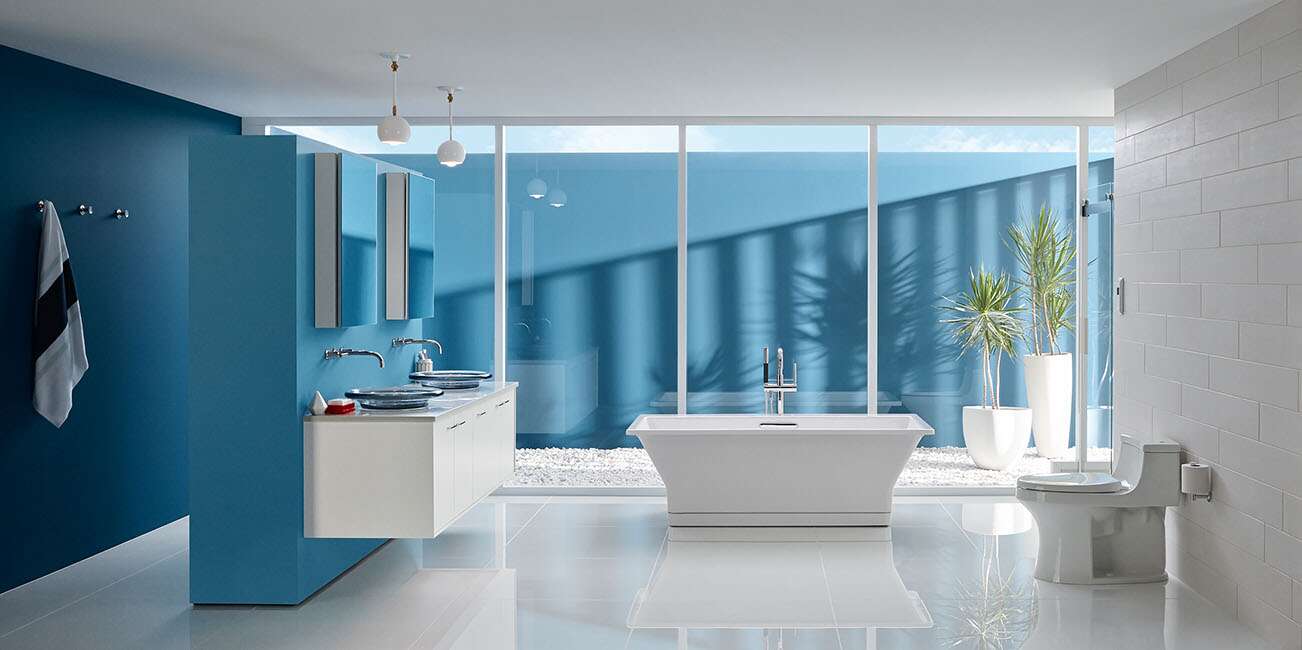 Whether you're building, renovating or just redecorating your bathroom, one of the most important things to consider is the type of paint you'll use. While there are seemingly endless interior paint options available, high-humidity environments like bathrooms need specialized bathroom paint. Intense moisture and frequent cleaning are hard on the painted surfaces in a bathroom. Water streaks down the walls and wet surfaces encourage the growth of mildew. Regular scrubbing can burnish the paint finish, requiring a fresh coat of paint every year to keep the bathroom walls and cabinets looking good. If you want the best paint for lasting color in your bathroom, the best scrubbable, moisture-resistant formula is Benjamin Moore AURA Bath & Spa Paint.
What Is Bathroom Paint And Why Use It?
The typical options for bathroom paint are eggshell, satin or semi-gloss wall paint because they stand up better to scrubbing. While these paints have a durable surface, even a washable sheen is no match for constant cleaning, which causes damage over time. Plus, the clean, elegant look of matte finished walls was impossible to achieve in a bathroom. Benjamin Moore has solved this problem by creating the first water-resistant paint formula in a modern matte finish.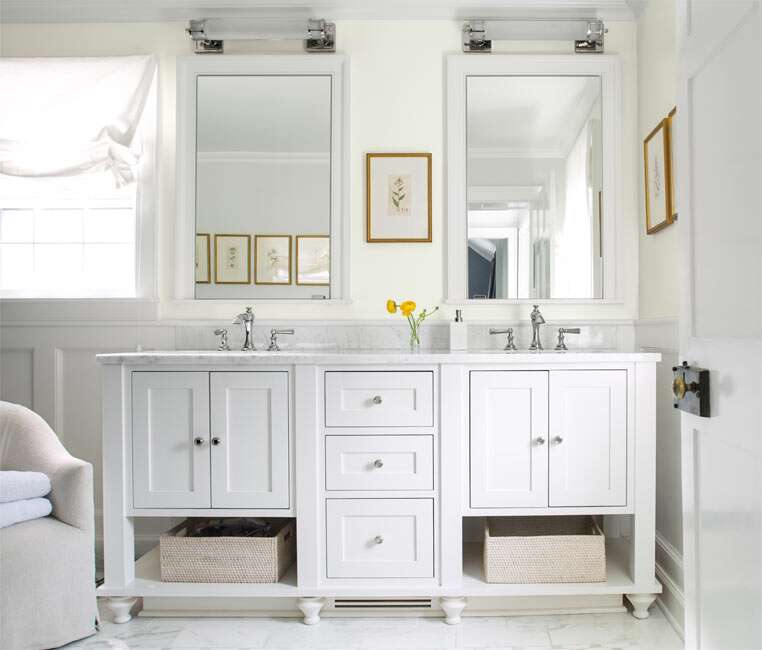 White bathroom painted with Benjamin Moore Ice Mist
Benjamin Moore's AURA Bath & Spa Paint is the only paint designed to withstand repeated scrubbing, resist moisture and inhibit mildew growth. AURA Bath & Spa Paint is an ultra-premium interior paint specially formulated for high-humidity areas such as bathrooms. This specialty bathroom paint is ideal for DIY projects because it's so easy to use, and its unique matte sheen gives professional results.
Benefits Of Benjamin Moore AURA Bath & Spa Paint
AURA Bath & Spa paint is ideal for both new construction projects and older homes. It can be used on primed or previously painted drywall, wood and metal. Its unique matte sheen creates a smooth, durable surface that resists water marks, even on white paint colors that will show streaks and scrub marks more easily. 
Benjamin Moore is the only paint brand that offers a matte sheen that withstands the constant cleaning a bathroom requires. Many homes are painted with flat or eggshell paint throughout, and after just a couple of years the paint in the bathrooms shows scuff marks and color rub-off from scrubbing. Before AURA Bath & Spa paint, the only solution to this problem was to repaint in a satin or semi-gloss that has a more durable surface. However, glossy paints highlight surface imperfections and make it difficult to achieve a smooth wall finish. The matte sheen of AURA Bath & Spa is the only paint with the smooth, even finish of a flat paint that rivals the durable, scrubbable surface of a gloss sheen. In this bathroom you can see the difference between AURA Bath & Spa's elegant matte finish on the upper wall, and Benjamin Moore ADVANCE Semi-Gloss paint on the wainscoting:

Bathroom wall painted with Benjamin Moore Fruit Shake
In addition to its high-end matte sheen, the AURA Bath & Spa paint formula has specific features that make an ideal bathroom paint:
Mold & Mildew Resistant:

Mildew-resistance is important in a bathroom paint; AURA's formula hinders the growth of mildew, even in a high-humidity bathroom.

Highly Durable:

Far more durable than latex paint, this 100% acrylic paint is scrubbable, with a matte finish that resists scuffing and staining.

Color Lock Technology:

While most interior paints will develop streaks from humidity and lose color in areas of heavy scrubbing, Benjamin Moore's patented Color Lock® Technology guarantees rich colors that won't rub off or streak, even in a wet bathroom.

High-Hiding:

Aura Bath & Spa paint offers superior coverage, so most colors need just two coats to get the job done. The high-hiding formula easily covers previous paint colors. 

All-in-One Paint & Primer:

This paint is self-priming on most wall surfaces, which saves you the time and money that you would spend on a primer coat. 

Zero VOC Formula:

There are no volatile organic compounds in AURA paint that would make it harmful to children and pets. It also has minimal odor, so it's safe to use in a small bathroom.

Thousands Of Colors:

AURA Bath & Spa paint is available in any color from Benjamin Moore's palette of 3,500 designer colors.

You can order

color samples

and a

Paint Sampling Kit

right here on our website.

Ideal For DIY Projects: Never painted a bathroom before? No problem. Unlike satin and glossy paints which show brush marks easily, the matte finish creates a seamless surface that also hides touch-ups.
Bathroom Paint for Cabinets & Trim
While the matte finish of AURA Bath & Spa is ideal for walls and ceilings, it can also be used for cabinets. For a modern bathroom, matte finish cabinets create a uniform, minimalist aesthetic. However, satin or semi-gloss cabinet paints are a popular choice because they're easy to wipe down and the sheen highlights any decorative woodwork. For a glossier sheen on cabinets, trim and doors, check out Benjamin Moore ADVANCE Interior Paint. This premium quality, waterborne alkyd paint is available in durable Satin, Semi-Gloss and High-Gloss finishes. The subtle contrast between a matte wall finish and glossy sheen on cabinets adds dimension to the space.
Bathroom Ceiling Paint
The best paint sheen for ceilings is a flat finish because it hides imperfections and minimizes lap marks. With its matte sheen and self-priming formula, AURA Bath & Spa is an all-in-one paint that can be used on both walls and ceiling. Always paint the ceiling before the walls to avoid ruining freshly painted walls with splatter. Cut in the ceiling edges first with a brush, and then roll the paint on in small, 3-5 foot sections so the edges are still wet when you begin the next section. AURA Bath & Spa paint's matte finish is especially suited to ceilings because it prevents lap marks, but AURA Waterborne Interior Paint provides a similar high-quality finish. Benjamin Moore's Waterborne Ceiling Paint Ultra Flat is another great choice. All three formulas offer superior coverage and a uniform, high-hiding finish. Regal Select Flat from Benjamin Moore is another quality option.
Tips for Painting Your Bathroom
Painting a bathroom is a fairly easy DIY project, but it takes planning. The first decision you'll need to make is color; for helpful tips on choosing colors for your bathroom, be sure to read How To Pick The Perfect Paint Color For Your Bathroom. Once you've chosen a color and decided what finishes to use, you're almost ready to paint your bathroom. Preparation is key to a quality paint job, so follow these simple steps to get professional results.
1. Prep and clean the bathroom walls thoroughly the day before painting
Start by taking down any curtain rods, towel bars and hooks, and removing switch plate covers. Then fill all holes and sand the patches and rough areas smooth. Make sure the bathroom walls are thoroughly scrubbed and clean before painting; wipe them down with a mild household cleaner, and treat any mildew or mold with bleach. Make sure to do this after sanding down imperfections so you clean off any dust! Let the walls dry overnight. 
2. Gather all your painting supplies 
You'll need enough paint for two coats across every wall surface, plus the following supplies:
Brushes

: We recommend a 2.5" soft nylon and polyester brush as it

provides extra flex for smooth application without brush marks.

Paint Roller

: We recommend a 3/8" nap paint roller to minimize lap marks.

Drop Cloths

: Make sure you have enough plastic or cloth sheeting to protect countertops and floors, and a tub or shower if applicable.

Painter's tape:

The best type of tape for taping tile, trim, and flooring is blue painter's tape. If you have glass that needs taping, green painter's tape is better for providing a very strong seal.

Damp cloth:

Make sure you have a damp cloth on hand to immediately wipe up any paint drips. If paint drips on tile grout, dip the corner of a clean cloth into rubbing alcohol or vinegar and blot at the drips. 
3. Prep and Cover Surfaces
Use masking tape to tape off the trim and cabinetry. Cover the floor, countertops and tub or shower with plastic sheeting to protect fixtures and surfaces.  
4. Apply two coats of paint
Aura Bath & Spa is a thick paint and needs to be stirred thoroughly. To maintain color consistency, we recommend stirring it both before and during the application process. 
Use the paint brushes to paint the edges of each wall. Then roll the paint on in vertical sections that are 3 to 4 feet wide. Aura Bath & Spa paint dries quickly, so if you see an edge forming just let it dry and then touch it up later. Start with one coat, let it dry for at least an hour, and then apply your second coat. 
5. Let the paint fully cure
While AURA Bath & Spa paint dries to the touch in one hour, it will take two weeks to completely cure. To prevent moisture from being trapped in the paint and ruining the finish, it's important to avoid steam buildup in the bathroom. For the two weeks after painting, use an exhaust fan and leave the door or window open when bathing to keep the room dry. Do not wash the newly painted walls until the paint has cured. After two weeks it's safe to clean the walls as you normally would.

Bathroom painted with Benjamin Moore AURA Bath & Spa in Opal Essence
AURA Bath & Spa Is The Best Bathroom Paint
Benjamin Moore AURA Bath & Spa paint promises superior performance, and it does not disappoint. Even though it's priced a bit higher than other paints, AURA Bath & Spa is so easy-to-apply, with exceptional coverage, it's well worth the expense. The advanced formula prevents problems common to other paints that respond poorly to the humidity in a bathroom. Benjamin Moore's proprietary Color Lock Technology delivers truly exceptional color results, for a statement-making bath or powder room that will last. 
Ready to start your bathroom paint project? Ring's End carries Benjamin Moore AURA Bath & Spa paint, shipping anywhere in the U.S. Order online from Ring's End today and experience the difference great paint can make with Benjamin Moore!
Benjamin Moore Bathroom Paint FAQs