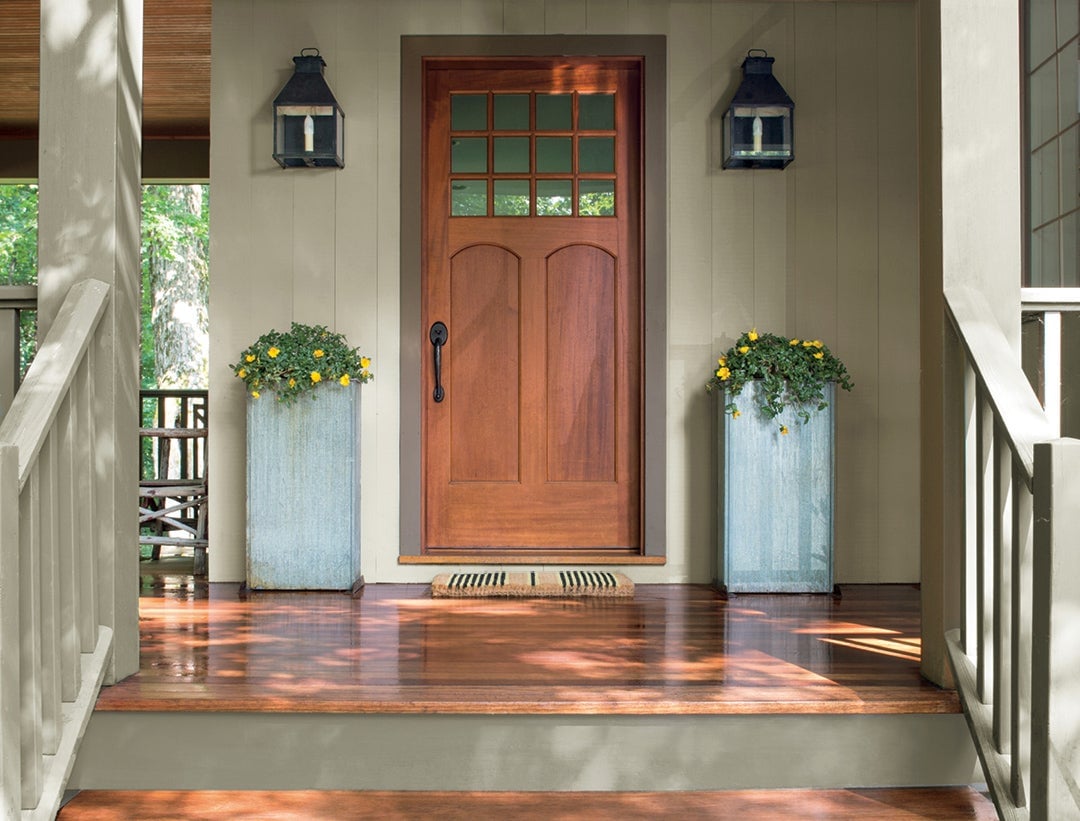 As anyone planning an outdoor project understands, selecting the right exterior stain is crucial to ensuring you achieve the desired look of your outdoor space. Benjamin Moore Arborcoat is a premium collection of exterior stains that are designed to provide rich color while protecting wood surfaces from harmful UV rays. 
In this guide, our experts will explore the options in the Arborcoat collection to help you select the product that fits your style and durability needs. 
Arborcoat's Full Range of Exterior Stain Finishes
Arborcoat stains are available in a wide selection of colors and four different levels of opacity, or the degree to which you can see the natural wood grain: 
Translucent

stain highlights the natural grain and texture of wood and includes just the slightest hint of color

Semi-Transparent

stain allows most of the grain and texture to show through with slightly more visible color

Semi-Solid

stain, with its deeper shades, covers most imperfections while still revealing some of the grain and texture of the wood

Solid stain

offers the greatest color depth, covering most surface imperfections while displaying a little wood texture
All Arborcoat products are formulated with trans-oxide pigments which are ground into a weather-tested resin to provide excellent coverage and performance. The stain is formulated to penetrate deeply into the wood's cellular structure to form strong bonds.
Choosing the best finish for your project will depend on factors such as the condition of the wood, your environment, and the aesthetic you want to achieve. For example, translucent oil stains penetrate deeply into the wood, providing protection without concealing the wood's natural grain. However, the finish will break down more quickly under subjection to high sun, salt air exposure, or full-shade or wet environments where mildew grows rapidly. Solid stains show less grain, but offer more protection, require less maintenance, and come in a wider selection of colors. 

Natural Wood Look: Arborcoat Translucent Stains

Deck and railings stained in Arborcoat Translucent Classic Oil Stain Silver Gray; siding painted in Benjamin Moore exterior paint Coventry Gray; trim painted in Wisp White
A translucent exterior stain enriches the natural beauty of wood with a hint of color, providing protection while letting the wood grain and texture show through. Translucent stain is an excellent choice for showcasing the splendor of the wood itself, therefore, it's best for new surfaces, wood in excellent condition, and high-end hardwoods like mahogany, teak, and ipe. This natural finish is a superb choice for specialty doors and can be used on any outdoor surface where you wish to highlight the wood grain.
Translucent oil stain is more susceptible to mildew, damage from sea salt, or fading from high-sun exposure because it contains fewer solids to shield the wood from UV rays and moisture. Depending on your wood's exposure to the elements, translucent oil stain may need recoating every 1-2 years. 
Arborcoat Translucent Exterior Oil Stains are available in six wood-inspired stain colors: Natural, Redwood, Teak, Cedar, and Mahogany. Each of these colors will add dimension to the wood itself, resulting in a focal point for your outdoor living space. 

Semi-Transparent Color: Arborcoat Semi-Translucent & Semi-Solid Stains
A semi-transparent formula allows some of the wood's grain and texture to show through while adding sheer color, as well as a layer of protection from stain solids. This creates an excellent combination of natural wood look, color variety, and durability. It provides more coverage and UV protection than translucent stain, so it's a good choice for sun-faded decks or wood that needs a slight touch-up to its natural color.
Arborcoat has two options that offer a semi-transparent aesthetic: Semi-Translucent Stain and Semi-Solid Stain.

Front doors stained in Arborcoat Semi-Translucent Oxford Brown
Semi-Solid stains contain more solids than Semi-Translucent stains for an even deeper color and a stronger barrier that covers most imperfections. The increased opacity means you'll see less of the wood's grain. It's ideal for pressure-treated lumber, softwoods like cedar and pine, or decks that are a few years old and need a fresh coat of stain. If you prefer richer tones or need enhanced coverage, then semi-solid stain will work really well. 

Arborcoat Semi-Transclucent and Semi-Solid Exterior Stains are available in 75 colors. This wide array of color options will enable you to use a lot of creativity while designing your outdoor space. 

Both levels of semi-transparent stains are suitable for use on all types of wooden decking, siding, and furniture. Keep in mind that they can be used on wood that was previously stained with a translucent stain as long as you choose a color that coordinates with the previous stain and you prepare the wood properly.
Arborcoat Oil vs. Waterborne Formulas
Benjamin Moore's semi-transparent and semi-solid finishes are available in both oil and waterborne formulas. Oil-based stains are more popular because they penetrate more deeply into the wood than waterborne stains. This makes them more durable and less prone to peeling and fading. However, waterborne stains can be easier to apply: they clean up with soap and water, dry faster (just 3-4 hours dry time to recoat, compared to 24-48 hours between oil-based coats), and they can be applied over previously stained wood without having to strip the wood bare as required with oil stains.
Solid Color: Arborcoat Solid Stain

Porch Floors in Arborcoat® Solid Normandy 2129-40; chairs stained in Arborcoat Solid Stain Caliente AF-290
A solid stain combines the opaque look of paint with the penetration and durability of a stain, providing unmatched color variety while still allowing some of the wood's texture to show through. Solid stains are suitable for all wood types, and are especially ideal for pressure-treated woods, or for covering over translucent stains for a new color scheme. If you have an older deck or wood that's in poor condition, the rich matte finish provided by solid stain will add new life to your outdoor living space. They are perfect for painting wood furniture and for creating a painted effect on exterior siding. 

Its latex formula provides a mildew-resistant coating that also protects against blistering, peeling, and stains. However, if staining a deck that is less than four feet off the ground, this product is susceptible to cracking when the wood absorbs and releases moisture from below. On raised decks and vertical surfaces, its concentration of solids adds extra weather protection to provide a longer lifespan compared to transparent stains.  
Arborcoat Solid Stain in Benjamin Moore's Waterborne Latex formula is the best way to achieve the custom look of a painted finish. It has excellent color retention and is available in all 3,500+ Benjamin Moore paint colors, so you can create the exact look you want! 
What's the difference in solid latex stain vs. paint?
Solid latex stain is a water-based product with high opacity that also penetrates the wood to create a deep level of protection. Because stain is absorbed into the wood, it is less likely to peel than paint. The recommended application includes rolling or spraying followed by brushing the stain into the wood.
Paint actually sits on top of the wood, protecting it by forming a surface coating. It offers superior UV protection, but is susceptible to peeling as the wood expands and contracts. Exterior paint has extensive uses for outdoor surfaces, while deck paint is formulated for restorative and non-slip benefits on decks. Most exterior paint projects require two coats of paint and one coat of primer, so using paint is more labor-intensive than staining.
The Arborcoat line also offers a solid stain specially formulated for wooden fences. Choose Arborcoat Siding and Fence Stain for vertical surfaces that may need easy touch-ups, and choose the solid exterior stain for decking and higher traffic areas. 
Which Arborcoat Stain is Right for You?

Arborcoat Translucent Stain in Mahogany on floors and ceiling; posts in Arborcoat Solid stain in Black.
Aborcoat's comprehensive line of exterior stains will equip you for any outdoor staining project. When designing the look of your outdoor living space, consider these important factors as you integrate your vision for the finished product with the specifics of your space:
Type of surface:

Are you staining decking, siding, railings, fences, or furniture? Consider its purpose, amount of sun exposure, and what kind of wear it will receive. 
Type of material:

Do you have hardwood? softwood? Pressure-treated lumber? Composite? High-end mahogany and teak are excellent candidates for translucent stain, while pressure-treated lumber and composite may require a solid stain.
Condition:

Evaluate the condition of the wood including previous products that have been applied. Do you want to highlight the beauty of a new door? Then a translucent stain will offer protection while enhancing the natural look of the wood. If you have worn, previously stained wood, a semi-solid or solid stain may be the better option due to its coverage.

Application preference:

Arborcoat Classic Oil finishes are manufactured from a unique alkyd formula that enhances the wood's natural beauty, from transparent to semi-solid opacities. The durable alkyd resins penetrate deep into the wood for lasting protection. Classic Oil stains must be cleaned up with a solvent, whereas the Arborcoat Waterborne formula allows for soap and water cleanup and less time between coats.
Once you have an understanding of your project, you can let your imagination soar. Arborcoats' color options are unparalleled in scope. Perhaps you will showcase your front entry with translucent stain. Or perhaps you will create a beautiful, multi-dimensional look that adds interest by using solid stain on some surfaces while using translucent or semi-translucent on other outdoor surfaces where less opacity is desired. Whatever you envision, Arborcoat stains can make it a reality.
Get Benjamin Moore Exterior Stains Shipped Right to Your Door
Ring's End carries a wide selection of Benjamin Moore exterior stains in-store and online. Our fast, convenient online shipping means you can get all of Benjamin Moore's premium products delivered straight to your door anywhere in the United States!  
The longevity and quality of your finish are greatly impacted by matching the right product to your deck and environmental conditions and doing the right prep work. For free expert advice about your project, chat with our team online or text us directly at (203) PRO-HELP.
Arborcoat Exterior Stain FAQs