Our Top 13 Favorite Benjamin Moore White Paint Colors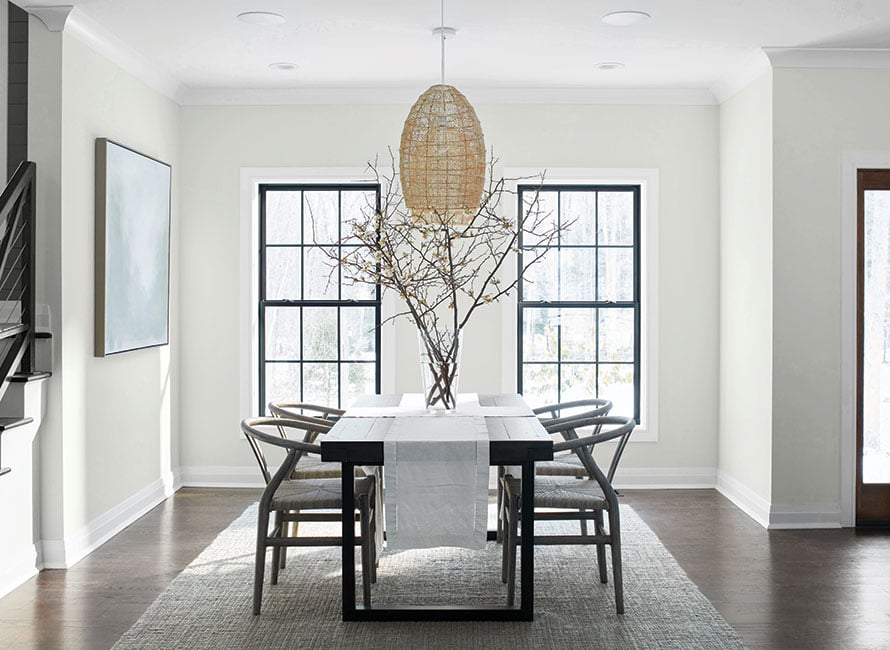 When you choose a color palette for your home, a white paint color is likely to be at the top of the list. The best white paint colors help to amplify natural light while remaining as neutral as possible.
Open any design magazine and you'll see right away that bright white paint colors are popular these days. However, a true, pure white color is too stark for most homes. Depending on the color palette you use to decorate your home, you'll choose between cool and warm undertones when you select a white interior paint. These undertones will make a big difference in your finished interiors. Interior designers rely on a white color's undertones to cool down a bright space, make a room feel warm and cozy, or counteract the gray skies of a cold climate.
Why Designers Love a Custom White Paint Color
White paint colors have traditionally been used for window trim to help reflect light deeper into the room. Crisp white trim helps frame the wall colors and highlights architectural details like crown molding, wainscoting, and columns. White paint colors are popular in modern, open plan homes too, where two shades of white are often used to create subtle contrast between walls, cabinets, and trim.
Built-in Bookcases in Benjamin Moore White Dove OC-17
The sheen of white paint also helps create contrast between walls and woodwork. A higher sheen has a glossy surface and offers more durability, so glossy white paint is typically used on trim. A high-gloss sheen reflects light, so it's ideal for highlighting ornate architectural details. Semi-gloss paint is popular in today's homes for doors, trim, and wainscoting. A flat or eggshell sheen is usually reserved for walls because these low-sheen finishes hide imperfections and are easy to maintain.
Benjamin Moore offers many neutral white paint colors that are excellent for both walls and trim, as well as popular shades of white that have distinct undertones. We've gathered our favorite here so you can see the top white paint colors side-by-side and decide which ones you'd like to try at home.
Cool White Paint Colors
Cool whites are paint colors that have blue, green, or cool gray undertones. They are often preferred in south-facing rooms where the light tends to be slightly warm, due to the sun coming in all day. Most whites can work in a southern-facing room, but the amount of light exposure tends to create a yellow-white light that may wash out colors a bit, so cool white paint colors may balance out the natural warm light.
Cool colors also have the ability to make a smaller room feel larger, so cooler whites are often used in bathrooms or small bedrooms.
Benjamin Moore Super White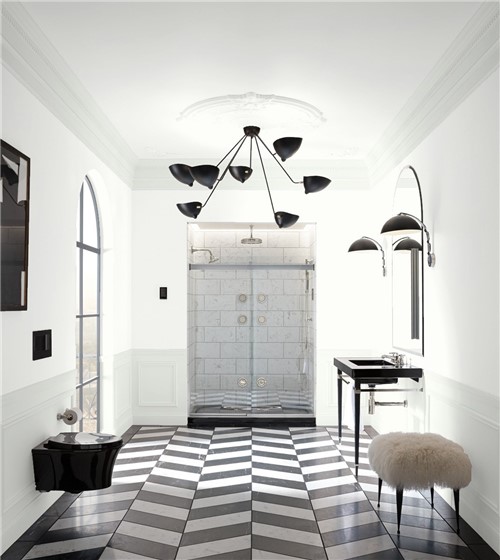 One of the best all-around white paints, Benjamin Moore's Super White appears to be a bright, pure white in most rooms. However, subtle cool undertones create nuanced color shifts throughout the day. Super White appears cooler in early morning light, and a bit warmer in bright afternoon sun. Super White amplifies the color temperature of artificial lighting so it's ideal for rooms that use custom lighting to create a mood. The neutral, reflective quality of this cool white paint color makes it a favorite of architects and designers. Super White is a crisp white that works beautifully with gray shades and cool tones.
Benjamin Moore Decorator's White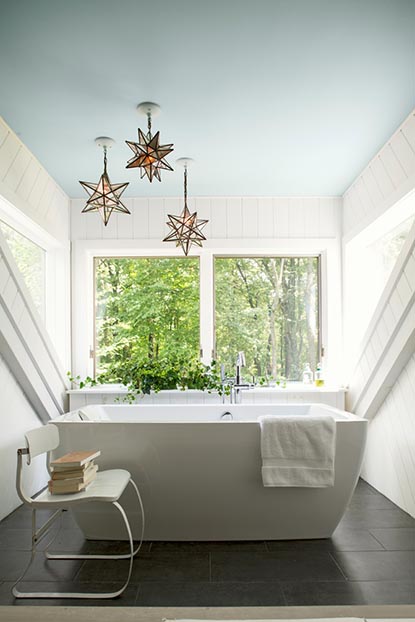 Decorator's White is one of Benjamin Moore's most popular white paint colors. While it appears at first glance to be a pure white, Decorator's White has subtle undertones of gray and purple that make it a slightly cool white. Decorator's White looks its brightest and whitest when partnered with cool wall colors like gray and blue. However, warm wall colors can bring out its cool undertones and give it a grayish cast.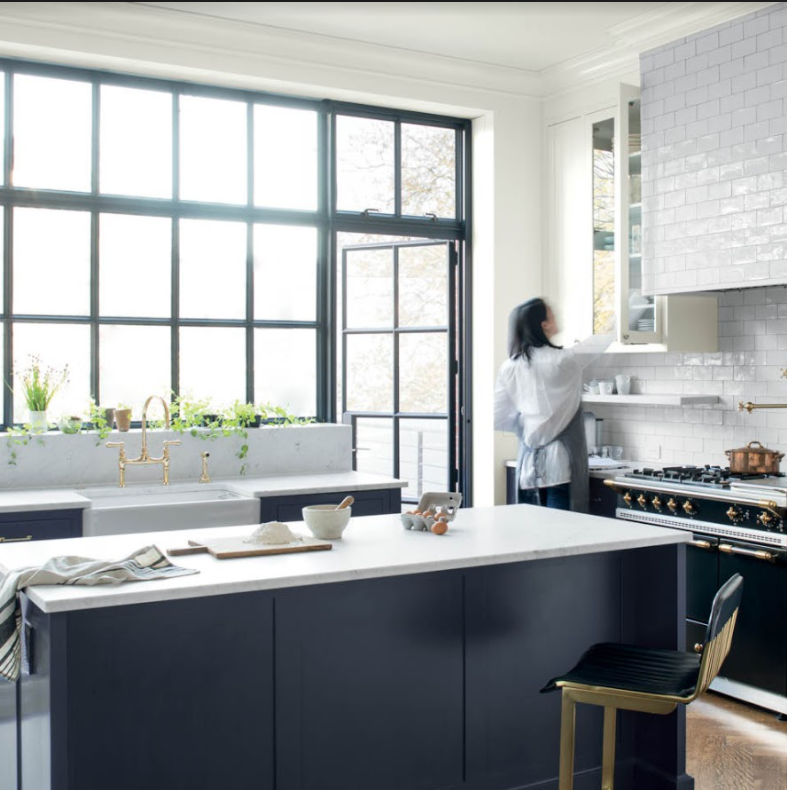 True to its name, Decorator's White is a favorite of interior designers for both walls and trim because it can be relied upon not to yellow over time.
Benjamin Moore Chantilly Lace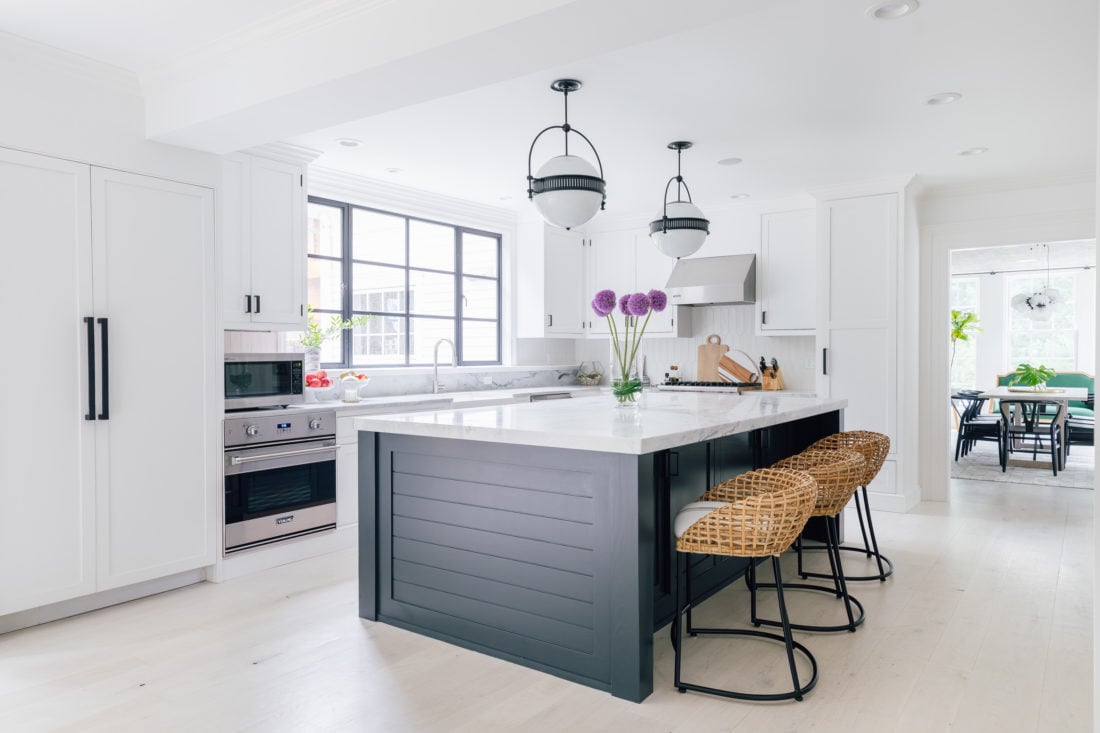 With a light reflectance value (LRV) of 92, Chantilly Lace by Benjamin Moore is one of the closest paint colors you'll find to a true white. Its neutrality makes it a favorite white paint for trim or ceilings, but don't pass over this color for a bright interior! It has very few undertones, and gives off a cool and silky aura—the perfect choice for an all-white look or as a complement to blacks and deep jewel tones.
Benjamin Moore White Heron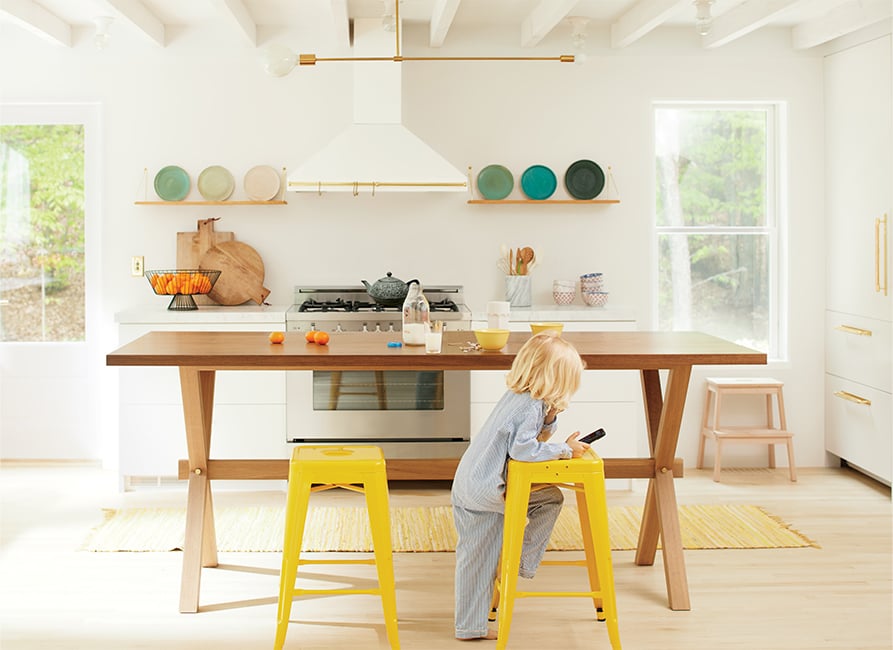 White Heron is a bright off-white that also has cool undertones. It's a popular choice for both walls and trim color in kitchens, living rooms and bedrooms. Barely-there cool undertones make this a consistently white paint color, even in a sunny room. Paired with cool paint colors White Heron may feel a bit stark, so be sure to order a paint sample to see how it appears with the lighting in your home.
Benjamin Moore Oxford White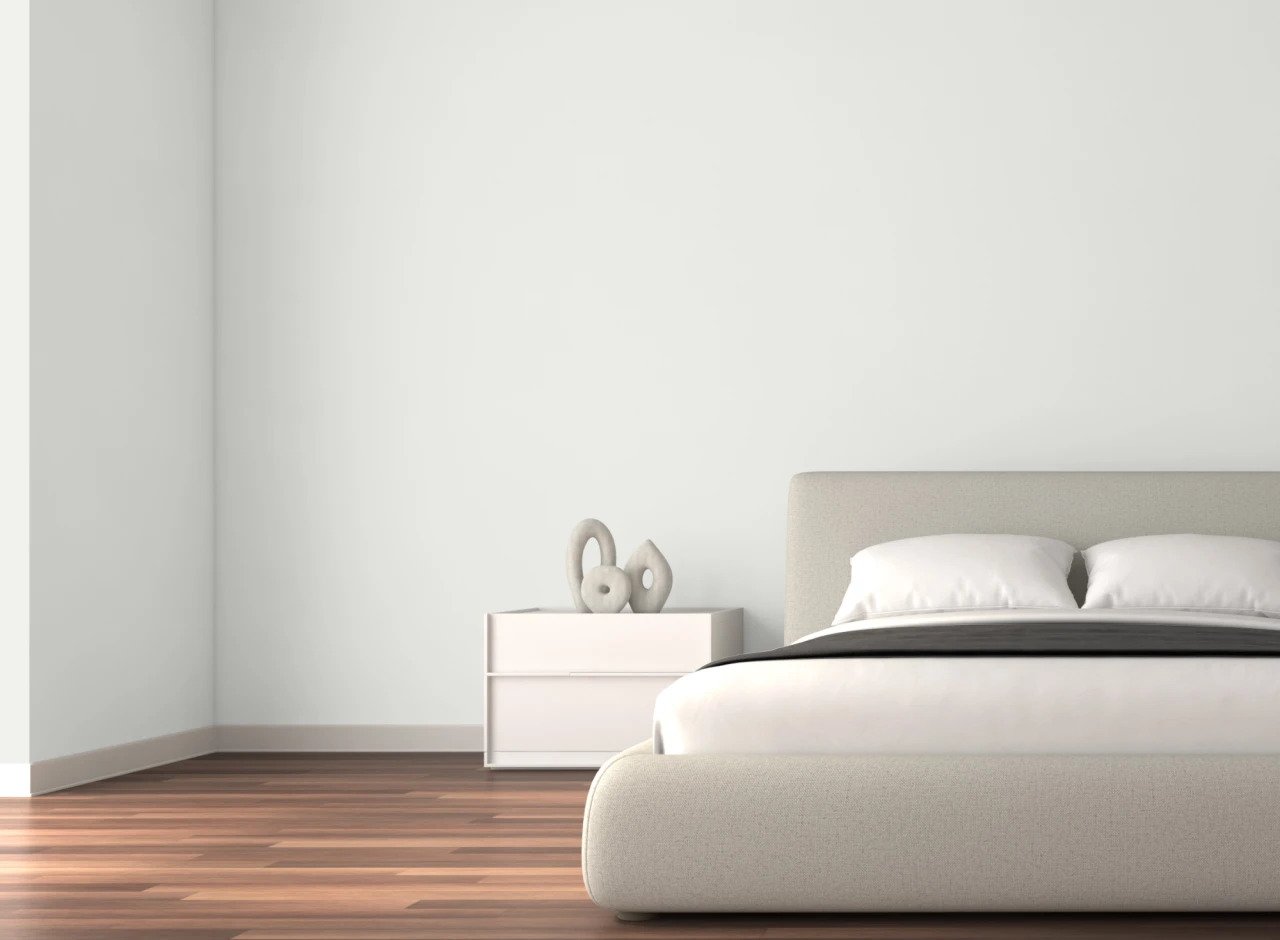 Oxford White is another excellent choice for trims and millwork. Like Decorator's White, it has slight gray undertones that give it a cool, modern look. This is a versatile bright white for walls and trim, cooler than Cloud White and softer than Benjamin Moore's popular Chantilly Lace. Oxford White complements cool wall colors but isn't too gray to accompany warmer shades.
Benjamin Moore Frostine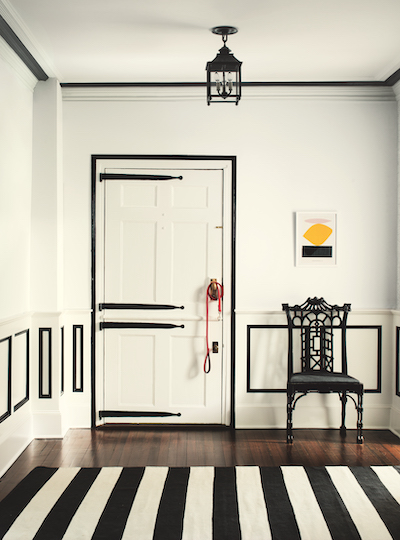 Looking for a cool, modern white that's not too bright? Frostine is a frosty white with a shadowy look that highlights architectural trim and paneling, especially as part of a cool-toned palette. Blue-green undertones make Frostine the perfect companion for cool shades like navy, eggplant or black.
Benjamin Moore Paper White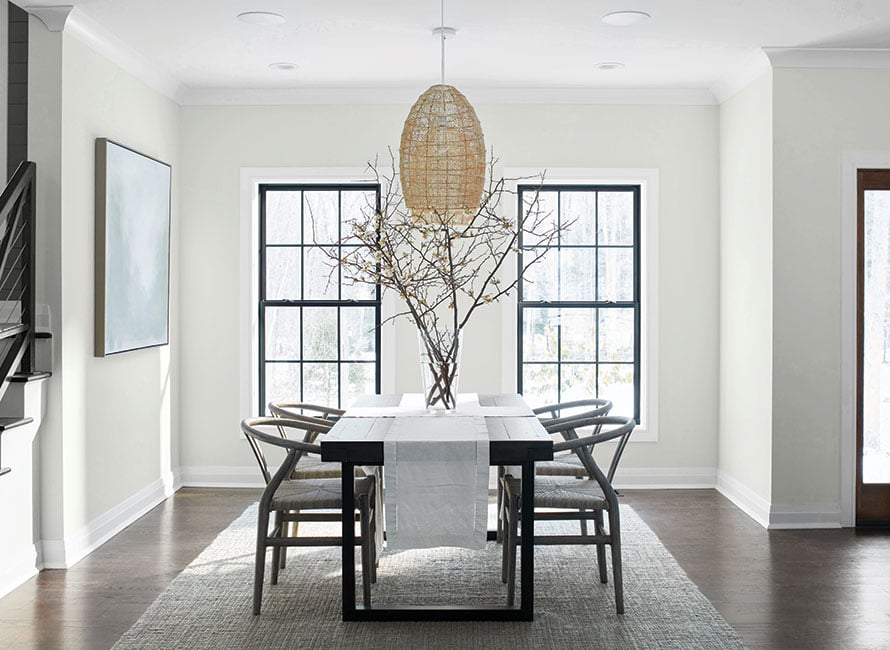 If you're looking for a cool white paint that can pull together an open plan home, check out Paper White. This soft white has cool undertones with a hint of green to keep it from feeling cold. Choose Paper White for all the walls, and create contrast by trimming it with a bright white like Benjamin Moore's Super White. Paper White is a rich, versatile white that complements gray marble finishes, so it's a great choice for the master bath or kitchen. Use Paper White in both traditional and modern interiors for a touch of sophistication.
Benjamin Moore White Wisp
The strong gray undertones of White Wisp give it just enough tint to create contrast against a brighter white paint. We love how an interplay of whites can add a modern touch, especially in open-plan homes. Cool whites are an ideal backdrop for art, while neutral whites make woodwork pop. White Wisp is a refreshing white that will maintain its cool even in warm, South-facing rooms. Paired with a neutral white, it subtly marks the ceiling line in this bedroom: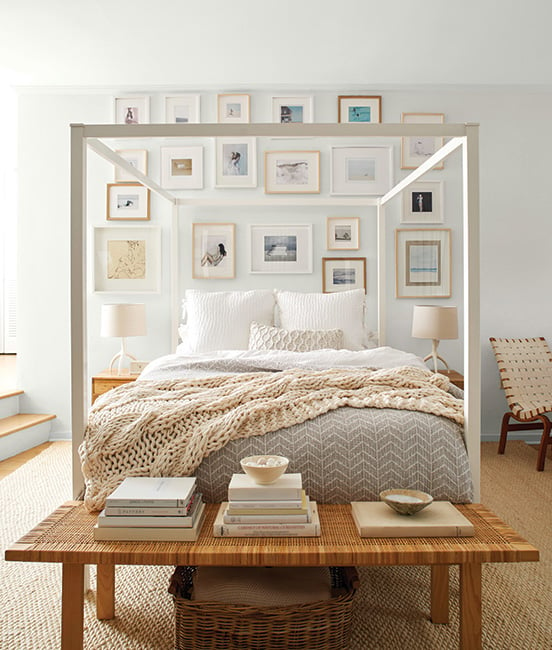 Warm White Paint Colors
Warm whites are colors that have a red, pink or yellow undertone, and sometimes even hints of orange undertones. They are often preferred in north-facing rooms where natural light has a cooler blue or gray tone. Blue or gray undertones in a cool white paint colors will often feel even more pronounced in this light, so opting for warm white paints instead can balance the atmosphere.
Where cool white colors can make a room feel larger, warm whites makes a space feel cozy. This makes it a favorite tone for large rooms and open spaces with lots of natural light.
Benjamin Moore White Dove
Benjamin More's White Dove is one of the most popular Benjamin Moore white paint colors for not only walls, but also trim and cabinetry. White Dove is a classic creamy white that sits comfortably between a cool or warm white paint color. While it has barely-there gray undertones, it's a complex white that will warm up with subtle ivory undertones in certain lighting conditions, giving White Dove its place in the Benjamin Moore Off White Collection.
White Dove works beautifully with marble and stone, so it's an excellent choice for bathrooms and kitchens. This elegant paint color adds richness and depth to built-in shelving, fireplaces, and architectural moldings.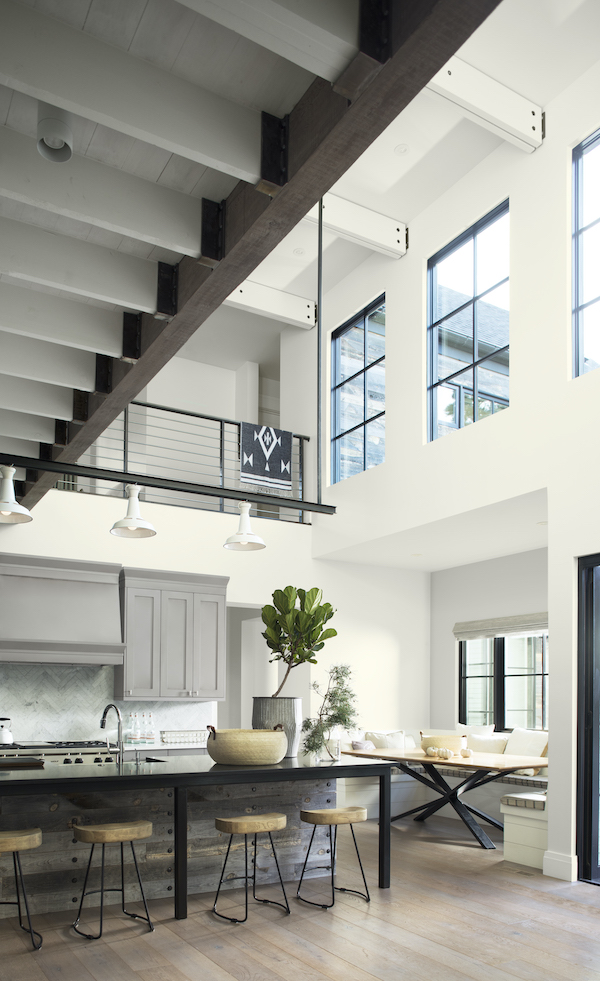 Cloud White is a white paint color that appears bright white at first glance, but has very subtle warm undertones. This reliable white is ideal when you want to create clean, crisp white interiors that won't feel cold, even on a gray day. Compared to some other off white paint colors, its warmth is subtle with slight yellow undertones that are more likely to appear in spaces that have sunlight flooding in.
Benjamin Moore Simply White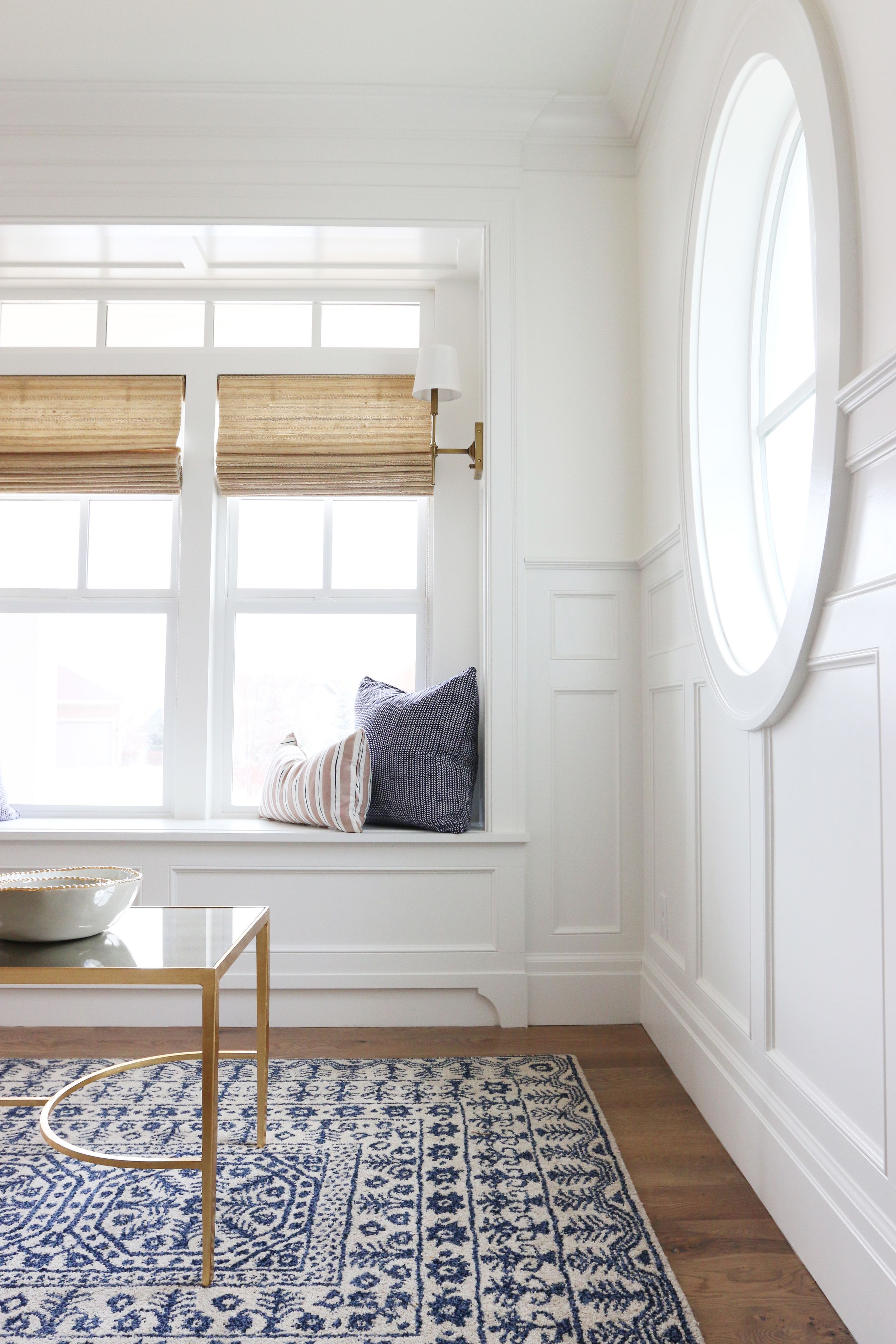 Simply White is a bright white paint color with soft warm undertones. This crisp white is a popular choice for walls, ceilings, trim, and cabinetry. It's a modern shade of white; bright and reflective for contemporary spaces, and rich and complex for a traditional home.
Simply White is the perfect all-over color for an open-plan space. It works beautifully on trim work and kitchen cabinets to complement deeper wall colors, and even pairs well with white quartz countertops – typically a tricky match to find. A popular white paint color, Benjamin Moore Simply White is part of the Benjamin Moore Modern Farmhouse color palette and was chosen Color of the Year in 2016.
Benjamin Moore Atrium White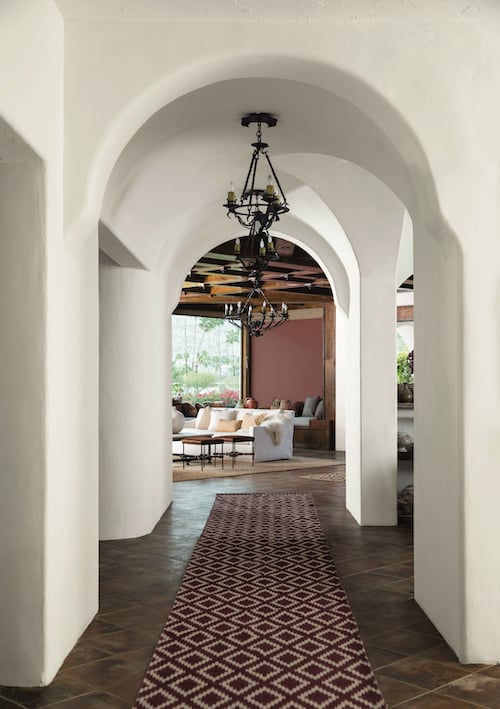 If you're looking for a richer, warmer white, Atrium White has complex undertones that include a hint of pink. This creamy, complex off white has an Old-World feel; but because of its pink undertones it will never seem overly yellow. Atrium White is a wonderful all-over white for the curving plaster walls of Spanish or Mediterranean-style buildings. However, it may take on a pink cast if it's located beside warm colors like bright green or yellow.
Benjamin Moore Navajo White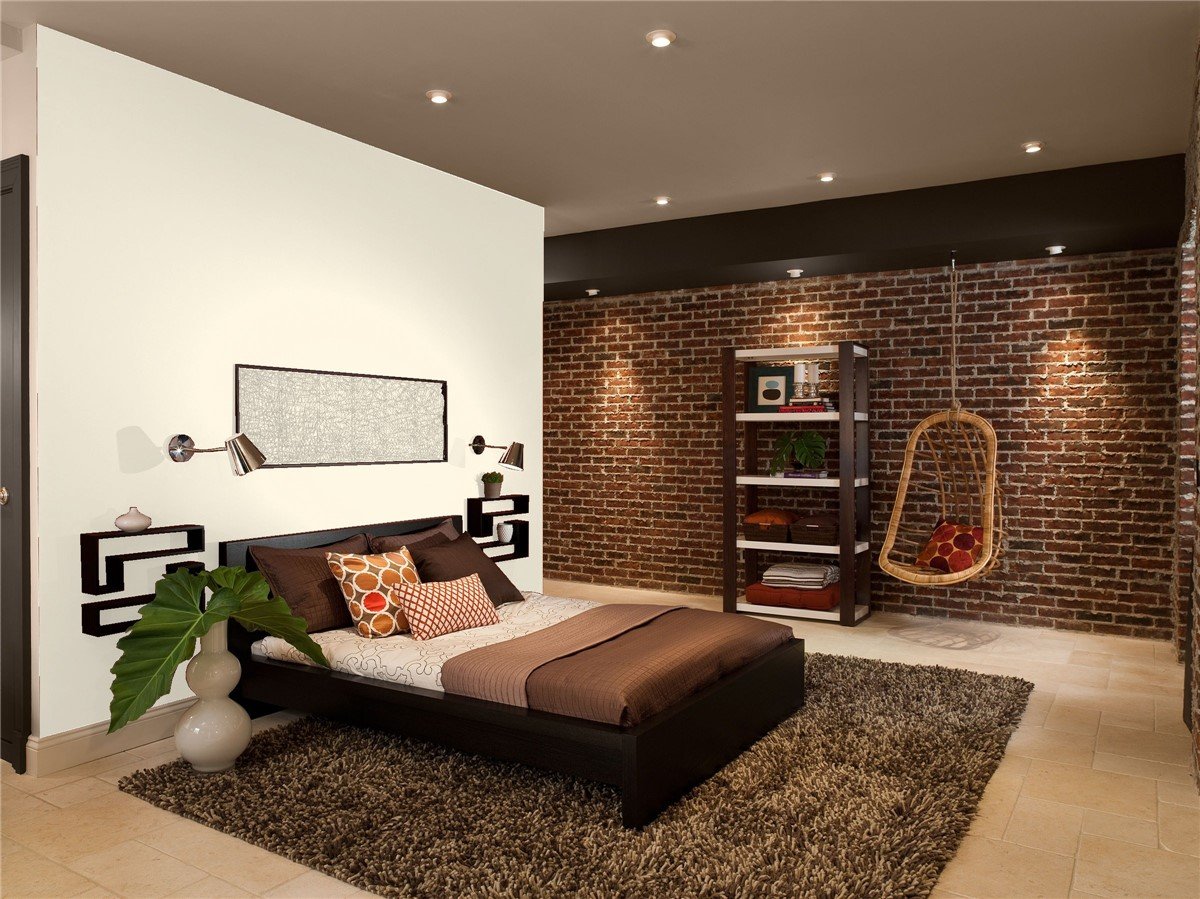 Navajo White is a creamy warm white paint color with undertones of yellow and tan. This classic off white paint color rose to popularity after mid-century architects created interior color palettes using Navajo White, brown, orange, and avocado green. Named after the ivory-beige tones of Navajo textiles, Navajo White is often associated with Spanish-style architecture and the American Southwest. However, this light and airy cream color is so versatile that it works beautifully for any architectural style, interior or exterior. Benjamin Moore's Navajo White has become popular again in the twenty-first century since it's the perfect warm white for industrial-style interiors.
Benjamin Moore Swiss Coffee
Benjamin Moore Swiss Coffee OC-45 is a creamy off-white that beautifully complements an earthy palette or brings a warm, cozy touch to cool rooms and decor. Its character and charm makes it a favorite choice for all-white palettes.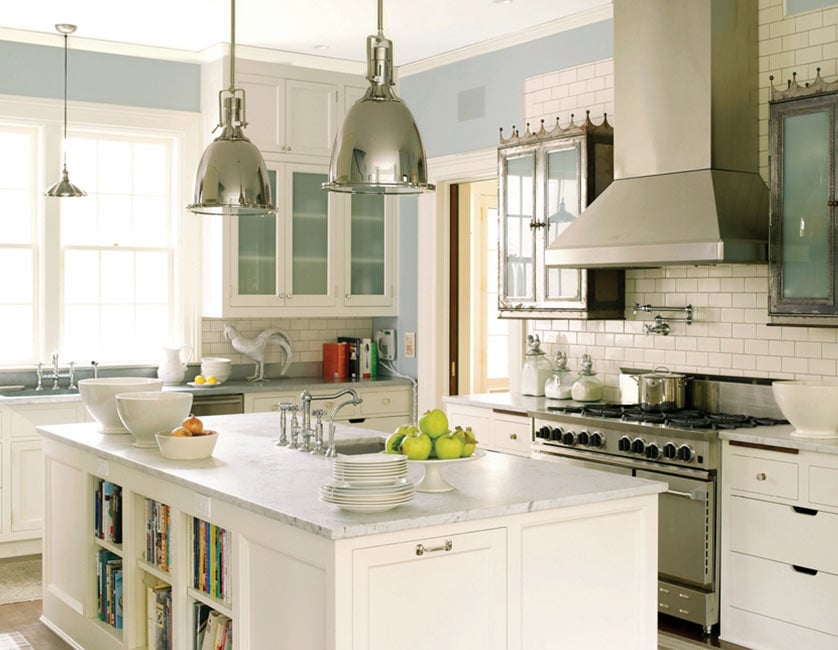 Leaning towards a warm white paint color? Check out our Top Benjamin Moore Off White Colors round up for more ideas.
Best Way to Testing White Paint Samples Before You Commit
With so many subtle differences in tones, choosing the best white paint color can be a complex process, but it's worth taking your time and ordering samples to try at home.
You can make your own moveable paint swatch using one of Benjamin Moore's half-pint paint samples. Our interior designers' favorite trick for testing paint colors in multiple spaces is to paint the colors on a large poster board to move around the room. Place the samples in every room where you plan to use the color, and check them throughout the day to see how they change as the daylight changes. This technique also lets you put it right up next to your trim and see the true reading of the color.
If you plan to change nearby wall colors or contrast to an accent wall, paint a large sample swatch of the new color on the wall to see how it effects the white paint colors you're considering. Warm and cool shades work together in interesting ways, and the final result will be influenced by the quality of light in the space. You may even find the perfect white paint color for your home right here on our list!

Where to Buy Benjamin Moore White Paint
Ring's End offers an unparalleled selection of Benjamin Moore interior and exterior paints in-store and online. Choose from a variety of paint finishes, including a matte finish, semi-gloss finish, or glossy sheen, depending on your needs and aesthetic tastes.
All of our Paint & Design Showrooms have talented, full-time designers who offer complimentary in-store color consultations. We also offer e-design assistance. Provide us with a glimpse of your home through the FaceTime app and discuss color recommendations virtually with one of our designers. Visit our Design Services page to schedule a complimentary appointment.