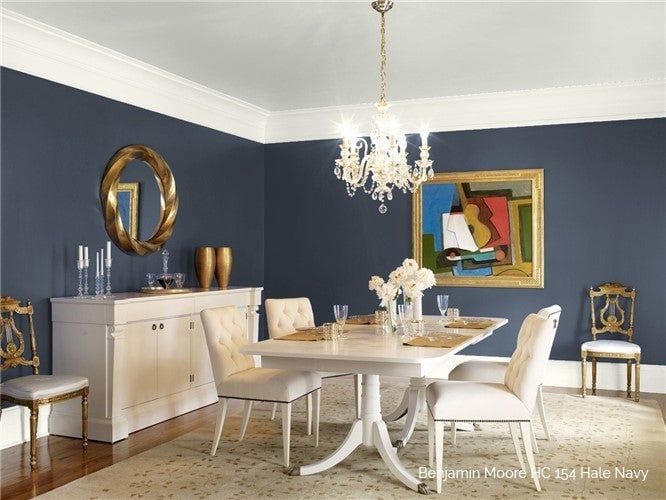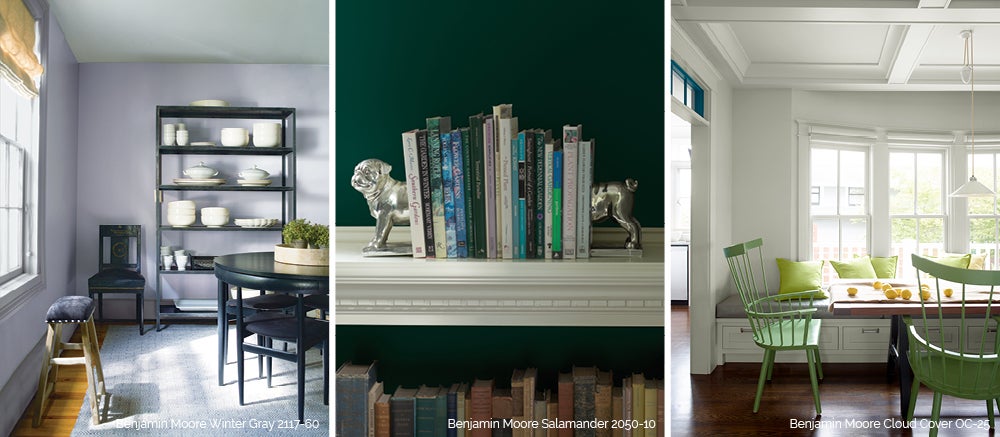 Dining Room Painted in Benjamin Moore Winter Gray 2117-60, Close of up Benjamin Moore Salamander 2050-10 book shelf,Dining Room Painted in Benjamin Moore Cloud Cover OC-25
As people continue to spend more time at home, home improvement, DIY projects, and room makeovers will continue. Paint is a simple and relatively inexpensive way to make a large design impact in your home. Change the color of a whole room, or paint an accent wall to make a bold statement. With so much paint color inspiration available to homeowners, it can be an overwhelming process to sort through all of the paint color ideas and make a decision.
Our talented designers have compiled a list of standout Benjamin Moore interior paint colors perfect for your dining room. Today's open plan homes have eliminated the formal dining room, putting the dining room table into the main living room to create one large space. No longer a seldom-used space for dinner parties, a modern dining room is more likely to serve as a home office, schoolroom, or arts and crafts studio. Ready for some home improvement? Take a look at these great color choices for dining room paint colors.
How to Choose a Color for Your Dining Room
When choosing a paint color, a good place to start is to decide if you want a warm color or a cool color. Every Benjamin Moore paint color can be classified as a warm or cool color. Each color family contains different characteristics and evokes unique feelings which can help assist you in picking the best paint colors for your space.
Paint colors in the green, blue, aqua, and purple families are all cool and tend to bring relaxation and a sense of calm to a room or space. Cool colors also create a sleek, modern and soothing environment. Paint colors within the cool family also have the ability to make a smaller room feel larger, which is why they are often used in bathrooms or small bedrooms.
At the opposite end of the spectrum are warm paint colors. Warm paint colors, those in the red, orange, and yellow families, are typically used to create a cozy, comfortable environment to spend time in and breathe energy into a space. Warm, yet bright hues can be associated with energy, passion, and joy. Warm paint colors also tend to make a large space feel more inviting, which will be nice once we can host gatherings and dinners in our formal dining rooms again.
The Best Warm White Paint Colors To Cozy Up A Dining Room
Your dining room is a space to gather, celebrate, and spend time together with family and friends. It's important for it to feel inviting and comfortable for you and your guests.

Dining Room Painted in Benjamin Moore Sea Salt CSP-95 Ring's End Coastal Color Collection
Benjamin Moore Sea Salt
Ring's End Design Sales Manager, Elizabeth recommends Benjamin Moore Sea Salt (CSP-25) as a warm paint color with plenty of versatility. It is a perfect neutral shade which is helpful when you are painting a room where you may already have a dining table, upholstery, or chandelier you may not be switching out.
One of 240 shades in the Aura Color Stories collection, Sea Salt is formulated to change based on the light present in the room, telling a story throughout the day. All paints in the Aura Color Stories collection are incredibly durable and resistant to fading and offer extreme hide of the surfaces on which they are painted. Sea Salt is one of our favorite wall colors and also included within the Ring's End Coastal Color Collection.
Benjamin Moore Muslin
Another warm paint color perfect for a dining room is included in The Benjamin Moore 2021 Color Trends Palette. Benjamin Moore Muslin (OC-12) is a very soft beige with a gentle balance of yellow and pink undertones lending itself as a welcoming backdrop for many different design elements, especially deep brown furniture and white trim.

Close up of Benjamin Moore Muslin OC-12 with Bowl and Lemons,Close up of Benjamin Moore Atrium White OC-145
The Best Off-White for a Sophisticated Look
White and off-white colors create a calm backdrop for dining room furniture. Consider choosing a white paint to show off the lines of a sculptural dining room table.
Benjamin Moore Atrium White
First up is from the Benjamin Moore Off-White collection is Atrium White OC-145. This white has a very soft pink undertone, but acts as a neutral in most spaces. Atrium White OC-145 will act as a white in the absence of real white, but if yellow or green tones are introduced to the space, the pink may become more present.
To have a closer look at the 152-color collection of white paint colors, take a look at this complete fan deck: Benjamin Moore Off-White collection book.
Benjamin Moore Cloud Cover
Another sophisticated off-white is Benjamin Moore OC-25, Cloud Cover. Cloud Cover is a part of the Benjamin Moore Off-White Color collection. Cloud Cover is a very versatile hue, almost neutral with very slight warm undertones. It is a true creamy white, works well in most rooms, and pairs especially well with darker floors.
Bold, Vibrant Dining Room Color Ideas
Benjamin Moore Salamander

If you are happy to take a step away from white walls in your dining room, Benjamin Moore 2050-10 Salamander is a deep, saturated green and makes a bold statement. This vibrant color can be the basis for an eye-catching room color scheme that adds an edge to a space, creates a focal point, or even appears rustic with the right styling.
Benjamin Moore Hale Navy

Benjamin Moore Hale Navy HC-154 is striking deep navy blue paint that's both modern and timeless. With its low light reflectance, a deep blue dining room offers a sophisticated alternative to black; in a well-lit room Hale Navy presents as a deep sea blue. In darker rooms, the Hale Navy will edge toward black. It brings a level of elegance to the home and is best complimented by neutrals like white, cream, gold or gray.
Bold colors are moody and also add a touch of sophistication to a space. A dining room can be the perfect place to do this. If you want a modern look, painting in an eggshell finish lends the color a more relaxing look. Accent your dining room walls with wall sconces to play up the moody interior.
If dark and bold is not your style, you can still create sophistication with a light or medium hue. For additional color ideas, check out our Benjamin Moore color guides.
The Best Easy-Clean Paint for the Dining Room
Once you have selected the perfect dining room paint color, the next step is deciding the best paint product for your interior design project. While not typically the busiest room in a home, there is still the risk of food stains, spills and a steady flow of traffic in a dining room.
Benjamin Moore Aura Paint
Benjamin Moore Aura paint is a great choice for painting dining room walls. With extreme hide, it covers in fewer coats and has superior color retention or fade resistance. It is a thick, rich paint that provides a beautiful finish. Aura paint is a very durable wall coating with zero VOCs. We recommend a matte finish, which leaves a luxurious finish to busy rooms such as dining or family rooms. A matte finish is the closest you can get to a shine-free flat, but holds more durability and is easily cleaned with soap and water. This is especially helpful in a dining room where dining chairs may mark the walls. With Aura paint, you won't see color rub off with repeated cleaning.
Benjamin Moore Aura in Eggshell
If you are looking for a slight sheen to your walls, Benjamin Moore Aura in an Eggshell finish provides the same rich color to your dining area walls but with even more durability. While it reflects more light than flat or matte finishes, its soft glow casts colors beautifully, and is a great choice for the interior of your home.
For more details on Benjamin Moore's interior paint options, check out our Benjamin Moore Interior Paint Guide.
Benjamin Moore Paint Color Samples
We always suggest you sample paint colors prior to making the purchase for your project. By sampling a few different colors you can make sure you have selected the perfect paint color for your space. In addition to paint chips and sample pots we offer Samplize peel and stick samples – wall-friendly adhesive paper painted in your selected color.
Get Personalized Design and Color Consultation
Your dining room can hold special occasions such as dinner parties, meaningful conversations, and create a space for new memories to be made. The right paint color, sheen and product are important when designing your dining room. For more information or personalized help visit one of our Ring's End paint and design showrooms today!