Benjamin Moore Wythe Blue Review & Inspiration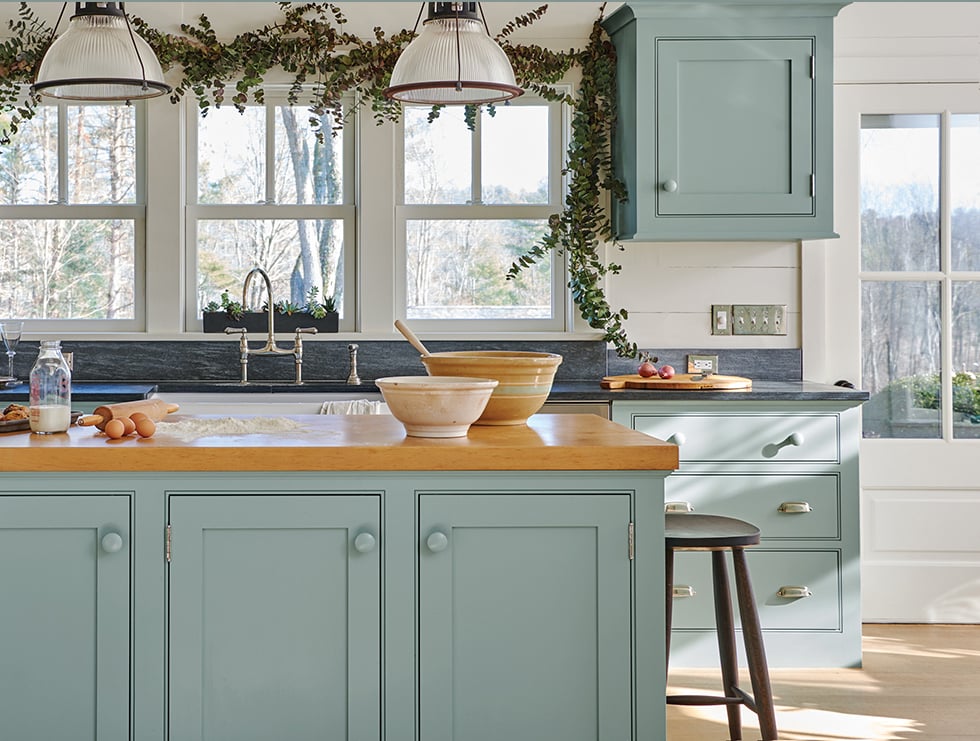 What We Love About Wythe Blue CW-590
Wythe Blue by Benjamin Moore is a light-to-medium green-gray color with subtle hints of aqua-blue. Chosen as Color of the Year in 2012, this highly versatile color adds warmth and coziness to living rooms, dining rooms and bedrooms. It's a deep enough color to create contrast against bathroom or kitchen cabinets, and makes a beautiful accent color. The perfect combination of green and blue tint, Wythe Blue makes an ideal companion for both light and dark wood finishes. This color is part of the Historic Color collection, 191 time-honored hues that comprise Benjamin Moore's most popular color palette.
Wythe Blue Has Blue And Green Undertones
Wythe Blue has a distinctly gray cast to it, with blue and green undertones that may be more or less visible depending on how it's used. It generally has a light aqua appearance that is dulled by a hint of gray, making it a versatile choice for traditional, modern and coastal interiors. Wythe Blue brings out the warmth of light wood cabinetry and the richness of dark wood floors. It's a rich, mutable gray-green-blue that provides a crisp contrast to white woodwork, especially in bathrooms and kitchens.
In spaces with little or no natural light, Wythe Blue's gray tones make it a beautiful muted gray-green color. Bathed in natural sunlight or in West-facing rooms, it will display more aqua-blue undertones. To bring out the green in Wythe Blue, paint another shade of blue in an adjoining space, or use it in a room with views of outdoor greenery. In bright, airy rooms, Wythe Blue takes on an aqua-green shade to create an atmosphere of calm and tranquility.
Best Places To Use Benjamin Moore Wythe Blue
Wythe Blue is an incredibly versatile paint that you can use throughout your home. White trim, sandy beige and seagrass give it a soft coastal vibe: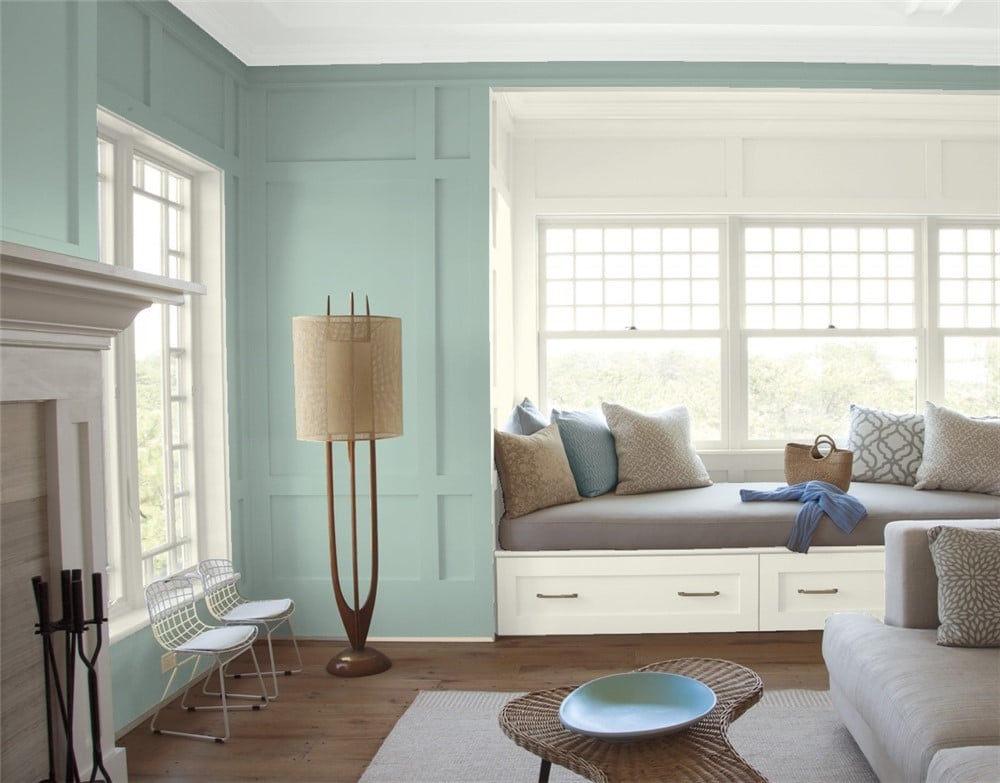 As part of a mid-century modern color scheme, Wythe Blue appears fresh and cheerful: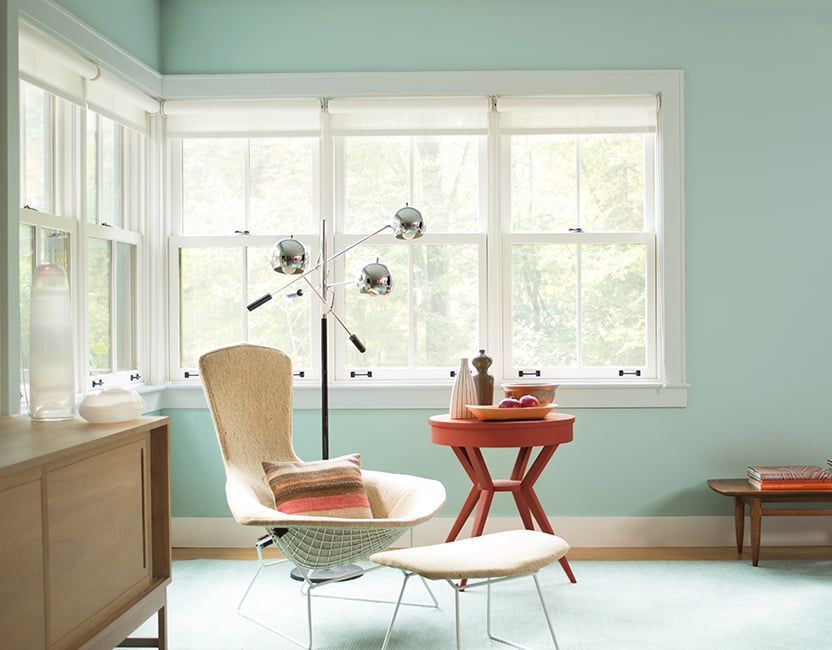 In this light-filled kitchen, Benjamin Moore Wythe Blue cabinetry provides an elegant touch of personality that brings together the warm whites and natural wood tones in the room: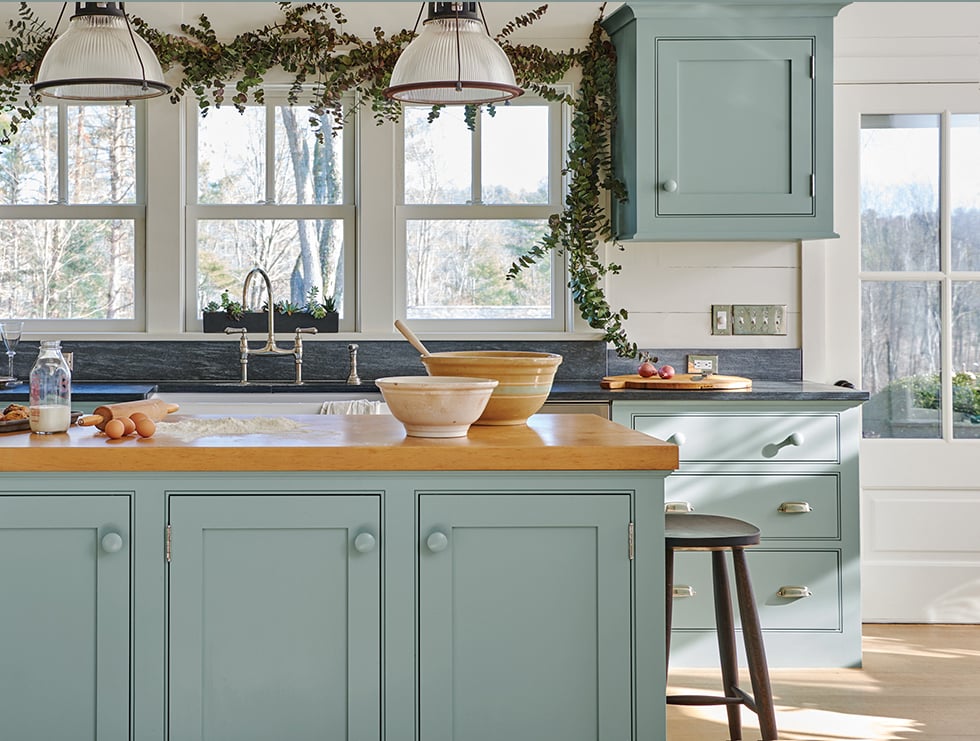 With its changeable nature, Wythe Blue makes a perfect backdrop for art and accessories: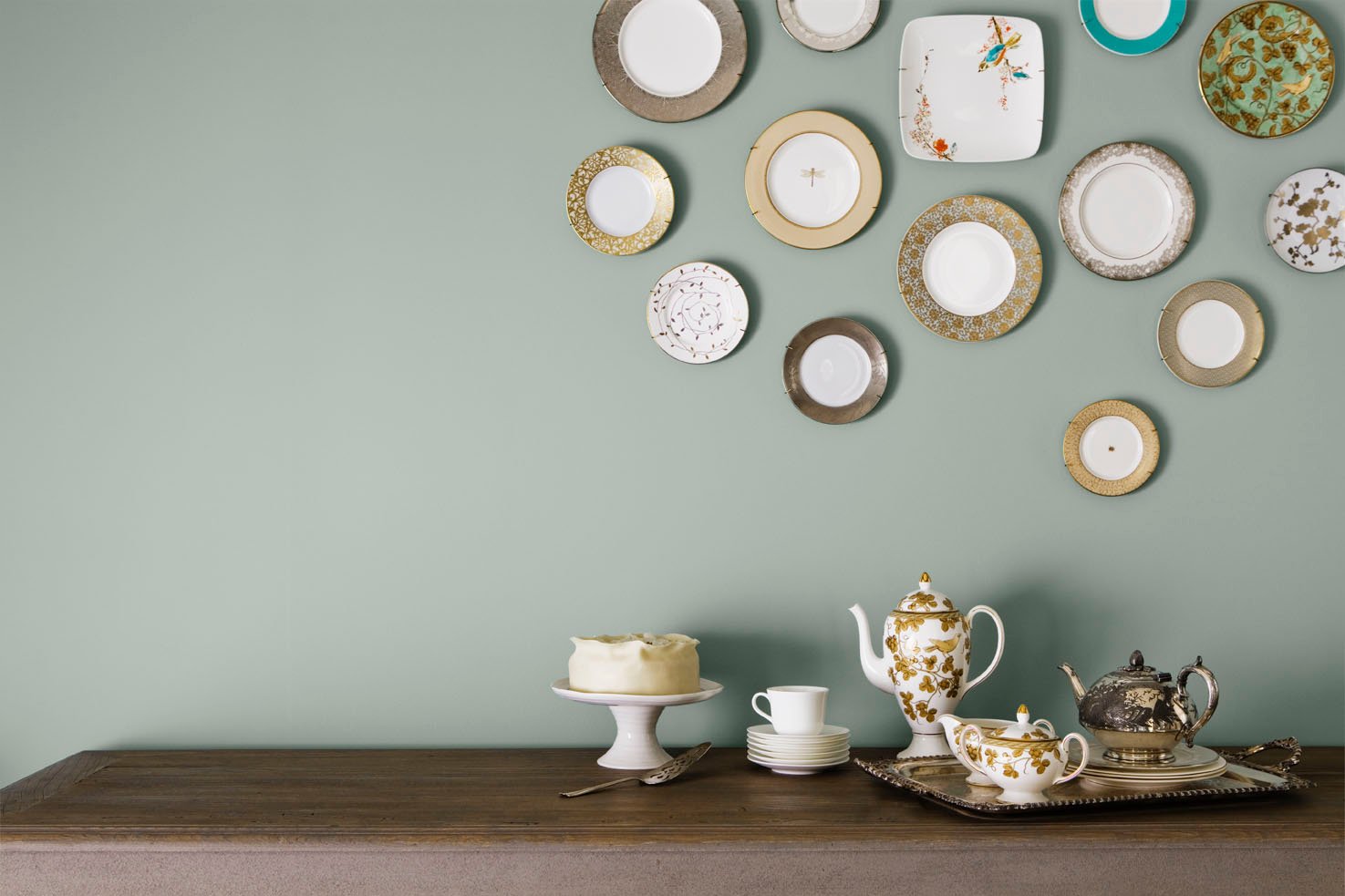 Wythe Blue is a tranquil shade that will set off whatever you place against it: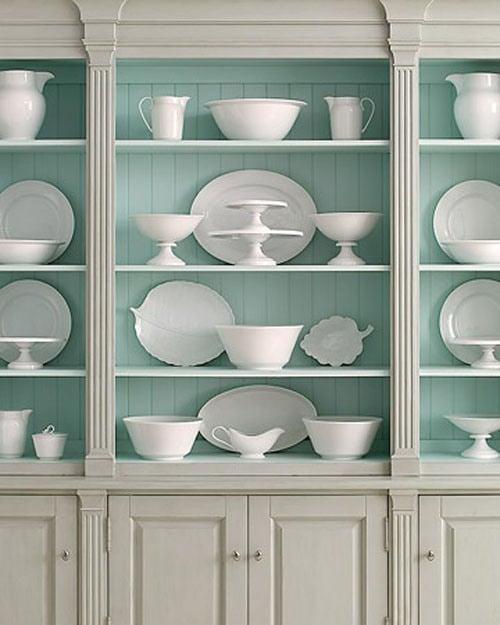 Benjamin Moore Stormy Gray trim and neutral furnishings against Wythe Blue create an understated elegance in this dining room: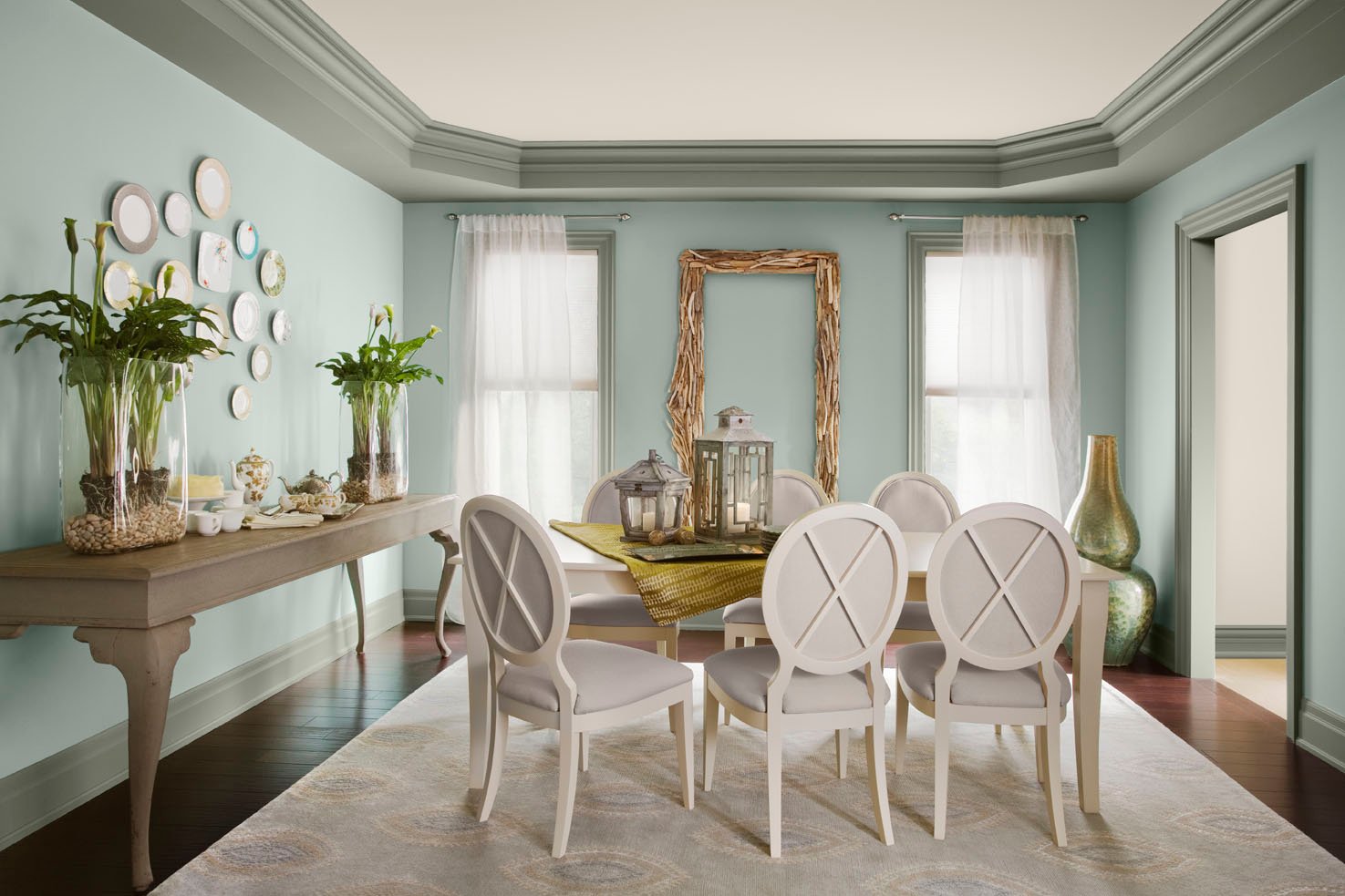 Bright sunshine doesn't wash out the blue-green undertones in Wythe Blue, so it's a great choice for an exterior accent color: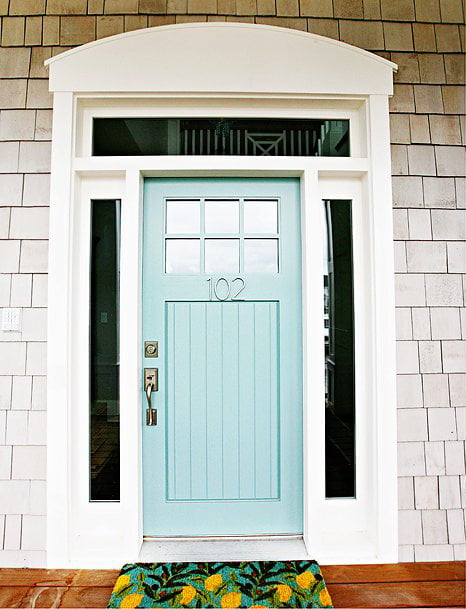 Trim Colors to Pair With Benjamin Moore Wythe Blue
If you'd like to see Wythe Blue pop out as a brighter, more energetic blue, we recommend pairing it with warm white trim and ceiling paint, such as Benjamin Moore White Dove, Cloud White, or—for a more subtle warm tint—Simply White.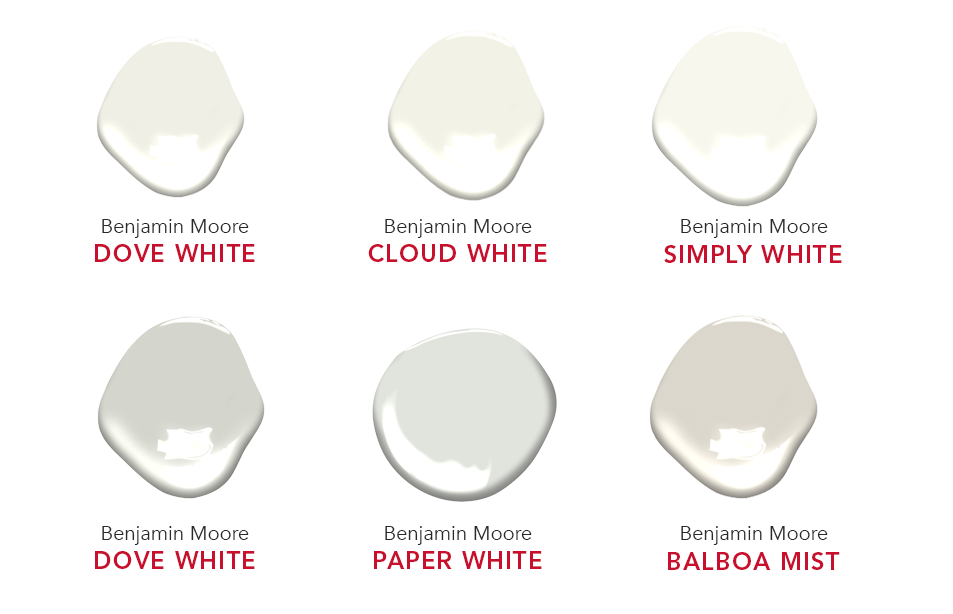 Warm gray trim accents will bring out Wythe Blue's soft gray undertones and give it a more muted, dignified tone. Although grays are scooting over lately to make room for warm beiges and brighter colors, gray trim is one classic style that looks effortlessly posh and trendy. The ever-popular Gray Owl, timeless Paper White, or Balboa Mist are rich, soft grays that pair beautifully with this Benjamin Moore blue-green.
Buy Benjamin Moore Wythe Blue CW-590 Paint & Samples
Want to see how Wythe Blue looks in your home before deciding if it's the right color? Try our Paint Color Samples that are used by professional interior designers.
Once you've tested the color and are ready to order your paint, check out our Interior Paint Guide to help you find the right sheen and product for your walls. As one of the nation's largest Benjamin Moore retailers, Ring's End offers Benjamin Moore Wythe Blue both in-store and online in a wide variety of paint sheens and sizes to meet your needs.
Not quite sure about your color yet? You may also like these options.
If you're looking for a blue-green with a more neutral gray tone, check out Beach Glass or Quiet Moments. On the other side of the coastal blues wheel, try Woodlawn Blue if you're looking for a color that leans more blue.