Woodlawn Blue Review & Inspiration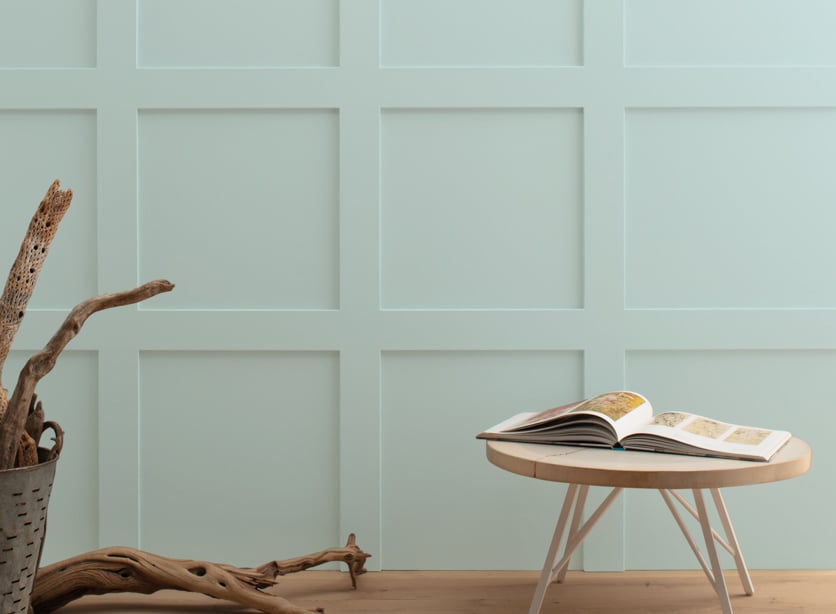 What We Love About Woodlawn Blue HC-147
Benjamin Moore Woodlawn Blue is a versatile blue-green that's softened by a hint of gray. It's a complex color that changes with the light, so it can look fresh and bright in a sunny living room and soft and cozy in a kitchen or library. It's bright enough to create a crisp look when paired with white trim, and mellow enough to blend nicely with greige shades. With its occasional green undertones, Woodlawn Blue looks great alongside both dark and light woods. It suits any decor style from traditional to mid-century and of course, coastal. Benjamin Moore Woodlawn Blue is a part of the Historic Color collection, 191 time-honored hues that comprise Benjamin Moore's most popular color palette.
Woodlawn Blue Has Green & Gray Undertones
Woodlawn Blue has a softness to it that comes from a hint of gray; however, its strongest undertone is green. The lighting conditions in your home will affect whether it looks true blue or displays more of its green undertones. Natural light warms up the color to make it appear more blue-green.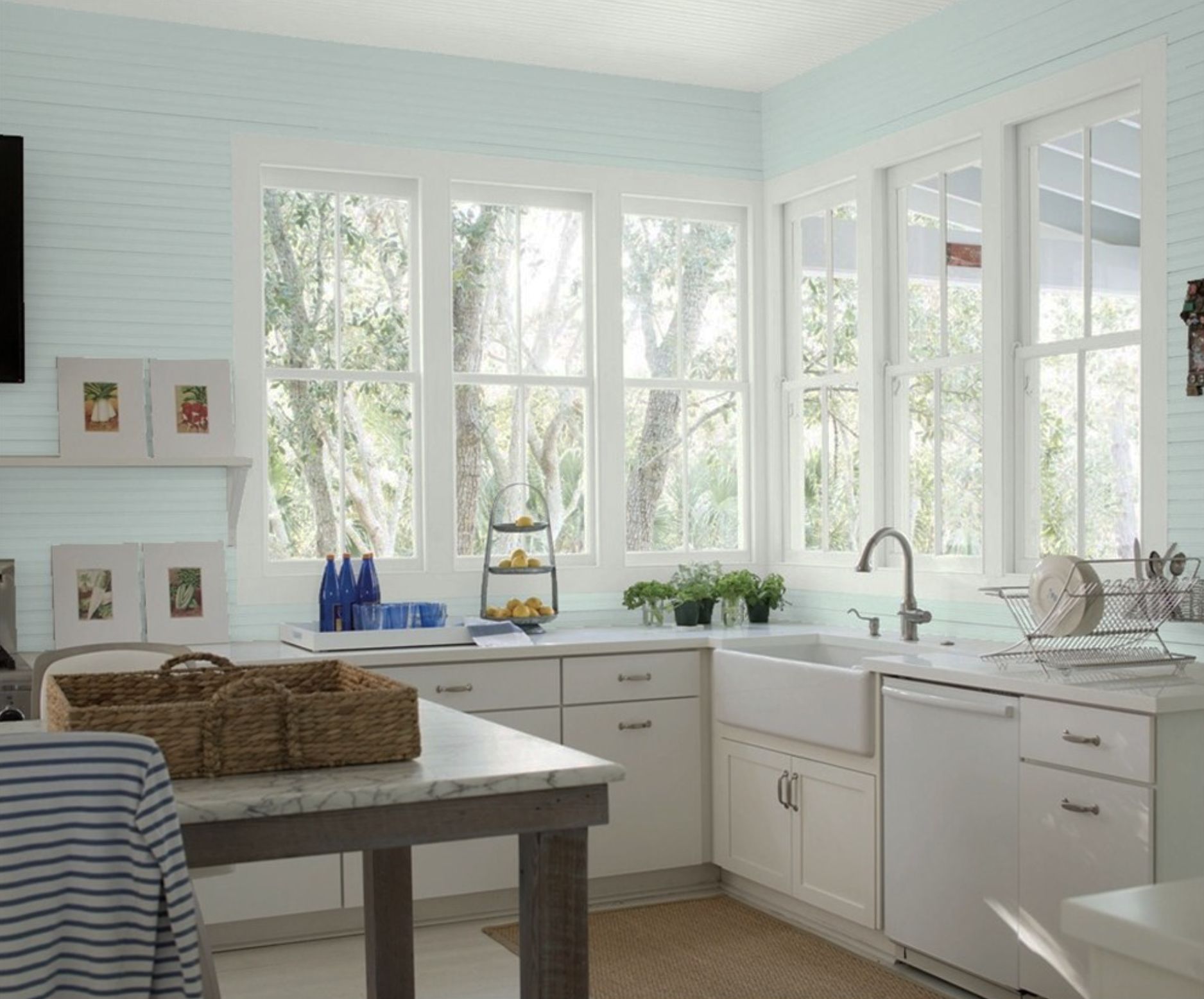 Even when it displays more green, it never quite takes on an aqua appearance because the green is dulled by gray. Woodlawn Blue is an excellent blue paint color for north-facing rooms because the green undertones keep it from turning gray and cold in low light. In brightly lit rooms, the slight gray undertone helps maintain its blue hue, where similar paint colours may appear aqua.
The mix of green and gray undertones make Woodlawn Blue a complex, changeable color that's a versatile choice for traditional, modern and coastal interiors. A popular Benjamin Moore color, it's deep enough to create contrast against white cabinets and makes a beautiful accent wall paint. Woodlawn Blue brings out the warmth of light wood kitchen cabinets and enhances the richness of dark wood beams.
It works equally well alongside neutral greige or exotic jewel toned color schemes. If your home is painted in a neutral shade like Revere Pewter or Classic Gray but you're ready to add color, Benjamin Moore Woodlawn Blue is an excellent choice. The actual paint is a tranquil color that's easy to live with but still makes a statement. Paint a blue wall in a neutral room, or paint the whole family room – you won't be disappointed.
The Best Places to Use Benjamin Moore Woodlawn Blue
Woodlawn Blue is a surprisingly versatile color. Despite being part of the Historic Collection, this sophisticated blue looks right at home in modern interiors. It's an ideal shade if you're looking for a blue-green that isn't too beachy. The gray undertone gives it elegance for a French Country cottage, and a clean look that's ideal for a modern farmhouse.
Trim it in white to make woodwork pop or soften the look with greige color (like Benjamin Moore's Edgecomb Gray). Use this classic color as an accent wall in a modern home office, or an all-over color for a traditional master bedroom.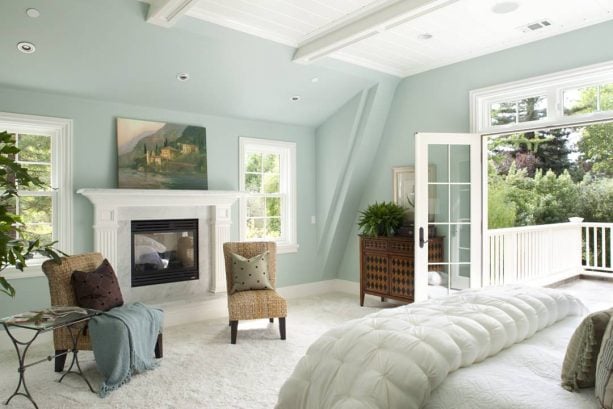 Trimming it in a bright white like Chantilly Lace makes traditional woodwork pop. This changeable blue shade is an ideal companion for natural materials like wood and stone.
In this elegant dining room, Woodlawn Blue on the walls complements the warm tones in the wood table and antique fireplace:
Woodlawn Blue paint gives this entry hall an understated, cheerful energy to create a warm welcome: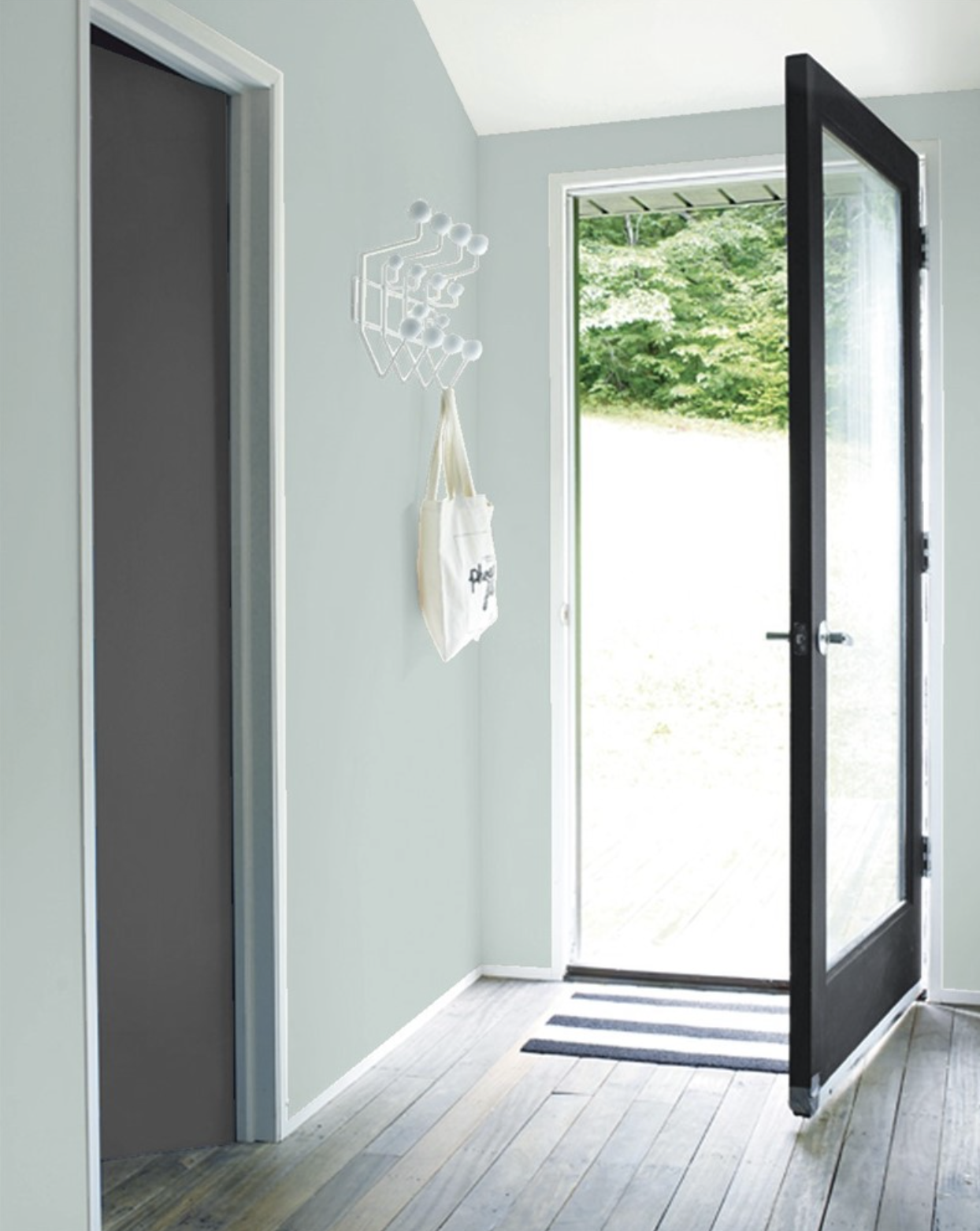 In this eclectic living room, Woodlawn Blue provides a serene ambiance: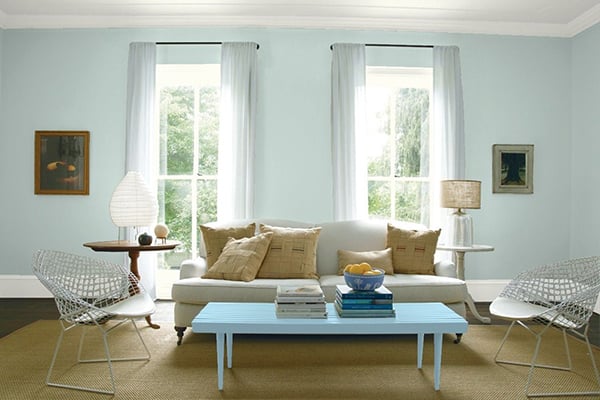 Blogger Kerri Roche from A Pop Of Pretty chose Woodlawn Blue for her living room after looking for a light blue that would not be too bold, or resemble a baby blue. It works beautifully with the brown and gold in her chair fabric.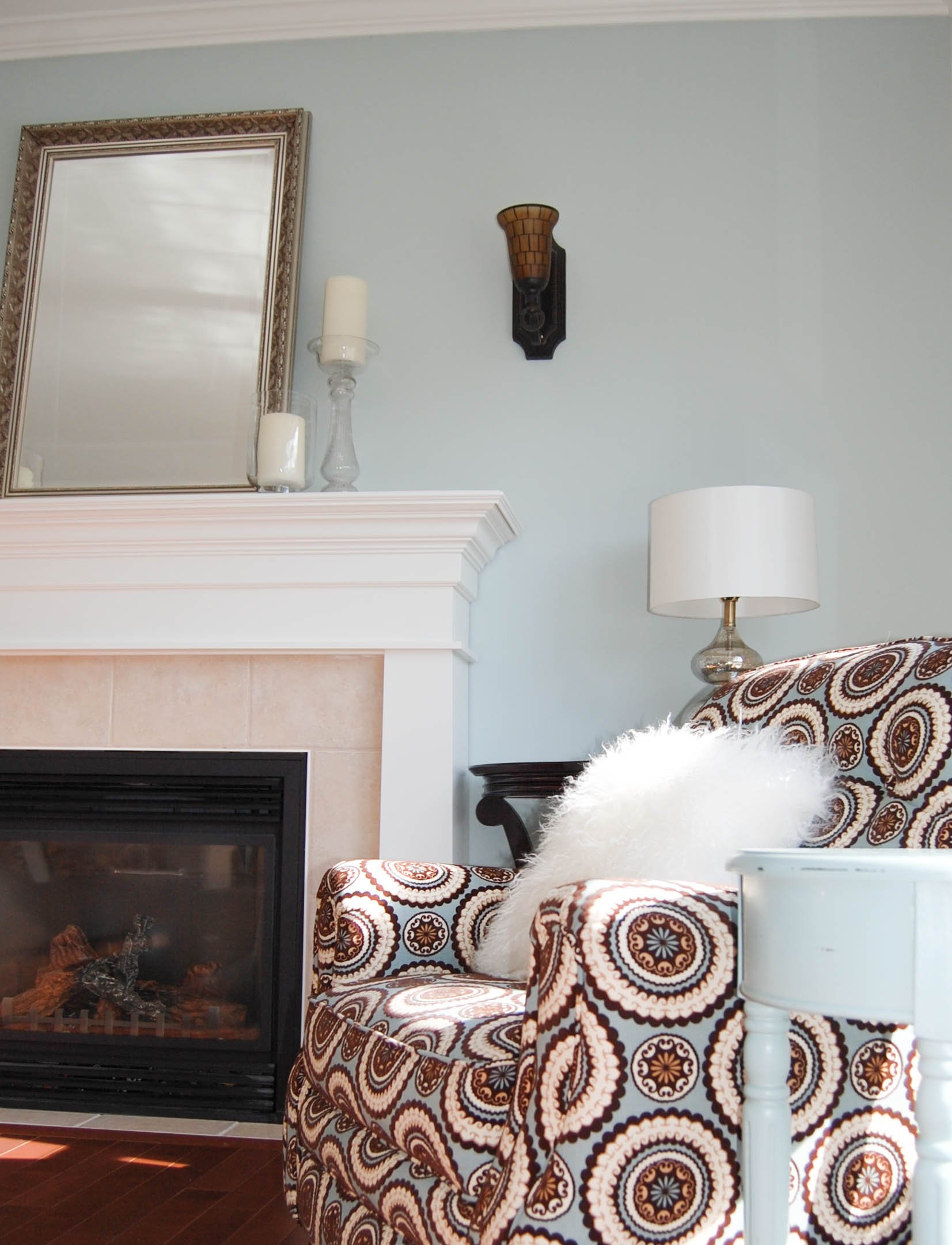 Woodlawn Blue is a fresh, cool backdrop for warm neutrals like the flax linen Roman shades in this modern home office:
Since it creates such a nice contrast with white trim, Woodlawn Blue looks gorgeous on homes with historic details. This classic home pairs Woodlawn Blue with Chantilly Lace trim, accented by a front door in Hale Navy.
Other Benjamin Moore Paint Colors You May Like
What Colors Go Best with Woodlawn Blue?
Woodlawn Blue's versatility makes it the perfect anchor for your interior design color palette.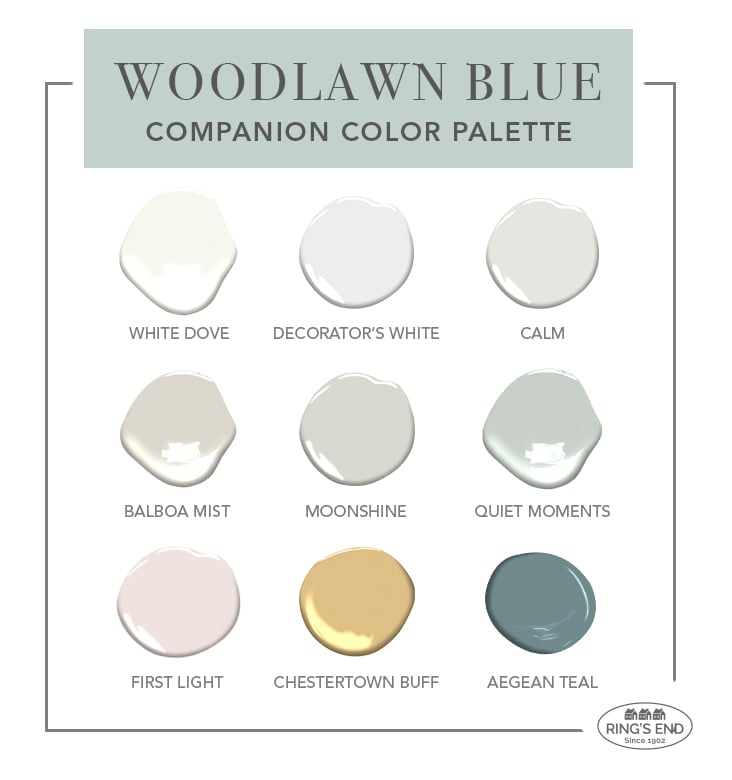 Pair it with a warm, beachy greige like Gray Owl and off-whites like Balboa Mist for the makings of a cozy, coastal cottage. Trim it with the soft white of White Dove in an open-concept floor plan for a crisp, modern color scheme. Or contrast it with accents of gray, clay-pink and pale yellow for Mediterranean flair.
Other Similar Colors
Benjamin Moore offers a rich variety of mid-to-light blue-greens so you can find the perfect fit for your space and lighting. If you like the soft color and neutral look of Woodlawn Blue but its LRV of 60.11 is a bit too light, try a sample of Benjamin Moore's Wythe Blue, which has a darker LRV of 48.18. For an equally pale shade of blue-green, check out Palladian Blue, which has an LRV of 60.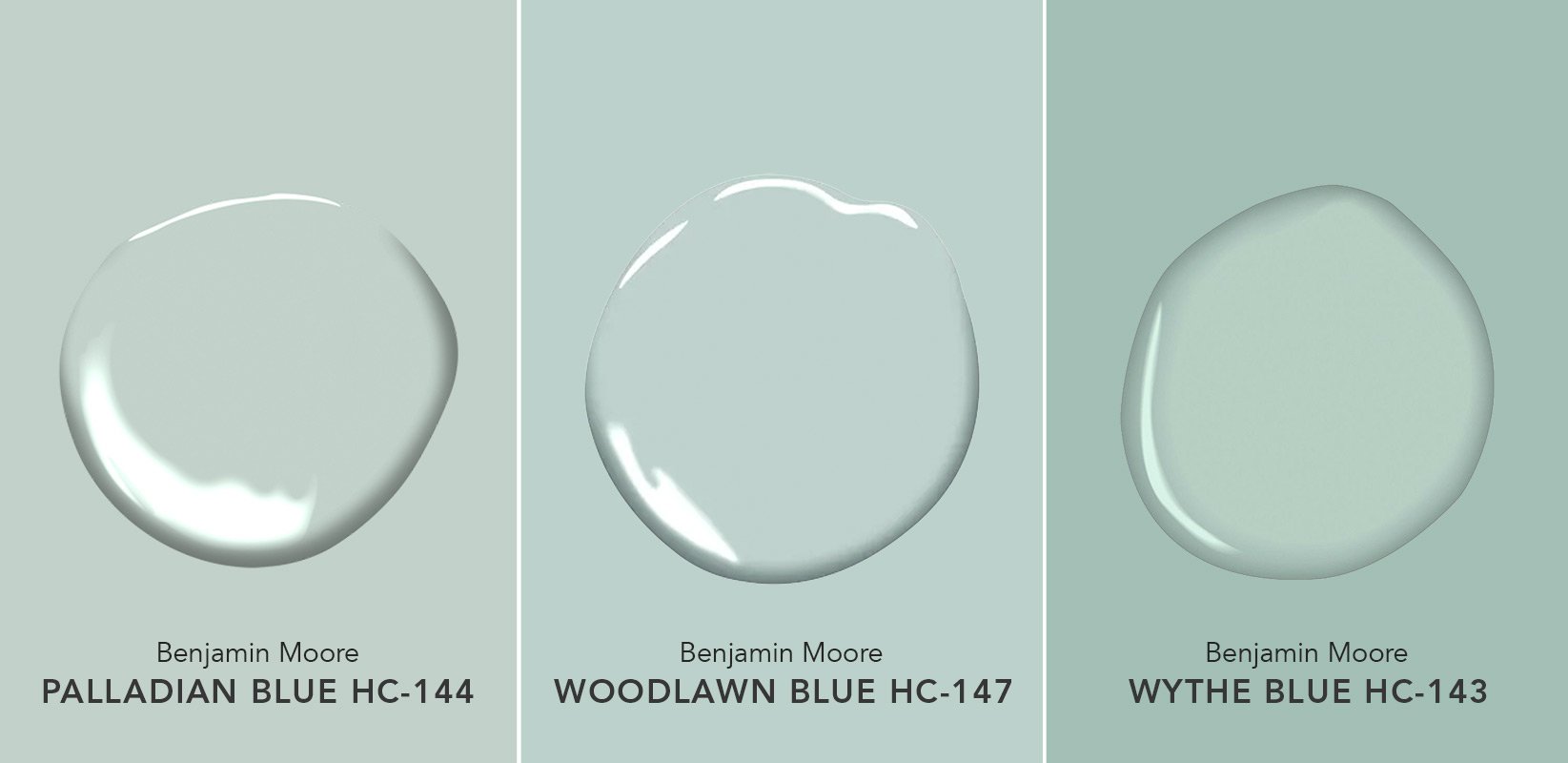 If these paint colors look too aqua in your home, you may want to try a wall color that has stronger gray undertones for more neutrality. Check out Beach Glass and Quiet Moments for a couple of Benjamin Moore light blue options that lean more towards blue-gray paint.
Buy a Woodlawn Blue Benjamin Moore Paint Sample
Blue-green paint colors like Woodlawn Blue can shift in undertone to appear cooler or warmer depending on the lighting conditions and time of day. We recommend testing a sample of Woodlawn Blue and any other options you're considering before deciding on your final choice.
Our favorite interior designer tip for an easy way to test paint swatches on multiple walls in your house, is to paint a large poster board using a Benjamin Moore Paint Color Sample; then move it around the room to observe the color on different walls and in different lighting conditions.
Once you've settled on your color choice and are ready to order your paint, come back here and check our Interior Paint Guide to help you find the right sheen and product for your home!