Benjamin Moore Collingwood Review & Inspiration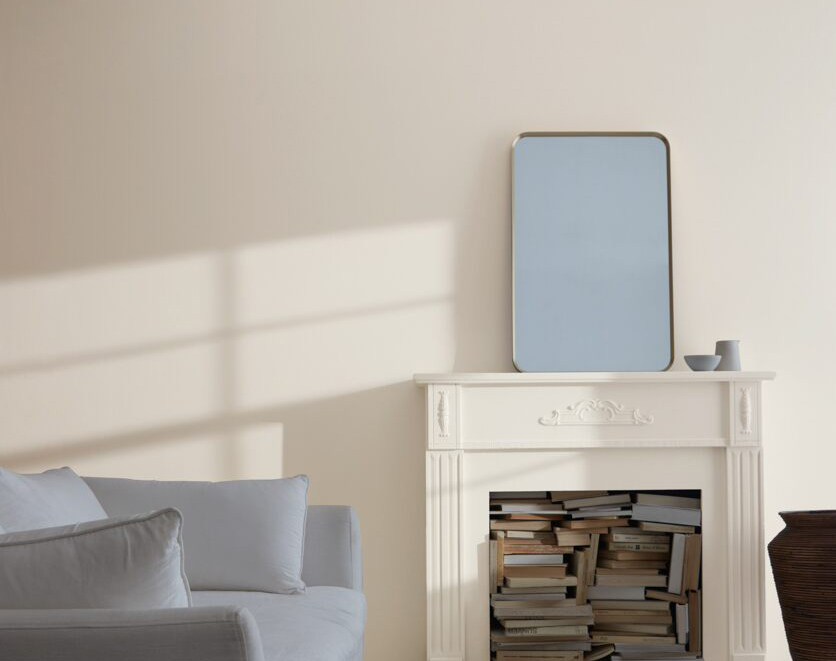 What We Love About Collingwood OC-28
Collingwood is a best-selling light gray shade in the Benjamin Moore Classic Color Collection. It's a warm, neutral color that in certain lighting may take on a greige appearance, sitting between gray and beige. However Collingwood's violet undertones ensure it is a member of the gray family, so it looks best with brighter white paint colors. This versatile color is also part of Benjamin Moore's Off-White Collection. It's pale enough to amplify the light in large, open spaces so it's an ideal choice for a unifying wall color throughout the home. Clean and crisp, this neutral paint color works beautifully with rustic wood floors. This classic Benjamin Moore gray shade creates a stylish backdrop for modern interiors, and its cool sandy look is perfect for coastal decor.
Collingwood Has Violet Undertones
Although Collingwood is part of the gray family, it's warmer than the paint colours most people imagine when they think of gray: a cool shade like Benjamin Moore's Coventry Gray or Stonington Gray.
Collingwood looks more like a greige, meaning it's a gray color with solid warm undertones. However, unlike many gray paint colors Collingwood has slight violet undertones that give it a rich, cozy look. Depending on the lighting, Collingwood will show more or less violet, but never enough to give it the purple cast of a taupe color.

It's easier to see the violet undertones if you compare Collingwood to a gray that has slightly green undertones, like Edgecomb Gray. These two shades look quite similar until you put them side-by-side and they bring out the undertones in each other. Pair Collingwood with a neutral white like Chantilly Lace or White Dove to let its complex undertones shine.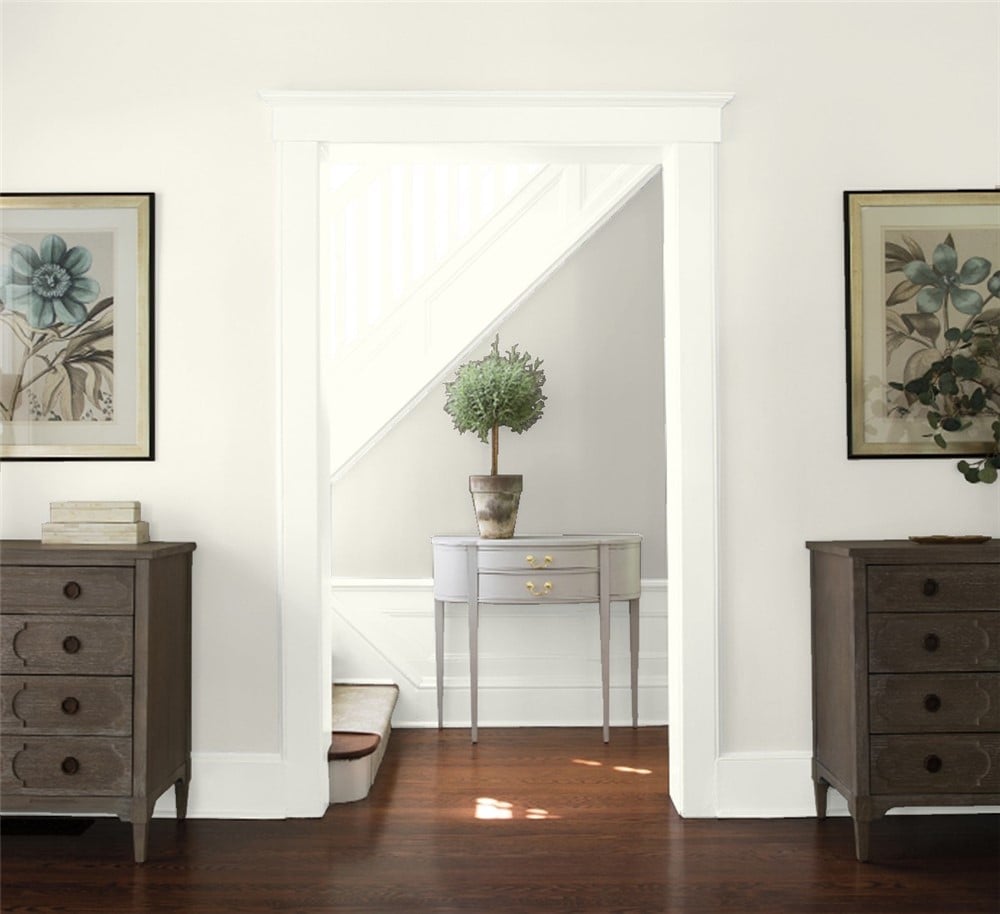 With a light reflectance value or LRV of 62, this color is one of the deep shades in Benjamin Moore's Off-White Collection. It has enough color that it won't wash out in bright natural light.
If you have north-facing light or live in a climate with a lot of cloudy days, you can expect Collingwood to show more of its violet undertones. In a south-facing room or warm afternoon sunshine, it will definitely appear warm gray or even greige. Collingwood is a highly versatile color that works beautifully in open plan homes and changes slightly throughout the day. This sandy shade also suits many different design styles, from French country to modern farmhouse and of course, coastal homes.
If you've been living with a neutral like Revere Pewter or Classic Gray and want a more changeable, complex color, consider Collingwood for your next paint refresh.
The Best Places To Use Benjamin Moore Collingwood
Collingwood is an excellent choice as an all-over, neutral paint shade to unify your home. It adds coziness to large, open plan spaces without adding too much color.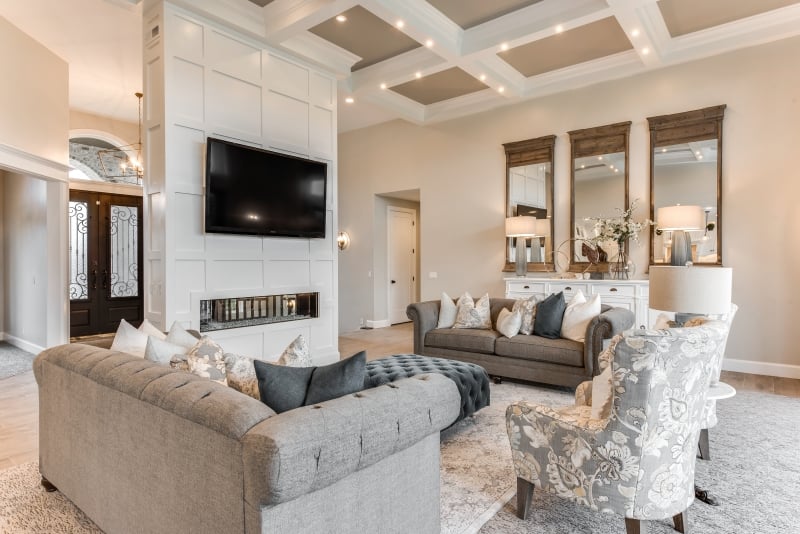 The purple undertones in Collingwood help it play nicely with cooler shades of gray. It's the perfect complement to the natural range of colors in a stone fireplace. In this living room, a fireplace surround in Ashland Slate by Benjamin Moore adds a modern accent against Collingwood on the walls.
Collingwood's complex undertones make it a versatile part of a neutral color palette. In this elegant bathroom, it blends with both gray and brown tones in the marble floor, backsplash and vanity.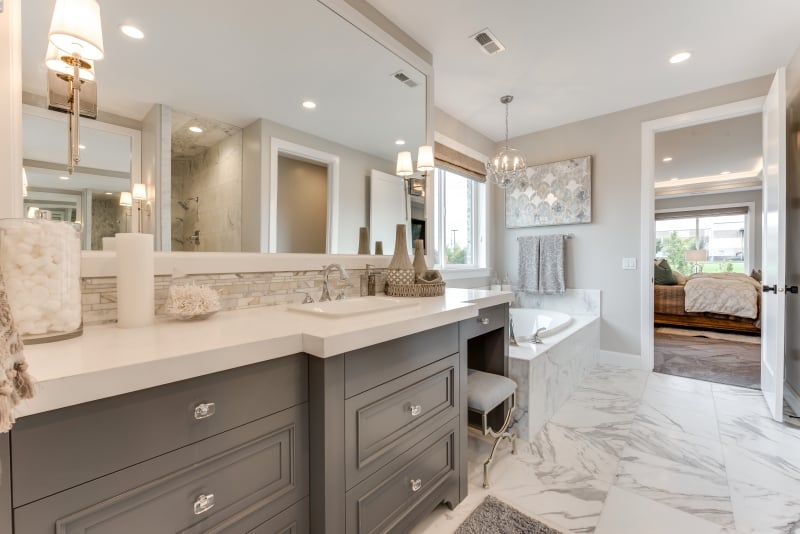 The best shades of white to use with Collingwood are a neutral white like Chantilly Lace or a cool white like Decorator's White. These shades will complement Collingwood's violet undertone without intensifying it. Crisp white trim is an ideal way to frame Collingwood on the walls and bring out your home's architectural details.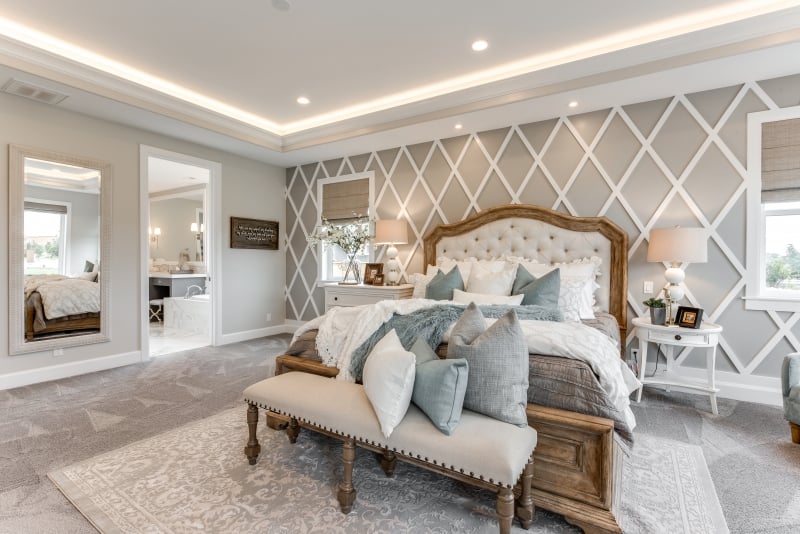 Collingwood also works beautifully as part of a coastal color palette. While it may officially be considered gray, this sandy color is the perfect choice for sunny spaces and lighter wood floors. Accent it with beachy shades like aqua and sky blue for a year-round summery vibe. This dining room has window casings in Palladian Blue, and a ceiling painted in Iceberg.
Collingwood's violet undertones work so well with natural stone in the landscape, it works beautifully as an exterior paint color.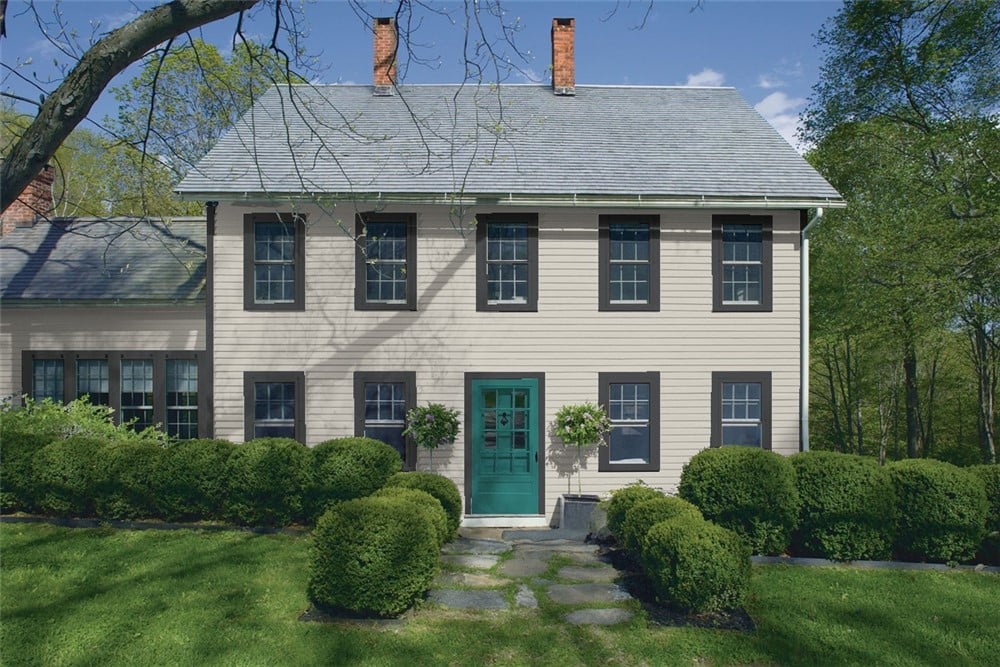 Other Benjamin Moore Paint Colors You May Like
What Colors Go Best with Collingwood?
Collingwood's versatility makes it the perfect whole house neutral to anchor an interior design color palette; accent walls are a great way to add complementary colors.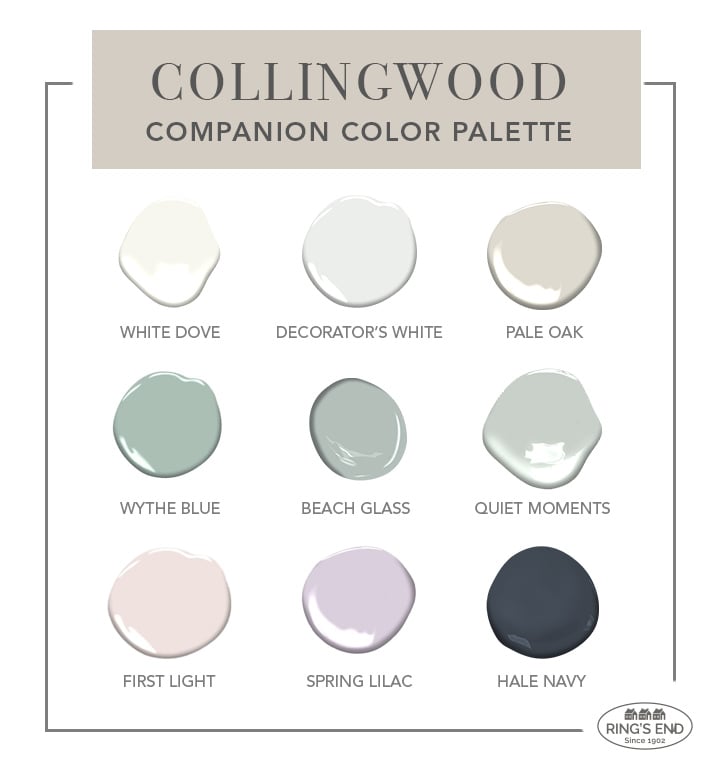 You don't need to live at the beach to combine it with blues and greens; try Benjamin Moore's Wythe Blue, Hale Navy and Palladian Blue. Cool blues and grays are the perfect complement to Collingwood's warm greige tones. Check out Beach Glass and Quiet Moments for a couple of Benjamin Moore blue-gray paint options. Shades of eggplant, lavender and pink will harmonize with the violet undertones in Collingwood; we like First Light by Benjamin Moore for its modern vibe.
Other Similar Colors
Benjamin Moore offers an impressive collection of light-to-medium neutral colors, so you're sure to find one that works with your space and lighting. You may need to try several samples before you find the right paint. If Collingwood is too dark for you,Benjamin Moore Balboa Mist and Pale Oak are lighter options (without violet undertones). If you like the LRV of Collingwood but the violet undertones aren't right for you, Edgecomb Gray has warmer, slightly green undertones.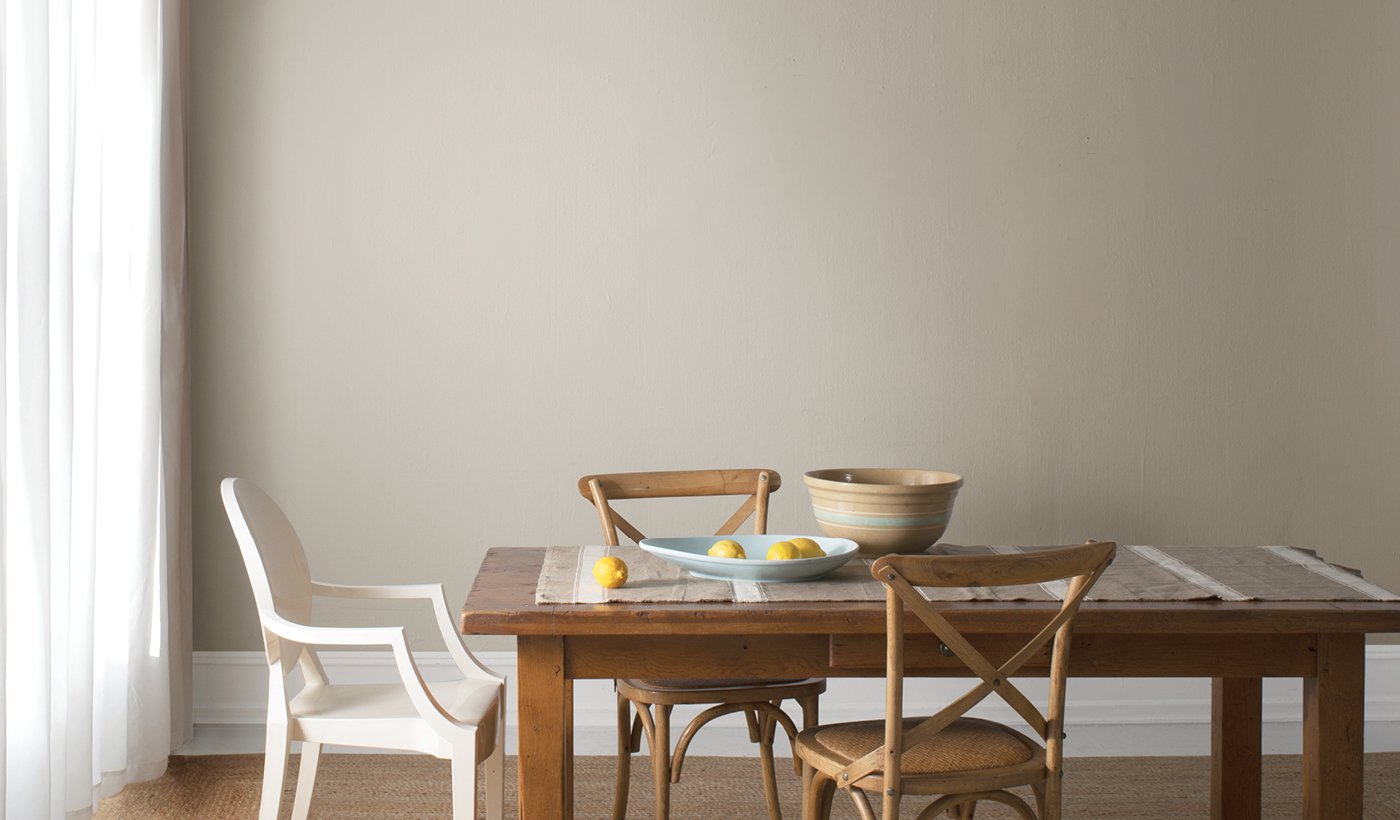 Check out our color review for Revere Pewter; it's a darker wall paint that's also warmer and more green. For a light gray Benjamin Moore color that's a bit less warm and sandy, try Stonington Gray or Gray Owl. If you want a shade that appears cooler you might like Coventry Gray.
Buy A Collingwood Benjamin Moore Paint Sample
Gray and greige paint colors are susceptible to shifts in undertone that could make them appear cooler or warmer depending on the lighting conditions and time of day. We recommend testing a sample of Collingwood and any other options you're considering before deciding on your final choice.
Our favorite designer tip for an easy way to test paint swatches on multiple walls in your house, is to paint a large poster board using a Benjamin Moore half-pint paint color sample; then move it around the room to observe the color on different walls and in different lighting conditions.
Once you've settled on your color choice and are ready to order your paint, come back here and check our Interior Paint Guide to help you find the right sheen and product for your home!