Aegean Teal Review & Inspiration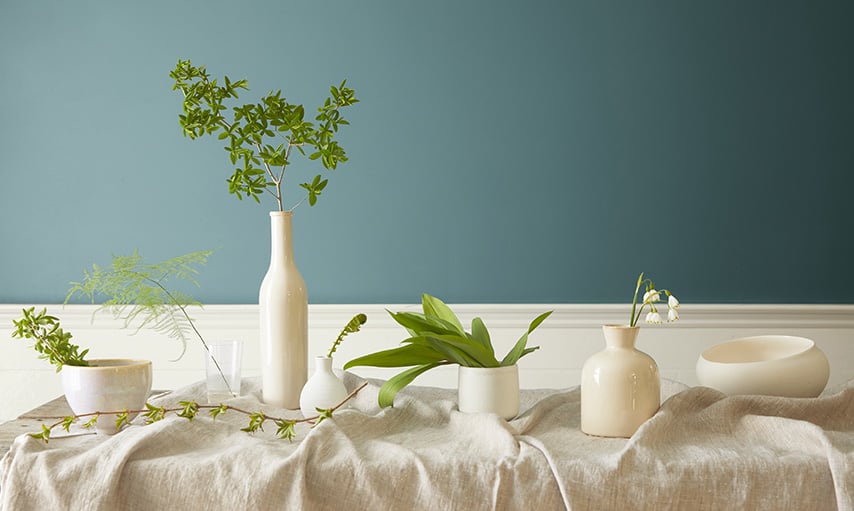 What We Love About Aegean Teal 2136-40
Color of the Year in 2021, Benjamin Moore Aegean Teal is a vintage-inspired blue-green that has a hint of gray to keep it grounded. It's a rich medium color that makes a great background for art and home decor, so it's the perfect choice for an accent wall. Complex undertones work equally well with both crisp white and soft cream trim. Prominent deep green undertones make Aegean Teal a cool, enveloping color for a library or media room. Not just for historic homes, Aegean Teal adds sophistication to mid-century and coastal decor. Benjamin Moore Aegean Teal is a part of the Color Trends 2021 palette, a collection of twelve lived-in colors that radiate warmth and well-being.
Does Aegean Teal have warm or cool undertones?
Aegean Teal is a warm blue-green color with a strong undertone of green, which makes the blue shade less cool and more complex. A hint of gray adds an aged softness that keeps it from feeling too intense on four walls.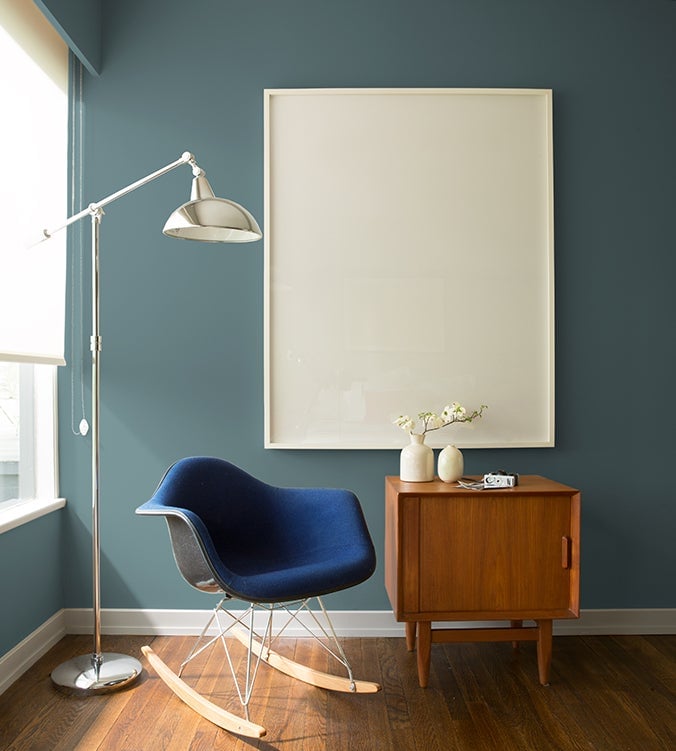 Of course, lighting will influence whether Aegean Teal appears blue or displays more of its green undertones. Direct light warms up the color and brings out the green to make it appear more teal.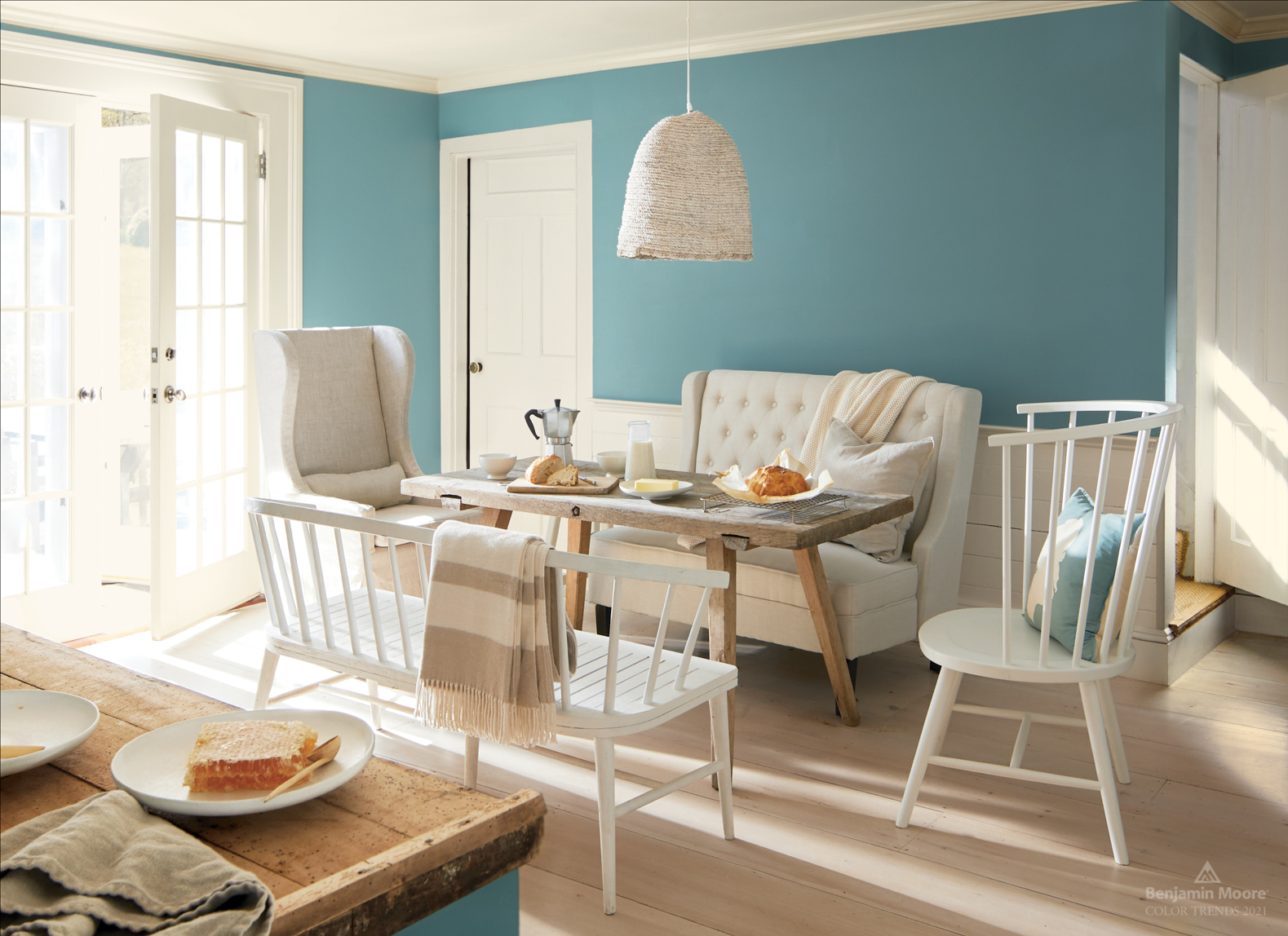 In a room without much natural light, the blue undertones make this rich color feel cooler; warm it up with a gold, beige and clay color palette. Aegean Teal has a light reflectance value or LRV of 23.96 so it's a mid-tone color. Even in bright light it's not a bright teal, because the green undertones are softened by gray. Aegean Teal is not the best blue paint color for north-facing rooms because it lacks enough green undertone to counteract the gray, and it can look cold in low light. In bright, sunny rooms, the slight gray undertone keeps the blue-green hues from turning into a tropical teal.
With both green and gray undertones, Aegean Teal is a complex teal color that makes a statement in traditional, modern and coastal interiors. A popular Benjamin Moore color, it's deep enough to create contrast against white cabinets and trim. If it's too dark on four walls, Aegean Teal is an ideal paint color for an accent wall or kitchen island. Aegean Teal compliments medium and dark wood tones beautifully; it creates rich contrast against bath and kitchen cabinets. Alongside neutral greige or off-white, it creates a coastal vibe, but it holds its own with jewel-toned color schemes. If you've been living with a neutral wall paint like Revere Pewter or Classic Gray and you want strong color, you may want to use Aegean Teal. Paint a blue-green accent wall in a neutral room, or paint the entire master bedroom – you won't be disappointed.
The Best Places To Use Benjamin Moore Aegean Teal
Aegean Teal is a surprisingly versatile color. While it's part of Benjamin Moore's Color Trends 2021 color palette, it's also a reliable companion to historic colors like Stonington Gray, Atrium White and Palladian Blue. If you're looking for a medium blue-green to DIY a cozy library or dining room, consider Aegean Teal. Trimming it in a bright white paint like Chantilly Lace makes traditional woodwork pop; or tone down the contrast with greige color instead (like Benjamin Moore's Edgecomb Gray).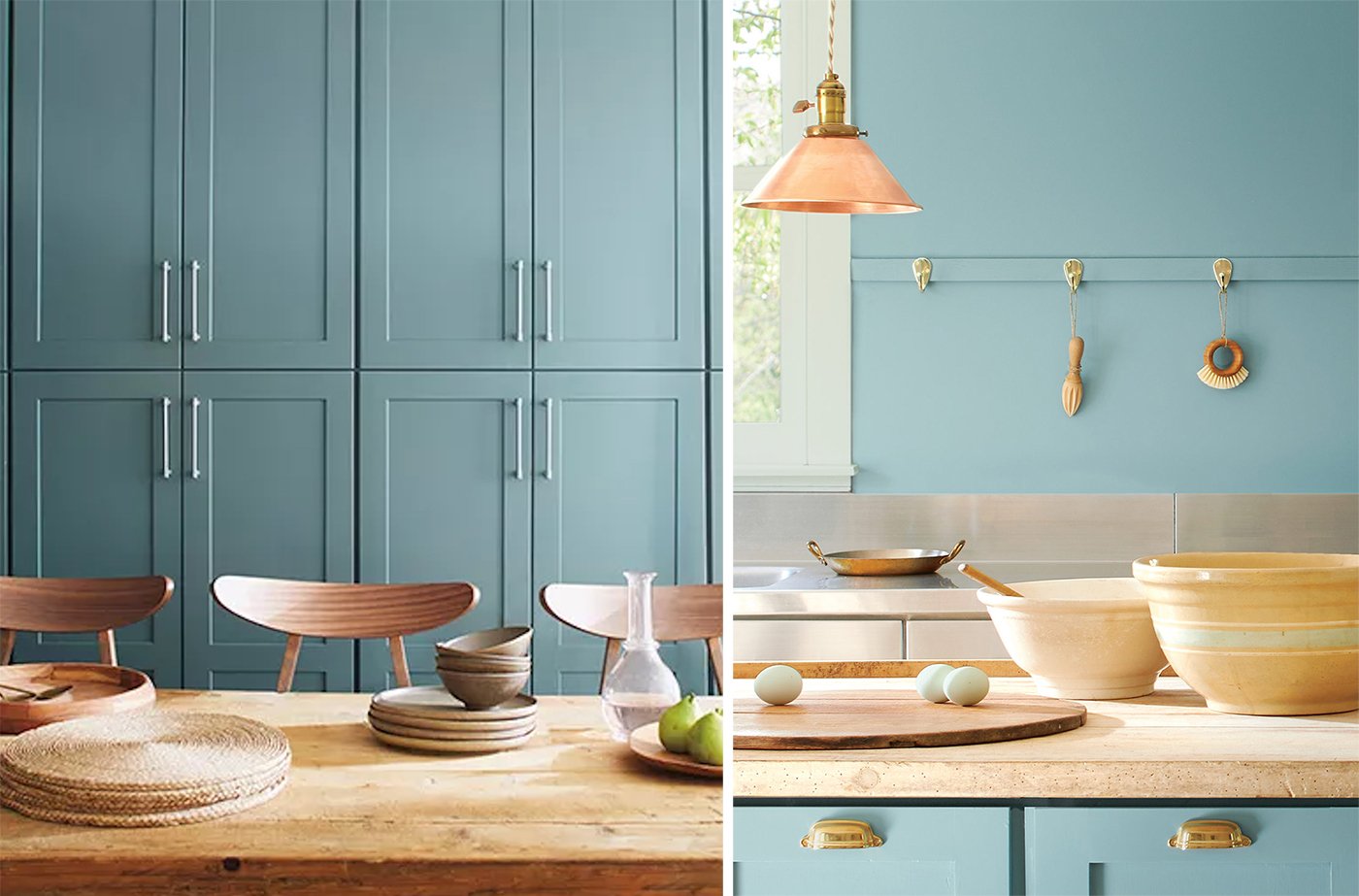 In this bedroom, warm grays and a warm, creamy tone on the ceiling provide soft contrast with Aegean teal on the walls: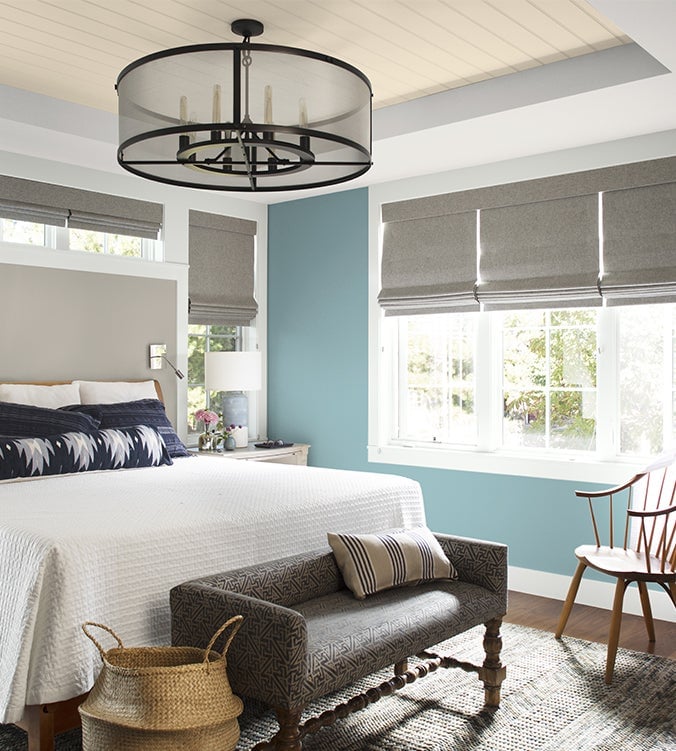 In a brightly lit living room, this color of the year 2021 displays its rich green undertones, but the hint of gray keeps it from appearing aqua: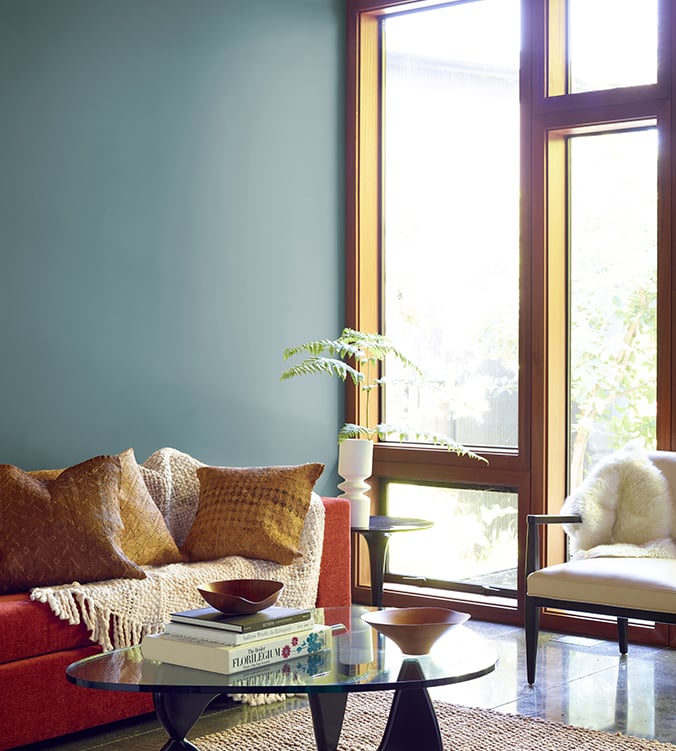 A historic color, like Chestertown Buff's golden yellow, is the perfect complement to Aegean Teal's medium blue shade on this primitive antique cupboard: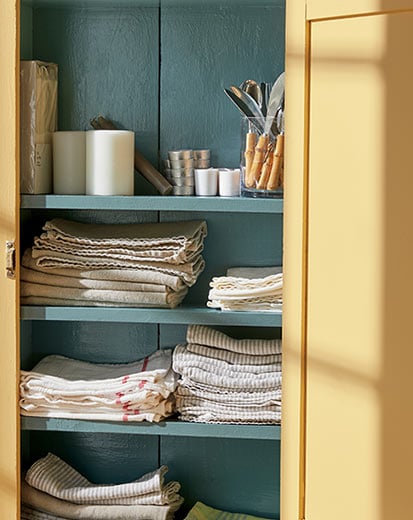 Aegean Teal is a versatile, livable blue that creates a sophisticated finish in a library or home office: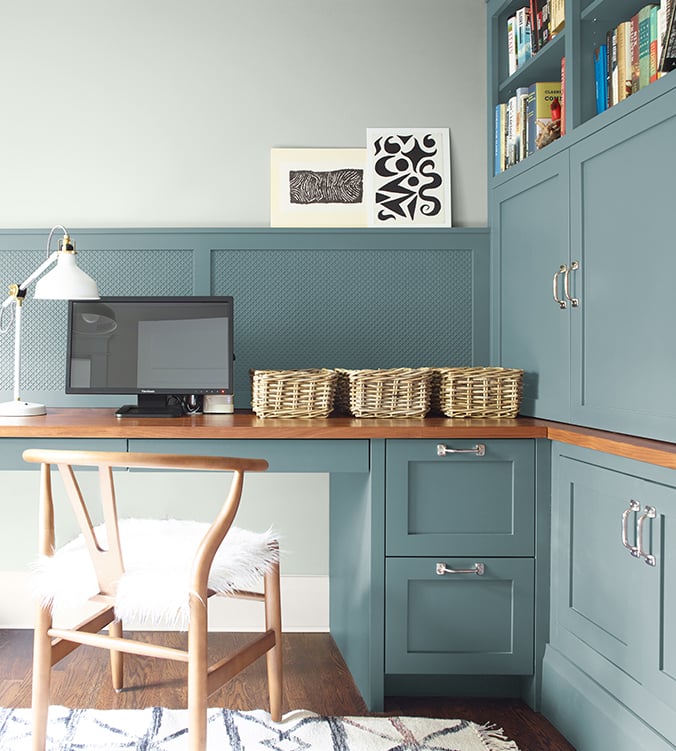 Looking for a pop of color on your home's exterior that won't be too bright? The gray undertones of Aegean Teal complement traditional architecture: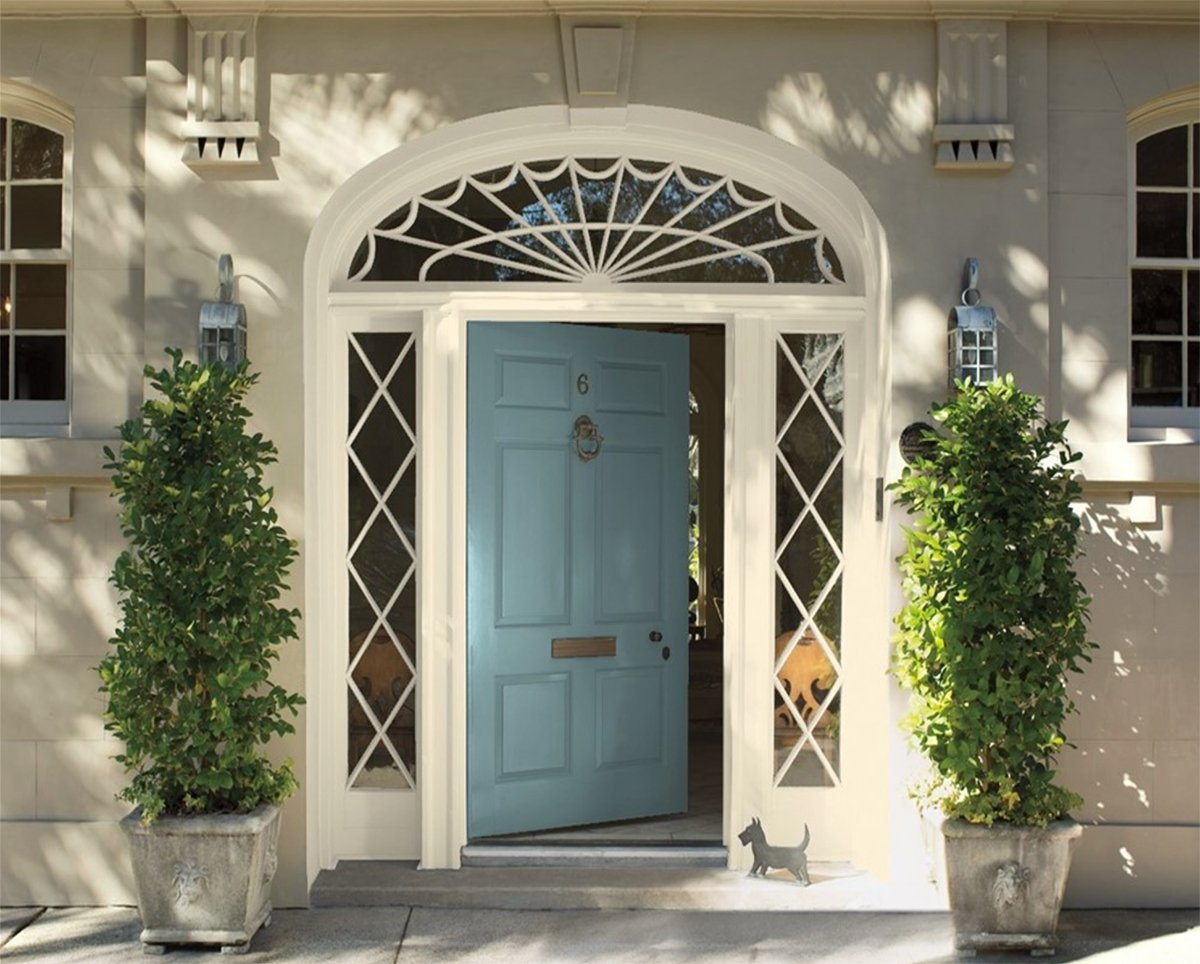 Since it combines so beautifully with historic colors, Aegean Teal is a great way to brighten up a historic home. This classic Cape Cod complements an Aegean Teal exterior with Benjamin Moore's Lancaster Whitewash on the trim, and shutters in Kendall Charcoal. The front door in Chestertown Buff creates a sunny focal point.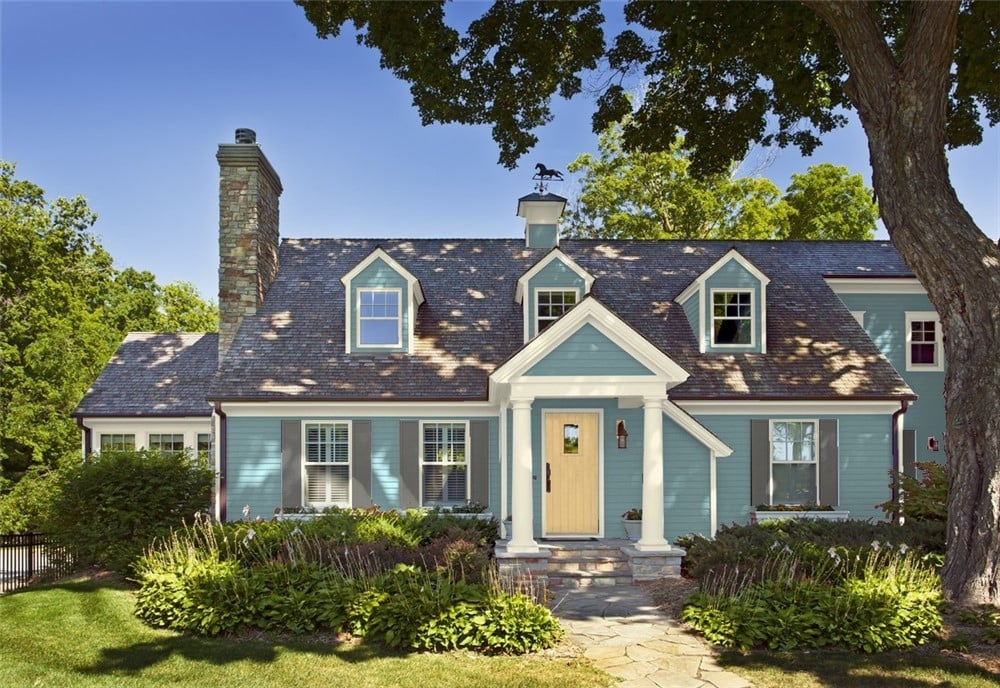 Other Benjamin Moore Paint Colors You May Like
What Colors Go Best with Aegean Teal?
Aegean Teal's versatility makes it the perfect anchor for your interior design color palette.
Pair it with warm, beachy greiges and off-whites like Balboa Mist and Classic Gray for the makings of a cozy, coastal cottage. Trim it with the soft white of White Dove in an open-concept floor plan for a crisp, modern color scheme. Or contrast it with accents of dark gray, terracotta and gold for Old World flair.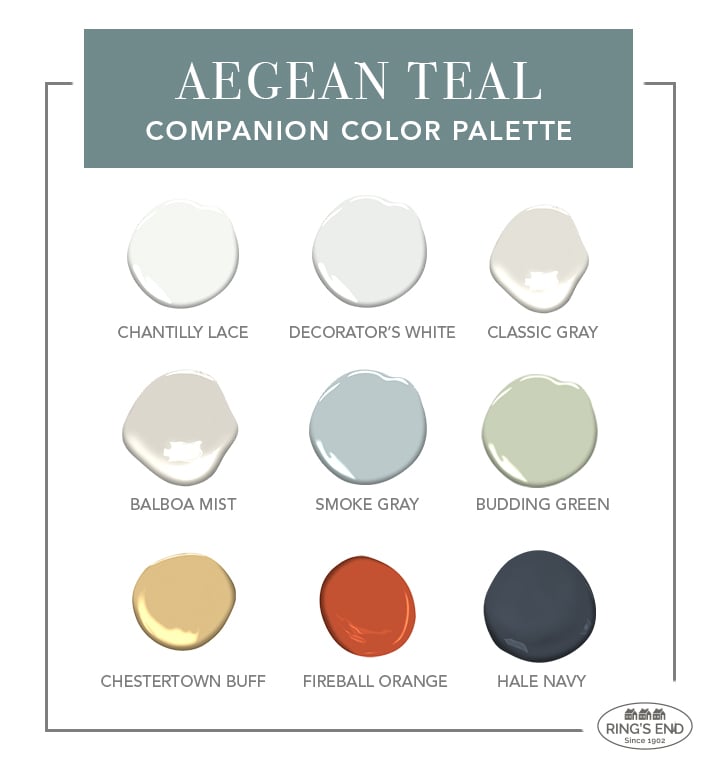 Other Similar Colors
Benjamin Moore offers a rich variety of mid-to-light blue-greens so you can find the perfect fit for your space and lighting. If you like the saturated color and neutral look of Aegean Teal but its LRV of 23.96 is a bit too dark, try a sample of Benjamin Moore's Wythe Blue, which has a lighter LRV of 48.18. For a very pale shade of blue-green, check out Palladian Blue, which has an LRV of 60.
If these paint colors look too aqua in your home, you may want to try a wall color that has stronger gray undertones for more neutrality. Check out Beach Glass and Quiet Moments for a couple of Benjamin Moore options that lean more towards blue-gray paint.
Buy An Aegean Teal Benjamin Moore Paint Sample
Blue paint colors are susceptible to shifts in undertone that could make them appear cooler or warmer depending on the lighting conditions and time of day. We recommend testing a sample of Aegean Teal and any other options you're considering before deciding on your final choice.
Our favorite designer tip for an easy way to test paint swatches on multiple walls in your house, is to paint a large poster board using a Benjamin Moore Paint Color Sample; then move it around the room to observe the color on different walls and in different lighting conditions.
Once you've settled on your color choice and are ready to order your paint, come back here and check our Interior Paint Guide to help you find the right sheen and product for your home!