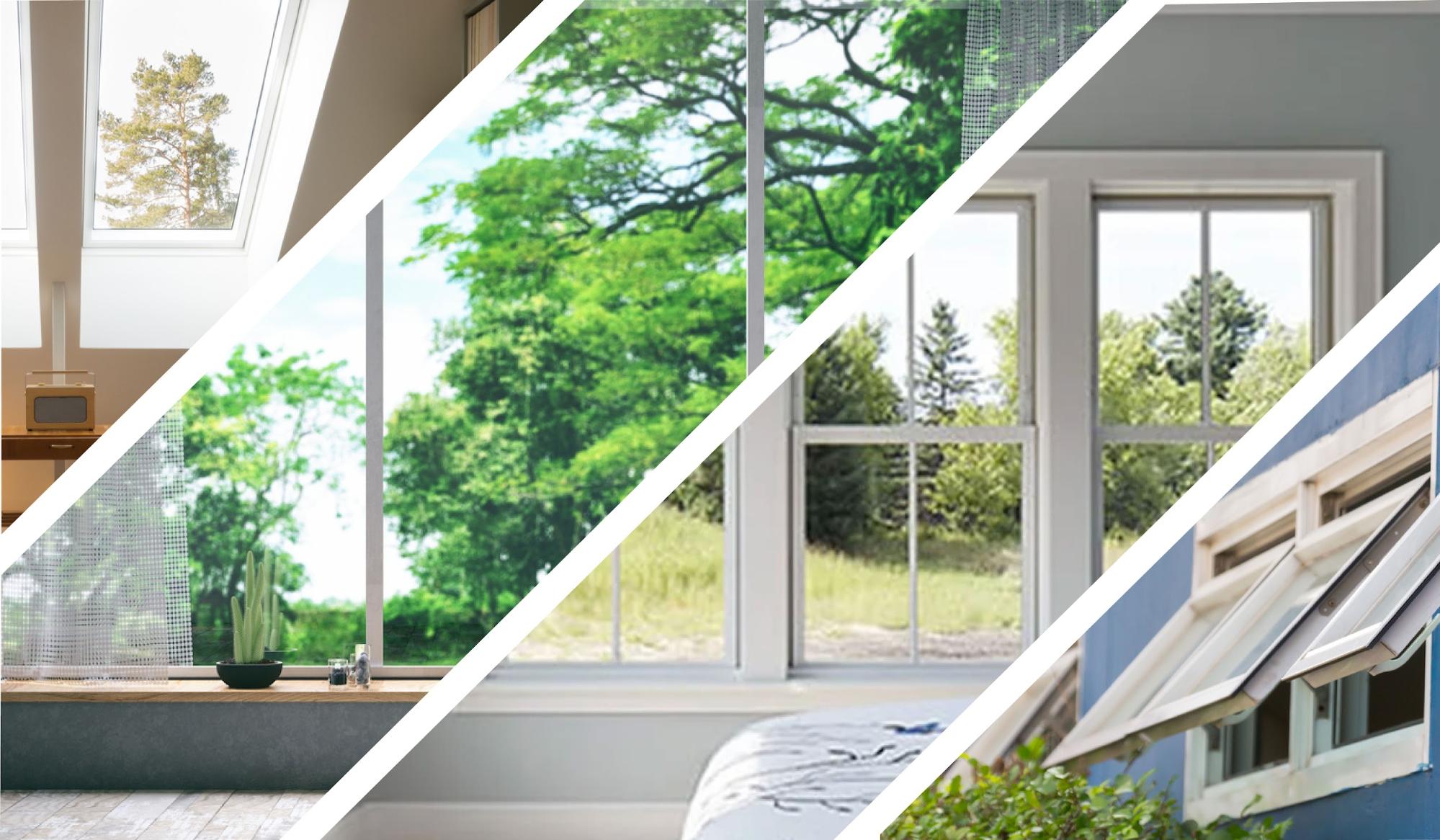 Shop for new windows nowadays and you'll quickly find yourself confused by all of the different types of windows. If you're building a new home, the window selections are included in the architect's plan - but you still have to make decisions. If you're renovating an existing home, there are design issues to think about; updating your home's window styles is a great way to improve curb appeal. Choosing windows is about more than the home's appearance, however; most homeowners want increased energy efficiency and easy operation as well. If buying new windows is in your future, this guide provides the basics about the most popular types of windows.
Let's begin with some terminology. All residential windows belong to one of three categories:
Fixed Windows: Windows that do not open, like a picture window:
Operable Windows: Windows that open for ventilation; most residential window types are operable.
Egress Windows: An operable window that's large enough for a person to escape through in an emergency; usually required in bedrooms.
Be sure to check local building codes to make sure you choose the right windows for each room in your home. Once you've determined whether the new windows should be operable, it's time to choose a style. Here are the most popular window types available today:
Most Popular Types of Windows
Double-Hung Windows

This common window style is popular on traditional homes; it's divided into top and bottom sashes. The top sash slides down and the bottom sash slides up, so you can open all or part of the window to let fresh air in. They often have divided lites or window grids to replicate historic paned windows. Modern double hung windows tilt inwards to make them easy to clean. To learn more about double hung windows, be sure to read our helpful article, What Is A Double Hung Window?
Single-Hung Windows

While they look almost exactly like double hung windows, single-hung windows have a fixed top sash and a movable bottom sash that slides up and down. They are one of the most affordable window types, but they do not circulate the air as well as other windows.
Casement Windows

Casement windows have hinges on one side so they can swing open like a door. They provide excellent ventilation and are easy to operate by turning a crank. Because they form a tight seal they're more energy-efficient than windows that slide. Casements are often found flanking a picture window; they're also convenient for hard-to-reach spots in bathrooms and over the kitchen sink. Learn all about casement windows and how to use them in our blog post, What Is A Casement Window?
Awning Windows

An awning window opens just the way you'd imagine – anchored by a hinge at the top and swinging outward at the bottom. They provide good ventilation and can be left open during light rain. Like casement windows they seal tightly for the best energy efficiency. Awning windows are also good for hard to reach areas, and places like basements where you want to keep pets or kids safely inside. When an awning-style window opens inward it's actually called a hopper window. To learn more about how to use awning windows in your home, check out our blog post What Is An Awning Window?
Sliding Windows

Gliding or slider windows have glazed panels that move from side to side along a track. They are easy to operate and can open wide to let plenty of fresh air in. Ideal for living rooms, sliding windows can be single, where one side moves, or double, where both sides can slide.
Bay Windows

A bay window is a combination of three or more windows that extends out from the home's exterior wall to create a bay or alcove. They usually have a large, fixed center window with angled windows on either side that are operable; typically the side windows are double hung or casement windows. Bay windows provide wider views while adding some extra living space. Miniature bay windows that provide space for plants are known as garden windows.
Bow Windows

Like a bay window, a bow window extends outwards to create more interior space, but it forms an elegant curved shape. Bow windows usually combine four or more tall, narrow windows and often include operable casement windows. To learn more about different types of Bay and Bow windows, be sure to read our Buyer's Guide.
Picture Windows

Picture windows are large, fixed windows that let in plenty of light and frame a view of the outdoors. They are often combined with windows that open as part of a window wall. Fixed windows that are not rectangular or square are called "picture specialty shape" windows. These glass panes are available in hundreds of geometric shapes, from polygon to triangle to round top. They are a common window style in mid-century modern homes.

If you're considering picture windows for your home, you'll find plenty of helpful ideas in this article: Picture Window Ideas For Clear, Stunning Views
Corner Windows

Just as the name implies, a corner window is made from two fixed windows that meet at a corner, replacing a wall with glass. Like picture windows, corner window designs expand the view and provide a clean, modern aesthetic. Because extra structural support is needed, corner windows are not an easy DIY home improvement.
Transom Windows

A transom window is a rectangular window that is installed directly above a door or a large window. Transom windows may be fixed or operable; in older homes they were often used for ventilation and air circulation between rooms. Today they are an easy way to increase the light in a home.
Skylights

Skylights are actually windows installed in the roof of a building to provide natural light. They may be either fixed or operable; skylights that open are very efficient at letting hot air escape. Awaken skylights by Marvin actually open on all four sides for superior ventilation. These smart skylight windows also have built-in, tunable lighting to create organic light any time of day.
Choosing Replacement Windows

A replacement window has generally been designed to replace an existing window without disturbing the surrounding frame, trim work or exterior siding. However, new construction replacement windows also offer you the option to install an entirely new type of window for updated style or design. Replacement windows are mass-produced to fit standard window openings, and custom sizes are also available. Popular frame materials include vinyl and fiberglass. To learn how to choose replacement windows, be sure to read How to Choose Between New Construction vs. Replacement Windows.
Comparing Pros And Cons Between Window Types
Each type of window has unique features so it's important to become familiar with how the different window types look and function. Choosing the best type of window for your home depends on several factors:
Energy Efficiency:
Modern windows are designed for energy efficiency; consider the climate in your area and choose the best low-E glazing and frame material your budget allows. Efficient windows not only provide good insulation against the weather, they reduce energy loss for lower utility bills. Modern window glazing reflects the sun's heat outwards in summer, and retains it inside in winter.
Window Style:
Consider the architectural style of your home and choose a window type that complements its design. For example, if your home is a classic Colonial with double hung windows, then casement windows would be inconsistent and look odd. Traditional home windows typically have grilles, but they are less popular on newer home styles. If you're not sure, consult an architect or chat with our window experts at Ring's End.
Ventilation:
Different window types provide varying amounts of ventilation and air circulation. If you want to maximize airflow, consider windows that are designed to provide the most ventilation, such as casements, awning windows, and skylights.
Maintenance:
Some window materials are more low maintenance than others. For example, wood windows need to be painted or stained every few years, while fiberglass windows never need painting. Tilt-in double hung windows and casement windows are the easiest window types to clean.
Security:
Look for windows that provide good security features, such as sturdy locks, extra glazing and solid frames to help keep your home safe.
Budget:
Different window types and materials come at different price points; to get the most out of your budget, choose longer-lasting window materials like fiberglass. If you choose high quality windows, you'll likely never have to replace them in your lifetime.
Lifespan:
Prices can vary dramatically for different types of windows, and it may seem that a lower window cost up front will be easier on the budget. However, the best windows are ones that won't need replacing. Vinyl windows have the shortest lifespan at 10-20 years and fiberglass windows can last 50 years. Even though fiberglass windows are more expensive, their lifespan makes them a more cost effective choice over time.

Shop For Marvin Windows At A Ring's End Showroom
Are you renovating a home or considering replacement windows? You'll love Marvin's extensive selection of designer window options – and their uncompromising quality. Choose among four high-quality collections and a range of price points, each with an industry-leading warranty.
Our window and door experts make it easy! They're ready to help you navigate through the choices, set up an installation plan, and deliver your doors safely and efficiently. Visit a Ring's End showroom, or schedule an in-home appointment with one of our Marvin experts. Get started today!