Benjamin Moore Wrought Iron Review & Inspiration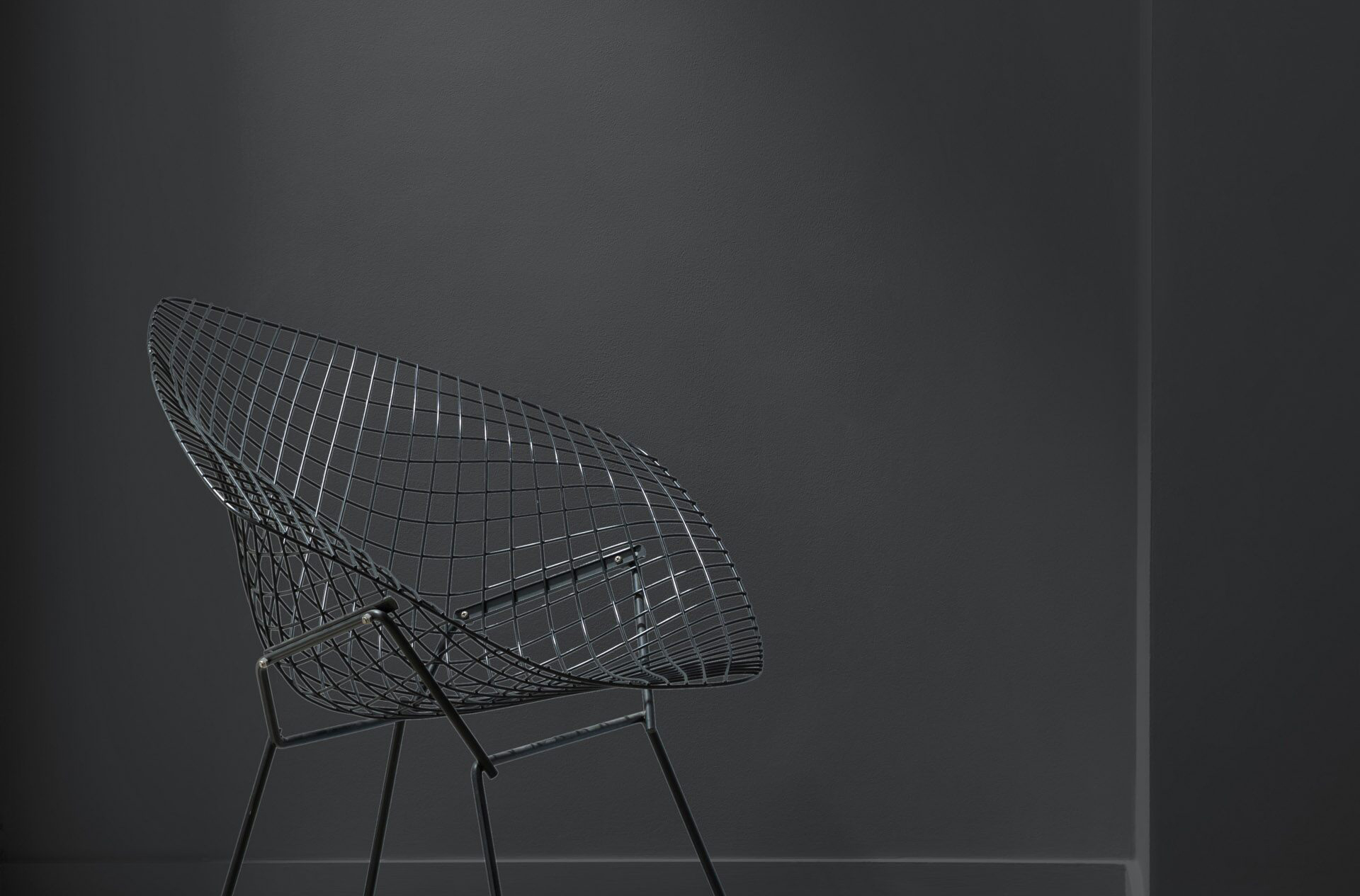 Looking for the perfect black paint color? With its depth and soft, navy undertones, Wrought Iron is a Benjamin Moore color to consider. This muted black paint is part of Benjamin Moore's Color Preview, a collection of bold and saturated hues beloved for their versatility. This unique charcoal paint color has a modern, refined look that makes a dramatic statement in your home. BM Wrought Iron is perfect for a DIY accent wall, kitchen cabinets, exterior paint, doors, wainscoting, and more.
What We Love About Wrought Iron 2124-10
Benjamin Moore's Wrought Iron has become a favorite of many designers and homeowners over the years. Seen in many residential properties today, a black color that resembles iron ore is modern and stylish. In an open plan home or a large room, an accent wall painted with Wrought Iron will create a more cozy, intimate feeling. In a room without much natural light, it can obscure the corners of the room and make a small space feel larger, creating a sense of expansiveness.
Wrought Iron is a Soft Black With Navy Blue Undertones
Wrought Iron is a softer, more mutable shade of black. It has deep navy blue undertones that are more apparent in natural lighting. These undertones add complexity that gives this black color a sense of sophistication and depth. Even though it has complexities, Wrought Iron can be used as a neutral in the home, complementing white paint colors and shades of gray or beige. Unlike true black which reflects no light, Wrought Iron has a light reflectance value (LRV) of 6.16, which means that it reflects a small amount of light. Like many dark gray paint colors, Wrought Iron displays variations in undertone that are never found in a true black.
Where to Use Benjamin Moore Wrought Iron
If you're trying to decide on a dark color to paint the interior or exterior of your home, consider adding Wrought Iron to your color scheme for its unique undertones. Before you head to the paint store, check out some pictures of Wrought Iron paint to see if it's right for your home design.
Benjamin Moore Wrought Iron Interior Paint Ideas
This elegant inky gray is a stylish choice for multiple areas throughout the home. Besides creating a dramatic statement on feature walls, it's often used for kitchen islands, kitchen cabinets, interior doors or even entire living rooms. Benjamin Moore Wrought Iron cabinetry makes a bold focal point for a kitchen or bathroom. Wrought Iron also works beautifully on shutters, window frames and doors both indoors and out. Or, consider this dark and moody color for a media room; it'll add instant flair to urban interiors.
Wrought Iron's cool undertones complement natural wood tones nicely. Pair it with a pure white like Chantilly Lace for a crisp, traditional look.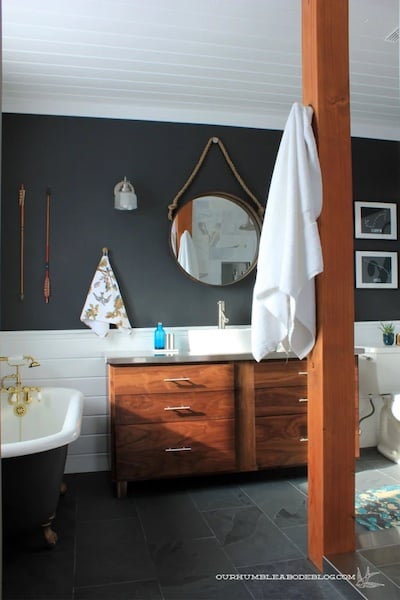 Use Wrought Iron to update traditional interior woodwork. In this bedroom, a paneled wall is turned into a bold accent with Wrought Iron's charcoal tone.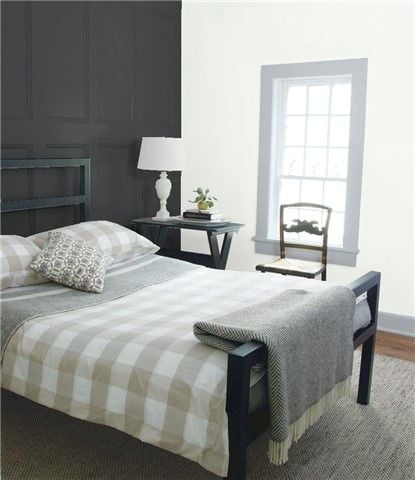 Benjamin Moore Wrought Iron Exterior Paint Ideas
Choosing Wrought Iron as an exterior paint color might sound a little daring, but it's actually a versatile and popular exterior color. This deep, dark color looks striking against light-colored siding or white trim. A Wrought Iron front door and shutters create a crisp, classic look upon arrival to the home while Wrought Iron garage doors look clean and sleek.
As an exterior paint color, Wrought Iron is used to create a modern look, adding drama to classic farmhouse architecture.
As an accent color, Wrought Iron draws the eye to a chosen spot. Here the eye is naturally drawn to the bold color on the door.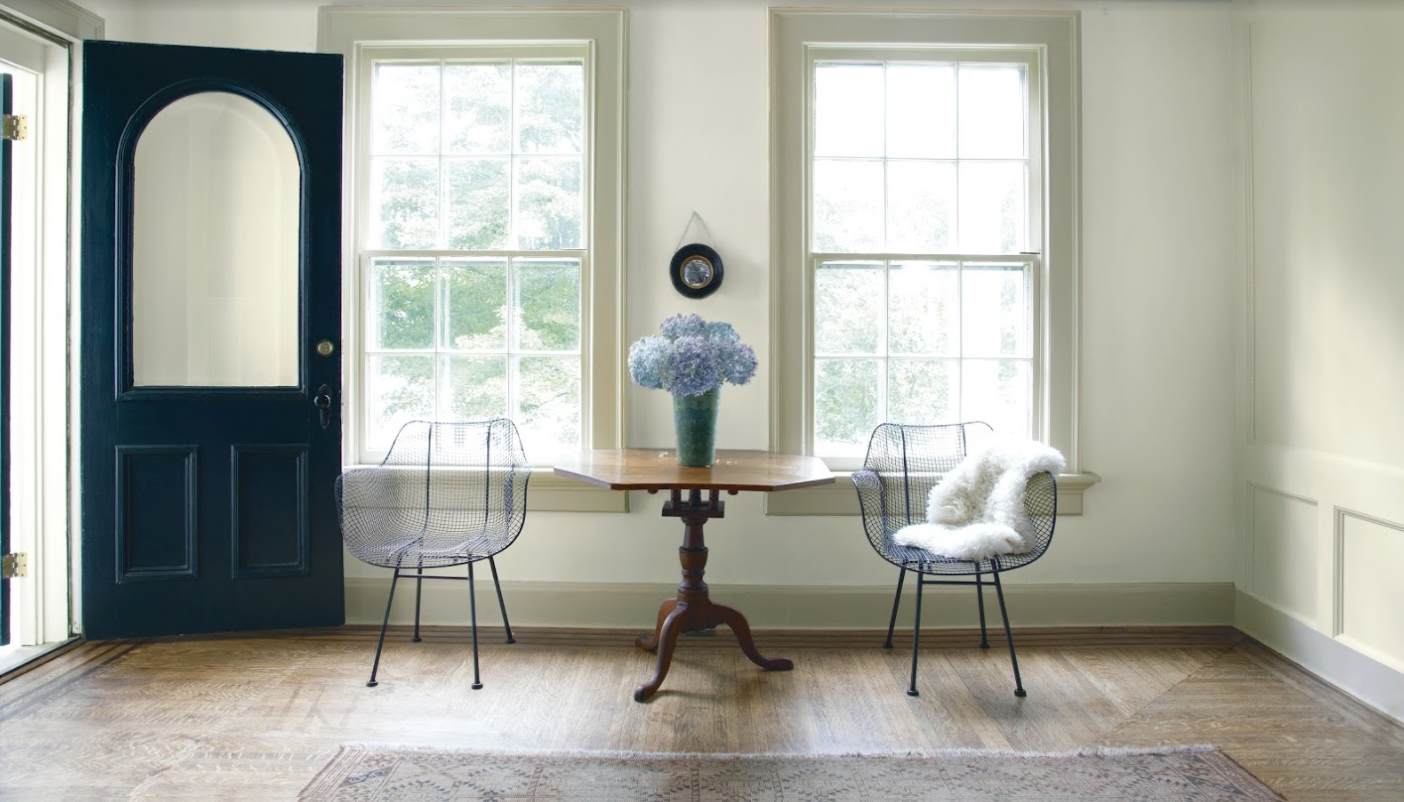 Here, Wrought Iron adds a dramatic look to garage doors. The charcoal color stands out next to the natural green, but it's softer and more sophisticated than a true black.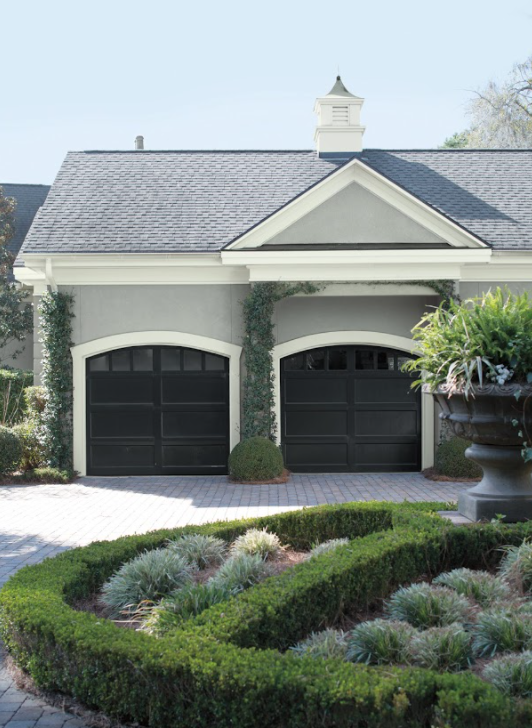 Benjamin Moore Wrought Iron vs. Kendall Charcoal
If you're trying to decide between two shades of dark gray, the color's undertones are really important. Wrought Iron's slight blue undertones make it a cool gray. If you'd rather have a warm shade of gray, check out Kendall Charcoal. It has a brighter LRV of 13 and slightly green undertones that warm it up. In certain lighting it may even look gray-brown. Kendall Charcoal's warm tint pairs really well with pinkish-coral shades like Benjamin Moore's 2022 Color of the Year, Raspberry Blush; Wrought Iron's coolness works better with orange-clay shades like Benjamin Moore's Flower Pot.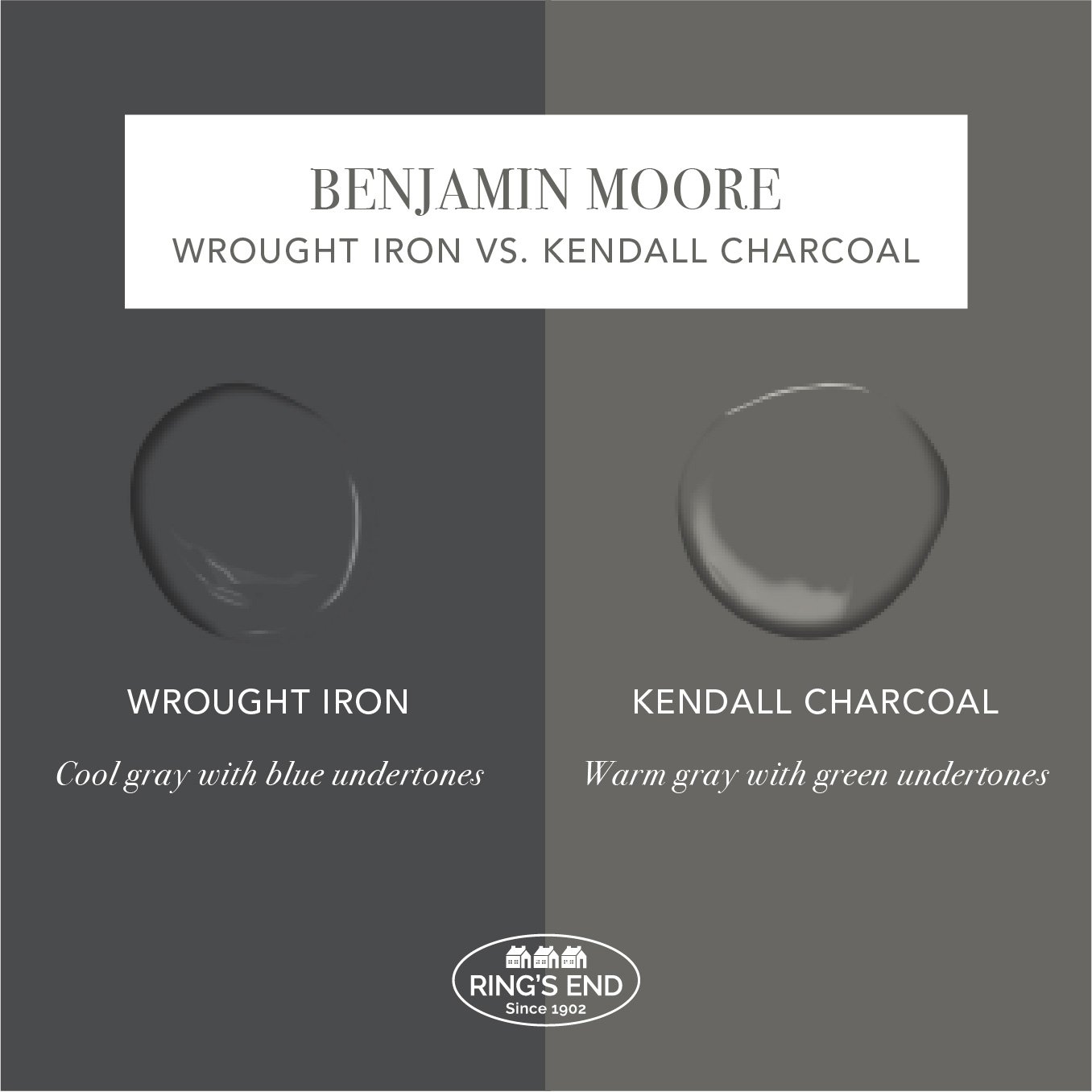 Other Benjamin Moore Paint Colors You May Like
Ready to paint your walls in Wrought Iron? Here are some color considerations to make the most of this popular paint color.
A black color like Wrought Iron has a moody vibe, so to keep things cheerful we like to brighten it with other neutral paint colors and pops of color. Use off-white or white trim to set off black walls. For warmth, use a creamy white like Swiss Coffee. Create a neutral, sophisticated look with the complex undertones of White Dove. Because of its neutral undertones, interior designers love Chantilly Lace; it may be the best white to use with Wrought Iron.
To make a bold color statement, pair Wrought Iron with a deep coral-pink like Benjamin Moore Raspberry Blush. It also works beautifully with popular aqua-blue paint colors like Aegean Teal and Smoke.
Other Similar Colors
Still considering other shades of dark gray and black? Here are some of the most similar colors to Wrought Iron.
Midnight Oil: Slightly lighter and warmer than Wrought Iron, Midnight Oil is another dramatic choice for your walls.
Cheating Heart: Another rich charcoal, this shade features blue undertones.
Raccoon Fur: If you like a more celestial inky hue, then this is the one. Raccoon Fur has a purple undertone that creates a very playful, modern effect.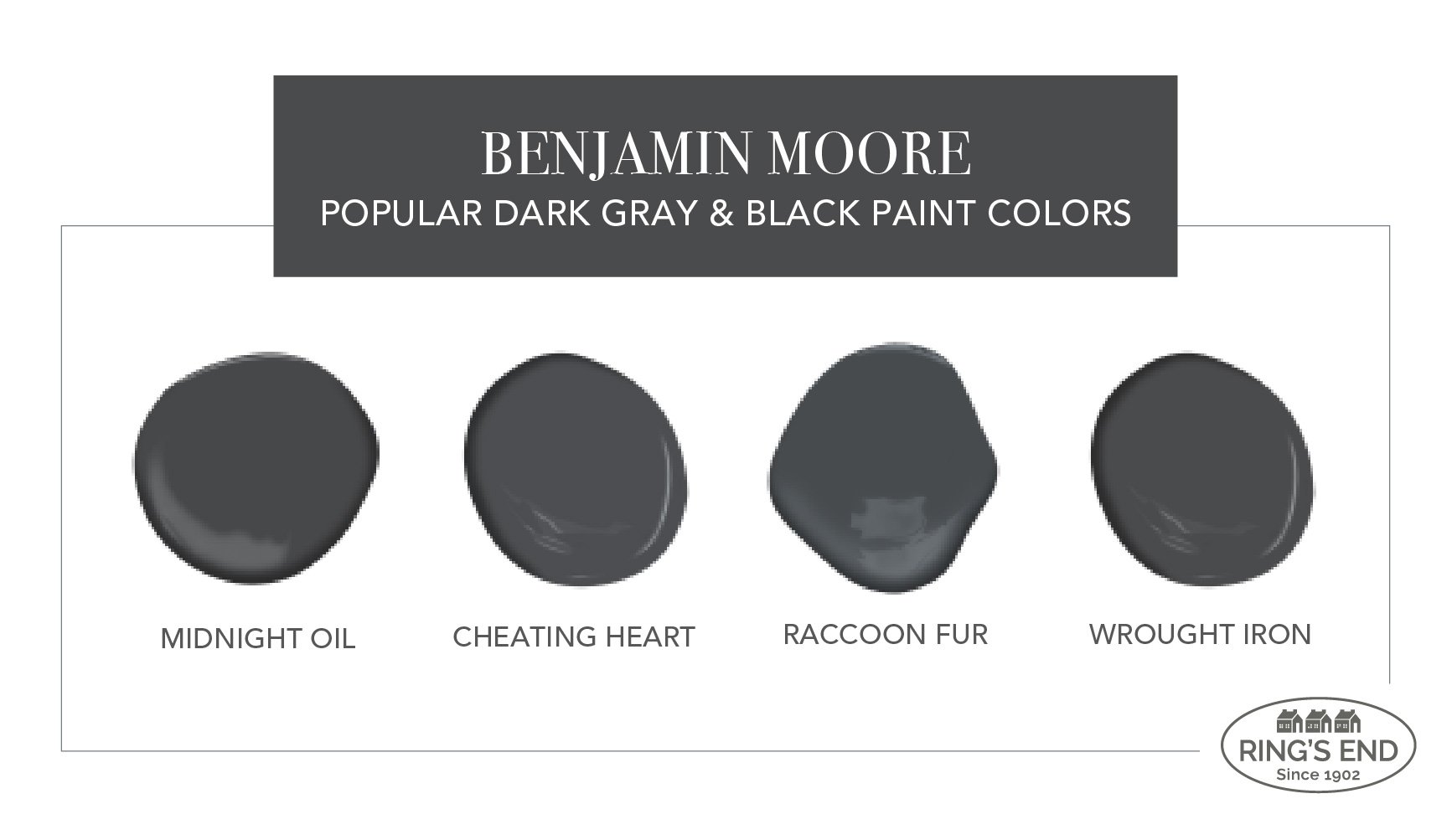 Buy Benjamin Moore Wrought Iron Paint & Samples
Complex black colors like Wrought Iron are susceptible to shifts in undertone that could make them appear brighter or darker, depending on the lighting conditions and time of day. We recommend testing a sample of Wrought Iron and any other options you're considering before deciding on your final choice.
One of our designers' favorite tips for an easy way to test paint swatches on multiple walls in our home, is to paint a large poster board using a Benjamin Moore and move it around the room to observe the color on different walls and in different lighting conditions.
Once you've settled on your color choice and are ready to order your paint, come back here for free shipping* on our best-selling Aura Waterborne Paint.

*Free shipping on all standard orders of $150 or more