Benjamin Moore Wrought Iron Review & Inspiration
What We Love About Wrought Iron - 2124-10
Wrought Iron is a soft black paint color that's part of Benjamin Moore's Color Preview, a collection of bold and saturated colors. Wrought Iron is a color full of depth—near black, but with subtle undertones that soften it. This charcoal paint color has a modern, refined look and makes a dramatic statement. It's perfect for an accent wall in the home, kitchen cabinets, exterior paint or doors and trim, Wrought Iron is one of the favorite charcoal shades used by interior designers.
Wrought Iron is a Soft Black With Navy Undertones
Wrought Iron is a deep charcoal with slight navy blue undertones that will be more apparent under bright lighting. It's a nice alternative to a true black, especially as a wall color, since it has a softer quality and absorbs less light. The dark blue undertones add complexity that gives this color a sense of sophistication. In an open plan home or a large room, an accent wall painted with Wrought Iron will bring the walls closer and create a cozy feeling. This elegant off-black is a stylish choice for a kitchen island, cabinetry, or to update built-in bookshelves. Wrought Iron also works beautifully on shutters, window frames and doors both indoors and out.
Use Wrought Iron in brightly-lit rooms to experience its navy undertones. In a room without much natural light, it can obscure the corners of the room and make a small space feel larger. Consider this dark and moody color for a media room or powder room; it'll also add style to urban interiors. Be sure to test Wrought Iron before painting by placing paint samples in several spots around the room. Then pay attention to how the color and its undertone changes as the light changes throughout the day.
The Best Places to Use Benjamin Moore Wrought Iron
If you're thinking about painting part of your home black, consider Wrought Iron as a softer alternative. The calming gray-blue undertones reflect a small amount of light compared to pure black, a feature that adds life to walls and woodwork.
Wrought Iron is a paint color that works well for both interior or exterior applications. It's a bold color that's popular for use on an accent wall, or on a focal point like kitchen cabinets or doors. It works beautifully with mid-century modern colors like pistachio green, aqua or coral.
Wrought iron's cool undertones also complement natural wood tones nicely. Pair it with a neutral white like Chantilly Lace for a crisp, traditional look: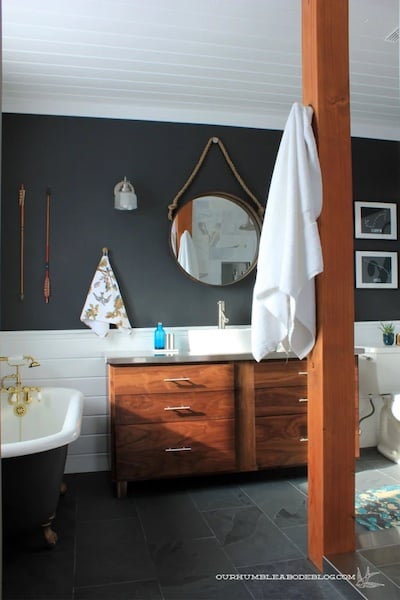 Use Wrought Iron to update traditional interior woodwork too; in this bedroom, a paneled wall is turned into a bold accent with Wrought Iron's charcoal tone: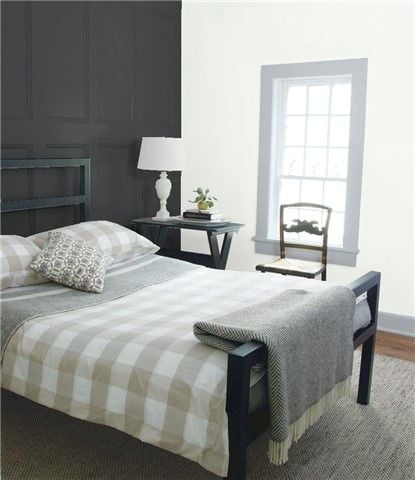 As an accent color, Wrought Iron draws the eye to a chosen spot. Here the eye is naturally drawn to the bold color on the door. The same effect can be achieved in the kitchen with Wrought Iron on the kitchen island.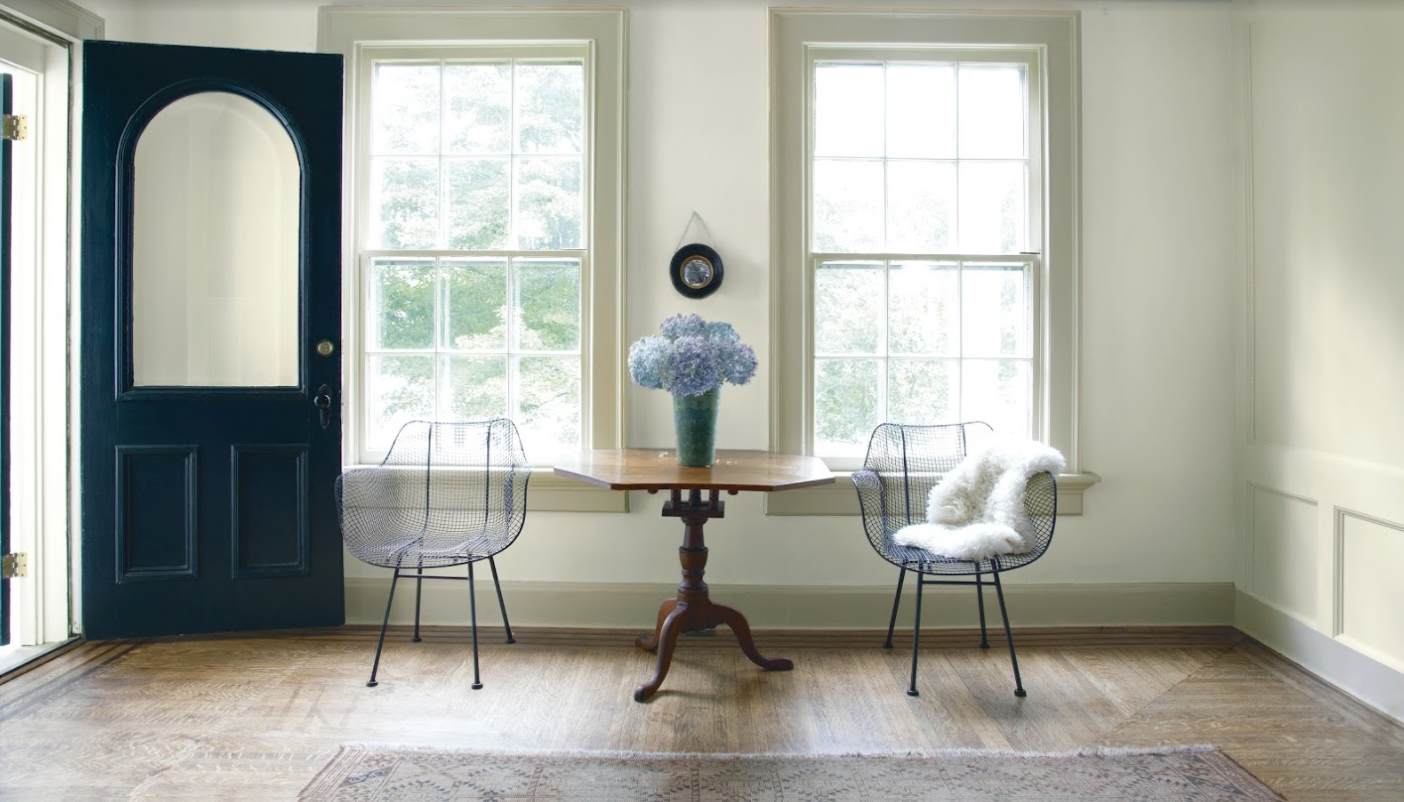 Here the accent wall in Wrought Iron helps to balance the bold graphics of the wall calendar:
As an exterior paint color, Wrought Iron is used to create a modern look and add drama to classic farmhouse architecture:
Here it adds a dramatic look to garage doors. The charcoal color stands out next to the natural green, but it's softer and more sophisticated than a plain black.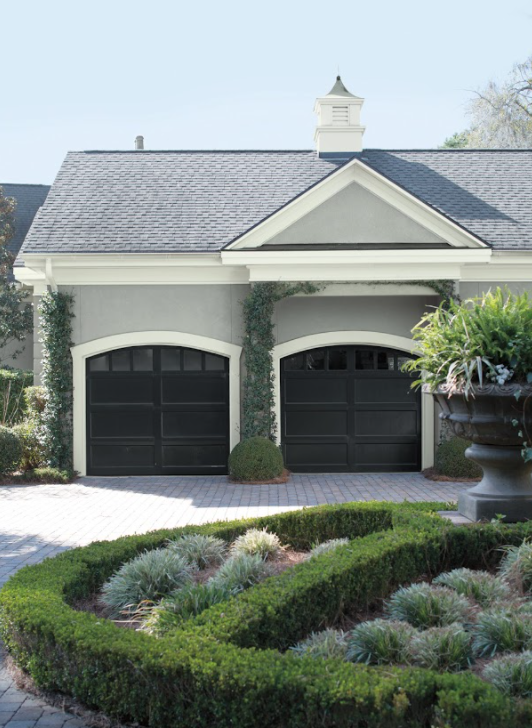 Buy Wrought Iron Paint & Samples
Wrought Iron is available at Ring's End in a variety of paint sheens and sizes. Buy it in our best-selling Benjamin Moore paint line today!
Want to see how Wrought Iron looks in your home before deciding if it's the right color? Try our 16 Oz Paint Color Samples that are used by professional interior designers.
Paint colors you may also like…
If your heart is set on Wrought Iron, then it's time to think about how you can get the most out of this bold, saturated color. Whether you're using Wrought Iron in the home, as a feature, or an accent color we recommend pairing it with one of the pure white paint colors from Benjamin Moore, such as Simply White or Super White. The contrast of white will brighten a space, making Wrought Iron pop.
Other colors to pair with deep saturated colors include grays such as Edgecomb Gray or Gray Owl.