Benjamin Moore Smoke Review & Inspiration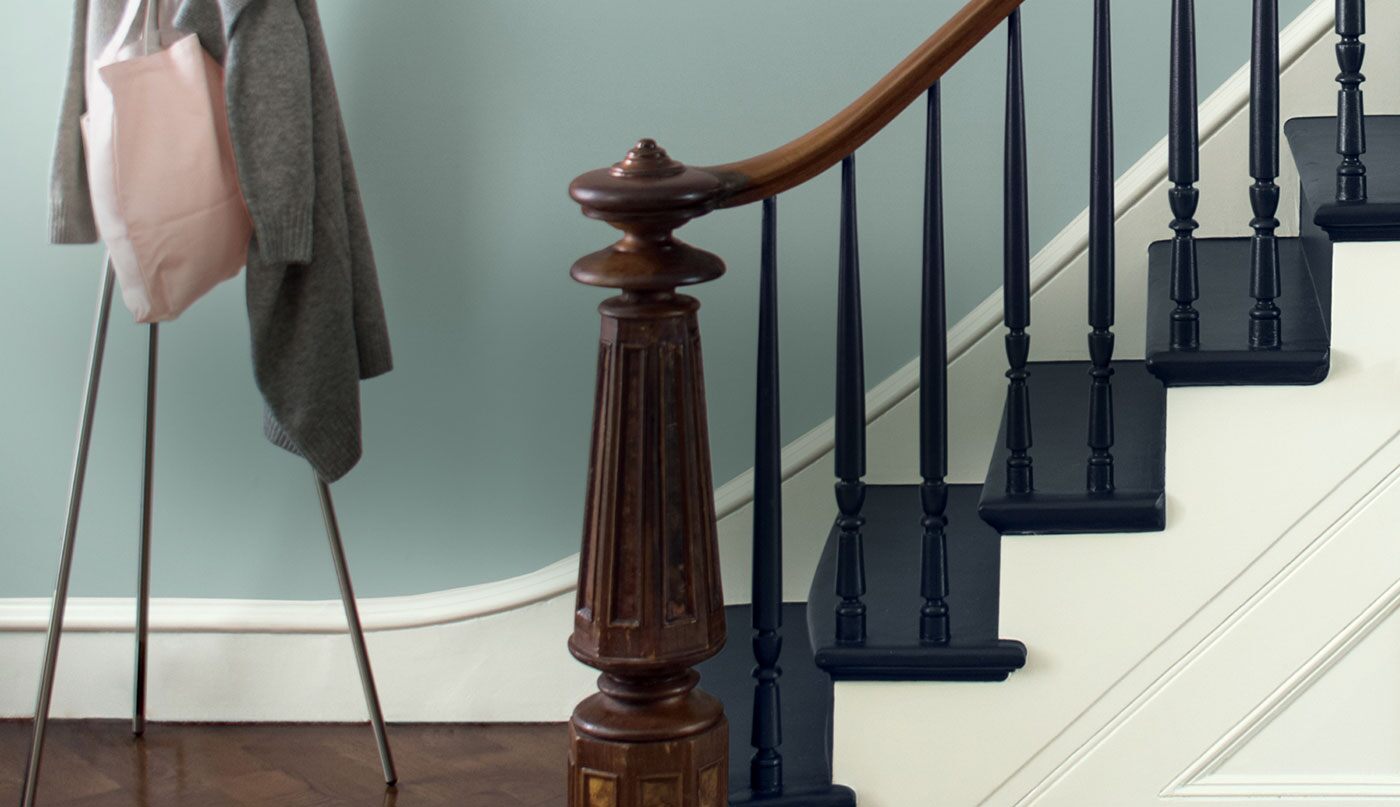 What We Love About Benjamin Moore Smoke 2122-40
Benjamin Moore Smoke is a beautifully muted, medium gray-blue paint color that changes with the light to create interest throughout the day. This complex, sophisticated color provides a tranquil backdrop for furniture and art, creating a cozy elegance in living rooms, dining rooms and bedrooms. It has enough color to enhance both light and dark wood finishes, and it makes a beautiful accent wall color in open floor plans. Smoke's blue undertones complement the cool look of gray marble so it's a stylish choice for bathroom and kitchen cabinets. Smoke is part of the Benjamin Moore Color Preview Collection, which offers gradations of color mathematically arranged by hue and value, from vibrant shades to subtle hues.
Undertones In Benjamin Moore Smoke
Smoke is definitely a member of the gray family, but it has distinctly blue undertones. It also has a slight green undertone that can appear in certain lighting conditions. However, be careful not to confuse it with Benjamin Moore's Pale Smoke 1584 which is a lighter gray-green, or Smoke Gray 2120-40, a dark gray with smoky blue undertones. In most rooms Smoke has a blue-gray appearance, making it a versatile choice for traditional, modern and coastal interiors.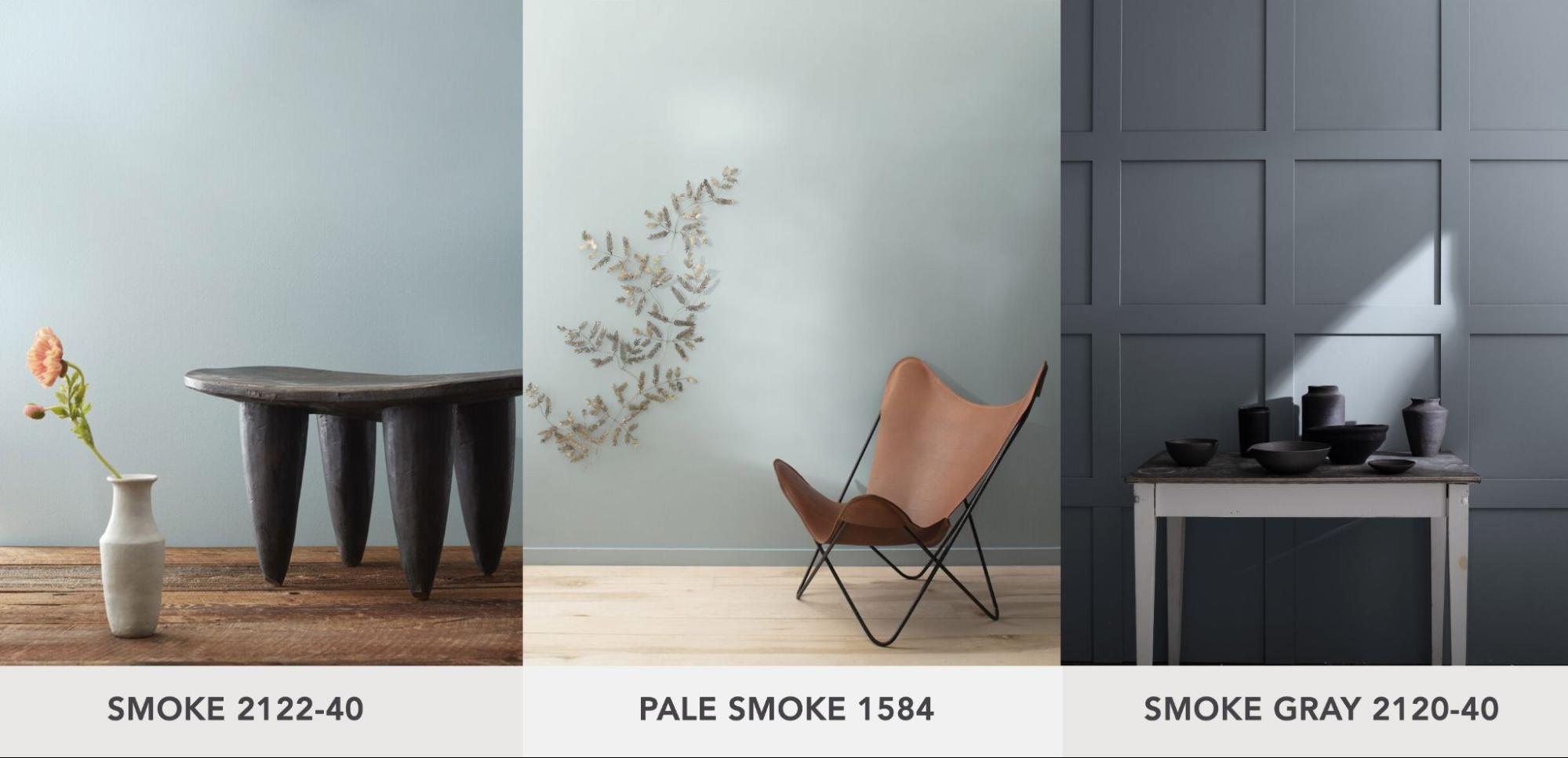 Benjamin Moore Smoke has a light reflectance value or LRV of 56.49, which makes it a medium shade. Despite its gray origins, Smoke is a richly saturated color that contrasts beautifully with white trim and home decor. Under a cloudy sky or in North-facing rooms, Smoke interior paint definitely looks more gray. In the yellow light of South-facing rooms, this mutable color will display more of its green undertones for a spa-like, aqua-gray appearance. Choose an eggshell paint finish to enhance all of Smoke's unique undertones.
Where To Use Smoke 2122-40
Smoke is a surprisingly versatile paint color that defies color trends and works in almost any space. A favorite of interior designers, its cool softness is an ideal background for the warm color schemes of antique furniture and vintage rugs: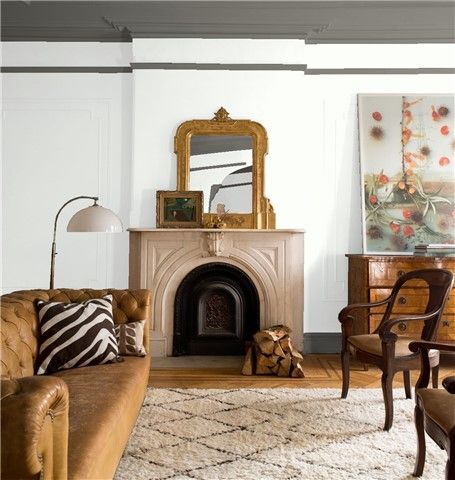 It's also a stylish addition to mid-century modern and contemporary interiors: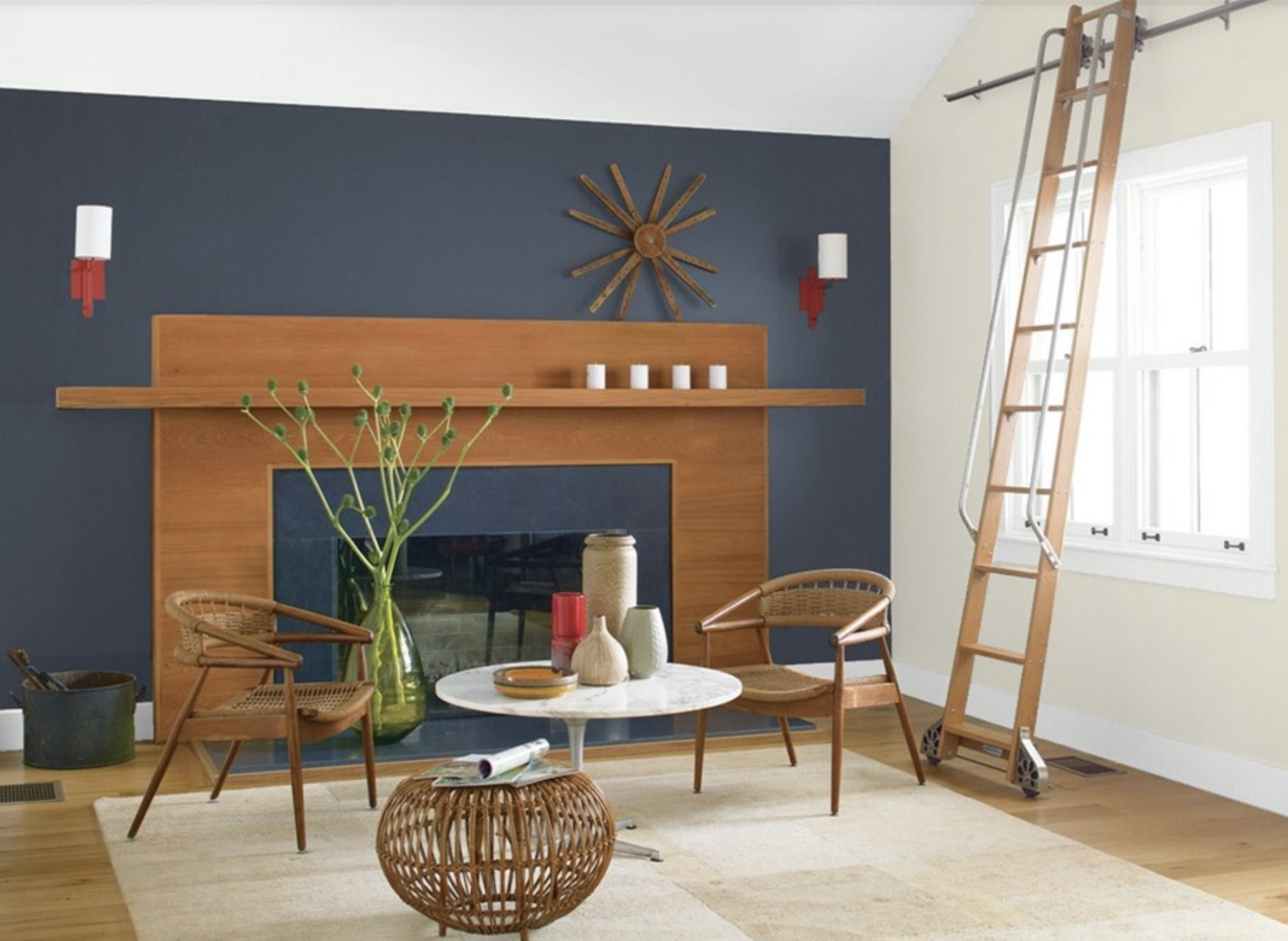 Smoke looks crisp and fresh against shades of white; this bedroom's warm farmhouse vibe combines Smoke with distressed white furniture and crisp white trim: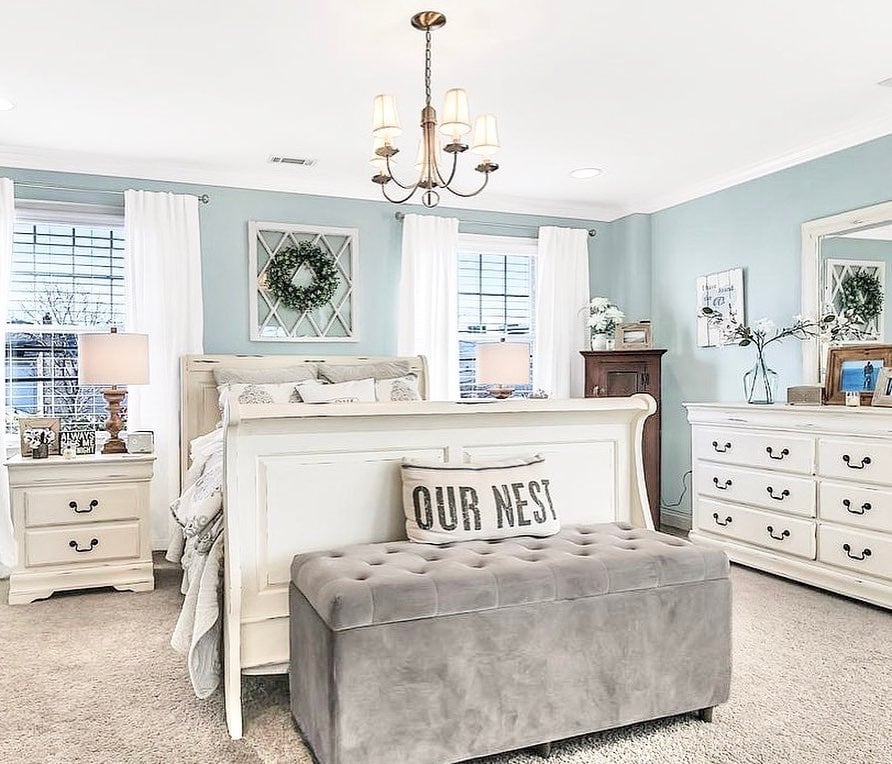 The way Smoke changes during the day makes it perfect for highlighting the shadows of traditional moldings: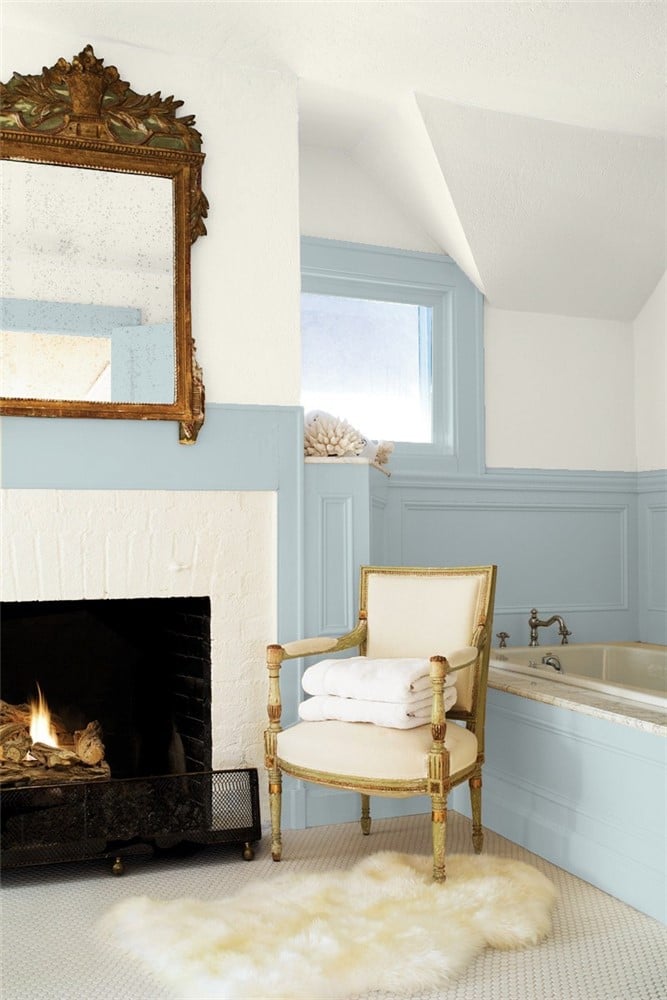 The serene blue and green undertones in Smoke make it an inspiring choice for a home office space: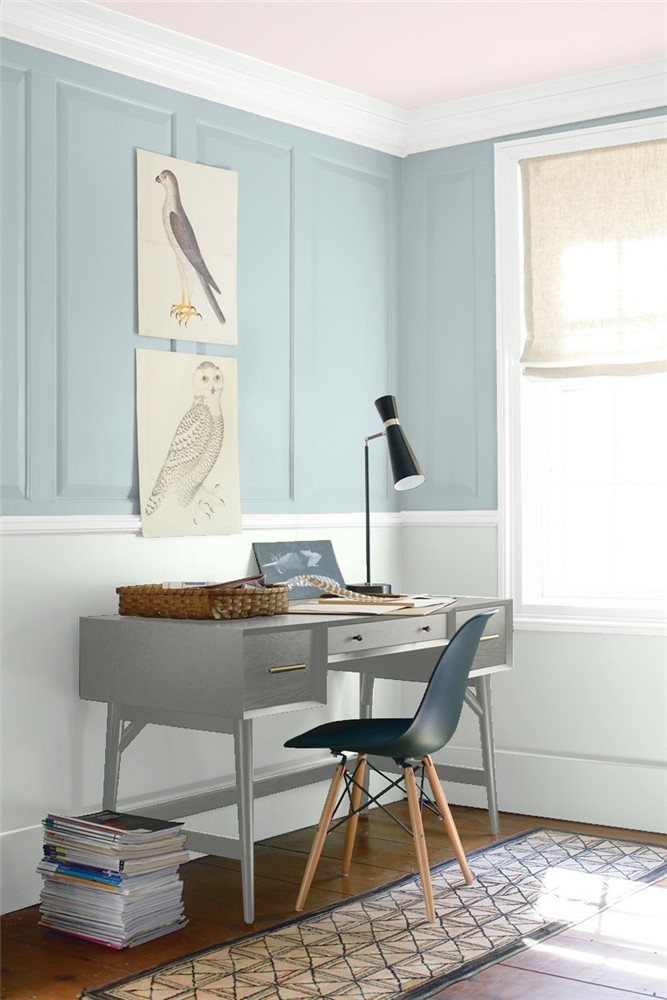 The light gray-blue-green undertones of Smoke are very calming, so it's a popular choice for kitchen cabinets: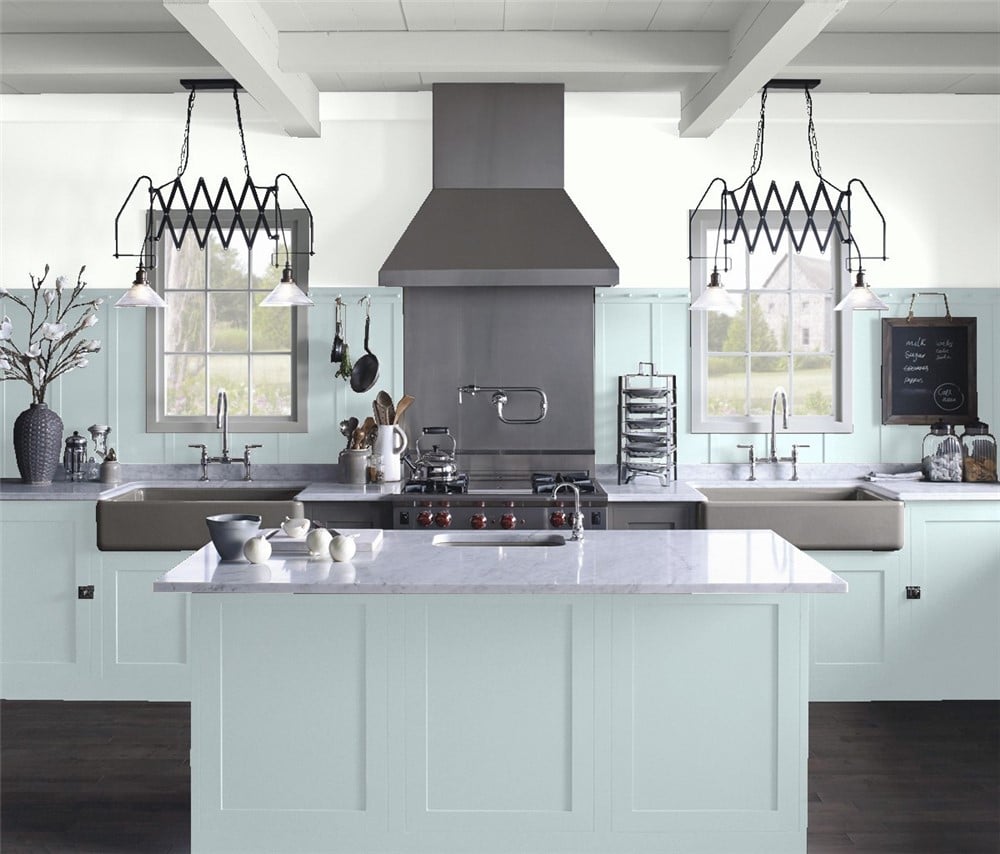 Benjamin Moore Smoke Exteriors
Smoke is a fresh, stylish exterior color that brings out the charm of a vintage home: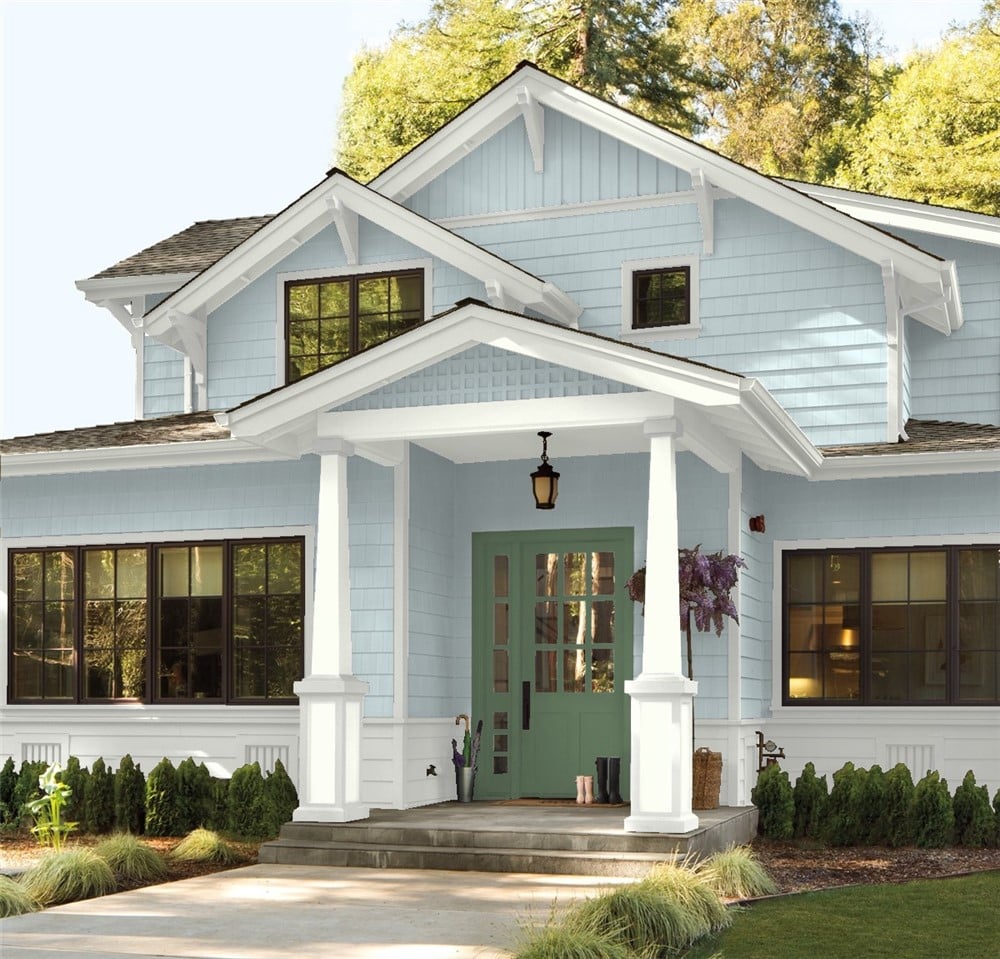 A traditional all-white exterior creates a warm welcome with Smoke on the front door: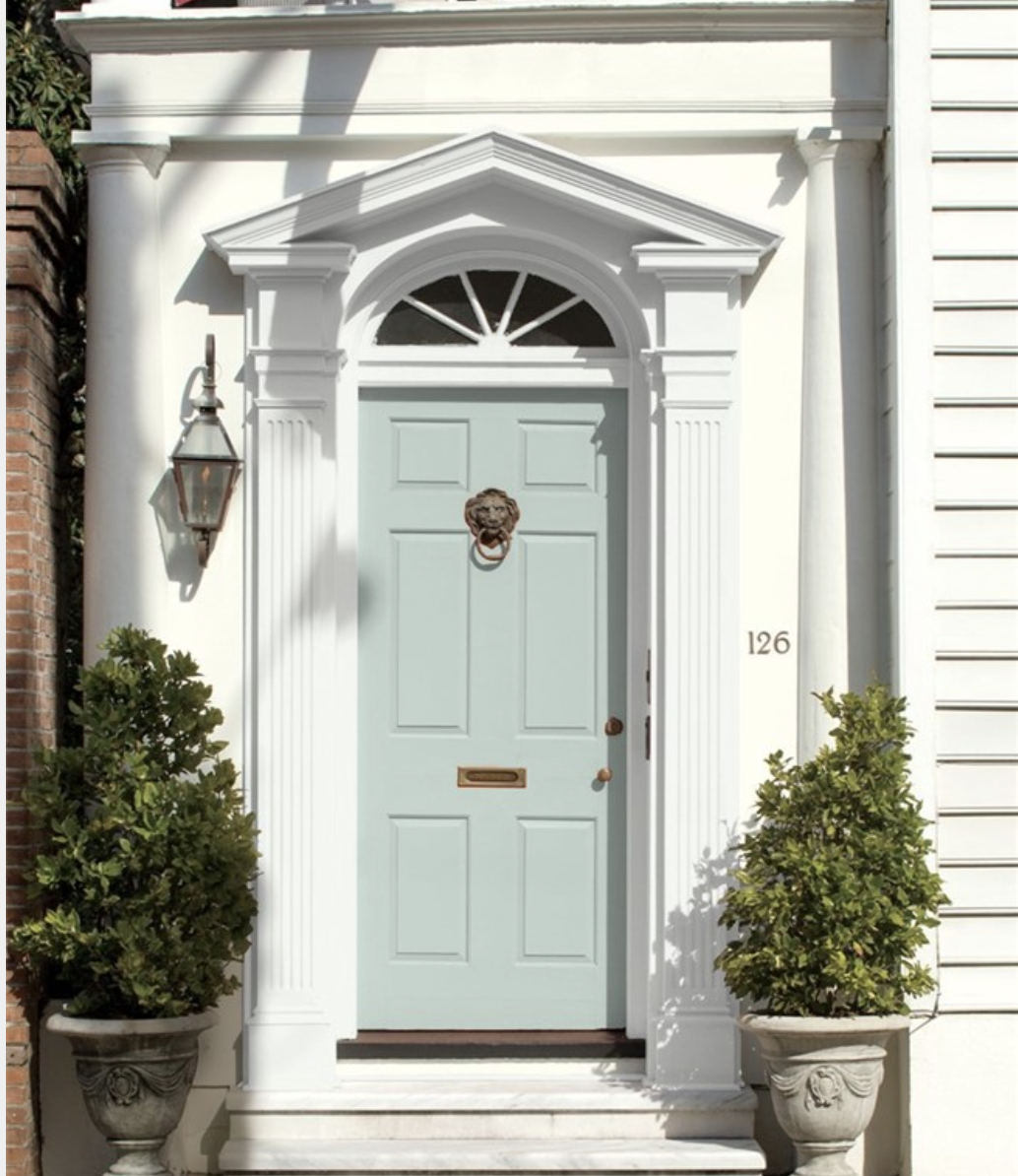 Other Benjamin Moore Paint Colors You May Like
Smoke is such a versatile color that you'll find it in both traditional and modern color palettes. Combine it with earthy pastels like October Mist or Pale Moon, and exotic shades like Venetian Portico, Aegean Teal and Chestertown Buff to capture a rich global palette.
What colors go best with Smoke?
Since Smoke is found among the grays on the Benjamin Moore paint chart, it blends well with cool colors like Hale Navy and Wrought Iron. That hint of green undertone also gives it warmth to complement greige tones like Pale Oak, Balboa Mist, and Collingwood.
Smoke is beautiful when set off by cool whites like Benjamin Moore White Dove, Decorator's White or Chantilly Lace. However, it's also versatile enough to create a cozy look alongside a warm white like Swiss Coffee or Linen White.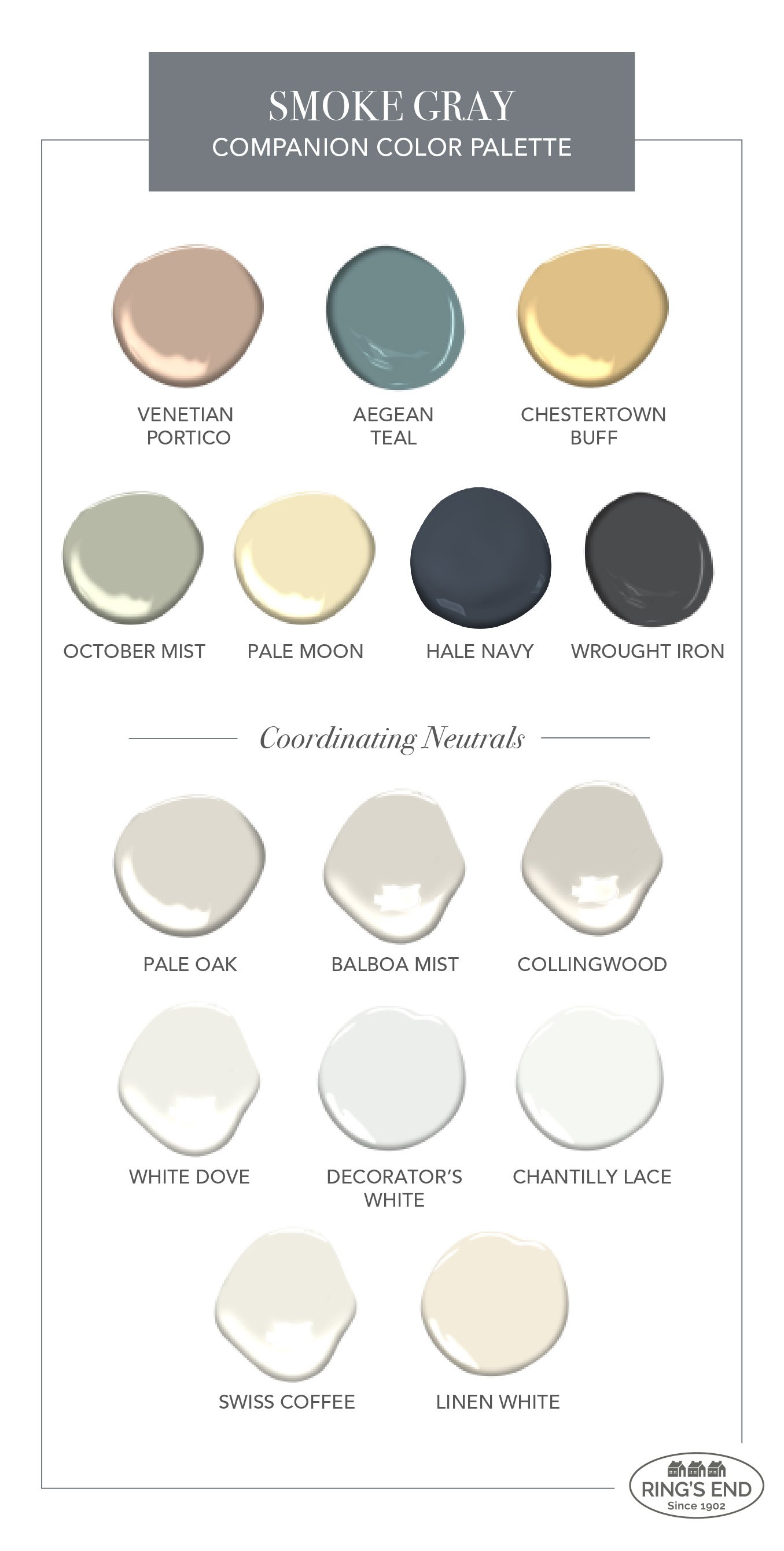 Other Similar Colors
Despite being a very changeable shade, Smoke is still a gray color. For a true gray that's much lighter, check out Benjamin Moore Gray Owl. If you'd like a lighter, more aqua color consider Woodlawn Blue instead. Try Yarmouth Blue for a brighter shade that has more blue in it. For an equally versatile gray-blue that's much lighter, Palladian Blue is a great color to sample. If you'd like a darker shade with more blue-green undertones, consider Aegean Teal.
Buy A Smoke Benjamin Moore Paint Sample
Complex blue-gray colors like Smoke are susceptible to shifts in undertone that could make them appear cooler or warmer, depending on the lighting conditions and time of day. We recommend testing a sample of Smoke and any other options you're considering before deciding on your final choice.
One of our designers' favorite tips for an easy way to test paint swatches on multiple walls in your house, is to paint a large poster board using a Benjamin Moore Paint Color Sample and move it around the room to observe the color on different walls and in different lighting conditions.
Once you've settled on your color choice and are ready to order your paint, come back here for free shipping* on our best-selling Aura Waterborne Paint.
*Free shipping on all standard orders of $150 or more