Benjamin Moore Coventry Gray Review & Inspiration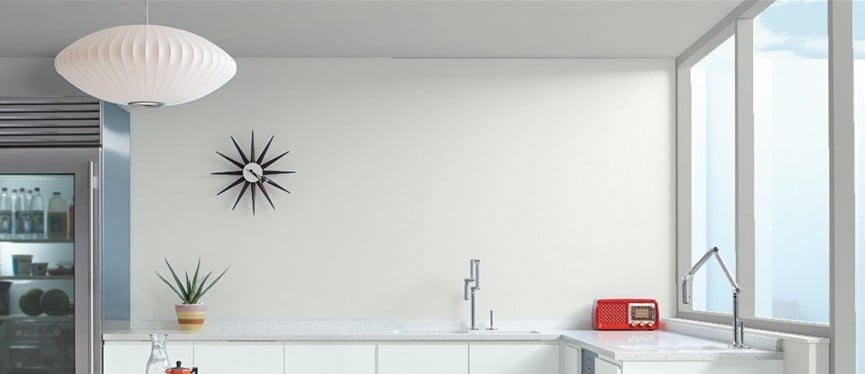 What We Love About Coventry Gray HC-169
Benjamin Moore Coventry Gray is a sophisticated medium gray that makes a stylish backdrop for both traditional and modern interiors. This neutral shade of gray is a popular DIY choice for the living room, dining room or master bedroom. Coventry Gray complements the colors in marble and granite countertops, making it an ideal paint color for bathroom and kitchen cabinets. It's deep enough to create a crisp look when paired with white trim, and neutral enough to blend with bolder shades. Coventry Gray's neutral undertones bring out the warmth of wood kitchen cabinets and the richness of rustic wood floors. Coventry Gray is part of Benjamin Moore's Historic Color Collection, a selection of 191 time-honored interior and exterior paint colors that comprise Benjamin Moore Paint's most popular color palette.
Benjamin Moore Coventry Gray Undertones
Coventry Gray may be the best gray paint for those who want a neutral gray paint color. It's a chameleon shade that can shift as the light changes throughout the day. In most lighting it is a neutral medium shade, not a dark gray; but in certain lighting conditions a barely-there blue undertone gives Coventry Gray a slightly cool appearance.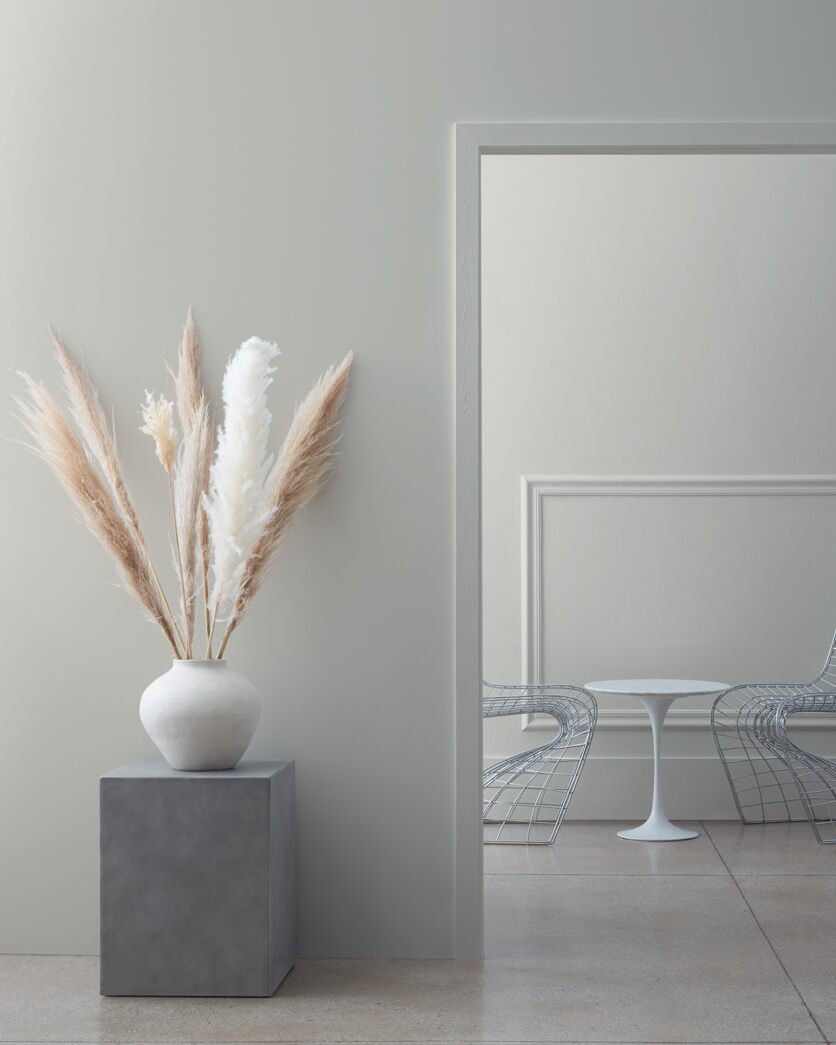 If Benjamin Moore Stonington Gray or Gray Owl are too light for your space, try a paint sample of Coventry Gray. Its neutral quality makes it one of our favorite shades of gray, with enough color to stand out against a white paint like the popular trim colors Chantilly Lace and White Dove. It's so neutral that it even complements off-white shades like Swiss Coffee or Linen White. With an LRV of 48, Coventry Gray has a medium level of reflectance and will appear darker or lighter depending on the lighting. Remember, neutral undertones mean that Coventry Gray is easily influenced by lighting conditions and nearby color schemes. As a wall color it retains its classic gray look even in bright natural light, where a warm gray like Benjamin Moore Revere Pewter will appear greige. If you have South-facing windows you'll love this shade for its reliable "true gray" look. In North-facing rooms or cold climates it can have a cool gray appearance, even though it does not technically have blue-gray or blue-green undertones.
Where To Use Coventry Gray HC-169
This popular gray color is ideal for traditional interior design, where it complements white trim and historic colors perfectly. This dining room features plank walls painted in Coventry Gray trimmed out in crisp Decorator's White: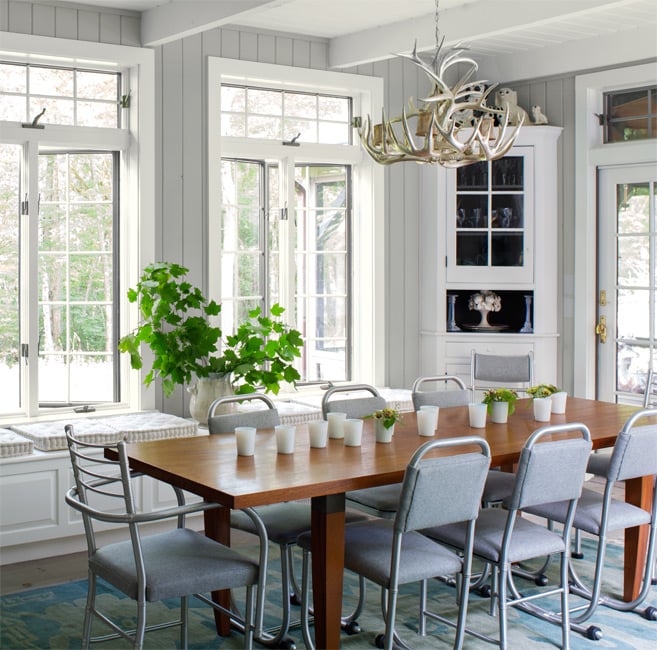 Modern and transitional spaces are enhanced by the neutrality of this shade of gray. This living room gives classic woodwork a clean look with Coventry Gray paint: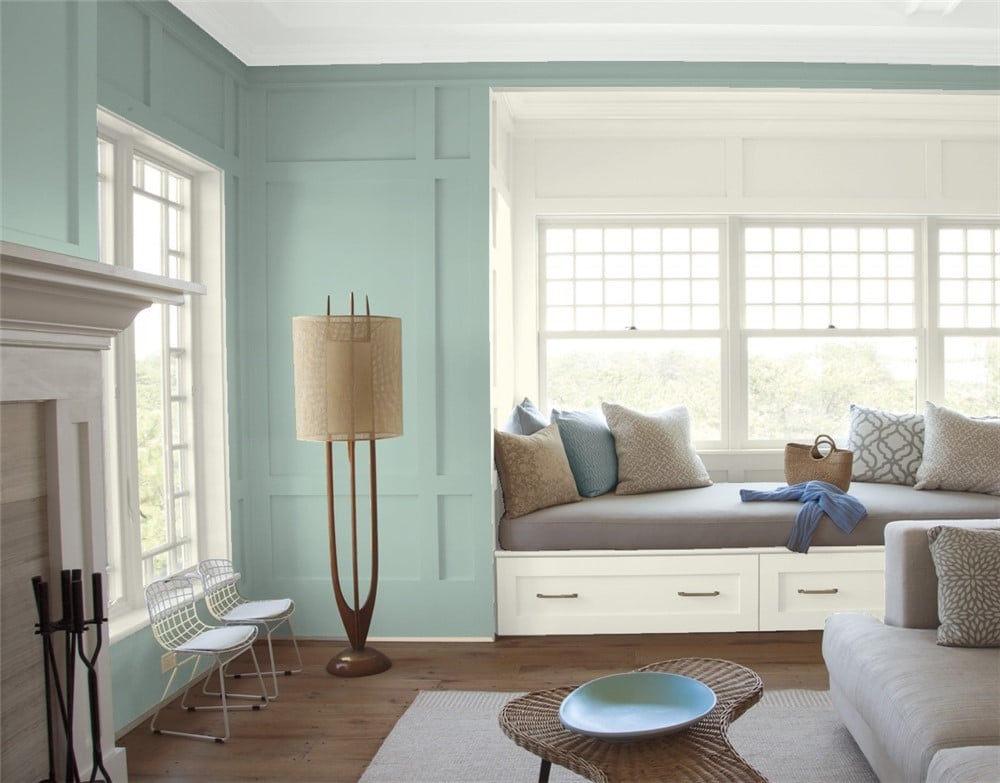 Modern farmhouse style is ideal for Coventry Gray, and it blends perfectly with popular colors like Hale Navy. Decorator's White, and Black.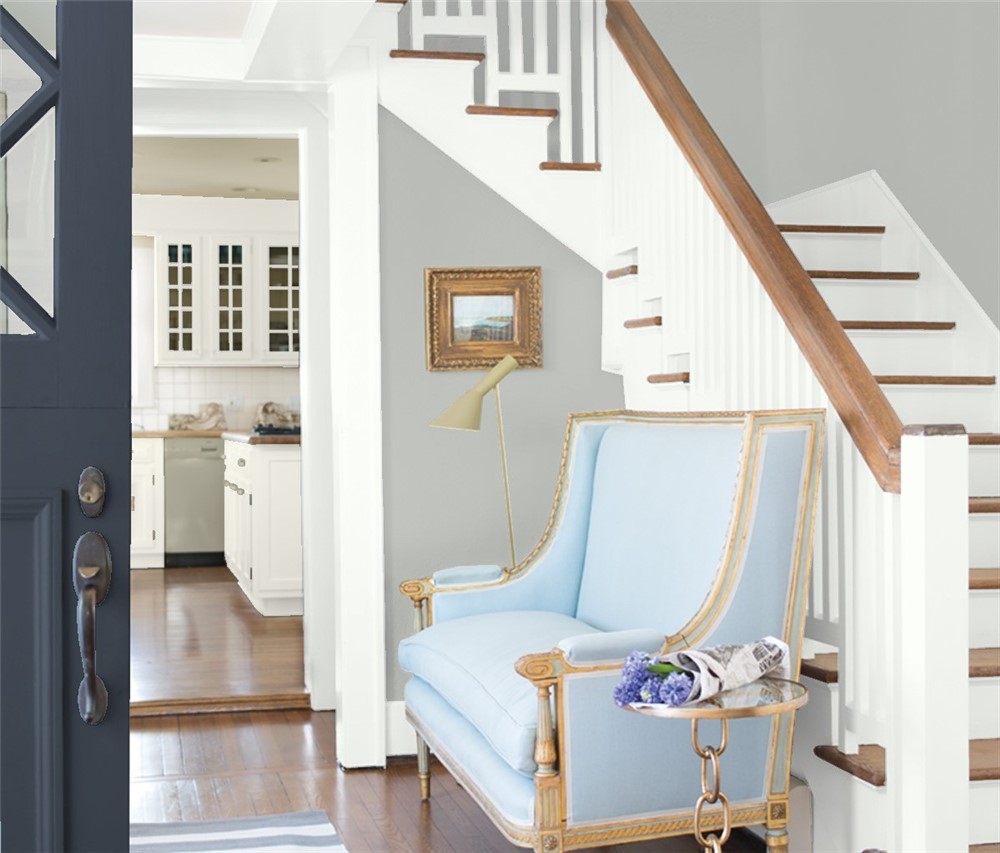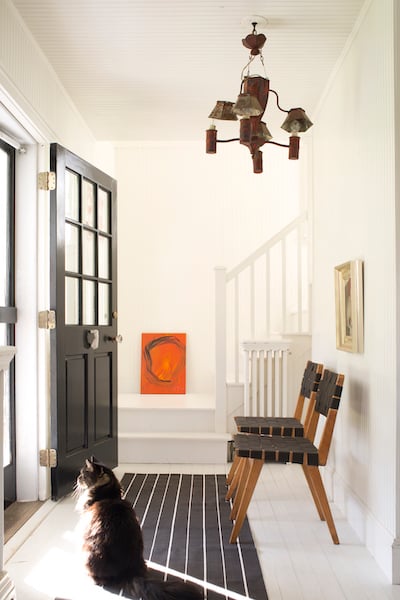 Coventry Gray mixes beautifully with any shade of wood, but the antique beams in this bedroom provide a rustic contrast: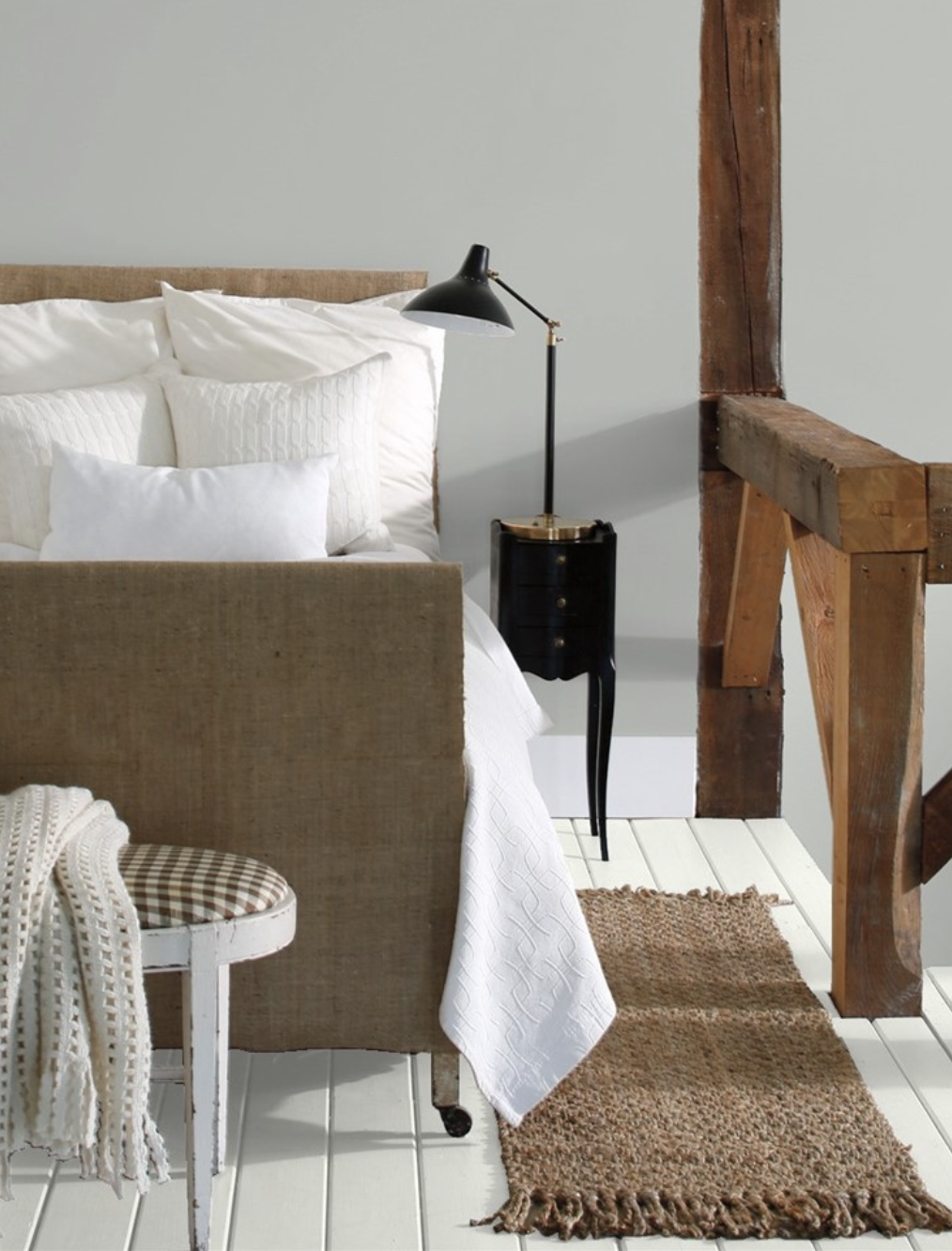 Mid-century modern colors will pop against Coventry Gray's neutral undertones: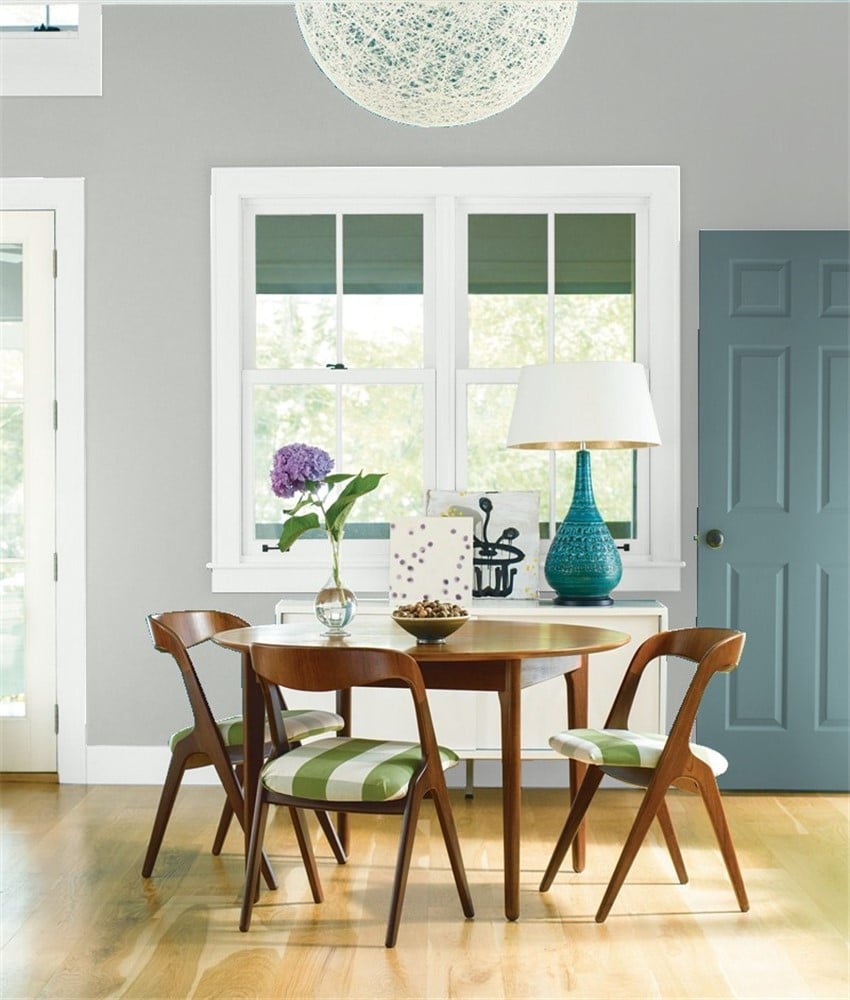 As an exterior paint color, Coventry Gray is neither too light or too dark; this medium shade provides enough color to set off classic white woodwork: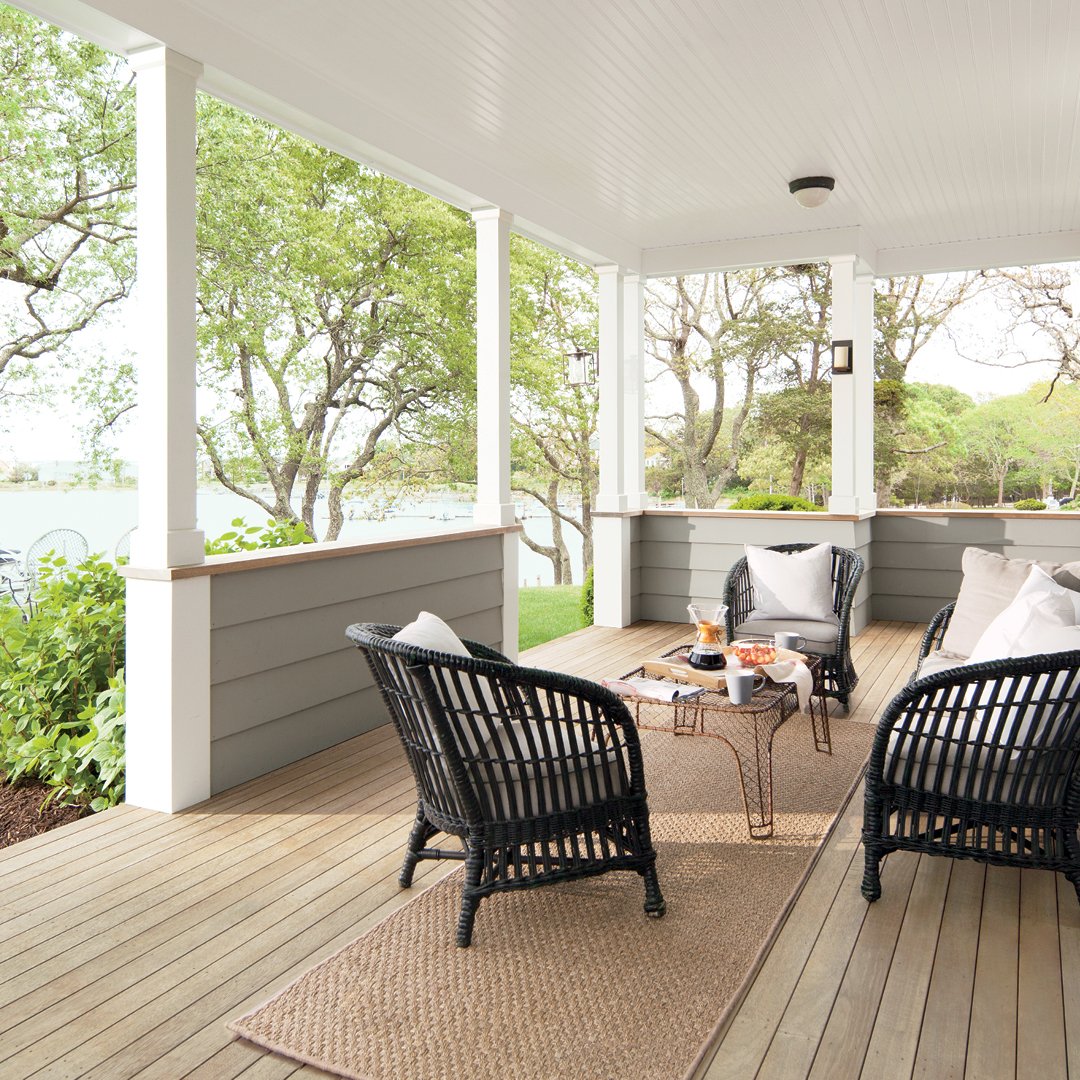 Even in the bright natural light of the outdoors Coventry Gray retains enough of its gray color to avoid looking washed out: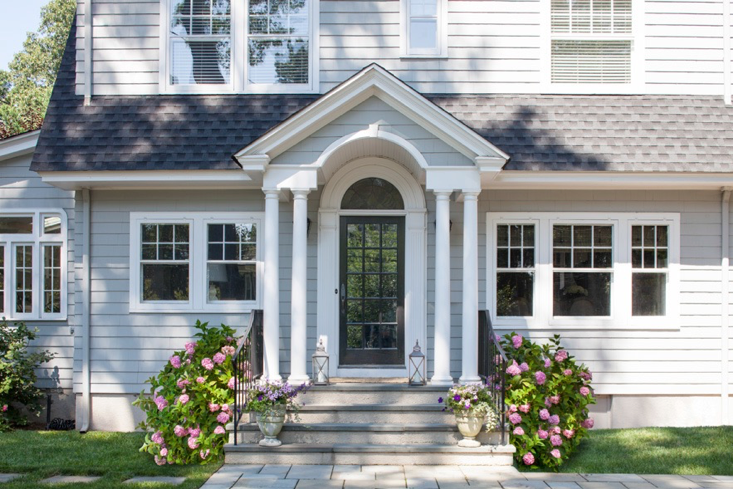 Other Benjamin Moore Paint Colors You May Like
Coventry Gray is a medium neutral shade that makes an excellent background color. For a cozier look, try sampling a soft green like October Mist, or a warm neutral like Revere Pewter.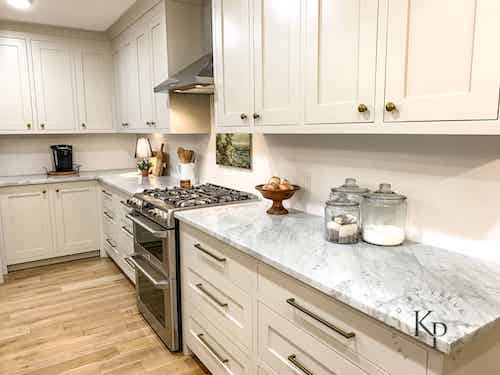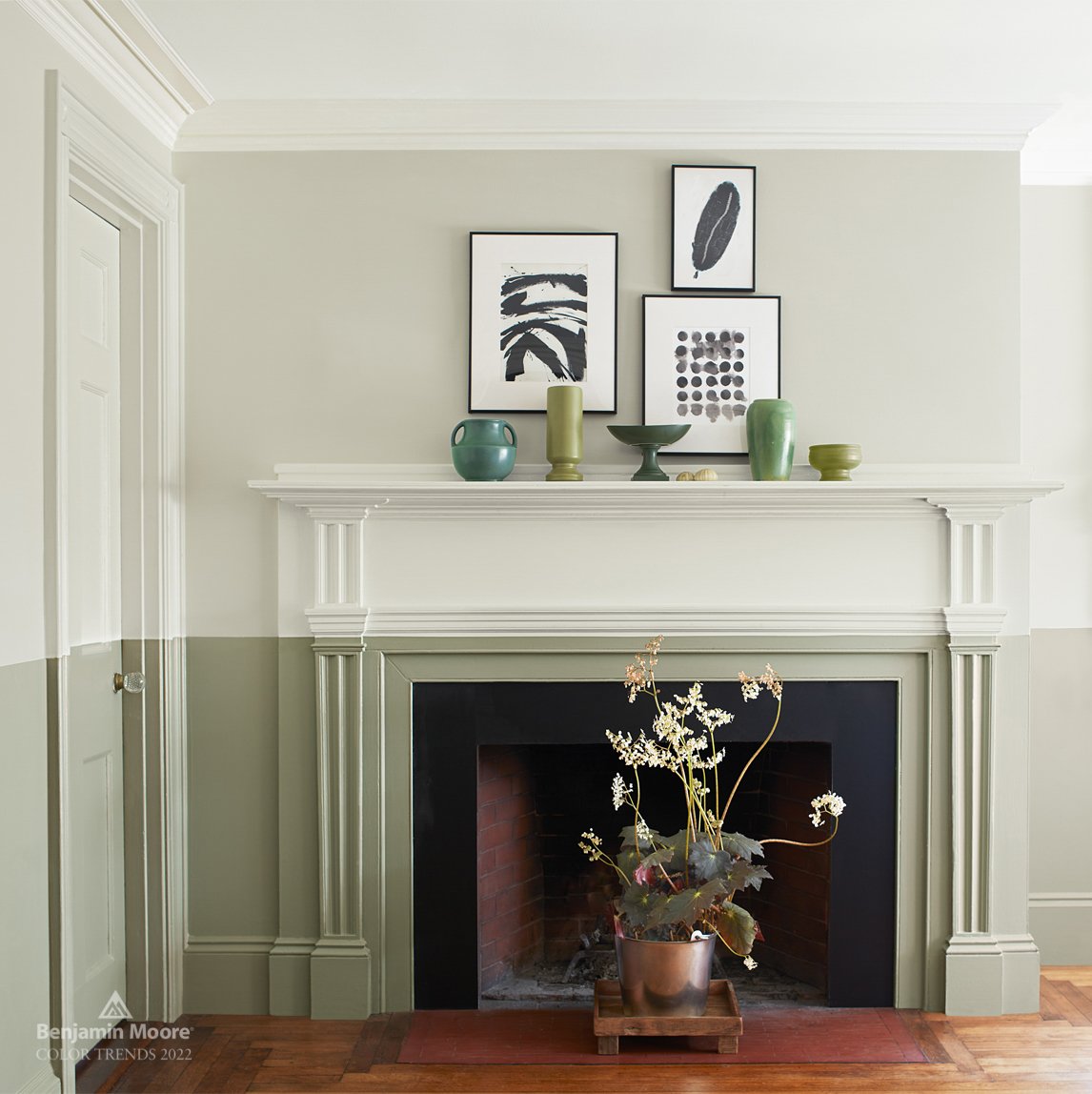 What colors go best with Coventry Gray?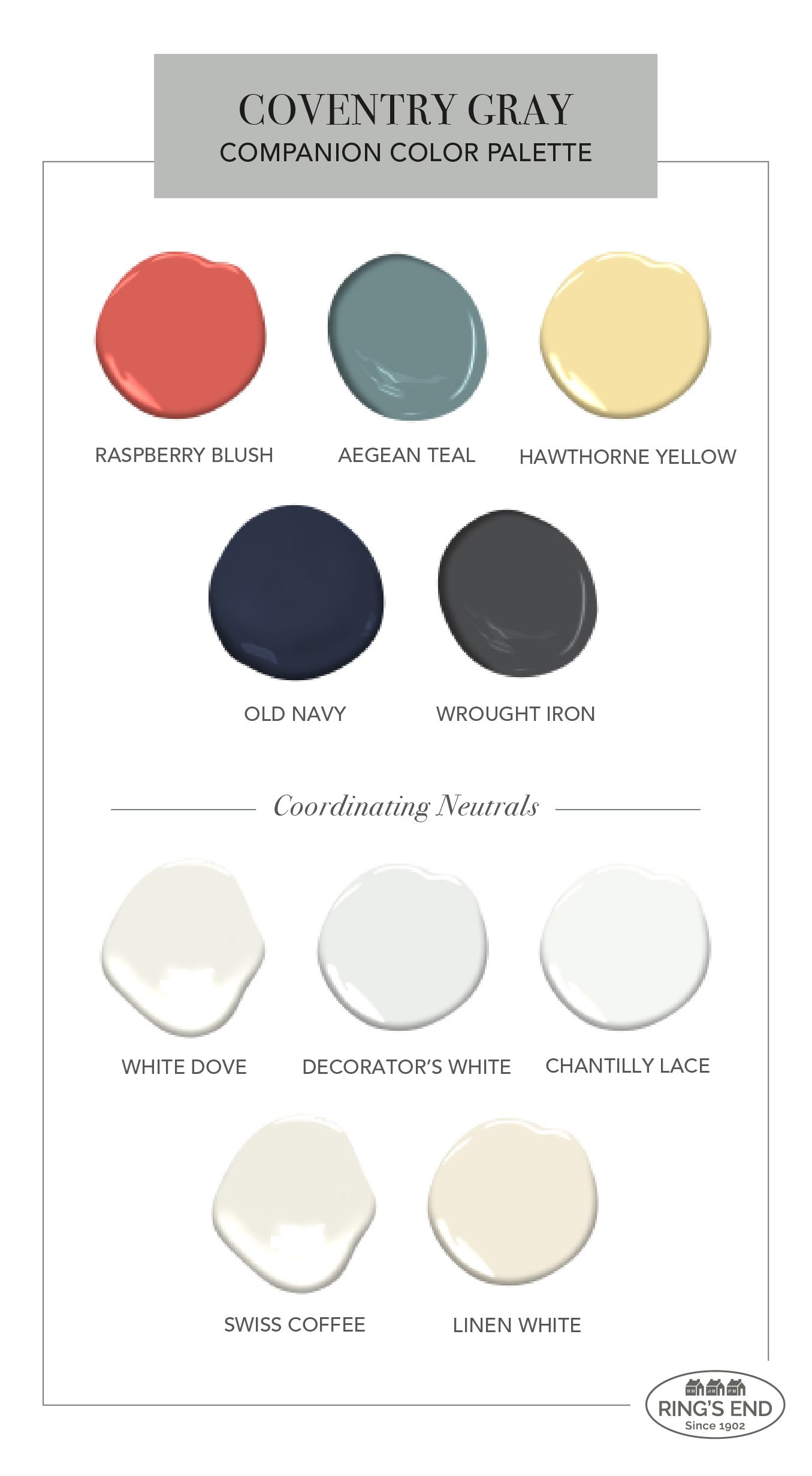 Coventry Gray is a versatile neutral shade that fits into both traditional and modern color schemes. Dark gray and navy shades like Old Navy and Wrought Iron make timeless companions; add a pop of color with accents in Aegean Teal, Hawthorne Yellow or Benjamin Moore Color Of The Year, Raspberry Blush.
Coventry Gray creates a crisp and fresh contrast for neutral or slightly cool white paint colors like Benjamin Moore White Dove, Decorator's White or Chantilly Lace. However, it's a versatile shade whose neutral undertones work equally well beside warm whites like Swiss Coffee or Linen White.
Other Similar Colors:
Want to explore more shades of gray? Benjamin Moore's impressive selection includes off-white grays, cool silvers and warm greiges. For a neutral gray that's much lighter, check out Classic Gray or Moonshine. If you want a cool gray shade, check out Stonington Gray for its blue-purple undertones. Greige paint colors like Pale Oak or Edgecomb Gray offer distinctly warmer shades. Whichever gray you decide to try, be sure to test swatches from your Benjamin Moore paint store with your home's lighting conditions.

Buy A Coventry Gray Benjamin Moore Paint Sample
Neutral gray colors like Coventry Gray are susceptible to shifts in undertone that could make them appear cooler or warmer, depending on the lighting conditions and time of day. We recommend testing a sample of Coventry Gray and any other options you're considering before deciding on your final choice.
One of our designers' favorite tips for an easy way to test paint swatches on multiple walls in your house, is to paint a large poster board using a Benjamin Moore Paint Color Sample and move it around the room to observe the color on different walls and in different lighting conditions.
Once you've settled on your color choice and are ready to order your paint, come back here for free shipping* on our best-selling Aura Waterborne Paint.

*Free shipping on all standard orders of $150 or more