Benjamin Moore Exterior Paint Products, Grades & Finishes
Benjamin Moore Exterior Paint Grades
High quality paint contains more solid particles and pigment per gallon, so it will actually cover the surface in fewer coats. This is why professional painters use high-end alkyd paints; they build coverage faster and produce a longer-lasting finish.
Compared to other brands, Benjamin Moore exterior paint products are considered high grade paints. Their exclusive Color Lock technology binds the pigments within the paint film, protecting them from UV damage so the color stays true for years. Benjamin Moore paints are also self priming and specially formulated to deter mildew growth and resist chalking and fading over time.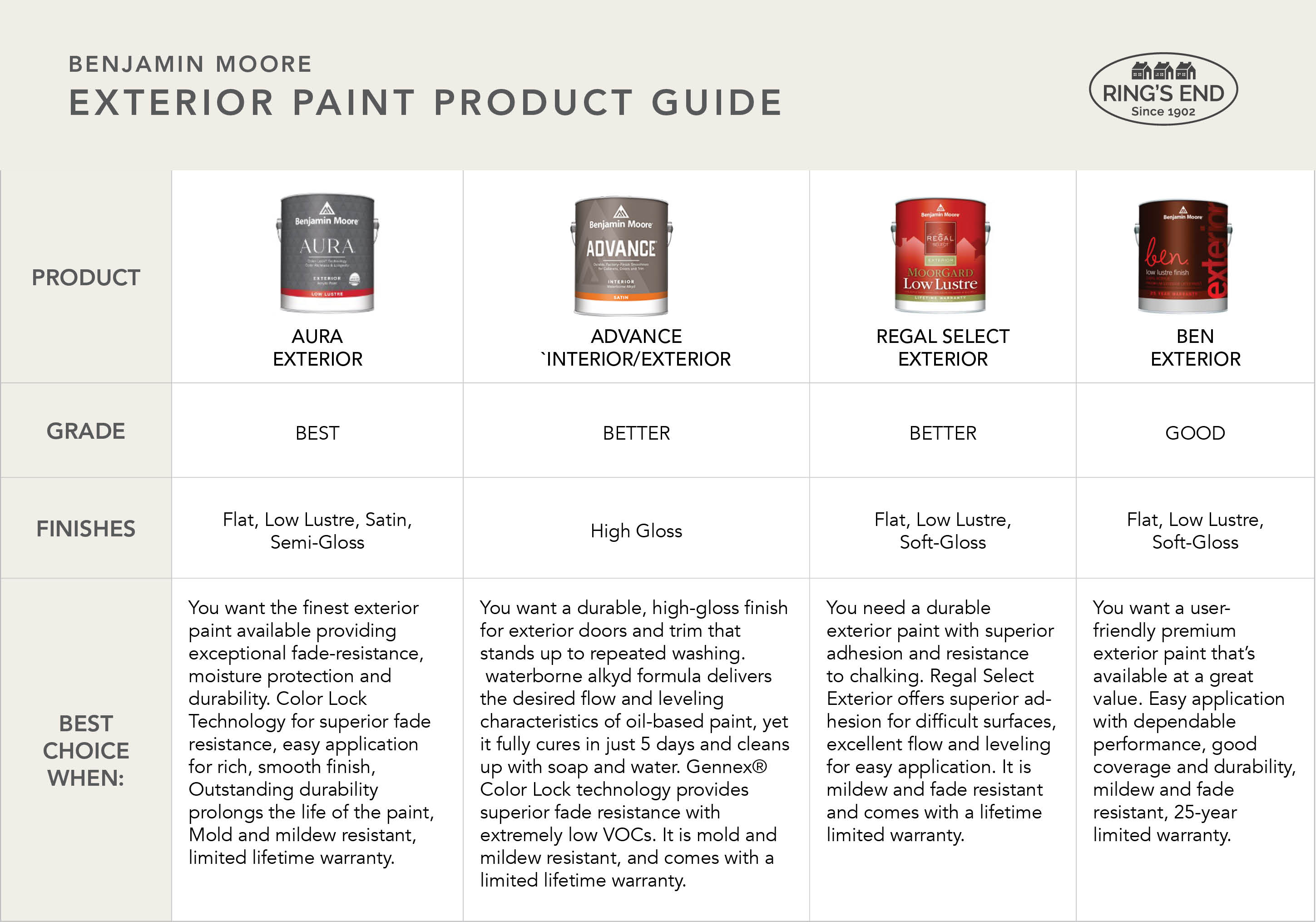 BENJAMIN MOORE AURA EXTERIOR
Grade: BEST
Price: $98.99/Gallon
Finishes: Flat, Low Lustre, Satin, Semi-Gloss
Best Choice When: You want the finest exterior paint available providing exceptional fade-resistance, moisture protection and durability. Color Lock Technology for superior fade resistance, and easy application for a rich, smooth finish. Outstanding durability prolongs the life of the paint. Mold and mildew resistant, limited lifetime warranty. BENJAMIN MOORE REGAL SELECT EXTERIOR
Grade: BETTER
Price: $78.79/Gallon
Finishes: Flat, Low Lustre, Soft-Gloss
Best Choice When: You need a durable exterior paint with superior adhesion and resistance to chalking. Regal Select Exterior offers superior adhesion for difficult surfaces, excellent flow and leveling for easy application. It is mildew and fade resistant and comes with a lifetime limited warranty. BENJAMIN MOORE ADVANCE
Grade: BETTER
Price: $75.99/Gallon
Finishes: High Gloss only
Best Choice When: You want a durable, high-gloss finish for exterior doors and trim that stands up to repeated washing. This waterborne alkyd formula delivers the desired flow and leveling characteristics of oil-based paint, yet it fully cures in just 5 days and cleans up with soap and water. Gennex® Color Lock technology provides superior fade resistance with extremely low VOCs. It is mold and mildew resistant, and comes with a limited lifetime warranty.
BEN EXTERIOR
Grade: GOOD
Price: $57.59/Gallon
Finishes: Flat, Low Lustre, Soft-Gloss
Best Choice When: You want a user-friendly premium exterior paint that's available at a great value. Easy application with dependable performance, good coverage and durability, mildew and fade resistant, 25-year limited warranty.
What is the best sheen for exterior paint?
The sheen, or finish of a paint refers to how much light is reflected off its surface (or how shiny it looks). Exterior paint finishes range from flat (matte, non-reflective finishes generally used for siding) to high gloss (shiny, light-reflecting finishes typically used for doors).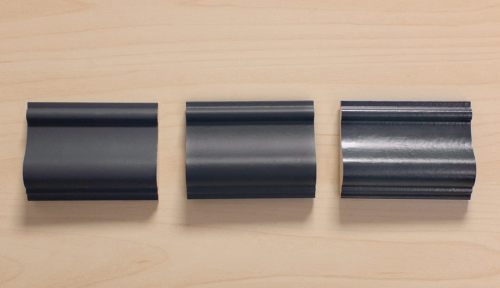 Flat paint finishes provide better coverage per gallon, hide imperfections well and are easier to apply. Glossy finishes are easy to clean which makes them ideal for doors and entry areas; the shine will highlight surface imperfections, so applying them takes skill. In between flat and glossy, the paint industry has created additional finishes with various levels of shine: flat or matte, low-lustre, satin and semi-gloss.
A general rule for exterior surfaces is to use a Flat or Low Lustre sheen on siding. Trim details like window casings, porch railings, etc. are painted in a Satin or Semi-Gloss sheen for added dimension and easier maintenance. Semi-Gloss and High-Gloss finishes are typically used on the front door or architectural focal points for an elevated look that's easy to clean.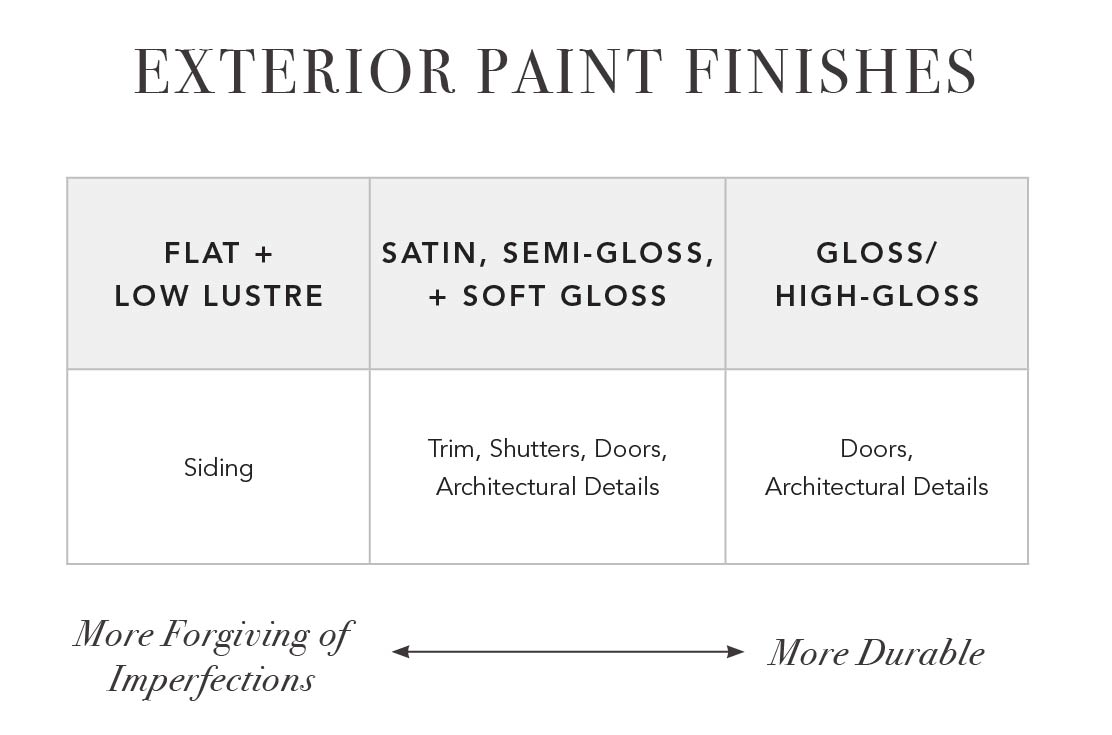 If you plan to use Semi-Gloss or High-Gloss paint, surface preparation is very important. Light playing across a shiny surface highlights any blemishes. Be sure to fill all dents, caulk all gaps, and sand the surface thoroughly to prepare for a glossy finish. For more helpful tips on selecting the best paint sheen for your project, check out our helpful guide, How To Choose A Paint Finish.
Ring's End carries a wide selection of Benjamin Moore paints in-store and online for shipping anywhere in the U.S.
Ordering paint online is fast, easy and so convenient. Benjamin Moore's Half Pint Samples make it easy to find the perfect paint color. Your custom-mixed paint will arrive in just 2-3 days, or choose in-store pickup at a location near you. Benjamin Moore paint products are available in over 3,200 designer shades. Shipping is free for paint samples and all orders over $150.

Benjamin Moore Exterior Paint Quick Facts
Which Benjamin Moore exterior paint is best?
Benjamin Moore's best-selling exterior paints are AURA Exterior and Regal Select Exterior Paint. Both come with a 25-year limited warranty which covers peeling, blistering, and weathering.
What is the best Benjamin Moore exterior paint for a front door?
For a satin or semi-gloss finish, choose Benjamin Moore Aura Exterior Paint; for a high-gloss look, Benjamin Moore ADVANCE High Gloss paint is formulated to provide a durable, scrubbable finish for the front door and exterior trim details.
What is the best Benjamin Moore exterior paint for siding and trim?
For exterior siding, most homeowners choose a Flat or Low Lustre finish; exterior trim is typically painted with a Satin or Semi-Gloss sheen. Benjamin Moore AURA Exterior Paint is an Ultra-Premium paint with exclusive Color Lock® Technology for the longest lasting color. Benjamin Moore Regal Select Exterior is an alkyd formula that provides superior coverage and adhesion, even on hard-to-coat surfaces.
How long will Benjamin Moore exterior paint last?
Benjamin Moore exterior paint colors go through an extensive testing process to make sure they are colorfast under harsh sun and weather conditions. Benjamin Moore offers colors that have been specifically tested for color retention. The lifespan of exterior paint depends on the type of surface material (wood, brick, vinyl, or concrete board) and whether the correct primer was used. Most homes need painting about every 10 years, but expect to repaint more often in areas with severe weather.
Once a can of paint has been opened, Benjamin Moore paint lasts about two years. Be sure the container is tightly sealed and stored in temperatures between 60 and 80 degrees, not in a freezing garage.