Benjamin Moore's Best Exterior Paint Colors & Products
One of the most exciting parts of building or renovating a home is choosing the exterior colors and finishes; but it can be a challenge too. A stylish exterior color scheme combines complimentary paint color selections for the siding, trim, doors, and shutters. It should also be in keeping with the home's architectural style and call attention to its best features.
To make your paint selections easier, we've put together this comprehensive guide to Benjamin Moore's exterior paints. Ring's End partners with Benjamin Moore because they offer high quality, high performance products you can count on. Here you'll learn about different exterior paint formulations and get some inspiring ideas to give your home amazing curb appeal. Let's start by looking at how to begin creating your own exterior color scheme.
How to Pick an Exterior Color Scheme
Most exterior color schemes start with individual colors for the siding, trim and front door, plus an accent color for shutters or other details. When choosing colors, keep in mind the colors of any stone or brick accents on your home, as well as the roof, decking and landscaping materials. The undertones of nearby materials can affect the way a paint color looks on your home.
What are undertones? They're subtle warm or cool shades that influence the appearance of a paint color, but aren't always apparent at first. For example, we all know how different two shades of white paint can look when placed side-by-side. If a white has a beige or yellow cast it has warm undertones, and if it has a grayish-blue cast it has cool undertones.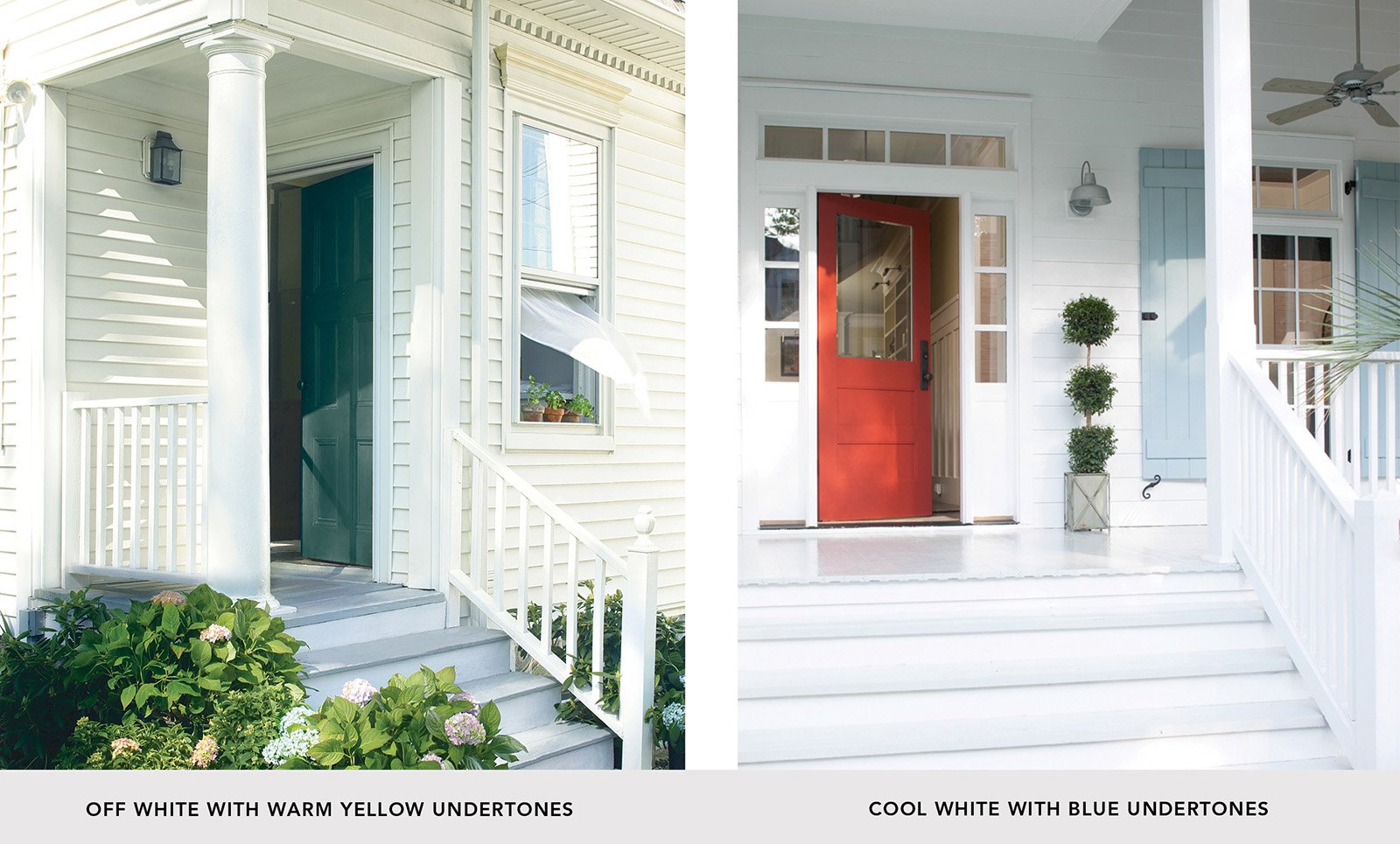 Matching the undertones of paint colors to the undertones in nearby materials is a great way to start narrowing down paint color options. On this farmhouse style home, Kendall Charcoal on the front door picks up the warm gray undertones of the stone porch flooring.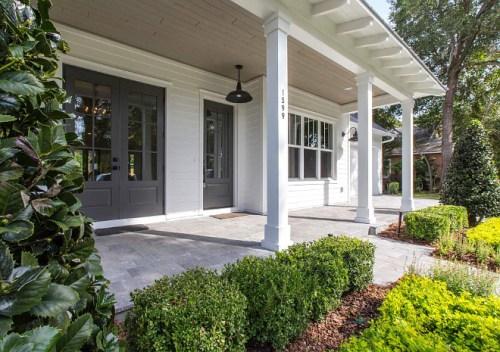 Exterior Paint Color Inspiration
When choosing exterior colors it's also important to keep your home's architectural style in mind. A modern home with minimal ornamentation may look best with a simple palette, while an older home with details like corbels and shutters can be brought to life with contrasting colors. Neutrals like Coventry Gray and colors from Benjamin Moore's Historic Collection are popular choices for traditional home styles.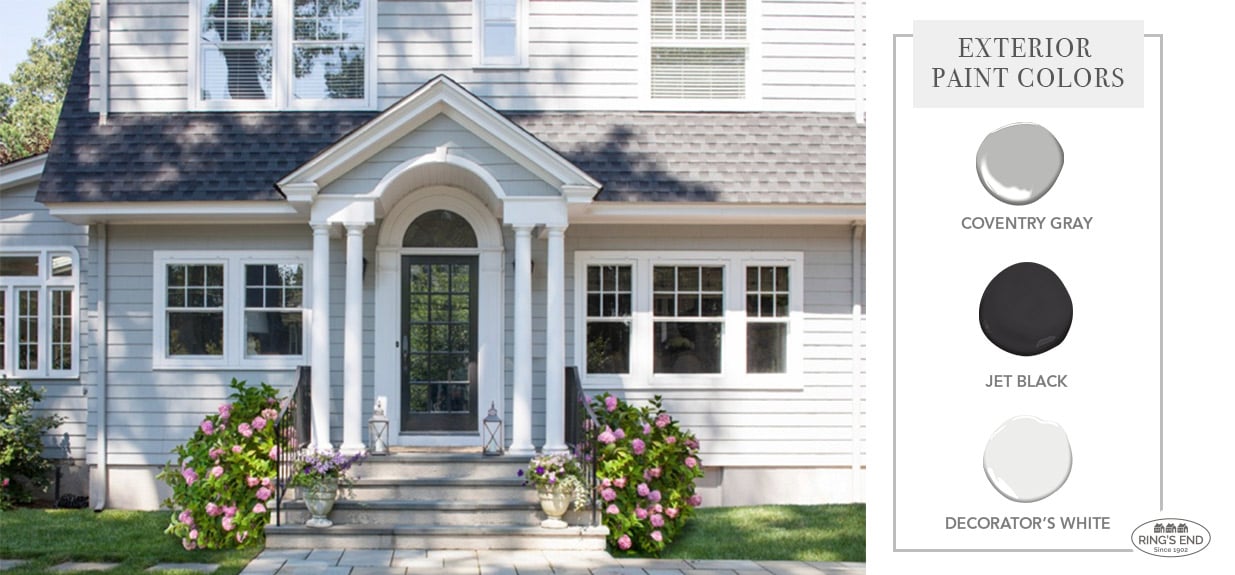 One of Benjamin Moore's most popular interior paint colors, Revere Pewter makes an elegant exterior siding color, while White Dove makes the trim stand out.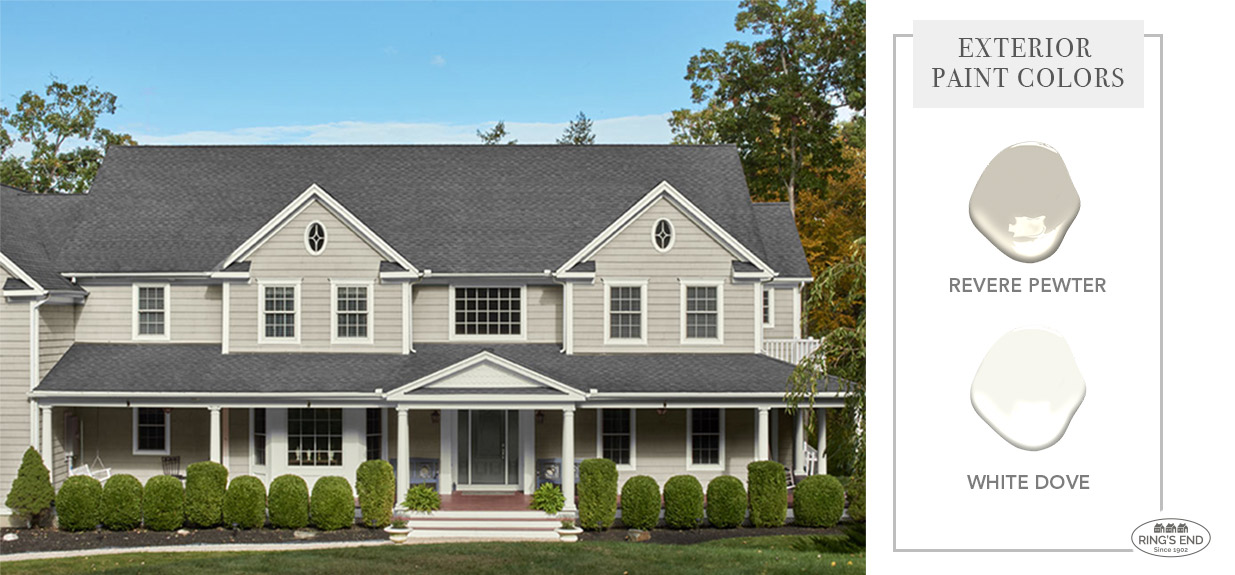 This Victorian style home's siding is painted in Pale Oak, with contrasting white trim to highlight the detailed carpentry.
Of course, a historic color palette is always suitable for traditional style architecture. This classic Colonial home features Benjamin Moore's Hale Navy: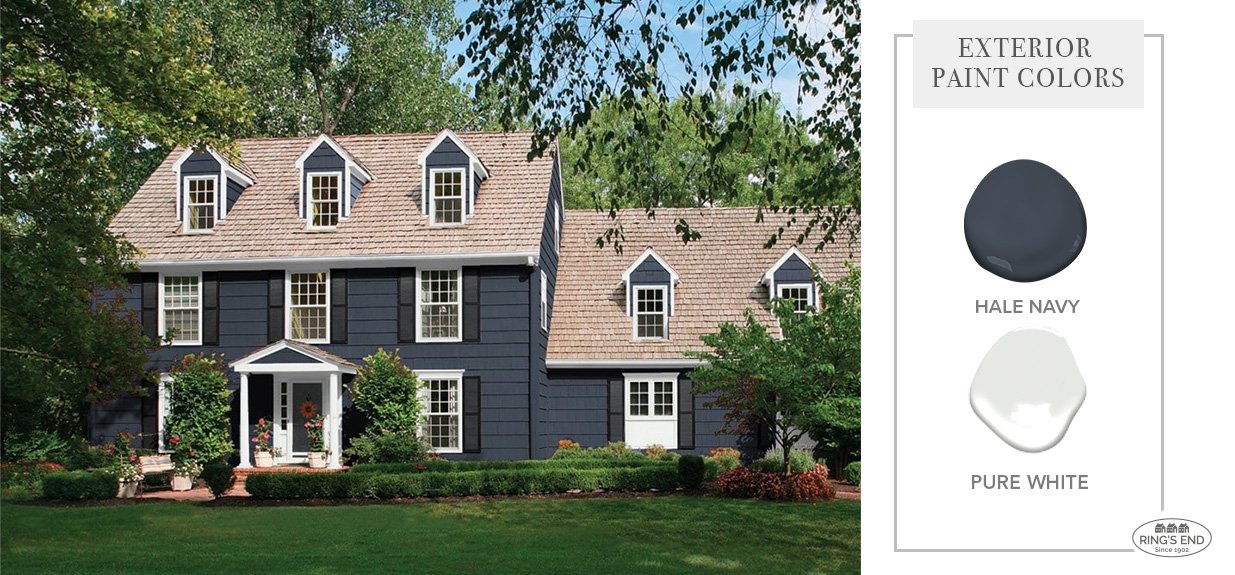 Evening Dove is a medium-dark blue that anchors a historic color palette; this home combines it with Boothbay Gray on the shutters and Rich Chestnut on the door.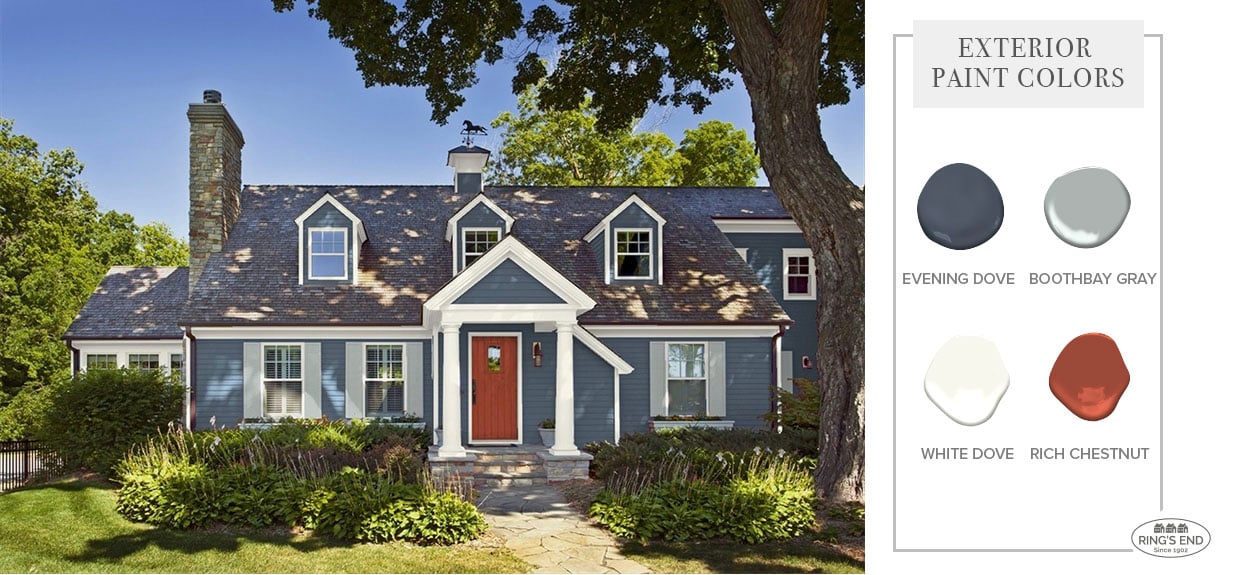 Classic cottages and bungalows might be painted almost any color. The pale blue-green of Beach Glass sets off this Craftsman-inspired home paired with the warm off white tones of White Dove on the trim .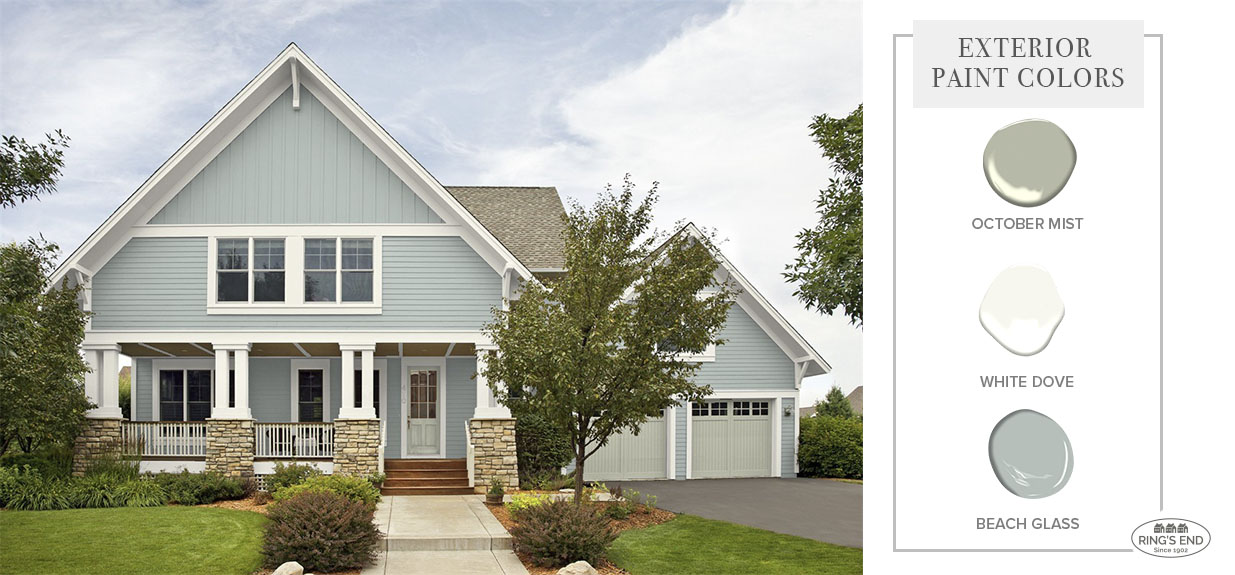 Benjamin Moore's Chelsea Gray house paint gives this traditional cottage a warm, modern look.
Creamy white and beige colors are the perfect complement to stucco exteriors. If your home is Spanish Revival or French Country style, consider a warm shade like Benjamin Moore Swiss Coffee.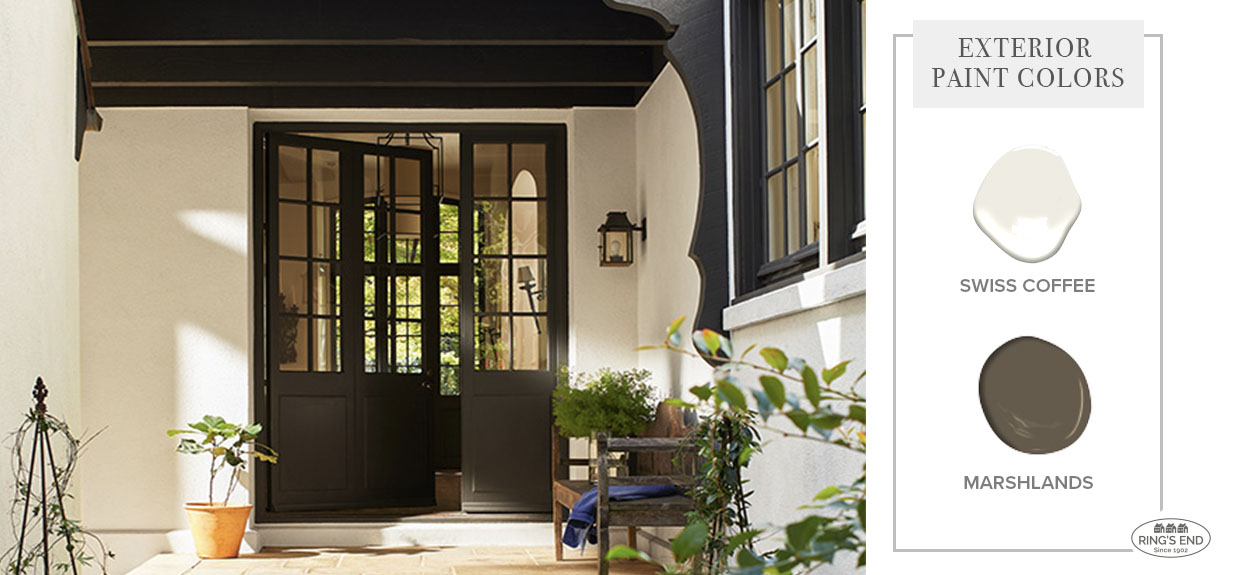 Contemporary and transitional architecture lends itself to bright, silky whites like Benjamin Moore's White Dove.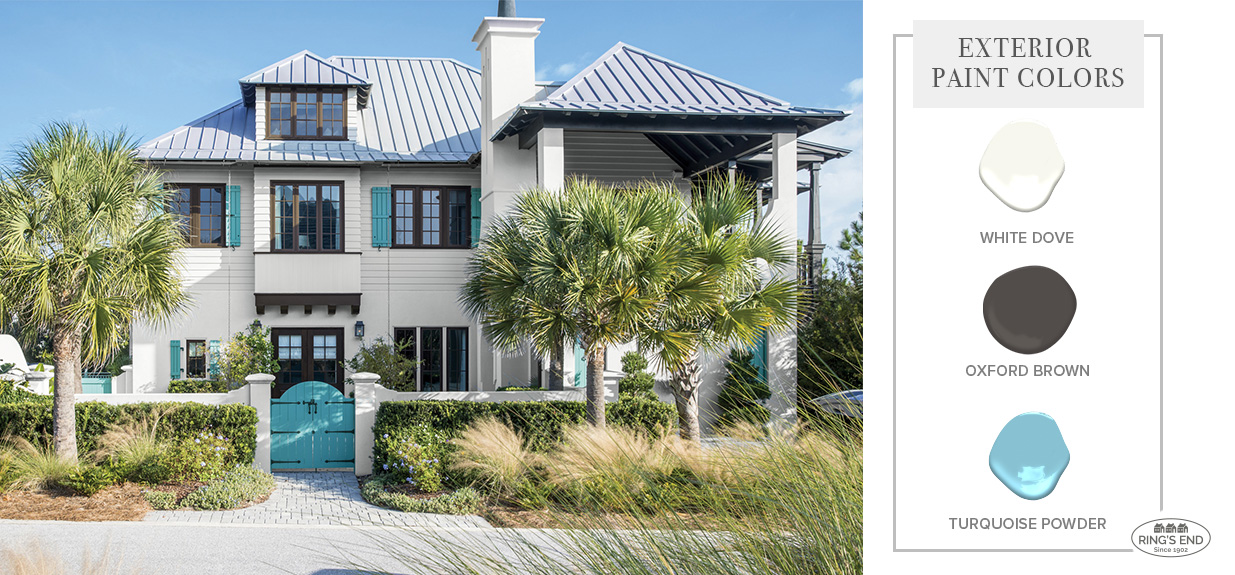 If an off-white exterior shade appeals to you but you prefer warm undertones, check out Seapearl's distinct pale greige look.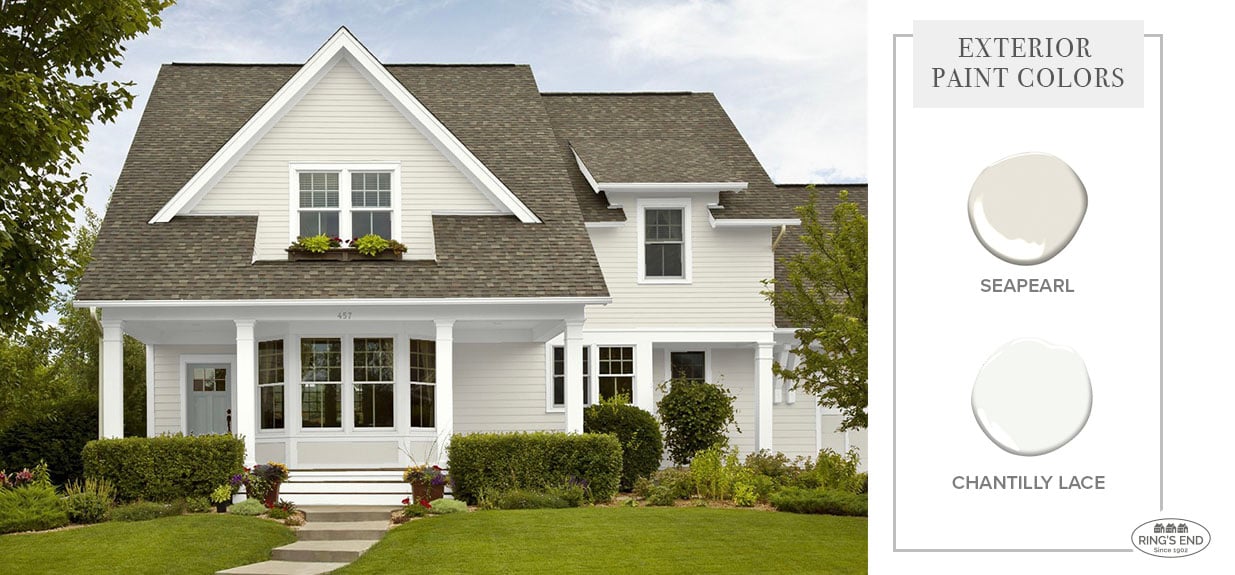 Charcoal gray and deep navy provide a trendy update to ranch and farmhouse style homes. This modern farmhouse makes a statement painted in Benjamin Moore's Wrought Iron, with a lovely natural wood accent in Arborcoat Platinum Stain.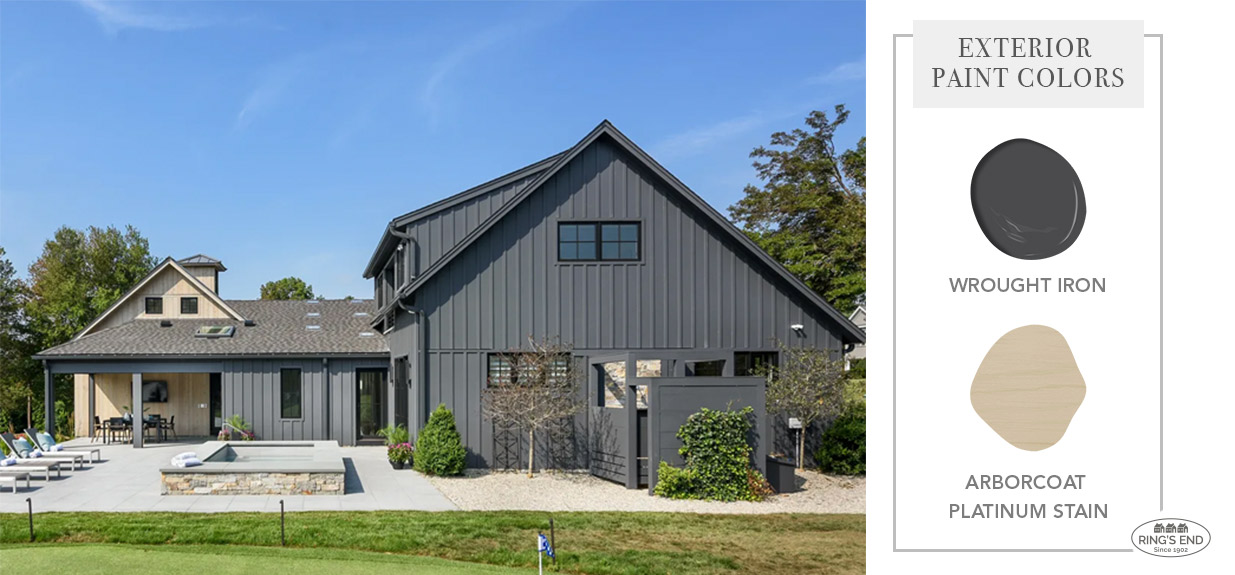 Mid-century homes look up to date in today's popular dark shades, accented by a pop of color. This home features Old Navy:
Whatever your home's architectural style, with a little creativity and patience you can create an exterior color palette that's as unique as you are. Next, we'll look at the different exterior paints and finishes that help you achieve a great looking, long lasting paint job.
Benjamin Moore Exterior Paint Sheens, Grades & Finishes
What is a paint sheen?
The sheen, or finish of a paint refers to how much light is reflected off its surface (or how shiny it looks). Exterior paint finishes range from flat (matte, non-reflective finishes generally used for siding) to high gloss (shiny, light-reflecting finishes typically used for doors). Flat paint finishes provide better coverage per gallon, hide imperfections well and are easier to apply. Glossy finishes are easy to clean which makes them ideal for doors and entry areas; the shine will highlight surface imperfections, so applying them takes skill. In between flat and glossy, the paint industry has created additional finishes with various levels of shine: matte, low-luster, satin and semi-gloss.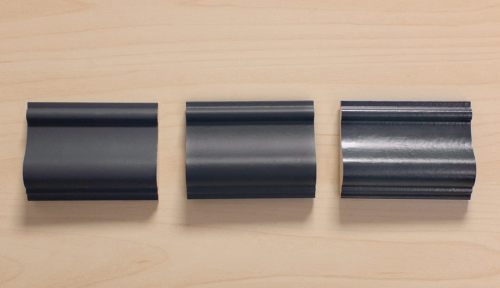 What is the best exterior paint finish?
A general rule for exterior surfaces is to use a Flat or Matte sheen on siding. Trim details like window casings, porch railings, etc. are painted in a Satin or Semi-Gloss sheen for added dimension and easier maintenance. Semi-Gloss and High-Gloss finishes are typically used on the front door for an elevated look that's easy to clean.
If you plan to use Semi-Gloss or High-Gloss paint, surface preparation is very important. Light playing across a shiny surface highlights any blemishes. Be sure to fill all dents, caulk all gaps, and sand the surface thoroughly to prepare for a glossy finish. For more helpful tips on selecting the best paint sheen for your project, check out our helpful guide, How To Choose A Paint Finish.
Benjamin Moore Exterior Paint Grades Explained
Before choosing a Benjamin Moore exterior paint, it's also important to understand a little about paint quality and the difference between grades of paint. High quality paint contains more solid particles and pigment per gallon, so it will actually cover the surface in fewer coats. This is why professional painters use high-end alkyd paints; they build coverage faster and produce a longer-lasting finish.
Compared to other brands, Benjamin Moore exterior paint products are considered high grade paints. Their exclusive Color Lock technology binds the pigments within the paint film, protecting them from UV damage so the color stays true for years. Benjamin Moore paints are also self priming and specially formulated to deter mildew growth and resist chalking and fading over time.
Why Are Some Benjamin Moore Colors Not Recommended For Exterior Paint?
Some of the pigments used to color paints are more stable than others. Natural pigments are mined from the earth and while they resist fading, they are primarily earth tones. Clear, bright colors are made from less stable, organic pigments that are more prone to fade or change over time. Of course, modern paint formulations can help protect these pigments, but it's a complex process.
Benjamin Moore exterior paint colors go through an extensive testing process to make sure they are colorfast under harsh sun and weather conditions. Benjamin Moore offers Exterior Ready-Mix colors that have been specifically tested for color retention. Of course, exterior paints can be tinted any custom color, but we recommend colors from the Benjamin Moore exterior color palette for superior performance.
What Is The Best Benjamin Moore Exterior Paint?
Benjamin Moore's best-selling exterior paints are Aura Exterior and Regal Select Exterior Paint. Both come with a 25-year limited warranty which covers peeling, blistering, and weathering. BENJAMIN MOORE AURA EXTERIOR
Grade: High End
Price: $89.99/Gallon
Finishes: Flat, Low Lustre, Satin, Semi-Gloss
Best Choice When: You want the finest exterior paint available providing exceptional fade-resistance, moisture protection and durability. Color Lock Technology for superior fade resistance, easy application for rich, smooth finish, Outstanding durability prolongs the life of the paint, Mold and mildew resistant, limited lifetime warranty. BENJAMIN MOORE AURA GRAND ENTRANCE
Grade: High End
Price: $62.99/Gallon
Finishes: Satin, High-Gloss
Best Choice When: You want a door and trim enamel that cures to a rich, lustrous and durable finish. Outstanding durability, easy smooth application. For interior and exterior use, available in thousands of colors, with a limited lifetime warranty. BENJAMIN MOORE REGAL SELECT EXTERIOR
Grade: Premium
Price: $71.39/Gallon
Finishes: Flat, Low Lustre, Soft-Gloss
Best Choice When: You need a durable exterior paint with superior adhesion and resistance to chalking. Regal Select Exterior offers superior adhesion for difficult surfaces, excellent flow and leveling for easy application. It is mildew and fade resistant and comes with a lifetime limited warranty. BENJAMIN MOORE REGAL SELECT EXTERIOR HIGH-BUILD
Grade: Premium
Price: $66.99/Gallon
Finishes: Flat, Low Lustre, Soft-Gloss
Best Choice When: You want high-build exterior protection for added durability, hide and coverage. Its high-build formula offers superior coverage and durability, with excellent flow and leveling for easy application. It is mildew and fade resistant and comes with a lifetime limited warranty.
BEN EXTERIOR
Grade: Standard
Price: $51.89/Gallon
Finishes: Flat, Low Lustre, Soft-Gloss
Best Choice When: You want a user-friendly premium exterior paint that's available at a great value. Easy application with dependable performance, good coverage and durability, mildew and fade resistant, 25-year limited warranty.
Whether you plan to DIY your home's exterior paint or hire professionals, with the right products we know you'll love the end result. Our favorite designer tip for testing paint swatches on the exterior of your home is to paint a large poster board using a Benjamin Moore half-pint paint color sample; then move it around the home to observe the color and sheen in different lighting conditions.
Ring's End carries a wide selection of Benjamin Moore paints in-store and online for shipping anywhere in the U.S. Our Paint & Design Showrooms in Connecticut have full-time designers offering complimentary in-store color consultations. Visit our Design Services page to schedule your complimentary appointment, or visit a paint store near you to get started today!