Benjamin Moore First Light Review & Inspiration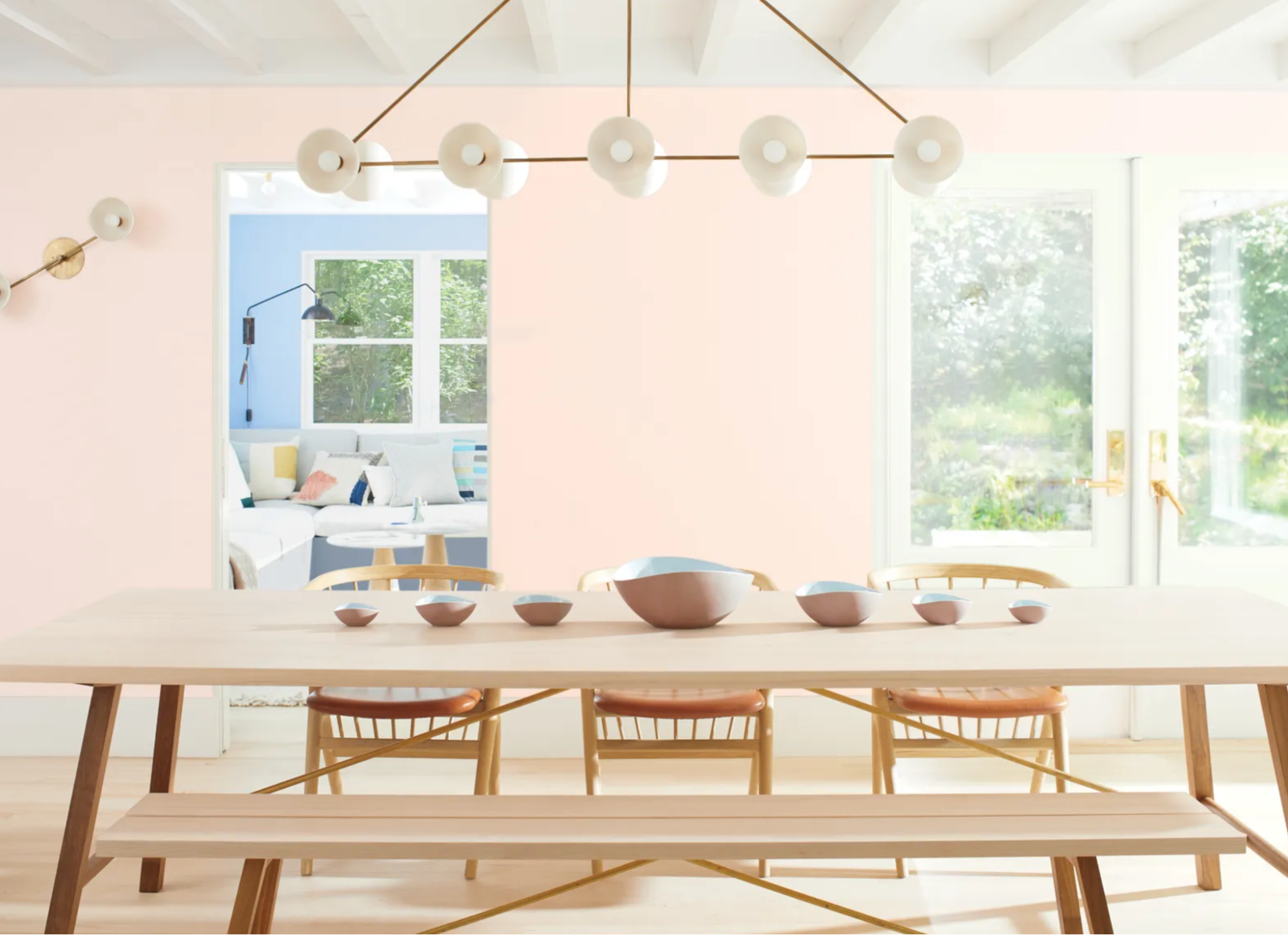 What We Love About First Light 2102-70
First Light by Benjamin Moore is a pale blush-pink color with a subtle, cool elegance. It's a sophisticated color choice for walls and ceilings in living rooms and bedrooms, and turns cabinets into modern statement pieces. This surprisingly versatile color was Benjamin Moore's 2020 Color of the Year, part of the pastel-infused Color Trends 2020 palette. While it has roots in the trendy Millennial pink shade, First Light is a softer, more mature pink that exudes optimism and sophistication.
First Light Has Cool Gray Undertones
Since pink is a very light shade of red it usually has undertones of brown. Brown undertones are muted in the cooler pink shades, which bring out gray undertones instead. First Light has brown-gray undertones that give it a distinctly cool cast without turning it into a lavender shade. Cool undertones keep First Light from taking on a peachy look, even in South-facing rooms with warm, sunny light. This stylish blush color is a fresh, unexpected choice for rooms with little natural light since it keeps them from feeling gloomy.
First Light is an ideal all-over color for bedrooms, living rooms, and dining rooms; it's also very stylish on ceilings. Blush pink rooms are wonderful for entertaining and relaxing because they give the occupants a healthy glow. The sophisticated cool undertones set off both light and dark wood colors beautifully, so don't hesitate to use it with light maple furniture or dark walnut floors. First Light retreats into the background easily, so it's a stylish choice for walls that display art. Historically popular in English country houses and American mid-century homes, pink is a versatile color suitable for both modern and traditional interiors.
Keep in mind that on an accent wall First Light may reflect a pink cast on the adjoining walls, so a shade of white is probably best for the rest of the room. Benjamin Moore's Oxford White (CC-30), Chantilly Lace (OC-65), or Snowfall White (OC-118) would be excellent companion whites. Light neutral paint colors like Stonington Gray are also very complimentary to First Light's cool blush shade.
Best Rooms to Paint Benjamin Moore First Light
The right shade of pink for a primary bedroom, dining room, or living room can be hard to find. If it's too intense or peachy it may look juvenile or dated. The best pink paint colors for adult spaces have cool, complex undertones like Benjamin Moore's First Light. It creates a surprisingly neutral backdrop for modern furniture silhouettes: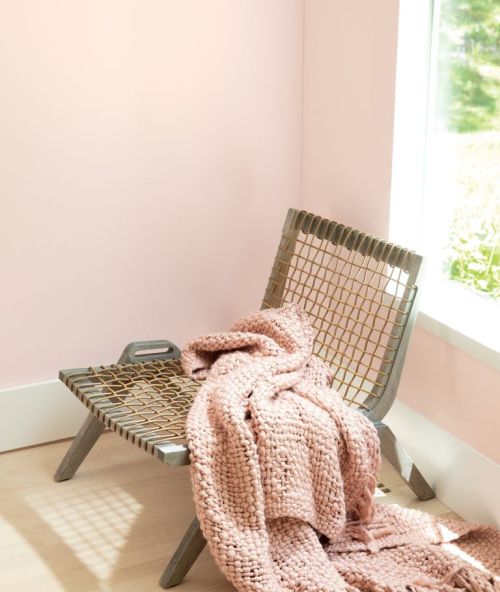 First Light looks wonderful paired with today's popular gray colors, and super-chic when accented with gold or copper metals: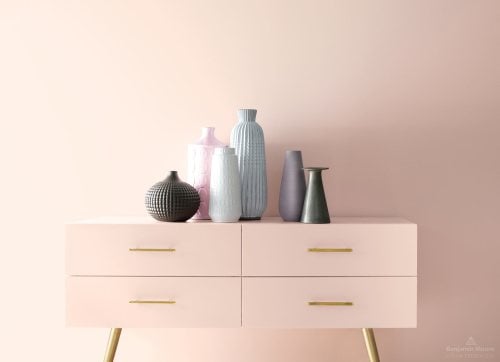 Here, First Light lends a sophisticated air to a modern dining room. Light wood tones show up well against the pale blush walls, and brass lighting adds a touch of glamor: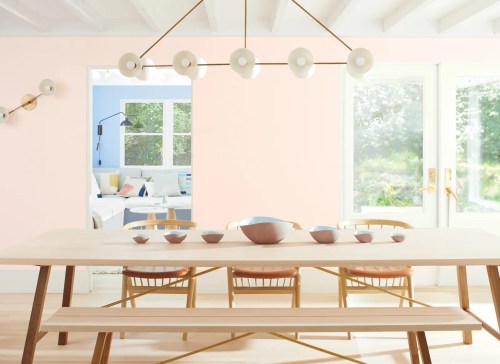 Neutral, medium-shade colors like gray or khaki are strong companions to this pale pink; here Benjamin Moore's Thunder on the kitchen walls helps to anchor the cabinetry painted in First Light: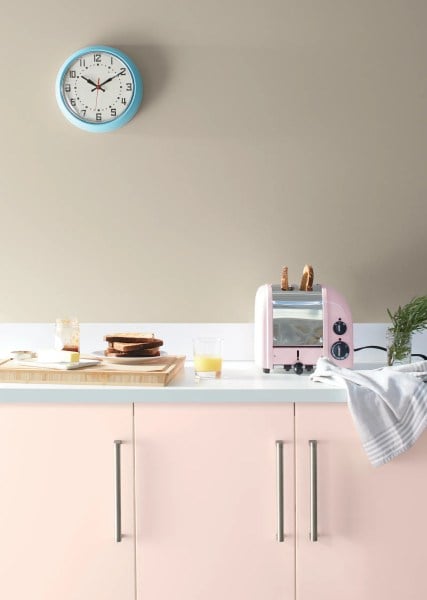 Pastel colors with a similar intensity can be the perfect companions to First Light; they help to create a fresh, cheerful color story from one space to the next. This pink dining room is brightened up further by a sunny yellow kitchen in Benjamin Moore's Golden Straw:
Millennial style has made accent walls and murals popular lately, and First Light is the perfect pale blush to accent a bedroom wall:
Buy Benjamin Moore First Light 2102-70 Paint & Samples
First Light is available at Ring's End in a variety of paint sheens and sizes. Buy it in our best-selling Benjamin Moore paint line today!
Want to see how First Light looks in your home before deciding if it's the right color?
Try our Paint Color Samples that are used by professional interior designers.
You may also like…
For a deeper pink color with brown undertones, check out Rose Bisque. Try Silky Smooth for a pale pink with more gray undertones, and Victorian Lace if you prefer a warm pale pink.