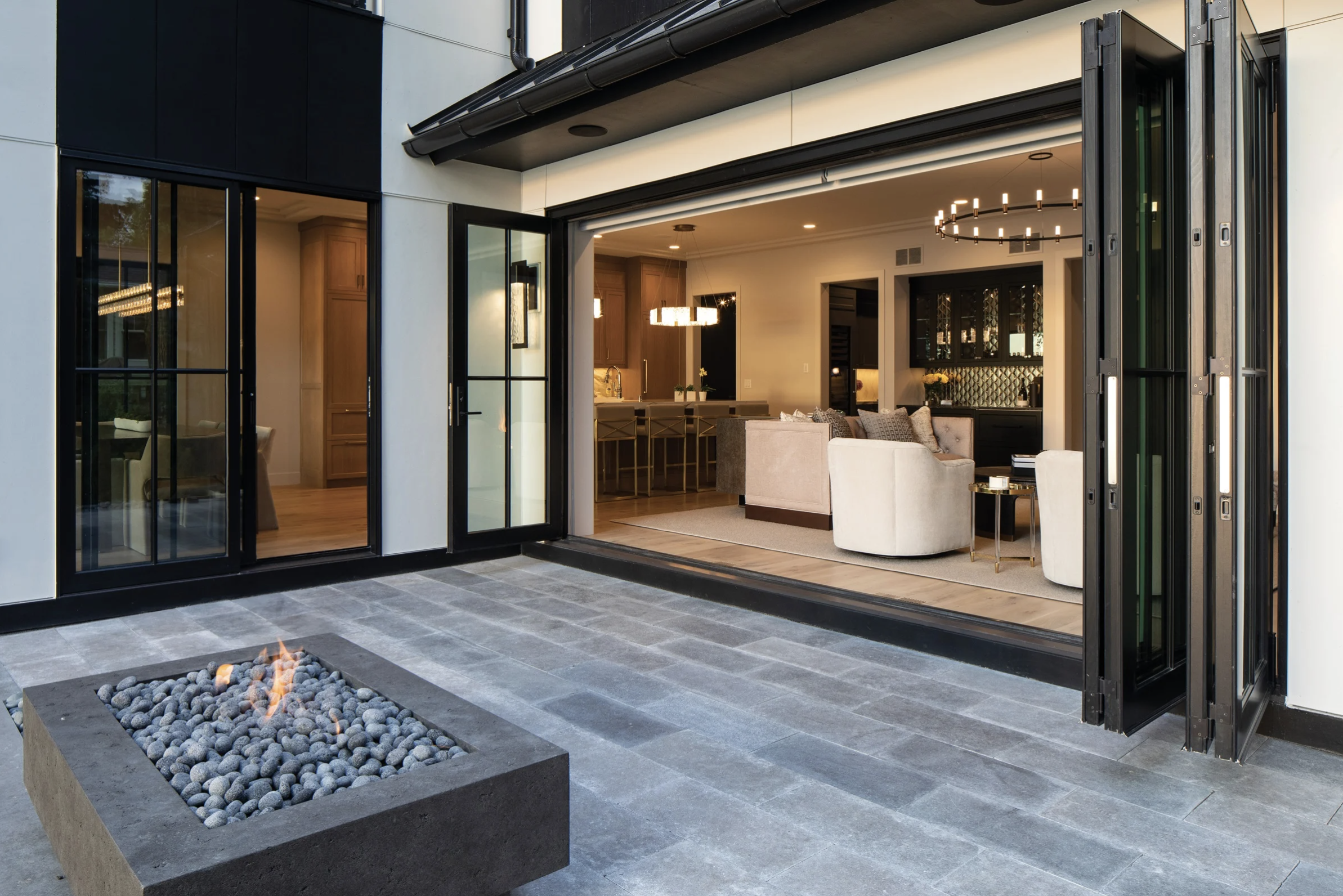 When building or renovating a home, door shopping can be overwhelming, but at Ring's End, we can help you narrow down your options and choose the best doors for your lifestyle. Your home's architectural style and exterior color scheme will be factors in entry door and exterior door selections, but your personal decorating style and lifestyle needs will also come into play. Marvin is all about creating beautiful living spaces that encourage homeowners to lead happier and healthier lives.
When choosing a door, you'll select a door style, material, and color or finish. For patio doors or bi-fold glass walls, you'll also need to think about the type of glass, also known as the glazing system, to make sure your new doors are energy efficient.
To make your door selection process easier, we've put together this comprehensive guide to everything Marvin doors. Here you'll learn about door types and available materials, plus options for energy efficiency and color choices. After reading our guide, you'll be able to work more easily with your local Ring's End representative, architect, or builder to choose the best doors for your home.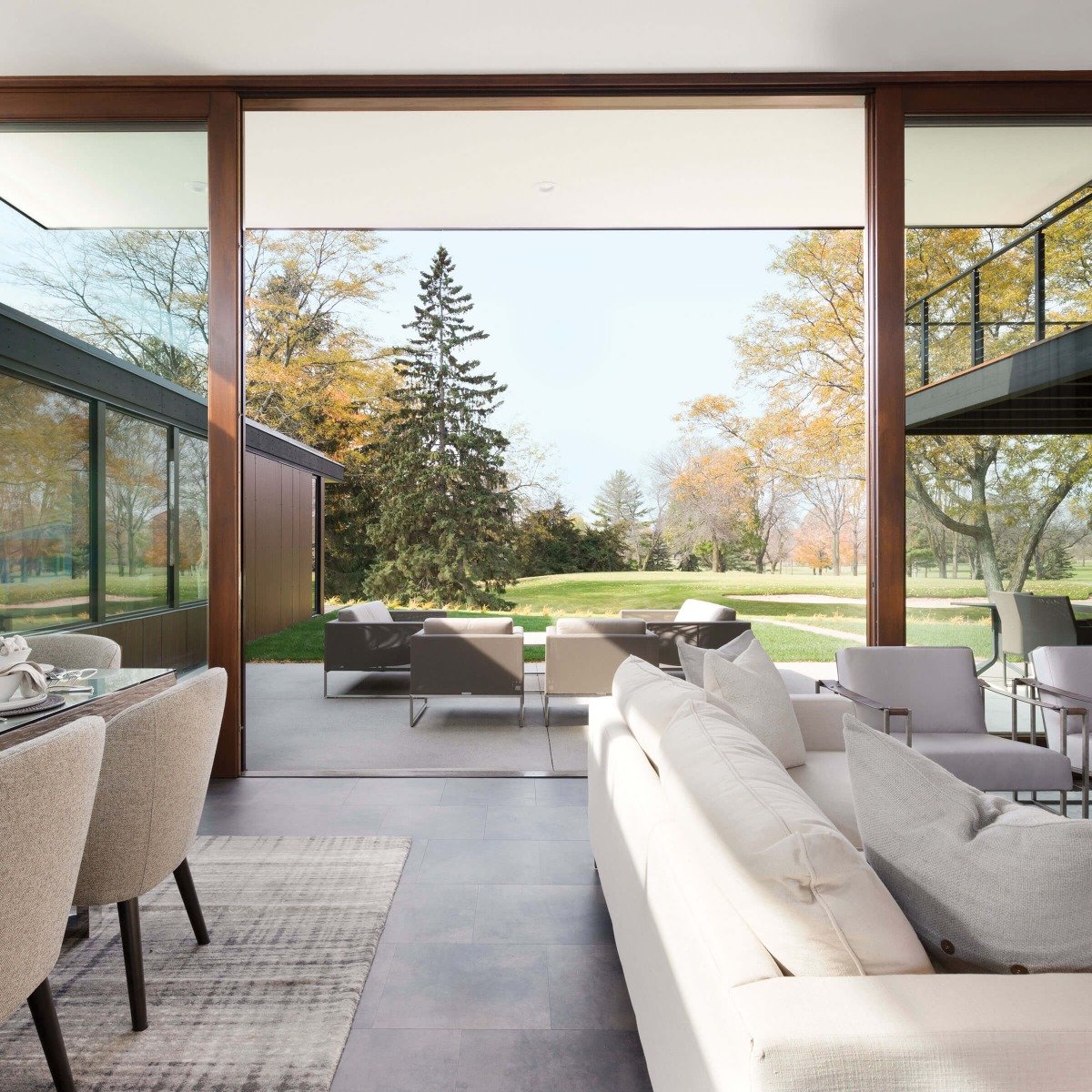 Marvin Ultimate Lift & Slide Door
We'll begin by defining the different types of exterior doors—understanding the correct names for different styles will make it much easier to work with your Ring's End sales representative. 
Step 1: Select Which Type of Door is Best for Your Home
An exterior door is any door designed for openings that lead to outdoor areas like a porch or patio. They may be a single door or have multiple panels that swing or slide open, and they are usually made from wood, fiberglass, composite, or aluminum. All of Marvin's exterior doors have glass panels to let in light and really bring the outside in, one of the company's main tenets.
Marvin offers six types of exterior doors: 
Swinging Doors

Marvin Elevate Swinging French Door
Swinging doors are the most common style of door; they swing on hinges to open and close. The direction a door swings, either to the right or the left, is called the handing. Exterior doors are also referred to as inswing or outswing depending on whether they swing into the house or outwards to the exterior.
Sliding Doors

Marvin Ultimate Sliding French Door
Sliding doors have one or more door panels that open by gliding sideways. While most people have probably experienced a conventional sliding door in their home before, many homeowners don't realize that this type of door can come in many different styles! Variations of the exterior sliding door include the patio door, multi-slide door, bi-fold door, and lift and slide door.Sliding doors are often combined with windows to create glass walls that open to the outdoors. You'll find more detail about sliding doors as well as inspiring design ideas in our blog post, Large Sliding Glass Doors & Window Walls Let Nature In.
Swinging French Doors

Marvin Elevate Swinging French Doors
French Doors are one or more door panels with glass that can be divided into individual panes by "muntins" or a grid. Typically used in traditional-style homes, a French door may operate by swinging or sliding, or may be stationary.
Exterior Bi-Fold Doors

Marvin Ultimate Bi-Fold Door
Bi-fold doors, also called folding or accordion doors, have panels hinged together that fold to open and close. (For example, interior folding doors with two panels are common on closets). Exterior folding doors are usually large, floor-to-ceiling glass panels connected to form a window wall that opens for indoor-outdoor living. Folding doors can create openings up to 55 feet wide and 10 feet tall.
Lift & Slide Doors

Marvin Ultimate Lift & Slide Door
Lift & Slide doors are sliding doors made up of several glass panels that stack neatly to one side when the door is open. "Lift & Slide" refers to the precise engineering that allows door panels to slide effortlessly. For a seamless indoor/outdoor transition, Lift & Slide doors may have recessed sills and a wall pocket to conceal the open panels. Marvin lift and slide doors may be up to 47 feet wide and 12 feet tall. You'll find plenty more helpful information about Lift & Slide doors in this article: Why We Love Loft & Slide Doors.
Multi-Slide Doors

Marvin Ultimate Multi-Slide Door
Multi-slide doors have more than one moving panel aligned in a row. When open, the panels either stack side-by-side near the edge of the opening or tuck into a wall pocket. When closed, the frame of each panel overlaps the frame of the panel beside it, creating a narrower frame that improves the view. Some multi-slide doors are available with push-button motorized operation. Marvin multi-slide doors can go up to 60 feed wide and 12 feet tall.
Commercial Doors

Marvin Ultimate Commercial Door
In addition to residential exterior doors, Marvin also offers beautiful commercial doors. Commercial doors must meet strict standards for ADA compliance and fire safety; exterior commercial doors have extra security features like impact-resistant glass and mortise locks. Marvin commercial doors are made from solid wood or extruded aluminum finished in either a durable paint coating or wood cladding.
Step 2: Select Your Exterior Door Materials
After deciding which door style and configuration is right for your home, the next step is to select the right door materials. Marvin door frames are available in fiberglass, aluminum, wood, or a combination of these materials. Your choice of door material will depend on your home's architectural style, your budget, and your personal preferences. Each Marvin door collection has a different set of materials to choose from. Once you have a material in mind, you can shop the Marvin collection at Ring's End.
Marvin Aluminum Doors

Marvin Signature Ultimate Aluminum Inswing Door 
Aluminum doors are a popular product because extruded aluminum is strong, light, and nearly maintenance-free. This 100% recyclable high-quality material can produce an extensive range of panel shapes and door profiles. Long-lasting color retention makes aluminum a low-maintenance choice for both doors and windows. Because of its durability, aluminum cladding is a popular exterior finish option for solid wood doors.
Marvin Fiberglass Door Frames

Marvin Signature Collection Modern Multi-Slide Fiberglass Door   
Marvin exterior fiberglass doors are made from its premium composite material, Ultrex® fiberglass. Highly impact-resistant and more rigid than vinyl, fiberglass expands and contracts at virtually the same rate as glass for lasting stability. It has exceptional thermal performance and offers dark colors that resist chalking or fading. High-density fiberglass doors are perfect for harsh climates and maintain their appearance for many years. Exterior doors made from Marvin Ultrex® fiberglass are available in the Modern collection. To learn more about fiberglass window frames' construction and features, Click Here.
Marvin Wood Doors

Marvin Sliding Door in Wood
Wood doors are a popular option both for security and decorative interest. Wood is a versatile, renewable resource that provides excellent insulation, and allows for a custom stain or paint color. Solid wood is used for entry doors, interior doors and exterior doors (like a French door or slider). Exterior wood doors do require regular maintenance. However, modern paint coatings and sealants make wood more durable. A multi-step paint or stain process is applied at the factory and baked on for long-lasting performance. With factory-applied finishes, doors arrive finished and ready to install, saving time and the expense of a painting crew. 
Marvin wood doors are available in a wide range of wood species and an extensive selection of factory-applied paint and stain finishes. Solid wood doors are a popular choice for historic homes and offer creative options for almost any architectural style. 
Step 3: Choose an Exterior and Interior Door Color
Marvin offers an impressive selection of door color options across their product lines, from beautiful wood finishes, to sleek black and whites, to an array of nature-inspired hues or rich, bold colors. Every finish is made from the highest quality materials to help protect your exterior doors from moisture and the elements throughout. 








Once you've selected your door type and material, your Ring's End representative can help you find the perfect color to complement your home's design, and help match your vision to the right Marvin Doors collection.
Step 4: Customize Your Marvin Door Energy-Efficiency Features
Energy-efficient doors and windows play an important role in reducing energy use and making your home more comfortable. Precise engineering and quality weatherstripping create a tight seal to prevent heat loss. Marvin uses a combination of materials and techniques on glass panel doors to provide energy-efficiency throughout the home. 
High-performance glass doors use double or triple glazing, specialized coatings and gas filling for maximum insulation against heat and cold. Your builder, architect or Ring's End sales representative can direct you to the best type of glazing for your doors. The size and location of your Marvin exterior door will determine which options to choose for maximum energy efficiency.

Step 5: Find the Right Marvin Doors Collection
Ring's End offers four different Marvin door collections. The higher-end Marvin Signature® door line offers the company's broadest range of exterior door sizes, configurations, and design options across two product collections: Ultimate and Modern. The Marvin Elevate collection combines a selection of durable fiberglass finishes with a warm, natural wood interior; and the Marvin Essentials collection offers durable, maintenance-free fiberglass inside and out.

Shop For Marvin Doors At a Ring's End Showroom
Ring's End is the premier resource for Marvin exterior doors in the Connecticut, South County, Rhode Island, and Westchester County, New York areas. You'll love Marvin's extensive selection of designer door and window options - and their uncompromising quality. Our window and door experts make it easy! They're ready to help you navigate through the choices, set up an installation plan, and deliver your doors safely and efficiently. Visit a Ring's End showroom, or schedule an in-home appointment with one of our Marvin experts. Get started today!
Marvin Doors Frequently Asked Questions
Why do I need an appointment to shop for doors? 
Because there are so many options to consider, selecting doors for your home takes time and it's important that a member of our team is available to work with you.
Where do I find a factory-trained Marvin Windows & Doors installer?
Ring's End offers direct installation of all your Marvin window and door products. Our installers are licensed and fully insured. They follow the manufacturer's recommended installation methods, to ensure each door we install meets the manufacturer's warranty criteria. Our installers are certified as EPA Lead Safety Renovators. Registered in Connecticut, New York (Westchester County), and Rhode Island, our installers deliver the highest quality services throughout the region. Click here for more information.
What is the Marvin Door warranty?
All Marvin windows, doors, Marvin Awaken™ Skylight and Marvin Skycove® are covered by a substantial, industry-leading Limited Warranty that proves they stand solidly behind their products. For detailed warranty information, visit the Marvin website.
What is Marvin Door's Energy Efficiency Rating?
All Marvin doors are assessed and rated by the National Fenestration Rating Council (NFRC) and are Energy Star certified. The NFRC provides a uniform national rating system for the energy performance of doors and windows. To compare Marvin door collections and find the best energy efficient doors for your project, Marvin provides an Energy Data calculator on their site. 
Where are Marvin Doors made?
Marvin Products are manufactured in the USA.