Wood Decking
Types of Wood Decking
Materials
Features of Wood Decking
Deck boards form the surface of the deck. The most common dimensions a radius-edged 5/4 nominal thickness by six inch nominal width , with varing lengths available.
Wood deck tiles can be a perfect solution for giving a tired wood deck a stylish, easy-to-install facelift. Ring's End can special-order these versatile products.
Deck framing (joists, posts, beams) requires sturdy wood, often with ground contact or below grade levels of treatment for pressure-treated lumber.
Wood decking is beautiful when it is first installed and can gain in beauty over time, as some acquires a lovely weathered patina. The huge choice of finishing options allows a great deal of customization to reflect a homeowner's personal style.
Deck finishes include clear sealers and pigmented stains. The purpose of deck finishes is to enhance the beauty of the wood and to protect the wood from mildew, water damage, and UV rays. With normal use and weather, finishes need to be reapplied every few years.
Most deck boards are laid in long straight or diagonal lines. For a unique look, consider patterns composed of shorter or varied board lengths such as basketweave, chevron, or herringbone.
Decks are assembled with wood screws, clips, and fasteners, many of which can be hidden in order to create an uninterrupted deck surface.
To make your deck fit the way you live, you might include wood planters, benches, or trellises in your design.
How To Select Wood Decking For Your Home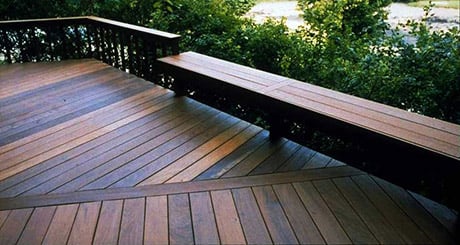 Choosing wood decking involves balancing aesthetics with budget. In general, pressure-treated lumber is an affordable option; it can be stained and sealed to look good and to reduce maintenance concerns. Western red cedar may be preferable for the visible deck boards. A pretty, naturally durable wood that weathers into a lovely gray color, it is more costly than most pressure-treated lumber. Tropical hardwoods such as ipe (ironwood) are beautiful, extremely strong and durable, and relatively expensive. Visiting Ring's End decking displays can help you compare the appearance, qualities, and costs of wood decking.
If you're choosing deck boards yourself:
1
Look for pressure-treated boards stamped 'select,' which means a grade with few knots or blemishes.
2
Sight down each board to avoid warped, twisted, or cupped boards; avoid wet boards.
3
Consider using pressure-treated boards for structural elements and upgrading to cedar or tropical hardwood for the deck boards proper.
4
When buying cedar boards, select boards cut from the heartwood.
5
If you choose a tropical hardwood like ipe, remember that its density makes it harder to work with and that a dark colored wood. Is not the color that will remain. With Sunlight Ipe turns a beaurtiful silver color that does not to be maintained.