The Very Best Benjamin Moore Blues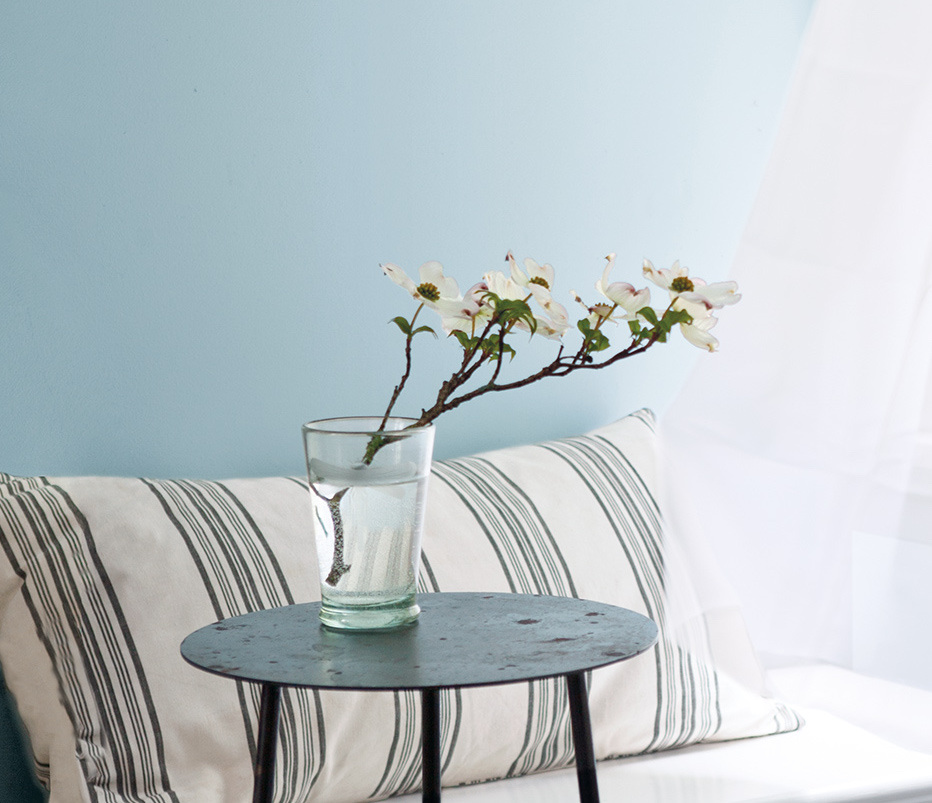 Blue paint colors may wax and wane in popularity, but they never really go out of style. Dark shades of blue that feature gray undertones have been extremely popular in the past few years. Deep navy and teal blues are complex wall colors that make art and accessories stand out. A blue paint color can even have warm or cool undertones that effect the mood of a space. With its enormous range of undertones, the blue color family may be the most versatile of all.
This favorite color pairs perfectly with complementary yellows, and works beautifully with analogous shades from violet to aqua or green. Interior designers love to use blue – but it can be difficult to choose just the right shade. That dark navy that looks perfect in a magazine may look entirely different in your living room. Bedroom paint colors can really influence your mood, so it's important to choose the right one.
From deep navy to pale aqua, and every shade in between, there are Benjamin Moore blues for every project. To help you find the perfect blue paint colors for your home, we've created this guide to our favorite Benjamin Moore shades of blue.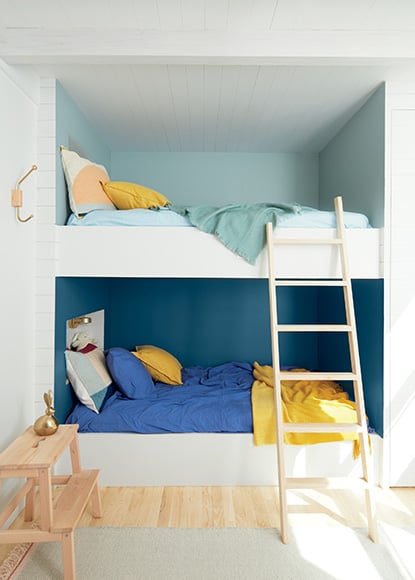 The Darkest Benjamin Moore Blues
Midnight, cobalt and navy blues create elegant, cozy spaces that let art and furnishings shine. Dark blue is a classic choice for cabinetry, bookshelves, walls or trim. For a modern look, paint an accent wall around a fireplace, or use it as all-over color for a traditional master bedroom. Pair them with crisp white trim in Benjamin Moore's White Dove for a traditional look, or create a soothing envelope by painting walls, trim and ceiling the same deep blue shade. Try one of these popular dark blues: Symphony Blue is a classic shade of navy with nautical flair. Solidly blue and not too dark, it's a New England preppy navy that pairs nicely with traditional shades like Marblehead Gold. Trim it with a slightly warm white like Benjamin Moore's Cloud White.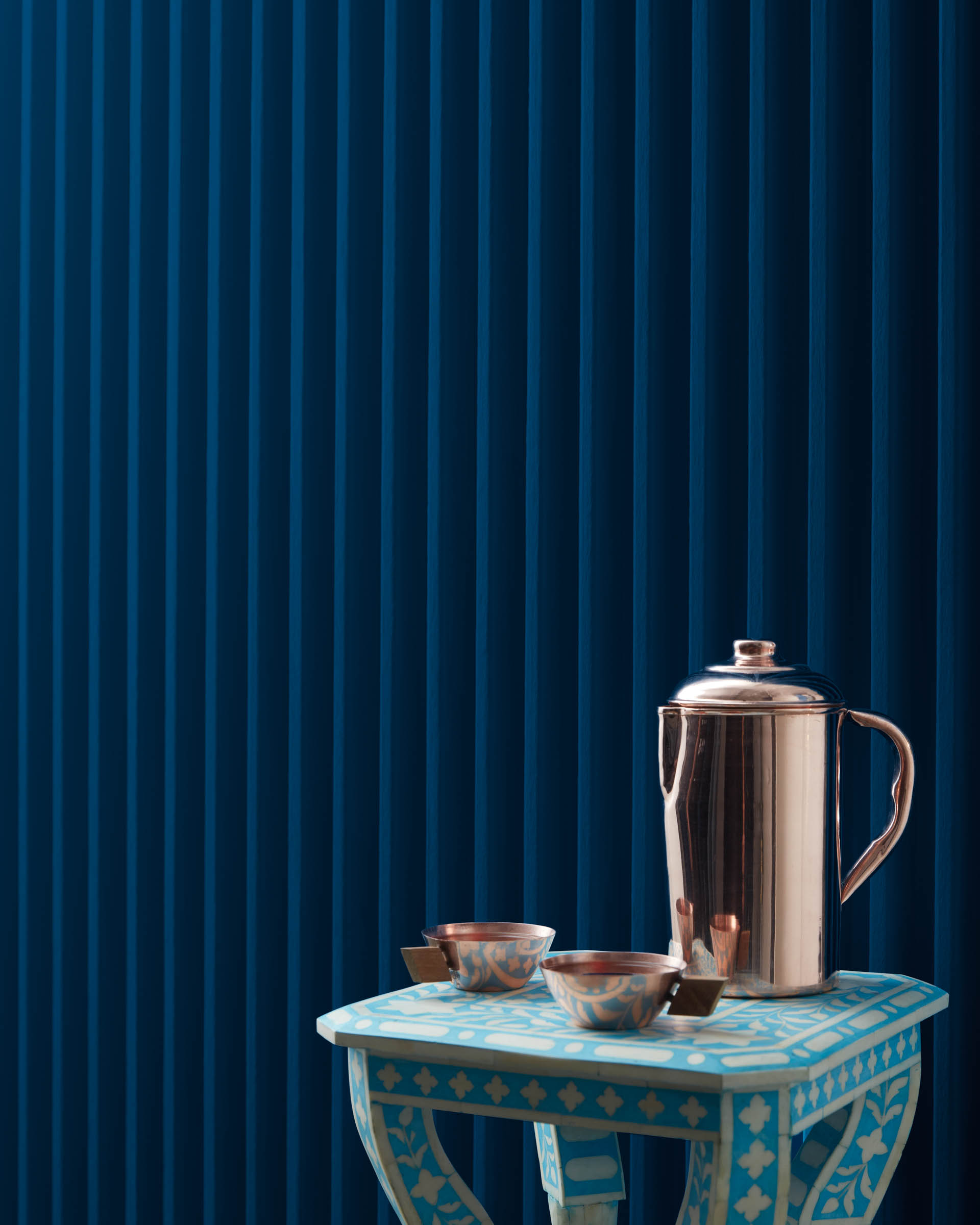 Another elegant dark blue, Champion Cobalt, takes a deep royal blue and adds a hint of teal to give it a bit of intrigue. Complement this saturated blue with a warm, rich neutral like Pale Oak on the ceiling; using a color instead of white softens the ceiling line.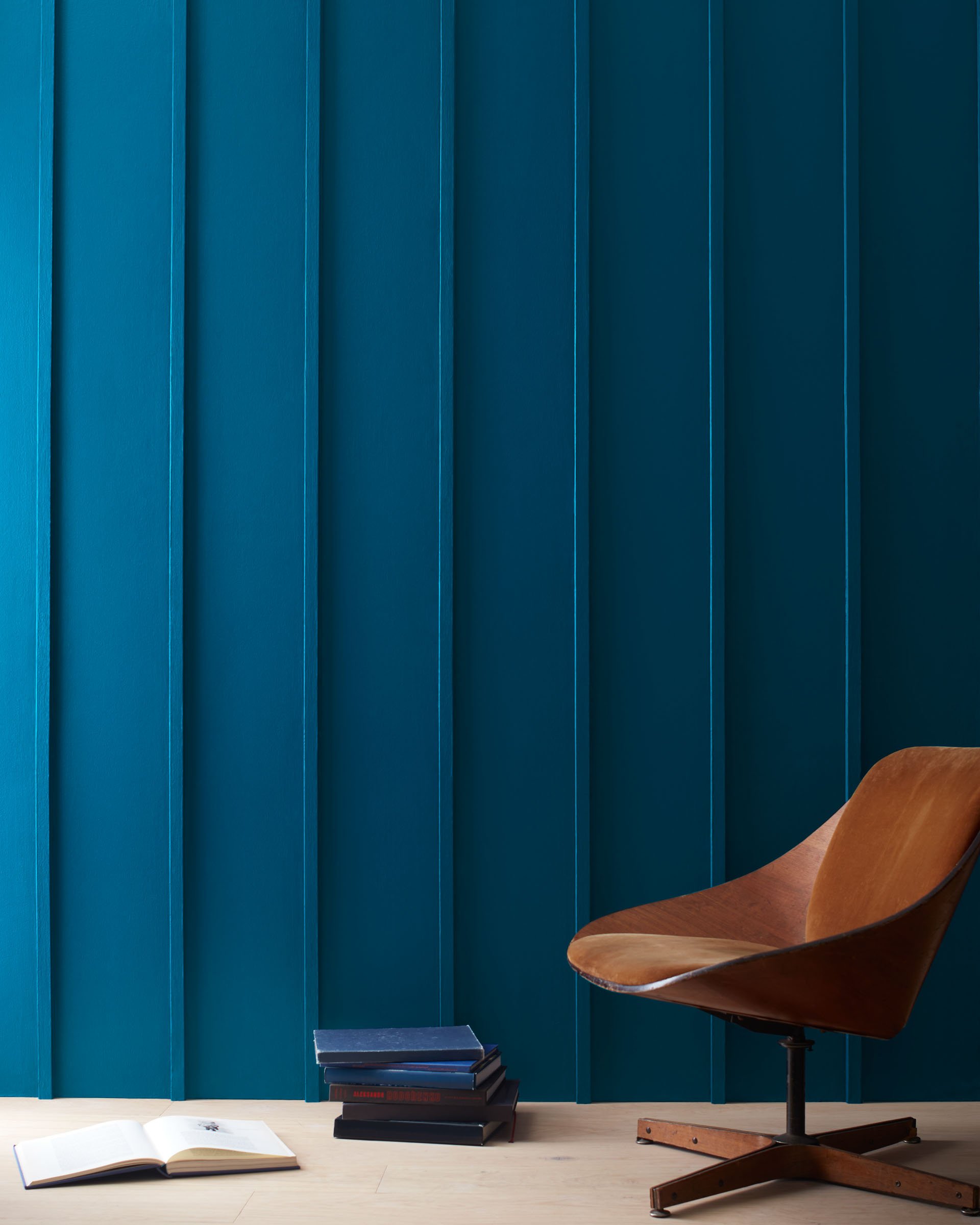 Blue Danube is a stylish dark blue that shows interesting teal undertones, especially in bright lighting. It's lively enough that it won't make a room look too dark, yet deep enough to create some drama. If your adjoining rooms have gray paint colors, Blue Danube is a great choice.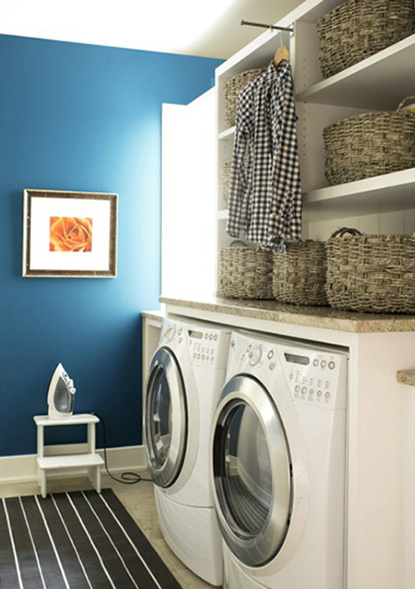 Inspired by the Old World pigment, Prussian Blue is a jewel tone that evokes blue-and-white Chinese porcelain. It's a deep, bright blue with a complexity that always looks sophisticated. A unique blue with indigo and teal undertones, it works beautifully with either traditional or modern decor.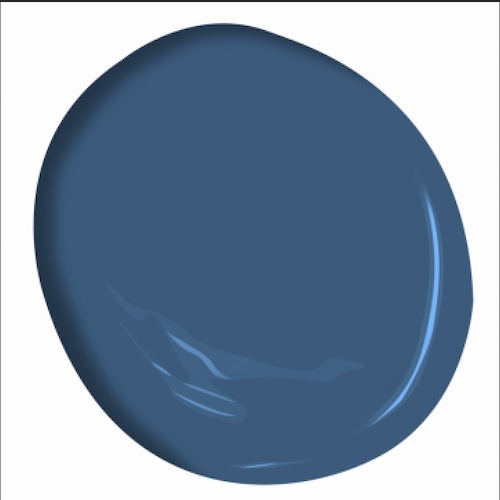 If you're looking for a deep teal blue with a modern bent, you'll love Gentleman's Gray. Charcoal undertones balance out the blues to create a restrained, modern dark blue. Stormy Monday's taupe with violet undertones makes a perfect neutral to complement Gentleman's Gray. Pair them with Decorator White's slightly gray undertones on the ceiling.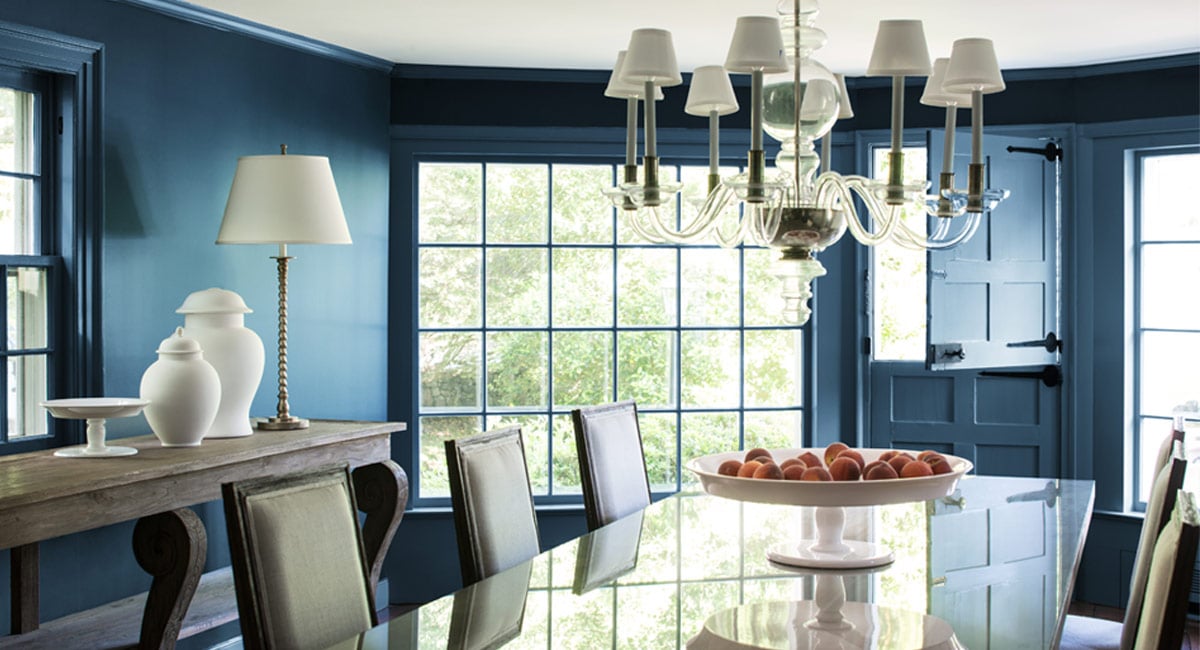 A real navy blue that's perfect for both traditional and modern interiors, Old Navy has deep indigo blue undertones that give it a classic vibe. You can rely on Old Navy not to appear teal or or gray, even in different lighting conditions. This classic shade makes a great accent color. Pair it with earth-inspired neutral paint colors like Stonington Gray or October Mist, Benjamin Moore's 2022 Color of the Year, for a timeless look.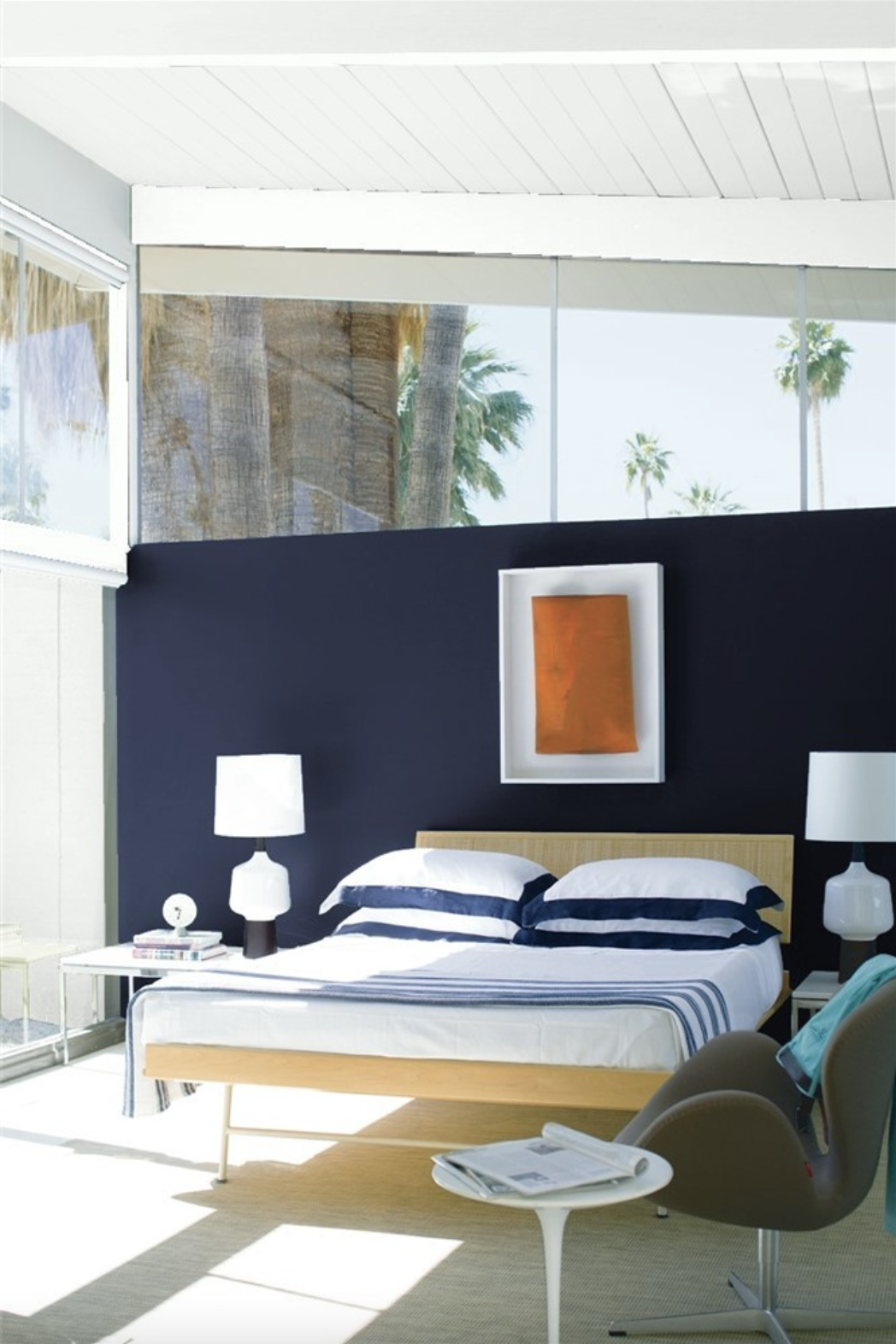 What is Benjamin Moore's darkest blue?
Benjamin Moore's darkest blue that can still be considered a shade of blue is probably Hale Navy. A shade darker than this color is really an off-black, not a blue. Hale Navy has gray undertones that coordinate perfectly with gray colors, especially warm gray or greige. Keep in mind it is a very dark color. Although it looks great in different lighting situations, it may be too dark for your taste in a room without natural lighting. However, it's a great choice for an accent wall and it looks sharp on cabinetry, bookshelves or even a front door.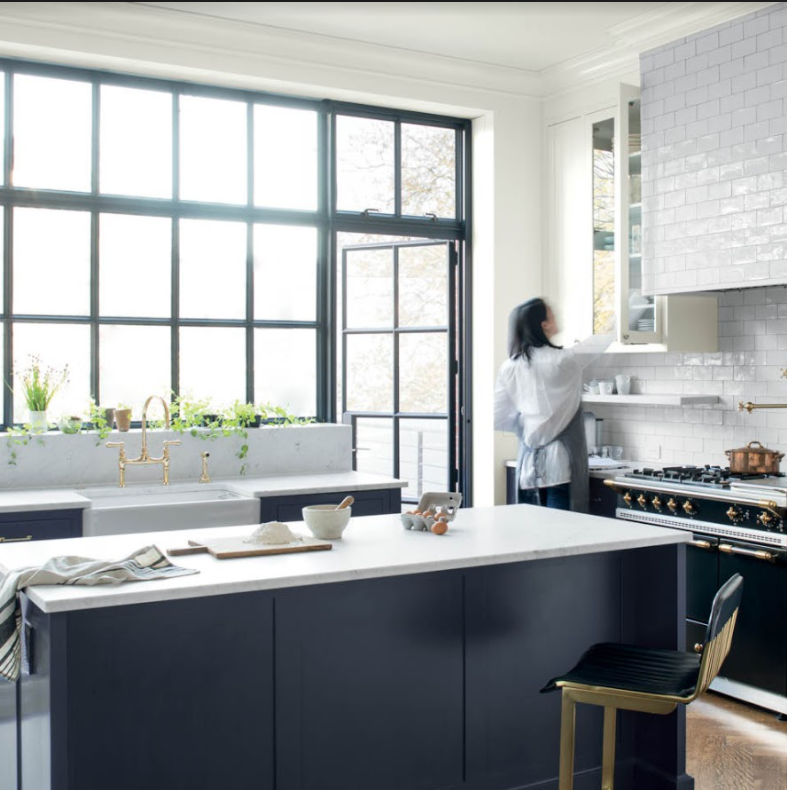 The Best Medium Blue Paint Colors
Medium blue paint colors may be cheerful and energetic, or complex and moody. Some of today's most popular Benjamin Moore blues have gray or teal undertones that add depth and interest.
Van Courtland Blue is part of Benjamin Moore's Historic Collection. It's an elegant, Old World blue that displays Mediterranean influences in its indigo undertones. While it has a traditional vibe, it also works well in contemporary spaces and complements art and furnishings beautifully. This gray-blue shade looks best with slightly warm white colors like Benjamin Moore's Simply White.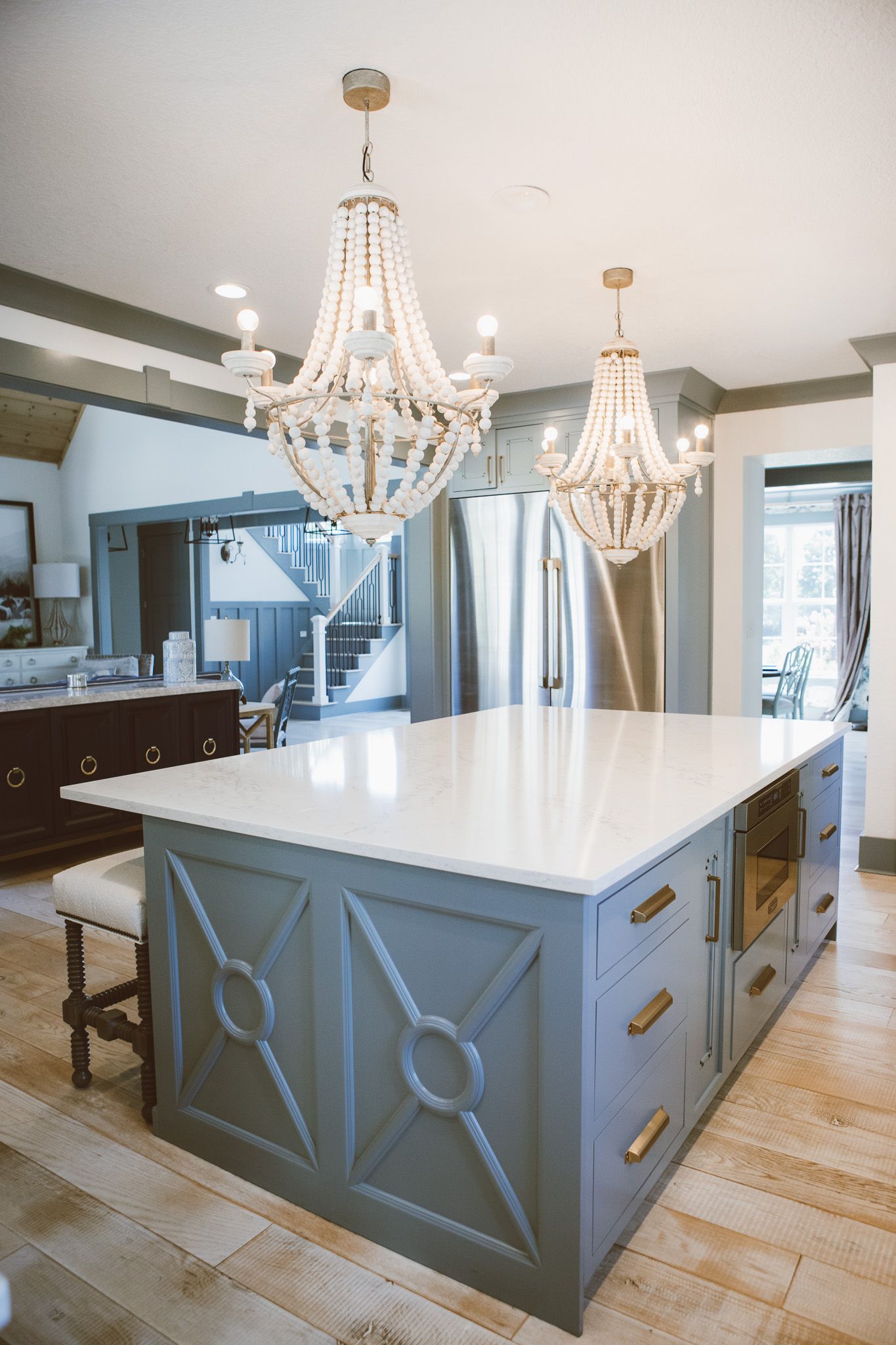 Another inspired medium blue, Amsterdam is described by Benjamin Moore as "an appealing blue-gray that merges Old World elegance and modern industry." Gray undertones add cool complexity, while aqua hints fit a historic color palette. This modern color is ideal for vintage and industrial spaces, complemented by a warm neutral like Benjamin Moore's Fossil.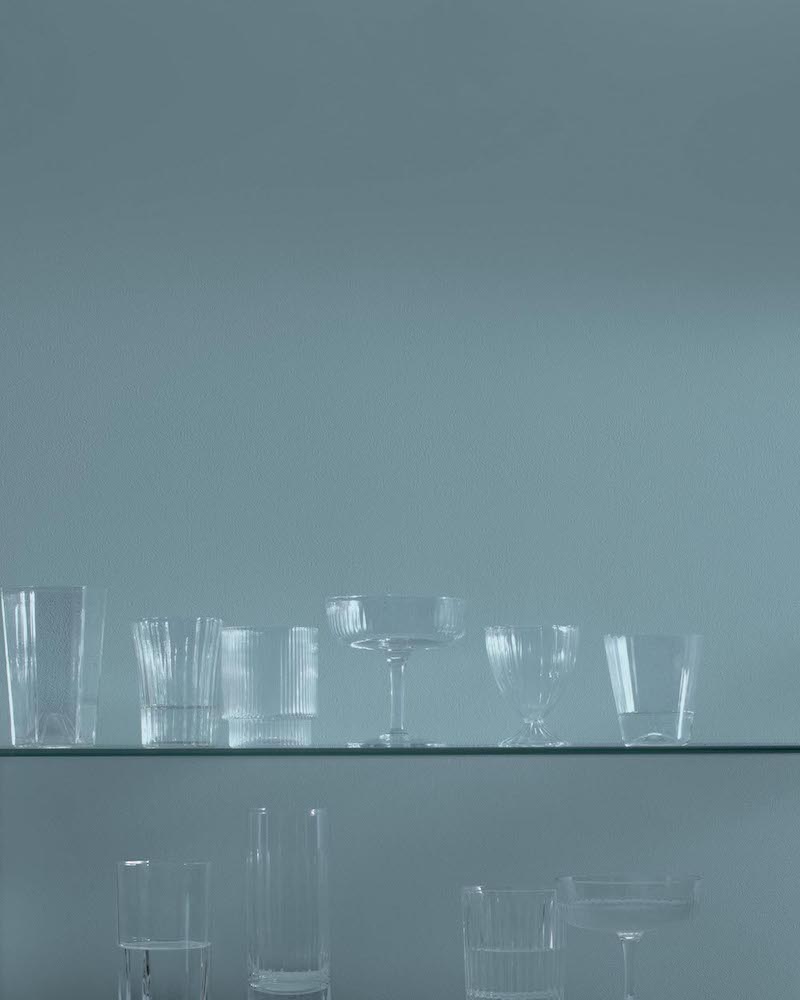 Santorini Blue is a sophisticated blue that channels hazy Mediterranean skies with a touch of gray. It's much lighter than Amsterdam, but has the same complex quality with aqua undertones.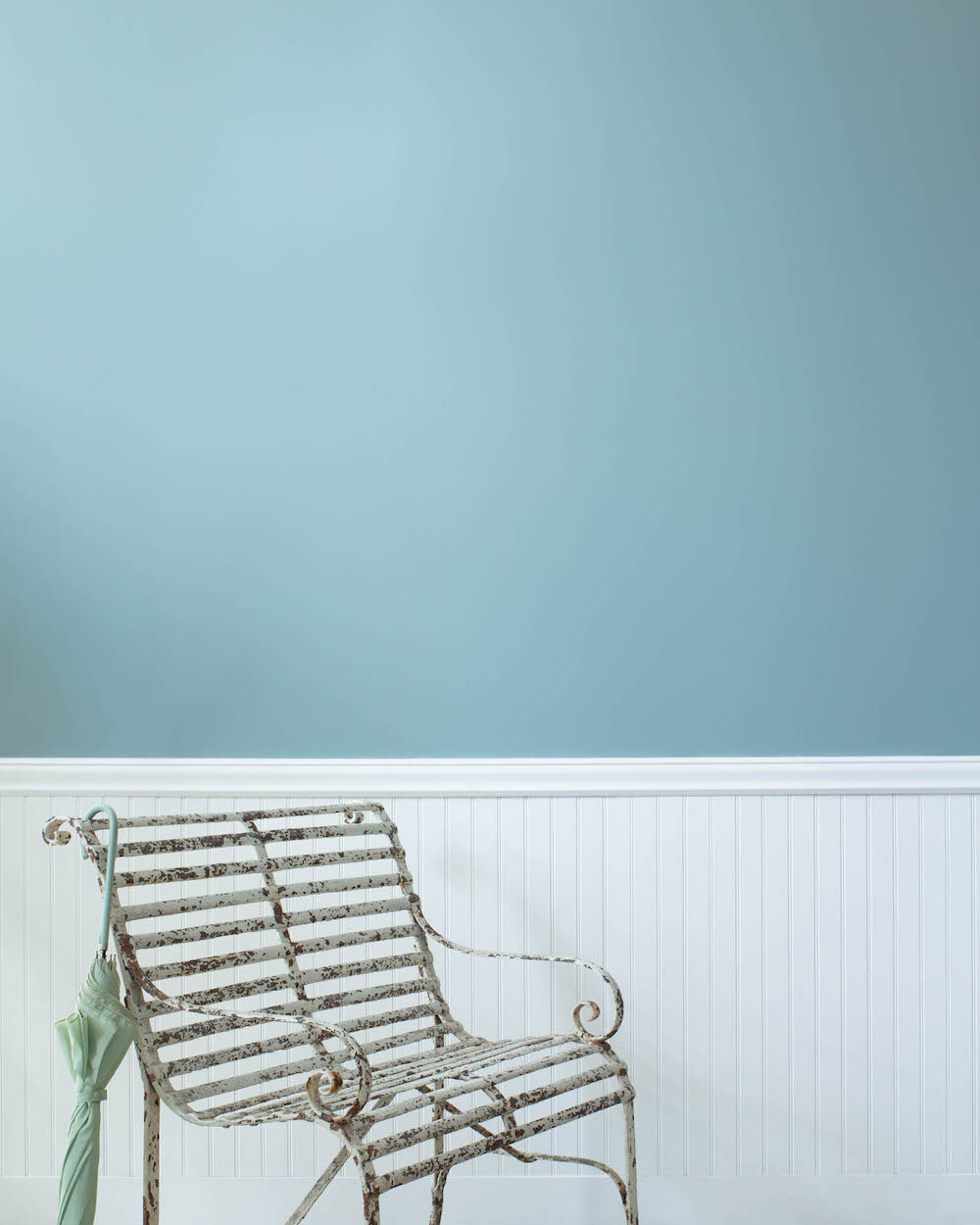 Yarmouth Blue is another color from the historic palette that has a lively blue-green tint. Without any gray undertones to tone it down, it creates an airy, summery vibe. It's one of Benjamin Moore's most popular medium blue colors.
Wythe Blue was Benjamin Moore's Color of the Year in 2012, and it retains its popularity as a go-to color for traditional interiors. It has a changeable nature and may look more blue-green or blue-gray depending on the lighting. A wonderful color for cabinetry, or as a backdrop for antiques, Wythe Blue looks great with both light and dark wood tones.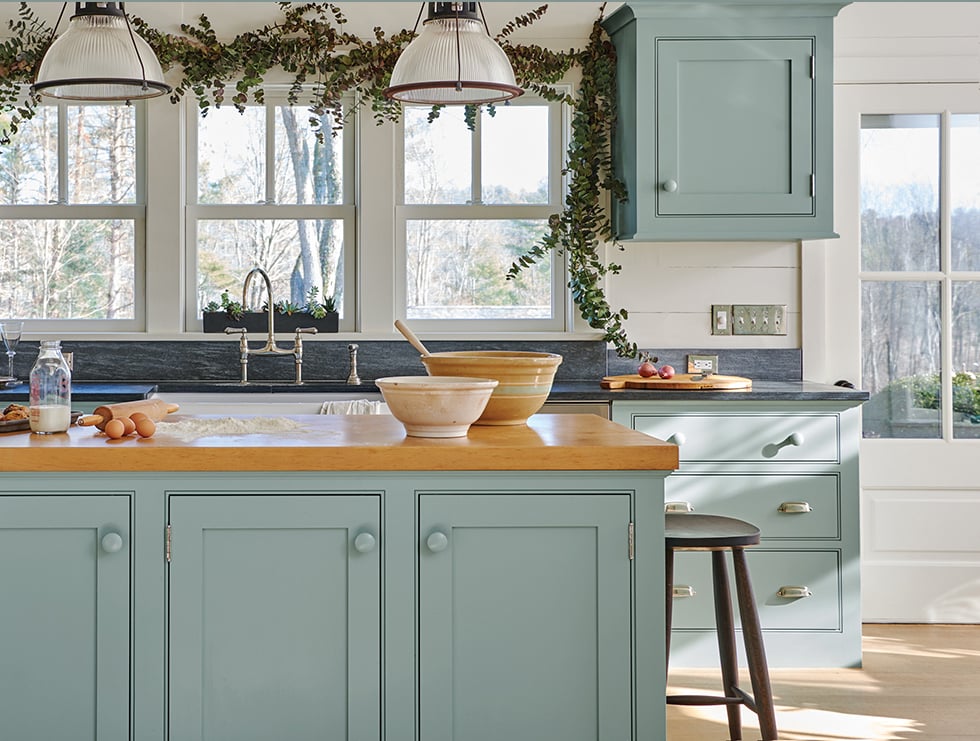 Poolside is a saturated peacock blue that is calmed by a hint of gray undertone. This tropical shade conjures the ocean, but its versatility extends far beyond resort spaces. It can serve as a bright backdrop in a traditional room, or a bold accent in a contemporary space. Paint ceilings or adjoining walls a neutral-cool white like Benjamin Moore's White Dove to make it pop.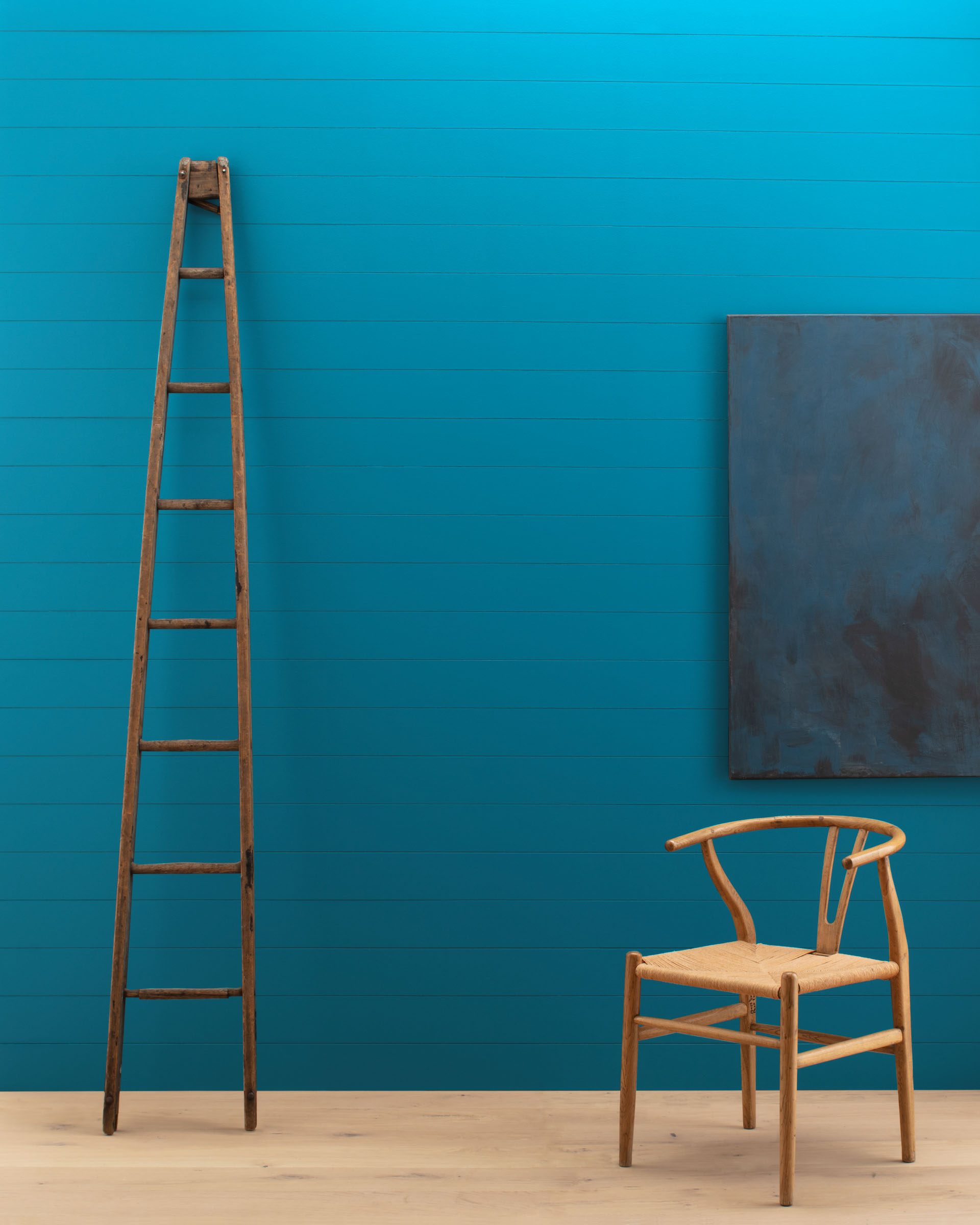 For a medium blue with indigo, not aqua, undertones, check out Oxford Gray. This color is a great substitute for navy blue if you're seeking a lighter shade. Khaki-tan and yellow paint colors, as well as light wood tones, complement this blue perfectly. This midcentury kitchen uses Oxford Gray on the kitchen walls and sky-blue Blue Hydrangea on the lower kitchen cabinets to anchor a serene, outdoorsy color scheme. Patriotic White on the ceiling adds to the fresh look with a hint of blue undertone: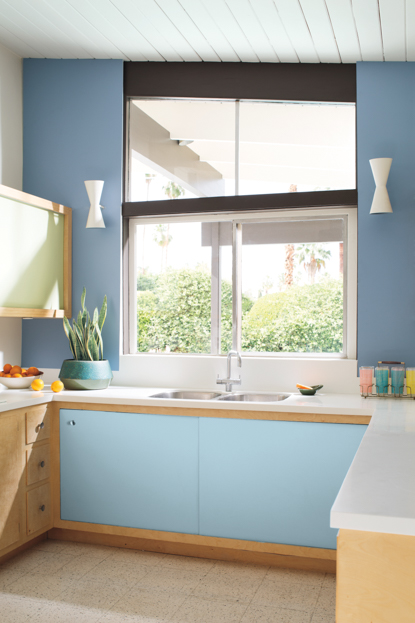 In some lighting, Oxford Gray can appear as a deep blue gray paint, but it's never as dark as a navy blue.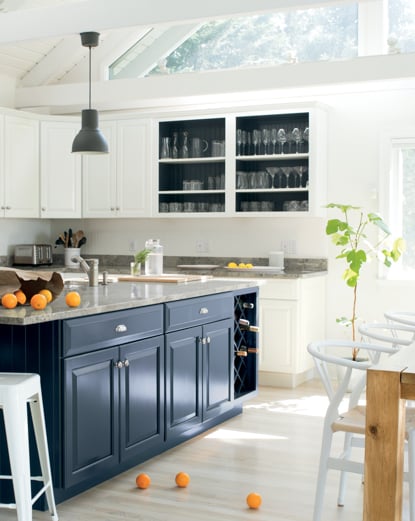 Popular Light Blue Colors From Benjamin Moore
Looking for a sky blue that conjures a relaxed breakfast by the Mediterranean Sea? Bring your vacation home with Mediterranean Breeze, a powdery blue that's fresh as a summer sky.
Woodlawn Blue creates a vintage vibe with the palest shade of old blue-green glass. This versatile color is equally at home in a beach house or a historic mansion; pair it with warm neutrals like Chelsea Gray for an elegant, understated look.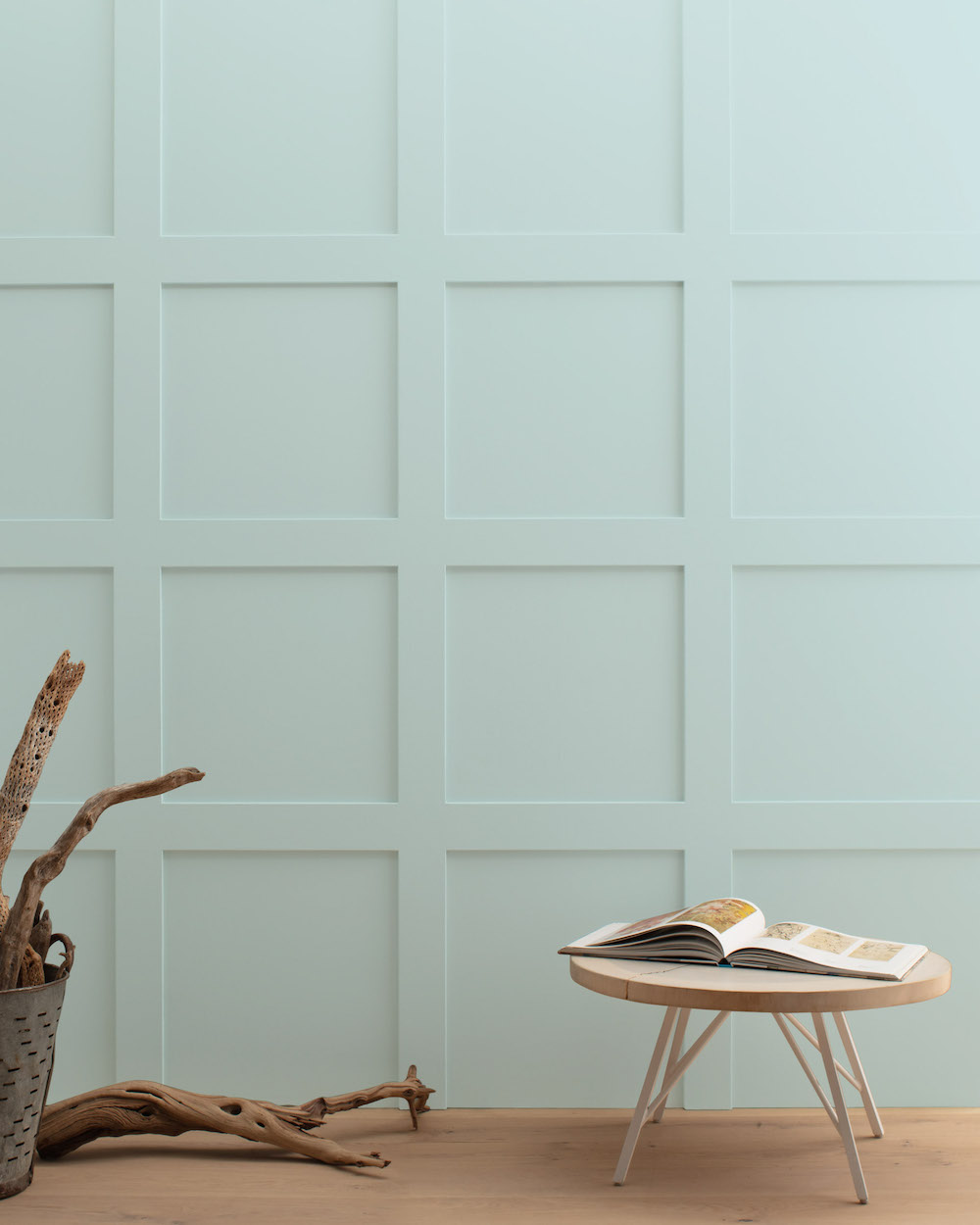 The Color of the Year for 2014, Benjamin Moore's Breath of Fresh Air is a pale, powder blue that's elegant and slightly feminine. It's a versatile shade that can change depending on the lighting and nearby colors. Here it appears blue against wood and gilt antiques: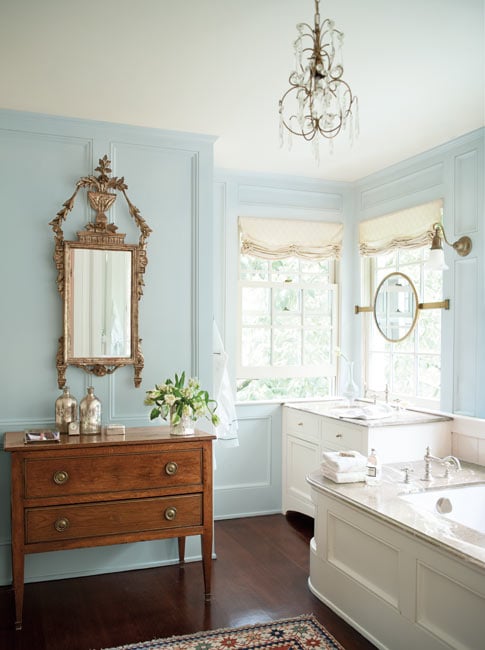 In this modern kitchen, Breath of Fresh Air on cabinets takes on a grayish-blue look against other pastels, and paneling painted Benjamin Moore's Iceberg: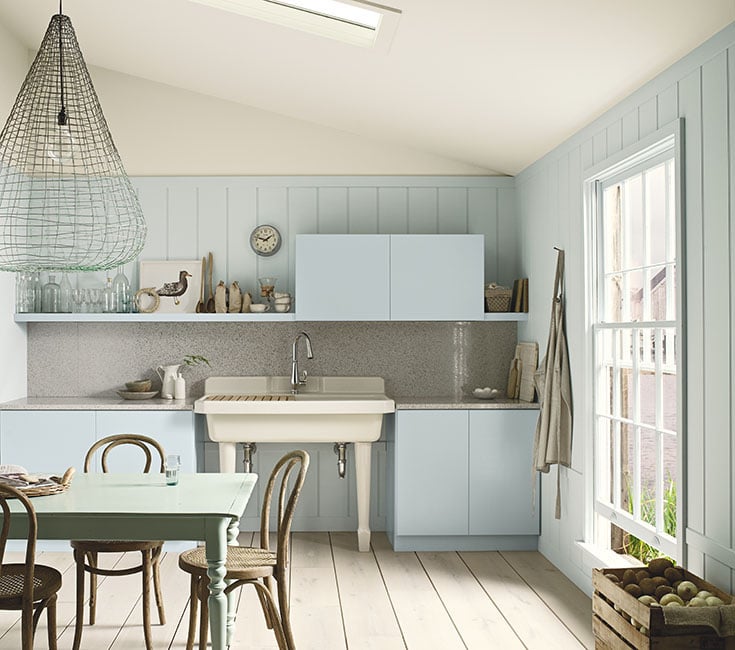 Possibly the most popular light blue from Benjamin Moore, Palladian Blue is a soft, airy blue with complex undertones that can seem either cheerful or moody.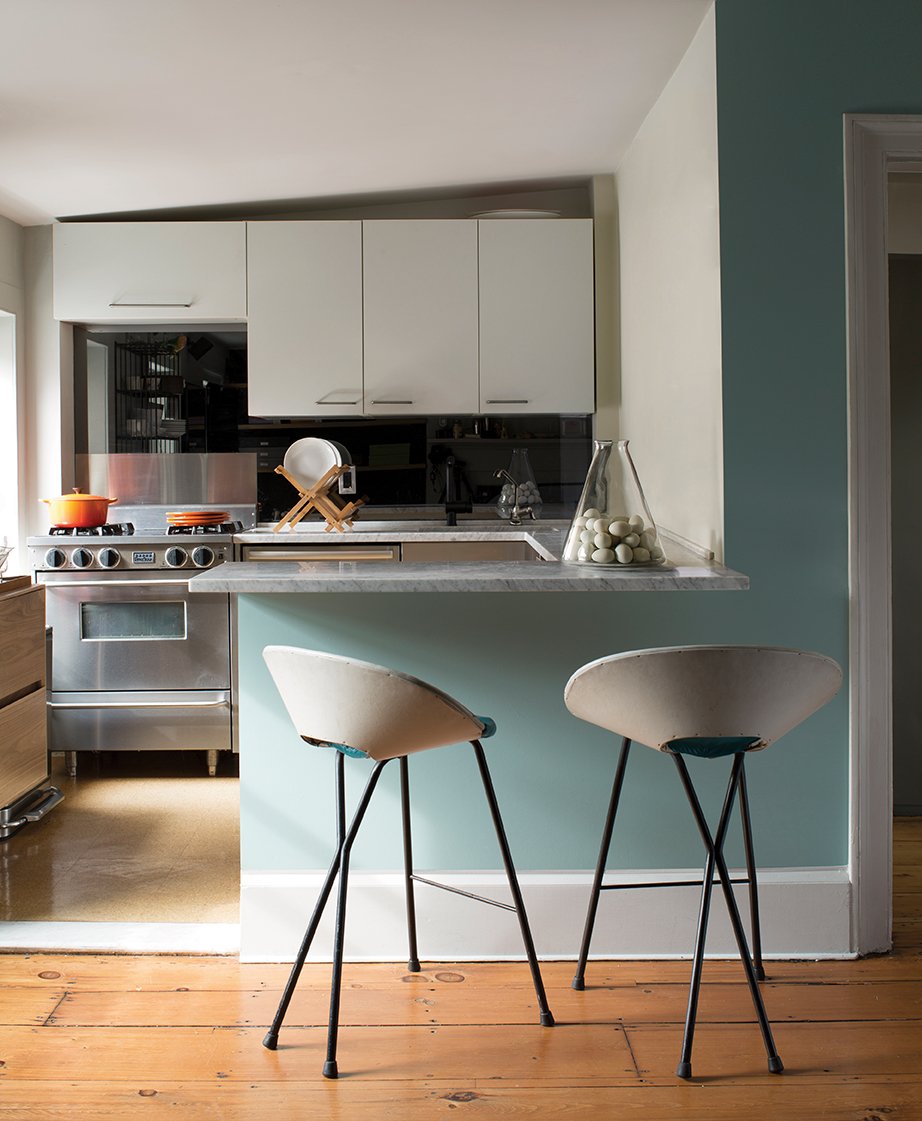 Like most pale blue colors, Palladian Blue works beautifully with both light and dark wood tones. Warm neutrals like Chelsea Gray or Edgecomb Gray are the perfect companion shades for adjoining walls or woodwork.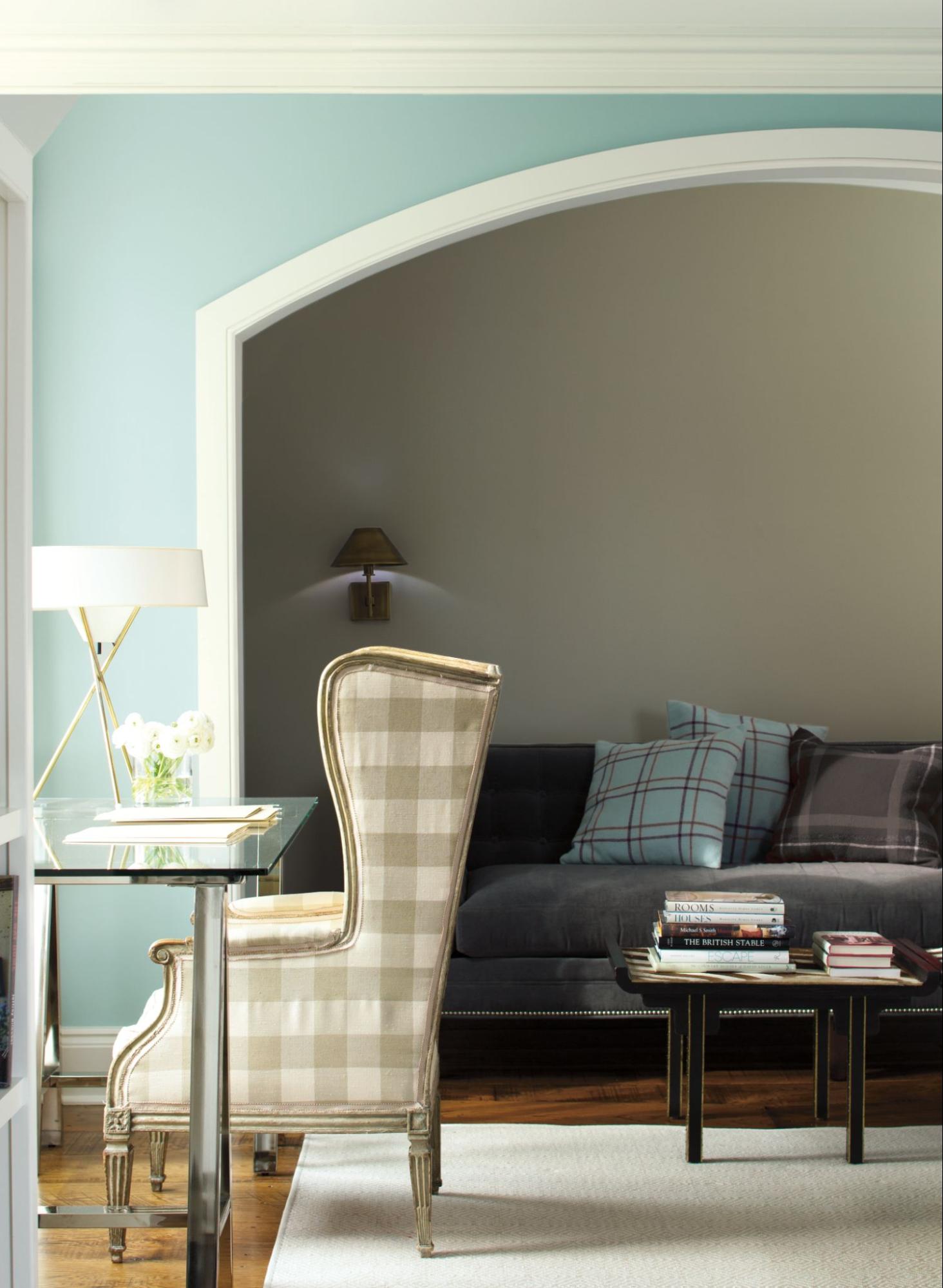 What blue is a shade lighter than Palladian Blue?
Palladian Blue is certainly a light blue color, but there are even paler options if you want a barely-there look. Beach Glass is exactly as the name suggests —a serene, calming light blue with a gray undertone.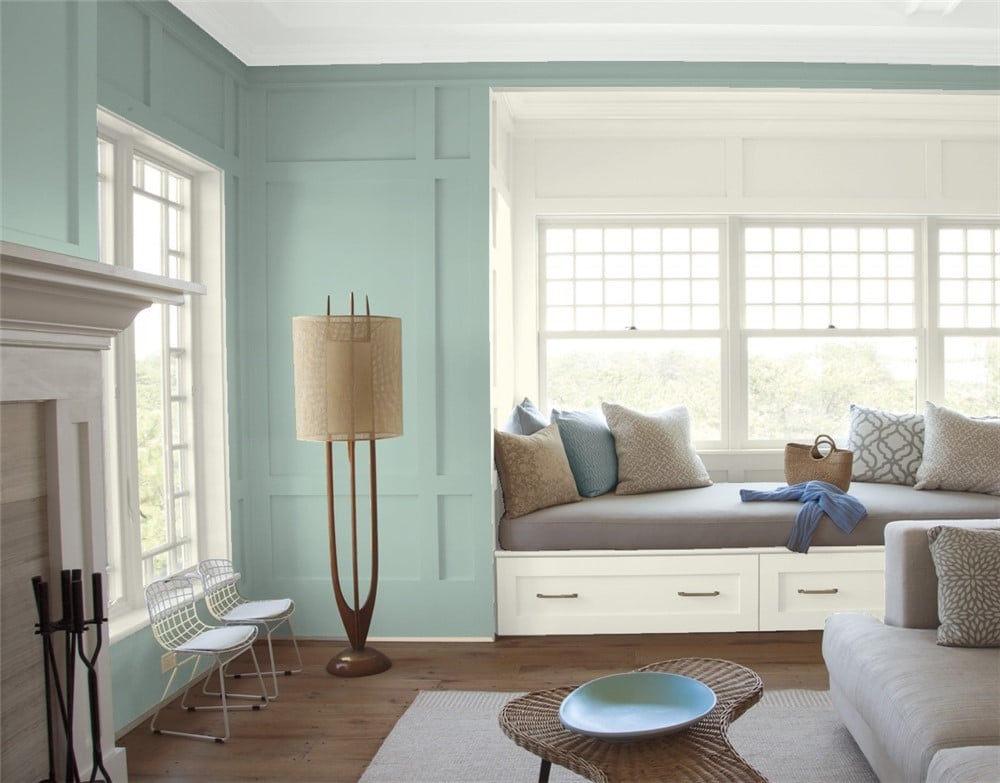 Quiet Moments is so pale it's almost off-white; with a mix of green and gray undertones this very light blue exudes tranquility. Use it alongside a crisp white like Cloud White to bring out its complex cool tones.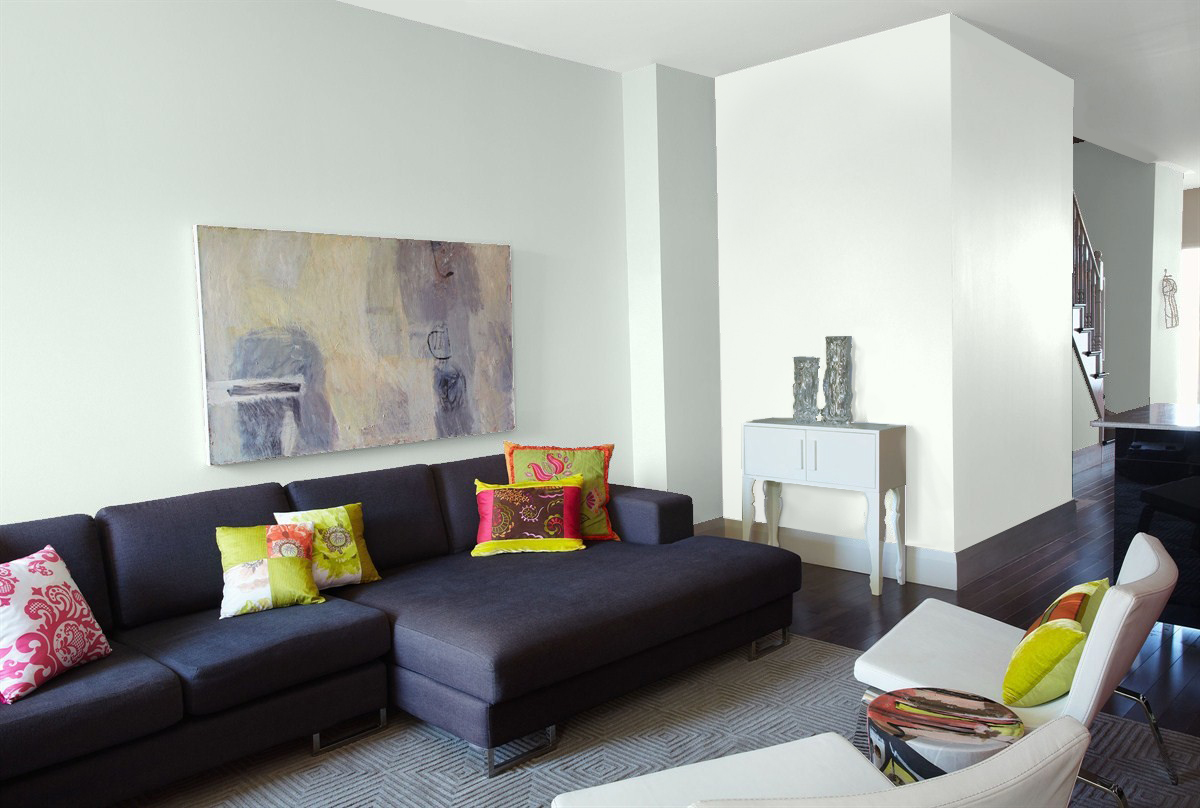 What's The Best Ceiling Color For Blue?
When choosing a color for your ceiling, it may be tempting to buy a pre-mixed "ceiling white" color but this is typically not the best choice. The white paint made just for ceilings is very reflective and has stark white tones that can throw off your interior color scheme. If you would like a white ceiling with your blue painted room, a neutral or warm-toned white is a great compliment to blue. To amplify the light in a dark-painted room, a slightly cool white can work wonders. This deep blue kitchen has a ceiling in Benjamin Moore's Baby's Breath, a soft white with a hint of cool: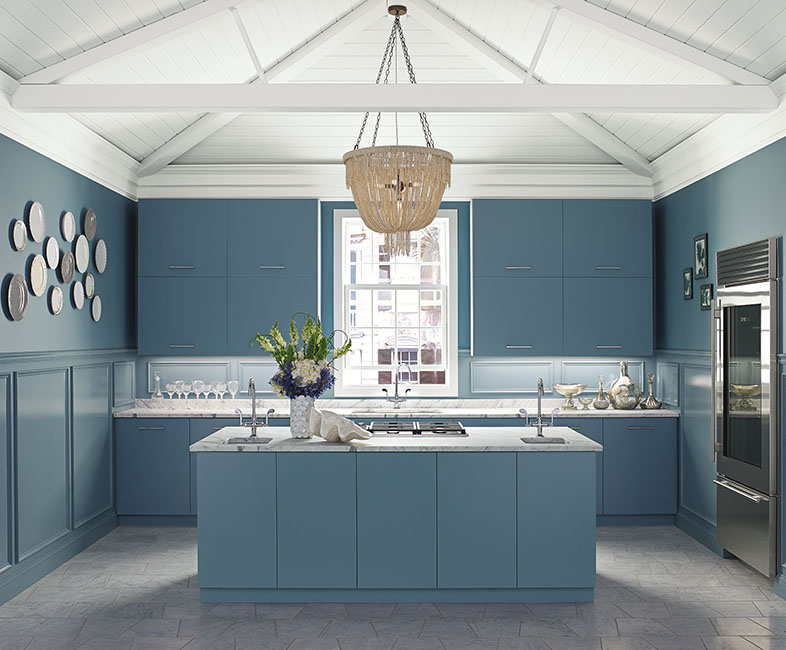 In a contemporary interior with a blue color scheme that has white on some walls, you can unify the space by carrying the same white onto the ceiling.
Painting the ceiling a color is a great way to amplify a blue wall color. In a dark blue room, a warm beige or gray ceiling color softens the contrast between walls and ceiling to calm and unify the space. Choose a complimentary color like yellow for a bright, sunny look:
How to Choose A Blue Paint Color
Choosing among Benjamin Moore blues is easiest when you consider the color's undertones. Even though blue is an inherently cool color, some shades have red-purple undertones that make them warmer, and some have gray undertones that cool them down. While they might not be visible on a paint chip, the undertones appear when you paint the wall. Saturated blues will be more intense on the wall than they are in a sample, and pale blues will be lighter. Blue shades are notorious for looking similar until you put them side by side – and then discover they are miles apart!
Always check paint samples against any home decor that you'll be using in the room to make sure they work well together. Wait a day or two and see how the color behaves in daytime and evening lighting too. Focus on how the colors look with the lighting and furniture in your space, and you're sure to choose the best blue – a perfect shade you'll love.
How to Test Blue Paint Color Samples
First, take the time to choose 3-5 Benjamin Moore blues and order sample pots. Paint a square foot or two (with two coats) for each sample color, so you can really see how the color appears in your lighting conditions.
You can make your own moveable paint swatch using a 16 oz. traditional paint pots. Paint a large poster board with each blue shade, and move it around the room to observe it on different walls – be sure to compare a well-lit wall and a darker wall. Then see how the paint colors look throughout the day, in natural lighting and by lamplight in the evening.
Blue paint colors will have different undertones based on the time of day, the type of natural light, and whether it's a north-facing or south-facing room.
Where to Buy Benjamin Moore Blue Paint
Here at Ring's End, we offer an unparalleled selection of Benjamin Moore interior and exterior paints in-store and online. You can choose from a variety of paint finishes, including a matte finish, semi-gloss finish, or glossy sheen finish depending on the needs of your room and aesthetic tastes. Check out our interior paint guide to compare options.
All of our Paint & Design Showrooms have talented, full-time designers who offer complimentary in-store color consultations. Visit a paint store near you to get started today! We also offer e-design assistance. Provide us with a glimpse of your home through the FaceTime app and discuss color recommendations virtually with one of our designers. Visit our Design Services page to schedule a complimentary appointment.