Benjamin Moore Metropolitan Review & Inspiration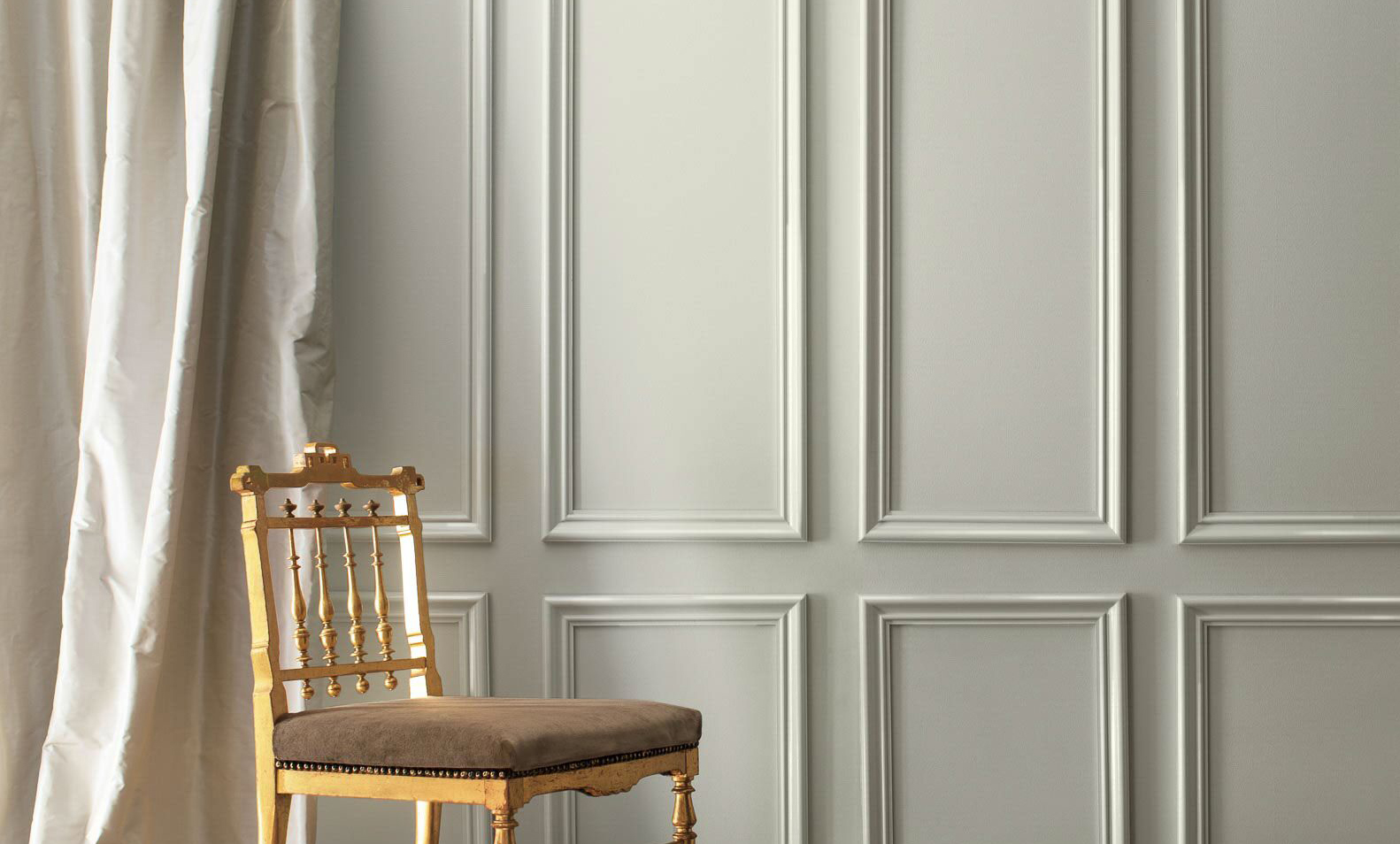 What We Love About Metropolitan AF-690
Benjamin Moore named Metropolitan Color of the Year in 2019, and it's easy to see why. This soft and soothing interior paint embodies qualities many homeowners desire in a gray. It has a Light Reflectance Value (LRV) of 49.96, which means it is a true mid-tone gray that reads beautifully with white trim and a wide array of cabinetry and upholstery colors. It also works as an ideal backdrop for most interior design styles. At the same time, it brings a calming, modern elegance that evokes relaxation and sophistication.
The Undertones of Benjamin Moore Metropolitan
At first glance, Metropolitan appears as a perfectly neutral gray, but it has green undertones that add a hint of warmth.
In brightly lit spaces, the warm green undertones prevent it from taking on a cool blue cast. In North-facing rooms or cool climates it may seem to develop blue undertones, but the effect is usually minimal. Metropolitan has a medium level of reflectance, so unlike some deeper shades of gray, it won't make a room too dark, and compared to brighter grays, it won't wash out in a sunny room.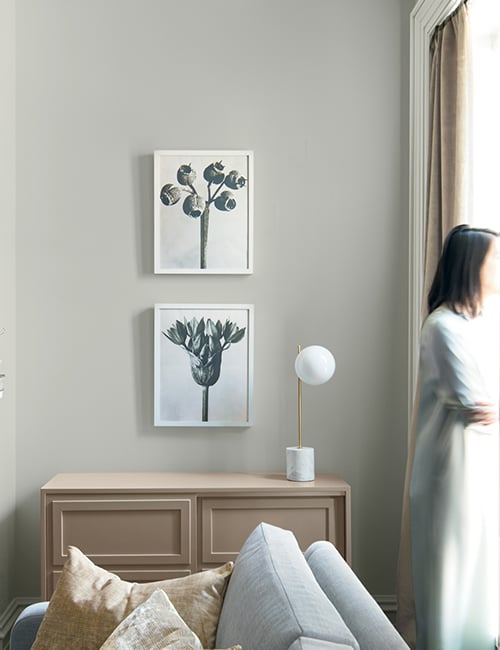 A modern color with classical roots, Metropolitan is a reliable and versatile mid-tone cool gray that works beautifully in open floor plans.
Inspiration for a Metropolitan Color Scheme
This calm, sophisticated gray is an ideal neutral that looks equally elegant in both matte and glossy finishes. Its medium gray tone makes it an ideal complement to neutral home decor, as well as bright and vibrant colors.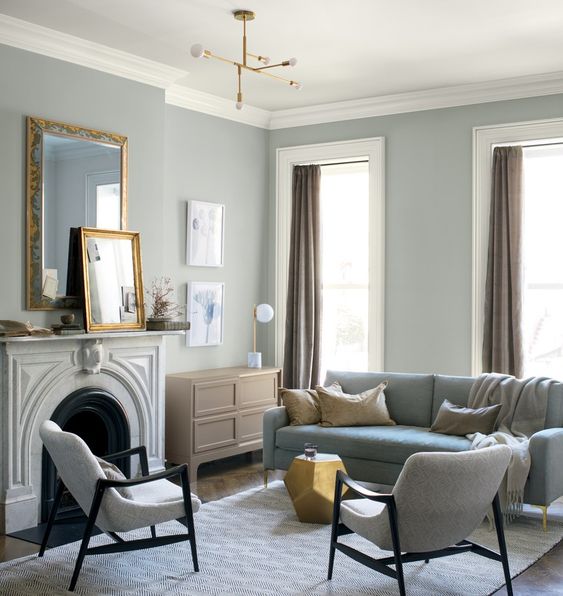 Use Metropolitan to showcase the deeper beauty of your kitchen cabinetry, countertops, and dinnerwear.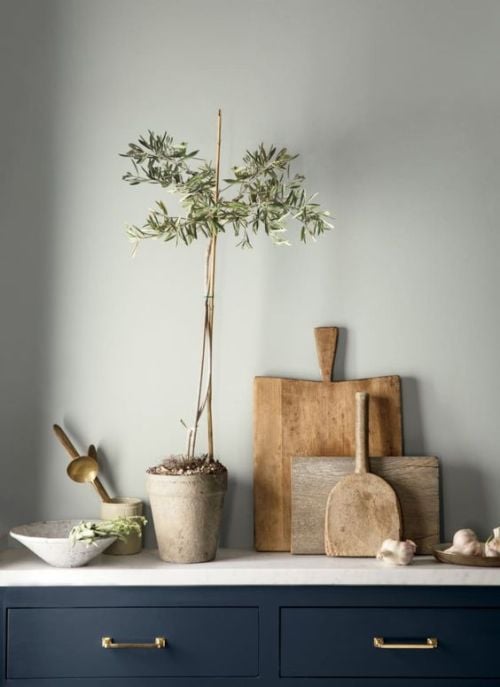 Whether you use it with dark, rich colors or warmer, lighter accents in your interior design, Benjamin Moore's Metropolitan creates an elegant backdrop to let those colors shine.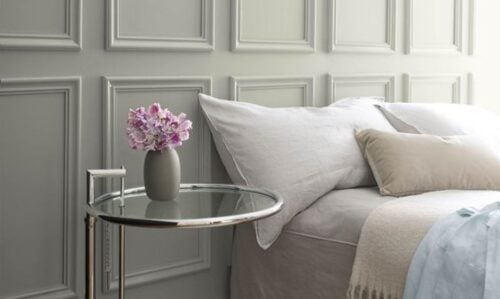 The stylish, medium gray tone anchors rooms by being neither too dark or too light. Surrounding whites and bright colors pop while the walls remain calm and relaxing.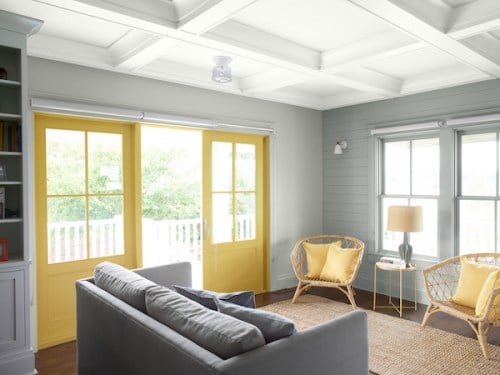 Natural light brings out Metropolitan's green undertones, while darker rooms read more blue. These cool neutrals complement both modern and traditional styles.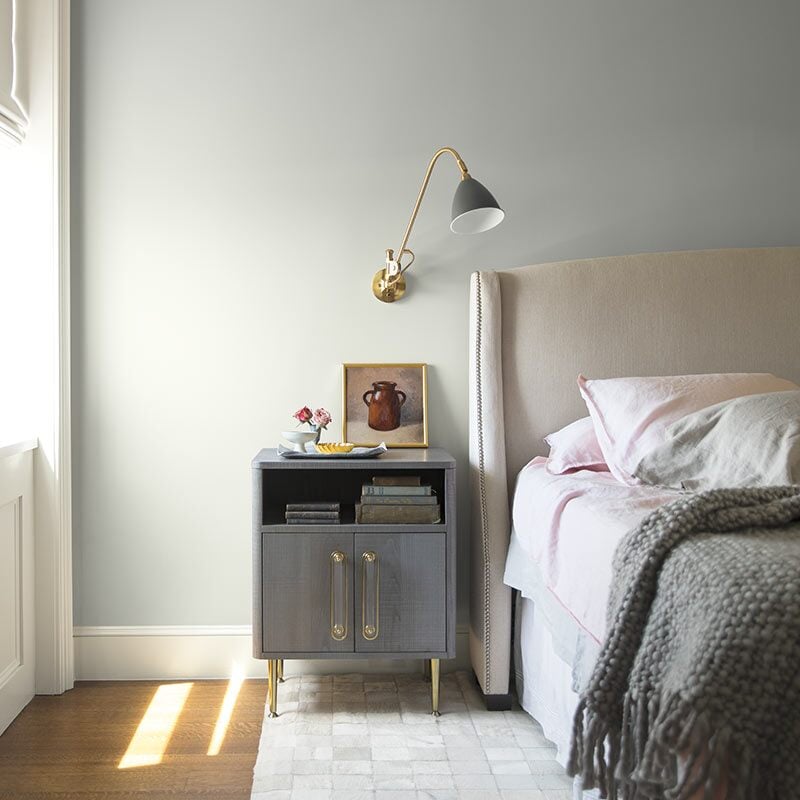 Other Benjamin Moore Colors You May Like
What Colors Go Best with Benjamin Moore Metropolitan AF-690?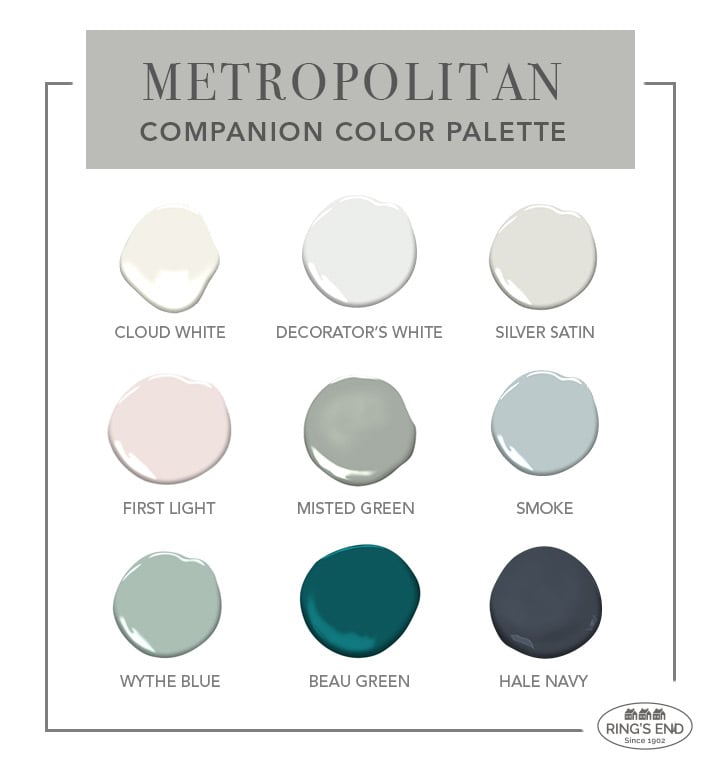 Metropolitan pairs beautifully with a wide range of modern color options. If your interior design favors a neutral palette, you can select a deeper color from a similar color family like Smoke 2122-40 or pair it with Cloud White OC-130 on trim and cabinetry.
Metropolitan is a versatile, neutral shade that works beautifully with colors in adjoining rooms. When branching out to other colors, you can opt for light and delicious tones such as faint pinks like Head Over Heals AF-250 or Benjamin Moore's 2020 Color of the Year, First Light 2102-70. For greater contrast, shift to rich emerald greens like Beau Green 2054-20 and deep-gray blues like Hale Navy HC 154.
If you love bold colors and decor, Metropolitan also works as a soothing, balanced backdrop to any vibrant color palette that complements green or blue.
Buy a Metropolitan Benjamin Moore Paint Sample
The undertones in gray paint colors can shift depending on the lighting conditions and time of day. We recommend testing a sample of Metropolitan and any other options you're considering before deciding on your final choice.
One of our designers' favorite tips for an easy way to test paint swatches on multiple walls in your house, is to paint a large poster board using a Benjamin Moore Paint Color Sample so you can move it around the room to check out the color on different walls and in different lighting conditions.
This 2019 Benjamin Moore Color of the Year is available at Ring's End in a variety of paint sheens and sizes and sheens from matte to semi-glass. Once you've made your final color choice, you can purchase it in our best-selling Benjamin Moore Aura paint line.