 Marvin has been one of the nation's premiere window and door manufactures for more than a century. With a broad portfolio of designs and custom solutions, Marvin windows offer exceptional performance, energy efficiency, low maintenance, and quality you can see, feel, and touch.
Marvin's products are available in three collections to meet the degree of detail and customization you need for your home. We've pulled together a few of our favorite designs from their Signature™, Elevate™, and Essential™ collections to spark inspiration. Contact a Ring's End team member today to talk about how we can help bring your vision to life!
Marvin Awning Windows
Marvin's awning windows are windows that hinge at the top of the frame and swing out at the bottom. They are wider than they are tall and can be either pushed open manually with a handle or hand-cranked. Awning windows are ideal for high wall placement where privacy is needed, or for extending the height of larger doors or windows. Their unique design maximizes air flow and and energy efficiency – they can even be open in wet weather, since the water naturally slides right off of them! Enjoy a fresh breeze with the natural ventilation of an awning window.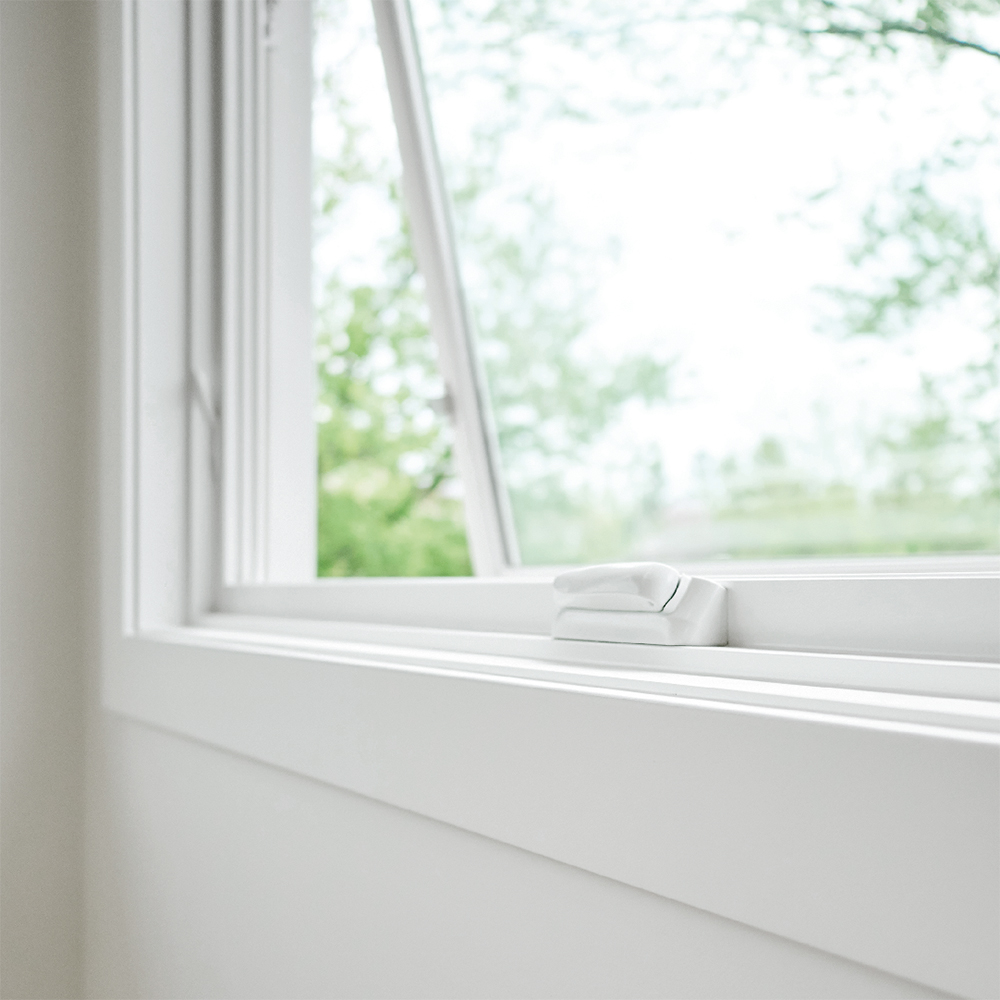 This stylish modern home won Marvin's Morningside Red Diamond Achiever award with a show-stopping window wall featuring a combination of Marvin's Elevate Picture Window at the top and Awning Window at the bottom: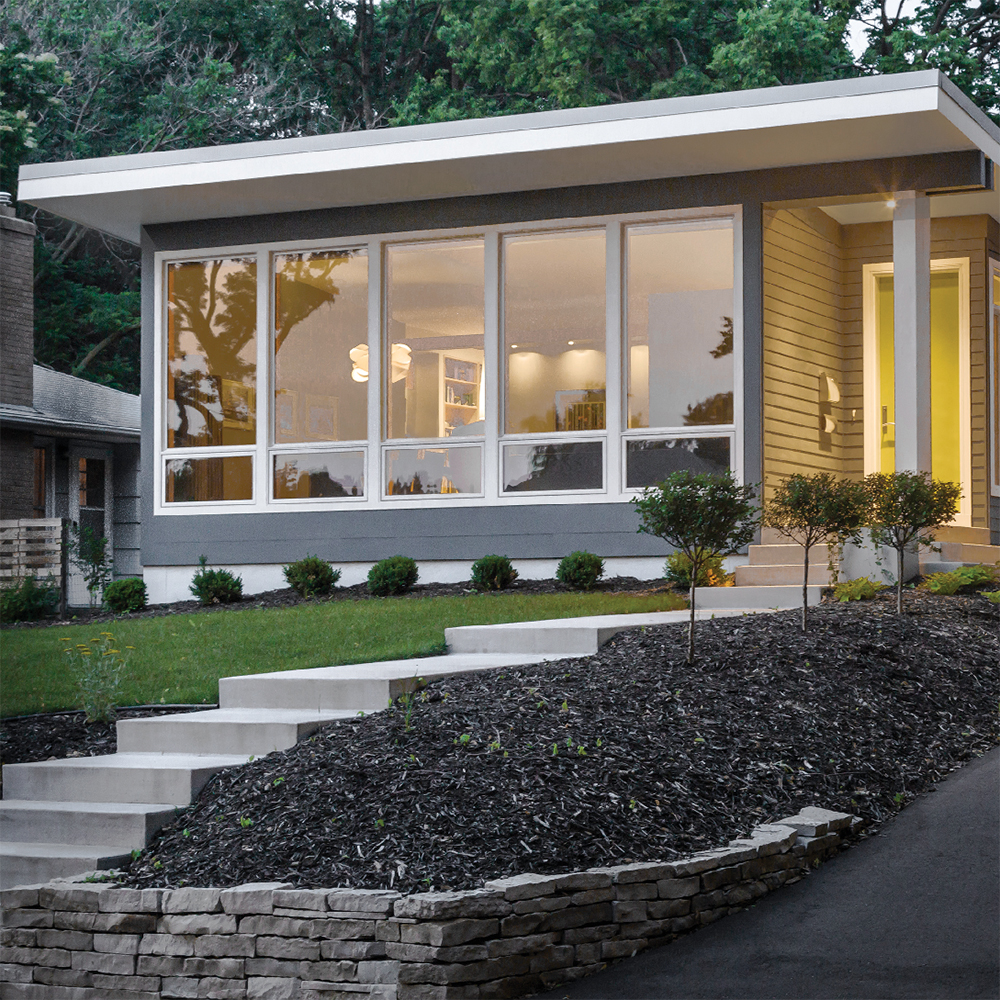 Modern Awning Crank Out Windows create a stunning floor-to-ceiling window wall paired with Modern Direct Glaze in Ebony with Matte Black hardware in this contemporary dining room: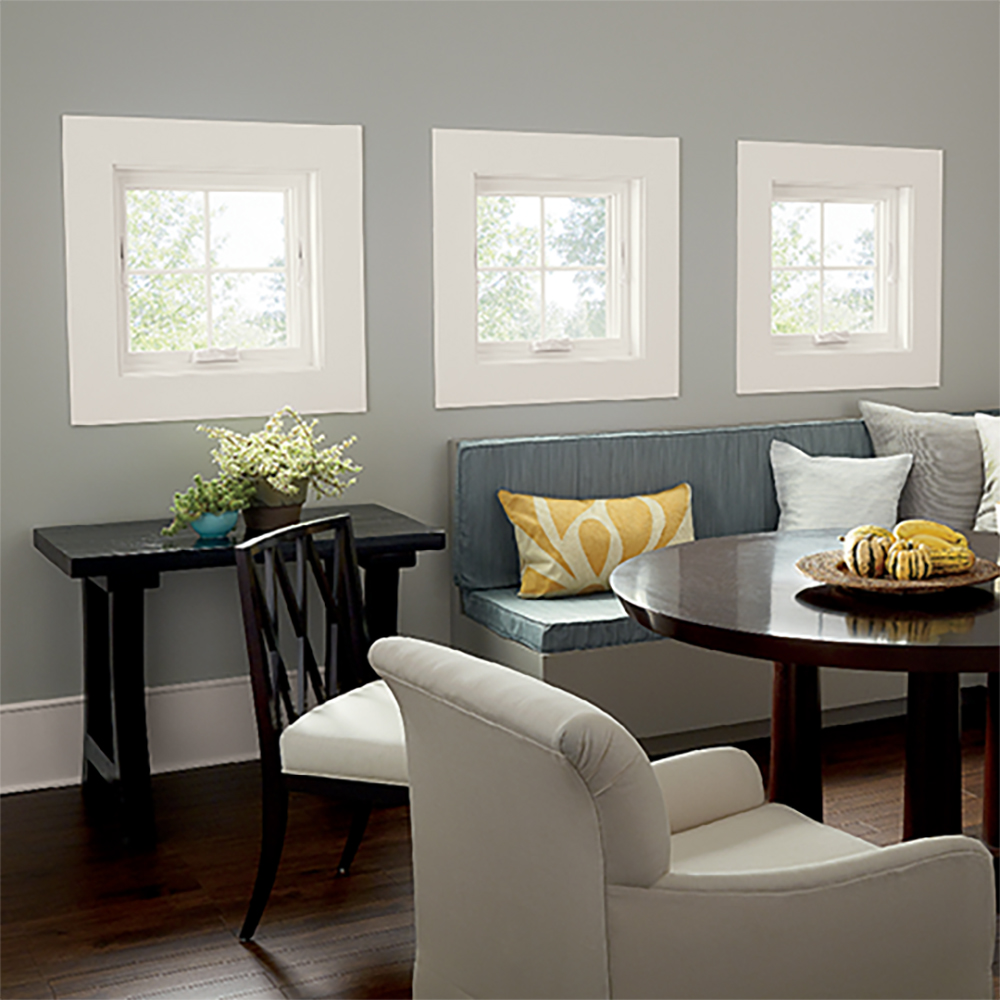 Exterior Signature Modern Casement and Awning Windows bring the outdoors in for an ultra contemporary look, combined with a Multi-Slide Door in Silver: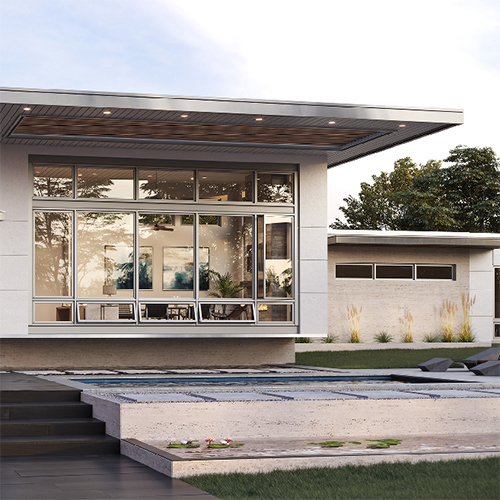 Marvin Picture Windows
Picture windows "frame" the scenery outdoors, making them a natural choice for rooms with a view. They are large, fixed windows that don't open, so they are often paired with windows or doors that do operate, such as awning windows or gliders. Energy efficient, and show stopping, these expansive windows create the ultimate picturesque experience.
In this modern kitchen marked by clean lines and smooth textures, the Marvin Signature Modern Direct Glaze Picture window turns the magnificent hillside views into a natural work of art: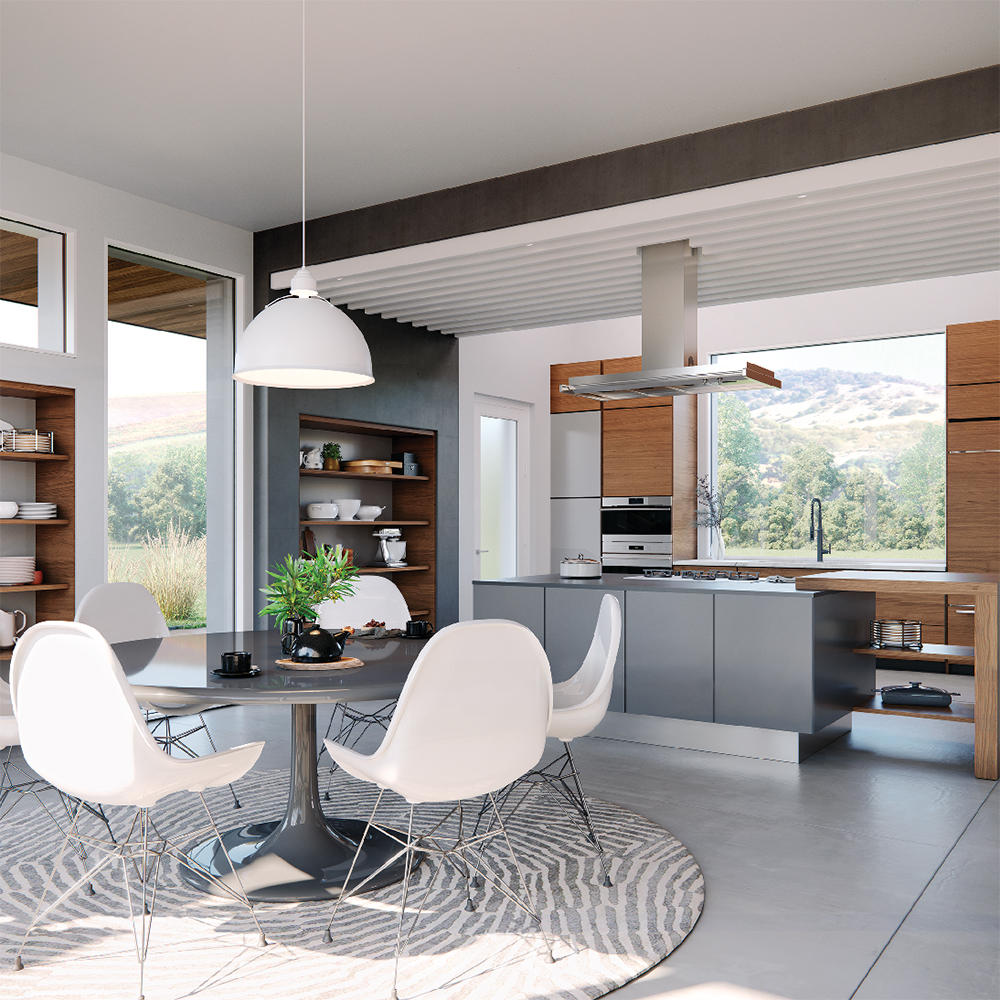 Natural light floods a living room where Signature Modern Direct Glaze Picture Windows and a Multi-Slide Door complement the high ceilings and give an expansive effect to the room: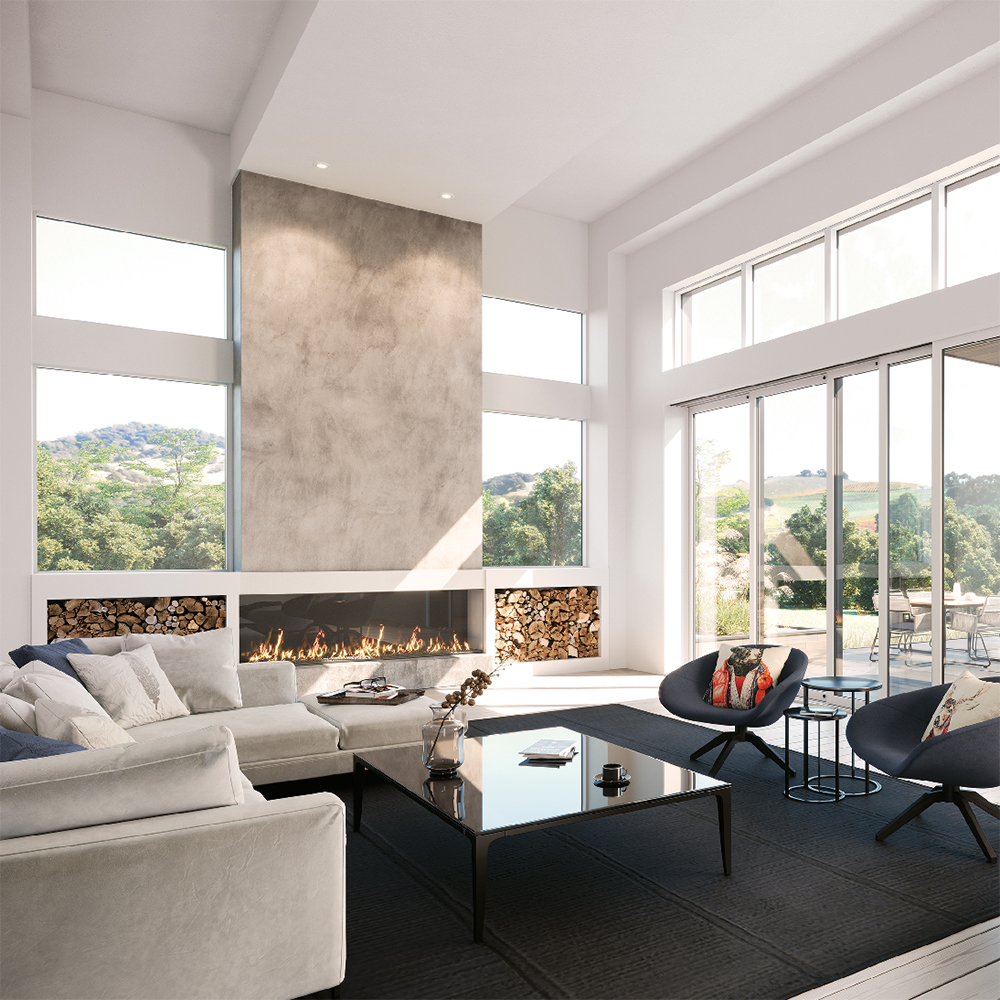 Another of our favoirte award-winning Interior Red Diamond Achiever homes features striking Marvin Ultimate Picture Windows in black: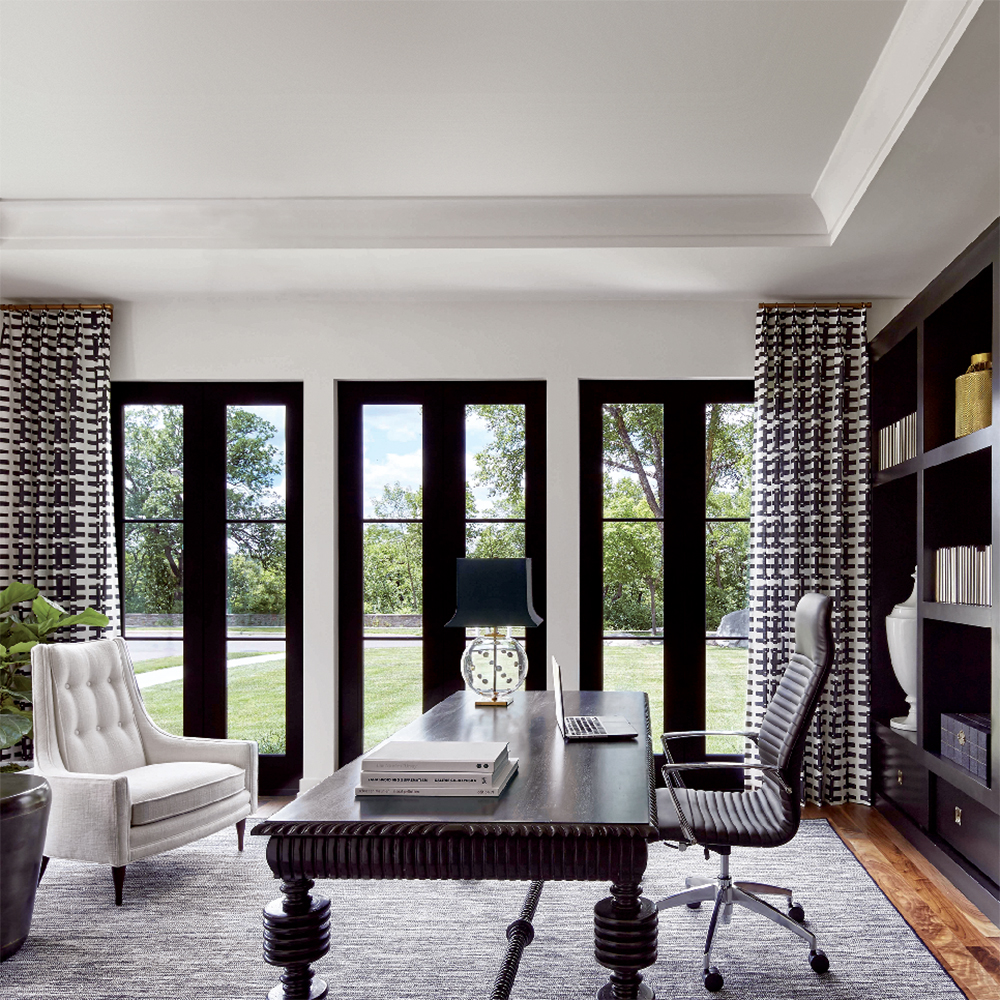 simulated divided lites add dimension and detail to this sunny Nashville kitchen's Ultimate Picture Windows: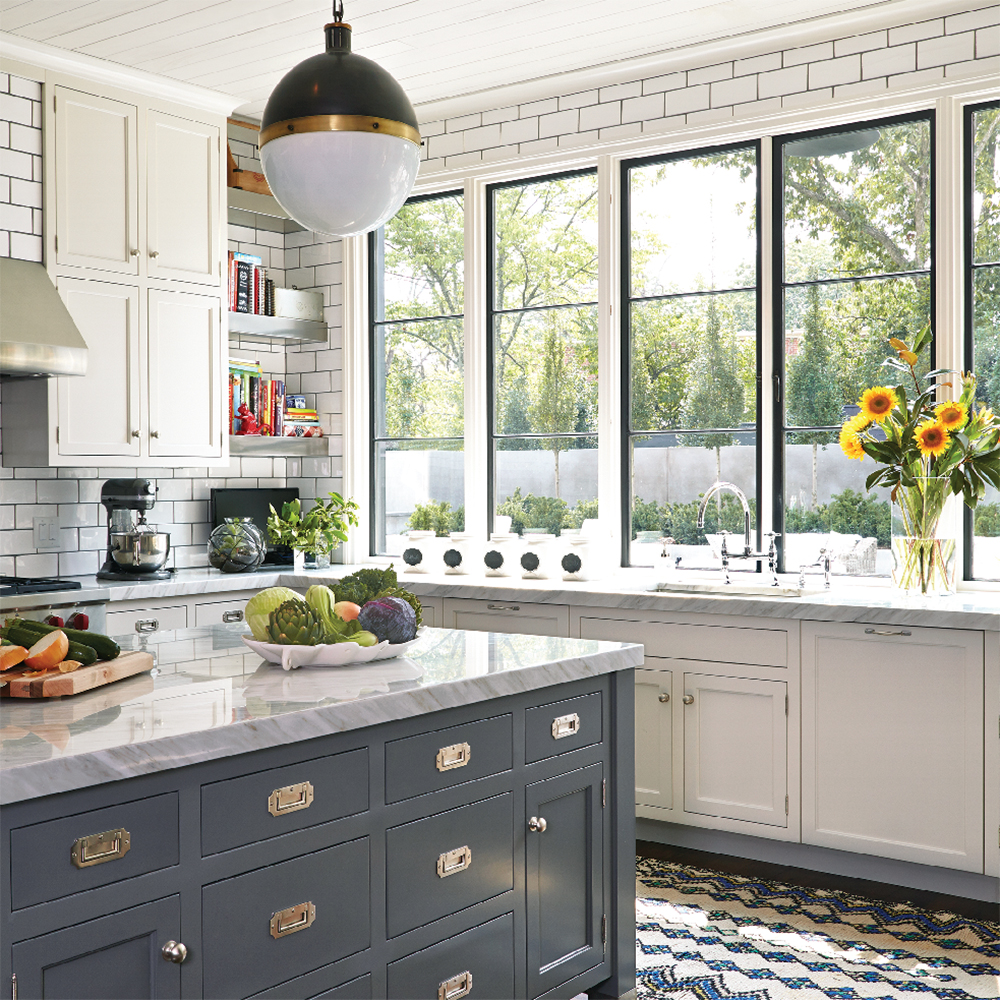 For a modern home whose architecture is marked by crisp lines and smooth industrial style, Marvin's Ultimate Picture Windows welcome in the balancing softness and freshness of nature: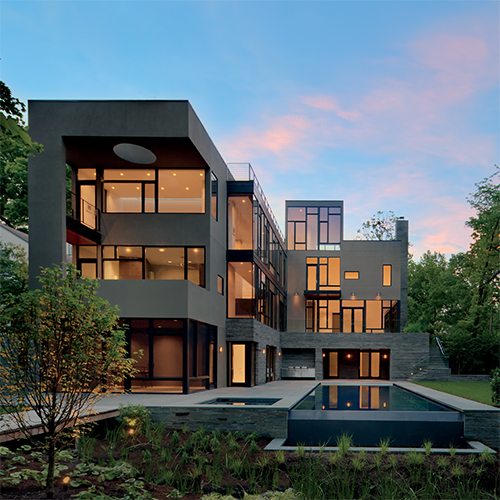 Marvin Ultimate Sliding French Door and Picture Windows with a designer black painted interior finish and simulated divided lites create a smart contrast to this bright, clean living room: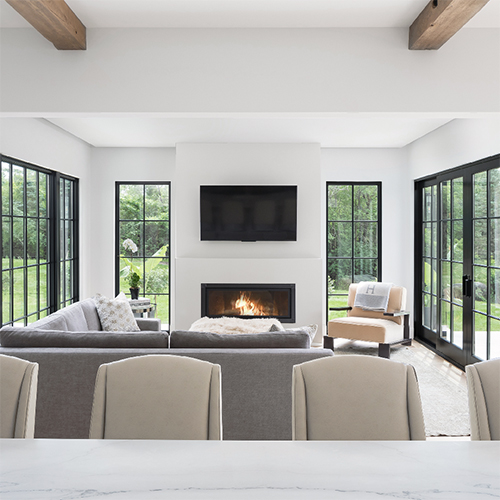 Picture windows aren't just for modern architecture! Ultimate Swinging French Doors line the expansive porches on this classic coastal style home and simulated divided lites add a classic touch to the picture windows: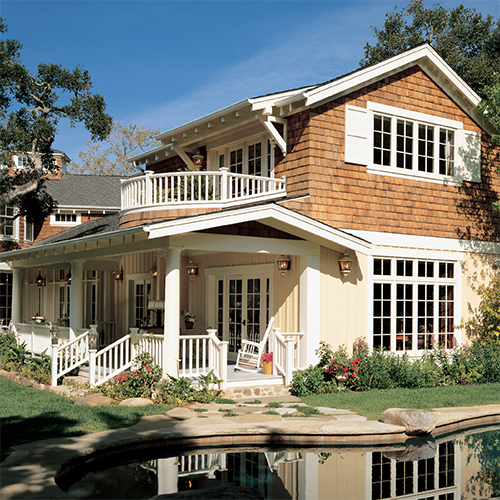 This Canadian contemporary Gatineau Hills residence has it all – featuring a stunning combo of Marvin's Ultimate Sliding Patio Door, Awning, and Picture Window: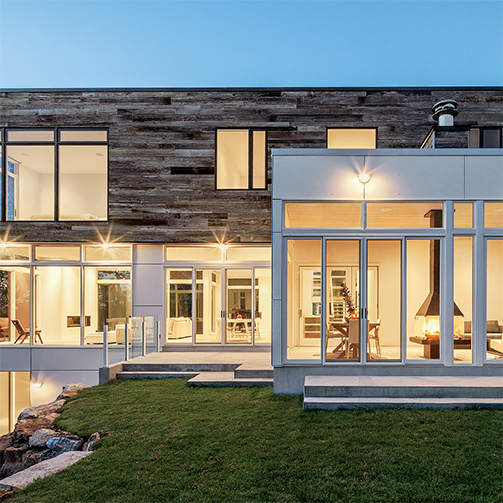 The views of nature from the Ultimate Tilt Turn and Picture Window make this cozy custom Knoll bedroom the perfect place to relax and unwind: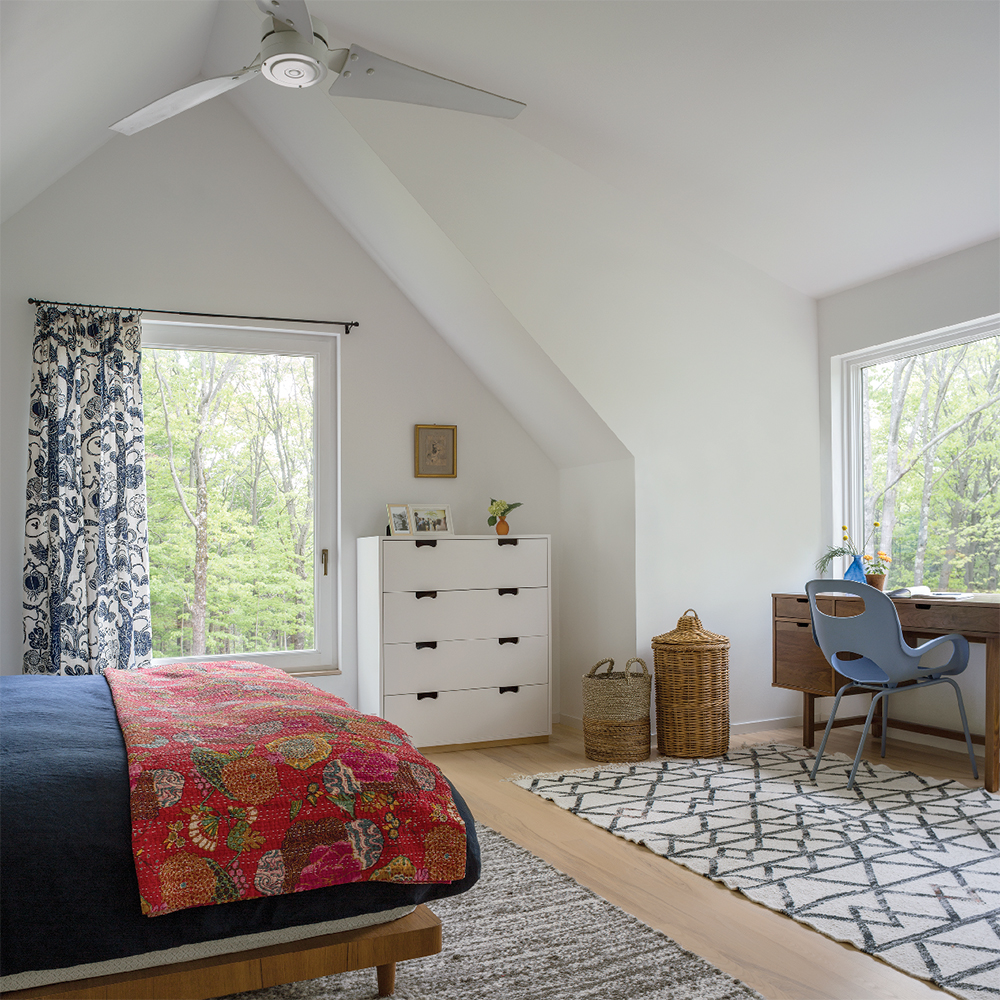 Marvin Casement Windows
One of Marvin's most popular contemporary styles, the casement window is hinged on the side to open out, offering large, unobstructed views either opened or closed. Casement windows make excellent choices for bathroom or kitchen windows where the upper portions of the window may not accessible, as well as rooms that tend to be drafty — the sash construction not only makes it easy to open from any vantage point, but also offers the best air infiltration prevention of any operating window type. Marvin offers a wide variety of customizable design styles from inswinging, to narrow frame, to divided lite bar additions. Check out some of our favorites below!
Marvin Straight Elevate Casement Windows line the front of this Red Diamond Achiever home, flooding it with light in the daytime and creating a cozy glow in the evening: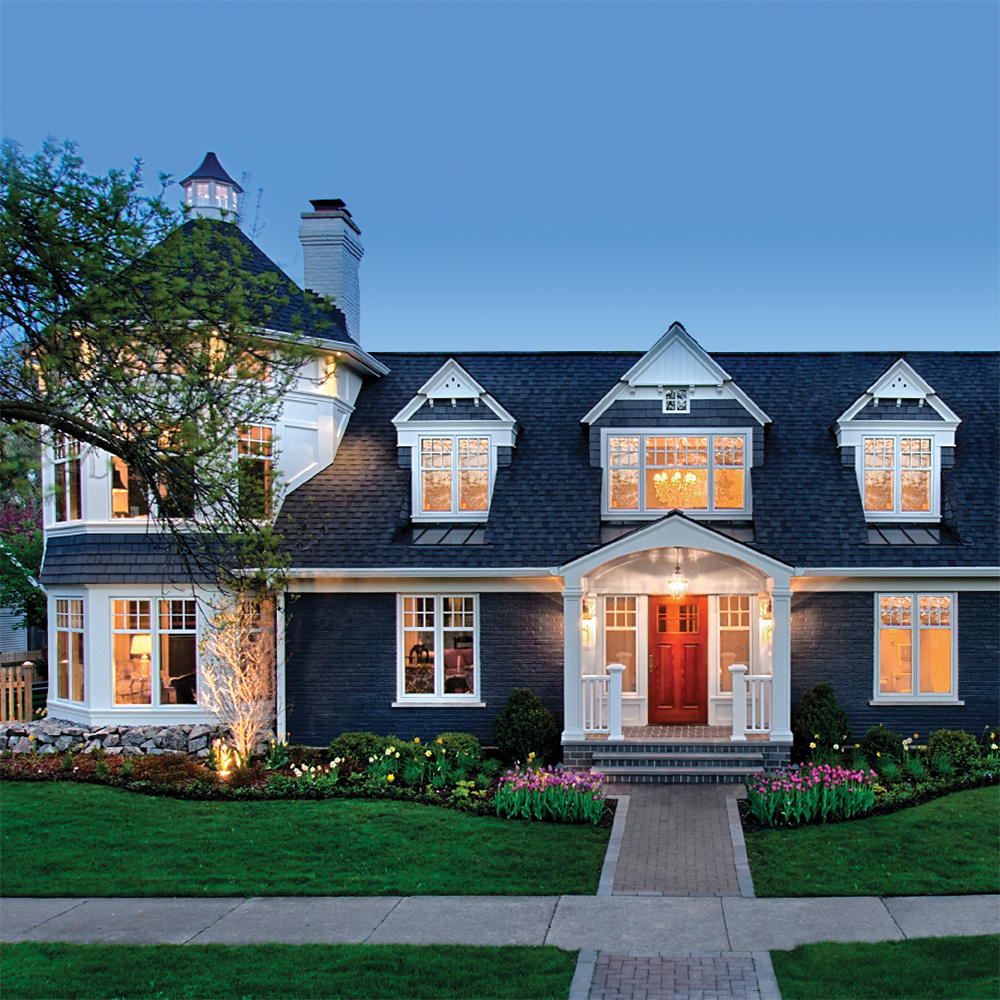 Black Elevate Casement Windows highlight a sunny nook for relaxing in a contemporary, luxury bedroom: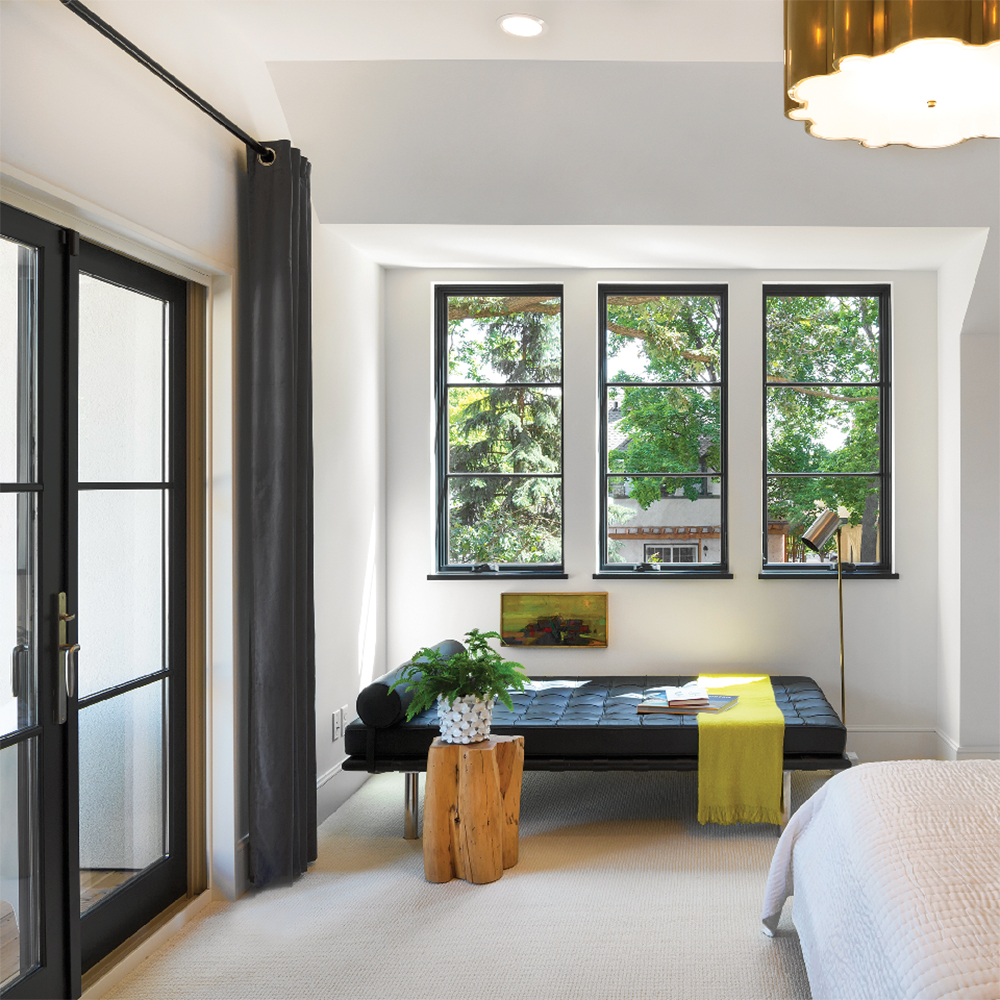 The simulated divided lites add a touch of cottage-vibe to the Elevate Casement Windows in Ebony in this modern farmhouse kitchen: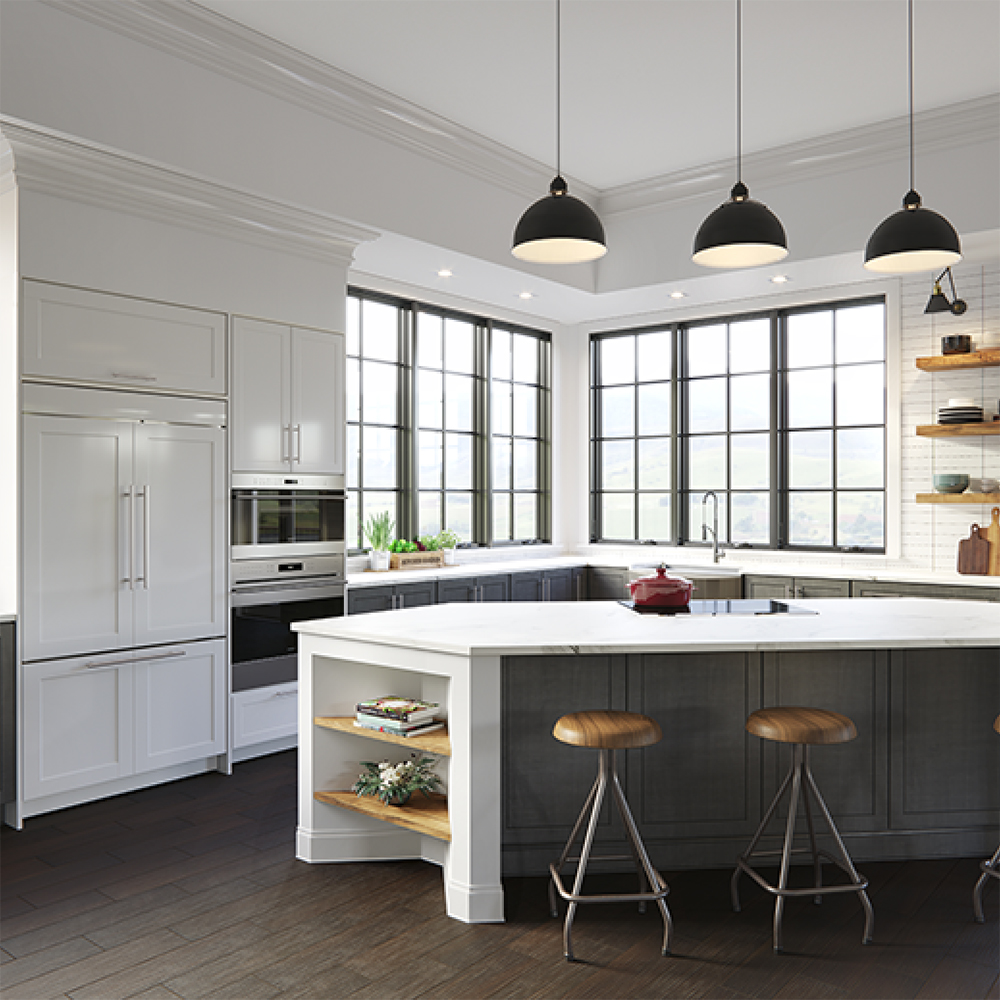 Essential Casement Windows are colored in bronze to perfectly complement the blend of browns between the home's mixed stone, shingle, siding, and wood features:
We love how the Narrow Frame styling on this Marvin Ultimate Casement window elegantly reflects the craftsman style staircase: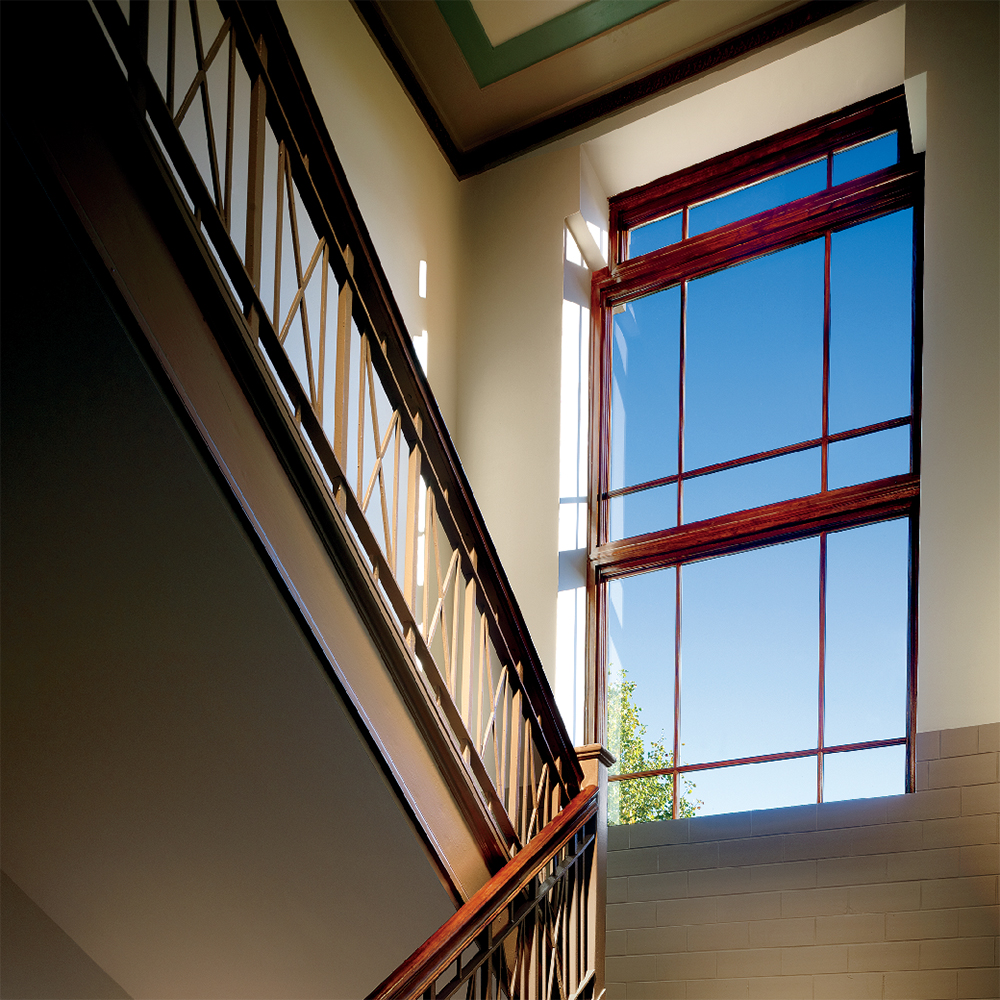 Marvin Ultimate Casement Round Top in Stone provide top rated energy efficiency to this sustainable green home. Simulated divided lites add a traditional touch: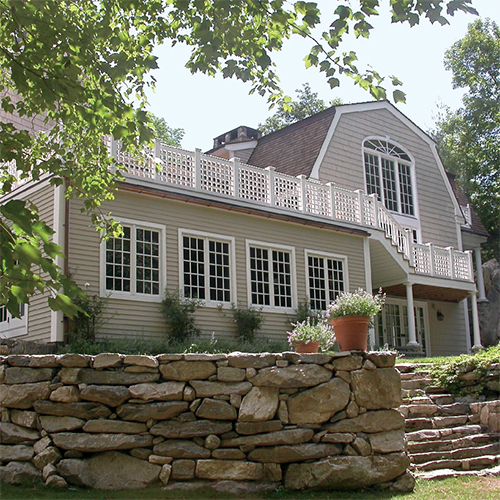 Marvin Modern Multi-Slide Door and Modern Casement Crank Out in Stone White invite big views into a bright, sleek kitchen:
Marvin Elevate Sliding Windows
Sliding windows—or gliders—are designed just like double hungs, but with smooth horizontal operation. Like awning windows, they are ideal for pairing with picture windows or non-operational casement windows for ventilation, space efficiency, and unobstructed views. They also tilt inward to make them super easy to clean! Marvin offers sliding windows in all three of their collections, with lots of options for customizing your design.
Here, Marvin Elevate Gliders feature a mixed finishes stained sash and stained trim to perfectly complement the living room's natural wood textures:
Gorgeous mountain views are on full display with this home's wall of Picture Windows, paired with Marvin Essential Gliders to allow in the crisp mountain breeze: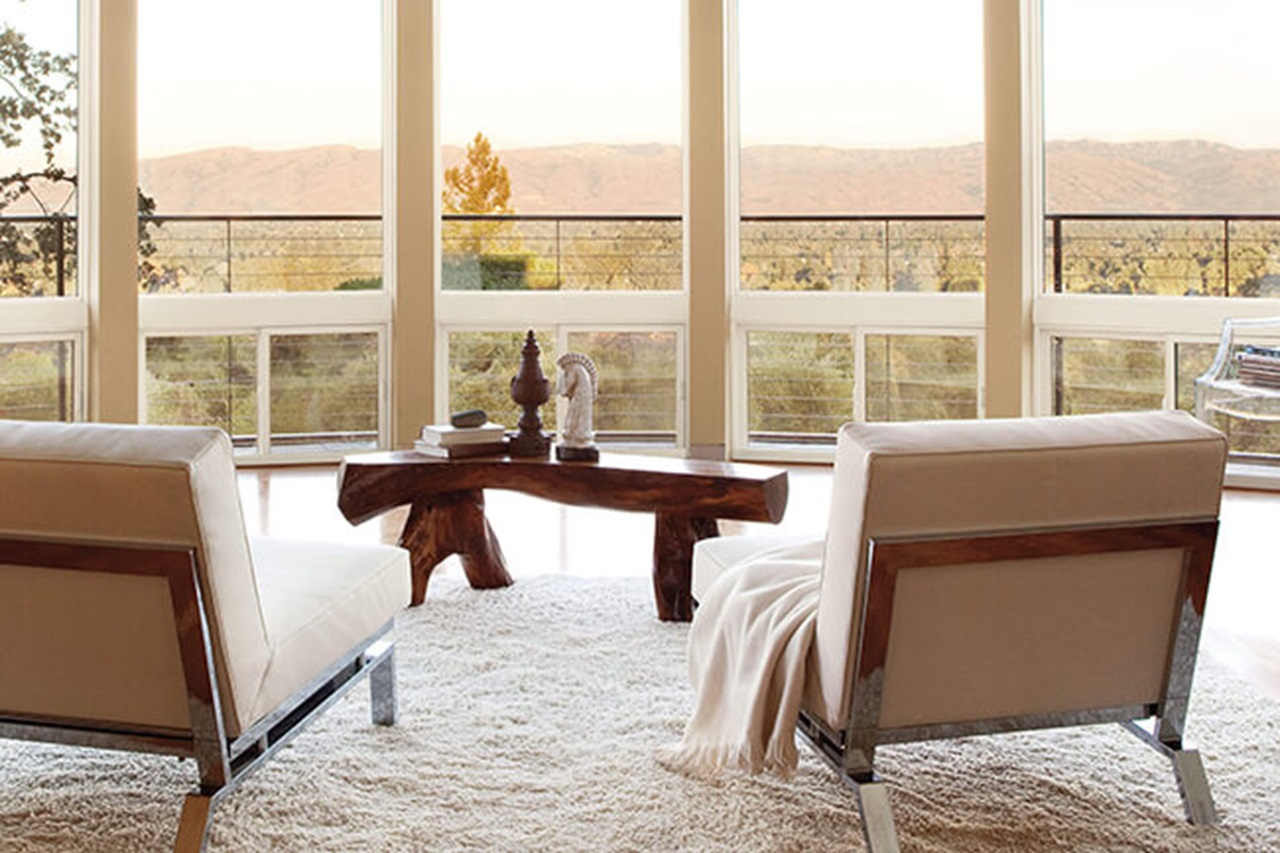 Marvin Signature Ultimate Glider Window in Ebony opens wide to create a party-ready indoor-outdoor space: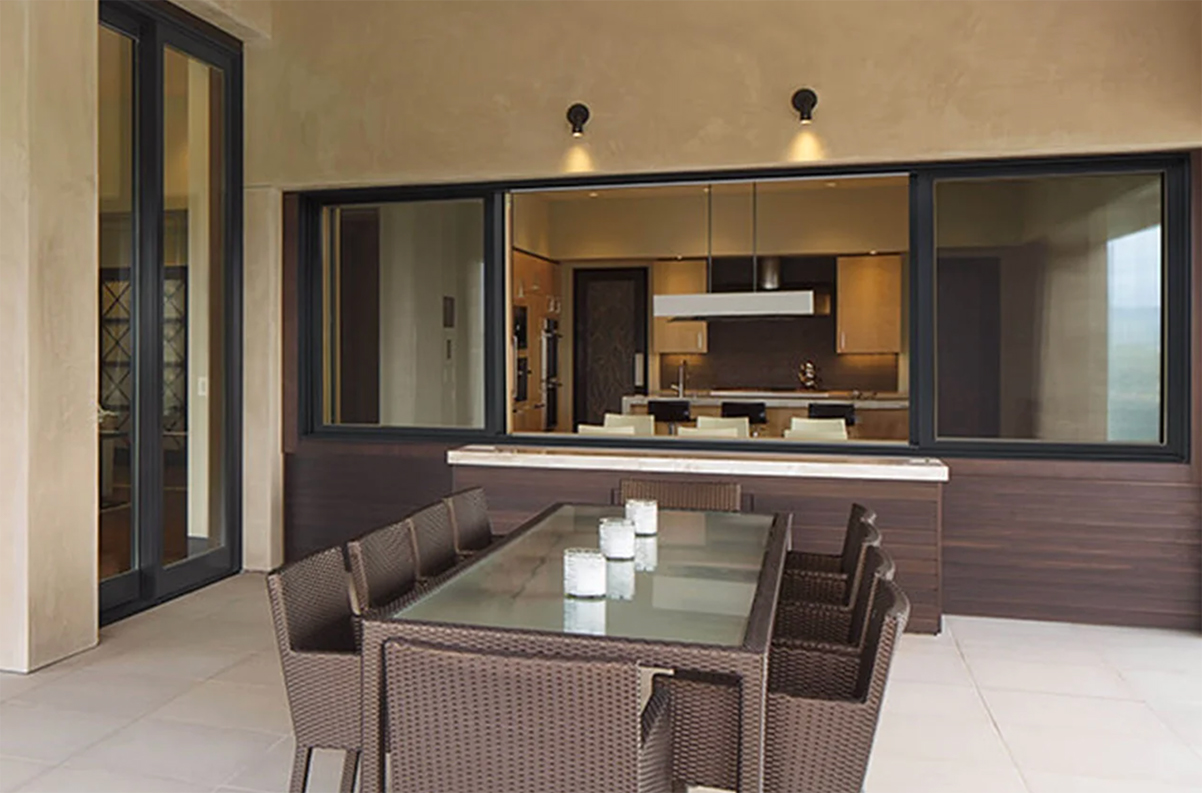 Marvin Double Hung Windows
A double hung window is a type of window that is made with two operable sashes that latch shut in the middle: one at the top opening down, and one at the bottom opening up like a traditional single-hung window. Double hung windows offer some great airflow and energy-efficiency advantages—the double-locking mechanism seals the window more tightly, heat can escape more easily through an open top sash, and the top sash can even be left open on a rainy day if the window has a little bit of coverage above it from an eave or awning. Marvin offers a multitude of design options for their Double Hung Windows. From finish, to color, to hardware, divide lites, you can personalize the perfect windows for your home.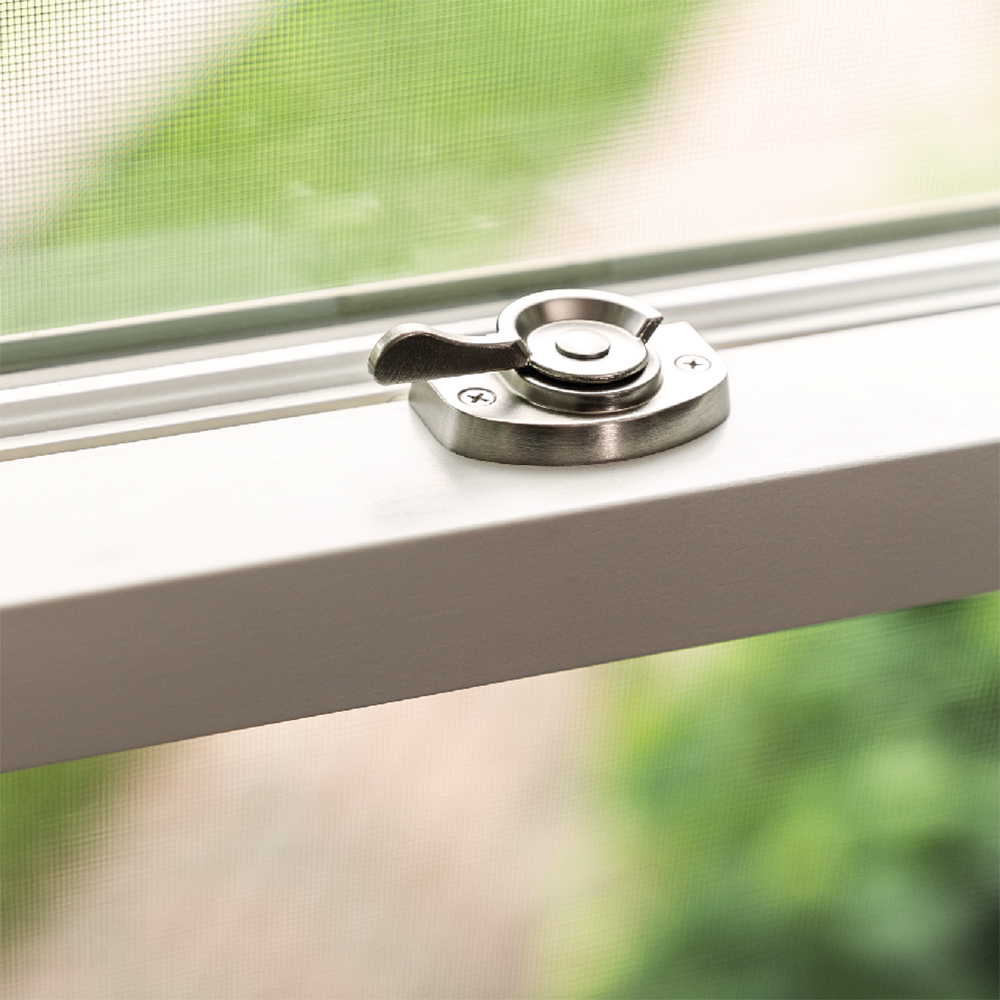 Marvin Elevate Double Hung Windows with divide lites at the top and unobstructed glass on the lower sash give this gorgeous coastal kitchen wide open views of the water and let in a cool breeze: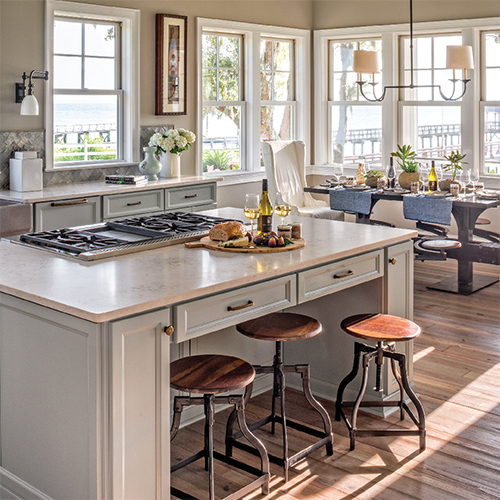 Oversized Elevate Double Hung Windows in Stone White with a stained Bare Pine finish light this dining room: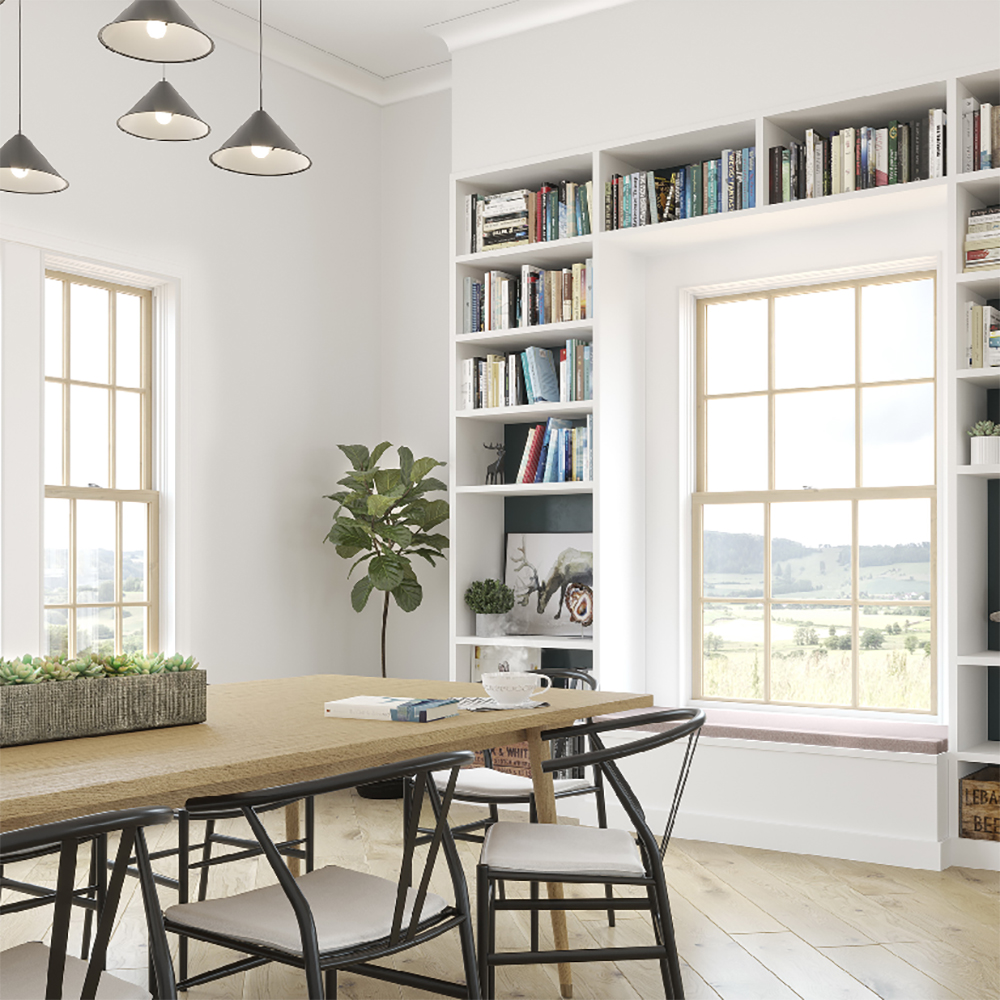 These Elevate Double Hungs offer the perfect view to the yard, paired with a Swinging French Door: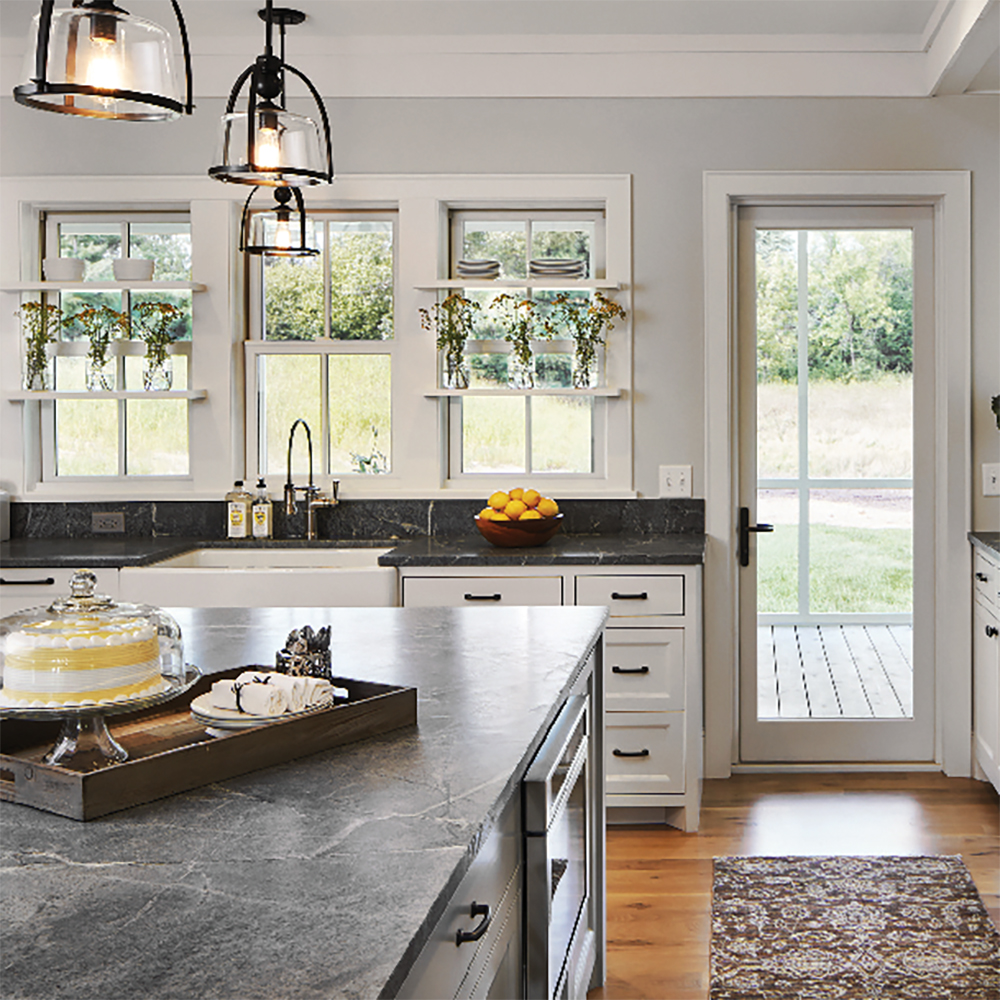 Full Ultimate Double Hung Inserts form a bow window in a dining room alcove: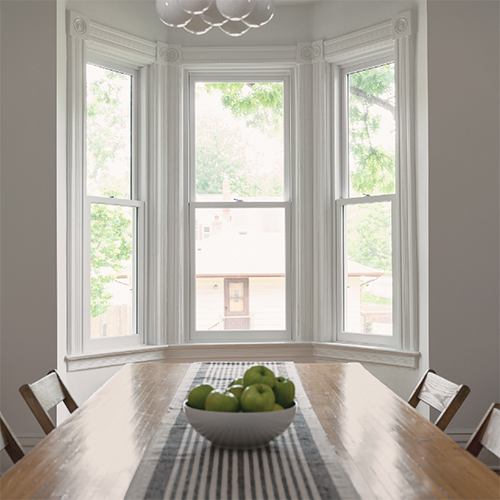 Marvin Single Hung Windows
Single hung windows are very similar to double hung—a traditional construction with an upper and lower sash, but with a stationary upper sash. Single hung windows can be less expensive, they are very simple to screen, and are more energy efficient since the top sash is sealed shut versus an operational double hung. This makes them a versatile choice for spaces where it may be hard to reach the top of the window, or for areas that need extra protection from ventilation.
Marvin Ultimate Single Hung Windows are the perfect choice for a bathroom like this one, where they feature Contemporary Lift Lock hardware in Satin Nickel: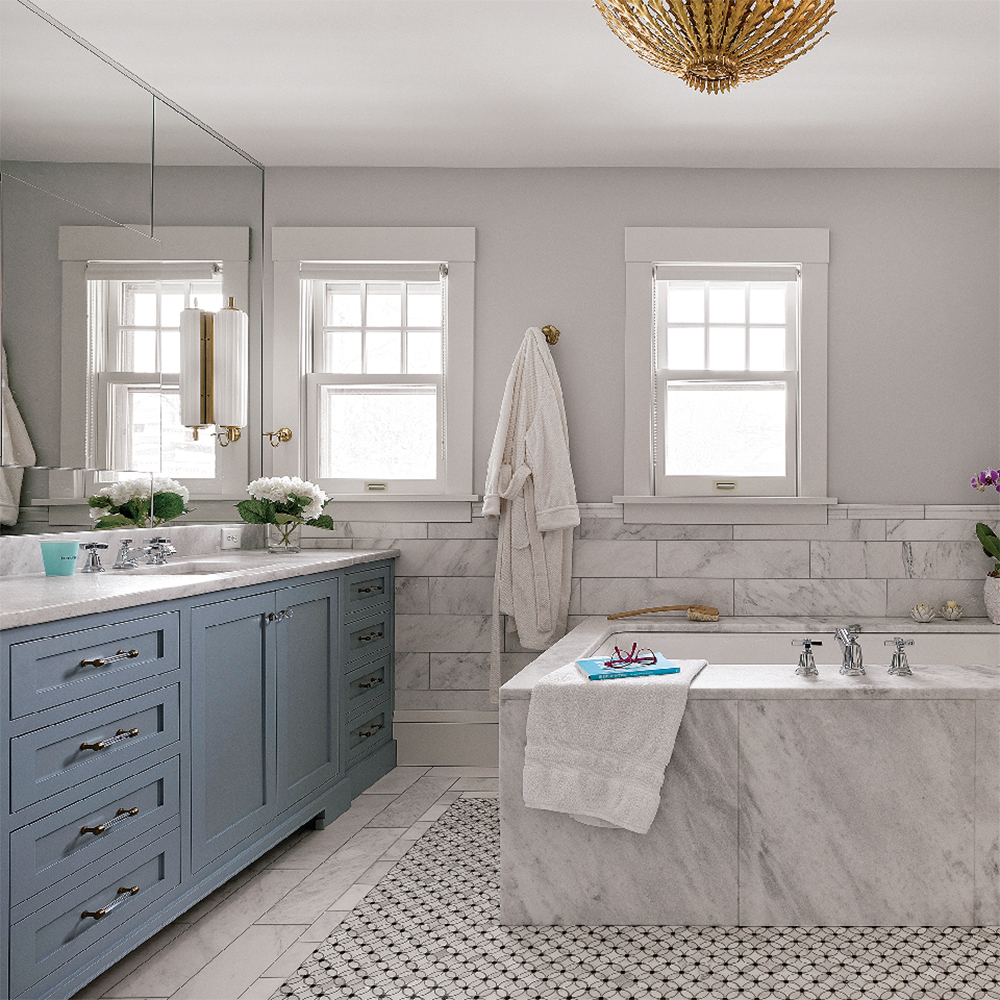 Here, Ultimate Single Hung Windows allow sunlight and breezes to flow in over the sink, with Contemporary Lift Lock hardware in a brass finish to complement the stylish kitchen hardware: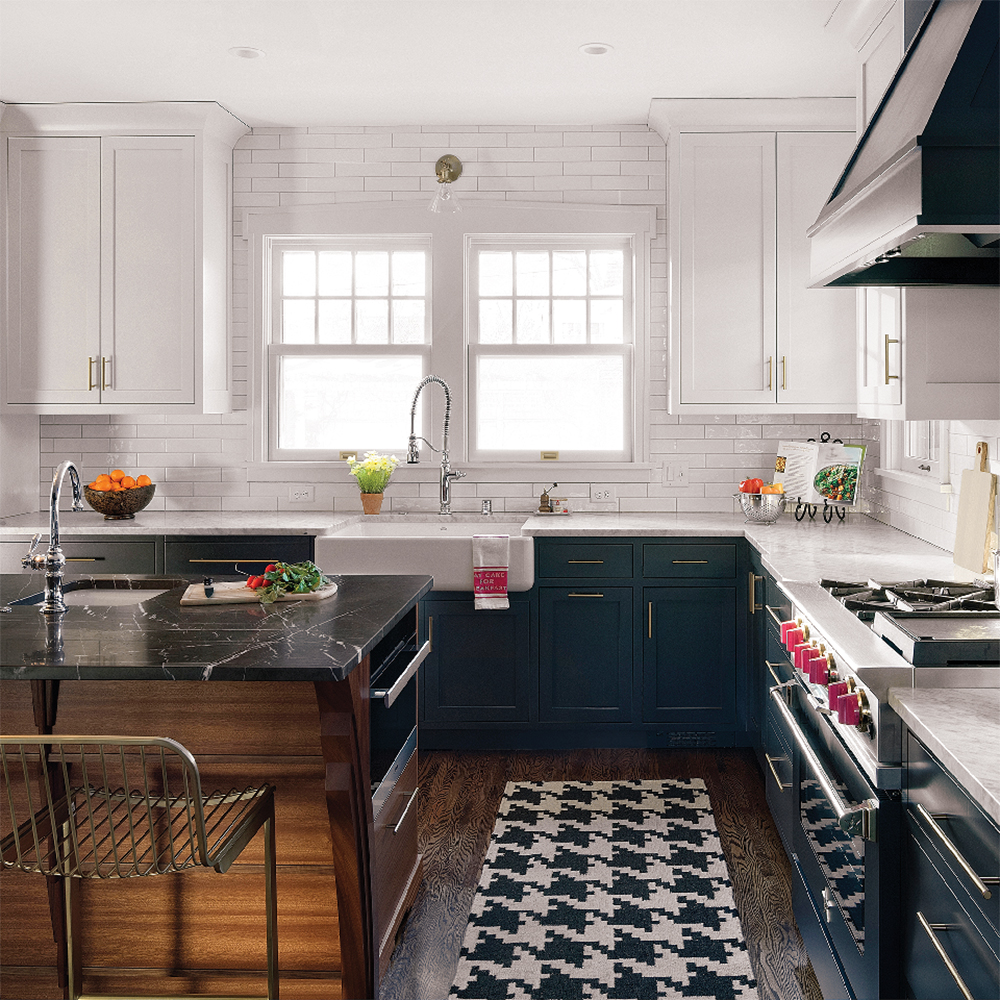 Marvin Picture Specialty Shapes Windows
Marvin's Specialty Shape Windows are the ultimate choice for design customization—from circles and triangles, to trapezoids and octagons, the possibilites are virtually endless. They are built with a fixed sash like standard picture windows, so they're often combined with windows that do open, or used in spaces that don't require operational windows.
We love how Architect Kris White covered the back of this home in contemporary windows and doors from Marvin's Signature Collection: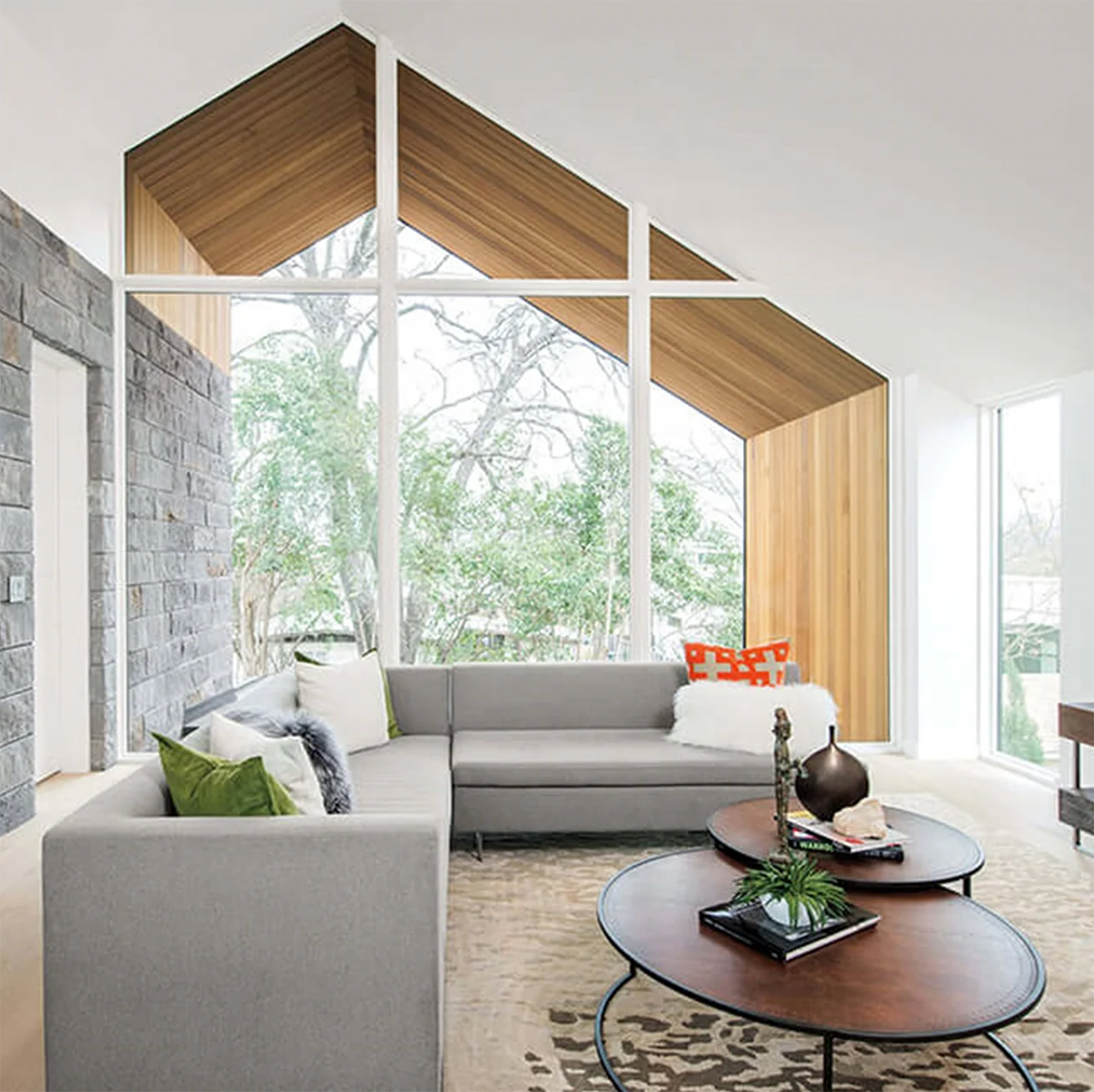 An Ebony finish and hardware with these Essential Specialty Shapes form impressive floor-to-ceiling window walls to show off the home's contemporary architecture: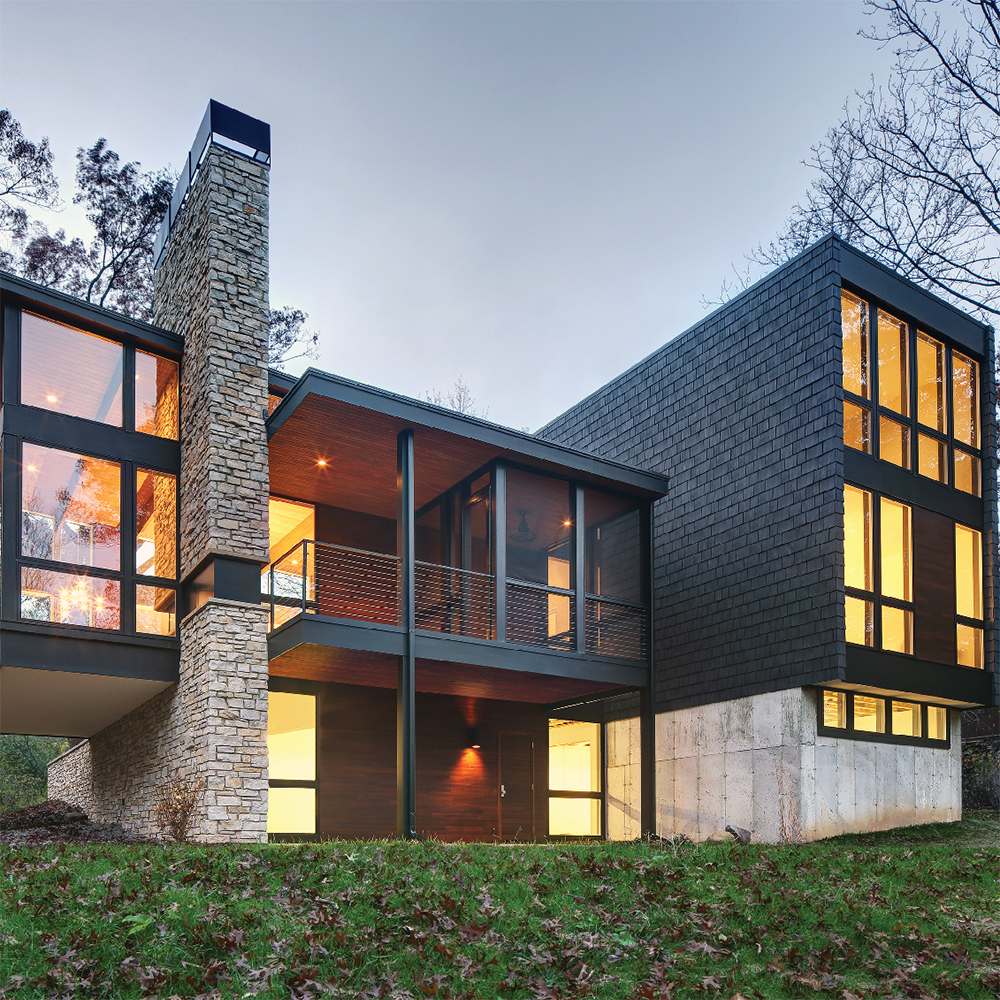 With these second floor Essential Specialty Shapes and Essential Picture Windows, one might almost feel they are up in the trees: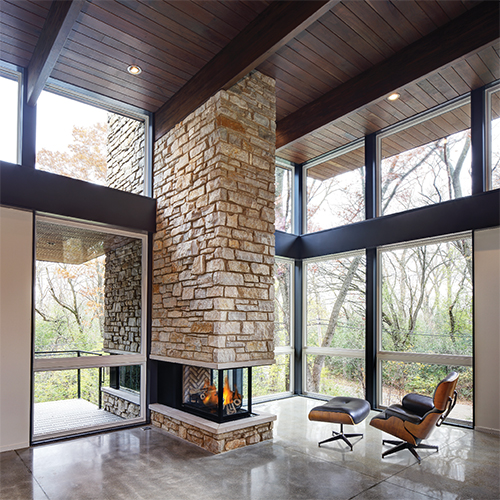 Find your dream Marvin Windows today!
Ring's End has nine beautiful Door & Window showrooms located throughout Connecticut and one in Westchester, New York. Our friendly and professional team offer free in-store consultations to help you navigate through all the styles, features and technical details so you can find the perfect windows for your home. Our free in-store consultations make it easy to learn more about doors and windows for your home.
Click here to schedule a FREE in-store appointment today to get the answers you need from Ring's End!