Interior MDF Doors
TruStile pioneered the use of medium density fiberboard (MDF) as a preferred material for painted door applications, realizing its many advantages over alternative materials like natural wood. Since TruStile introduced their MDF doors to the market, there have been many impersonators. TruStile (TS) series doors feature architecturally-correct panel door styles from 1 to 9-panel configurations. Each door is built with genuine stile and rail construction and is never routed or stamped. TruStile's flexible manufacturing process also allows you to customize the look of any TS series door by substituting any panel for glass, resin, leather, or metal. What is MDF and what are its advantages?
MDF is an engineered wood product made from recycled and recovered wood fiber
More environmentally friendly than wood doors
More stable and durable than wood doors
Smoother surface for painting than natural wood
More affordable than wood doors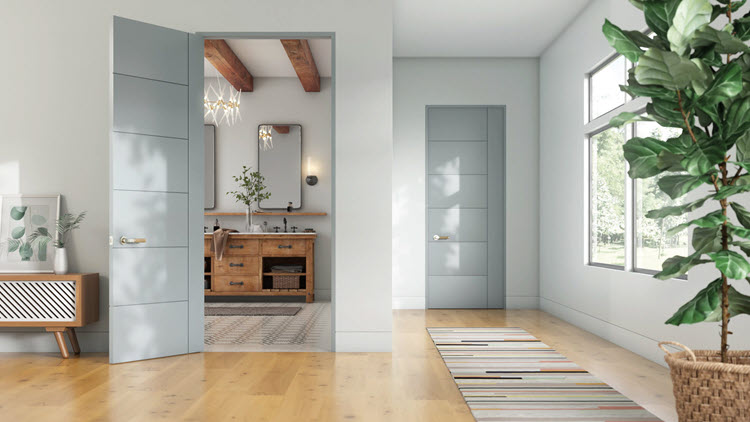 Hardwood Wedge Edge System
TruStile MDF doors come standard with The Wedge®, a field-proven hardwood edge system. Designed to stand up to daily use, The Wedge provides superior rigidity, stability, and screw-holding power.
Built to Your Exact Specifications
Every TruStile door is made to order, each built to the exact style and size you require. TruStile still builds its MDF doors using traditional stile and rail construction, a method usually reserved for wood doors. TruStile solid MDF doors are never routed or filled with cheap core materials like those of competitors. Instead, each door is constructed to provide superior, architecturally correct details and an unequaled finishing surface.
Perfect for Painted Doors
Why paint an expensive wood door? MDF doors are both ideal for painted applications and an affordable alternative to wood doors. TruStile uses super-refined MDF, which provides a smoother painting surface than pine, poplar, or lower-grade MDF alternatives. Each MDF door has been engineered for maximum stability and durability. They won't shrink, crack, expand, or warp when exposed to environmental conditions.
Environmentally-Friendly
TruStile MDF doors have been SCS certified to contain 69% recycled content — qualifying them for LEED credits on Green building projects. TruStile's use of low VOC primers and adhesives keeps levels of emissions far below standards. To further reduce emissions, no-added formaldehyde MDF may be specified for those who demand it.