Exterior Doors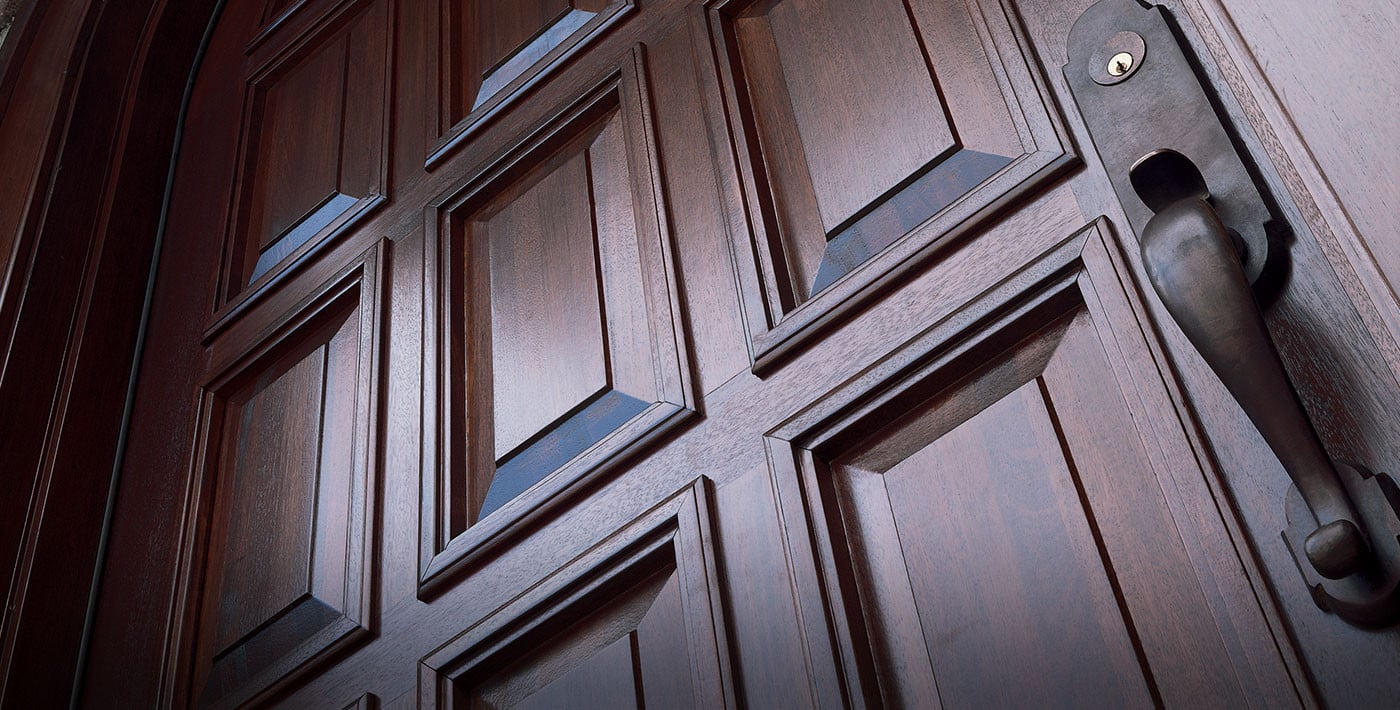 Types of Exterior Doors
Styles of Exterior Doors
Materials & Features
A beautiful entry door gives any visitor their first impression of your home, adds to a house's curb appeal, and increases property value. Thus it's important to select a door that enhances your home's overall architecture while signaling your distinctive style. You should also think about how an entry door will look from the inside. Since these doors provide secure privacy and noise-abatement as well, they should be strong, well-framed, and solidly constructed. They can often support hooks or other attachments for a sign and door or
window accessories.
French doors have transparent or glazed glass panels extending the door's entire length. Often used in pairs as a more traditional-looking substitute for patio doors, French doors swing outward or inward depending on space and function. Some manufacturers make 'sliding french doors,' which are patio doors with framing characteristic of classic french doors with the larger bottom and top rails.
Scenic doors offer panoramic views and blur the lines between the inside and out. With custom colors, sizes, and hardware available, these high-performance doors create an elegant and effortless transition from the interior to the exterior of your home.
Storm doors provide extra protection by weatherproofing your home, sealing drafts, and increasing energy efficiency. Screen doors open interior spaces to natural light and provide ventilation while keeping out insects and blowing debris. Always popular choices as back doors and side doors, today's
screen and storm doors
are so well designed that they are being used more and more as entrances.
Patio doors are made from wood, fiberglass, vinyl, or a combination of materials that frame large open
windows
. They open by sliding or folding, offering easy access to rooms or back yards, and are available in many styles. A new type of patio door, the 'lift and slide,' offers full retractability and unobstructed views. With all patio doors, careful consideration of glass options is particularly important.
Rugged, easy-to-operate cellar doors can add useable square footage to your home. As they are exposed to the elements, cellar doors need to be weather-tight; for safety, they also need sturdy locks and internal mounting flanges.
Choose Your Exterior Door Style
Our job at Ring's End is to help our customers find the doors of their dreams and realize their aesthetic vision. While there is virtually an unlimited number of door options for any taste, the following are some common choices.
Hardwood is the classic door material for home entrances. The wide variety of available wood species, ranging from tropical exotics to domestic hardwoods, along with the ability to add hand-carved details, make wood the most sought-after material for custom and semi-custom doors. While manufacturing advances have greatly improved the durability and weather resistance of premium wood doors, these products are best used in entryways that are sheltered from the elements. A wood door might be right for you if you want elegance, old-fashioned aesthetic appeal, or intense customization options.
Fiberglass exterior doors are quickly growing in popularity. They offer superior durability in nearly any climate, as they won't warp, rot, crack, or split, and they are virtually maintenance-free. Energy-efficient and well suited for high-traffic entrances, fiberglass doors come in beautiful wood grain finishes such as oak, mahogany, and fir, as well as an unlimited number of paint and stain finishes. A fiberglass door can balance price, durability, and painted aesthetics for any
new exterior door.
More durable than iron doors, steel doors are ideal for situations in which door security and strength are paramount. Treated to deliver superior rust resistance compared to iron doors and other materials, steel doors require little upkeep, are very energy efficient, and will withstand years of extreme weather. Steel doors are available in solid panel and in glass insert patterns, primed and ready for painting. Choose steel if you need a durable door for your home or want security doors for your garage or shed.
Features of Exterior Doors
Proper installation is the key to having a secure door. The door should fit snugly in the frame; its hinges should be tightly affixed and possibly reinforced with setscrews, crimped pins, or safety studs. Other safety features include multi-point locking systems and high-quality bolts and key locks.
Glass options include textured, decorative, or tinted as well as features like blinds, shades, grilles, or even small windows. You will also want to consider the energy efficiency, ultraviolet protection, and shatter resistance of the glass inserts or panels you select for your new door.
Inswing entry doors are popular because hinges and deadbolts are located inside the home, thus increasing security. Also, an entry door that opens into the home provides guests a gracious welcome. An outswing door can be more durable, keeping out water and reducing wear; it is a common configuration for screen and storm doors.
Handles and locking systems for exterior doors are available in many types, materials, and finishes. You might also consider decorative hinges and straps for a unique look, as well as hooks for hanging a sign. In every case, you'll want to choose door hardware that complements your door's aesthetic and that balances privacy with convenience.
How To Select An Exterior Door For Your Home
At Ring's End, we want to do more than sell you an exterior door. We want to sell you the right door for your home – right for how you live, and right for where you live. This commitment means helping you evaluate the options available on our premium door lines so your door fits your lifestyle, your home's architecture, and your budget.
Choosing exterior doors involves factors beyond selecting the type that best suits your taste and your home style. Will the door be exposed to harsh weather conditions? Will it provide adequate protection for your property? Is there enough interior space for an inswing door to function comfortably? Will the door get lots of daily use? With patio doors, do you want an unobstructed view or are there privacy concerns? What about energy efficiency and UV ray reduction? Do
We'll help you answer these questions so that the door you select has materials and features exactly suited to your needs. We can even handle the entire project for you; our expert can perform on-site measurements and install your new perfect door.
1
Visit a Ring's End Window & Door Showroom to discuss your ideas and needs.
3
Select your style and material
4
Select your features and finishes
5
Explore having Ring's End manage the project, including installation
How to Measure the Door Size You Need
When you're looking for your door's size, you'll need to measure three things: the height, the width, and another important element called the doorjamb.
Your door's jamb size is measured as the width of the door frame from back to front from where it meets your home's wall stud. As always, our door installation experts can assist with these measurements either remotely or on-site.
To measure these aspects, take a tape measure and:
Measure your doorway's jamb. The easiest way to do this is to measure the edged edge difference of one of your doorframe's sides.
Measure your doorway's vertical opening from the floor to the top of the doorjamb.
Then measure your doorway's width horizontally three times. User tape measure near the top, in the middle, and once near the bottom. If all three of the measurements vary, choose the shortest distance when selecting a door for a precise fit
It's time for you to install the ideal door for your home. Contact us today or browse our online shop for a large selection of the above door choices or other options!
Visit a Ring's End Window & Door Showroom to discuss your ideas and needs.
Select your door type
Select your style and material
Select your features and finishes
Explore having Ring's End manage the project, including installation