Delivery
Capabilities
With new builds and major remodeling projects, you don't want all the materials delivered at once. Your sales liaison or Delivery Services staffers will work with you to plan a delivery schedule tailored to your individual project's timetable. That way, windows won't be lying around during framing, and flooring trusses will arrive before base moulding.
The Ring's End Distribution Center in Stratford CT is the organizational hub for stocking and delivery. With over 30,000 square feet of storage space, this facility provides us the ability to safely warehouse doors, windows, and kitchens until they are ready for delivery to your job site. It also has allowed us to develop a skilled, experienced group of delivery workers who know how to handle your building products carefully.
Loading a truck with building materials is not a simple matter. Product weight as well as size must be considered, and materials must be packed and balanced so they don't shift or tumble during transit. Further, whenever possible, materials should be loaded according to the 'last in, first out rule.' These are the things our experienced loaders know how to do.
It's really not helpful to receive a delivery in which all materials are unceremoniously dumped in a heap, usually at the edge of a job site. Ring's End delivery personnel are trained to off-load materials exactly where you need them. This feature of our delivery service saves you time and hassle — and it cuts down on on-site material degradation or loss.
You really don't want your delivery entrusted to a novice driver who ignores bridge clearances or speed limits. Our drivers are veteran Ring's End employees who have substantial experience with the specific type of delivery vehicles they operate. It should go without saying (but we'll say it anyway) that they're fully licensed and insured.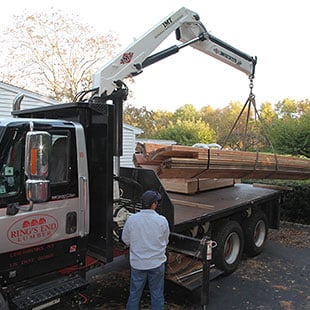 The Ring's End delivery fleet includes vehicles suited to differing job requirements. For example, Rack Trucks ensure trouble-free delivery of breakable materials. Flat Bed Knuckle Boom Trucks allow us to place your loads where you want them, keeping your job site organized. Pickup Trucks and Box Vans deliver smaller quantities of building and paint products safely and quickly. We take care that our vehicles are properly maintained.