Countertops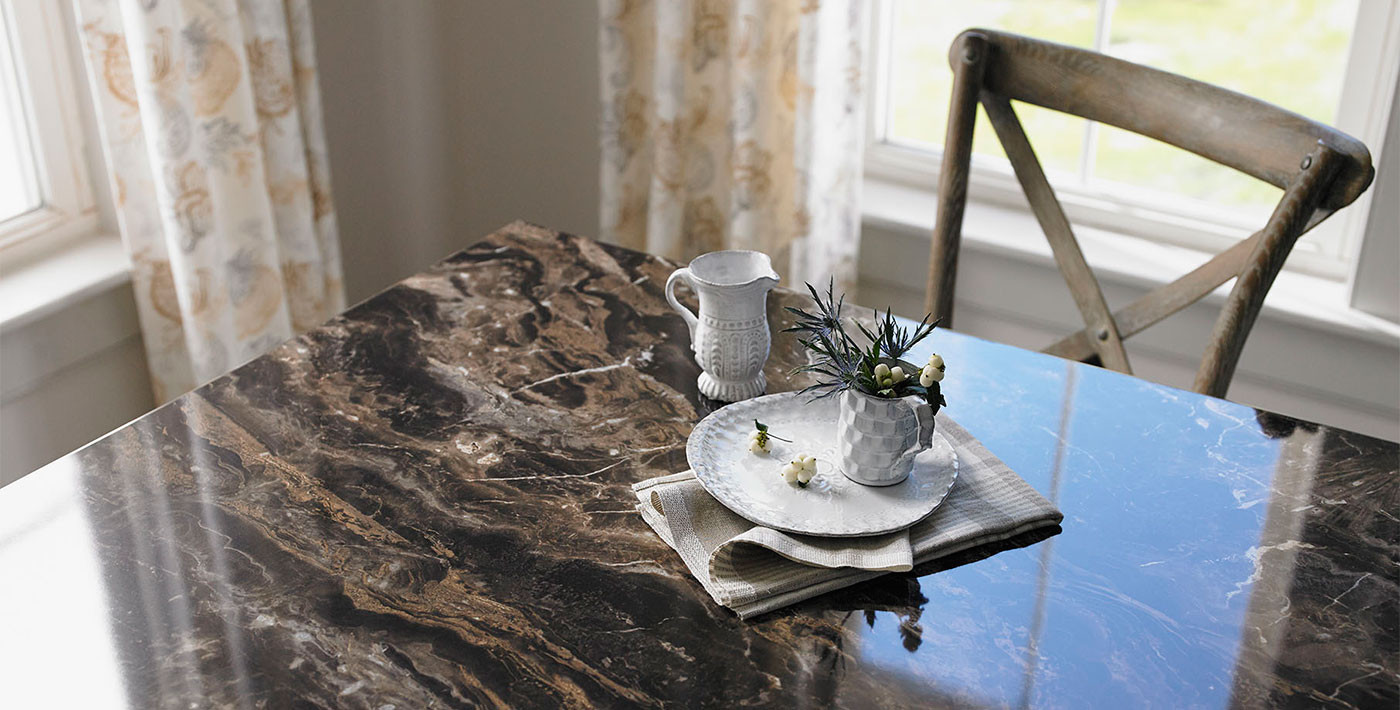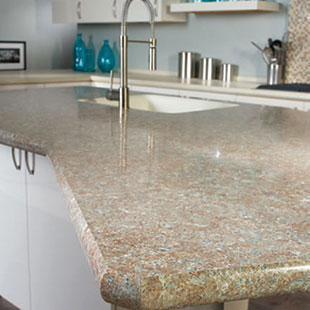 Types of Countertops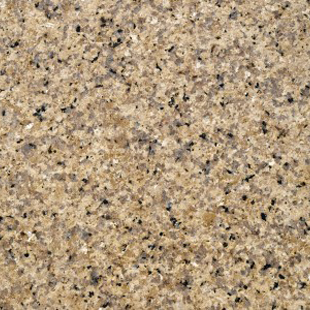 Materials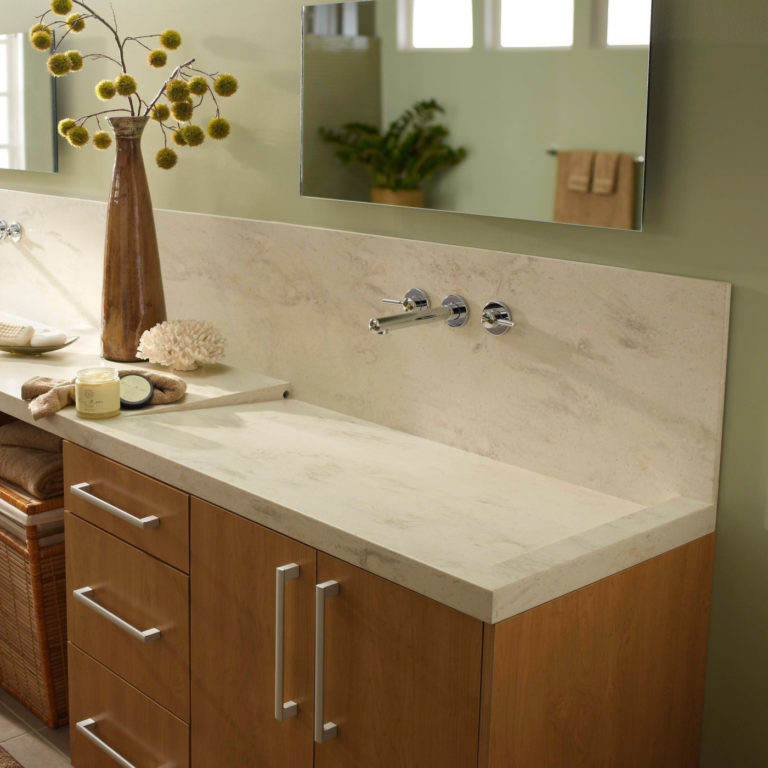 Features of Countertops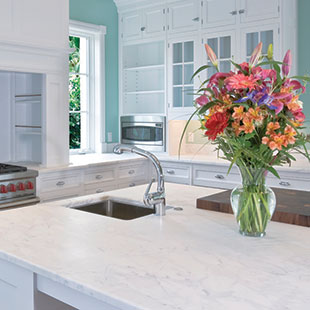 Wood countertops have a warmth, and comfortable look and feel that may fit perfectly with your décor. Wood tops are available in several species and with 'food-grade safe' finish choices. Some finishes may require maintenance. Ring's End stock John Boos Maple Butcherblock tops in standard sizes with an oiled finish. Laminate tops are still available in hundreds of color choices and several finish options as well. Our Specialist can show you the many choices available.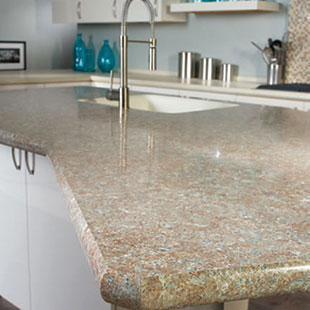 Custom Stone, Quartz, and Solid Surface
Ring's End carries a wonderful selection of natural stone, quartz, and solid surface countertops in a large variety of colors and patterns. For your kitchen or bath we have hundreds of color choices, options for polished or honed finishes, and several edge profiles for your custom look. Our certified sources can come to your home to carefully template your space so we can return to install beautiful, durable surfaces that fit exactly as you need. Quartz counters seem to be the counter material of choice today and we have hundreds of samples in each of our showrooms for you to choose from. Have one of our Kitchen & Bath Specialists show you the possibilities.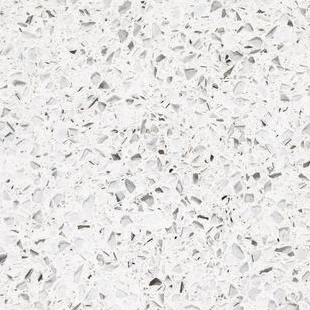 Engineered Stone / Quartz
Quartz is the most popular type of engineered stone countertop. It combines the beauty and durability of natural stone with new technology for a product that is non-porous, sanitary, and virtually maintenance-free. Made from crushed quartz, resin, and pigment, quartz countertops are available in a wide range of colors and patterns, from those that mimic natural stone to fresh contemporary palettes. Ring's End carries quartz counters by Caesarstone, Cambria, and Zodiaq.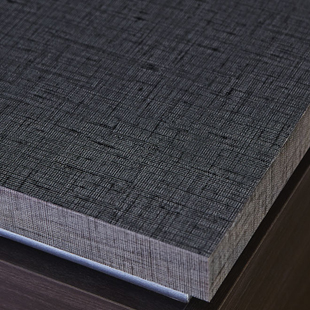 Commonly known under brand names like Formica and Pionite, laminate is affordable, easy to maintain, and relatively durable. It's composed of pressed, bonded paper and resin; it comes in a huge variety of colors and patterns. Laminate innovations include more wear-resistant surfaces, expanded edge profile options, and updated textures and finishes.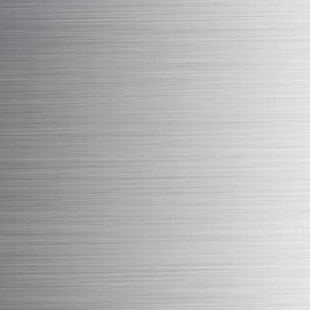 Stainless steel is the most widely used metal countertop material; its non-porous, heat-tolerant, hygenic surface is particularly suited to homes with restaurant-style chef's kitchens and or that feature contemporary 'industrial' design. More unusual metal choices include copper, pewter, and zinc. Copper in particular offers varied colors, patinas, and finishes.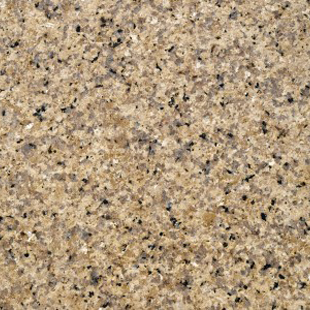 It's hard to beat the natural beauty of real stone countertops. The most popular stone is granite, prized for its extreme hardness and its beautifully unique character. Because granite is porous, it needs periodic sealing. Another natural stone used for countertops is marble. Although marble is undeniably elegant and its veining makes a visually stunning statement, it is sensitive to acids and more likely to scratch than granite.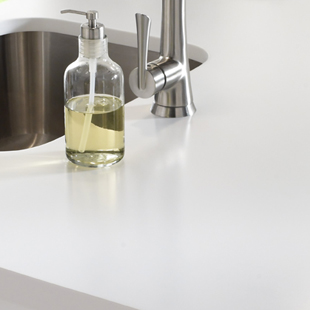 Solid surface countertops are made of natural mineral and resin, resulting in a non-porous, impact-resistant material. Moreover, scratches or cuts can be sanded out, thereby increasing the life of the product. Solid surface countertops are available in every color imaginable, as well as marbled and particulate patterns. Well-known brands include Corian and Wilsonart.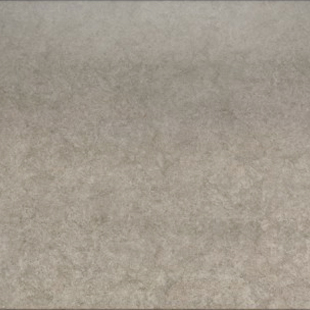 Ultra Compact and Porcelain Slab
Some of the newest types of countertops, ultra compact and porcelain slab products are extremely strong, durable, non-porous, and heat-resistant. They can be made in almost any size and are available in a growing array of colors and finishes. Because they are UV-resistant and tolerant of temperature extremes, these materials work beautifully in outdoor as well as indoor kitchens. Ring's End sells Dekton ultra compact surfaces.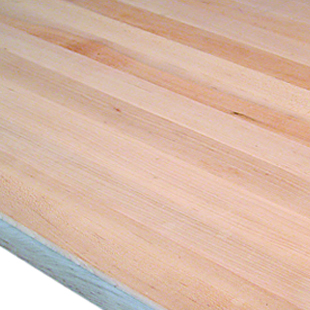 Butcher block – formed of end-grain blocks or edge-grain laminated wood – is a traditional countertop material ideal for cutting and chopping. If it is to be used for food preparation, the surface needs to be finished with a food-safe mineral oil treatment and requires ongoing maintenance. Other types of wood counters can be used for areas designated for dining or entertaining rather than food preparation, adding warmth and visual distinction to a kitchen. Wood countertops can be an eco-friendly option when they are fabricated from FSC-certified wood or from reclaimed wood.
Different countertop materials can accommodate different types of edges. Ornate edge profiles like ogee, dupont, and waterfall are best used on natural and engineered stone countertops; simpler profiles like radius, bullnose, beveled, mitered, and straightedge are suitable for all materials.
Before countertops can be installed, the sink cut-outs need to be made. Therefore, you must choose the type (undermount, drop-in, or apron-front) of sink you want as well as the size. For solid surface countertops, coordinating sinks made from the same material are available.
The options are virtually limitless. Laminate, solid surface, and engineered stone countertops come in hundreds of colors; even natural stone and wood countertops are available in colors and tones to suit any design. Most manufactured materials come in matte or polished finishes, and some products offer subtly textured options.
There are two broad categories of granite patterns: consistent (the same pattern throughout the slab, resulting in a 'granular' effect) and variegated (dramatic veining or swirling in the slab). These categories can be replicated in engineered materials, as can other, more contemporary patterns. Marble is known for its beautiful veining, with each slab offering a unique aesthetic impact.
How To Select Cabinetry For Your Home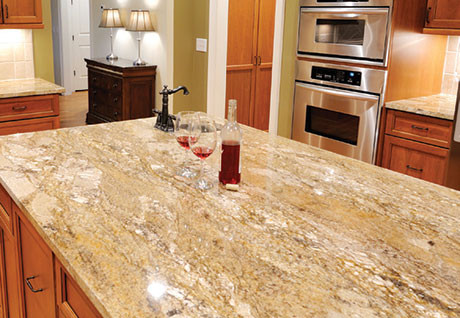 Perhaps the most important choice is material, as almost all material types offer enough color, pattern, and finish options to 'fit' with your kitchen or bath design. Let the Ring's End Kitchen & Bath specialists explain the advantages and disadvantages of each countertop material – even introduce you to new materials that you may not be familiar with. They can help assess your use patterns and performance expectations as well as your budget and style preferences so your ultimate selections will be based on how you actually will work and live in the room.
At the Kitchen & Bath Showrooms, you can see and feel the various materials and countertop design options. Whether you are doing a complete kitchen or bath remodel or just replacing countertops, you'll find beautiful displays, knowledgeable salespeople, and professional designers who can assist you with your project from start to finish.
Five Considerations when Choosing Countertops
1
Look
Sleekly contemporary? Warmly traditional? Classically elegant? Identify the look you want to achieve and how the right countertop will add significantly to that look.
2
Practicality
If you and your family cook a lot, you'll want to consider how resistant the countertops will be to heat, stains, scratches or dents, liquids, and bacteria.
3
Durability
Unless you like to redo your kitchen or bath every three years, you'll want your countertops to last and still look good after years of use. (Looking good can include the natural 'aging' of wood or metal.)
4
Maintenance
Are you willing to do the routine maintenance necessary to keep countertop materials in top shape? Know the differing maintenance requirements of the materials you're interested in.
5
Weight
Some surfaces, like natural stone, can be quite heavy. Be sure your base cabinets are strong enough to support the countertops you select.