Cabinetry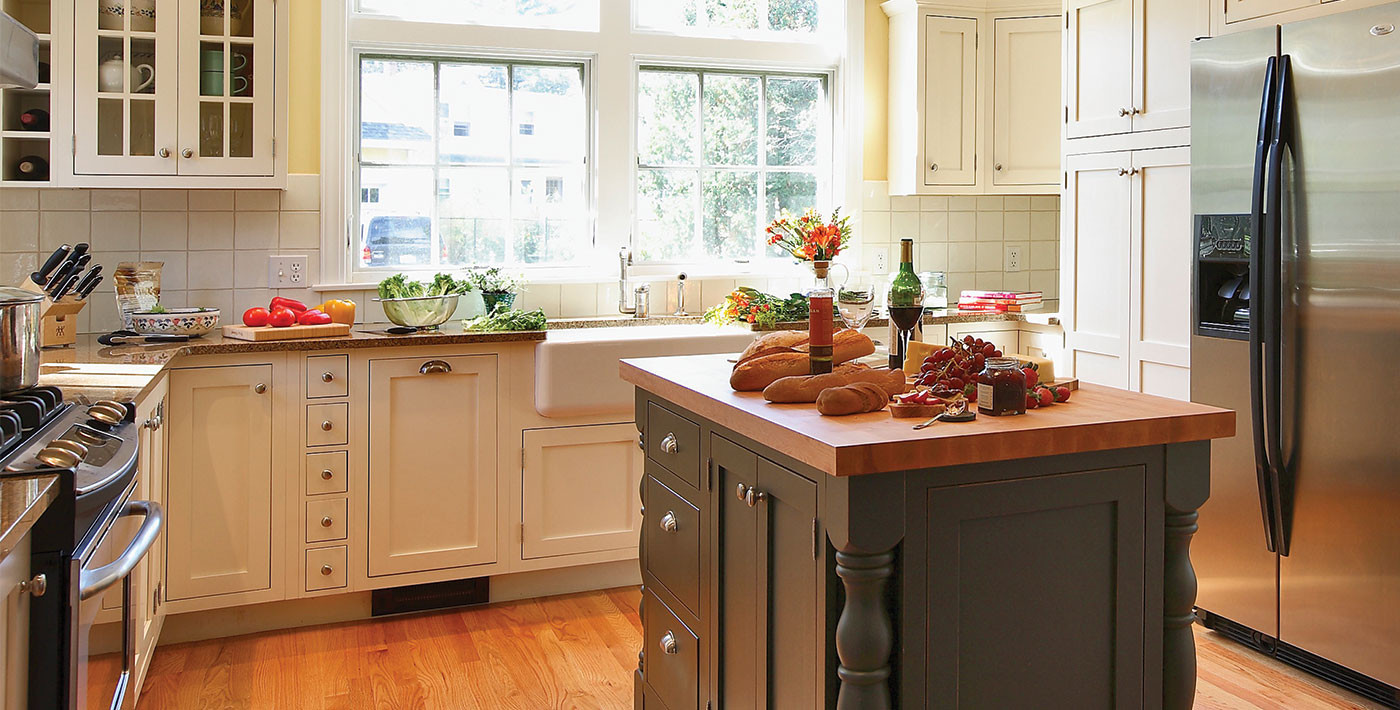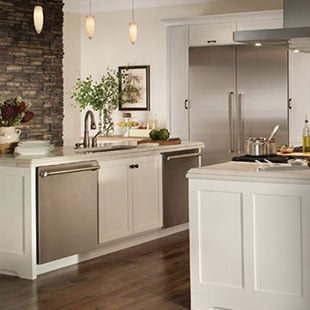 Types of Cabinetry
Materials & Finishes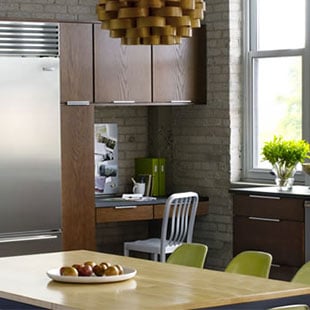 Styles & Features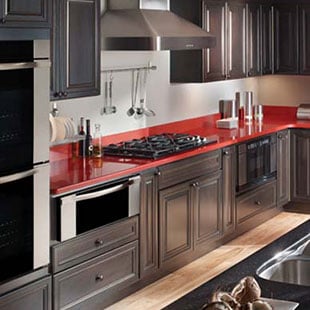 Stock cabinets, sometimes called 'modular' cabinets, come in standard sizes in a wide variety of styles. They can be purchased either pre-finished or unfinished.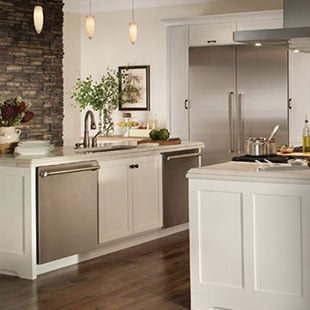 Although size increments remain standard, semi-custom cabinetry offers a huge range of options in finishes, features, and construction.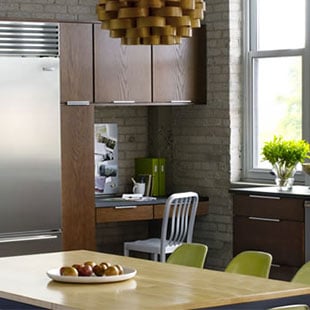 Custom cabinetry is built to order; it fits the exact design, size, layout, and specifications of an individual project.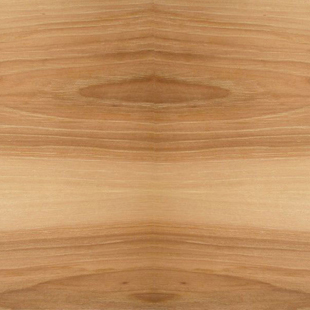 Alder is straight-grained, even-textured, and reddish-hued. As it also offers a stable staining surface, the wood is used in many styles of cabinetry. Knotty Alder is popular for rustic designs.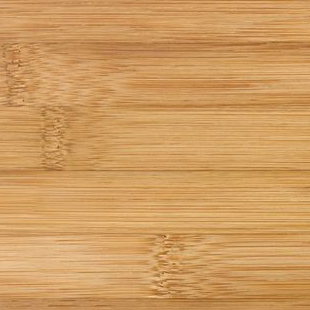 Bamboo is a durable, sustainable resource that can be visually stunning, particularly in contemporary designs.
Birch is a heavy, close-grained hardwood with light brown or reddish heartwood and cream-colored sapwood. Because it can be stained to resemble mahogany or walnut as well as left light, it is used in many styles of cabinetry.
A strong, close-grained, light to reddish-brown hardwood, Cherry resists warping and swelling. It is a popular choice for 18th-century, Colonial and French Provencial designs.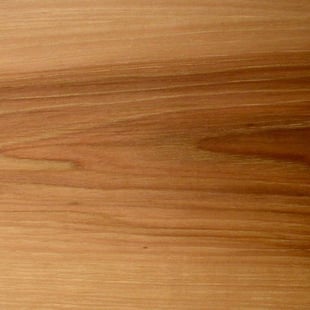 One of the heaviest and hardest woods available, hickory is preferred for structural parts requiring strength as well as for designs requiring prominent grain and dramatic color variation.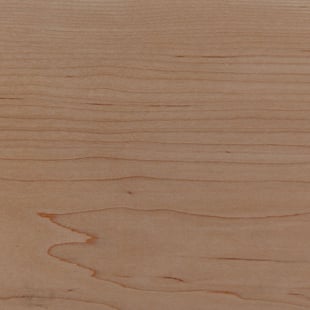 Maple is a smooth, dense, shock-resistant, evenly grained hardwood. When stained, Maple is often used for American colonial styles; when its natural light color is dressed with a clear or natural finish, it gives a fresh, contemporary look.
MDF material is durable and easy-to-maintain. Its smooth finish makes it ideal for painted cabinets.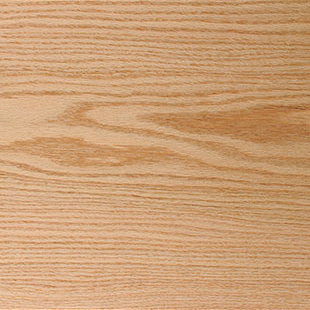 The most widely used hardwood, oak is heavy and strong, with a prominent grain. Oak is popular for American and English country styles.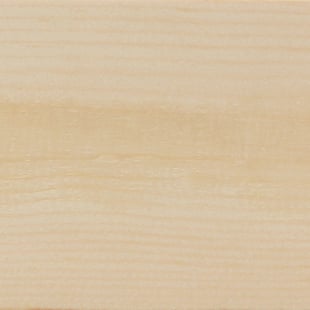 Pine is a pale, stable, lightweight softwood often used for Country and Provincial designs. It is also easily painted or glazed.
Natural – A natural finish means that only a clear protective top coat has been applied to the cabinet exterior, thus highlighting the wood's natural color and grain.
Stained – Wood stains range from light to dark, from transparent to opaque. Stains can enhance the beauty of the wood, producing the shade and color perfect for your interior design.
Painted – Painted cabinets are increasingly popular as they help create light and bright spaces. Although white and cream are the most common colors used in kitchens, other colors – such as French blue, dove gray, and pale grass green – can produce spectacular results.
Specialty – Specialty finishes include glazing, the application of accent colors to the primary finish or to cabinetry details; crackling or antiquing, in which a paint additive gives an all-over aged look; and distressing, which involves altering a cabinet's uniform surface by sanding or denting in order to produce a rustic, time-softened look.
Our job at Ring's End is to help our customers build well and to realize their aesthetic vision. While there is virtually an unlimited number of cabinet style options for any taste, the following are some common styles.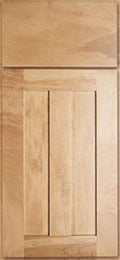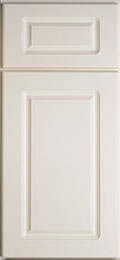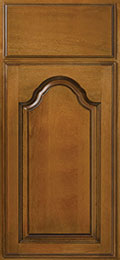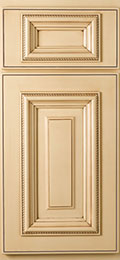 Innovative storage accessories increase a kitchen's functionality and accessibility. Choose from roll-out trays, slide-out shelves, plate or wine racks, drawer organizers, built-in waste and recycling containers, and many more ingenuous storage solutions.
Glass fronts are most frequently used on upper kitchen cabinets; options include clear, seeded, frosted, etched, and stained glass. Clear glass fronts allow display of attractive tableware, glassware, and serving pieces; all types of glass lighten up the kitchen by providing reflective surfaces and visual variety.
Under-cabinet lighting illuminates work surfaces, top-of-cabinet lighting provides a warm ambient glow, and in-cabinet lighting for glass-front units highlights a display of attractive objects. A growing trend is using LED lighting, which is both energy-efficient and does not produce much heat.
Soft Close and Specialty Doors and Drawers
An extremely popular feature, soft-close doors and drawers eliminate noise and reduce wear and tear. Another popular feature is the tap door, which opens with a foot tap – helpful when your hands are full. Tambour, pocket, and sliding doors are available, as are space-saving corner drawers.
Corbels, mouldings, aprons, legs, end panels, and valences are just some of the cabinetry embellishments that can add style and character to your kitchen or bath design.
How To Select Cabinetry For Your Home
With so many materials, finishes, styles, and options from which to choose, selecting kitchen cabinetry can be a complex process. Fortunately, the solution is simple: visit a Ring's End Kitchen & Bath Showroom. Not only do we offer a huge selection of products and materials to see and compare; we also offer complete professional design services, from planning to installation. Let Ring's End be your project manager for your kitchen or bath remodel… and a partner with your architect if you're building a new home or addition.
Five Often-Overlooked Considerations
1
Accessibility
How tall are the people who will be using your kitchen or bath? Is anyone physically impaired? Cabinet configurations can be designed with your family's specific needs in mind.
2
Use Patterns
Cabinet interiors and options can be arranged so that the items you use most frequently are located for maximum convenience.
3
Maintenance
Some cabinetry materials and finishes show less dirt and are easier to clean than others. Let the Ring's End Kitchen & Bath specialists advise you about what's right for your family.
4
Lighting
Even rooms suffused with natural light can have dark corners – and of course natural light disappears when the sun goes down. New options in cabinet lighting increase kitchen and bath functionality and beauty at any time of the day.
5
The Rest of Your House
If you are remodeling a kitchen or bath, you'll want to think about how its style fits with the aesthetics of your entire home. Do you prefer consistency from room to room, or are you happy with an eclectic mix of styles?