Architectural Hardware
Types of Door Hardware
Types of Home Accents
Styles of Architectural Hardware
Material & Finishes
Door knobs and levers come in a wide variety of styles and materials. Types of knobs and levers include keyed, privacy, passage, and dummy.
Deadbolts are so called because they are operated manually. Cylindrical locks (entry locksets) consist of two doorknobs operable both from the inside and the outside. Mortise locks, recessed rectangular boxes, combine deadbolt action with a pin-locking cylinder mechanism; they are most frequently used on front entry doors.
Handlesets combine a grip (handle) and a single- or double-cylinder deadbolt. Available in many styles and materials, handlesets come in one-piece, two-piece, full plate, and electronic units.
Butt hinges are the most common type of door hinge; the two sections are connected either by a metal rod or by ball bearings. Flush, concealed, piano, and spring hinges are also available.
Sliding & Folding Door Hardware
Sliding door hardware systems usually include tracks, fascia, mounting brackets, and wheels. Folding door hardware includes tracks, hangers, and pivots; it is available for bi-fold, multi-fold, and 'full-access' fold doors.
Doorbells, knockers, viewers, stops, kickplates, and bumpers can add functionality to doors while enhancing aesthetic appeal.
Commercial door hardware is often designed for more heavy-duty use than residential door hardware. Ring's End has decades of experience supplying the durable, attractive hardware for commercial construction projects.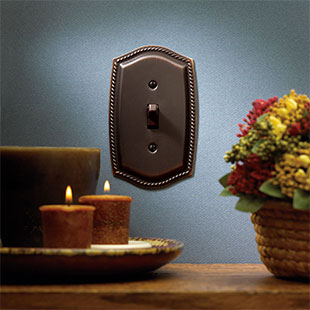 Even utilitarian products can be beautiful. Add the right finishing touches to your home with handsome switch plates, vents, and registers in materials and styles that coordinate with the rest of your architectural hardware. And don't forget other accessories like coat hooks, door hooks, and house numbers.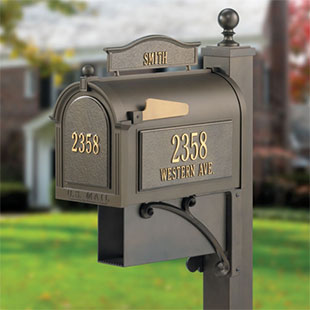 Ring's End stocks premium heavy-duty galvanized steel mailboxes by Special Lite in seven beautiful colors: Black, White, Hunter Green, Taupe, Blue, Red and Burgundy. We can personalize your mailbox with your name, address, or street number with 3 different type styles and durable vinyl lettering.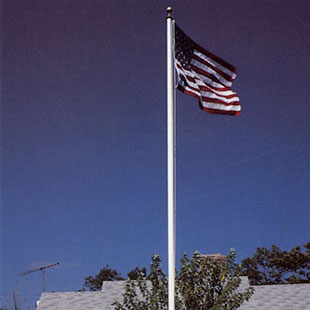 Ring's End stocks wall-mount fiberglass or aluminum flagpoles and can special order groundset flagpoles up to 80' feet high. We stock American Flags too!
Styles of Architectural Hardware
Our job at Ring's End is to help our customers build well and to realize their aesthetic vision. While there is virtually an unlimited number of door style options for any taste, the following are some common styles.
Aluminum is often used for thresholds and door closers, usually in commercial applications.
Its huge variety of finishes make brass the most popular material for door hardware.
Bronze is also very popular. Sandcast bronze is often used in rustic and arts-and-crafts styles, whereas lost-wax cast bronze works well with classic, traditional styles.
Chrome, a traditional material for interior door knobs and levers, remains popular for bathroom hardware in both polished and satin finishes.
Forged iron (wrought iron) hinges and levers give an authentic rustic touch; they are particularly popular for barn-style sliding doors.
Nickel is a commonly used material for interior door knobs and levers, with the satin nickel finish often being preferred.
Porcelain, Crystal, Glass
These materials give a charming, traditional look to interior doors.
Stainless steel hardware, with its clean and sleek design, is often used for doors in homes with a contemporary aesthetic.
Zinc plating is a feature of some heavy-duty hinges.
Options for architectural hardware finishes have expanded significantly due to innovative technology and customer demand. Today you can choose from a large variety of beautiful finishes that combine high style with durability and ease of maintenance. We're highlighting some of the most popular finishes here; visit a Ring's End Showroom to see all the exciting possibilities.
How To Select Door Hardware
This one is easy: visit your nearest Ring's End location. Because there are so many types and options of door hardware, Ring's End can make the selection process efficient and worry-free. Extensive in-store displays let you see, touch, and compare before you purchase. Our experienced staff can explain everything from the safety features of different kinds of locks to the benefits of satin versus polished finishes, answer your questions, and make sure you have the hardware you need for your project, remodel, or new construction.
Five Questions when Choosing Door Hardware
1
What is the door's function?
2
What level of security or privacy is needed?
3
Which style, material, and finish will best complement my home's design?
4
What are the durability expectations and maintenance requirements for each style, material, and finish?
5
How can Ring's End help me make the right choices?