Closet Organizers & Shelving
Types of Closet Organizers & Shelving
Types of Closet Organizers & Shelving
Closet organizers let you maximize space and accessibility in closets throughout your home. Reach-in and walk-in clothes closets become much more functional when you can organize clothes according to type, season, frequency of wear, even color… and have specialized storage accessories to hold everything from shoes to ties to bulky sweaters. And think beyond clothes closets. Organizers are great for pantries, laundry rooms, linen closets, and hobby areas; many systems have the look of custom furniture and can work beautifully in offices, mudrooms, and entertainment areas.
Most of us use our garages for more than parking our cars. Garage organizers provide strong, functional solutions for storing tools, supplies, and sports equipment. You can turn a cluttered workbench into an efficient, safe work space that makes even the smallest hand tools and fasteners easy to find and easy to work with; you can transform unused wall space into storage for outdoor toys, bikes, rackets, sports balls, helmets, skis, and golf clubs. In addition, many people find garage organizing systems perfect for basement storage.
If you don't need a full closet or garage organizer, consider adding shelves. Ring's End carries everything you need for attractive, sturdy shelving: the shelves themselves, brackets, clips, and corbels. What's more, we can help you explore the wonderful world of storage accessories, including closet rods and poles, hanging shelves, drawers, shoe and belt racks, jewelry trays, and wire baskets. With well-chosen accessories, you can customize your storage spaces to fit the way you live.
How to Select Closet & Garage Organizers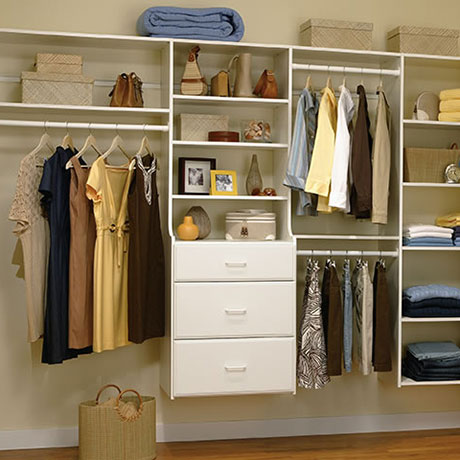 Since adding storage organizers is often a DIY project, you'll want to choose a system that is easy to install and, later, to modify as your storage needs change. You'll also want high-quality materials that won't bend, split, or rust. Finally, you'll want a range of storage accessories that allows you to customize your space to fit your needs perfectly. At Ring's End, we can help you create functional, organized, attractive storage and work spaces that will make your life easier for years to come.
Before you buy:
1
Measure your space carefully: height, breadth, and depth.
2
Make a rough inventory of what you need to store.
3
Determine whether you want open or closed storage, adjustable or fixed shelves and accessories, ventilated or solid shelving.
4
List the accessories (racks, baskets, slide-out hampers, hooks) you'd like to have.
5
Try out the storage organizer design tools available at our suppliers' websites.