Romabio Bianco White Limewash Review & Inspiration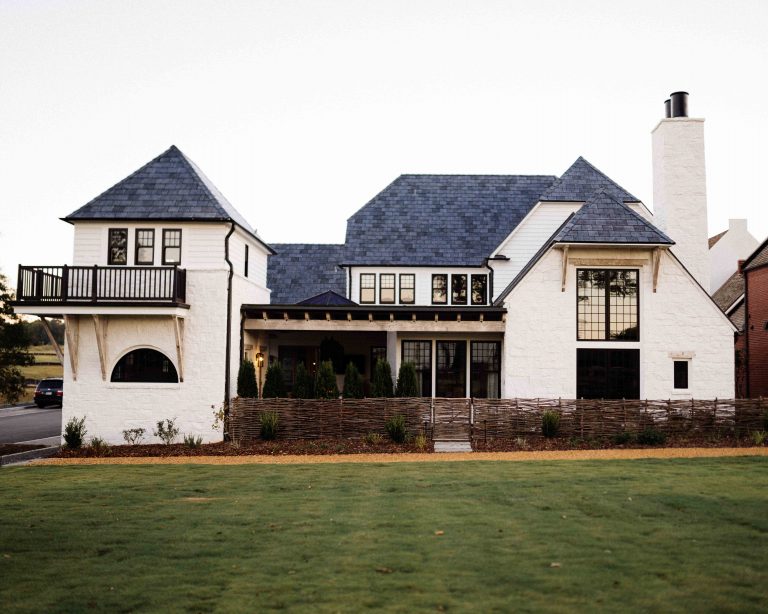 Bianco White Limewash—from Italian meaning "white"— is the brightest white shade from the Romabio Classico Limewash collection.
Whitewash your brick home with real lime wash that protects the surface and allows it to breathe. This authentic slaked lime coating isn't white paint; it's actually an ancient formula for whitewashing stone walls that's been used for centuries across Europe.
For millennia, white lime wash has been used to deflect the hot Mediterranean sun and keep interiors cool. Romabio Bianco White Limewash reproduces the reflective quality of whitewashed brick in a durable exterior finish. Visit Greece, the white villages of Andalusia, Spain, or Italy's città bianche, and you can still see entire towns coated in this bright white shade of lime wash.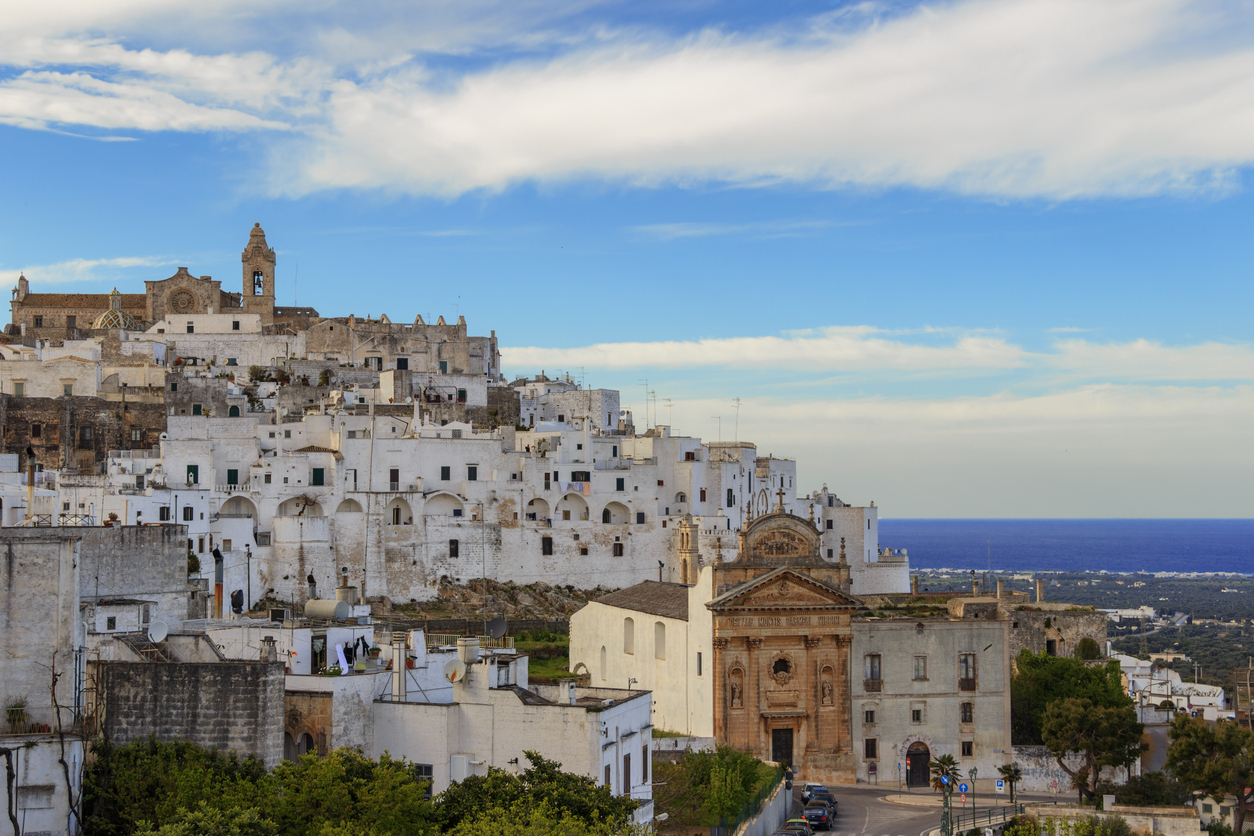 Romabio Bianco White's Undertones
Bianco White Limewash is the ideal white shade to give brick or stone a bright white-washed look. The crisp, clean white of Bianco White is almost neutral, with only a slight hint of cool undertone to keep it from looking creamy. However, since it's not a true cool white like Romabio Galleria White it won't be too modern or cold for a traditional home. Unlike bright white paint, lime wash lets you show the brick or stone underneath. Remove a lot of the lime wash to show the brick or stone as additional undertones, or cover more of it for a mostly-white finish.
Which Homes Look Best In Bianco White Limewash?
Bianco White is a versatile, bright white that works well on almost any style of architecture. While this crisp white is ideal for the modern farmhouse look, it's also a very effective color for updating the most traditional of homes.
Instantly make an older brick Colonial home look fresh, clean and inviting with a coat of Bianco White Limewash. Check out this before-and-after makeover: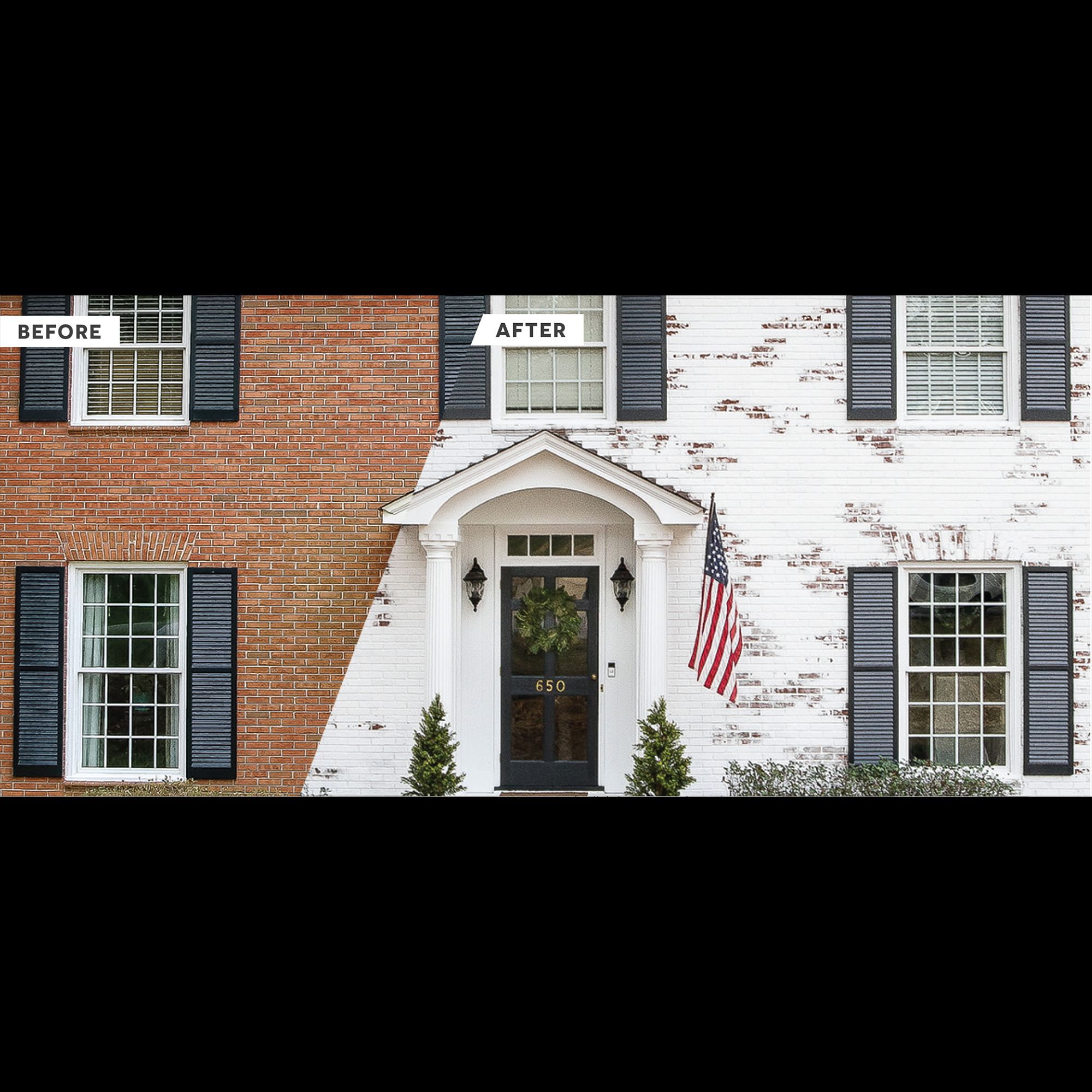 A medium amount of distressing is just enough to highlight the home's vintage charm: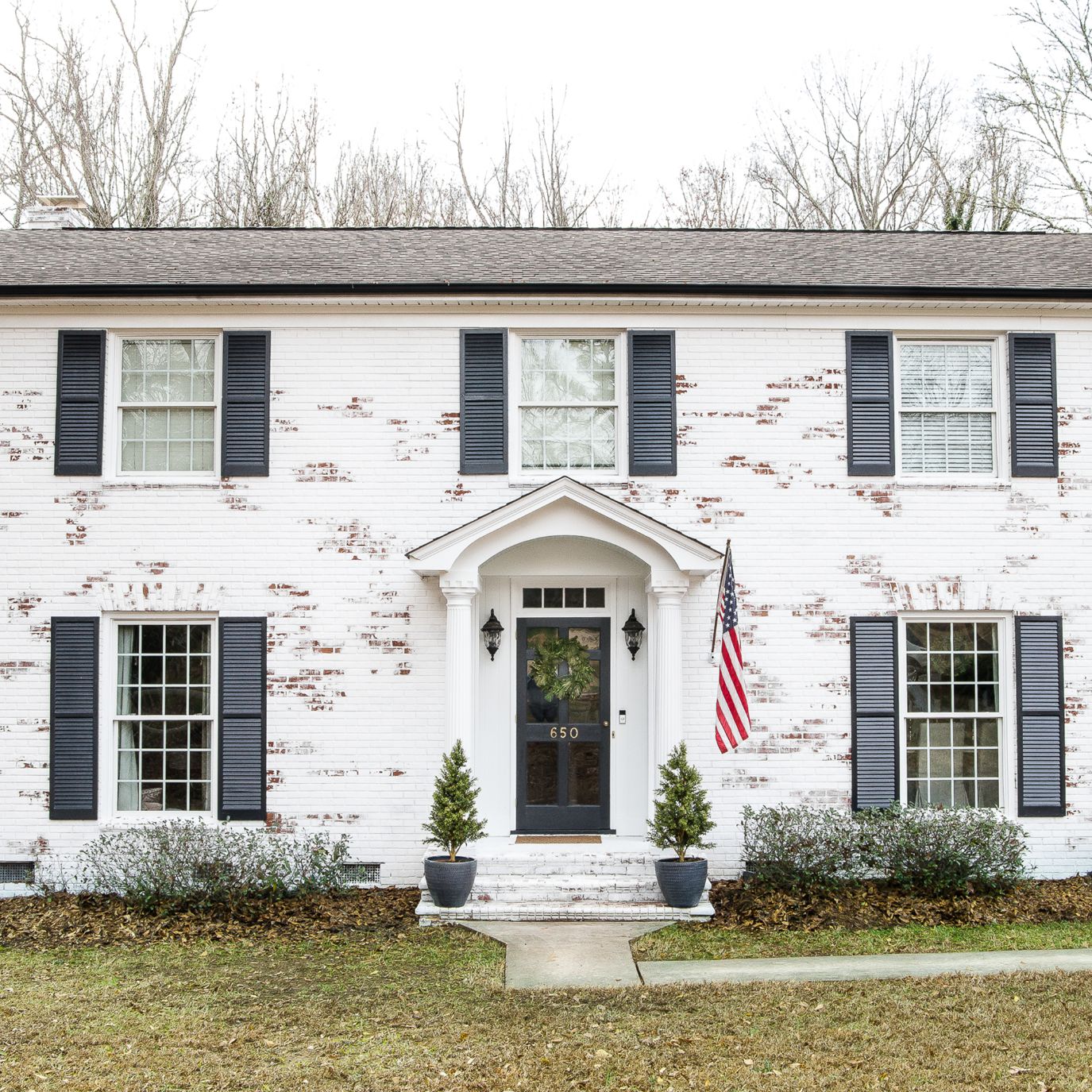 It's the perfect shade of bright white to update a Tudor style home, especially when combined with charcoal trim to complement a slate roof. Extra distressing around the door and windows highlights the brick arches.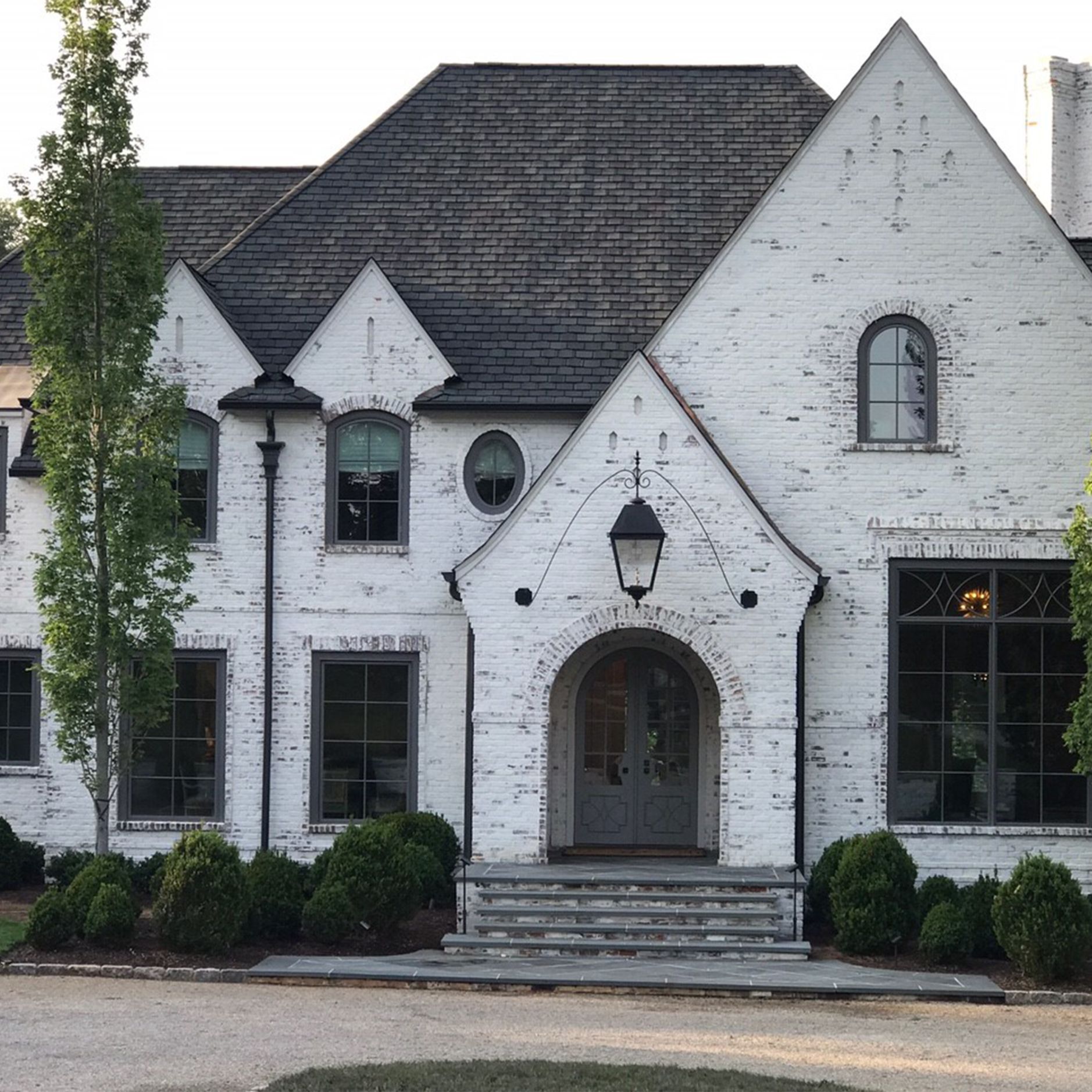 For a crisp, modern farmhouse look, combine a Bianco White Limewash brick finish with black and white accents. This home has just enough distressing to bring out the texture of the brick, while maintaining a white painted look.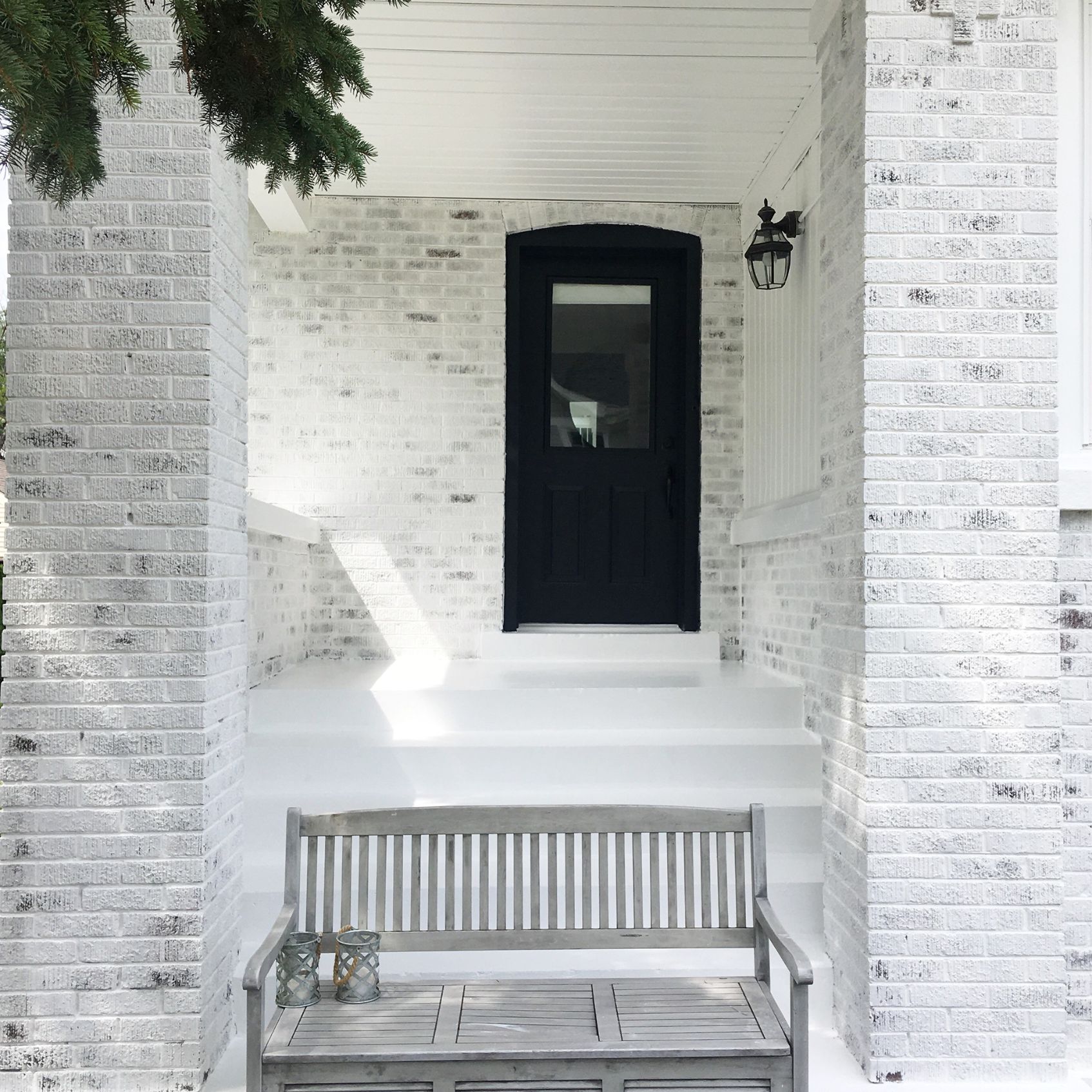 Romabio Bianco White vs. Avorio White
Two of our most popular colors, Bianco White and Avorio White, are the most neutral Romabio Limewash white shades. Understanding the difference makes it easier to choose which color is right for your home.
Both have the slightest hint of a cool undertone, so they can be relied upon not to turn yellow or beige when the project is done. While Bianco White is a bright white, Avorio White is slightly off-white. It's a bit more complex, so it works well with both cool or warm tones nearby. Avorio White is very close to Benjamin Moore's popular paint color, White Dove. For homes with brown tones in the roof shingles, or brown brick that will show through the distressing, Avorio White is probably best.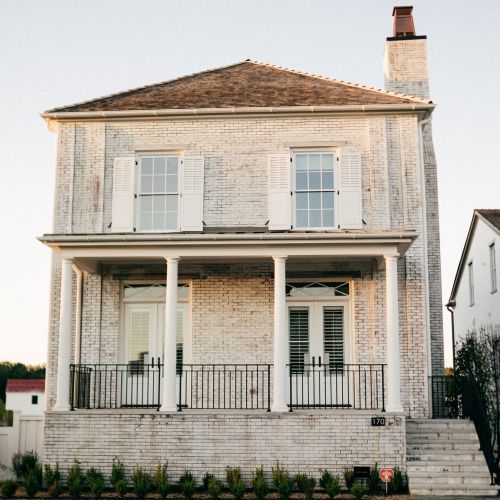 If your home has a black roof and red brick, either shade of Limewash will work beautifully. Bianco White creates a little more contrast for a brighter look alongside black and gray accents.
What's The Difference Between Limewash And Whitewash?
Whitewash is a catch-all name for a watered-down paint that's applied in a thin, distressed coat. While it looks attractive, it offers little protection for exterior brick or stone. Acrylic-based paints can even damage brick by trapping moisture and potentially causing mold issues. Brick needs to breathe and respond to changes in temperature, so you should never paint it with any type of sealant.
Lime wash is mineral-based, so it creates a permeable coating that won't damage the brick surface or trap moisture behind it. Its high pH also inhibits the growth of mold and germs. The limestone in Romabio Limewash actually calcifies onto the brick or stone surface to create a durable finish. You can use Bianco White Limewash both indoors and out, on any porous surface.
If you're after a more flat aesthetic for your brick, Romabio Masonry Paint is an excellent mineral-based paint option that comes with the breathability and durability of lime wash, with the solid finish of paint.
How To Use Bianco White Limewash On A Brick House
Before you start, make sure the brick hasn't been sealed by spraying it with water. The water should soak in and not bead up on the surface. Romabio Limewash is designed for porous surfaces, so it won't work on painted or sealed brick. Make sure the brick is clean; it may need to be pressure washed.
Next, you'll need to choose a color. We recommend testing a large sample on the brick before making a final decision. With a large swatch, you can see how the color looks against the roof and trim colors, and how it changes throughout the day. Order a few 1-liter samples of Limewash colors to test on your home; you can easily wash off the colors you won't be using. Limewash can also be custom tinted in any shade that works with a white base.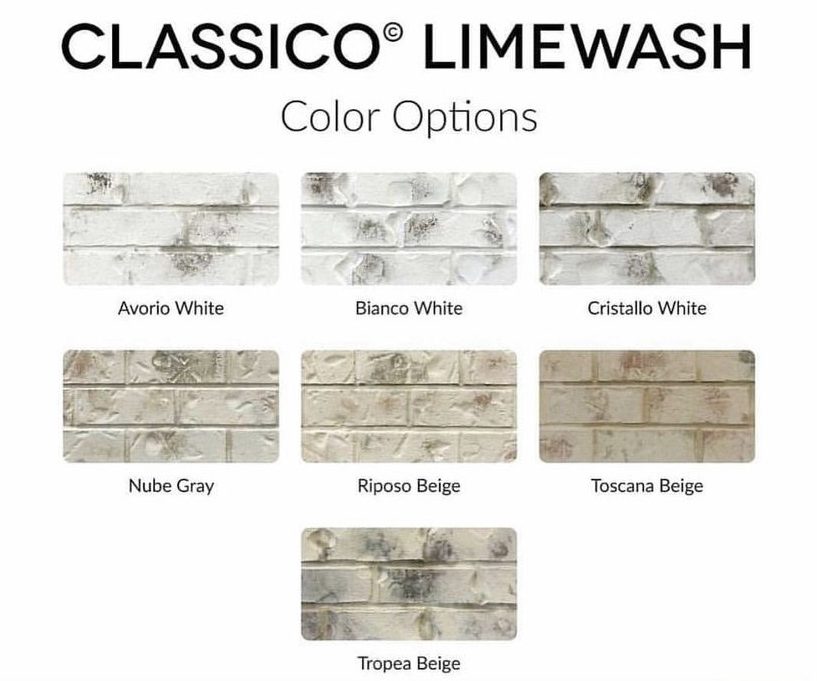 Once you've chosen the color, you can hire a Romabio PRO, or tackle it yourself. Limewashing your home is an easy DIY project if you live in a one-story home. If you have two or more floors, we recommend getting professional help.
Whitewashing your home with Romabio Limewash is fairly simple. Mix your Limewash according to the directions, and apply a single heavy coat with a large masonry brush. Let it dry for a couple of hours, then go back and use a sponge, rag or water hose to remove the product until you get the look you want. Romabio Limewash stays workable for 2-5 days, so you can always remove more or add another coat.
Whitewash A Fireplace With Bianco White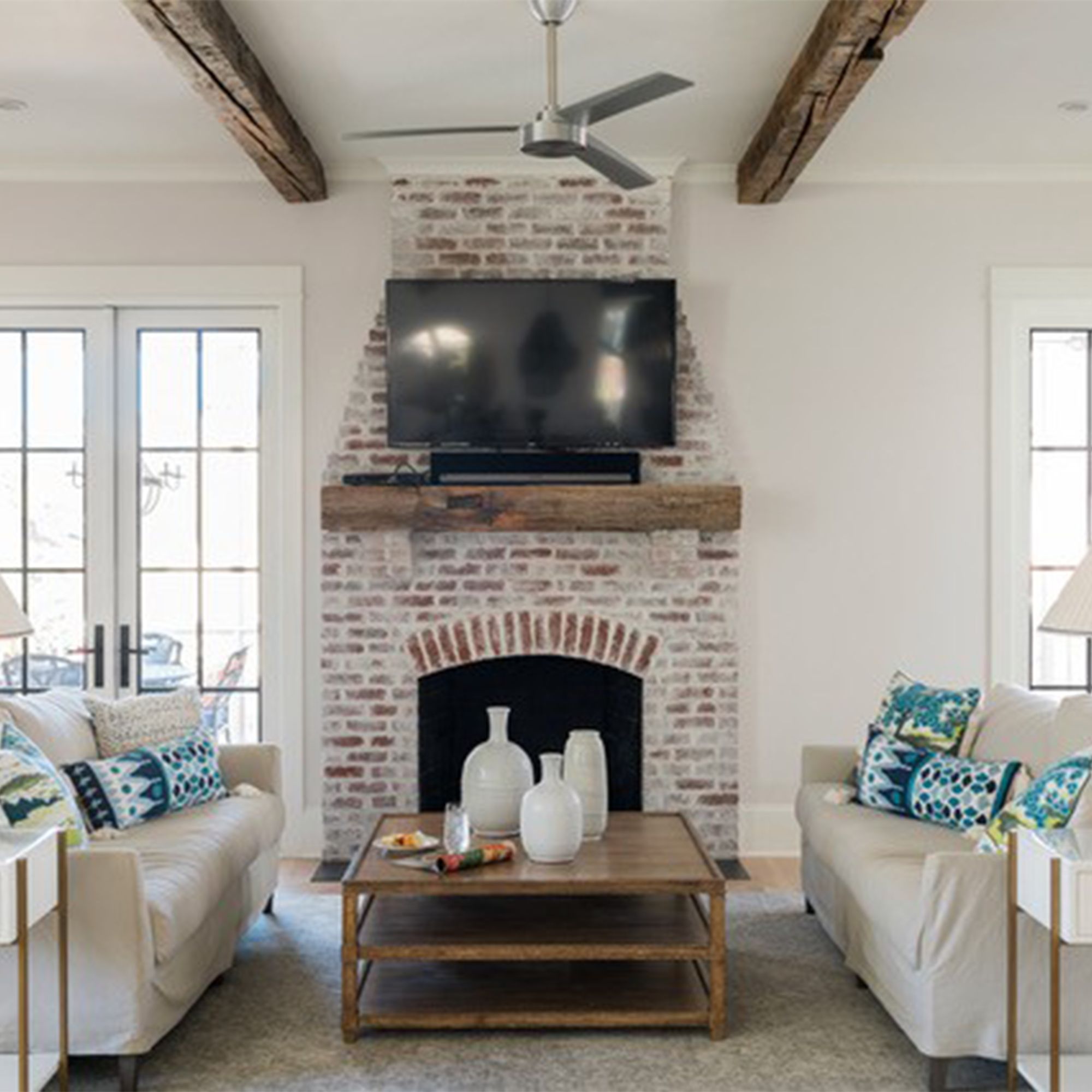 Bianco White Limewash is the perfect whitewash for an outdated fireplace. It's a natural product, and since it doesn't have toxic fumes it supports healthy indoor air quality. Creating a distressed, farmhouse-style fireplace can be tricky because once paint soaks into brick it can't be removed. Professional painters use lime wash instead of paint.
Limewash stays workable for up to five days so you can play with it until it's just right. Just paint the whole fireplace with a single coat, then use a sponge or rag to remove as much as you'd like. If you take off too much you can always add another coat. Bianco White's fresh, bright white shade lets you create a vintage fireplace that's not beige or dirty-looking.
Check out our step-by-step guide to Whitewashing a Brick Fireplace here.
Buy Romabio Bianco White Paint And Samples
Are you ready to whitewash your brick or stone home, or update your fireplace for that modern farmhouse look? You can buy Classico Limewash in 7 pre-tinted Romabio colors right here at Rings End or we can custom tint it to match any of our 3,500+ Benjamin Moore colors. Check out some of our favorite custom color options here.
Be sure to share your Limewash projects with us – we can't wait to see what you do!
You May Also Like….
If our Bianco White color seems too bright for your home, you'll love the complex tones of Avorio White. For a creamier color, try Riposo Beige; if you'd like warmer gray undertones consider Nube Gray.