TruStile Interior Doors (MDF)
TruStile pioneered the use of medium density fiberboard (MDF) as a preferred material for painted door applications, realizing its many advantages over alternative materials like natural wood. Since TruStile introduced their MDF doors to the market, there have been many impersonators.TruStile (TS) series doors feature architecturally-correct panel door styles from 1 to 9-panel configurations. Each door is built with genuine stile and rail construction and is never routed or stamped. TruStile's flexible manufacturing process also allows you to customize the look of any TS series door by substituting any panel for glass, resin, leather, or metal. What is MDF and what are its advantages?
MDF is an engineered wood product made from recycled and recovered wood fiber
More environmentally friendly than wood doors
More stable and durable than wood doors
Smoother surface for painting than natural wood
More affordable than wood doors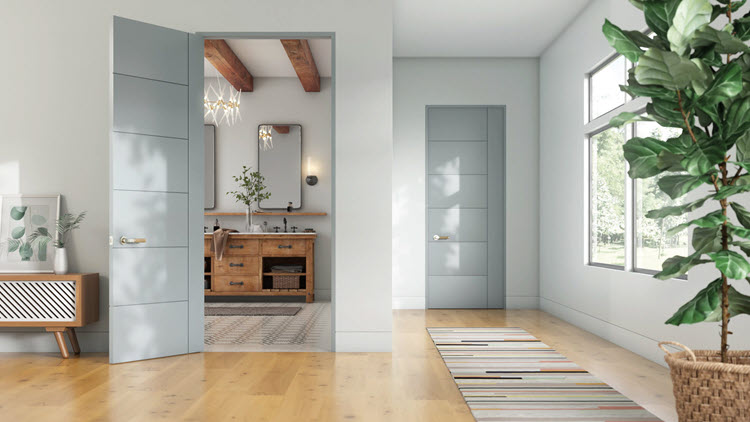 Hardwood Wedge Edge System
TruStile MDF doors come standard with The Wedge
®
, a field-proven hardwood edge system. Designed to stand up to daily use, The Wedge provides superior rigidity, stability, and screw-holding power.The end result is an interior door that is as solid as it is beautiful.
When you invest in a new door, you expect it to provide long-lasting quality and efficiency. Unlike lesser interior doors on the market today,
TruStile
uses only premium components to ensure premium presentation — both in style and architectural appeal.
Built to Your Exact Specifications
Every TruStile door is made to order, each built to the exact style and size you require. TruStile was acquired by
Marvin
in 2015 and still builds its doors using traditional stile and rail construction, a method usually reserved for wooden doors. TruStile solid interior doors are never routed or filled with cheap core materials like those of competitors. Instead, each door is constructed to provide superior, architecturally correct details and an unequaled finishing surface.
Perfect for Painted Doors
Why paint an expensive wooden door? TruStile interior doors are ideal for painted applications while offering an affordable alternative to wood doors. That's because TruStile uses super-refined MDF, which provides a smoother painting surface than pine, poplar, or lower-grade MDF alternatives.
As such, you will find that TruStile doors perfectly accommodate painting. What's more, each door has been engineered for maximum stability and durability. They won't shrink, crack, expand, or warp when exposed to environmental conditions.
Environmentally-Friendly
TruStile doors have been SCS certified to contain 69% recycled content — qualifying them for LEED credits on Green building projects. TruStile's use of low VOC primers and adhesives keeps levels of emissions far below standards. To further reduce emissions, no-added formaldehyde may be specified for those who demand it.
As such, you can be sure that you're investing in doors that are safe for the whole family. Thanks to a balance of safety and quality, you can trust that your doors are designed to provide you with longevity and appeal. That's the kind of promise you can always expect from Ring's End.
Door Design to Complement Your Home
As a homeowner looking for beautiful interior doors, it's important to be driven by design. As with other decor and furnishings in your home, you want doors that are suitable for your unique architectural style. As such, you want plenty of door design options to consider.
Here at Ring's End, that's precisely what you'll find. We pride ourselves on our exemplary customer service, and a big part of that is giving you a wide variety of choices. Combined with the high level of customization afforded by TruStile interior doors, TruStile and Ring's End come together to deliver a superior shopping experience.
Barn Doors with Style
TruStile's barn doors are truly remarkable. Unlike the conventional barn doors that most people are used to, TruStile's catalog of over 500 unique styles is compatible with its barn doors. Whether you require a sliding barn door or another style, you can look forward to a wealth of design options at your disposal.
As such, you can easily match your home's architectural construction, whether it be modern or traditional. With every option, you can expect the same high level of quality and sophistication that TruStile is known for.
And as always, Ring's End is here to assist you with every aspect of the ordering process. Our experts will help you determine which barn doors are best suited to your opening to ensure that you are pleased with your investment.
Tru&Modern
One of the most apparent qualities of TruStile doors is that modern doesn't necessarily mean flush. That's why you'll find a series of strong, horizontal profiles, large stiles, and minimal reveals. These features come together to deliver exceptional quality and innovative designs.
TruStile's Modern Collection
Whether you need a sliding door or one consisting of glass, TruStile's Modern collection gives you plenty to choose from in this extensive selection, with more than 100 unique and contemporary styles.
In fact, there are virtually unlimited configurations at your command, allowing you to get the design that best suits your home. TruStile's innovative resin and glass series delivers a truly unique and sophisticated collection of design options, ensuring the ultimate in class and efficiency.
Patterns, Surfaces, and Styles
You'll find a vast selection of geometric design patterns, reflective surfaces, and organic styles to choose from. And because TruStile doors are constructed with a proprietary process that allows for configuration, you can customize your design to suit your preferences.
TruStile's Chemetal®
Thanks to TruStile's customizable configuration in its doors, you can substitute any wooden panels or rails with decorative metal Chemetal inserts. From Brushed aluminum to Hammered Cobblestone, Chemetal inserts give your doors unparalleled beauty and appeal.
This contrasting style ensures that you will have a door that is both unique and high in quality. Chemetal is an excellent way to breathe new life into your home while providing a look and feel unlike anything you've ever seen.
TruStile's Edelman® Leathers
Perhaps you prefer the ruggedness of leather over glass or metal. With Edelman Leathers, you can now substitute any panel or rail in your TruStile door. What's more, TruStile lets you choose between laminate and upholstery for your finish, allowing you to refine your design to best match your home's furnishings and decor.
A Vast Selection of Leathers
Beautiful leather designs like Sulky Grey Mare and Shagreen Caviar stand out in your home to deliver exceptional appeal and character. Or choose from subtler offerings like Old Cherry or Pampas. Whatever you decide on, you can expect the same high standard found in all interior door customizations.
Do you need assistance with your interior doors? Phone or text us at 203-Pro-Help if you require immediate help, or schedule a consultation with our design and installation experts. Simply click on the "Request a Consultation" to get started.
Then, fill out the sections with your name and contact information. One of our knowledgeable service representatives will get back to you within 1 business day. With our assistance, you can look forward to investing in the best doors for your home.