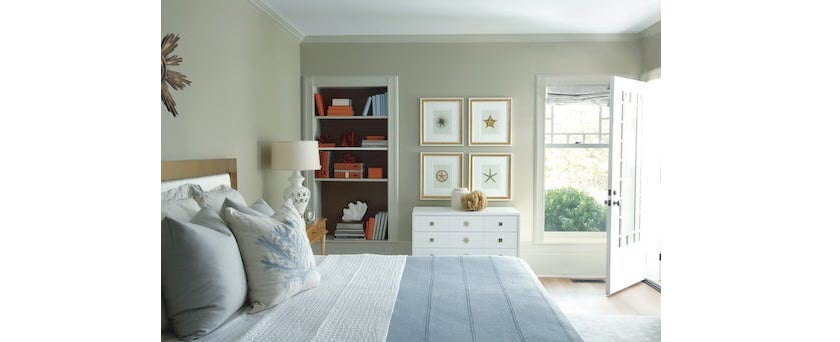 What makes a master bedroom luxurious? Search bedroom color ideas online and you'll quickly feel overwhelmed; your weekend DIY project suddenly seems complicated. Quality furnishings and rich fabrics are a good start, but the paint color is an important part of the interior design too.
A luxurious master bedroom design starts with selecting the right wall color for the mood you wish to create. A light, crisp tone can help energize your morning routine, while bold colors create a cozy space that's perfect for unwinding at the end of the day. So what are the best bedroom colors? We've pulled together a collection of luxury master bedroom color choices by Benjamin Moore, from tried-and-true neutrals to statement-making jewel tones.
The Best Rich, Neutral Colors For Master Bedrooms
Neutral colors are some of the most popular for Master Bedrooms. While some people may assume they need a white paint, there are neutral shades that create depth and complexity. The color trends for popular gray and taupe have become warmer lately, so for an updated neutral, look for off-whites that have undertones of greige, green, warm beige or yellow.
Warm undertones and a matte finish help to create the cozy, comfortable feeling that people are seeking right now. Neutral master bedroom walls are the perfect backdrop for the layered bed linens, unique furnishings and art that express the homeowner's personality.
In this master bedroom, walls in Benjamin Moore's Baby Fawn contrast beautifully with dark wood beams and a sculptural lamp. York Harbor Yellow adds a pop of color in the bed niche: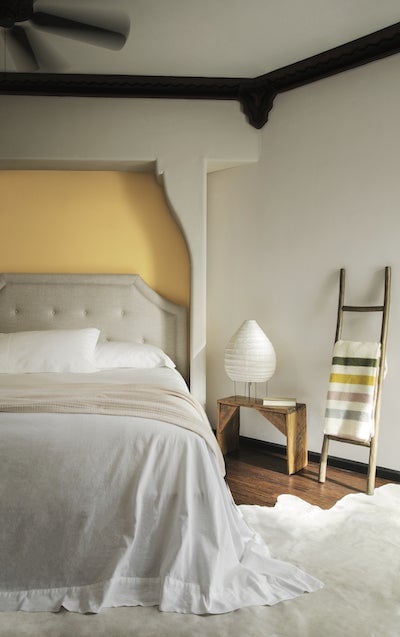 Green undertones in this guest bedroom's paint color, Benjamin Moore's Pashmina, have a fresh, airy effect. Combined with the sea-themed artwork and aqua blue bedding they create the perfect coastal master bedroom look:


The warm beige paint color Pristine creates an inviting and cozy master bedroom when paired with crisp white trim and the natural tones and textures of a seagrass headboard. Red and pink striped bedding adds a pop of color:

Organic Bohemian Bedroom Paint Colors
Modern, earthy and cozy, "organic Bohemian" bedroom decor features interior paint colors from nature that have been softened with gray for a slightly dusty effect. Inspired by Art Deco and Postmodernism, this color palette includes dusty rose, pale blue, clay, sage greens, petrol blue and lavender-violet tones. White trim colors have distinctly warm undertones, and metallics like gold and copper are popular accents.

This master bedroom has layers of rich Bohemian-inspired color, starting with painted wainscoting in the deep blue-purple tones of Benjamin Moore's Anchor Gray; the Gray Cloud wall paint on the upper wall is set off by Cinnabar red in the hallway:

Muted pastel colors from this palette are also popular for master bedrooms. Benjamin Moore Celadon green, light blue and aqua interior paint colors make an airy backdrop for the mid-century furnishings that are trending today. In this master bedroom sitting area, Wythe Blue has a calming effect, while letting the natural light bounce around the room:

Deeper colors in the Organic Bohemian palette are still in the middle range; a hint of gray undertone gives Benjamin Moore's 2021 Color of the Year, Aegean Teal, a calming effect. This sophisticated color adds rich depth and complexity to a space without making it too dark; plus it sets off metallic accents beautifully:

If you're looking for a Bohemian-style deep terracotta paint color, choose a soft, dark clay color like Bricktone Red to make a guest room feel inviting:

Vibrant And Moody Luxury Master Bedrooms
Dark and moody paint colors have been popular for interiors the last several years, and the master bedroom is no exception. While black, gray and deep navy blue are popular choices, we see colorful jewel tones trending for 2022 and beyond. Expect to see purple, emerald, deep aquamarine, and rich wine-red shades in both traditional and modern master bedrooms.
At the end of the day, the bedroom is the spot for cocooning, and dark colors are calming and cozy. They remind us of travel to exotic places; complement them with decadent fabrics like velvet, leather and silk for the ultimate luxury retreat.
Consider going bold with an accent wall in Dark Lilac:

Jewel-box colors like deep aquamarine are the perfect contrast for gold and brass accents. In this room, high gloss paint in Benjamin Moore Spectra Blue covers walls, ceiling and trim, increasing the drama of the antique chandelier's gold leaf and sparkling crystal drops:

Continuing a vibrant color onto the master bedroom ceiling amplifies its effect; when it's carried onto built-in bookshelves, the entire room becomes an enveloping cocoon of color. In this sitting area, the dark blue-green of Deep Ocean by Benjamin Moore covers every surface; even the tub chairs are covered in matching fabric. The result is a cozy, sophisticated space that helps the art and accessories stand out:

A dark and moody master bedroom paint color is a great way to add drama in a small space. Dark colors can obscure the corners of a room, making it feel larger. The sharp contrast between dark walls and white trim adds interest, reducing the need for heavy decor like draperies. Heirloom pieces like a gilt mirror or a brass bed become prominent features when displayed against a dark color. We love the effect of Benjamin Moore's deep burgundy, Caponate, in this traditional master bedroom:

Forest greens and deep green-black colors are ideal choices for creating a cocoon-like master bedroom. Inspired by nature, they create the soothing effect of being in a deep forest. To create that forest-like effect without going too dark, we like Benjamin Moore's Peale Green or Backwoods. But if you really want to hop on the dark green trend, try Salamander – it's a very dark green that has a hint of black for extra drama. If a very dark green seems too bold a choice for the entire master bedroom, an accent wall can have a similar effect. Here's a handsome paneled wall painted in glossy Salamander:

Make the Space Your Own
When deciding on a master bedroom paint color, remember the shade you choose is going to anchor your bedroom's interior design.
Current design trends are moving away from plain, neutral minimalism and towards more personalized, richly layered spaces. Interesting textiles, sculptural lamps, bold art, and furniture with luxurious touches like burled wood or gilt add interest and personality.
As you pick your master bedroom color, think about the style of your furnishings and whether you'll use the room during the day or only at night. Dark wood furniture may disappear against dark painted walls, while metals like brass and gold will pop.
If you use the master bedroom during the day for reading or work, a warm off-white can enhance any natural light coming through the windows. If you don't enter the bedroom until bedtime, then a deep, rich color is very conducive to winding down for sleep. Add light-blocking shades, or curtains in a matching jewel tone to create a cozy, restful cocoon.
No matter what master bedroom color you prefer, the most important thing to consider is your own personality. Be sure to consider these color ideas for the living room too—after all, this is the era of unique, eclectic and personalized interiors.